Yaakov Lappin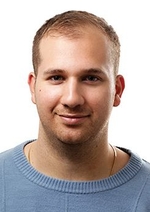 Yaakov Lappin is a journalist for the Jerusalem Post, where he covers military and national security affairs. His also a military analyst for IHS Jane's and author of the book "The Virtual Caliphate."
On a daily basis, Yaakov provides breaking security and defense news coverage on Israel and the Middle East. He appears regularly as a guest commentator on television and radio news programs.
He holds an MA in the History of International Relations from the London School of Economics and Political Science, and a BA in Politics and Modern History from the University of Manchester.
He can be reached at yaakovl@jpost.com.
Writings by Yaakov Lappin
Title
Publication
Date
Hamas, ISIS Affiliates, See Opportunity in Terror Truck Attack
Special to IPT News
January 11, 2017
Aleppo's Fall Signals Rise of Emboldened Radical Shi'ite Axis
Special to IPT News
December 16, 2016
Arrest Breaks Up PIJ Recruitment Scheme
Special to IPT News
November 30, 2016
Sporadic Attacks Reveal Fragility of Israel-PA Security Cooperation
Special to IPT News
November 22, 2016
Hamas Funding Sources Drying Up
Special to IPT News
November 14, 2016
As ISIS Loses Territory, Foreign Fighters Likely to Bring Jihad Home
Special to IPT News
September 28, 2016
The First Weapon Against Lone Terrorists: Big Data Analytics
Special to IPT News
August 5, 2016
Israel Tries Area-Based Response to Palestinian Terror Wave (2 comments)
Special to IPT News
July 8, 2016
European States Seek Israeli Defense Solutions in Combating ISIS Threat
Special to IPT News
June 16, 2016
Syrian Quagmire Delays Hizballah's Pursuit of Ultimate Objective
Special to IPT News
May 27, 2016
Israel's Tunnel-Detection Success Poses Hard Choice for Hamas
Special to IPT News
May 6, 2016
Make or Break Moment for Palestinian Violence (2 comments)
Special to IPT News
April 21, 2016
How to Dismantle ISIS' Global Terror HQ in Raqqa
Special to IPT News
April 7, 2016
The Gaza Time Bomb (2 comments)
Special to IPT News
March 30, 2016
IDF Racing to Restructure Itself for New Middle East Warfare (3 comments)
Special to IPT News
February 23, 2016
IDF Preparing for Arrival of ISIS on Syrian Border
Special to IPT News
January 29, 2016
Israel Sees Short and Long-term Repercussions in Iranian Sanctions Relief
Special to IPT News
January 25, 2016
Is the Obama Administration Forfeiting IAEA Inspections of Iranian Military Sites? (1 comment)
Special to IPT News
June 25, 2015
Israel Hopes to Use Current Lull to Prepare for Radical Islamic Storm
Special to IPT News
June 12, 2015
Hamas Using Truce to Prepare for Next Clash with Israel (2 comments)
Special to IPT News
May 18, 2015
Iran Deal Frees Up New Financing to Carry Out Terrorism
Special to IPT News
April 9, 2015
Hamas's International Triangle of Bases: Gaza, Turkey and Qatar
Special to IPT News
December 18, 2014
Iran and US Fighting On Same Side Rattles Israeli Defense Officials (2 comments)
Special to IPT News
December 11, 2014
Israel Tries to Contain Surge in Deadly Palestinian Violence (1 comment)
Special to IPT News
November 12, 2014
Israel Prepares For When Syrian Jihadis Turn Their Guns South (1 comment)
Special to IPT News
October 13, 2014
War Leaves Hamas Battered as Israel Gives Diplomacy a Chance (1 comment)
Special to IPT News
August 19, 2014
Israel Watching Hizballah While Fighting a Cautious Battle With Hamas
Special to IPT News
July 17, 2014
West Bank Kidnapping Triggers Massive Crackdown on Hamas (1 comment)
Special to IPT News
June 17, 2014
Israel's Defense Establishment Unmoved by Palestinian Unity Agreement
Special to IPT News
May 28, 2014
New Israeli Satellite Eyes Iran Nuke Program, Terrorist Arms Smuggling (2 comments)
Special to IPT News
April 22, 2014
Israel to Go 'Deep Into Lebanon' in Future Hizballah Clash (1 comment)
Special to IPT News
April 1, 2014
Isolated Hamas Contemplates Returning to Iran's Orbit (1 comment)
Special to IPT News
March 17, 2014
IDF Restructuring Syrian Border Defenses Due to Jihadi Threat (1 comment)
Special to IPT News
February 27, 2014
Zawahiri's Servant in Gaza Orchestrated Plots for Mega Terror Attacks
Special to IPT News
January 28, 2014
Will Israel Risk Sharon's Counter-terrorism Achievements for Peace Deal?
Special to IPT News
January 16, 2014
Israeli Security Sees Rising West Bank Salafi-Jihadi Threat
Special to IPT News
December 23, 2013
Obama's Soft Stance on Iran Might Force Israel to Strike (2 comments)
Special to IPT News
November 19, 2013
Hamas Tunneling Its Way to Future Clash With Israel (1 comment)
Special to IPT News
October 15, 2013
Israel Hopes to Avoid Third Intifada Despite Palestinian Rhetoric, Violence
Special to IPT News
October 3, 2013
Why Israelis See Shi'ite Axis as a Greater Threat Than Syrian Jihadis (6 comments)
Special to IPT News
September 10, 2013
Analysis: The Regional Implications of a U.S. Strike on Syria (4 comments)
Special to IPT News
August 27, 2013
How American Leaks May Help Arm Israel's Enemies
Special to IPT News
August 8, 2013
Iranian Nuclear Crisis Nearing a Critical Tipping Point (4 comments)
Special to IPT News
July 16, 2013
The Shi'ite crescent holds its ground (1 comment)
Special to IPT News
June 13, 2013
Hamas in Gaza Sending Out Tentacles to the West Bank
Special to IPT News
May 23, 2013
Analysis: Air strikes in Syria - A calculated risk
Special to IPT News
May 15, 2013
Iran/Hizballah's Global Shi'ite Terror Network
Special to IPT News
April 30, 2013
Behind the Lines: Conquest through proselytizing (1 comment)
Jerusalem Post
February 15, 2013
Security Matters: Turning a corner?
Jerusalem Post
March 29, 2012