An organized effort to silence a speech at Vassar College by Israeli activist Hen Mazzig last week "crossed the line into anti-Semitism" and could lead to disciplinary action, President Elizabeth H. Bradley said in a statement Monday.
Members of Vassar's Students for Justice in Palestine (SJP) chapter broke their promise to keep their protest against Mazzig's talk peaceful, she wrote When Mazzig tried to speak, he was shouted down by chants, including, "From the river to the sea, Palestine will be free."
That chant, Bradley wrote, "crossed the line into anti-Semitism" because it "can be understood to be calling for the eradication of the State of Israel and is highly intimidating to Israelis and Jews, and directed it to an Israeli speaker discussing his perspective on Indigenous Jews."
But SJP members defended their attempt to silence Mazzig, in part because he "attacked Linda Sarsour and Congresswoman Ilhan Omar, as well as other supporters of BDS, specifically targeting SJPs across the country with insults and false information."
Sarsour and Omar each have records of anti-Semitism, from Sarsour's blood libel blaming Jews for police shootings of unarmed black people in America, to Omar's series of statements invoking anti-Semitic canards about Jewish power, loyalty and money.
Protesters' chants stopped after a while and Mazzig was able to complete his talk, the Vassar SJP chapter said. "Although we do not believe that Zionism should have a platform, especially not one funded by our student government, we did not prevent anyone from attending the talk or stop [Hen] Mazzig from speaking."
But on the day of the speech, SJP said its commitment to a boycott of all things related to Israel meant it had to "refuse to offer space for even more racism and imperialism on this campus. None of us will be free until Palestine is free, and challenging Zionism wherever it emerges on campus is one of the best ways to show our solidarity."
Vassar's SJP is no stranger to controversy.
In 2016, the chapter sold t-shirts featuring convicted Palestinian terrorist Leila Khaled with the phrase "resistance is not terrorism." In 2014, the group posted a Nazi cartoon on its Tumblr page.
The Algemeiner rated Vassar College the second worst college for Jewish students to attend due to its anti-Israel and anti-Semitic activity.
President Bradley's strong statement acknowledging the inherent anti-Semitism in SJP's message is a refreshing and welcome response.
The New York Times edited a reference which accurately described the Palestinian Islamic Jihad (PIJ) as a terrorist group from a Nov. 12 story, the Committee for Accuracy In Middle East Reporting and Analysis (CAMERA) found. This story appeared following an Israeli attack in Gaza that killed PIJ leader Baha Abu al-Ata.
"The group is listed as a terrorist organization by many countries, and is supported by Iran," the first draft of the Times story said.
Inexplicably, that reference disappeared later in the day.
A reference to PIJ's "harder line toward Israel" appeared in its place, CAMERA wrote.
After U.S. special forces killed ISIS leader Abu Bakr al-Baghdadi in a raid last month, CAMERA noted, the newspaper had no qualms describing Abu Bakr as a "terrorist" who led a "terrorist group" that committed "acts of terror."
The United States, Canada, European Union (EU), Australia and others have designated PIJ as a Foreign Terrorist Organization.
U.S. law defines terrorism as "the unlawful use of force and violence against persons or property to intimidate or coerce a government, the civilian population, or any segment thereof, in furtherance of political or social objectives."
PIJ targets civilians just like ISIS. It has been responsible for mass casualty bombings of Israeli markets, buses and shopping malls over the years in addition to its frequent rocket attacks aimed at killing civilians.
ISIS and PIJ are guilty of similar crimes, so why the decision to suddenly obscure the fact PIJ is a terrorist organization that targets civilians?
Hamas, a terrorist group which diverts resources meant to improve life in Gaza to prepare future attacks on Israeli civilians, has endorsed the invasion of northeastern Syria that Turkey calls "Operation Peace Spring."
"The movement understands Turkey's right to protect its borders, defend itself and remove threats to its national security against the futility of the Zionist Mossad in the region, which seeks to undermine Arab and Islamic national security," Hamas said in a statement.
Turkish artillery rained down death on civilians in Qamishli near the Turkish border two weeks ago. Turkish planes and artillery also dropped white phosphorus incendiary munitions near the town of Ras al-Ain. Images showed children who were severely burned in the attacks.
Turkish-backed jihadists participating in Turkey's invasion also looted Kurdish and Syrian homes.
Hamas spokesman Sami Abu Zuhri reaffirmed the terrorist group's support for Turkey's offensive in an interview Monday with Turkey's Anadolu News Agency.
"We support Turkey's right to protect its security and its limitation. Turkey the government, we trust that they respect the brother of Syria's territorial integrity," he said.
But the Syrian Democratic Forces (SDF) never threatened Turkey. It tried to avoid antagonizing Erdogan, and in August it even pulled its forces away from the Syrian-Turkish border. It launched no rockets or artillery on positions inside Turkey before the unprovoked invasion.
This cautious behavior stands in contrast with Hamas, which fires rockets at civilian communities in southern Israel and invests heavily in building tunnels to use in terrorist attacks.
When Israel defends itself from Hamas attacks the group complains about how Israel kills Palestinian civilians. "Israeli occupation forces wounded 50 Palestinian civilians, including 8 paramedics and a journalist, as they brutally attacked yesterday's #GreatReturnMarch protests east of #Gaza #IsraeliCrimes," Hamas wrote in a June 29 tweet.
The violence was sparked by Hamas-orchestrated riots at the border between Israel and Gaza. Similar confrontations have taken place for more than a year. Hamas officials acknowledge that the vast majority of casualties are not civilians, but Hamas members.U.S. and Israeli authorities say that Turkey provides refuge, along with military and financial assistance to Hamas.
The U.S. Treasury Department announced sanctions last month on Hamas leaders and ISIS facilitators living in Turkey, including Zaher Jabarin, who manages tens of millions of dollars in Hamas money while living from Turkey. It also targeted the Turkey-based Redin Exchange as "a key part of the infrastructure used to transfer money" to Hamas. Redin transferred $10 million in March to the Izz ad-Din al-Qassam Brigades, Hamas' military wing.
Hamas fighters have been equipped and trained by the Turkish private military company SADAT, which also reportedly trained jihadists belonging to the Free Syrian Army who have joined the Turkish invasion and ISIS.
This support for Erdogan's assault on Syrian civilians reveals Hamas' talk about human rights is nothing but a farce.
An American Islamist delegation that included a supporter of Jamaat-e-Islami Pakistan, a group that directly supports Kashmiri terrorists, met last week with a senior State Department official, the Pakistani news website Dawn.com reported.
Leaders of the U.S. Council of Muslim Organizations (USCMO) met with Deputy Assistant Secretary of State for Pakistan Affairs Ervin Massinga, a Sept. 6 tweet from the State Department's Bureau of South and Central Asian Affairs shows. The delegation included Zahid Bukhari, executive director of the Islamic Circle of North America (ICNA)'s Council for Social Justice; Nihad Awad, executive director of the Council on American Islamic Relations (CAIR); Osama Abu Irshaid, executive director of American Muslims for Palestine (AMP); and USCMO Secretary General Oussama Jammal.
India's decision last month to end the disputed region of Jammu and Kashmir's special status has heightened tensions with Pakistan. Pakistan's Inter-Services Intelligence (ISI) agency has helped foment terrorist activity in the region for decades. Pakistan and India fought a series of wars over the territory since gaining independence from Britain in 1947.
U.S. Islamists rallied behind Pakistan since India announced the change in Kashmir's status.
AMP, a rabidly anti-Israel group, tried to compare the Jammu and Kashmir issue to the Israeli-Palestinian conflict.
"Revoking Article 370 has turned India from administrator to fully-fledged colonizer, following, in many ways, Israel's methods," AMP wrote.
CAIR and its chapters also protested India's decision.
State Department officials told the USCMO delegation that the U.S. hopes to see direct talks between India and Pakistan.
Multiple posts on Bukhari's Facebook page show his support for Jamaat-e-Islami Pakistan.
Hizb ul-Mujahideen, a terrorist group that has waged a jihadist struggle against India in Kashmir since 1989, has a close relationship with Jamaat-e-Islami Pakistan. The Canadian Revenue Agency called this group the armed wing of Jamaat-e-Islami Pakistan. Hizb ul-Mujahideen was founded by a Jamaat-e-Islami member and evidence suggests a close financial relationship with the terrorist group.
Jamaat-e-Islami death squads killed thousands of civilians during Bangladesh's 1971 War of Independence from Pakistan. A Bangladeshi war crimes tribunal convicted former Islamic Circle of North America (ICNA) Secretary General Ashrafuzzaman Khan in 2013 on 11 counts of kidnapping and murder of 18 intellectuals in the War of Independence.
ICNA has historic ties to Jamaat-e-Islami, which aims to create an Islamic society. ICNA's 1994 Charter and By-Laws, which bears Bukhari's imprint, states that Islam should be "sincerely and exclusively implemented in all aspects of human life" through "democratic, legal and peaceful means."
Bukhari has offered a similar vision.
"We are to prove our claim that Islam is the only answer and the only solution for all socioeconomic, political and cultural problems," Bukhari said in the July 1992 issue of ICNA's monthly periodical The Message International.
Research Analyst Teri Blumenfeld contributed to this report.
The Washington Post is out Monday with something that looks like good news. Three board members at the national Women's March who were involved in a series of anti-Semitic incidents are out. A diverse group of 16 people, including three Jews, will replace them.
But some of those new board members raise additional questions about the March, and seem to reinforce the previous concern that it is not a welcoming place for women who support the state of Israel.
For example, Zahra Billoo is one of the new March leaders. The Post quoted her talking about the challenge the March faces "being able to harness our biggest strength and turn that energy into action" before the 2020 election Billoo said.
But Billoo, who runs the Council on American-Islamic Relations (CAIR) San Francisco office, matches – perhaps even surpasses – outgoing board member Linda Sarsour's hatred for Israel and those who support it. Billoo at least is candid enough to admit she doesn't think the Jewish state should exist (she has not mentioned other countries she wishes would disappear). She repeatedly has compared Israeli soldiers to ISIS terrorists. Being pro-Israel, she has written, is tantamount to being "pro-terror, pro-violence, pro-land theft, and pro-apartheid."
Criticizing Israeli leaders, or government policies, is not anti-Semitic. But rejecting even the idea of the state's existence, is. It's a view shared by the United States, Canada, the United Kingdom, France and at least 25 other nations.
Much of the Women's March troubles stemmed from the inability of outgoing leaders Sarsour, Tamika Mallory and Bob Bland to condemn the Nation of Islam's anti-Semitic leader Louis Farrakhan. As a result, the movement lost key donors and sponsors prior to January's national march.
Over the years, Billoo has touted Farrakhan and the Nation of Islam. She featured an Nation of Islam video on her blog in 2010. Seven months earlier, she felt compelled to share with her Twitter followers that she was "watching [Nation of Islam leader Louis] Farrakhan church speech, while at the gym."

Touting Billoo's appointment to the board while Sarsour leaves would be like a company saying, "Harvey Weinstein has left our board. Here's our new member, Jeffrey Epstein."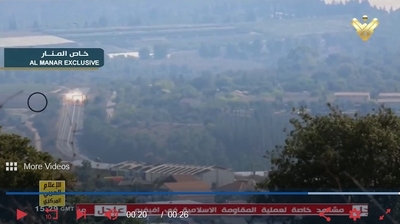 Hizballah used its al-Manar television network Monday to broadcast footage that it claims shows a missile strike targeting an Israeli military vehicle a day earlier. The attack followed a series of reported Israeli strikes targeting Iranian and Hizballah infrastructure in Syria and Lebanon.
Sharing the footage allows Hizballah to save face among its supporters and signal its resolve to far more powerful Israeli military. But beyond propaganda and deterrence efforts, Hizballah exploits its global media empire to strengthen a "resistance society" in Lebanon and cultivate to new bases of support throughout the world, according to a new Meir Amit Intelligence and Terrorism Information Center report. Hizballah's media domain is just one component of the terror group's infrastructure, along with its military wing, global terrorist apparatus, and vast network of social institutions spread across Lebanese society.
Iran funds most of Al-Manar's budget, which runs into the tens of millions of dollars. While it generates little advertising revenue, it is considered the most vital outlet in Hizballah's extensive media empire. Hizballah broadcasts propaganda around the world in four languages, primarily targeting the Lebanese population, followed by the Arab and Muslim world. But target audiences in the West are not immune. Hizballah outlets operate in English and French speaking countries and even some Latin America states. Some countries' efforts to bar the channel have been circumvented as Hizballah now relies on Russian and Indonesian satellite services to continue its broadcasts worldwide.
Coverage primarily promotes Hizballah's terrorist and militant activities, and glorifies its "shahids" (martyrs). But the channel also devotes considerable coverage to promoting Iranian propaganda and the Islamic Revolution's radical ideology. The broadcasts emphasize Hizballah's devotion to the Islamic Republic, further proving that the terror group maintains its ultimate allegiance to Iran – not Lebanese society.
The Treasury Department in 2006 added Al-Manar and Radio Nour to its list of sanctioned Hizballah affiliates. Yet the media outlets continue to operate freely, including in Ramallah with the Palestinian Authority's tacit approval. The remainder of Hizballah's media outlets and key media figures remain off the U.S. sanctions list.
Hizballah's media is instrumental in Iran's efforts to promote the Islamic Revolution's radical ideology and cultivate a terror network throughout the Middle East and the world.
"Such an extensive media empire in the possession of a terrorist organization is unprecedented among terrorist organizations operating around the world," the Meir Amit report states.
The network of media outlets is led by Hajj Muhammad Affif, who also serves as Hizballah chief Hassan Nasrallah's media adviser. Hizballah also runs several newspapers, websites, and social media accounts. It even engages in violent incitement against the United States through affiliated accounts on Twitter.
Click to here read the full Meir Amit report. It is part of a wider research project devoted to exposing Hizballah's vast social networks and institutions meant to strength the terror group's stranglehold over Lebanese society and Shi'ite populations worldwide.
Hizballah established educational and athletic networks, including the "Sports Mobilization," to indoctrinate young people to embrace the terrorist organization's radical ideology, a recent Meir Amit Intelligence and Terrorism Information Center report finds.
Since its founding in 1982, Hizballah has invested significant resources in developing institutions to recruit and cultivate future terrorists. As part a broader vision to create a "Society of Resistance," Hizballah's efforts target youth from kindergarten through post-secondary schools. This includes "The Imam al-Mahdi Scouts Association," Hizballah's official youth movement, which is devoted to brainwashing young Lebanese Shi'a as loyal disciples of the Islamic Republic of Iran's revolutionary ideology. The Scouts Association has branches throughout Shi'a areas across Lebanon with tens of thousands of members nationwide.
"Hizballah perceives sports as a means of inculcating its values in the youth and attracting it to its ranks, based on the connection between sports and the jihadi-military sphere," the report said, citing Sports Mobilization chief Jihad Atiya's 2015 interview with Hizballah's Al-Manar Channel.
Photos of Islamic Republic founder Ruhollah Khomeini and current leader Ali Khamenei are often displayed during youth award ceremonies.
Iran's Islamic Revolutionary Guard Corps (IRGC) similarly spreads the regime's radical ideology by producing computer games, books, documentaries, and children's videos.
The sporting programs teach athletic skills from a young age to develop effective future terrorists and fighters. These skills include martial arts, weightlifting, swimming, and sports shooting. Hizballah emphasizes soccer, given the sport's immense popularity in Lebanese society. According to the Meir Amit report, roughly half of all athletic competitions are hosted on symbolic dates for the terrorist organization, including "Shahid (martyr's) Day."
Sports teams and facilities are named after Hizballah operatives killed during militant operations. Children are encouraged to follow in their footsteps.
This phenomenon is similar to Hamas and the Palestinian Authority's (PA) use of educational facilities and athletic activities to incite violence against Israel and encourage children to become terrorists. This year, PA-affiliated institutions, including Fatah's student movement, organized several sporting events named in honor of terrorists. Similar events were held in Hamas-run Gaza.
Hizballah's Sports Mobilization keeps a low-profile with no official online or social media presence. But throughout the course of its study, the Meir Amit Center was able to uncover 400 Hizballah-run sports events since 2011.
Lebanon's minister of Youth and Sports, Muhammad Fneish, is not featured on a U.S. sanctions list targeting Hizballah operatives despite the fact that he is a known Hizballah figure, the report points out. The government ministry also sponsors Hizballah's athletic programming.
Click here to read the full Meir Amit report. It is part of a wider research project devoted to exposing Hizballah's vast social networks and institutions meant to strength the terror group's stranglehold over Lebanese society.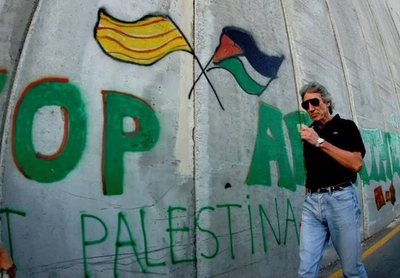 An anti-Semitic film, "The Occupation of the American Mind" will be shown Tuesday in Takoma Park, Md. at a taxpayer-funded screening despite public pressure to reverse course. The movie peddles in anti-Semitic tropes that claim Jewish and pro-Israel groups have disproportionate power over U.S. foreign policy and in effect brainwash Americans to support Israel.
"A municipality is using taxpayer money to show a widely rejected 'documentary' narrated by a notorious anti-Semite [Pink Floyd bassist Roger Waters] that peddles anti-Semitic canards," Ronald Halber, executive director of the Jewish Community Relations Council of Greater Washington, told the Jewish Telegraph Agency earlier this month. "They should be bringing people together, not dividing them."
After the movie, Islamist and anti-Israel figures from the Council on American-Islamic Relations (CAIR), American Muslims for Palestine (AMP), and Jewish Voices for Peace (JVP) will discuss the film. Each group actively promotes the Boycott, Divestment, and Sanctions (BDS) movement devoted to coercing the Jewish state.
BDS – which seeks to isolate Israel economically and culturally – is considered anti-Semitic because it singles out the world's only Jewish state and ignores countries with far worse human rights records.
CAIR's efforts to derail this bill or promote an anti-Semitic film are not surprising given the organization's record for spreading anti-Israel views that often transcend into the realm of bigotry.
CAIR is actively working to stifle an "Anti-Semitism Awareness" bill that directs the U.S. Department of Education to adopt a widely accepted working definition of anti-Semitism.
Elements of this working definition encompass modern anti-Israel sentiment that "crosses the line into anti-Semitism." That includes denying the Jewish people's right to self-determination, claims that Israel was founded as a racist entity, and applying double standards against Israel not expected of other democracies.
To add insult to injury, Takoma Park officials confirmed the participation of another radical Islamist: Taher Herzallah, associate director of Outreach & Grassroots Organizing for American Muslims for Palestine (AMP), according to a JCRC press release on issued Monday.
Herzallah is one of the "Irvine 11" prosecuted in 2010 following a hostile plan to silence a University of California, Irvine speech by former Israeli Ambassador Michael Oren. Three years later, as AMP's national campus coordinator, Herzallah proudly justified Hamas rocket fire into Israel while calling images of wounded Israeli soldiers "the most beautiful sight."
In November, Herzallah rationalized the slogan, "from the river to the sea, Palestine will be free," a call that leads to Israel's destruction.
"If giving Palestinians their right to live freely means the destruction of Israel, then so be it," Herzallah wrote on Facebook.
It's no surprise that he also called for violence against Israelis.
"Israelis have to be bombed, they are a threat to the legitimacy of Palestine, and it is wrong to maintain the State of Israel. It is an illegitimate creation born from colonialism and racism," Herzallah said during a 2014 AMP conference.
Despite the controversy, Takoma Park Mayor Kate Stewart defended the film screening.
"Our goal is to create a space for people to listen, critique, discuss, and learn from each other," Stewart said in a July 12 statement.
Inviting Islamist figures who espouse extremist positions to participate in publicly-financed events, however, is the opposite of creating "a space for people to listen." In numerous speaking engagements Herzallah, like other U.S.-based Islamists, has used his platforms to preach hate and spread extremism in an effort to intimidate supporters of Israel. The film screening likely will be no exception.
The brother of a prominent CAIR executive wrote about killing Jews on Facebook while waiting for a plane at Israel's David Ben Gurion Airport after a trip to Jerusalem's Al-Aqsa Mosque, the Middle East Forum's Sam Westrop found.
Ahmed Billoo, known on Facebook as "Ahmed Ibn Aslam," is Zahra Billoo's brother. She is executive director for the Council on American-Islamic Relations' (CAIR) San Francisco-Bay Area office and also is known for her frequent anti-Semitic outbursts. Ahmed Billoo is the religious director of the Islamic Center of Cypress and a professor at California Islamic University. He also teaches at the Institute of Knowledge, which Westrop identifies as a seminary that has other faculty from a hardline Salafist/Deoban ideology.
"Oh God, reduce their numbers, exterminate them, and don't leave a single one alive," Billoo wrote in an Arabic post featuring the hashtag "#Zionists."
Once Billoo reached Istanbul he posted, "So good to be in a Muslim country," with the hashtag "#TiredofSeeingZionists."
This is nothing new for Billoo. Westrop notes that The Jewish Journal describes an Ahmed Billoo from Alhambra, Calif., Billoo's home, who said that suicide bombers should be looked at on a case-by-case basis. He was president of the California State University Long Beach Muslim Student Association at the time.
Imam Faisal Ahmed, who heads the New York-based Fiqh Institute, replied to Billoo saying, "Ameen!!! Wow you were at the place where Eesa [Jesus] will slay the Dajjal [Anti-Christ]! Oh Allah make it happen soon make it happen soon. Destroy the forces of kufr [non-Muslims] and cause Emaan [faith] in you to spread throughout the earth Ameen!"
Several individuals belonging to leading U.S. Islamist groups showed their approval by liking Billoo's post. These included American Muslims for Palestine (AMP) Associate Director of Outreach & Grassroots Organizing Taher Herzallah, who affirmed his belief in Israel's destruction last November.
"Now, Zionists claim that voicing this statement erases them and threatens their project. They interpret it as meaning the destruction of Israel. If giving Palestinians their right to live freely means the destruction of Israel, then so be it," Herzallah wrote on Facebook.
CAIR California board member Abdelhamead Ibrahim, who also is an activist in Zahra Billoo's CAIR SFBA subchapter, also liked the post, so did Dalen Carter, an events and outreach assistant with CAIR Los Angeles.
CAIR and its allies like saying they oppose Israel's policies, but their embrace of posts like this serve as a reminder that Jew hatred lurks beneath the propagandistic façade.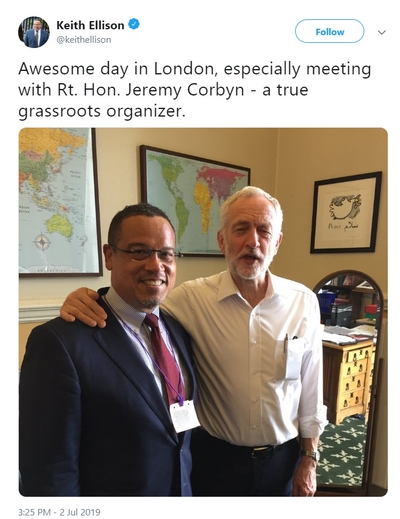 Minnesota Attorney General Keith Ellison, a former Democratic National Committee deputy chairman, posted a photo of himself Tuesday night with U.K. Labour Party Leader Jeremy Corbyn.
Corbyn's Labour Party has been embroiled in an anti-Semitism controversy that has seen key leaders leave the party. Nearly 40 percent of British Jews said they would consider leaving the U.K. if he were to become prime minister.
Ellison, a savvy politician, has to be aware of Labour's problems. That did not give him pause about posing with Corbyn, who has embraced terrorist organizations Hamas and Hizballah and called them his friends.
"Awesome day in London," Ellison wrote, "especially meeting with Rt. Hon. Jeremy Corbyn – a true grassroots organizer."
Before becoming Labour leader, Corbyn praised a re-issue of a century-old book that claims Jews control banking and the press. Corbyn wrote a foreword in the 2011 edition of J.A. Hobson's "Imperialism: A Study."
"I am sickened that Labour is now perceived by many as a racist, anti-Semitic Party," MP Mike Gapes wrote in a February resignation letter posted on social media. "But there has been considerable reluctance since then to seriously deal with hundreds of cases of anti-Semitism and several prominent anti-Semites have been readmitted to the Party."
An ongoing investigation by Great Britain's Equality and Human Rights Commission (EHRC), drew 100 witnesses, The Guardian reported.
Despite the scrutiny, "Nothing has changed," Jewish Labour Movement Secretary Peter Mason told the newspaper. "We continue to see the same behaviour that we have seen for a very long time and no action taken to tackle it."
Ellison, a former congressman, is also no stranger to embracing bigotry and anti-Semitism.
In 2010, Ellison promised at a private fundraiser that Israel's influence on American foreign policy would change once more Muslims got involved in politics.
He was also forced to denounce Louis Farrakhan, a fervent Jew-hater, despite the fact that he met privately with him in 2016. Ellison had said that his ties to the Nation of Islam and Farrakhan ended in the early 1990s.
Ellison insists he's being unfairly maligned. But he does himself no favors when, as a state attorney general, he makes a point of showing the world he's aligned with Corbyn. In 2015, Ellison criticized U.S. Rep. Steve King's invitation to anti-Muslim Dutch activist Geert Wilders.
Wilders, who has advocated banning the Quran and Islam, has a right to speak, Ellison said. But "we should not be offering the United States Congress as a platform for hate, division and bigotry."
Somehow, it's okay to provide a platform for hate, division and bigotry if it's in the United Kingdom?