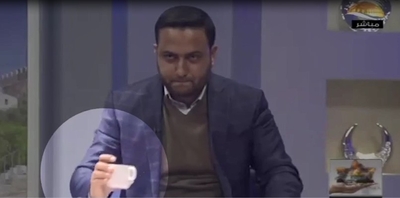 Coded messages on a satellite television station and Facebook are some of the tools Hamas has been using to plot a series of terrorist atrocities against Israelis.
A recent Hamas terror attempt to launch suicide bombings, stabbings, and shooting attacks against Israelis illustrates how the organization combines new and old media to promote death and destruction.
Like hundreds of attacks Hamas plans ever year, Israeli security forces detected and prevented this one. But Hamas in Gaza remains determined to keep looking for new ways to evade Israeli intelligence. This determination led it to use the Gaza-based Al-Aqsa satellite television station and Facebook to attract new recruits in the West Bank, who then receive instructions on how to go out and kill Israelis.
The recruitment attempts are part of a wider, dangerous, strategy by Hamas's military wing to evade Israeli detection, and send suicide bombers into Israeli cities from the West Bank. They illustrate just how deceptive the everyday quiet on Israeli streets is, and how hard Israel's security forces must work to preserve it.
Israel's Shin Bet intelligence agency on Wednesday announced the uncovering of a secret Gaza-based Hamas unit dedicated to recruiting Palestinians in the West Bank and east Jerusalem for terrorist attacks against Israel.
Dozens of young Palestinians – men and women – communicated with this unit and began planning violence in line with the instructions they received, according to the Shin Bet.
The agency said it learned of the latest plots and traced them back to the Gazan Hamas unit after questioning several terror operatives under arrest.
One, named by the Shin Bet as Kutiba Al-Nuaja, who is from the West Bank town of Yata, was arrested by Israeli security forces in December. During questioning, the Shin Bet learned that Al-Nuaja began communicating on Facebook with a Hamas operative in the Gaza Strip one year ago. It named that handler as Muhammad Arbid.
Al-Nuaja first thought his handler was a journalist, since Arbid's clothes had the word "press" glued on when he appeared in rioting incidents along the Gaza – Israel border.
Arbid connected his new recruit with a second Hamas handler, who presented himself as a member of the organization's military wing. The second handler encouraged Al-Nuaja to conduct terrorist attacks for Hamas.
To prove that he really was communicating with Hamas's military wing, his handlers asked him to choose a random verse from the Quran, and then watch a specific show on the Al-Aqsa satellite channel the next day. The host, he was told, would read the relevant passage. The promise came true, and the recruit was assured.
Al-Nuaja's handlers told him to conduct a suicide bomb attack on board a bus in the Israeli city of Lod, which is home to both Jews and Arabs. He was arrested days before he was supposed to receive his suicide bomb belt. The Shin Bet's detection had prevented another mass casualty attack.
A second suspect, Baha Shajiah, also aged 21, from the West Bank village of Deir Jariri, was a religious studies student at Al Quds University, east of Jerusalem. Jariri headed a secret Hamas student cell at his campus, and had already served a two-year sentence after being convicted of membership in a Hamas cell that was planning suicide bombing and shooting attacks on Israelis.
In December, he once again found himself in Israeli custody. During questioning, the Shin Bet said it learned that the suspect had been in contact with a Gazan Hamas operative via Facebook.
Jariri's handler told him that "people from the Al-Aqsa station are inviting him to be active in Hamas." The Shin Bet named that recruiter as 24-year-old Musa Alian, from Jabaliya in northern Gaza. Musa identifies himself on social media networks as a journalist.
Hamas used the same recruitment technique with other suspects. They too were lured into terrorist cells with messages from Al-Aqsa TV and Facebook. Using this technique, a Nablus resident was instructed to conduct a stabbing attack in an Israeli community, but he was arrested before he could act. Gazan Hamas recruiters told an east Jerusalem man to set up his own terrorist cell and conduct surveillance missions, like photographing busy sites in the Israeli capital.
In one extraordinary case, Hamas used Al-Aqsa TV to prove a West Bank recruit really was talking to the military wing by telling him to tune in at a specific time and watch the host place his coffee cup down on the table at the start of the program, and then recite a particular sentence from a poem.
After the program's opening graphics, the presenter deliberately set down his coffee cup, before reciting the words: "They declared the following: I do not worry when I am killed for Allah as a Muslim. [I am not worried about] what side I fall to the ground, dead for Allah."
"By watching the broadcast, the operative in the West Bank received confirmation of what he had heard from the operative in the Gaza Strip," the Shin Bet said.
This usage of the television station was instrumental in Israel's decision to bomb its studios in the Gaza Strip on Nov. 12 during an exchange of fire with Hamas.
Israel's intelligence services considered the channel to be a central aspect of Hamas's recruitment mechanism.
The Shin Bet also named two Al Aqsa TV hosts as notable aides in the military wing terrorist messaging system.
But Hamas did not just use the station to pass on coded confirmations to its new recruits. It also used it to incessantly incite Palestinians to violence.
"We must return to [our land] – above ground, underground, by means of demonstrations, bombs, weapons, explosives, explosive belts... We must return to our land," Hamas cleric and TV host Iyad Abu Funun declared on the station last April.
In recent years, the station also hosted figures like Hamas's Deputy of Religious Endowments, Abdallah Jarbu, who said: "The Jews are foreign bacteria... The Quran itself says that they have no parallel... May he annihilate this filthy people."
Ultimately, these efforts at fomenting jihadist violence reflect the strategy of Hamas's leadership, described by a Shin Bet source as undermining "stability in the West Bank at any cost."
Yaakov Lappin is a military and strategic affairs correspondent. He also conducts research and analysis for defense think tanks, and is the Israel correspondent for IHS Jane's Defense Weekly. His book, The Virtual Caliphate, explores the online jihadist presence.