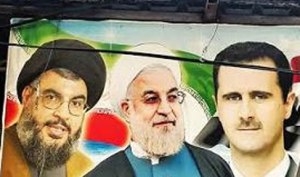 The conflict in Syria has long ceased being a civil war, becoming instead a clash between coalitions and blocs that divide the entire Middle East.
The Iranian-led axis is the most dangerous and highly armed bloc fighting in Syria. Bashar al-Assad's regime is not an independent actor, but rather, a component of this wider axis. In many respects, Assad is a junior member of the Iranian coalition set up to fight for him.
Russia joined the Iranian axis in 2015, acting for its own reasons as the pro-Assad coalition's air force, helping to preserve the Syrian regime.
This coalition enabled the Assad regime to conduct mass murder and ethnic cleansing of Sunnis from Syria, while also using unconventional weapons against civilians in an effort to terrorize rebel organizations into submission.
Feeling confident by its growing control of Syria, Iran also uses its regional coalition to arm, finance, and deploy Shi'ite jihadist agents all over the Middle East, and to attack those who stand in the way of Iranian domination.
The Iranian-led axis has been able to spread violence, terrorism, and Islamic militancy without facing repercussions.
Until recently, the United States focused its attention exclusively on Sunni jihadist threats – ISIS and al-Qaida-affiliated groups. While these terrorists certainly need to be attacked, turning a blind eye to the activities of the more powerful radical Shi'ite coalition did nothing to stop the region's destabilization. In this context, Assad's numerous crimes against humanity went unanswered.
This helped embolden Assad to use chemical weapons. It also gave the Iranians confidence to magnify their meddling in Syria, Lebanon, Iraq, Yemen, Bahrain, and to target many other states. The end result is Iran's enhanced ability to export its Khomeiniest Islamic fundamentalist doctrine.
That sent a troubling message to America's regional allies, who, in the face of these threats, formed a de facto coalition of pragmatic Sunni states – a coalition that includes Israel.
On April 6, the U.S. sent a signal that something may have changed. A cruise missile attack on an Assad regime air base, in response to a savage chemical weapons massacre in Idlib, Syria, was, first and foremost, a moral response to an intolerable act of evil.
But the strike also carries a wider prospective message about Washington's new willingness to enforce red lines against Assad and his Shi'ite allies.
Potentially, it is an indication that the U.S. is willing to use its military prowess beyond the objective of targeting ISIS, and that it recognizes that Sunni jihadists are not the only global security threat that warrants the use of military force.
Statements by senior Trump administration officials indicate that a shift has occurred. "What you have in Syria is a very destructive cycle of violence perpetuated by ISIS, obviously, but also by this regime and their Iranian and Russian sponsors," National Security Adviser H. R. McMaster told Fox News Sunday.
Russia must choose between its alignment with Assad, Iran, and Hizballah, and working with the United States, Secretary of State Rex Tillerson said Tuesday. The firm comment was made hours before he touched down in Moscow for talks.
According to U.S. officials, the April 6 missile attack destroyed 20 percent of Assad's fighter jets. It represents the first time that Washington has taken military action against a member of the Iranian-led coalition.
The strike could evolve into a 'dialogue of deterrence' that the U.S. initiates against dangerous actors. These radical actors all have 'return addresses,' and are likely to prove responsive to cost-benefit considerations, despite their extreme ideology. They may think twice before considering further development and usage of unconventional weapons.
Washington is now able to exercise muscular diplomacy – the only kind that is effective in the Middle East – and inform all members of the Iran's pro-Assad coalition that the deployment of unconventional weapons will not be tolerated. It can also begin to rally and strengthen the pro-American coalition of states in the Middle East, who seek to keep a lid on both ISIS and Iran.
With American officials indicating that they are "ready to do more" in Syria if necessary, signs suggest that the strike represents the start of a policy of deterrence, and leaving open future options for drawing additional red lines.
In theory, should Washington decide that Iran's transfer of weapons and extremist Shi'ite military forces to other lands has reached unacceptable levels, or that Iran's missile development program has gone far enough, it could call on Tehran to cease these activities. This call would carry substantially more weight following last week's missile attack on the Syrian airbase.
The U.S. is in a better position to inform Assad and his allies that there is a limit to how far they can go in pursuing their murderous ambitions.
While the objective of creating a renewed American deterrent posture is vital, it should not be confused with plans for wider military intervention in the seemingly endless Syrian conflict.
There is little reason to believe that conventional weapons use against Syrian civilians is going to stop any time soon, or that the enormous tragedy suffered by the Syrian people is about to end.
And there is certainly no indication that the U.S. is planning to initiate large-scale military involvement in this failed state.
Hence, the missile strike should be seen for what it is: an attempt to boost American deterrence, which can then be leveraged to restrain radical actors that have, until now, been operating completely unchecked.
That is a message that will likely be heard loud and clear not only in Damascus, but also in Tehran, which has not given up its long-term ambition of building nuclear weapons.
North Korea, which helped build Syria's plutonium nuclear plant (destroyed in 2007 in a reported Israeli air strike), and which maintains close links with Iran's nuclear and missile programs, can be expected to take note as well.
If a policy of strategic deterrence follows the strike, it could have an impact on a coalition that is not just keeping Assad's regime alive, but spreading its radical influence in many other areas.
In Syria, the Iranian Republican Guards Corps (IRGC) oversees ground operations across many battlefields to prop up Bashar al-Assad. Iran has gathered and armed tens of thousands of Shi'ite militia members from across the region into Syria, and manages a local force composed of 100,000 members. They fight alongside the Syrian Arab Army against Sunni rebel organizations, thereby increasing and entrenching Iranian influence.
The IRGC and its elite Quds Force are also helping to fill Hizballah's weapons depots in Lebanon, with a vast array of surface-to-surface projectiles that are all pointed at Israel, often using Syria as an arms trafficking transit zone. Syria acts as a bridge that grants Iran access to Lebanon, and allows it to threaten both Israel and Jordan.
Jordan, an important U.S. ally, is deeply concerned by Iran's actions in Syria, as evidenced by recent comments made by King Abdullah, who told the Washington Post that "there is an attempt to forge a geographic link between Iran, Iraq, Syria and Hezbollah/Lebanon." IRGC forces are stationed within a mere 45 miles from Jordan's border, he warned, adding that any hostile forces approaching the Hashemite Kingdom "are not going to be tolerated."
Hizballah, a Lebanese-based Iranian Shi'ite proxy, evolved into a powerful army by sending 7,000 to 9,000 of its own highly trained members into Syria's ground war. It helped rescue the Assad regime from collapse, and took part in battles stretching from Aleppo to the Qalamoun Mountains northeast of Damascus.
Last year, the Arab League and the Sunni countries of the Gulf Cooperation Council all declared Hizballah to be a terrorist entity.
Just as Iranian-backed Shi'ite militias have poured into Syria, the same has happened in Iraq, where 100,000 fighters supported by Tehran fight alongside the Iraqi government forces against ISIS. The IRGC's network extends to Yemen's Houthi Ansar Allah forces, who receive Iranian assistance. Ansar Allah, a heavily armed Shi'ite military force, fires ballistic missiles at Saudi Arabia on a regular basis.
The IRGC and Hizballah have been linked to a recent large-scale terrorist plot in Bahrain.
If the message addressed in the cruise missile strike is followed up with a strategy of deterrence, addressed to Ayatollah Khamenei as much as it was addressed to Assad, the U.S. could begin projecting to the world that it recognizes the threat posed by Shi'ite jihadists as much as it takes seriously the threat from their fundamentalist Sunni equivalents.
Washington's campaign to pressure Russia to distance itself from its Middle Eastern allies could play an important part of this message.
Yaakov Lappin is a military and strategic affairs correspondent. He also conducts research and analysis for defense think tanks, and is the Israel correspondent for IHS Jane's Defense Weekly. His book, The Virtual Caliphate, explores the online jihadist presence.