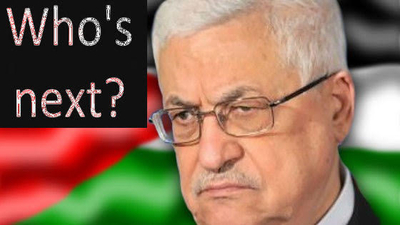 As Fatah party contenders who hope to succeed Palestinian Authority (PA) President Mahmoud Abbas reportedly arm themselves ahead of a looming power struggle, Fatah's arch rival, Hamas, is making its own preparations to dominate the West Bank.
The fundamentalist Islamist movement has already established a de facto state and terrorist army in the Gaza Strip, where it works day and night to spread terrorism and instability to the Fatah-ruled West Bank.
Hamas's Gaza leaders, joined by their colleagues in Lebanon and Turkey, seek to duplicate their 2007 success seizing power from Fatah in Gaza. Any upcoming power vacuum in the Palestinian Authority could create an opportunity for Hamas to strengthen its own radical influence.
In recent years, Hamas has worked diligently and consistently to create armed cells, as well as political, social, and economic networks in the West Bank. It has worked tirelessly to create terrorist financing channels, and to spread its indoctrination through a variety of media. Hamas keeps West Bank operatives in 'sleeper mode,' attempting to keep them off the radar of Israel's intelligence services, and on the Hamas payroll, so that it can activate them when it sees an opportunity to act.
These activities are aimed at both generating terrorist atrocities against Israeli targets, such as shootings and bombings, and building up an infrastructure strong enough to replace Fatah as the governing element in the West Bank.
Israel's defense establishment monitors such efforts around the clock, and works very hard to thwart the build-up of Hamas's West Bank networks. To date, Israel's efforts have been mostly successful, resulting in a deceptive quiet which could be shattered at any time.
The Palestinian Authority's security forces, seeking to avoid the same fate that they suffered in Gaza, play their own part in arresting Hamas members who threaten Fatah's rule. In 2014, Israel reportedly thwarted an attempted Hamas coup plot in the West Bank.
According to Israeli security sources, most of the terrorist finances, explosive materials, guns, and suspects seized in frequent counter-terrorist raids in the West Bank are linked to Hamas.
Some of these plots are orchestrated by Hamas's deputy chairman, Saleh Al-Arouri, who is currently based in Beirut, operating under Hizballah's protection. Arouri claimed credit on Hamas's behalf for the 2014 kidnapping and murder of three Israeli teenagers.
In the absence of Israel's intelligence and security operations, Hamas's ambitions to overthrow Fatah and take over the West Bank would be far more tangible.
Abbas, 83, was hospitalized three times in May, triggering a flurry of reports and speculation about the state of his health, and assessments of how long he can continue to lead the PA.
The coming potential power struggle in the Palestinian Authority could form an opportunity for Hamas to strengthen its presence in the West Bank, even if it can't go as far as launching an armed revolution like it did in Gaza, due to the presence of the Israel Defense Forces
Recent days have offered reminders of the danger Hamas poses in the West Bank. Israel's Shin Bet domestic intelligence agency broke up a large-scale Hamas cell that was forming Hebron, a city considered to be a Hamas stronghold, and home to tens of thousands of the organization's supporters.
Using coded covert messages and instructions, Hamas operatives plotted terrorist activities, and acted as liaisons between Hamas's headquarters in Turkey and Hebron, the Shin Bet said in a statement (Hebrew language link).
Hamas recruited dozens of members to coordinate activities in Hebron mosques, spread its indoctrination, and enlarged its "support circles," as well as its online incitement, the investigation found. It also sought to provide assistance to the families of Palestinian security prisoners in Israeli prisoners, the Shin Bet said.
The cell took over Hebron's municipal activities, and managed charities there. These efforts were allegedly headed by Nazar Shada and Fares Abu Sarah, both senior, well-known Hamas members who served time in Israeli prisons for security offenses. They recruited women to set up a central committee and act as go-betweens, linking the Hebron cell to Hamas's headquarters in Turkey.
The committee was headed by Dina Karmi, the widow of Nashat Karmi, who murdered four Israeli civilians in a shooting attack in 2010 in an Israeli settlement. He was later shot dead in an exchange of fire with Israeli forces.
According to the Shin Bet, the cell's female operatives paid regular visits to Turkey to meet with Hamas members deported by Israel in the 2010 Shalit prisoner exchange. The Turkey-based operatives were led by Hamas member Haroun Nasser Adin, a terrorist released in that 2010 deal. The Hebron operatives allegedly received money, messages, and instructions to take back to Hebron.
The case illustrates how Hamas headquarters in Gaza and those abroad are orchestrating terrorist activities in the West Bank, using "every means available to them, including the use of women," the Shin Bet said.
"These elements are working all of the time to fan Hamas activities in the West Bank, and to that end, they recruit messengers that travel between the West Bank and abroad, to pass on terror financing money and messages to the field operatives," the agency said. Israeli military prosecutors charged several members of the cell in recent days.
For Hamas, such activities are investments in the longer-term goal of seizing power in the West Bank and turning it into a terrorist base it can use to threaten Israel. It seems fair to believe that the potential power struggle looming on the horizon could present Hamas with an opportunity to try to cash in on some of those dangerous West Bank investments.
Yaakov Lappin is a military and strategic affairs correspondent. He also conducts research and analysis for defense think tanks, and is the Israel correspondent for IHS Jane's Defense Weekly. His book, The Virtual Caliphate, explores the online jihadist presence.