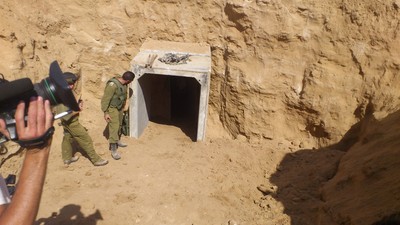 Photographs by Yaakov Lappin
On the face of it, Israel's southern border with Gaza looks calm. But under the surface, signs are growing that Hamas is thinking ahead to when the current ceasefire will end, and is investing heavily in preparations for serious cross-border terror attacks on Israeli civilians and the Israel Defense Forces (IDF).
The clearest indication that Hamas's feverish terrorism industry is ticking along at full pace, despite the truce in place since November 2012, came this week, when the IDF announced that an attack tunnel stretching from Khan Younis, in southern Gaza, to Israel's Eshkol region had been uncovered.
On Sunday, military reporters were invited to inspect the tunnel; it immediately became apparent that the subterranean structure was anything but ordinary.
Over a mile long and 65 feet deep, the tunnel's size is astounding. Its height – six feet – allows most adults to walk upright comfortably along it. Along the walls, we saw electric cables and phone lines, as well as over 24,000 concrete slabs (by the IDF's count) that Israel had allowed into Gaza with the intention of assisting the civilian construction sector there.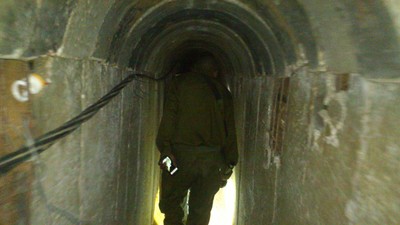 Hamas's cynical diversion of the materials, meant for the civilian economy, to its terror infrastructure led Southern Command chief Maj.-Gen. Sami Turgeman to cancel the transfer of further concrete to Gaza this week.
The tunnel splits into two branches, with one heading directly for an IDF border position and the second branch dug in the direction of the Israeli villages of Kissufim and Ein Hashlosha.
Hamas may have been planning a simultaneous attack, with one terrorist cell targeting IDF soldiers for death or capture (in order to extort Israel to release additional Palestinian security prisoners), and a second cell moving across the tunnel towards a civilian community to carry out an atrocity.
The military's assessment is that Hamas wasn't about to use the tunnel now, but rather, that it is preparing its operations for when the next round of violence breaks out.
Millions of dollars went into constructing the tunnel, one of three major tunnels found by the IDF this year alone.
"Instead of investing in schools, or civilian industry and employment, Hamas invests in terror," Turgeman pointed out. But he didn't come to the tunnel merely to chastise the Gazan regime. The southern commander also had a warning.
The tunnel, he said, "constitutes a gross violation of Israeli territory. If Hamas carries out a terrorism attack, it will pay a heavy prize, and Gaza will look different afterwards."
Turgeman's warning is aimed at maintaining Israeli deterrence. The caution is backed up by Israel's unprecedented fire power and intelligence capabilities, which, if directed at Hamas, would threaten its ability to maintain power in the Gaza Strip.
During Operation Pillar of Defense in 2012, the Israel Air Force struck 1,500 terror targets in Gaza. If needed, the IAF can strike the same number of targets in a single day with precision guided missiles.
Furthermore, the IDF might be ordered to carry out a ground offensive.
For the time being, the IDF has set up specialized surveillance units that operate covertly along the border, alongside heavy armor and infantry patrols, and advanced electronic sensors.
Hamas's strategic isolation is at an all-time high due to the Egyptian military coup which ousted from power the Egyptian Muslim Brotherhood. Hamas leaders had planned to join forces with their Egyptian brethren and eventually form a united front of radical, armed Islamists along Israel's southern borders. Now, those aspirations are in ruins.
Even if Hamas manages to return to the arms of its old sponsor, Iran, the weapons smuggling routes that once ran through Egypt's Sinai Peninsula to Gaza will be far harder to reactivate, due to the new Egyptian administration's firm determination to counter terrorism and arms smuggling in the region.
Nevertheless, Hamas remains a serious foe. It is restocking its rocket arsenal, which consists of thousands of projectiles aimed at the majority of Israeli civilians in its range, while training its gunmen for guerilla warfare and cross-border terrorism, and, as the tunnel exposure indicates, investing heavily in subterranean capabilities so that it can surprise Israel.
Mousa Abu Marzook, the deputy head of the Hamas politburo, took a predictably belligerent position after Israel exposed the tunnel, officially claiming responsibility for it and linking it with kidnapping plots of IDF soldiers to free incarcerated terrorists. He said the tunnel's construction had cost Hamas "much blood, money and effort," and added: "But all of these pale in comparison to our will to free Palestinian prisoners jailed in Israeli prisons."
Hamas also released a statement saying that "our will, entrenched in the hearts and minds of our people, is far more important than a tunnel dug in the ground. Our will can give birth to thousands of additional tunnels."
A day after that statement was made, the IDF blew up another tunnel that was discovered last year, laden with explosives, and dug to target Israeli security forces patrolling the ground above.
For now, Hamas will continue to try and play a cat-and-mouse game with Israel, building up attack capabilities for the day the ceasefire breaks down. But Israel too is preparing for the day hostilities resume, and it plans to utilize its superior military might to crush Hamas should the terror regime in Gaza dare to use its territory to attack Israel again.