United Kingdom foreign aid directly finances Palestinian terrorists responsible for killing Israelis, including planners of suicide bombings, according to a Daily Mail investigation.
The investigation reaffirms that major Western country donors continue to be misled concerning development assistance to the Palestinian Authority (PA).
Concrete evidence of the PA paying convicted terrorists in Israeli jails was presented in a court document during a $1 billion civil trial brought by U.S. victims of Palestinian terrorist attacks in Israel from 2002-2004.
Despite assurances that the PA would cease to pay convicted terrorists, PA officials allow the Palestine Liberation Organization (PLO) to distribute the funds to Palestinian murderers instead.
According to the Daily Mail review, the PLO transferred more than $140,000 to Hamas bomb maker Abdallah Barghouti, who is responsible for masterminding deadly attacks in Jerusalem and Tel Aviv. Other "salaries" are provided to families of suicide bombers and Palestinians involved in the latest wave of violence against Israelis.
The investigation also uncovered a tremendous amount of waste and corruption. For example, PA President Mahmoud Abbas is building an $11.3 million palace in the West Bank.
Daily Mail reporter Ian Birrel interviewed terrorists to confirm that the PA pays them and their families for attacking Israelis.
Ahmad Musa, convicted for a double murder and sentenced to life imprisonment, was released after five years of his sentence in a "peace deal" and enjoys a monthly salary from the PA.
"Yes, I shot them dead," Musa boasts after Birrell asks him whether he is guilty.
Musa earns roughly $850 a month, for life, while other terrorists receive much more.
Amjad Awad, among the terrorists who slaughtered the Fogel family in their West Bank home, including three young children in 2011, received up to an estimated $22,600.
In another case, the father of two brothers imprisoned for shooting Israelis told the Daily Mail that he receives monthly stipends of $610 from the PA and more than $400 from PLO.
The Department for International Development confirms that the PLO offers "social welfare" payments to terrorist prisoners' families, but denies that UK funds directly reach the murderers themselves.
A 2015 Palestinian Media Watch report outlines how the PA continues to deceive the West by diverting money to terrorists and their families through the PLO.
PA officials explicitly defend the payments.
"It is not a crime to be fighting occupation. These people are heroes," said Amr Nasser, adviser to the PA social affairs minister.
A pro-ISIS propaganda video released Thursday that celebrates the massacre in Brussels is linked to Moez Bin Abdul Qadir Fezzani, aka "Abu Nassim," a detainee released by the Obama administration to Italian custody in December 2009.
[av] 783 [/av]
Al-Battar Media, responsible for producing the video, is reported to be the media arm of the Kalibat al-Battar al-Libi, an elite Libyan-based ISIS unit with ties to the Islamists responsible for the Paris and Brussels attacks. Al-Battar is headed by Fezzani, an intelligence source tells the Investigative Project on Terrorism (IPT).
Confusion reigns over where he was held because U.S. and Italian media reports suggest he was held in Guantanamo Bay. However, U.S. government records suggest he was released to Italian custody from a U.S. detention facility in Bagram, Afghanistan. Fezzani used several aliases, which adds to the uncertainty.
A court in Milan tried and ultimately acquitted Fezzani in March 2012 for his alleged involvement in jihadist activities prior to his initial capture in Afghanistan 2001.
Italy then expelled Fezzani and sent him back to his native Tunisia, even though Italian authorities considered him a security threat.
Upon his return to Tunisia, Fezzani joined the Al-Qaida linked Ansar al-Sharia in Tunisia, which has been involved in a jihadist insurgency against the country's government in the wake of the Arab Spring. A year later, in 2013, Fezzani traveled to Syria to fight under the banner of Al-Qaida's Syrian affiliate, Jabhat al-Nusra. He then went to Libya in 2014 where he became a leader of the Kalibat al-Battar militia, which ISIS's elite special forces unit.
Tunisia's Department of the Interior issued an arrest warrant for Fezzani on Feb. 8. He is suspected to have been involved in the planning of last year's ISIS attacks in Sousse and at Tunis' Bardo museum.
"If the information on Fezzani proves to be true, it is very disturbing. Just like the head of the Islamic State, Abu Bakr al Baghdadi, this was a man we had in our detention facility and let go," terrorism analyst Dr. Sebastian Gorka, who teaches at the Marine Corps University, told the IPT. "More and more it seems that the administration, and their counterparts in Europe, do not understand that the ideologues of global jihadism are far more important than the operational commanders of individual cells or organizations."
Video obtained by the Investigative Project on Terrorism (IPT) shows Islamic State (ISIS) jihadis in Raqqa celebrating the Brussels attacks and wishing for future ones in the United Kingdom.
"In Belgium, Brussels Airport a big boom went off," a jihadi says. "Heathrow, Downing Street."
Another jihadi is heard in the background, saying, "You're next!"
The video is typical of the Islamic State's recent post-attack celebrations and promises of future attacks.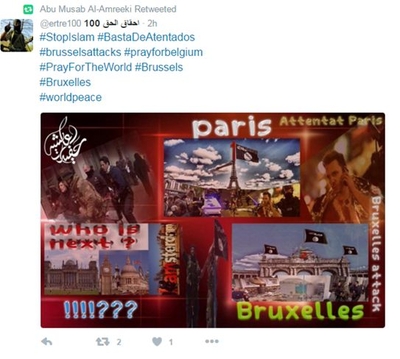 A tweet repeated on several ISIS-related account seemed to imply that London, which witnessed its own horrific suicide bombing on July 7, 2005, could be next on the terrorists' target list. The tweet shows Paris's Eiffel Tower with the black ISIS flag along with the triumphal arch in Brussels followed with the question, "Who is next!!!???"
A photo of Big Ben next to London's St. Paul's Cathedral and the Reichstag building in Germany accompanies the caption.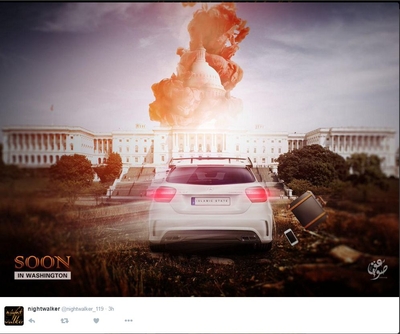 London isn't the only city in ISIS' crosshairs. The nation's capital, Washington, D.C., also received honorable mention. Just as following the San Bernardino shooting, an ISIS-linked account posted an image of the U.S. Capitol dome surrounded by an explosion, with the caption: "Soon in Washington."
Another image posted on the same Twitter account shows an ISIS jihadi standing atop a beheaded Statue of Liberty.
The Obama administration paid $1.7 billion to Iran following three years of secret negotiations involving "decades-old legal disputes," according to a State Department letter obtained by the Washington Free Beacon.
This development was exposed after U.S. Rep. Mike Pompeo, R.-Kan. launched an inquiry in January. Many view the money transfer as a "ransom payment," as the settlement was announced close to the release of five American prisoners held in Iran.
After a long delay, the administration finally sent a letter to Pompeo stating that more taxpayer-funded financial transfers are likely in order to address some of Iran's legal claims against the United States.
"We are confident that this was a good settlement for the American taxpayer," said State Department Assistant Secretary for Legislative Affairs Julia Frifield.
Iran's legal battles ensued after the U.S. canceled a significant weapons deal following the 1979 Islamic revolution and hostage taking of U.S. personnel stationed in Iran. The State Department letter outlines secret meetings held in June 2014 and January 2015, whereby the Obama administration attempted to reach a settlement with Iran.
"The United States is continuing to vigorously litigate these claims at the [Iran-U.S. Claims] Tribunal [at the Hague], but is also open to discussing further settlements of claims with Iran, as we have done throughout the life of the Tribunal, with the aim of resolving them in furtherance of U.S. interests," the letter said, implying more money will be transferred to Iran through a taxpayer legal fund coordinated by the Treasury Department.
However, the administration refused to directly answer Pompeo, who is concerned the funds are part of a deal to encourage the release of American prisoners in Iran.
"When Iran releases American hostages, and then, on that same day, President Obama announces he is paying Iran $1.7 billion, Congress of course has to ask the hard questions...The State Department has ducked and dodged–providing a history lesson on international tribunals, focused on actions decades ago, instead of addressing dangerous misdeeds that were potentially just committed. That is suspicious," a source familiar with the congressional inquiry said.
The settlement was independent of negotiations surrounding the Iran nuclear deal, which obligates the U.S. to release $150 billion in frozen assets to the Islamic Republic.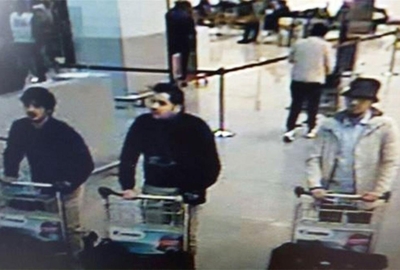 Having identified the three men responsible for Tuesday's bombing at Brussels' Zaventem airport, police are now said to be closing in on the one surviving suspect, Najim Laachraoui. Laachraoui can be seen with Brahim El Bakraou and another bomber, in airport surveillance video taken shortly before the attacks. Bakraou's brother Khaled is believed to be the suicide bomber who blew up a Metro car shortly after the airport attack.
But who is Najim Laachraoui?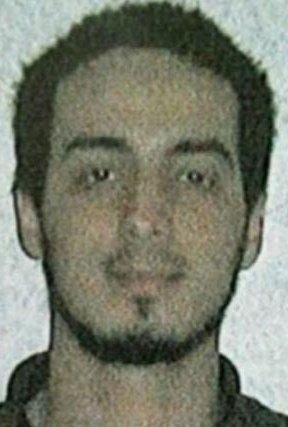 A Moroccan native who grew up in the neighborhood of Schaerbeek and attended Catholic school, Laachraoui was known to authorities even before the bombings. Using the name Soufiane Kayal, he is believed to have rented a safe house in Auvelais, Belgium, which the Washington Post reports "was raided shortly after the attacks in Paris." More recently, Belgian police report, both his fingerprints and those of Paris bombing suspect Saleh Abdeslam's were found in another house in Schaerbeek.
It appears that the two have been acquainted for quite some time: they were stopped last September in a routine check as they drove across the Austrian-Hungarian border with a man named Mohammed Belkaid (also known as Samir Bouzid). Belkaid was killed during last week's police raid in Vorst that ultimately led to Abdeslam's capture.
Laachraoui also is known to have gone to Syria to join ISIS in 2013, reportedly using the name Abou Idriss. There is conjecture that he returned by taking advantage of the rush of refugees that arrived in Europe last summer.
It was there that he became an expert at bomb-making, a craft he is believed to have put to use both in Paris and again in Brussels. Authorities reportedly found a third bomb at the Brussels airport that did not detonate.
Laachraoui apparently left the airport before the attack. As of this writing, he remains at large.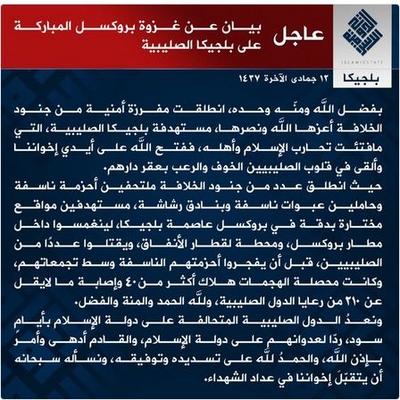 The terrorists who detonated bombs inside Brussels' airport and on a Metro commuter train were "made strong and helped" by God, the Islamic State (ISIS) said in a statement claiming credit for the attacks.
"Crusader Belgium" was targeted because it "has not ceased to wage war on Islam and its people, with God granting victory to our brothers, and planting in the hearts of the Crusaders fear and terror at their doorstep," a translation of the statement by the Investigative Project on Terrorism said.
In the wake of similar attacks, Islamist groups like the Council on American-Islamic Relations (CAIR) have argued that religion is not a factor in fueling the violence, and the Islamic State is not really Islamic. That message isn't getting through. Last week, former Virginia resident Muhamad Khweis described aspects of his life with ISIS before he turned himself in to Kurdish forces.
"Our daily life was basically prayer, eating and learning the religion for about eight hours...it was pretty hard to live in Mosul," he said.
Tuesday's ISIS statement contained repeated references to God, praising him for the success of the Belgium attacks. The terrorists "killed a number of Crusaders before they exploded their belts amid crowds of them," it said. "... To God be praised and blessing and grace."
Belgium and other Western states fighting ISIS "are facing black days in response to their aggression against the State of Islam. Coming is more calamitous and bitter, with God's permission. Praise be to God for His Guidance and Blessing. We ask Him to accept our brothers in the numbers of the martyrs."
Airstrikes targeting ISIS strongholds in Mosul, Iraq, took place last weekend. Other ISIS statements today indicate the attacks were in retaliation.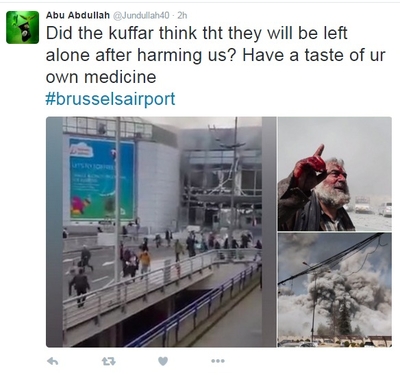 As shocking as this morning's simultaneous terror attacks at Belgium's airport and in its Metro system may be, they show the disturbing depth of the terrorist infrastructure which was allowed to take root in the European Union capital's back yard.
A series of police actions reportedly are underway targeting elements of that infrastructure. It's a safe bet that some of those raids will be in Molenbeek, a Brussels suburb.
It has been dubbed "Europe's terrorism capital." Saleh Abdeslam, the key surviving player in November's horrific attacks in Paris, was arrested in Molenbeek Friday. Police were thanked by a hail of bottles, stones and other debris by locals more loyal to the terrorist than the land that gave them refuge.
Authorities "don't have control of the situation in Molenbeek at present" and said the authorities needed to "clean up" the area, said Interior Minister Jan Jambon.
In raids last week, authorities found an ISIS flag, a book about Salafism, a sizable cache of weapons, indicating more attacks were in the works. They just didn't realize how close to completion those plans were.
The Paris attacks were planned in Molenbeek – three of the attackers grew up there – and the resulting investigation last November prompted officials to place the entire country on lockdown, fearing attacks like Tuesday's in Brussels were imminent.
"We were fearing terrorist attacks, and that has now happened," Belgian Prime Minister Charles Michel of Belgium said Tuesday.
Belgian Muslims have left Europe to join the Islamic State in greater numbers per capita than any other country. It is so pervasive, Buzzfeed reports, that Belgian law enforcement admits being overwhelmed by the volume of open terrorism investigations.
Their challenge is compounded by the depth of Islamist radicalization which has taken root in Molenbeek, as Friday's violent reaction to Abdeslam's arrest shows.
"There is a sort of clannishness in the area that is stronger than anything else," Claude Moniquet, a former intelligence agent now with the European Centre for Strategic Intelligence and Security in Brussels, told London's Telegraph.
The most wanted terrorist in Europe, considered a leader in November's multi-targeted attack in Paris that left 130 people dead, was arrested Friday by Belgian authorities.
But residents in the Molenbeek district of Brussels, where Saleh Abdeslam was captured, didn't breathe a sigh of relief. Within hours, the district, which has a majority Muslim population, erupted into riots. Dozens of Abdeslam's fans attacked police with bottles, stones, and other objects, local press reported, angered by the arrest of their "hero."
The situation is developing.
Worse yet, Belgian newspaper De Morgen reported (subscription only) that "the whole neighborhood" knew where Abdeslam was ever since the Paris attacks. Nobody tipped off authorities.
The violence and code of silence over Abeslam's hideout is not as surprising as it might seem. As we've noted previously, the Paris attacks were hatched in Molenbeek, in addition to the 2015 attack on the satirical magazine Charlie Hebdo's offices.
The International Federation of Journalists (IFJ) defended the right of a terrorist-affiliated Palestinian media outlet to incite murder against Israelis, according to Honest Reporting.
The Israel Defense Forces (IDF) recently closed down "Palestine Today" – a Palestinian Islamic Jihad radio and television station – for inciting violence and glorifying Palestinian terrorists. Instead of condemning the Palestinian media outlet, the IFJ accused Israel of engaging in a "wave of violence targeting journalists."
"The International Federation of Journalists (IFJ), which represents 600,000 journalists across the globe, stands by its affiliate the Palestinian Journalists Union (PJS) in condemning this brutal attack against free press and ask for UN immediate reaction to the escalation of attacks against the press in the occupied territories," reads an IFJ statement.
The IFJ statement bestows journalistic legitimacy upon the propaganda arm of an organization designated as terrorists by the United States, European Union and other major Western countries. The IFJ also failed to point out that Palestine Today calls for Palestinians to kill Israelis.
"Freedom of the press does not extend to terrorist propaganda and to those who incite to murder," Israeli parliamentarian Yair Lapid in a statement to the IFJ. "The content on Palestine Today would not pass the editorial guidelines of any of your members. I was a journalist for over three decades; this isn't journalism. This isn't free speech, this is hate speech. You are not defending press freedom; you are defending incitement to murder."
The IFJ has a history of supporting other "journalists" who were exposed as terrorist operatives. The IFJ pressured the Newseum, a Washington D.C. based museum specializing in media, to maintain two Hamas terrorists on its journalist commemoration list, despite revelations of their true identities.
The IFJ also failed to condemn Hamas for intimidating Western journalists in Gaza covering the 2014 summer war between Israel and the terrorist organization. Hamas operatives threatened and harassed journalists for reporting cases of the terrorist groups' use of human shields, inhibiting the ability for journalists to report the conflict accurately.
Secretary of State John Kerry bowed to congressional pressure Thursday, declaring that the Islamic State is conducting genocide against Yazidis, Christians and Shiite Muslims.
The declaration follows Monday's unanimous U.S. House of Representatives vote also calling ISIS's slaughter of religious minorities genocide. Congress previously gave Kerry until today to make a determination whether the Islamic State's actions qualified. ISIS "is genocidal by self-proclamation, by ideology, and by actions – in what it says, what it believes and what it does," Kerry said. "Daesh [ISIS] is also responsible for crimes against humanity and ethnic cleansing directed at these same groups and in some cases against Sunni Muslims, Kurds and other minorities."
Kerry noted specific atrocities carried out by Islamic State forces, including executing Christians solely based on their religion in Mosul and Qaraqosh in Iraq; murder of Coptic and Ethiopian Christians in Libya; and the systematic destruction of the cultural heritage of Armenian, Syriac Orthodox and Roman Catholics by blowing up their monasteries and churches.
Kerry also cited the ISIS murder of hundreds of Yazidi men in the town of Kocho, Iraq and its trapping of tens of thousands of Yazidis on Mt. Sinjar in Northern Iraq. The group subsequently captured thousands of Yazidis women and girls, enslaving them and raping them.
He additionally noted the Islamic State's frequent attacks against Shiites, who it calls "disbelievers and apostates."
"We know that Daesh's actions are animated by an extreme and intolerant ideology that castigates Yazidis as quote, 'pagans' and 'devil worshippers,' and we know that Daesh has threatened Christians by saying that it will, quote, 'conquer your Rome, break your crosses and enslave your women," Kerry said.
Former U.S. Rep. Frank Wolf, who was among the first to publicly call for such a declaration last year, expressed his gratitude to Kerry.
"I am very appreciative that they declared it," Wolf said. "It is very, very important."
Declaring the Islamic State responsible for genocide honors the victims, Wolf said. It makes it easier for Christians, Yazidis, Shiites and other groups covered by the declaration to obtain asylum.
Wolf also believes it could make Saudis, Qataris and Turks who have been complicit in supporting the Islamic State subject to prosecution.
"Now they are complicit in genocide," Wolf said. "It's important because in 2003 there were one and a half million Christians in Iraq. Now, they are down to 250,000. There was a group out of England ... that put out a report that said that if something isn't done there will be no Christians left in the Middle East."