Notorious Lebanese terrorist Samir Kuntar reportedly was killed Saturday night in Syria as he prepared a major attack against Israel, according to Western sources and reported by YNet News.
Israeli officials are not commenting, but are suspected of being behind the long-range precision-guided missiles to neutralize Kuntar's terrorist plans – which were directly financed and supported by Iran. Kuntar was reportedly killed in the Damascus operations center that the Iranian Revolutionary Guard Corps (IRGC) helped set up for the terrorist to coordinate plots against the Jewish state, the Jerusalem Post reports.
Kuntar was 16 years old in 1979 when he and three other members of the Popular Front for the Liberation of Palestine (PFLP) sneaked into Israel, killing a policeman and kidnapping a man and his 4-year-old daughter, Einat Haran. Kuntar killed the little girl by smashing her head with his rifle butt. Compounding the tragedy, Haran's other daughter, a 2-year-old, was accidentally suffocated by her mother as she tried to keep the girl from crying out as they hide from the terrorists in their apartment.
Upon his release, Kuntar said he regretted nothing and received a hero's welcome in Lebanon.
Kuntar reportedly became an influential figure in Hizballah after this release, but may have gone his own way after disagreements concerning attacking Israel. Acting on Iranian orders and working with pro-Assad militias in Syria, Kuntar helped create cells to plant bombs at Israel's border, fire missiles, and conduct cross-border infiltrations.
The Hizballah rift allegedly began after Jihad Mughniyeh – son of assassinated terrorist leader Imad Mughniyeh – replaced Kuntar as commander of Iranian-Hizballah operations in the Golan Heights.
In January, another airstrike attributed to Israel targeted a Hizballah convoy seeking to attack Israel from the Golan. It included a senior Iranian general and Jihad Mugniyeh.
Even though Hizballah stopped working with Kuntar, he continued to plan attacks against Israel through his ethnic-kin Druze connections who supported the Assad regime.
The Lebanese Shi'ite terrorist organization feared that a Kuntar-led attack against Israel would invite Israeli intervention that would hinder current Iranian-Hizballah objectives in Syria. These reports indicate that several actors may have had a reason to kill Kuntar.
Three rockets were fired at Israel from Lebanon following Kuntar's death, falling into open northern territory. The Israel Defense Forces (IDF) responded by striking terrorist targets in southern Lebanon with artillery fire on Sunday.
Dozens of Swedish citizens received threatening letters with "ISIS" signatures, calling for them to either convert to Islam, pay tax to the terrorist organization, or be killed – according to a Russia Today (RT) Arabic report Sunday translated by the Investigative Project on Terrorism (IPT).
Official Swedish television reports that police are taking the threats seriously, considering the messages were disseminated in Swedish to people throughout the country. The messages included the national identity number of the targeted individuals in an effort to enhance the terrorists' credibility.
"The messages gave a choice between Islam, tribute, and murder by beheading or perhaps blowing up houses of the owners, after the deadline set by the sender three days from the date of dispatch," reads the report.
On Saturday, Swedish police confirmed receipt of multiple threats from similar letters distributed in several Swedish regions, including the capital Stockholm.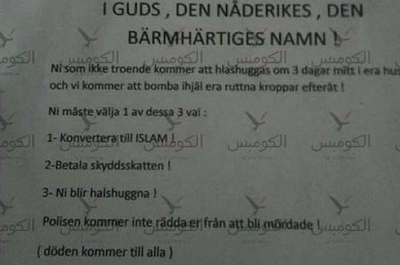 The city of Sigtuna's policy chief, Emil Anderson, "called on the population to deal with all developments seriously and to report any suspicious behavior in the vicinity of their residences." Police were increasing their presence where the threats were received, according to an IPT translation of the Arabic service associated with Sweden's Sverige Rost newspaper.
It is unclear who sent the emails and an investigation is underway, Anderson said.
Sigtuna's head of security, Thomas Mile Born, is skeptical that the threats came from ISIS, believing that they may be a hoax, reports Sweden's Sigtunabygden newspaper.
However, Swedish citizens previously have been targets of radical Islamist messages.
In October, members of the Assyrian Christian community in Sweden were told to "convert or die" in messages linked to the Islamic State, reported the Daily Mail. Threatening graffiti was found on restaurants and businesses in Gothenburg – a major hub for radical jihadist recruitment. Terrorism expert Magnus Ranstorp has referred to the city as "the Swedish Centre for Jihadists."
One Assyrian Christian living in the city said he discovered threatening messages written on his restaurant walls, including "convert or die" and "the caliphate is here." Similar messages and the ISIS logo were painted on a neighboring pizzeria, while other non-Assyrian-owned establishments were not vandalized, reported Breitbart.
According to the Swedish newspaper Aftonbladet, at least 150 jihadists from Gothenburg are believed to have fled to join ISIS.
He accused the FBI of killing two men in cold blood in separate incidents. But Obama administration officials saw Hassan Shibly as a suitable representative of the American Muslim community to include at Monday's White House meeting on combating religious discrimination, the Investigative Project on Terrorism (IPT) has learned.
Shibly is the chief executive director for the Council on American-Islamic Relations (CAIR) in Florida. Since 2008, FBI policy has barred outreach communication with CAIR officials due to documents seized by law enforcement which place CAIR and its founders at the heart of a Hamas-support network at the time of CAIR's creation. Eyewitness interviews recently obtained by the IPT further detail CAIR's ties to Hamas and the Muslim Brotherhood.

Until it determines "whether there continues to be a connection between CAIR or its executives and HAMAS, the FBI does not view CAIR as an appropriate liaison partner," a senior official wrote in 2009.
Why would the White House include CAIR when FBI policy is to avoid the group? A White House spokesperson wouldn't say, telling the IPT in an email Tuesday afternoon that "CAIR state chapter representatives have been included in broad meetings" with the White House and other cabinet-level agencies.
The meeting's focus is understandable, but the inclusion of a prominent CAIR official serves only to enhance the status of a group with documented ties to a terrorist-financing network. And the exclusion of voices representing non-Islamist Muslim reformers just makes their challenge of getting a fair hearing for their ideas more difficult.
Shibly's record should have been especially troublesome for staffers compiling a list of White House guests to meet with Senior Advisor Valerie Jarrett. He is helping a family sue the FBI, alleging an agent unjustly shot and killed a friend of Boston Marathon bomber Tamerlan Tsarnaev after hours of questioning in his Orlando home in 2013.
Independent investigations, requested by CAIR, by the Justice Department and a Florida state attorney found that Ibragim Todashev, a "skilled mixed-martial arts fighter," attacked the agent shortly after acknowledging involvement in a separate triple-murder case in Massachusetts. Todashev continued charging after being shot, prompting the agent to fire more.
Shibly rejected the findings, saying only Todashev could "contradict the government's narrative" but he was dead. Similarly, Shibly joined other CAIR officials in blaming the FBI for the 2010 death of a Detroit imam who refused to surrender to arresting FBI agents and shot an FBI canine trying to subdue him. Again, independent investigations CAIR requested supported the agents' actions, and even included video showing the imam trying to conceal his Glock 9mm handgun.
During a 2012 radio interview, Shibly claimed "the imam was tied and bound and was shot. And that is very troubling. Why was a man in chains shot?"
Shibly made this statement two years after video of the shooting was released. There is no evidence supporting Shibly's description.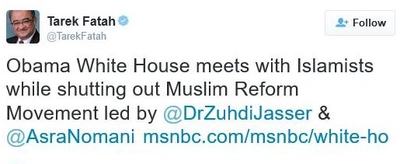 While there was room for Shibly at the White House, the guest list included no representatives from a new coalition of non-Islamist Muslims which issued a declaration and statement of principles for the Muslim Reform Movement. The values described include "peace, human rights and secular governance," a call to defeat "Islamism, or politicized Islam," and a simple declaration: "We reject interpretations of Islam that call for any violence, social injustice and politicized Islam."
These are the values that merit the endorsement of a meeting with top White House staffers.
But for the past seven years, the Obama White House has opened its doors to the entire spectrum of radical Islamist groups, just like CAIR. These groups have rationalized the actions of Islamic terrorist groups that have killed Americans, warned American Muslims against cooperating with law enforcement, smeared genuine Muslim moderates like Zuhdi Jasser and Asra Nomani as traitors and accused anyone who dared to utter the term "radical Islam" as "Islamophobic." These are the groups that the White House should have marginalized. The fact that Obama legitimized radical Islamist groups will be his real legacy.
Hamas reaffirmed its commitment to destroying the Jewish state, while tens of thousands of Palestinians celebrated the terrorist group's 28th anniversary, the Jerusalem Post reports.
"Hamas vows to remain faithful to the liberation of Palestine and to keep its weapon directed at the Israeli occupation only," read a Hamas statement released on its English language website.
Hamas praised the recent wave of Palestinian terrorism plaguing Israel, calling it the "Jerusalem intifada," and encouraging others to engage in "heroic resistance against Israeli soldiers and settlers" in order to achieve "the right of return – a sacred, nonnegotiable individual and collective right." According to the statement, Hamas will "never compromise even one inch or grain of its soil or holy sites."
Hamas continues to be dedicated to the erosion of Jewish sovereignty in any form and does not distinguish between Israel proper and the Palestinian territories – viewing the entire land of Israel as an "occupation."
"Hamas will never recognize the Israeli occupation, and confirms that Palestine from the Jordan River to the Mediterranean is an Arab, Islamic country," the statement read. This rejectionist sentiment is at the core of Hamas' ideology, obstructing any potential for a meaningful peace settlement with the Palestinians.
Reinforcing that message, Hamas leader Khaled Meshaal glorified Palestinian terrorists involved in recent attacks against Israelis, calling for the path of "Jihad, sacrifice, and blood" as the only way Palestinians can achieve their objectives.
"The Palestinians have reached the realization that negotiations with the (Israelis) are useless...the so-called peace process is futile. There is no peace. Only the path of Jihad, sacrifice, and blood (will bear fruit)," said Meshaal in a December 10 speech in Malaysia, translated by the Middle East Media Research Institute (MEMRI) and reported by the Times of Israel.
Click here to view the MEMRI video clip.
"Weapons like Kalashnikovs or missiles are not at hand, but there are knives and cars with which to run over the enemies...By God, after the knives used by the people of the West Bank and Jerusalem, can anyone possibly have an excuse to abandon the path of jihad? Nobody can have such an excuse," stated the Hamas leader.
Palestinian terrorists have killed 20 Israelis in the past three months, following near-daily attacks targeting Jews.
Meshaal met with government officials and politicians in Malaysia last week with a delegation of senior Hamas officials. Malaysia is a major component of Hamas' international terrorist infrastructure, as the group actively recruits Palestinians studying at Malaysian universities to join Hamas for eventual terrorist attacks against Jews in Israel.
Two-thirds of the Palestinians living in the West Bank and Gaza support the current wave of terrorism targeting Israelis, a survey published Monday by the Palestinian Center or Policy and Survey Research (PSR) found. An equal number of Palestinians advocate for an even more violent uprising.
A Palestinian Authority (PA) intelligence officer shot and injured an Israel Defense Forces (IDF) soldier and Israeli civilian outside Jerusalem on Thursday, according to Ma'an News and reported by the Jerusalem Post.
The terrorist – Mazen Hassan from Abu Dis in eastern Jerusalem – got out of his vehicle at the Hizma checkpoint and began firing at Israeli soldiers. IDF forces returned fire and killed the terrorist.
Past participation among Palestinian Authority security forces in terrorist activities is well documented.
Nevertheless, both Israeli and Palestinian sources revealed that the PA foiled more than 100 stabbing plots targeting Israelis by young Palestinian men and women in recent months, the Times of Israel reports. Security cooperation with the Palestinian security forces and simultaneous promotion of terrorist attacks against Israelis from across the Palestinian political spectrum contributes to a major dilemma facing the Jewish state.
Official Palestinian Authority policy provides monthly payments for convicted terrorists held in Israeli prisons, with longer sentences resulting in increased financing for the terrorist's family.
In January, a jury in New York saw the document outlining the PA's policy during a civil trial introduced by American victims of Palestinian terrorist attacks in Israel between 2002 and 2004. Jurors awarded the victims $218.5 million in damages in February. Under U.S. counter-terror laws, that award is tripled to $655 million. The PA is appealing the judgment.
The attacks under scrutiny were conducted by branches of the Palestine Liberation Organization (PLO), Palestinian Authority (PA), their employees or others who received assistance from these organizations.
According to court documents, PA employees convicted of terrorism continued to receive salaries and benefits despite being jailed. According to the 2004 regulation, prisoners serving up to five years in Israeli jails earned 1,300 shekels per month, while inmates in prison for over 25 years earned 4,000 shekels.
Despite Israeli efforts to bolster the PA to enhance the West Bank's security situation, the PA under President Mahmoud Abbas' leadership continues to engage in violent and systematic incitement, fueling the ongoing wave of terrorist attacks targeting Israelis.
We send our heartfelt condolences to the victims of the heinous mass murder in San Bernardino. Before rushing to conclusions about the killers, however, we need to provide law enforcement and intelligence with the space and time to gather all of the evidence. We cannot attribute or discount motives – including possible religious aspects – until we learn all that there is to know.
Palestinian Authority President Mahmoud Abbas continues to propagate false allegations against Israel, contributing to widespread Palestinian incitement that continues to fuel terrorist attacks against Israelis.
On Monday, Abbas repeated two of his demonstrably inaccurate claims, accusing Israel of attempting to change the status quo on the Temple Mount by increasing Jewish activity there, and saying that Israeli authorities are conducting "extrajudicial killings" of Palestinian terrorists, the Times of Israel reports.
Last month, Abbas's claim about Israeli "field executions" of Palestinian terror suspects was debunked, including the case of a Palestinian teenager responsible for a stabbing attack that wounded two Israelis, including a 13-year-old boy.
"We will not give up to the logic of brute force, policies of occupation and aggression practiced by the Israeli government and the herd of settlers who are engaged in terrorism against our people, our holy places, our homes, our trees and the execution of our children in cold blood as they did with the child Ahmed Manasrah and other children from Jerusalem," Abbas said in an address broadcast on Palestine TV.
Israeli officials released video and photograph evidence of the teenaged terrorist Ahmed Manasrah, being treated at an Israeli hospital.
These fabrications are among the widespread propaganda espoused by Abbas and other Fatah and PA officials contributing to the growing violent incitement against Israelis. Official Palestinian institutions glorify attacks – setting up memorials in to honor terrorists – and encouraging more killing.
On Monday, a Palestinian stabbed and killed an Israeli soldier near the central West Bank town Modi'in. Two other Israelis were injured in the attack, including a woman who was struck by ensuing gunfire from Israeli troops.
Israeli forces shot and killed the Palestinian terrorist. These attacks occurred hours after two Palestinian girls used scissors to stab a 70-year-old man who turned out to be a Palestinian in Jerusalem.
On Sunday, a Palestinian terrorist stabbed and killed 21-year-old Hadar Buchris in Gush Etzion. Ofer Merin, director of Shaare Zedek Medical Center, said that Buchris was stabbed several times in the head and torso.
In Monday's statement, Abbas charged Israel with trying to "change the identity, historical and demographic character of Jerusalem."
Some observers believe Abbas' blatant libel and calls for resistance directly contributed to the ongoing wave of violence plaguing Israelis since the start of October.
"The Al-Aqsa [Mosque] is ours ... and they have no right to defile it with their filthy feet. We will not allow them to, and we will do everything in our power to protect Jerusalem...Every martyr (Shahid) will reach Paradise, and everyone wounded will be rewarded by Allah, " Abbas said in a speech in September, segments of which aired on official PA TV.
Abbas repeated these false claims a day before U.S. Secretary of State John Kerry arrived in Israel for separate talks with Abbas and Prime Minister Benjamin Netanyahu in a bid to calm tensions.
Abbas could have attempted to help that effort by calling for the attacks to stop immediately, pointing out they do nothing to advance the Palestinian dream of statehood. If anything, the random violence makes that dream more difficult to realize. Instead, he chose to rationalize the killing, calling it the "inevitable result of diminishing hopes, the continued strangulation, siege and pressure and the lack of sense of security and safety felt by our people."
The Council on American-Islamic Relations (CAIR) styles itself as America's largest Muslim civil rights advocacy group. Its executive director, Nihad Awad, recently took advantage of a reporter's inflammatory article on a likely miscommunication with a presidential candidate to tweet to his English audience, "Exactly what #ISIS wants: #DonaldTrump's recent call to force American Muslims to carry special ID."
Moments later, Awad more directly reflected CAIR's real status as a front for the radical Islamist Muslim Brotherhood when in Arabic he expanded upon those comments to compare the U.S. to Nazi Germany. The IPT translated the comments:
"It actually happened. The Republican presidential candidate Donald Trump is calling for forcing American Muslims to carry ID's classifying them on the basis of their religion. Exactly like Hitler did."
A Saudi tweeter noted that "The Arabic is completely different in meaning and has a big racist and religious sense."
Readers can determine for themselves whether members of the media distorted Trump's response to the reporter's questioning, as the Investigative Project on Terrorism takes no position because it is unclear.
The debate will sort itself out, but Trump's comments are not the real issue. CAIR is not some benign petitioner for the grievances of Muslims.
Its Florida chapter is holding three annual conferences just this month for the year 2015. The first, held in Orlando, featured a Hamas-linked, Chicago-based imam, Kifah Mustapha. The second, held in Tampa, featured a racist comedian, a U.S.-named co-conspirator for a terror trial and an Islamist who has threatened the wrath of God on world leaders, Frontpage Magazine reports.
CAIR, which was involved in the largest terrorism financing prosecution in U.S history as an unindicted co-conspirator, bills itself as a humble advocacy organization when it seeks support among an English audience.
Then, at times within minutes of posting comments designed to elicit sympathy, it illuminates its ingrained radical tendencies by casting the ugliest of aspersions on Western politicians to antagonize its Arabic constituency.
It never takes much for CAIR to reveal its original and true mission.
Pete Hoekstra represented Michigan for 18 years in Congress, including as chairman of the U.S. House Intelligence Committee. He currently serves as the Shillman senior fellow at the Investigative Project on Terrorism, and is the author of "Architects of Disaster: The Destruction of Libya."
Fearing the overthrow of Bashaar Al-Assad's regime, an emboldened Islamic Republic of Iran has drastically increased its involvement in Syria, despite suffering heavy losses among its elite Iranian Revolutionary Guard Corps (IRGC).
That finding is detailed in a new report by Raz Zimmit of the Meir Amit Intelligence and Terrorism Information Center.
Since the 2011 start of Syria's civil war, Iran has directed the military campaign to maintain the Assad regime's control over Damascus and strategic strongholds in the north. Until recently, Iran's presence in Syria resembled interventions in Iraq, Lebanon, and Yemen – involving several hundred advisors and thousands of Shi'ite fighters – including Hizballah – under the direction of the IRGC's Quds Force. However, Iran deployed 1,500-2,000 of its own troops to support Syria's northern military offensive launched in early October.
A joint Iranian-Syrian operations room was created in Aleppo to serve as a command and control center for the purposes of coordinating the offensive – involving the IRGC, Syria's military and Iranian sponsored Shi'ite militias under the cover of Russian aerial support. However by the end of October, rebel organizations including al-Qaeda's al-Nusra Front and the Islamic State, maintained control over key areas targeted by the Iranian-led offensive.
At least 53 IRGC troops have been killed since, marking a significant increase in Iranian casualties. According to the analysis, the vast majority of Iranians killed are from the IRGC's regular fighting units – including high-ranking officers – indicating that they are fighting on the front lines. Moreover, IRGC's elite Quds Force commander Qasem Soleimani personally directs the military operations in northwestern Syria, suggesting that Iran is diverting critical assets from Iraq to the Syrian theater.
Meanwhile, Iran continues to enhance terrorist networks in the Golan Heights, using Hizballah, Druze, and Palestinian Islamic Jihad (PIJ) operatives to strike Israel. In August, PIJ terrorists – reportedly under Iran's directions – fired four rockets at Israeli territory.
Further examination of the Iranians recently killed shows that many of the fighters hail from special, highly trained units, including the Ansar al-Mahdi security unit and the Saberin brigade. The sharp increase in deaths has forced Iran to justify its involvement in Syria, launching a media campaign to bolster public support for the military intervention. This campaign emphasizes the importance of protecting Shi'ite religious shrines in Syria and the extent to which the Assad regime serves the Islamic Republic's national interests.
Growing dissention among the IRGC ranks surfaced amid reports that several senior commanders, along with junior officers, reportedly refused to obey orders to continue the military campaign in Syria. Growing defiance has forced Iran to court-martial several personnel for "mutiny and treason," as the rising death toll contributes to deteriorating morale among the IRGC ranks. There may even be some disagreement among Iran's leadership concerning continued involvement in Syria. In a recent address to a group of students, IRGC commander Mohammad-Ali Jafari suggested that some Iranian officials questioned Iran's steadfast support for Assad.
Despite rising casualties and internal dissention, Iran's leadership appears firmly committed to propping up the Assad regime in its bid to maintain a critical ally that serves the Islamic Republic's expansion and regional hegemonic ambitions.
Palestinian terrorist attacks gripped the Jewish state again on Thursday, a shooting attack near the Gush Etzion Junction killed an Israeli, a Palestinian and an American tourist, reports the Jerusalem Post. Five more people were injured.
Early reports indicate that the terrorist fired at an Israeli minibus from his car before crashing into another vehicle near the Alon Shvut settlement in the West Bank. Israeli security personnel shot and detained the terrorist as he exited the car and tried to shoot more Israelis.
The Shin Bet – Israel's domestic intelligence service – said that the attacker, 36, is from the village of Dura near Hebron and did not have a prior security record. The dead Palestinian was a passenger in a vehicle fired upon by the terrorist.
The attack occurred shortly after a Palestinian terrorist stabbed three people in Tel Aviv, killing two and injuring another. Civilians apprehended the terrorist, who was trying to run off, until police arrived.
Hamas praised the stabbing attack on its official Twitter account, posting images of the scene featuring Israeli first responders and one of the fatalities.
Meanwhile, a Fatah official participated in a rally glorifying Palestinian terrorist Muhannad Halabi, supporting Halabi's murderous attack and other recent Palestinian terrorist attacks.
"It is the right of our young men to cause Israeli women to cry like our women are crying, even though our women make sounds of joy after their sons' and husbands' deaths as Martyrs," Fatah Central Committee member Jamal Muhaisen said Saturday, according to the independent Palestinian news agency Ma'an and reported by Palestinian Media Watch.
The praise came after Halabi's West Bank hometown, Surda-Abu Qash, named a street in his honor.
The consistent and systematic violent incitement emanating from across the Palestinian political spectrum continues to fuel deadly terrorist attacks targeting Israeli civilians and security personnel. It continues despite a U.S threat to reduce economic aid for Palestinians by $80 million unless the incitement stops.