Two al-Qaida linked Syrian militias have agreed to a nine-month cease-fire with Hizballah in a deal backed by Iran's Islamic Revolutionary Guard Corps (IRGC) and Qatar.
This accord affects the northwestern Syrian city of Idlib and several nearby towns, as well as in the towns of Babila and Beit Wamil, located south of Damascus.
The al-Qaida linked militias will release 1,500 detainees, half of whom the satellite channel Al-Jisr TV says are women, to the Assad regime. Civilians and fighters loyal to the Assad regime will be evacuated from two towns in the Idlib region.
In exchange, the Assad regime will release hundreds of detainees, and al-Qaida linked fighters will be allowed to leave the southwestern Syrian towns of Zabadani, Bloudan and Madaya.
Al-Jisr TV reports that Qatar will act as the guarantor of the cease-fire and will facilitate the release of the prisoners and the return of displaced persons to their homes.
Bahrain security authorities arrested members of an Iranian-sponsored terrorist cell on Sunday, accusing them of planning assassinations of senior government officials. The cell is also believed to be behind a bus bombing that wounded several policemen in February.
Bahrain's state news agency – BNA – reported that Iran's Revolutionary Guard Corps (IRGC) provided military training to six of the suspects, while five others received training from the Iraqi Hizballah terrorist organization. Three others were trained in Bahrain.
Two exiled Bahrainis living in Iran coordinate the terrorist cell, Bahrain's interior ministry announced, including a U.S. State Department designated global terrorist, Mortada Majid Al-Sanadi.
Bahrain authorities last year foiled a similar IRGC and Lebanese Hizballah plot to carry out terrorist attacks in the country.
In November 2015, Bahrain arrested 47 people accused of links to "terrorist elements in Iran," who reportedly planned to conduct imminent attacks in the country. A month later, Bahrain recalled its ambassador to Iran following a security forces raid on a bomb-making factory and arrests of individuals with suspected ties to the IRGC.
In Sunday's arrests, security forces reportedly seized domestically manufactured explosives and communications equipment from the suspects' homes. These developments suggest that Iranian sponsored proxies may be assisting local cells to build bombs.
According to the BNA report, Hizballah leader Hassan Nasrallah gave a main suspect, Ali Ahmed Fakhwari, $20,000 to assist the terrorist cell.
Iran has been accused of plotting terrorist attacks around the world in recent years – mainly through proxies like Hizballah and the al-Quds Force of the IRGC – in countries such as Egypt, Cyprus, Georgia, Thailand, India and others. In July 2012, a bus bomb widely attributed to Hizballah killed five Israeli tourists and a bus driver in Bulgaria.
In October 2011, the United Stated foiled an Iranian plot to assassinate the Saudi Arabian ambassador in Washington D.C. and bomb the Saudi and Israeli embassies in the U.S. capital.
Gaza's Hamas chief Yayha Sinwar said Wednesday that his terrorist organization will continue its campaign to fight Israel until it secures "the liberation of all of Palestine," despite recent reports of Hamas seeking to moderate its outlook.
"Hamas will continue in the path of Yassin for the liberation of all of Palestine — we will not surrender even a morsel [of the land]", said Sinwar at an event commemorating the death anniversary of Hamas founder Ahmed Yassin.
Sinwar, considered extreme even by Hamas standards, openly supports violence against Israel and opposes any compromise in the terrorist group's policies.
His proclamation confirms that Hamas remains steadfast in its ultimate goal of destroying the Jewish state despite the terrorist group's recent efforts to project a more peaceful stance to the international community.
Hamas intends to release a new platform at the end of the month, following internal elections, which reportedly omits prior references to waging jihad against Jews and accept a temporary Palestinian state in the territories Israel acquired following the 1967 Arab-Israeli war. Support for a temporary solution, however, does not mean that Hamas will suddenly give up its aims to destroy the Jewish state in the longer-run.
Despite these apparent overtures, Hamas refuses to revoke its 1988 charter, which openly advocates for Israel's demise and "confronting the usurpation of Palestine by the Jews through jihad."
"The [new] document carries a kind of superficial change, but in fact it upholds most of Hamas' principles," Gaza analyst Akram Atallah told the Associated Press.
Hamas does plan to rescind its status as a branch of the Muslim Brotherhood in an attempt to alleviate tensions with Egypt. Nevertheless, the Palestinian group refuses to severe ties with the Brotherhood.
For Hamas, there is no difference between pre-1967 Israel and the West Bank or Gaza Strip. The terrorist group considers the entirety of Israel and the Palestinian territories as "Palestine." Sinwar's statement suggests that the group's new manifesto is a symbolic sham aimed at deceiving Western governments into removing Hamas from terrorist designations.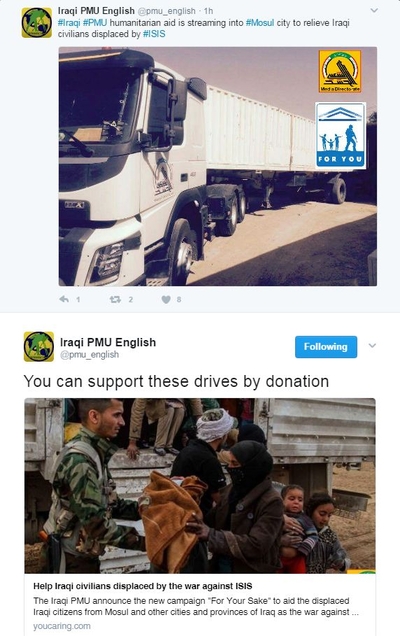 Hashd al-Shaabi, an Iranian-backed Iraqi Shiite militia coalition previously accused of war crimes, is trying to take advantage of global sympathy for ISIS victims in Mosul. Its Twitter account Wednesday invited donations through the California-based crowd funding site, YouCaring.com.
Using its English name, the "Iraqi Popular Mobilization Units," Hashd al-Shaabi solicited money for "the new campaign 'For Your Sake' to aid the displaced Iraqi citizens from Mosul and other cities and provinces of Iraq as the war against ISIS rages."
It called on Iraqis to help with Internally Displaced Person (IDP) camps housing ISIS victims and invites foreigners to donate to its effort. The site directs non-Iraqis to a Gmail account to help Hashd al-Shaabi's alleged relief effort in Iraq.
Iraq's government officially recognized Hashd al-Shaabi as an arm of its armed forces in November. This happened even though the Iranian Revolutionary Guard Corps (IRGC) Quds Force – listed by the U.S. Treasury Department as a specially designated terrorist – closely coordinates Hashd al-Shaabi's activities. The U.S. State Department lists Kitaib Hizballah, a component of the coalition, as a foreign terrorist organization.
A Hashd al-Shaabi unit called the "Brigades of Imam Ali" burned a Sunni civilian alive, ISIS style, in a 2015 video. In January, Amnesty International accused Hasd al-Shaabi of using American weapons to commit war crimes.
Money raised on YouCaring could end up in Kitaib Hizballah's hands, worries University of Maryland researcher Phillip Smyth.
"Technically, and I'm not a lawyer, but given U.S. registered terrorist entities are part of al-Hashd al-Sha'abi, this could be a form of material support," Smyth said. "As for where the money may go, there's no way to track that either if you're just some random guy at home who wants to help refugees."
Hash al-Shaabi has used social media and television for recruiting purposes for some time, Smyth said.
YouCaring expressed alarm when contacted by the Investigative Project on Terrorism (IPT). It subsequently deleted Hashd al-Shaabi's account and adapted its algorithm to prevent it from creating new accounts. The account had collected $200.
"Our Trust and Safety team has been actively investigating this fundraiser since it launched yesterday. We have robust algorithms in place to check if a campaign is in violation of our policies. Each fundraiser is thoroughly investigated by our Trust and Safety team – this fundraiser was flagged for removal this morning as it was in violation of our policies. We take a hardline stance on fundraisers for militia groups. It was removed," YouCaring Online Marketing Director Jesse Boland told the IPT in an email.
"This organizer has been blocked from starting fundraisers in the future."
That might be true for Youcaring.com. But Hashd al-Shaabi resurrected its fundraising campaign on the Canadian crowdfunding site FundRazr using the same contact information and text it used earlier.
Israeli security authorities arrested members of two different Palestinian terrorist cells in January, Israel's domestic intelligence agency announced on Wednesday.
Two of the suspects belonged to the al-Aksa Martyrs Brigade, the military wing of President Mahmoud Abbas' Fatah party. They are suspected of participating in several terrorist attacks, including pipe bomb and Molotov cocktail attacks.
One pipe bomb attack injured an IDF soldier in October. By arresting the cell members, Israeli authorities say they also foiled future plans to shoot Israeli security personnel.
Furthermore, Israeli authorities disrupted another cell in January and arrested two Hamas-affiliated operatives terrorists from al-Aroub refugee camp. Cell leader Ahmed al-Rahman was responsible for acquiring weapons to carry out terrorist attacks against "Israeli security forces and civilians." Al-Rahman also recruited Mahand Jabber Muhammed abu Sal to join the cell.
"The exposure of the cells and the operations they were planning shows the high level of motivation of terror operatives to carry out serious terrorist attacks and bears witness to the high threat level they pose," a Shin Bet statement said.
Shin Bet transferred its findings to Israeli military prosecutors for upcoming indictments.
These developments come after Israeli authorities foiled two other West Bank-based Hamas cells earlier this week. Similar to the cells busted in January, the operatives were responsible for coordinating terrorist attacks and planning shooting attacks against Israeli troops and civilians.
Meanwhile, a Palestinian carried out a car ramming attack on Wednesday, trying to drive over Israeli civilians and soldiers standing at the Gush Etzion Junction bus stop. The deadly attack was prevented after the terrorist was shot and wounded.
While most foiled cells in the West Bank are affiliated with Hamas, the recent arrests of Fatah terrorists reaffirms that Israel faces multi-faceted terrorist threats. Fatah is often referred to as the "moderate" Palestinian faction, but operatives with allegiance to Fatah's political party continue to plan and execute terrorist attacks targeting Israelis. Wednesday's attempted vehicular attack also shows that individual terrorist initiatives remain a major problem for Israeli authorities, augmenting the terrorist threat from coordinated cells representing factions from across the Palestinian political spectrum.
Muslim Brotherhood and Palestinian factions are praising a Jordanian terrorist who shot and killed seven Israeli schoolgirls and injured six others in 1997, after his release from prison on Saturday.
"The Islamic Resistance Movement Hamas hails the Arab Hero Ahmed Daqamseh on his release and his gaining his freedom. As we greet his noble struggle, his historic steadfastness and his heroic positions on Jerusalem and Palestine and the Resistance of the Palestinian people," according to an Investigative Project (IPT) translation of a Hamas press statement released on Monday.
Following his release, Daqamseh labeled Israelis as "human garbage vomited into our midst by the world's nations" and called for the death of Israelis "whether by burning or by burying," in comments translated by the Middle East Media Research Institute (MEMRI).
The Muslim Brotherhood's political wing in Jordan rejoiced at Daqamseh's freedom.
"The (Islamic Action) party greets people of Jordan and the family of the hero Ahmed Damaqseh on his release from prison after his sentence and welcomes his return to practice his national role alongside the free men of this nation in construction and achievement," according to the IPT's translation of an Islamic Action Party statement.
Even the so-called moderate Palestinian faction, Fatah, glorified the Jordanian terrorist, justifying the murder of Israeli schoolchildren.
"It may be noted that the soldier Daqamseh opened fire on the group of girls because they made fun of him during his prayers according to his testimony at the time," reads a Fatah statement.
Numerous supporters celebrated Daqasmeh's release, posting large signs glorifying the murderer in the streets of Ibdar city – located in Irbid Province north of Amman – which host's Daqasmeh's tribe.
"Praise be to God for your safety Oh Abou Sayf [Father of the Sword]
After a long absence of twenty years. Your village is filled with light Oh Lion of the Valley. Welcome," reads one sign, translated by IPT, featuring Daqamseh's face
Social media users also glorified the Jordanian soldier turned terrorist as a "hero" and a "model," while Daqamseh's name was trending on Twitter.
From the Muslim Brotherhood's factions in Jordan and the Palestinian territories, to Mahmoud Abbas' party Fatah and across social media, praise for the murderer of Israeli schoolgirls is gaining traction throughout the Arab world.
Israeli security authorities arrested a suspected Palestinian member of Hizballah for planning terrorist attacks against Israelis, Israel's domestic security agency announced on Thursday.
A subsequent Shin Bet interrogation revealed that Hizballah recruited Yusef Yasser Suylam, 23, via Facebook page. Suylam hails from the West Bank town Qalqiliya.
Investigators say the Palestinian operative was responsible for establishing a cell devoted to kidnapping Israeli civilians. Hizballah also directed Suylam to conduct surveillance on Israeli military bases and other security sites, in addition to various places in Jerusalem.
After an Israeli military court filed an indictment, several felony charges are expected against the Palestinian terrorist.
Over the years, Hizballah has tried to establish a West Bank foothold to carry out terrorist and kidnapping attacks against Israelis. Members of Hizballah's Unit 133 external operations branch used social media, particularly Facebook, to recruit West Bank Palestinians.
Last August, a Shin Bet investigation found disrupted a terror cell that was recruited though the "Palestine the Free" Facebook page featuring anti-Israel Hizballah posts. Cell leader Mustafa Kamal Hindi recruited other operatives in hopes of waging a shooting attack against the Israeli military. Each operative was between the ages of 18-22 and lived in Qalqiliya.
One of the cell members purchased the material required to build a suicide bomb, while another was tasked with building the explosive device. Another terrorist focused on garnering intelligence about IDF patrols in the area. The group also began training with rifles for shooting attacks.
The characteristics, modus operandi, and recruitment methods match the description and reports surrounding recently arrested Yussef Suylam.
In January 2016, a Shin Bet investigation found that Hizballah leader Hassan Nasrallah's son, Jawan, used social media to recruit terrorists in the West Bank. Through encrypted email exchanges with a Hizballah handler, cell leader Muhammad Zaghloul received instructions for carrying out suicide-bombing attacks and provided a plan to kill an IDF officer. Zaghloul admitted that the cell conducted surveillance of the officer and requested $30,000 to purchase arms to kill him. The plot to kill Israeli troops was likely in the execution phase, considering the two operatives were arrested in possession of a firearm.
Click here to read more details about other Hizballah attempts at recruiting Palestinians to conduct terrorist attacks against Israelis.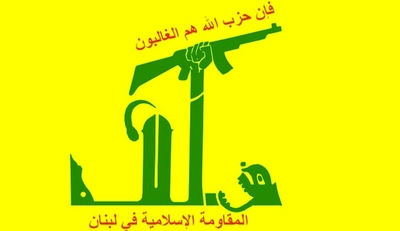 Most analyses of Hizballah focus on the terrorist group's intervention in Syria or its threat to Israel. But the Iranian-backed organization maintains a significant presence in and near the United States, threatening national security. Current American proposals to strengthen borders and immigration measures may be limited to address this important, yet poorly understood, threat.
A recent Al-Arabiya article examines Hizballah's North American threat.
It has the expertise to build advanced tunnels on the southern U.S. border, enabling Hizballah terrorists and Mexican cartel operatives to infiltrate the United States. Relations between Iranian-backed proxies, including Hizballah, and Latin American drug cartels are well established. Mexican gang members learn from Hizballah's combat experience and use of advanced weaponry. Hizballah, in turn, derives a significant portion of its finances from the drug trade and other illicit activities.
In recent years, security officials in southwestern states noticed a rise in tattoos featuring Hizballah's insignia among imprisoned drug cartel operatives. This surprising trend indicates a strengthened relationship between the terrorist group and Mexican gang members. In line with its foreign policy, Iranian operatives infiltrating Latin America seek to convert individuals to adopt its extremist Shi'ite ideology. Over the years, pro Iranian websites have proliferated across Latin America, in an attempt to cultivate support for the Islamic Republic.
Powerful Latin American politicians also help Iran and Hizballah penetrate the region and threaten the United States. In February, CNN received a 2013 secret intelligence document from several Latin American countries demonstrating ties between Venezuelan Vice President Tarreck El Aissami and 173 Venezuelan identification cards and passports issued to people from the Middle East, including Hizballah operatives. El Aissami "took charge of issuing, granting visas and nationalizing citizens from different countries, especially Syrians, Lebanese, Jordanians, Iranians, and Iraqis," the report shows.
Iranian and Hizballah operatives have cultivated and consolidated operating bases in South America, especially in the tri-border area (TBA) of Argentina, Brazil and Paraguay. With a large Muslim population featuring significant numbers of Hizballah sympathizers, the region is ripe for recruitment, arms smuggling and drug trafficking. Hizballah continues to exploit other Lebanese Shi'ite diaspora communities, including in the United States, to strengthen its presence worldwide.
In 2011, the United States disrupted a plot led by the Iranian Revolutionary Guard Corps (IRGC) in cooperation with a Mexican drug cartel to assassinate Saudi Arabia's ambassador to Washington.
The problematic nexus between Iranian-backed operatives, including Hizballah, and Mexican drug cartels allows terrorists to earn big money to fuel their violent operations. These connections also enable Hizballah to make inroads into the United States through its porous border with Mexico.
American intelligence reports show that Hizballah maintains a significant network of sleeper cells in the United States. Though Hizballah has not conducted a major attack on U.S. soil, the group could decide to strike key American sites should U.S.-Iran relations deteriorate substantially. Preparations to combat Islamist terrorism broadly should strongly consider the nuanced and growing Hizballah threat to U.S. national security.
Some weak excuses are being offered after two Canadian imams attracted media attention for giving incendiary, anti-Semitic sermons.
Ryerson University in Toronto announced it fired Ayman Elkasrawy from his teaching assistant position in the wake of reports he prayed for Allah to "purify" Jerusalem's Al-Aqsa Mosque "from the filth of the Jews."
He also prayed that anyone who "displaced" Muslims be destroyed: "Count their number; slay them one by one and spare not one of them, O Allah! Purify Al-Aqsa Mosque from the filth of the Jews!"
The Muslim Association of Canada suspended Elkasrawy, describing him as a "junior employee" whose sermon was "unauthorized." Toronto police are investigating Elkasrawy's remarks to determine whether his remarks constitute hate speech.
Elkasrawy apologized in a Feb. 20 Twitter post, saying he misspoke. "I firmly believe that all human beings, Muslim, Jews and people of all and no faith, deserve to live a life free of any threat to their safety."
In Montreal, calls for an investigation into similar comments by a Sheikh Wael Al-Ghitawi are growing after the Middle East Media Research Institute (MEMRI) posted videos showing him denying Jewish roots in Israel.
"Jews do not have any historical right to Palestine," Al-Ghitawi said in the 2014 sermon. He falsely asserted that "for long periods of time, there was not a single Jew in Jerusalem and Palestine."
Jews "slayed the prophets, shed their blood and cursed the Lord," Al-Ghitawi said. He also called Jews the offspring of "Turkish mongols" who were "punished by Allah."
The comments need to be investigated, said Rabbi Reuben Poupko, co-chair of the Quebec branch of the Centre for Israel and Jewish Affairs.
Al-Ghitawi preaches at the Al-Andalous Islamic Centre, which already faced scrutiny for another 2014 sermon by a guest preacher who called for the death of Jews "one by one" and called for Allah to "destroy the accursed Jews."
The center tried to rationalize the comments, noting they came during the 2014 Gaza war between Israel and Hamas. It issued a statement claiming the imam used "clumsy and unacceptable phrasing," Canada's National Post reported.
These incidents are the latest in a series of radical statements from Canadian imams. Last year, MEMRI exposed a sermon by an imam in Edmonton, Alberta, who urged Muslims to "look forward" as "Rome will be conquered." Shaban Sherif Mady also glorified the restoration of the "rightly-guided" Islamic Caliphate – mirroring similar calls by the Islamic State's leader Abu Bakr al-Baghdadi.
Iranian Supreme Leader Ayatollah Ali Khamenei is urging Palestinians to launch another violent "intifada" targeting Israelis, Reuters reported.
Speaking at a recent conference in Tehran, Khamenei called for Israel's destruction and referred to the Jewish state as a "cancerous tumor."
"... by Allah's permission, we will see that this intifada will begin a very important chapter in the history of fighting and that it will inflict another defeat on that usurping regime," Khamenei said, according to a transcript of the remarks featured on his website.
"The Palestinian intifada continues to gallop forward in a thunderous manner so that it can achieve its other goals until the complete liberation of Palestine," the Ayatollah added.
For years, senior Iranian figures have called for Israel's destruction. These statements, however, are not just rhetoric to invigorate domestic audiences. Iran has invested considerable resources to prop up terrorist proxies, including Hamas and Hizballah, to militarily confront Israel. Iran also finances and explicitly encourages Palestinians to engage in individual terrorist initiatives.
Sanctions relief in the 2015 Iran nuclear enabled Iran to enhance terrorist operations and increase funding for Palestinians who attack Israelis. Last year, the Iranian ambassador to Lebanon confirmed that every Palestinian terrorist's family will receive $7,000 for attacking Israelis and $30,000 if a family's home is demolished by the Israel Defense Forces. Financial transfers would be distributed through the Palestinian branch of Iran's 25-year-old "Shahid Institutions."
"The martyrs' blood will release the entire Palestine, from the river to the sea," Ambassador Mohammad Fathali said.
In January 2016, Hizballah's Unit 133 tried to coordinate a Palestinian terrorist cell in the West Bank, sending the operatives $5,000 to buy weapons to kill Israeli soldiers. Similar to previous Hamas attempts, Hizballah was trying to escalate Palestinian violence into a full-fledged uprising, seeking to introduce an organized element to a phenomenon that was largely characterized by individual acts.
Acting on Iranian orders, Hizballah was able to direct and coordinate dozens of Palestinian terrorist cells during the second Intifada. From 2002 to 2007, Iran's Revolutionary Guard Corps (IRGC) and Hizballah directed and coordinated dozens of Palestinian terrorist networks, mostly cells that were part of Fatah's Al-Aqsa Martyrs Brigades. Throughout the 1990s and beginning of 2000s, Hizballah sent Lebanese operatives with foreign passports to Israel via Europe in order to support Hamas and other Palestinian terrorist groups devoted to sabotaging the Oslo Peace Process and damage the Palestinian Authority.
Ayatollah Khamenei's latest call for the Jewish state's destruction is much more than political bluster. His remarks are a direct signal to ignite widespread terrorist violence.