Hamas killed at least 18 Palestinians, including two women, Friday that it suspected of collaborating with Israel, the Jerusalem Post reports. That number is expected to grow.
Eleven suspected collaborators were murdered at a Gaza police station and then Hamas terrorists proceeded to kill seven more Palestinians in a public execution, according to witnesses and an official Hamas website. The victims were shot in front of a crowd of worshipers outside a mosque after prayers.
A Palestinian Facebook page showed a picture of people outside the Gaza City waiting for more public executions. Amnesty International issued a statement calling on Hamas to stop the killings, which Director of Research and Crisis Response Anne Fitzgerald described as "even more shocking by the fact that the victims were sentenced to death after trials which, if they happened at all, were summary and grossly unfair."
This escalation in arrests and quick executions comes in the wake of Israel's targeted assassination of three senior Hamas commanders. Israel's successful intelligence infiltration that enabled the targeted killings has spread fear and mistrust among Hamas' ruling circle. Israel also is preparing for an increase in retaliatory terrorist attacks.
Hamas rockets injured three people in an Ashdod synagogue Friday, and killed a 4-year-old boy in Sha'ar Hanegev.
Hamas also arrested over 150 of its members who will be interrogated over "security leaks," the Post's Khaled Abu Toameh reported on Twitter, citing Arabic news site Albawaba.
Hamas has executed many other Palestinians during the Gaza conflict and arrested a number of women, on suspicion of working with Israel.
Vendredi, selon le Jerusalem Post, le Hamas a tué au moins 18 Palestiniens, dont deux femmes, qu'il suspectait de collaborer avec Israël. Ce nombre risque d'augmenter.
Selon plusieurs témoins et un site officiel du Hamas, onze collaborateurs présumés ont été assassinés dans un poste de police de Gaza avant que le Hamas ne procède à l'exécution publique de sept autres Palestiniens. Les victimes ont été tuées par balles en présence d'une foule de fidèles au sortir d'une mosquée, juste après la prière.
Sur la page Facebook d'un Palestinien on pouvait voir la photo de gens qui attendaient en dehors de la ville de Gaza que l'on procède à d'autres exécutions publiques. Amnesty International a publié une déclaration appelant le Hamas à arrêter les meurtres qu'Anne Fitzgerald, Directeur de recherche et de réponse à la crise, décrit comme étant « même plus choquants du fait que les victimes ont été condamnées à mort au terme de procès qui, bien qu'ils aient eu lieu, ont été expéditifs et extrêmement injustes. »
Cette recrudescence d'arrestations et d'exécutions sommaires s'inscrit dans la suite de l'assassinat programmé par Israël de trois hauts dirigeants du Hamas. L'infiltration réussie des services de renseignements israéliens qui a permis ces morts ciblées, a répandu la peur et la méfiance parmi les instances dirigeantes du Hamas. Israël se prépare dès lors aussi à une recrudescence d'attaques de représailles terroristes.
Vendredi, les roquettes du Hamas ont blessé trois personnes dans la synagogue d'Ashdod et ont tué un garçon de 4 ans à Sha'ar Hanegev.
Le Hamas a également arrêté plus de 150 de ses membres pour être interrogés sur des « fuites liées à la sécurité », selon un message de Khaled Abu Toameh posté sur Twitter et citant le site arabe d'actualités Albawaba.
Pendant le conflit à Gaza, le Hamas a exécuté beaucoup d'autres Palestiniens et arrêté nombre de femmes suspectées de travailler pour Israël.
Vladimir Putin's Russian forces remain poised for a possible takeover of neighboring Ukraine. Nuclear-armed North Korea is ruled by an unstable, nihilistic dictator who constantly makes new threats against American allies and the United States itself (along with some of its filmmakers). The Islamic State terrorist group slaughters as many people who cross its path and poses a credible threat of genocide against the ancient Yazidi people in Iraq.
But according to Nihad Awad, head of the supposedly mainstream Council on American-Islamic Relations (CAIR), those threats to global peace pale in comparison with the real threat to world peace and security: Israel.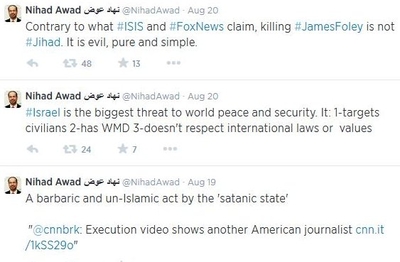 What's especially bizarre is that Awad's assessment on Twitter is bracketed by tweets critical of ISIS' brutality, which were posted after ISIS released video showing the vicious killing of journalist James Wright Foley.
Awad writes that Israel "targets civilians." This is demonstrably false, given the warning calls and leaflets Israel's military drops before targeting terrorists who do target civilians with the rocket fire, or the leaders of terrorist groups like Hamas and Palestinian Islamic Jihad who sanction those attacks.
This is no mis-statement by Awad or an aberration. In July, he called for, "People of conscience: Declare Israel as a terrorist state for the war crimes it has been committing against civilians."
The only terrorist entities are in Gaza, where Hamas diverted tens of millions of dollars that could have helped build an infrastructure and an economy to better the lives of Palestinians and instead used the money to stockpile weapons and build tunnels in hopes of committing mass slaughter of Israeli civilians.
We've repeatedly shown how CAIR was born out of a Hamas-support network in America; how its officials – Awad included – never utter a critical word about Hamas; and how they leap into action as "defenders of the Palestinian cause" when Hamas initiates violence.
Now Awad, who has led CAIR for its entire 20 year history, further shows how his Hamas sympathies skew his world view. No matter how much harm Hamas brings to Palestinians in Gaza, it is never enough to draw his scorn.
Why do people take this guy and his organization seriously?
Israel conducted a targeted killing of two senior, and one lower level, Hamas terrorists in the Gaza Strip Wednesday night, the Jerusalem Post reports. Coordinating with the Shin Bet, Israel's domestic intelligence agency, the Israeli Air Force struck a building in Rafah, killing Ra'ad Attar, Muhammad Abu Shamalah, and Muhammed Barhoum.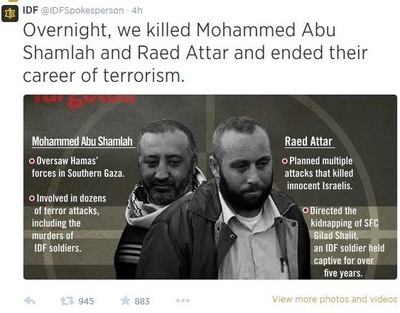 As the most senior Hamas leader in southern Gaza, Shamalah, 39, oversaw terrorist operations in all of Rafah and Khan Younis and was directly involved in planning and conducting dozens of attacks on Israel. He was also one of the main masterminds behind the Kerem Shalom tunnel attack in 2006, which led to the deaths of two IDF soldiers and the kidnapping of Gilad Schalit. During the current escalation, he facilitated the infiltration of 13 Hamas terrorists into Israel through an underground tunnel.
Ra'ad Attar, 39, formerly a senior member of Hamas' military wing, was responsible for establishing Hamas' tunnel network in south Gaza. He also served as a commander of terrorist operations in his region and participated in numerous deadly attacks and bombings on Israeli soldiers. Both Shamalah and al-Attar have ties with terrorist groups operating in Egypt and are connected to the killing of 16 Egyptian soldiers in the Sinai Peninsula two years ago.
"This strike represents a very significant intelligence achievement, and an intelligence infiltration," a security source told the Jerusalem Post.
Israel also targeted Hamas' military wing chief Muhammad Deif, striking his home in Gaza City. His condition is unknown – Hamas says he survived, but that the strike killed Deif's wife and son.
Israel's longstanding policy of targeted killing tries to eliminate senior terrorist leaders and highly skilled members. It forces other leaders deeper into hiding and inhibits them from planning and conducting terrorist attacks as freely. This latest string of targeted killings has sent shockwaves among other Hamas leaders who fear Israeli intelligence infiltration within their inner circles, breading increasing mistrust that may inhibit coherent coordination at the senior most levels.
In response, Hamas rounded up suspected "collaborators," reportedly executing at least three of them within hours.
Israel also expects Hamas to launch a series of desperate attacks to answer the successful removal of key Hamas operatives.
"In the next few days," writes Times of Israel analyst Avi Issacharoff, "Hamas will try to use every military means at its disposal: the rockets it has saved for a 'moment of truth,' any of its cross-border attack tunnels that may remain, West Bank suicide bombers — anything to prove to Israel that Hamas has not been defeated and is still standing."
Israel called up 10,000 fresh reservists in anticipation.
More than 300 rockets have been fired at Israel from Gaza after Hamas broke the latest ceasefire on Tuesday. The IAF responded by targeting roughly 100 terrorist targets across Gaza, including rocket launch pads, command and control infrastructure, and terrorists firing missiles into Israeli population centers.
A senior Hamas official acknowledged that the terrorist organization was behind the June kidnapping and murder of three Israeli students, the Jerusalem Post reports. Salah al-Aruri, a senior Hamas official, praised the "heroic action of the Kassam Brigades who kidnapped three settlers in Hebron," at a conference of Islamic clerics in Turkey on Wednesday.
Israel immediately blamed Hamas after the initial abduction, while the terrorist organization denied involvement. This is the terrorist organization's first public admission of the attack.
Hussam Qawasme was detained by Israeli authorities in July and is accused of orchestrating the kidnapping and killing of Yeshiva students Eyal Yifrach, Naftali Frenkel and Gilad Shaar. Marwan Qawasme and Amer Abu Aysaha, who allegedly carried out the attack, remain at large. According to the Shin Bet, Israel's domestic intelligence agency, Hussam Qawasme allegedly ordered the attack following approval by Hamas' military wing. He reportedly admitted to his participation and revealed that he received money from Gaza for the attack.
Al-Aruri heads Hamas' overseas wing based in Turkey and is accused of planning the overthrow of the Palestinian Authority in the West Bank following a series of mass casualty terrorist attacks in Israel to destabilize the region. The Shin Bet uncovered the plot to topple the Fatah-ruled regime and provided overwhelming evidence that highlights Hamas' extensive terrorist infrastructure in the West Bank.
Islamic State terrorists made good Tuesday on threats to kill Americans if President Obama launched airstrikes against terrorist strongholds in Iraq.
Jihadists released a video of an American identified as James Wright Foley, 40, being beheaded while wearing an orange prison-style jumpsuit similar to those worn by detainees as Guantanamo Bay. An "organized gang" had kidnapped Foley – freelance photojournalist from Rochester, N.H. while working for Agence France Presse – from an Internet café in Binesh, Syria on Nov. 22, 2012.
A masked jihadist wearing all black is shown in the graphic video cutting off Foley's head. The video quickly was taken down.
A Twitter post showing an image of the beheading blames President Obama: "Looke (sic) Obama. You Killed this man."
The video opened with Obama announcing airstrikes against the Islamic State and cuts to a title "A Message to America. " Foley is shown kneeling next to the jihadist.
"I call on my friends, family and loved ones to rise up against my real killers – the U.S. government," Foley said before his beheading. "What will happen to me is only the result of their complacency and criminality. I have a message to my beloved parents, 'Don't accept any meager compensation for my death from the same people who effectively hit the last nail in my coffin with their recent aerial campaign in Iraq.'"
Foley then exhorts his brother, John, who serves in the U.S. Air Force, to think about the lives he destroys and about President Obama's decision to bomb Iraq. "When your colleagues dropped that bomb on those people, they signed my death certificate," Foley said.
The jihadist then chastises the U.S. government about its "aggression" against the Islamic State, saying the U.S. Air Force attacks its forces daily in Iraq and caused casualties among Muslims.
"You are no longer fighting an insurgency; we are an Islamic army and a state that has been accepted by a large number of Muslims worldwide," the jihadist said in accented English before killing Foley. "Aggression against the Islamic State is aggression against Muslims worldwide. They have accepted the Islamic caliphate as their leadership."
He concludes by telling Obama that he has deprived Muslims living under the Islamic State's rule of their right to live in safety and therefore his decision will result in American bloodshed.
The video concludes with the jihadist standing next to an American identified as Steven Joel Sotloff, a Pinecrest, Fla. native who wrote articles for Foreign Policy magazine, dressed in the same sort of orange jumpsuit Foley wore. Sotloff's fate is in Obama's hands, the jihadist said.
A Twitter
post
from an account
@ Aldawlawy
showing Sotloff being threatened says, "Message to
# America
from the Caliphate State
@ BarackObama
: The life of this American [next] on your Decision
# ISIS
."
Les terroristes de l'État islamique se sont fait fort mardi de menacer de tuer des Américains si le président Obama venait à lancer des attaques aériennes contre des bastions terroristes en Irak.
Les djihadistes ont publié la vidéo d'un Américain identifié comme étant James Wright Foley, 40 ans, décapité alors qu'il portait une combinaison orange semblable à celles portées par les détenus de la baie de Guantanamo. Foley, journaliste et photographe indépendant originaire de Rochester (New Hampshire), travaillait pour l'Agence France Presse lorsqu'un « gang organisé » l'a enlevé dans un cybercafé situé à Binesh, en Syrie, le 22 novembre 2012.
Un djihadiste masqué entièrement vêtu de noir apparaît sur une image vidéo en train de couper la tête de Foley au moyen d'un couteau. La vidéo a été enlevée rapidement.
Un message posté sur Twitter montrant une photo de la décapitation, s'adresse sur un ton de reproche au président Obama : « Regarde Obama. C'est toi qui as tué cet homme. »
La vidéo débutait par l'annonce par Obama de frappes aériennes contre l'État islamique et se terminait par les mots « Message à l'Amérique » et l'apparition de Foley agenouillé à côté du djihadiste.
« J'appelle mes amis, ma famille et ceux que j'aime à se révolter contre mes véritables meurtriers, le gouvernement américain » a déclaré Foley avant son exécution. « Ce qui va m'arriver n'est que le résultat de leur attitude coupable et criminelle. J'ai un message pour mes parents bien-aimés : N'acceptez pas la moindre compensation pour ma mort de la part de ces gens qui m'ont eux-mêmes porté le coup de grâce en lançant récemment leur campagne aérienne en Irak. »
Foley a ensuite exhorté son frère, John, qui sert dans la US Air Force, à penser aux vies qu'il détruit et à la décision d'Obama de bombarder l'Irak. « Lorsque tes collègues ont lâché cette bombe sur ces gens, ils ont signé mon arrêt de mort » a dit Foley.
Le djihadiste fustige alors le gouvernement américain à propos de son « agression » de l'État islamique, en disant que l'US Air Force s'attaque chaque jour aux troupes de l'EI en Irak et fait des victimes parmi les musulmans.
« Vous n'êtes plus en train de combattre une insurrection. Nous sommes à présent une armée et un État islamiques acceptés par un grand nombre de musulmans à travers le monde », a déclaré le djihadiste à l'accent anglais avant de tuer Foley. « Toute agression contre l'État islamique est une agression contre les musulmans du monde entier qui ont accepté le califat islamique comme leur autorité. »
Il conclut en disant à Obama que sa décision de priver les musulmans vivant dans l'État islamique, de leur droit de vivre dans la sécurité, aura pour conséquence le massacre d'Américains.
La vidéo se termine par l'image du djihadiste debout à côté d'un autre Américain identifié comme étant Steven Joel Sotloff. Ce dernier, originaire de Pinecrest en Floride et auteur d'articles pour le magazine Foreign Policy, apparaît vêtu de la même combinaison orange que celle de Foley. Le sort de Sotloff est dans les mains d'Obama, selon le djihadiste.
Un message posté sur Twitter à partir du compte @ Aldawlawy, indique en montrant Sotloff sous la menace : « Message à l'# Amérique de la part du Califat @ BarackObama : la vie de cet [autre] Américain dépend de vous # EIIL. »
An extensive Hamas plot to topple the Fatah-ruled Palestinian Authority (PA) in the West Bank was uncovered by Israel, according to a Jerusalem Post report. The Shin Bet, Israel's internal intelligence agency, and the Israel Defense Forces (IDF) revealed that Hamas personnel based in Turkey were behind the plot, headed by Hamas leader Salah al-Aruri.
The terrorist organization's objective was to conduct multiple mass casualty terrorist attacks in Israel, destabilizing the Palestinian territories and facilitating a military coup to oust PA President Mahmoud Abbas, similar to Hamas' 2007 overthrow of Fatah in Gaza.
Aruri was previously jailed in Israel for terrorism-related offenses and left the region following an agreement with Israel. From Turkey, he led Hamas's overseas wing and recruited members to set up a vast and unprecedented military infrastructure in the West Bank. Many of the recruits are highly educated and skilled, including academics with chemistry, computer programming, and engineering backgrounds. The terrorist infrastructure is centered in Ramallah, where the PA is based, with cells flowing out to 46 Palestinian cities and villages.
"The terrorists planned to undermine security and launch a third intifada. They planned disturbances on the Temple Mount to rile the Palestinian masses. They were waiting for talks between Israel and PA to collapse," a Shin Bet source told reporters in Israel.
There are 93 Hamas terrorists in Israeli custody as a result, the Shin Bet has questioned 46 thus far, and 70 suspects are expected to be indicted. Some of the arrests were made after the IDF swept through the West Bank in search of the three kidnapped boys, who were subsequently murdered.
Details of the plot are emerging as PA media accuses Israel of fabricating the murder of the three Israeli youth as an excuse to launch a war in Gaza. Yahya Rabah wrote an op-ed in the PA's Al-Hayat Al-Jadida making these conspiratorial accusations, Palestinian Media Watch reported.
"The aggression began on June 12 following a fabricated event for which no one took responsibility, that is, the kidnapping and murder of three Israeli teens," wrote Rabah.
However, it was Israel's interrogation of Hamas members following the initial abduction that revealed the impending plot to topple the PA in the West Bank.
It remains to be seen whether the extensive investigation and overwhelming evidence will affect PA President Mahmoud Abbas' ongoing commitment to the unity government with Hamas. He called the Israeli information "a grave threat to the unity of the Palestinian people and its future" and ordered his security forces to investigate.
Hamas now says it deported foreign journalists from Gaza for documenting rockets launches from civilian areas, according to a video translated by the Middle East Media Research Institute (MEMRI). In an interview with Mayadeen TV, Isra Al-Mudallal, head of foreign relations in the Hamas Information Ministry, confirms that Hamas security personnel would confront journalists suspected of filming its terrorist operations.
[AV] 655 [/AV]
"So when they were conducting interviewers, or when they went on location to report, they would focus on filming the places from where missiles were launched. Thus, they were collaborating with the occupation," al-Mudallal said. "These journalists were deported from the Gaza Strip. The security agencies would go and have a chat with these people. They would give them some time to change their message, one way or another."
"Some of the journalists who entered the Gaza Strip were under security surveillance. Even under these difficult circumstances, we managed to reach them, and tell them that what they were doing was anything but professional journalism and that it was immoral," added Al-Mudallal.
Throughout the latest conflict, Hamas has threatened and interrogated Western journalists, preventing them from covering the terrorist organization's use of human shields.
Recently, a Spanish journalist confirmed that Hamas launched rockets from the press hotel in Gaza, according to the Algemeiner website. Fernando Gutierrez, writing for Metilla Hoy, tweeted in Spanish: "On Saturday, 9th of August, Hamas launched a batter of rockets from press hotel. What was their intent? To provoke Israel to kill us? #SaveGazaFromHamas."
While Islamic State (IS) jihadists battle their way across Syria and Iraq, beheading soldiers and civilians, training children for jihad, their supporters across Europe demand "death to Jews" and call for the blood of infidels.
Now, it seems, some European leaders are refusing to fight back.
The situation has become especially controversial in the Dutch political capital of The Hague, where pro-IS protests in July involved anti-Jewish chants and a violent attack on a female journalist covering the event. As the Jew-hate worsened and violence intensified, witnesses and Jewish advocacy groups called on the mayor's office to step in. But Mayor Josias van Aartsen was on holiday; and his deputy, left in charge, found no reason to intervene.
Residents of The Hague, however, felt otherwise: on Aug. 10, a group calling itself "Pro-Patria" staged its own "freedom march" through the same largely Muslim neighborhood (the Schilderswijk) where the pro-IS demonstrations had been held,. The aim, according to one organizer, was to show "that this so-called Sharia-triangle is still Dutch land, where Dutch laws and rules prevail." (The Schilderswijk has been referred to as the "Sharia triangle" frequently in the Dutch press.)
It was, perhaps, a naively optimistic notion: no sooner had the demonstration started than pro-IS residents began attacking, throwing stones and starting fistfights. Six people were arrested.
Mayor van Aartsen, still vacationing in France, did nothing.
Now, van Aartsen has been called back to The Hague to justify his response (or lack of one) just as yet another anti-IS, pro-freedom march is being planned in the Schilderswijk. But this one, he says, goes too far. "No more protests against radical Islam in the Schilderswijk," he declared on his return to The Hague on Thursday. "Too provocative."
In other words, Muslim radicals calling for the death of Dutch non-Muslims, the gassing of Jews – this, Mayor van Aartsen finds acceptable behavior. But a protest against such speech is not: too much violence could ensue. "Ban it," he says, as if to suggest that by banning mini-skirts, you can soon be rid, too, of rape.
Van Aartsen is by no means the only culprit. Efforts to keep from "offending" Muslims are common now throughout Europe , where Christmas celebrations are curtailed and art museums have been known to censor works potentially "distressing" to Muslims. And earlier this week, officials removed a plaque marking the Belfast birthplace of former Israeli president Chaim Herzog "due to a spate of attacks."
Really? Is this how we respond to brutal violence, to racism, to threats on our homes and lives and values? Or has Europe already lost sight of what those values mean, and why they matter?