The Israel Defense Force (IDF) went too far beyond what is required to avoid civilian casualties in asymmetric conflict during last summer's Gaza war, some international legal experts say, according to an Israel National News report.
The criticism comes in an article to be published Monday by the Weekly Standard. In it, Vanderbilt University adjunct law Professor Willy Stern reviews Israel's actions after spending two weeks with the IDF's international law department. The IDF made thousands of phone calls, dropped leaflets, and broadcast TV and radio messages urging Gaza civilians to flee an area before Israel would strike structures used by Hamas for military purposes.
"It was abundantly clear that IDF commanders had gone beyond any mandates that international law requires to avoid civilian casualties," Stern writes. Its foes in Hamas went the opposite direction, urging terrorists to stay close to civilians, a manual that Israeli troops found in a Gaza neighborhood shows.
"Hamas's playbook calls for helping to kill its own civilians, while the IDF's playbook goes to extreme​ - ​some say inappropriate​ - ​lengths to protect innocent life in war," Stern's article will say.
Other legal experts featured in the upcoming Weekly Standard article expressed concern that Israel's exhaustive warnings create "an unreasonable precedent" for other democracies fighting terrorist groups.
"The IDF's warnings certainly go beyond what the law requires, but they also sometimes go beyond what would be operational good sense elsewhere," said Michael Schmitt, director of the Stockton Center for the Study for International Law at the U.S. Naval War College.
Attorneys for Rasmieh Odeh appealed her naturalization fraud conviction with the Sixth Circuit Court of Appeals Tuesday, saying pre-trial rulings let in questionable evidence and improperly prevented testimony about claims she was tortured by Israeli authorities in 1969.
Odeh, an associate director of the Arab American Action Network in Chicago, was convicted last November and sentenced to 18 months in prison in March, though she is free pending the appeal. She also will be stripped of her citizenship and faces removal from the United States.
Her 2004 application to become an American citizen – and her claim she was never arrested, convicted or imprisoned – was the key element in the case. Odeh was convicted, and confessed, to a 1969 Popular Front for the Liberation of Palestine bombing of an Israeli grocery store that killed Hebrew University students Edward Joffe and Leon Kanner.
Defense attorneys wanted the Israeli records kept out of Odeh's trial, casting the Israeli courts as unreliable. They also wanted her to be able to testify about her unsubstantiated claims that her confession was the result of torture, and present a psychologist who would testify that her false answers on immigration forms were the product of post-traumatic stress.
The rulings left the defense "gutted at its core" and gave Odeh a "faux trial," defense attorney Michael Deutsch wrote.
"Certainly, a U.S. court would not have admitted documents created by a Nazi court operating in occupied France that convicted partisans resisting occupation," Deutsch's appeal brief said. "How then is it proper to allow, documents here which are similarly the product of torture and illegal occupation?"
While Odeh is the only source for the torture claim, other evidence connects her to the bombing. Israeli investigators found explosives in Odeh's home that were similar to those used at the grocery store.
And footage from a 2004 film, "Women in Struggle" showed Odeh and an accomplice discussing their roles in the bombing. Odeh became so revered as a result of the 1969 Jerusalem attack, footage from a 1993 video, "Tell Your Tale Little Bird," showed a female PFLP hijacker identifying her group in 1970 as "Task Force Rasmieh Odeh."
The most significant legal issue raised involves the nature of the crime and the burden of proof required to convict. U.S. District Judge Gershwin A. Drain reversed an earlier decision and found this was a "general intent" crime, which did not require proof Odeh had a specific intent to break the law by lying to immigration officials.
That ruling led Drain to block testimony about alleged torture. During the trial, he said the case was not about the Palestinian-Israeli conflict, but whether Odeh lied in the naturalization process. He ruled that the prosecution "need only prove Defendant made a false statement knowing it to be false" saying he originally was misled about a precedent cited by the defense.
For more background on the case and Odeh's bombing conviction, see our five-part video series, "Spinning a Terrorist Into a Victim" and the post-conviction epilogue.
Egypt asked the U.S. ambassador in Cairo to account for the Obama administration's allowing Muslim Brotherhood officials to visit Washington for a private conference this week sponsored by the Center for the Study of Islam and Democracy (CSID).
Egypt sought the recent meeting with Ambassador Stephen Beecroft to show its displeasure with American policy toward the Brotherhood, which it labels a terrorist organization.
Delegation members include Amr Darrag, whose handling of drafting and ratifying Egypt's December 2012 constitution led to fears the Brotherhood aimed to impose a theocracy; and Wael Haddara, a Canadian Brotherhood member who served as an adviser to deposed President Mohamed Morsi.
The administration has no plans to meet with the delegation, State Department spokesman Jeff Rathke said Tuesday. U.S. policy allowed for engagement with people from across Egypt's political spectrum, he said Monday.
Emails obtained by Middle East Briefing, a publication of the Dubai-based Orient Advisory Group, show that since 2010, Obama administration policy sought to support the Muslim Brotherhood under Presidential Study Directive 11.
State Department and White House officials met in January with a Muslim Brotherhood delegation whose trip had been partly funded by the Brotherhood-linked group Egyptian Americans for Freedom and Justice (EAFJ). EAFJ leader Mahmoud El Sharkawy is a member of the Brotherhood's international organization and serves as liaison between his group and Brotherhood members exiled in Turkey, Egypt's Al-Bawaba newspaper reported in April.
State Department spokeswoman Jen Psaki downplayed the visit and denied it was a Brotherhood delegation, saying it was a delegation of former Egyptian parliamentarians which included members of the Freedom and Justice Party. Delegation member Waleed Sharaby said in a February interview with Egypt's Mekameleen TV that the State Department agreed with their position that Egyptian President Abdel Fatah al-Sisi had not brought stability and that his removal would pave the way for a transition to democracy.
Recent Muslim Brotherhood calls for violence have been reflected in the Facebook accounts of EAFJ members. El Sharkawy's Facebook page supports violence in Egypt in posts such as a Feb. 10 communiqué from the Popular Resistance Movement (PRM) which has launched attacks against Egyptian police and other targets. It features an image of a blood-red map of Egypt with a fist superimposed over it and claims responsibility on behalf of the PRM for targeting two police cars. It also stated the following motto in Arabic: "God, martyrs, Revolution."
Other members of EAFJ such as board member Hani Elkadi, who identified himself as a Brotherhood member in a March 9 post, have posted similar images on Facebook.
The National Union of Students, a confederation of 600 student unions representing more than 95 percent of all higher education unions in the United Kingdom, passed a motion Tuesday to align with the Boycott, Divestment and Sanctions campaign as part of a worldwide effort to boycott Israel.
The same group rejected a motion in October condemning ISIS out of concerns it would "become a justification for war and blatant islamophobia." The failed motion called for support to "Iraqis trying to bridge the Sunni-Shia divide to fight for equality and democracy, including defence of the rights of the Christian and Yazidi-Kurd minorities." It also specifically condemned the Islamic State and expressed support for the Kurdish Peshmerga fighting it.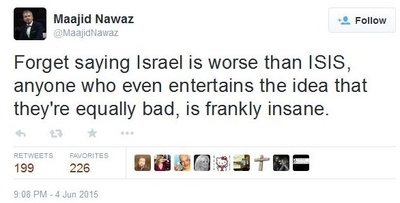 Seeing that fail, but a boycott of Israel pass, prompted Maajid Nawaz, a Liberal Democrat candidate in the 2015 parliamentary elections and prominent anti-extremism activist, to tweet his disapproval, saying it represents "Everything wrong with the Modern Left." In a subsequent comment, Nawaz, a former recruiter for the radical Islamist group Hizb-ut-Tahrir who now combats the Islamist narrative, said that anyone who "entertains the idea" that Israel is as bad as ISIS "is frankly insane."

As we reported in February, several prominent American Islamists have tried to push that very comparison. Two of them, Hussam Ayloush and Zahra Billoo run California chapters for the Council on American-Islamic Relations (CAIR). Ayloush, who runs CAIR's Los Angeles office, told an audience at the Islamic Center of Orange County in January that Muslims receive too much attention when it comes to extremism, especially involving foreign fighters. "So let's talk about the Jewish American kids who join the Jewish State before we talk about Muslim Americans who join the Islamic State. Neither one represents Judaism or Islam," he said.

Billoo, who runs the CAIR San Francisco office, made similar arguments in Twitter posts in September and again in February.
"Is one genocidal group different than the other?" her Feb. 16 post read.
It's remarkable that she sees that as a legitimate question. Or, as Nawaz sees it, "frankly insane."
A United Nations (UN) committee on Monday awarded "observer" status to a UK-based Palestinian organization, which advocates for Israel's destruction, Fox News reports.
The Palestinian Return Centre (PRC), which allegedly serves as a Hamas front, earned the important designation on the UN Committee on Non-Governmental Organizations (NGOs), enabling the radical group to receive official UN badges and complete access to UN facilities. The PRC's new status also allows it to partake in UN debates in New York, Geneva, and Vienna.
The UN Committee features a 19-member panel including countries notorious for committing human rights violations such as Iran, Sudan, Pakistan, Venezuela, Russian, and China.
The move prompted harsh criticism from Israel, pointing out the PRC has direct ties to Hamas.
"According to this script, one day we may find Hezbollah sitting at the Security Council and ISIS voting at the Human Rights Council...This is the peak season for the UN's Theatre of the Absurd," said Ron Prosor, Israel's ambassador to the UN.
Israel banned the PRC in 2010 when then-Defense Minister Ehud Barak confirmed that the PRC acts as a Hamas wing in Europe, promoting the designated terrorist organization's activities and worldview while maintaining direct contact with senior Hamas officials.
UN Watch asserts that the group regularly hosted Hamas officials at its annual conferences, including leader Ismail Haniyeh.
"Despite its pose as pro-Palestinian human rights group, the PRC is one of the few Palestinian advocacy groups to have been banned by Israel, on account of its deep entanglement with top leaders of the Hamas terrorist organization based in Gaza and abroad," read a UN Watch statement in a news release.
The Meir Amit Intelligence and Terrorism Information Center produced a report outlining PRC's Hamas ties, featuring photos of PRC leadership with Hamas officials.
The extensive report concludes that the PRC is devoted to the destruction of the Jewish state and serves as a propaganda wing of Hamas and the Muslim Brotherhood.
The head of the Council on American-Islamic Relations (CAIR) Los Angeles office, Hussam Ayloush, continues to exhibit double standards when it comes to Israel's terrorist enemies. Ayloush openly calls Hizballah's fighters as "terrorists" when referring to the group's involvement in the Syrian civil war, however avoids invoking the "terrorist" label when Hizballah intentionally kills Israeli civilians.

"#Nasrallah, hiding like a rat, sends his #Hizbullah terrorists to die while killing Syrians, just to help the Assad tyrant," Ayloush tweeted Sunday.
He was responding to a commentary by the National Coalition of Syrian Revolution and Opposition Forces, which claims that Hizballah's leader Hassan Nasrallah is fighting an "immoral" and "losing" battle against Syria's rebels.
"[Has] Nasrallah lost his senses or is it just cheap talk when he compares resisting the Israeli occupation to fighting against the rebels in Syria?" Badr Jamous asks in the commentary.
Ayloush clearly agrees that Hizballah's involvement in Syria is immoral and considers Hizballah "terrorists" only because of his anti-Assad view. But his criticism was absent when Hizballah fired rockets at Israeli civilian communities in 2006 or after any of the Lebanese-based terrorist groups attacks against Israel.
By avoiding reference to Hizballah as a terrorist organization in context of its violent operations against Israel, Ayloush is arguably justifying terrorism that targets the Jewish state.
Ayloush has avoided condemning terrorist organizations targeting Israelis in the past.
In 2013, Ayloush was confronted outside a CAIR-LA annual fundraising banquet and asked to condemn Hamas terrorism. Ayloush issued a standard CAIR response saying that he condemns "any group...who engages in the harming of civilians, innocent people."
He avoided addressing Hamas specifically and then proceeded to claim that his "civil rights organization" refrained from providing any comments related to Middle East developments.
"But as a civil rights organization we're not here in the business of being dragged into the Middle East affairs and the conflicts of the Middle East," Ayloush said. "We are an American organization." The question itself is "not acceptable," and "proves that you have nothing but bigotry in you."
Such a heated response is full of hypocrisy, especially considering that CAIR consistently condemns Israel's counterterrorism operations.
During a 2008 press conference, Ayloush demanded that the U.S. "government take immediate steps to end the immoral and illegal Israeli bombardment of Gaza." Hamas, again, is never mentioned despite incessant rocket fire that sparked the conflict.
Former CAIR official Cyrus McGoldrick recently traveled to Iran and again attacked the United States on Iranian state-controlled Press TV again, Front Page Magazine reports, citing McGoldrick's own social media posts.
McGoldrick, who served as advocacy director for the Council on American-Islamic Relations (CAIR) New York office, glorified Iran's confrontational posture vis-a-vis the West and Gulf states.
"Iran as always continues to be an opponent of ... injustice, an opponent of imperialism in the region and so it only makes sense ... that you see these very familiar allies, the same cast of characters, the United States, Israel, Saudi Arabia, and now its regional allies standing against it [Iran] once again."
McGoldrick, who indicated he has relatives in Iran, specifically praised the Islamic Republic's active role in the Yemen conflict. A recent United Nations report confirms that Iran has delivered massive shipments of weapons to Houthi rebels in Yemen since 2009.
Iran claims that current shipments to Yemen are solely for humanitarian purposes and McGoldrick gladly plays the role of an unofficial Iranian spokesperson towing party line.
"This is just one more grotesque... example where Iran is being accused of what their opponents are already doing... Iran is sending much-needed aid, is being blamed for escalating a conflict which it certainly did no part in starting...it is very important and I want to put forward the immense pride that we have in the people who are on that boat..." McGoldrick said on Iranian TV.
CAIR officials routinely appeared on Press TV to criticize the United States during McGoldrick's tenure. But CAIR seemed to back away from that activity as it drew more public attention.
McGoldrick had no hesitancy to lash out at the United States, saying Yemen's conflict "is about the American hegemony throughout the Muslim world, throughout the world at whole."
On Thursday, he laughed off Joe Kaufman's article calling attention to his statements.

Since 2012, McGoldrick has been on Press TV 17 times, mostly to denounce the United States government, including President Obama, and law enforcement as evil and heavily biased against Muslims.
In a 2012 interview on Press TV, McGoldrick accused the FBI of using "tremendous resources to spy on Muslims, to demonize Muslims and to entrap Muslims..."
His affinity with the Iranian regime is extensive. In August 2012, he promoted an "al-Quds Day" rally in New York, featuring vehement anti-Israel rhetoric at the Iranian-inspired event.
Iranian Ayatollah Khomeini created Quds Day, a commemorative day used by subsequent Iranian leaders to call for Israel's destruction and publicly delegitimize the West.
French satirical magazine Charlie Hebdo suspended a journalist who received death threats for writing articles critical of Islamist radicalism, according to Le Monde and reported by Daily Mail. In a move that many view as hypocritical, the magazine called columnist Zineb El Rhazoui to a preliminary dismissal hearing.
According to the French-Moroccan writer, Charlie Hebdo's management is seeking to punish her for being outspoken about the direction the magazine has taken since the Islamist terrorist attack at the magazine's office which killed 12 people.
"I am shocked and appalled that a management that has received so much support after the January attacks could show so little support for one of its employees, who is under pressure like everyone in the team and has faced threats," Rhazoui told Le Monde.
Rhazoui and her husband, Moroccan writer Jaouad Benaïssi, were subjected to death threats from Twitter accounts claiming affiliation with the Islamic State. Photos of Benaïssi and his workplace were published along with suggestions on how to kill the couple.
Thousands of people on social media expressed their disapproval of the magazine's action on social media, including other Charlie Hebdo writers, accusing the magazine of blatant hypocrisy.
"...It is nasty and unfair to call a disciplinary meeting for a member of staff who is still suffering incredibly...It is paradoxical that the magazine receives prizes for freedom of expression while disciplining a journalist whose life is under threat," writer Patrick Pelloux said.
Furthermore, senior Charlie Hebdo cartoonist Renaud Luzier - who drew the front-page cartoon of the prophet Mohammed for the magazine after the terrorist attack - has resigned citing personal reasons. He asserts that his resignation was mainly a result of personal difficulties ensuing after the terrorist attack and the trauma of losing his friends and co-workers. Luzier claims the decision has nothing to do with internal divisions at the magazine following Rhazoui's suspension.
Meanwhile, a suspected jihadist standing a criminal trial for planning a robbery and possession of firearms is accused of discussing plans to attack Dutch politician Geert Wilders. According to Dutch intelligence, the suspect returned from fighting in Syria's civil war.
These developments show that people, from writers to politicians, critical of Islamism and radical extremism continue to be threatened with their lives.
For the third time this year, Islamist radicals in Bangladesh hacked a secular writer to death in public.
Four masked men chased down Ananta Bijoy Das Tuesday morning as Das left his home in Sylhet. They hacked him with machetes after running him down.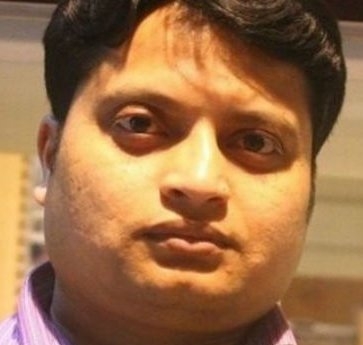 Ananta Bijoy Das
"Ananta died on the spot," Metropolitan Police Commissioner Kamrul Hasan
told the Daily Star
. "Ananta was an organiser of local progressive publication outlet Jukti (logic) and a relentless writer on science."
Das was 31.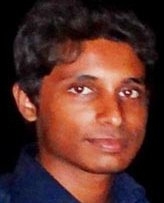 Oyasiqur Rahman Babu
On March 30, Oyasiqur Rahman Babu, 27, was
murdered
on his way to work. Like Das, Babu's writings criticized religious fundamentalism.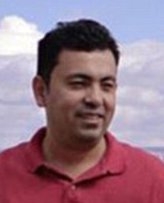 Avijit Roy
On Feb. 26, American citizen Avijit Roy was
killed
, and his wife severely injured, when attackers jumped them at a book fair. Roy had been threatened for his writings against religion, including
his statement
that religious extremism is like a virus: "if allowed to spread [it] will wreak havoc on society in epidemic proportions."
An al-Qaida branch claimed credit for Roy and Babu's murders.
A fourth secular activist, Ahmed Rajib Haider, was attacked and killed in February 2013.
Das, Babu and Roy were part of a movement, Shahbag, which advocated the death penalty for Islamist leaders convicted for murders and other attacks at the end of the 1971 war that saw Bangladesh break away from Pakistan.
An official with the Islamic Circle of North America, Ashrafuzzman Khan, was convicted in October 2013 in connection with the kidnapping and murder of 18 intellectuals at the war's end. He remains in the United States.
In a posting Monday that turned out to be his last, Das lashed out at police over their failures to stop the attacks on Roy and Babu even though officers were nearby. "Later the police claimed there had apparently been no dereliction of duty. One would love to know what their duty was," he wrote.
He called them "paper tigers when women were being molested one by one before an audience of thousands at the new year celebrations." When protests resulted, "the police pounced on them, injuring university students with the butts of their guns and their boots. Here too I was told that the police had not abandoned its responsibility. But I'm very keen to know what the real responsibility of the police is."
Das, along with Haider, Roy and Babu, died because his opinions were deemed unacceptable to some of Bangladesh's radical Islamists.
But this is an international phenomenon that shows no sign of waning.
Last week in Texas, two radical Islamists tried to massacre people who attended a cartoon exhibit and contest involving the Muslim prophet Muhammad. And, of course, 12people were gunned down at the offices of French satirical magazine Charlie Hebdo in January by two brothers who boasted they had "avenged the prophet" by slaying those who dared to publish his caricature.
Hamas is actively recruiting Palestinians studying in Malaysia to join the terrorist organization, according to an indictment of Hamas operative Waseem Qawasmeh, the Meir Amit Intelligence and Terrorism Information Center (ITIC) reports. In a separate instance, a captured Hamas terrorist told interrogators he was sent to Malaysia, along with nine others, in order to train using hang gliders for conducting a terrorist attack against Israel.
Qawasmeh was charged in March with working with a banned organization and receiving money from it. In his indictment, prosecutors allege that Hamas directs Palestinian students and lecturers to engage in significant cultural and social activities at the International Islamic University Malaysia. Through these activities, Hamas operatives recruit and finance people to train in Turkey for future deployment to the West Bank and carry out attacks against Israel.
Israel's domestic intelligence agency believes that 40 Palestinian students were recruited to Hamas' military wing this way.
Qawasmeh's indictment refers to Hamas operating bases in Malaysia and Turkey and says Qawasmeh pledged allegiance to the group in December 2013. Ma'an Khatib, a university professor who is responsible for Hamas' operations in Malaysia, allegedly was present for the ceremony. Last year, Qawasmeh participated in Hamas' social activities program and was recruited to the Muslim Brotherhood by Mustafa Nijm, the head of Hamas' da'wah (Islamic outreach) committee at the Malaysian university.
Malaysian officials deny the allegations, but ITIC assessments accuse local Malaysian authorities of allowing Hamas to operate in the university.
Qawasmeh also received funds from another Hamas recruiter and was subsequently encouraged to partake in a Hamas financed training course in Turkey. After their training, recruits are sent to the West Bank to join Hamas' terrorist infrastructure in the Palestinian territory and carry out orders directed by senior Hamas officials in Turkey.
Hamas' international terrorist headquarters are based in Turkey and led by Salah Al-Arouri, a senior member responsible for enhancing Hamas operations in the West Bank. Last year, Israel uncovered an extensive Hamas plot to overthrow the Palestinian Authority in the West Bank, orchestrated by Al-Arouri and other terrorist officials in Turkey.
Al-Arouri's Hamas connection and activities are well known to U.S. law enforcement officials.
Turkey, a NATO-member, openly supports Hamas politically and financially. It remains to be seen whether the United States or other members of the Western security alliance will apply pressure on Turkey to cease backing a designated terrorist organization committed to the destruction of Israel.