A speech Monday night by Turkish President Recep Tayyip Erdogan's daughter is dividing some prominent American Islamists.
Sümeyye Erdogan Bayraktar used her address at the Muslim American Society (MAS) and Islamic Circle of North America (ICNA)'s joint convention in Chicago to defend her father's regime and lash out at the "cult" she says is trying to tear it down.
Erdogan has cracked down on political opponents and journalists, a process dramatically accelerated by a failed coup attempt last summer. In her remarks to the Muslim American Society (MAS) and Islamic Circle of North America (ICNA) joint convention, Bayraktar denied that Turkish democracy and press freedoms are under assault.
Instead, she suggested that the "Gülen cult," led by Fethullah Gülen, a Turkish Islamist leader exiled in Pennsylvania, poses Turkey's greatest threat. Erdogan blamed Gulen for masterminding the coup attempt.
"The fact is every person, regardless of their profession, has to face the full consequences of law if they have links to a terrorist organization or promote terrorist propaganda," Bayraktar said. "There is not one journalist in Turkey who is imprisoned for journalistic activities, nor for criticizing the president."
Just two weeks ago, Human Rights Watch released a 69-page report detailing Turkey's "crackdown on media freedom that had already been going on for over a year."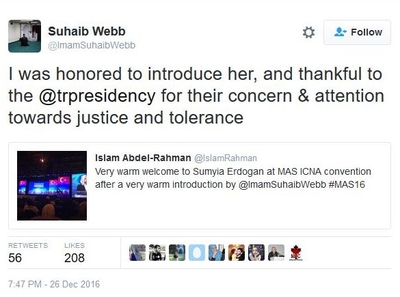 But that didn't stop Suhaib Webb, former imam of the Islamic Society of Boston Cultural Center, from expressing his pleasure over the "honor" of introducing Bayraktar's speech. He added that he was thankful for Erdogan's "concern & attention towards justice and tolerance."
"I don't have words. Thanking Erdogan for his tolerance and justice," activist Rabia Chaudry sarcastically replied on her Facebook page.
On Wednesday, Chaudry denounced leaders of major U.S. Islamist organizations for embracing Erdogan despite questions about his human-rights abuses.
"Am I crazy to think the embrace of this regime is dangerous, unethical?" Chaudry asked. "Am i the only one who wonders how the same groups and individuals in the US who are likely going to be the target of any future Muslim Brotherhood witchhunt are supporting a man who is engaged in his own witchhunt? Do Muslims just really love strongmen and dictators?"
Chaudry wasn't alone. Ahmed Rehab, executive director of the Council on American-Islamic Relations (CAIR) Chicago office, joined in the chorus of dozens of Muslims protesting Webb's effusive praise for Erdogan.
"Ironic given that for many, justice and tolerance are completely denied in Turkey. Again, let's beware of our 'blind spots' @ImamSuhaibWebb," Rehab wrote.
MAS, ICNA, and other U.S. Islamist groups are allowing themselves to become tools of Turkish foreign policy, Abdullah Bozkurt, the exiled former Ankara bureau chief of the English language, anti-Erdogan newspaper Today's Zaman that was shuttered by the Turkish government in March, told the Investigative Project on Terrorism. Erdogan's strategy is akin to Iran's clandestine cultural and education programs that use aligned groups to manipulate popular perception and policy, Bozkurt said.
After being featured among a list of speakers for an upcoming national convention hosted by two Islamist groups, U.S. Rep. Keith Ellison's name does not appear on the convention program.

Ellison, a candidate to be the next Democratic National Committee (DNC) chair, was scheduled to speak Tuesday at the annual Muslim American Society-Islamic Circle of North America (MAS-ICNA) convention in Chicago.

An earlier program titled Ellison's speech as "Our Voice Will Be Heard." That talk still appears in the convention, but the program now identifies former Muslim Students Association (MSA) President Altaf Husain and an individual named Anthony Whitmore as the speakers.
Both MAS and the MSA were founded by Muslim Brotherhood members in the United States.
Ellison's office declined to comment when the Investigative Project on Terrorism (IPT) asked whether he no longer planned to speak at the event.
On Monday, IPT reported that the MAS-ICNA conference also will feature Ali Qaradaghi, secretary general of the pro-Hamas International Union of Muslim Scholars (IUMS). The article also disclosed a 2010 email in which liberal Muslim scholar al-Husein Madhany described MAS as a "national security threat" due to its ties to Hamas and the Muslim Brotherhood.
Like Ellison, Qaradaghi had been listed as a speaker on the convention's website, but his name likewise does not appear in the program.
Sheikh Mohammed Rateb Nabulsi, a Syrian imam who sanctioned suicide bombings in 2001 and met top Hamas leader Ismail Haniyeh in Qatar earlier this month, still appears in the convention program.
Ellison's DNC candidacy was rocked by a Nov. 30 IPT report which included a 2010 recording in which Ellison described American foreign policy as disproportionately influenced by Jews.
"The United States foreign policy in the Middle East is governed by what is good or bad through a country of 7 million people," Ellison said. "A region of 350 million all turns on a country of 7 million. Does that make sense? Is that logic? Right? When the Americans who trace their roots back to those 350 million get involved, everything changes. Can I say that again?"
The Anti-Defamation League (ADL) retracted its endorsement of Ellison after the IPT's report, calling his remarks "deeply disturbing and disqualifying" and that they "his words raise the specter of age-old stereotypes about Jewish control of our government."
A New Jersey imam fighting deportation may have harmed his case to stay in this country and avoid deportation by hosting a radical Syrian cleric last week.
Sheikh Mohammad Qatanani is due back in immigration court next month. He failed to disclose connections with Hamas when he applied for permanent residency in the United States. That omission, immigration officials say, renders him ineligible to stay in the country.
Israeli military court records show he was arrested in 1993 and convicted of providing support to Hamas. Qatanani claims he was merely detained and never charged.
While his case is in recess, Qatanani's mosque, the Islamic Center of Passaic County (ICPC), hosted Sheikh Mohammed Rateb Al-Nabulsi last Friday. Al-Nabulsi is a Syrian imam who defended Palestinian suicide bombings in April 2001.
"All the Jewish people are combatants" acceptable as targets for attacks in Israel, Al-Nabulsi wrote in his "ruling on martyrdom operations in Palestine."
Al-Nabulsi praised "our Mujahidin Resistance Brothers in Palestine and Lebanon" in a 2006 article on his website.
"We say Allah-u Akbar to all our Mujahidin brothers in South Lebanon and Palestine who embodied with their heroic deeds the meaning of Jihad," Al-Nabulsi said.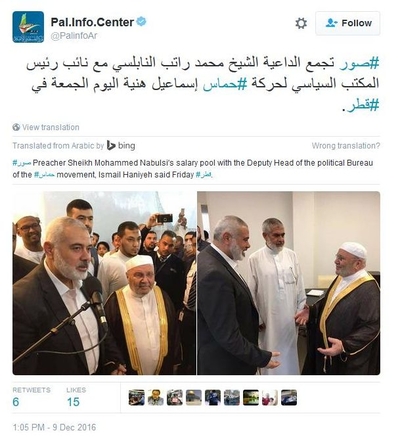 During a  visit to Qatar earlier this month, Al-Nabulsi posed for a photo with Ismail Haniyeh, a top Hamas leader who served as its prime minister in Gaza.
Qatanani also hosted Al-Nabulsi in January 2014.
Al-Nabulsi's defense of suicide bombings might be added into the record in Qatanani's immigration court case to help build the argument that he supports extremists. It also could contradict Qatanani's statement at his Dec. 7 deportation hearing that he did not know anyone in Hamas or connected to Hamas apart from his brother-in-law, who he met once in 1994.
Both Qatanani and Al-Nabulsi are slated to speak at next week's MAS-ICNA Convention in Chicago.
Al-Nabulsi's ICPC appearance last Friday focused on Muslim unity in response to the Syrian civil war and the slaughter in Aleppo. Qatanani sought to tie the fight against Assad in Aleppo with the Palestinian struggle with Israel in Gaza.
"The blood of the Syrian Muslim child of Aleppo is the same blood of the Palestinian child of Gaza," Qatanani said.
With a new challenger to his bid to become Democratic National Committee chairman, U.S. Rep. Keith Ellison took to CNN Wednesday morning and lied about 2010 anti-Israel remarks first exposed by the Investigative Project on Terrorism (IPT).
During a private fundraiser, Ellison criticized what he saw as Israel's disproportionate influence in American foreign policy.
"The United States foreign policy in the Middle East is governed by what is good or bad through a country of 7 million people. A region of 350 million all turns on a country of 7 million. Does that make sense? Is that logic? Right?"
Asked about the comments by CNN anchor Chris Cuomo, Ellison falsely claimed he was merely answering a question about political involvement.
"I was talking to a group of people who asked me how they could look at the Jewish community as a model for political empowerment," Ellison said in a transcript posted by Real Clear Politics.
The IPT published the entirety of Ellison's remarks from that 2010 fundraiser, which was hosted by former Muslim American Society (MAS) President Esam Omeish, an activist who previously praised Palestinians for choosing "the jihad way" for their liberation. MAS was founded by Muslim Brotherhood members in the United States, and Omeish recently published a glowing tribute to the Egyptian-based Islamist group.
The full recording and transcript show that Ellison addressed a range of issues, including taking time to praise Omeish and note the passage of the Affordable Care Act. But there was no question about empowerment.
On CNN, Ellison said he saw "nothing wrong with any group of Americans using our democratic system in order to advance their policy views."
Again, that statement flies in the face of Ellison's recorded comments. His language, and the rhetorical questions he posed, indicated something was very wrong: "A region of 350 million all turns on a country of 7 million. Does that make sense? Is that logic?"
He does say that this can change "[w]hen the Americans who trace their roots back to those 350 million get involved," but it was a subject he raised despite his recent spin. There was no consideration that it is in American national security interest to support the region's only stable democracy. To Ellison, it must be because of disproportionate influence.
Later, he added, "We can't allow another country to treat us like we're their ATM. Right? And so we ought to stand up as Americans. Now some of us have affinity for other places around the globe. Some of us are new Americans and adopted America as our home. But whether you're born here or whether you accepted America as your own voluntarily, this is our home. Right? All of our home equally, and we can't allow it to be disrespected because some, by a country that we're paying money to."
It's good that Cuomo asked Ellison about his comments. But he let the politician skate with a false account.
Update: The Odeh retrial has been pushed back to May 16.
Attorneys for Palestinian bomber Rasmieh Odeh want to delay her re-trial on naturalization fraud for two months, pointing to a superseding indictment in the case.
The new charging document, which has not yet been filed publicly, still includes just the one count of naturalization fraud against Odeh, who has become a heroic figure among Palestinian advocates. But it includes "additional facts to support the charges," a press release Tuesday from the U.S. Attorney's Office in Detroit said.
The original indictment emphasized Odeh's "no" answers to immigration officials when asked several times whether she ever had been arrested, convicted or imprisoned. During her 2014 trial, Odeh claimed she thought the question only applied to her time in the United States. In fact, she was arrested and spent 10 years in an Israeli prison for her role in two 1969 bombings, one of which killed two college students.
"The new indictment ... also alleges that Odeh, in seeking naturalization, also falsely answered two additional questions on her application form relating to her association with the Popular Front for the Liberation of Palestine, a designated terrorist organization," the government news release said.
By emphasizing Odeh's membership in a terrorist organization, the prosecution appears to be trying to narrow the focus of the case just a week after a federal judge's ruling broadly expanded it.
U.S. District Judge Gershwin A. Drain granted Odeh a new trial, this time allowing testimony claiming Post Traumatic Stress Disorder, triggered by alleged Israeli torture, caused her to "filter" out her terrorist past when answering the immigration questions.
Drain kept that testimony out of Odeh's 2014 trial, which ended with her conviction and an 18-month prison sentence. But the Sixth Circuit Court of Appeals remanded the case back to Drain's court, saying he ruled in error.
Prosecutors telegraphed the move in a previous motion arguing against the PTSD testimony. Allowing it, they wrote, would mean they would have to prove Odeh's membership in a terrorist organization. They pointed to several published documents which help do that, including interviews in which Odeh and an accomplice discussed their roles in the bombings. In addition, the terrorists who attacked Israeli athletes during the 1972 Olympic Games "demanded the release of hundreds of prisoners in Israel in exchange for the athletes, included a demand to release Defendant Odeh. The PFLP would not demand the release of anyone not affiliated with the organization," prosecutors wrote. Similarly, a series of 1970 PFLP airline hijackings were claimed by the PFLP's 'Task Force Rasmieh Odeh.'
"The PFLP would not name a crew of hijackers after someone not affiliated with the organization," they wrote.
Even if jurors believed Odeh's claim that she confessed to the Israeli bombings only after enduring weeks of torture, and that experience led to her post-traumatic stress, evidence that she was a member of a terrorist organization – the PFLP – would be enough to disqualify Odeh from entering the United States or becoming a citizen.
"So, this is a very important move [by] the prosecution, and makes the PTSD defense much less critical to the case," wrote Cornell University Law Professor William A. Jacobson.
Odeh's attorneys asked that the case be delayed until mid-March. Judge Drain has not ruled on that request.
Evidence being used against him in the Department of Homeland Security's effort to deport him is the product of torture and is not credible, a Hamas-connected imam testified Tuesday in a Newark, N.J. immigration court.
Mohammad Qatanani is imam at the Islamic Center of Passaic County. Immigration officials have been fighting to deport him since 2006, alleging he failed to disclose connections with Hamas when he applied for permanent residency. When he came to the United States 10 years earlier, he claimed he had never been arrested or belonged to any terrorist groups.
That history makes Qatanani subject to deportation, DHS says.
Tuesday's hearing centered on Qatanani's October 1993 arrest and conviction by an Israeli military court on charges he provided support to Hamas. He claims Israeli authorities detained him and never charged him.
"No lawyer prior to 2008 ever told me that I had a conviction," Qatanani said.
U.S. Immigration Judge Judge Alberto Reifkohl ruled in 2008 that the bulk of the evidence and testimony introduced by the Department of Homeland Security was not credible and granted Qatanani permanent residency, better known as a "green card."
The Justice Department's Board of Immigration Appeals sent the case back to Reifkohl in October 2009, finding that he erred rejecting the credibility of evidence and government testimony.
In addition, DHS attorneys bolstered some of the evidence obtained from Israeli officials, including two confessions which include statements Qatanani made about his Hamas connection. Three additional witness statements came from people who told Israeli officials that Qatanani recruited them to join Hamas
Qatanani claims he never was given translations of the Hebrew-language Israeli court records and never knew what they alleged. "There is no confession to my understanding" Qatanani said Tuesday.
He also disputed that the signatures on the documents were his, saying instead they were "similar" to his signature. DHS evidence was able to match the fingerprints on the documents to Qatanani.
He claims he was mistreated in Israeli custody, but never signed any documents he thought were confessions, describing them as "finishing papers."
The legal standard in immigration court is less stringent than a criminal conviction. This means DHS only needs to show that Qatanani had associations with Hamas that he hid on his visa application. Under immigration law, the Qatanani has the burden of proof to show he is not a terrorist, said Department of Homeland Security Deputy Chief Counsel Chris Brundage.
It's impossible for Qatanani to get around the fact he lied when he said he never had been arrested, Brundage said.
No ruling was issued before the hearing recessed. It is scheduled to resume next month.
Terrorists increasingly are diversifying their funding sources to support their violent and nefarious activities. That includes various criminal activities.
A new Union des Fabricants (UNIFAB) report, commissioned by the French government, highlights the important relationship between terrorism and counterfeiting in particular. The criminal-terrorism nexus manifests itself in several forms, but the main elements include: cooperation between terrorist groups and organized criminal elements, and crimes by terrorists which are conducted to finance their own operations.
Since 2001, profits from cigarette smuggling and counterfeiting account for over 20 percent of illicit financing for terrorist groups, the report says.
Terrorists' reliance on counterfeiting has attracted further attention with the rise of Islamic State terrorist networks. Without a formal state sponsor, and facing considerable setbacks in Syria and Iraq, ISIS may start to rely more on crime to fund operations. The terrorist organization also extensively recruits European operatives with criminal backgrounds.
Individual terrorists and cells depended on profits from selling counterfeit goods on numerous prominent occasions. For example, the Islamist terrorists responsible for the January 2015 attack in Paris earned money from drug trafficking and counterfeit sales, including Nike shoes. The Belgium city of Molenbeek, home to a disproportionate number of radical Islamist terrorists and sympathizers, is strongly associated with counterfeit activities. In 2012, for example, authorities there seized about three tons of counterfeit clothes, perfumes, and other accessories. The UNIFAB report suggests that law enforcement agencies in France and abroad need to stop treating counterfeiting as simply "petty crime" and understand it frequently bankrolls terrorist activity.
The report outlines counterfeiting activities by prominent terrorist organizations. Hizballah for example, has exploited counterfeiting methods on several occasions, including in 2003 when Lebanese authorities found containers full of counterfeit automobile parts worth over $1 million dollars intended for Hizballah supporters. In 2006, U.S. authorities arrested 19 people who were part of a counterfeit drug network spanning five countries and involved significant profits for the Iranian-sponsored terrorist organization.
Though Hamas' criminal financing operations are well documented, the report also describes Fatah and the Palestinian Authority members' suspected involvement in illicit financial activities and cooperation with criminal networks. Interpol believes that al-Qaida and affiliated organizations earned between $300 and $500 million in the last decade from illicit activities and smuggling counterfeit goods worldwide.
While the internet and the rise of virtual currency, such as BitCoin, allow for illicit transactions to remain anonymous, terrorists still rely on traditional and clandestine networks such as the Hawala (trust in Arabic) system to transfer money undetected. Counterfeiting is very profitable, carries relatively lax legal consequences and involves less risk compared to other financing activities. Beyond raising critical awareness, the report outlines key recommendations for law enforcement and counterterrorism agencies.
Click here to read the full report.
A politically connected, longtime board member at the Falls Church, Va., based Dar al-Hijrah Islamic Center effusively praised the Muslim Brotherhood in a Facebook posting Wednesday.
Esam Omeish was forced to step down from a state immigration commission by then Virginia Gov. Tim Kaine in 2006 after video of him praising Palestinians for fighting the "jihad way" became public.  He also served as president of the Muslim American Society (MAS), a group founded by the Muslim Brotherhood in America.
While MAS officials denied that connection, Omeish praised the Egyptian-based organization with ultimate designs on a global Islamic state.
"We have not known of the people of Islam ... those more just in understanding, wider in approach and closer in application than the Muslim Brotherhood," Omeish wrote. "We have not known of humane brotherliness and its people, (and we are affiliated with all men whom Allah has created a propensity for love, mercy, an upright disposition, good morals and honorable character) better in ethics, of gentler parts, deeper in adherence to duty, nobler in morals among all their sons, and everyone of their actions than the Muslim Brotherhood."
Omeish was responding to a posting by Hani Elkadi, co-founder of Egyptian Americans for Freedom and Justice and Egyptian Americans for Democracy and Human Rights. Elkadi seemed to admit his own Brotherhood affiliation on Facebook in a March 9, 2015 Facebook post showing an cartoon of a man holding a sign with the Brotherhood logo and the words which translate to, "I am [Muslim] Brotherhood and I'm not threatened."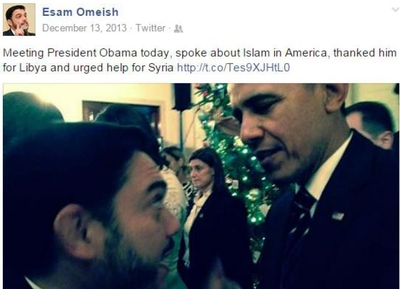 Omeish visited the White House and State Department numerous times and posted pictures of himself with President Barack Obama and Secretary of State John Kerry on his Facebook page. State Department officials featured Omeish in a 2008 video about American Muslims.
In February, Omeish sent an open letter to President Obama asking him to support the al-Qaida linked Revolutionary Council of Derna.
He endorsed the Muslim Brotherhood branch in his native Libya in a 2012 IRIN News article, saying that although it came in a distant second in Libya's 2012 elections, it "may be able to provide a better platform and a more coherent agenda of national action."
U.S. Rep. Keith Ellison's 2010 comments about Israeli political influence, first reported Tuesday by the Investigative Project on Terrorism, are "deeply disturbing and disqualifying" to his bid to become head of the Democratic National Committee, the Anti-Defamation League announced in a statement Thursday afternoon.
In remarks given at a private fundraiser, Ellison, D-Minn. implied Israel enjoyed disproportionate and inappropriate control over U.S. foreign policy. The IPT obtained a recording of those comments:
[AV] 837 [/AV]
"The United States foreign policy in the Middle East is governed by what is good or bad through a country of 7 million people. A region of 350 million all turns on a country of 7 million. Does that make sense? Is that logic? Right? When the Americans who trace their roots back to those 350 million get involved, everything changes. Can I say that again?"
In Thursday's statement, ADL chief executive Jonathan Greenblatt said Ellison's comments expose a belief that American policy is driven not by the country's best interests, but by "religiously or national origin-based special interests ... Additionally, whether intentional or not, his words raise the specter of age-old stereotypes about Jewish control of our government, a poisonous myth that may persist in parts of the world where intolerance thrives, but that has no place in open societies like the U.S."
Greenblatt defended Ellison last week against criticism of his past association with the Nation of Islam and his close relationships with Islamist groups like the Muslim American Society (MAS) and the Council on American-Islamic Relations (CAIR), both of which were created by members of the Muslim Brotherhood.
Ellison "long ago ... disassociated himself from the [Nation of Islam] and apologized for its anti-Semitism," Greenblatt wrote. And, "we have seen no concrete evidence of any link between Ellison and the Brotherhood."
"He has been outspoken about anti-Semitism and other forms of bigotry in his role as a congressman. Local Jewish leadership in his district speaks highly of him," Greenblatt wrote.
But the 2010 comments exposed by the IPT changed all that. Bipartisan support for Israel, "our most important ally in the region, a democracy whose emphasis on equality and commitment to the rule of law stands in stark contrast to the anarchy and authoritarian regimes that prevail in much of the Middle East" is vital, Thursday's statement said. The next head of the Democratic Party should "have fidelity to these timeless ideals at all times."
The DNC is expected to choose its next leader in early 2017.
A Brooklyn imam issued what appeared to be a call to behead Egyptian President Abdel Fatah al-Sisi last Wednesday at an event sponsored by the pro-Muslim Brotherhood group Egyptian Americans for Freedom and Justice (EAFJ).
Sisi has led Egypt since a July 2013 coup toppled the Muslim Brotherhood government led by then-President Mohamed Morsi. Brotherhood supporters in the United States have condemned the move, which was prompted by massive street protests against Morsi's rule. They demand his reinstatement.
"[O]nce people pledge allegiance to a Muslim ruler, it is forbidden to struggle against him and remove him, and if anyone removes him, he should be beheaded," Islamic Society of Bay Ridge imam Sheikh Mohamed Elbar told the EAFJ gathering in Arabic. "Do you know who ought to be beheaded? Who should be stricken with the sword or hanged or detained? He who came to fight, and not the legitimate president [Morsi]."
The Investigative Project on Terrorism obtained a recording of the event, held at the Muslim American Society (MAS) Center in Brooklyn.
Elbar belongs to the International Union of Muslim Scholars, headed by radical Muslim Brotherhood cleric Sheikh Yusuf Qaradawi.
Qaradawi issued a similar threat against Sisi on Al-Jazeera shortly after the 2013 coup: "[I]f he, who has disobeyed the ruler, does not repent, then he must be killed. There is a legitimate ruler (in reference to Morsi) and people must obey and listen to him."
Elbar's mosque has a long track record of extremism dating back to the 1990s. "Brooklyn Bridge Shooter" Rashid Baz, killed Hasidic student Ari Halberstam in 1994 after hearing a sermon at the mosque calling for revenge on Jews for an incident in Hebron.
Meanwhile, this is not the first time EAFJ was connected to threats of violence against Egypt's military leaders.
In February 2015, EAFJ board members Hani Elkadi and Mahmoud El-Sharkawy, who appeared alongside Elbar and Sharaby at last week's event, each posted a communiqué from the Popular Resistance Movement (PRM) which has launched attacks against Egyptian police and other targets.
It features an image of a blood-red map of Egypt with a fist superimposed over it. It claims responsibility for targeting two police cars. "God, martyrs, Revolution," it said.
PRM claimed joint responsibility with ISIS's Sinai Province for an attack near Cairo that left eight police officers dead last May.