After a terrorist attack killed two police officers at Jerusalem's Temple Mount July 14, Israel installed metal detectors on the compound, which also includes the Al Aqsa Mosque.
That's not a crazy over-reaction. But this routine safety precaution is being cast as an unprovoked intrusion on Muslims wishing to go to the mosque. Palestinian President Mahmoud Abbas broke off security cooperation with Israel. Protests turned violent, with three people dying Friday, and three members of an Israeli family being murdered in a West Bank terrorist attack.
Abbas condemned the horrific attack on the Temple Mount, but his Fatah party called for a "day of rage" over the metal detectors. None of these actions considers that, without the terror attack that killed the two police officers, none of this would be happening.
"It's hard to think of a worse debasement of a holy place than for armed gunmen in the middle of a shooting spree to flee to it for sanctuary," Bloomberg's Eli Lake wrote last week. "Add to this the fact the Jerusalem police now say there were guns hidden in the Temple Mount complex at the time."
For those who reflexively blame Israel, even when it suffered the attack, such context doesn't matter.
The Islamic Society of North America (ISNA) issued a statement expressing unease over "the escalating tensions between Palestinians and Israeli police which led to the latter imposing unprecedented restrictions on worship at Masjid al Aqsa."
Similarly, American Muslims for Palestine (AMP) claimed Israel's closure of Al Aqsa was "unacceptable." In a statement released Friday, it called the new security measures "proof Israel is using the current situation in Jerusalem as a pretext to divide the mosque and prohibit Muslims from accessing their holy site during certain days and/or periods."
The Council on American-Islamic Relations (CAIR) St. Louis chapter organized a march that cast metal detectors and security cameras as a "siege" of the mosque and featured chants of "free free Al-Aqsa."
"It's just another way to put [Palestinians] on a leash and try to control them," said CAIR intern Neveen Ayesh.
Anti-Israel activist Linda Sarsour took to Facebook Saturday to salute protesters and claim that "Palestine will be free, it's not a question of if, its (sic) when."
Friday's West Bank terror attack, meanwhile, was the first in a series. A security officer at the Israeli embassy in Jordan was attacked Saturday evening. And Monday morning, another Palestinian carried out an attack "for al Aqsa" injuring an Arab-Israeli man he mistook for a Jew.
There have been no condemnations from any of the groups who see metal detectors as horrible injustices.
Canadian authorities have stripped two former affiliates of the Islamic Society of North America's Canada chapter (ISNA-Canada) of their charitable status after discovering financial ties between the Islamic organizations and a Pakistani militant group.
ISNA Islamic Services of Canada and the Canadian Islamic Trust Foundation lost their charity status for "non-compliance" following a Canada Revenue Agency (CRA) audit, according to records acquired by Canada's Global News.
The CRA discovered several issues during the audit, including evidence that ISNA Islamic Services facilitated donations that may have ended up in the hands of Hizbul Mujahideen (HM), a Kashmir-based militant group. According to the CRA report, the Toronto-based Jami Mosque raised and transferred funds to the ISNA Development Foundation "for remit" to the Relief Organization of Kashmiri Muslims (ROKM), a "charitable arm" associated with HM.
"Given the identified commonalities in directorship between ROKM and Jamaat-e-Islami and the Hizbul Mujahideen executive committee, concerns exist that the funds collected and disbursed as part of this relief fund may have been used to support the political efforts of Jamaat-e-Islami and/or its armed wing Hizbul Mujahideen," the CRA said.
HM is designated as a terrorist organization by the European Union and India. In June, the State Department put HM's leader, Syed Salahuddin, on its terrorist designations list, citing his threats to train suicide bombers in Kashmir and HM's responsibility for several deadly terrorist attacks.
This development comes four years after Canadian authorities revoked ISNA Development Foundation's charity status for similarly raising funds that may have reached militants in Kashmir. In July 2013, the Toronto Star reported that ISNA-Canada may have funneled $280,000 to ROKM.
The 2013 CRA audit found numerous issues within the ISNA Development Foundation, including missing documentation, misleading financial reports, and sending donations abroad to unapproved groups. The ISNA affiliated organization engaged in these activities despite a stated purpose of serving the poor and needy in Canada.
A 2010 CRA audit found that ISNA-Canada itself misused more than $600,000 in donor funds.
A "very small portion ... is distributed to the poor and needy and the major portion is spent on the administration of the centre," concluded the 2010 audit. "Spending for personal expenses out of the charity's funds is unethical," the auditor wrote, saying it is "tantamount to misappropriation of funds."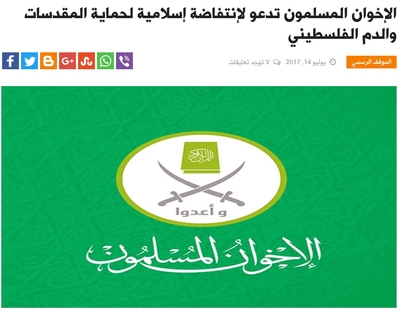 The Muslim Brotherhood called for an "Islamic Intifada" – a violent uprising – against Israel Friday following the day's deadly Palestinian terrorist attack in Jerusalem.
"The Muslim Brotherhood calls upon the sons of the Islamic Umma (nation), its Ulema (Muslim religious scholars), figures and blocs for an Intifada in order to stop the (alleged Israeli) violations of holy sites...," the Brotherhood wrote on its official Arabic-language website and translated by the Investigative Project on Terrorism (IPT).
Palestinian terrorist organizations Hamas and the Palestinian Islamic Jihad followed the Muslim Brotherhood's lead with a joint statement on Monday, also translated by IPT, "calling on the masses of the Palestinian people to prepare and declare a general mobilization to defend al-Aqsa Mosque and to escalate the Quds Intifada."
The Brotherhood admitted its main motivation for "our intended uprising" is to "pressure all Western governments, Arab regimes and international organizations to intervene to stop violations by gangs of the Zionist entity..."
On Friday, three Israeli-Arab terrorists from Umm-al Fahm shot and killed two Israeli police officers of Druze descent at the Temple Mount. Other police officers shot the terrorists dead after they retreated into the Temple Mount compound. According to the Times of Israel, the attackers were reportedly members of the banned Northern Branch of the Islamic Movement, a Muslim Brotherhood affiliated organization led by a radical Arab Israeli Raed Salah and former mayor of Umm al-Fahm.
The Jerusalem Post later interviewed several residents of Umm el-Fahm, many of whom believe that the al-Aksa mosque is under threat by Israel. Some of the respondents believe the Israeli-Arab terrorists were motivated to kill by this belief.
"They did this because of the feeling that al-Aksa is in danger," a young man told the Jerusalem Post. "Every year we used to have a festival on the theme 'al-Aksa is in danger.' Since the government banned the movement, we no longer have it, but a lot of people still support the movement."
The Northern Branch of the Islamic Movement controlled Umm el-Fahm for 21 years and maintains a strong support base in the area. "Al-Aksa is in danger" is the Islamic Movement's mantra.
The Muslim Brotherhood's statement reaffirms the organization's extremist and divisive worldview, labeling any Muslim a "traitor" if they fail to join the uprising: "The Muslim Brotherhood stresses that defending holy places, and blood and goods is a Sharia duty and a duty to every Muslim, which cannot be ignored except by a traitor or someone submissive."
Brotherhood spiritual leader Yusuf al-Qaradawi also issued a series of statements during the past couple of days inciting Muslims to join the struggle against Israel.
"It is incumbent on the Umma of Islam to leave aside minor issues and side battles, and be concerned with the primary cause of Islam: the cause of Palestine and what the prisoner al Aqsa Mosque is being subject to," Qaradawi wrote in a Twitter post Monday.
The most recent attack in Israel and the Brotherhood's subsequent call for an intifada is the latest example of Muslim Brotherhood-sanctioned violence.
In April, senior Muslim Brotherhood member 'Izz Al-Din Dwedar called for an "intifada" targeting Egyptian embassies around the world in a Facebook post translated by The Middle East Media Research Institute (MEMRI).
In protest of death sentences handed to members of the Brotherhood in Egypt, Dwedar suggested for violent action on May 3.
Egyptians abroad should "protest [outside] Egyptian embassies and lay siege to them, and steadily escalate [their actions], up to and including raiding the embassies in some countries, disrupting their work and occupying them if possible, in order to raises awareness to our cause," Dwedar wrote.
Friday's terrorist attack at the Temple Mount in Jerusalem provided yet another example of how apologists avoid acknowledging the reality of Palestinian violence.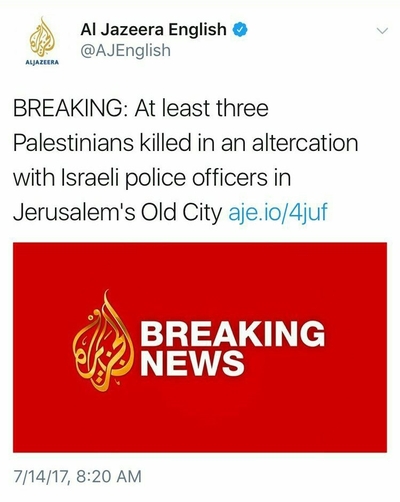 Qatar-based Al-Jazeera television's first headline made it seem like three Palestinians were shot dead for no particular reason. "At least three Palestinians killed in shooting in Jerusalem's Old City," the network posted on Twitter.
The three were killed after they shot and killed two police officers and wounded a third in an unprovoked attack.
In the United States, Jewish Voice for Peace (JVP), which claims to want a safe and secure state for both Israelis and Palestinians, reacted to the terrorist attack by sharing a Facebook post posting a video about the electricity crisis in the Gaza Strip. "The news today of armed Palestinians killed by Israeli occupying police near Al Aqsa mosque is grim, sad and frightening but won't include the backdrop of Gaza in the dark, its undrinkable water, children suffering from post-traumatic stress disorder... each day becoming more unlivable," JVP wrote.
This apparent rationalization of a terrorist attack that killed two Israeli police officers by Israeli Arabs who opened fire after prayer on the Temple Mount is not a surprising move by Jewish Voice for Peace.
A Palestinian activist at a JVP conference earlier this year urged the audience to become "freedom fighters" by utilizing "guerilla disobedience" because activism against the occupation was not enough.
At another panel on Zionism, JVP argued that Israel is an apartheid state ignoring equal rights and opportunities of Israeli Arabs, while also pushing the notion that Zionism should not exist. Zionism was a movement aimed at the reestablishment of a Jewish state.
JVP championed the case of convicted terrorist Rasmieh Odeh, who was responsible for a 1969 grocery store bombing that killed two Israeli students. JVP invited Odeh to speak at its conference in April, just after she pleaded guilty to naturalization fraud and agreed to be deported. Odeh claims her Israeli terrorism conviction resulted from weeks of torture. Though she has no evidence to support this, JVP embraces it as truth.
For a group supposedly inspired by their faith to work for justice and equality for both Israelis and Palestinians, Jewish Voice for Peace is disturbingly quiet about condemning terrorist violence targeting Israelis.
Palestinian terrorist Rasmieh Odeh likely will be deported shortly after a federal judge formally sentences her next month for naturalization fraud. Her supporters are planning one final bash in her honor featuring radical political activist Angela Davis.
A promotion for the Aug. 12 event in Chicago notes it costs $5 – $6.17 with service fees – and promises "a night of music, poetry, and struggle."
Edward Joffe and Leon Kanner
Odeh
pleaded guilty
in April, admitting that she failed to disclose her arrest, conviction and 10 years spent in an Israeli prison after being convicted in connection to two 1969 Jerusalem bombings. One bombing targeted a grocery store, killing college students
Edward Joffe and Leon Kanner
.
Her plea agreement with federal prosecutors calls for no additional jail time, but it includes a stipulation stripping Odeh of her American citizenship and says "she will not be allowed to remain in the United States" and can never return.
Her supporter blindly accept Odeh's claim that her Israeli conviction resulted from weeks of vicious torture, even though the only evidence to support this claim is Odeh's word. A Red Cross monitor declared her Israeli trial fair, and her father was in contact with U.S. diplomats at the time and reported no such abuse.
Further, her sworn plea agreement included language that renders the torture claims moot:
"At the time she made the false statements, [Odeh] knew the statements were false," the plea agreement says. She "also admits that all of these false statements were material ... She made the false statements intentionally and not as a result of any mistake, Post Traumatic Stress Disorder or any other psychological issue or condition or for any innocent reason, and not withstanding any other statement or testimony Defendant Odeh may have made at any other time regarding those answers."
Nevertheless, Odeh stood by her story days later, calling the government's case "a phony immigration charge" and blasting "the racist nature of the justice system in this country."
Her followers appear to have no second thoughts about whether their hero is an honest person, let alone an unrepentant killer. While it's one last hurrah for Odeh, the Aug. 12 event offers yet another example proving that, for Israel haters, facts really aren't important.
In November 2009, U.S. Army psychiatrist Major Nidal Hasan opened fire on fellow soldiers at a Fort Hood, Texas processing facility, killing 13 people and wounding 30 others. An ensuing investigation determined Hasan had exhibited outward signs of his Islamist radicalization to fellow Army officers. Even though his superiors were aware, officials did nothing to counter Hasan's radicalization nor his position in the Army.
In July 2011, another U.S. Army soldier, Naser Jason Abdo, was arrested by the FBI near Fort Hood with bomb making materials and a firearm. He planned to bomb his fellow soldiers at a nearby restaurant and shoot any survivors trying to escape to safety. Abdo was convicted for attempting use of a weapon of mass destruction and sentenced to life imprisonment. Abdo told his mother the reason for his actions was religion.
There have been other cases of Islamic radicals in uniform, to include here. The latest case appeared Saturday, with the arrest of U.S. Army Sgt. First Class Ikaika Kang in Hawaii on federal terrorism charges. An FBI affidavit describes Kang's radicalization process beginning as early as 2011. Kang publicly expressed his radical Islamic intentions, to include his support for ISIS and his desire to commit violence against fellow soldiers. The Army, in response, merely temporarily revoked Kang's security clearance in 2012 but reinstated it in 2013 after Kang "complied with military requirements stemming from the investigation."
By early 2016, the affidavit says, "it appeared that Kang was becoming radicalized" and the Army referred the matter to the FBI that August. From December 2016 to March 2017, the Army provided "negative counseling" to Kang, apparently in an attempt to counter his radicalization that included his pro-ISIS statements to his fellow service members. Among them, if deployed to Iraq he would not shoot at ISIS fighters, that U.S. military personnel were terrorists and the 9/11 attacks were an inside job by the U.S. government.
The Kang case demonstrates the longstanding military practice of genuflection before the altar of political correctness remains. Lethal lessons from Fort Hood have not been learned. Outside the military, the government's Countering Violent Extremism (CVE) program founded under the prior administration sought to downplay radical Islamic terrorism and up-focus "right-wing" extremism, even when facts and statistics failed that narrative. The current administration has begun the effort to turn that CVE process in the better direction, but that process is not easy.
The Democratic Committee of Palestine hosted an event in Berlin Saturday to raise money for the Popular Front for the Liberation of Palestine (PFLP) terrorist group, according to the Berlin daily Tagesspiegl and reported by the Jerusalem Post.
The event reportedly took place in the building that also hosts Neues Deutschland's publishing house – a socialist newspaper.
A recent NGO Monitor report outlines how several European governments fund organizations with PFLP links. The PFLP is a Marxist-Leninist terrorist organization designated by the EU and other Western states. These NGOs often justify attacks against Israeli civilians and maintain ties to known terrorists.
According to the NGO Monitor report, PFLP operatives founded some of the listed organizations directly, while other groups include staff members who were convicted of terrorism-related charges by Israeli courts. These so-called human rights organizations are at the forefront for the anti-Israel Boycott, Divestment, and Sanctions (BDS) movement, while prominent individuals within some of the NGOs are known to promote violence and anti-Semitism.
Berlin Mayor Michael Müller faced criticism for not blocking the PFLP fundraiser. Müller also faced backlash for allowing Hizballah sympathizers and members to participate in an annual al-Quds Day march in Berlin last month.
There are roughly 250 active Hizballah operatives in Berlin and a total of 950 Hizballah members throughout Germany, according to a 2014 Berlin intelligence report summarized by the Jerusalem Post. Though the number of Hizballah supporters in Germany is believed to be far higher.
While the European Union, including Germany, designated Hizballah's military wing as a terrorist entity, Germany allows Hizballah's political wing to operate freely.
Recent developments suggest that political and fundraising groups affiliated with Palestinian terrorist organizations are tolerated in Germany as well.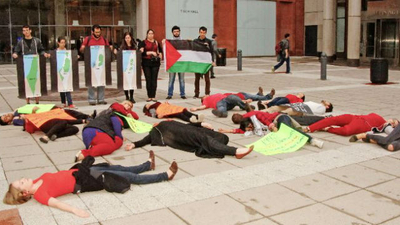 Photo: NYU SJP / Facebook
Three terrorists are shot and killed after fatally stabbing a police officer. A student activist group echoes social media accounts calling their deaths an "execution."
This warped reaction can only involve Israel and those bent on its destruction.
In this case, three Palestinians attacked and killed Israeli border police officer Hadas Malka outside Jerusalem's Damascus Gate before being killed by other officers nearby. Student's for Justice in Palestine (SJP) expressed its displeasure by sharing a Facebook post that states, "Three Palestinian teens were executed this evening by Zionist occupation forces at the Damascus Gate in occupied Jerusalem..."
ISIS claimed responsibility for Malka's murder. Hamas praised the attack, the Jerusalem Post reported, "but disputed Islamic State's claim, stating that the perpetrators were affiliated with the Popular Front for the Liberation of Palestine."
Terrorist organizations therefore are competing for credit in killing a 23-year-old woman. SJP could have condemned her death, or it could have stayed silent. Instead, it turned the attack into an opportunity to accuse Israel of wrongdoing.
Such twisted logic is entirely consistent for SJP.
Its University of Chicago chapter hosted convicted felon Rasmieh Odeh in May. Odeh spent 10 years in an Israeli prison after being convicted for her role in a 1969 Jerusalem supermarket bombing that killed two students.
SJP's New York University chapter managed to turn the controversial police shootings of Alton Sterling and Philando Castile into an attack on Israel exactly one year ago: "We must remember that many US police departments train with the #IsraeliDefenseForces," the group wrote on it Facebook page. "The same forces behind the genocide of black people in America are behind the genocide of Palestinians."
The Fordham University dean of students faced backlash after banning an SJP chapter on his campus because he said it was hard to accept a group whose entire focus was delegitimizing one country only, Israel.
SJP consistently spews anti-Semitic sentiments as well as hatred for the state of Israel. As such, it is quite skilled at making noise and getting attention, but less successful in accomplishing any of its goals.
A disproportionate number of perpetrators of anti-Semitic violence in Western Europe are "individuals of Muslim background," a rigorous new study shows.
Johannes Due Enstad authored the study, "Antisemitic Violence in Europe, 2005-2015," jointly published this month by the Center for Studies of the Holocaust and Religious Minorities and Center for Research on Extremism (C-REX) at the University of Oslo. The report systematically compares anti-Semitic violence in various countries, relying on incident data compiled from police reports and a 2012 survey on anti-Semitism carried out by the European Union's Fundamental Rights Agency (FRA).
The study examines seven countries, including France, the United Kingdom, Sweden, and Germany. Among respondents within these four countries, victims of anti-Semitic violence and threats "most often perceived the perpetrator(s) to be 'someone with a Muslim extremist view'." France experiences the highest level of violent anti-Semitic incidents in the broader sample.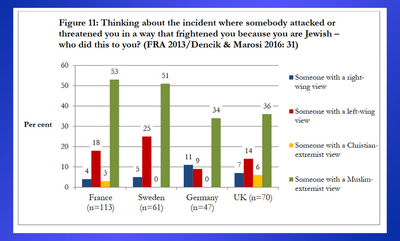 From "Antisemitic Violence in Europe, 2005-2015", p 17
"It is also worth noting that in France, Sweden and the UK (but not in Germany) the perpetrator was perceived to be left-wing more often than right-wing," the study's author finds.
As opposed to the Western European experience, right-wing extremists exclusively perpetrate reported incidents of violent anti-Semitism in Russia, despite hosting Europe's biggest Muslim population and a relatively large Jewish constituency. These stark differences suggest that it is important to differentiate between particular Muslim communities and radicalization processes across Europe.
"Country of origin appears to play a major role, as does the level of religiosity—the more religious people are, the more anti-Semitic they are likely to be," the study concludes.
The study also shows that while there is a marked increase in anti-Semitic violence associated with major episodes in the Israeli-Palestinian conflict, not all surges in Middle East tensions lead to more attacks against Jews in Europe. Though events in the Middle East may offer opportunities for potential violent offenders to lash out, the study's author argues that "anti-Semitic attitudes and violence propensity are likely necessary conditions to trigger such attacks."
With Muslim perpetrators conducting the bulk of anti-Semitic violence across Western Europe, it is no surprise that the report also finds that Muslims in the region maintain significantly higher levels of anti-Semitic attitudes compared to the general population. This finding has been corroborated by several recent studies focusing on anti-Semitism among Europe's Muslim communities.
For example, the Institute for the Study of Global Anti-Semitism and Policy (ISGAP) published a study in 2015 showing that Muslims have been responsible for a "disproportionate" number of anti-Semitic attacks and incidents in Europe over the last 15 years.
That study examined several surveys related to European Muslim attitudes conducted since 2006 and compares results from various European countries, with an emphasis on the United Kingdom and France. Most of those surveys focused on respondents' views toward Jewish stereotypes, asking subjects whether they agree with statements such as, "the Jews have too much power in politics" and "the Jews have too much power in the media." In each country under study, the number of Muslims agreeing with those anti-Semitic statements far exceeded that of non-Muslims.
Though the ISGAP report acknowledged that surveys comparing Muslim and non-Muslim beliefs are subject to criticism, "the sum of available studies to date provides strong evidence that the level of anti-Semitism is indeed particularly high among Muslims."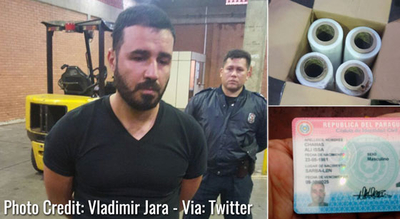 A Paraguayan man with ties to Hizballah pleaded not guilty in Miami federal court on Monday, after being charged with conspiring to distribute massive amounts of cocaine to the United States, the Miami Herald reports.
Paraguay's authorities arrested Ali Issa Chamas in August at an international airport for attempting to smuggle 39 kilos of cocaine. Chamas was extradited to Miami in June and now awaits trial.
But Chamas' indictment failed to reference his intimate relationship to Hizballah associates and operatives.
Chamas is of Lebanese origin and lived in Paraguay over the last decade. In addition to Brazil and Argentina, Paraguay is part of the Tri-Border Area (TBA), a region that enables Hizballah to cultivate a major base of operations. With a large Muslim population featuring significant numbers of Hizballah sympathizers, the terrorist organization uses this area for recruitment, arms smuggling and drug trafficking, and logistics planning for terrorist operations.
The State Department has stated that the TBA remains "an important regional nexus of arms, narcotics, pirated goods, human smuggling, counterfeiting, and money laundering – all potential funding sources for terrorist organizations."
Hizballah also relies on legitimate businesses and front organizations in the region, diversifying its terrorist financing profile to generate a significant portion of its revenues from its Latin American operations.
With Venezuelan government help, the terrorist group continues to expand its presence and consolidate support in other Latin American countries. The Treasury Department revealed that Venezuela's Vice President Tareck El Aissami maintains intimate ties to Hizballah and helped coordinate narcotics shipments to drug cartels operating on the U.S. border, including Mexico's infamous Los Zetas. In 2011, Virginia prosecutors said that a Lebanese man helped the Mexican Los Zetas drug cartel smuggle of more than 100 tons of Colombian cocaine. The U.S. Treasury Department claimed that Hizballah benefitted financially from the criminal network.