Growing extremist threats require critical funding for securing American Jewish communities, Deputy Homeland Security Secretary Alejandro Mayorkas told a Jewish group in Washington on Wednesday, the Jewish Telegraph Agency (JTA) reports.
Anti-Jewish threats and attacks are on the rise and far outnumber threats to other religious minorities. According to FBI statistics revealed last year, 57 percent of reported anti-religious hate crimes were directed at Jews. Previous FBI reports also show that Jews are disproportionately targeted in religiously-motivated crimes.
As a result, the vast majority of funds earmarked by Congress to protect non-profit institutions, $20 million for 2016, is allocated for Jewish establishments.
"The need is most acute in the Jewish community because of the ascension of anti-Semitism and hate crimes we see," Mayorkas told an Orthodox Union leadership group.
The terror threat Jewish institutions face is real and the community must prepare for potential threats, he said, adding it is among the concerns that "keep me up at night."
Mayorkas suggested that Jewish institutions hire well trained security, train the community to respond to an active shooter situation, enhance partnerships with local law enforcement, and improve cyber security. Mayorkas said hackers may seek to acquire information to target Jewish children.
He reiterated that the FBI was monitoring over 1,000 suspected extremists throughout the U.S., in each of the 50 states. As radical Islamism remains a potent threat, Jewish communities in particular will likely continue to be primary targets for anti-religious attacks and harassment.
Fatah and the Palestine Liberation Organization (PLO) continue to brainwash the next generation of Palestinian youth to become terrorists, while attacks against Israelis increased sharply in the last few days.
This summer, Palestinian youth attended summer camps named after terrorists who killed Israelis, reports Palestinian Media Watch (PMW). In Jerusalem, one camp was named after Baha Alyan – a terrorist who participated in the murder of three Israelis last October.
The camp is affiliated with the Palestinian Authority's Ministry of Education and is organized "under the supervision of the [PLO] Supreme Council for Sport and Youth Affairs." The council is led by Deputy Secretary of the Fatah Central Committee Jibril Rajoub, according to an Aug. 14 independent Palestinian news agency report translated by PMW.
In Bethlehem, children participated in the "Martyr Mamoun Al-Khatib Camp," named after a 16-year-old terrorist who attempted to stab and kill an Israeli civilian in December.
Speaking at the camp's opening event, PLO official Najeh Al-Izza stressed that "the Supreme Council is focusing on the youth sector, as it is the foundation for the future and the hope of the present."
With rampant incitement among notable sectors of Palestinian society and across the political spectrum, it comes as no surprise that several Palestinian terrorist attacks occurred this past week.
On Monday, Israeli border police foiled another stabbing attempt in Hebron, the eighth attack targeting Israelis in the past four days. Earlier in the day, a terrorist stabbed two border officers from behind, seriously wounding both Israelis before being shot outside Jerusalem's Old City. The terrorist, from the tumultuous Ras al-Amud neighbourhood in eastern Jerusalem remains in critical condition. One of the Israeli officers is still unconscious after she sustained a neck injury. On Friday and Saturday, Palestinians stabbed and injured two soldiers in Hebron.
While the significant spike in Palestinian terrorism that started in October has largely waned in recent months, these recent incidents suggest a new wave cannot be discounted. Official Palestinian incitement plays a defining role in encouraging these attacks, proving that the Palestinian leadership is more concerned with enabling violence than promoting peace.
Several high profile Iranian officials recently boasted of the Islamic Republic's steadfast support for terrorist organizations committed to opposing Western interests and the destruction of Israel, according to the Meir Amit Intelligence and Terrorism Information Center.
An adviser to Iran's parliament speaker, Mansour Haqiqatpour, bragged that Iran would continue supporting the Islamic Revolutionary Guards Corps (IRGC) despite ongoing negotiations taking place with the Financial Action Task Force (FATF) that seek to curb Iranian hardline behavior. Haqiqatpour referred to Hizballah and Hamas as "freedom fighter" groups, citing Islam and Islamic revolutionary ideology as primary motivations for Iran's state sponsorship of terrorism.
Hardline Iranian factions and leaders accuse the Iranian government of preparing to offer significant concessions in return for the country's removal from the FATF blacklist. Mohsen Kouhkan, an Iranian parliamentarian, referred to the Iran-FATF negotiations as a "Zionist–American plot." In July 2015, Iran's Deputy Foreign Minister Abbas Araghchi insisted that ceasing support for Hizballah in return for an agreement was out of the question.
Since the July 2015 nuclear deal was signed, Iran has expanded its presence in regional conflicts, leading to mounting IRGC casualties. In the last two weeks, six additional IRGC fighters were killed in Syria, including a high-ranking officer. A leader of an Iraqi Shi'ite militia praised IRGC commander Qasem Soleimani's support and confirmed that Shi'ite militias would continue their regional operations after Mosul is cleared of Islamic State fighters.
Moreover, on Sept. 1, an Iranian diplomatic delegation met with Ali Barakeh – a Hamas representative living in Beirut – to discuss Iran's ongoing support for Hamas' violent fight against Israel. Despite notable disagreements since the outbreak of civil war in Syria, predominately Shi'ite Iran continues to court the Sunni Palestinian terrorist organization. The relationship suggests that defeating the Jewish state remains a common objective that supersedes sectarian divisions.
Click here to read the full report outlining recent developments from the Meir Amit Center.
Proponents of the Iran nuclear deal, including many within the Obama administration, argued that the agreement would moderate Iran's behavior. Earlier this year, senior adviser Ben Rhodes even admitted that the Obama administration misled the U.S. public to promote the nuclear deal by falsely alluding to the emergence of a more moderate Islamic Republic. On the contrary, Iran immediately enhanced its support for terrorist organizations, while extremist factions within Iran gained more ground. Though some may debate Iran's long-run trajectory, post-nuclear deal Iran has proved to be even more emboldened to pursue its regional hegemonic ambitions, while more pragmatic Iranian leaders increasingly are silenced.
A federal appeals court tossed out a $655 million civil terrorism judgment against the Palestinian Authority (PA) and the Palestine Liberation Organization (PLO) Wednesday, ruling that U.S. courts lacked jurisdiction to hear the case.
The lawsuit, Sokolow v. PLO, was brought by American victims and survivors of six terrorist attacks in Israel between 2001 and 2004 during the Al Aqsa Intifada. Evidence showed that the PA and PLO, then ruled by Yasser Arafat, supported cells that orchestrated the machine gun and bombing attacks and continued to pay the terrorists responsible as they served time in Israeli prisons.
The U.S. Antiterrorism Act allows American victims of foreign terrorist attacks to sue for damages. But, the 2nd U.S. Circuit Court of Appeals ruled, that law does not apply to the PA, which is not a sovereign state. There is no evidence that the terrorist attacks specifically targeted Americans, the court ruled. And, the PA's U.S.-based operations are insufficient to consider "at home" in America and create proper jurisdiction.
The PA has diplomatic missions in New York and Washington, and has lobbyists working on its behalf, the ruling by U.S. District Court Judge John G. Koeltl, sitting by designation, said. That's not enough, in part because there is no evidence showing the attacks "resulted from their actions that did occur in the United States."
Similar successful lawsuits targeted Iran, Syria and other states for providing material support and guidance to the responsible terrorists. Those cases, however, involved countries designated by the U.S. as state sponsors of terrorism. An amendment to the Foreign Sovereign Immunities Act specifically allows litigation against those states by American victims of terrorist attacks.
In Sokolow, the 2nd Circuit ruled, the Palestinian Authority is not even a state, and lacks a sufficient operating base in the United States to meet the legal threshold for jurisdiction.
"The overwhelming evidence shows that the defendants are 'at home' in Palestine, where they govern. Palestine is the central seat of government for the PA and PLO. The PA's authority is limited to the West Bank and Gaza, and it has no independently operated offices anywhere else. All PA governmental ministries, the Palestinian president, the Parliament, and the Palestinian security services reside in Palestine," the ruling said.
The ruling relied heavily on a recent Supreme Court decision unrelated to terrorism, but focused on U.S. courts' jurisdiction over foreign entities. It did not address the evidence showing the PLO and PA's knowledge and involvement in the deadly terror attacks.
Those attacks were "unquestionably horrific," the ruling concluded. "But the federal courts cannot exercise jurisdiction in a civil case beyond the limits prescribed by the due process clause of the Constitution, no matter how horrendous the underlying attacks or morally compelling the plaintiffs' claims."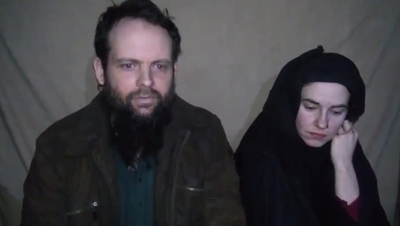 A Canadian man and his American wife who were kidnapped by Taliban allies in 2012 plead for their lives in a video that appeared Tuesday on the social media site Telegram.
In the undated video, Joshua Boyle and Caitlan Coleman plead for help from their governments to stop the Afghan government from executing Taliban-linked prisoners. Anas Haqqani, son of Haqqani network founder Jalaluddin Haqqani, may be among those the Afghan government plans to execute, Agence France Presse reports.
The couple is believed to be held captive by the Haqqani network, which is active in the highlands between Pakistan and Afghanistan.
"Our captors are afraid of their own mortality approaching and are saying that they will take reprisals on our family – they will execute us, women and children included – if the policies of the Afghan government are not overturned," Boyle said in the video. "Either by the Afghan government or Canada, somehow."
A visibly frightened Boyle called on the United States and Canada to change the Afghan government's policies to spare their captors from possible future execution.
Coleman likewise said that their captors plan to kill her and her family unless their demands are met.
A Pennsylvania native, Coleman was pregnant when she and her husband were captured while hiking in Afghanistan, and she has twice given birth in captivity, according to her parents.
An Afghan Taliban member told The Daily Beast that Boyle, Coleman, and their two children are in good health and are being held in a place where they can move around and exercise.
U.S. officials say they are working to free the family, particularly with help from the Pakistani government, whose military intelligence services, the ISI, has ties with the Haqqani network.
The Haqqani network may be trying to secure a prisoner swap similar to the Sgt. Bowe Bergdahl case, a senior source in the Taliban's Qatar office told The Daily Beast.
This isn't the first hostage video involving Boyle and Coleman. Two videos appeared in 2014 in which they asked for U.S. help in securing their release. Those videos were released around the time Bergdahl was freed.
Coleman's parents released a video in late June pleading with her captors for her family's safe release.
Another American is believed to be held by the Haqqani network, but the person's identity has not been made public.
The Canadian government warned that roughly 60 "extremist travelers" have returned to Canada, in a new report outlining major threats from terrorist organizations including the Islamic State and Hizballah.
The report states that "a violent act of terrorism could occur in Canada," corroborating similar assertions from some U.S. officials who have warned about Islamic State operatives and sympathizers residing in the U.S.
"Since the beginning of the Syrian conflict in 2011, more than 36,500 extremist travelers from over 100 countries, including at least 6,600 individuals from Western countries, have travelled to Syria," the report said.
The few that returned to North America pose a major threat to both Canada and the United States.
Since 2002, the Canadian government has charged more than 40 people with terrorism-related offenses – 16 of whom were charged since January 2015. One of the suspects "maintained contact with terrorists in Iran and Afghanistan while working to recruit other men and raise money to finance a proposed attack [in Canada]," the report said.
The suspect returned to Canada with the motivation and expertise to finance and train a terrorist cell in the country's capital, Ottawa.
While the Islamic State remains the primary focus of Canadian counterterrorism officials, the government report also refers to the Iranian sponsored Hizballah as "one of the world's most capable terrorist groups" and a "threat to Canadian interests."
According to the report, "Hizballah has networks around the world, including in Canada, and uses the networks for recruitment, fundraising and procurement."
Unlike the Canadian government, the Obama administration has not released data concerning the estimated number of Islamic State affiliated individuals in the U.S.
Click here to read the full report from the Canadian government.
Israel's Shin Bet domestic security service announced Tuesday that it busted Hizballah terrorist cells operating in the West Bank planning to conduct attacks against Israelis. Nine alleged operatives were arrested over the last several months.
Members of Hizballah's Unit 133 external operations branch used social media services, especially Facebook, to recruit Palestinians in the West Bank.
"The Hizballah organization has recently made it a priority to try to spark terror acts, doing so from far away, while attempting to not clearly expressing its involvement," read a Shin Bet statement.
Funded by Hizballah, terrorist cells prepared explosives to conduct suicide bombings and attack Israel Defense Forces (IDF) patrols in the West Bank.
A Shin Bet investigation found that cell ringleader Mustafa Kamal Hindi was recruited though the "Palestine the Free" Facebook page featuring anti-Israel Hizballah posts. Hindi then recruited other operatives for a shooting attack against the IDF. Each of the cell members were between the ages of 18-22 and hailed from the West Bank town of Qalqilya. Security forces arrests the cell members in June.
One of the members, Mehmed Daoud, has ties to Hamas. A different operative purchased the material required to build a suicide bomb, while another was tasked with building the explosive device. Another terrorist focused on garnering intelligence about IDF patrols in the area. The group also began training with rifles for shooting attacks.
Gaza-based Hizballah operative Mehmed Fa'iz Abu-Jadian also used Facebook to recruit three other Palestinian men from the West Bank to carry out terrorist attacks against Israelis.
Abu-Jadian recruited Usama Nu'af Sid Najm, 36, and ordered him to use a computer encryption program to communicate with Hizballah members in Lebanon.
Najm was paid $900 to recruit others and facilitate a suicide attack, the Shin Bet said.
Najm also coordinated with a member of the Syria-based Popular Front for the Liberation of Palestine (PFLP) to form a division in the West Bank. These details show that terrorist organizations with different ideological and religious objectives can cooperate effectively to attack their common enemy – the Jewish state.
Click here to read more details about other Hizballah attempts at recruiting Palestinians for terrorist attacks.
In January, a Shin Bet investigation revealed that Hizballah leader Hassan Nasrallah's son, Jawan, recruited terrorists in the West Bank via social media. Through encrypted email exchanges with a Hizballah handler, cell ring leader Muhammad Zaghloul received instructions for conducting suicide-bombing attacks and offered a plan to kill an IDF officer. Zaghloul admitted that the cell conducted surveillance of the officer and requested $30,000 to purchase arms to kill him.
The operatives received $5,000 from Hizballah, which covered the purchase of a sub-machine gun and magazine. The plot to shoot Israeli soldiers was likely in its execution phase since the two terrorists were arrested in possession of the firearm.
Unit 133 continues trying to build networks among Palestinians, but has failed to secure a major presence in the West Bank. Those efforts are likely to continue despite the arrests.
A special envoy to the United Nations (UN) wants international humanitarian organizations to cease assistance transfers to Gaza, "as long as Hamas is in control."
Recent reports detail how Hamas is diverting millions of dollars intended for Gaza's civilians in order to rebuild the organization's terrorist capabilities.
"The enemy of the people of Gaza is Hamas, not Israel. Hamas has hijacked the coastal strip and rules over its people with an iron fist," UN Special Envoy Laurie Cardoza-Moore said Thursday. "For decades, the leadership of Hamas has robbed its people of aid money...The time has come to halt all aid money into the Gaza Strip as long as Hamas is in control."
Cardoza-Moore's strong message comes shortly after Gaza-based UN employee was indicted for laundering charitable donations to improve Hamas' naval capabilities. Earlier this month, Israel's Shin Bet domestic security service reported that Hamas funnelled tens of millions of dollars from World Vision, a U.S.-based international charity.
The terrorist group reportedly siphoned 60 percent of the charity's resources in Gaza to reconstruct Hamas' tunnel network and military installations, in addition to purchasing weapons intended to kill Israelis. This translated to roughly $7.2 million each year.
The money was intended to help in civilian reconstruction efforts for Gaza's population, including building greenhouses, enhancing agricultural projects, helping fishermen, and promoting mental and physical health initiatives.
Instead "these [funds] were all used as a pipeline to transfer money to Hamas," Shin Bet said.
Hamas terrorists also falsely listed their children as injured to collect money intended to help children in Gaza who were actually wounded.
"If the international community wants to help the impoverished people of Gaza, they must work to free them from Hamas...It is unacceptable that hundreds of millions of dollars are likely being directly transferred to the coffers of an international terrorist organization in the name of Christianity and humanity. No church or humanitarian organization should send a single cent to Gaza as long as it is run by a band of murderous terrorist bandits," said Cardoza-Moore.
Since the end of the summer 2014 war between Israel and Hamas, several reports emerged documenting how the terrorist group prioritizes killing Israelis over serving its population. The latest investigations uncover important details on how Hamas exploits legitimate charitable organizations globally to finance its terrorist capabilities at the expense of needy civilians and societal development.
Jabhat al-Nusra's July 28 announcement of its new name and avatar, the Fateh al-Sham Front ("The Victory in Al-Sham Front"), does not mean the terrorist group has formally split ties with al-Qaida, an Israeli intelligence report warns.
Jabhat al-Nusra (also known as the Nusra Front) pledged allegiance to al-Qaida in 2013.
In a video aired first on Al Jazeera, Abu Mohammad al-Julani announced "complete cancellation of all operations under the name of Jabhat al-Nusra" and said his group "has no affiliation to any external entity," signaling a split from al-Qaida. The move is designed to make it difficult for the U.S.-led coalition and Russia to carry out air strikes against the terrorist group following its break with al-Qaida, the report from the Meir Amit Intelligence and Terrorism Information Center (ITIC) said.
The U.S. and Russia recently agreed to cooperate in fighting against the al-Nusra Front in Syria.
Fateh al-Sham may find it easier to collaborate with other Syrian rebel organizations fighting to overthrow the Bashar al-Assad regime. Other rebel groups were unwilling to collaborate with Jabhat al-Nusra for fear of becoming targets of airstrikes because of the terror group's affiliation with al-Qaida.
But the split seems more cosmetic, the ITIC report said, noting that "Fateh al-Sham Front continues to adhere to Al-Qaeda's Salafist-jihadi ideology (as reflected in the charter published by the Fateh al -Sham front)."
Al-Qaida chief Ayman al-Zawahiri is believed to have blessed the move from Jabhat al-Nusrah to Fateh al-Sham. During his announcement, al-Julani praised and thanked al-Qaida leaders for their support. "Your blessed leadership constituted and still constitutes a model for preferring the interests of the Muslims over the interests of each individual organization," a translation of the announcement read.
New video reportedly shows Hizballah conducting drone airstrikes targeting radical Sunni Islamist positions in southern Aleppo.
Though it appears that Hizballah failed to inflict significant damage, the bombings illustrate the terrorist organization's growing capabilities and ability to utilize sophisticate technologies for offensive operations.
This is not the first time Hizballah reportedly used unmanned aerial vehicles (UAV) to conduct an attack.
In 2014, the terrorist organization deployed an attack drone to kill at least 23 fighters from the al-Qaeda linked group formerly known as Jabhat al-Nusra.
Before then, Hizballah repeatedly deployed UAVs over Israeli airspace, primarily for reconnaissance and testing air defense systems. In one case, a Hizballah drone allegedly transmitted images of Israel's nuclear energy facility – Dimona – to its state sponsor Iran.
The latest UAV development underscores the threat Hizballah poses in a future conflict with Israel. While the group is suffering battlefield losses, it is gaining invaluable experience and learning from Russia's top-tier military. The group is also exploiting the chaos in Syria to facilitate the transfer of advanced and sophisticated weaponry from Iran, including anti-aircraft systems that would inhibit Israel's freedom of navigation over Lebanese and Syrian airspace.
Hizballah has also used advanced Iranian-made anti-tank missiles in Syria. Though it is bogged down in Syria's civil war, the terrorist organization continues to invest heavily for the next confrontation with Israel. This includes militarizing many Shi'ite neighborhoods in southern Lebanon and consolidating a base of operations against Israel from the Syrian side of the Golan Heights.
Access to advanced weaponry and training has increased Hizballah's confidence for a future battle. The group's leader, Hassan Nasrallah, bragged about Hizballah's ability to kill tens of thousands of Israelis with Iranian-supplied precision-guided missiles, threatening to target "ammonia tanks" that hold over 15,000 tons of gas in Haifa.