In today's Washington Post print edition, a headline blares, "Netanyahu rules out Gaza Cease Fire."
But in fact, as a Reuters dispatch this morning shows, it is Hamas that is preventing a cease fire. Rather than stop firing dozens of rockets at Israeli civilians each day, Hamas terrorists vow to up the ante. "The armed wing of the Hamas movement has decided to respond to the Israeli aggression, and we warn you against carrying out flights to Ben-Gurion airport, which will be one of our targets today because it also hosts a military air base," the Islamist group's Izz el-Deen al-Qassam Brigades said in a statement cited by Reuters.
So here we have Hamas clearly stating that it will not cease firing rockets into Israel, and it will in fact escalate its terrorist attacks to include trying to blow up Israeli civilian airliners. Moreover, all through the Israeli ordeal during the period when its three teens were abducted, the Post kept a steady drumbeat demanding to know the exact evidence of the Israeli government's claim that Hamas was behind the attack, as if the Israeli government answered to the haughty Washington Post . When during the same period, Palestinian and Hamas officials repeatedly claimed that Israel "staged" the abduction and also the executions of the teens, you could barely find those incendiary allegations in the Post, likely because the Post wanted to protect the Palestinians from being accused of disseminating outrageous propaganda that would damage their credibility (and thus ruin the Post's ability to quote them in the future).
But in today's story, the Post accepts as fact a third party claim about an alleged Israeli attack on a home in Gaza killing all civilians without providing any evidence. Israel "leveled" a house" in Gaza killing all seven family members, the story said. And the evidence? "According to a neighbor, the Israeli military had telephoned the intended target, a Hamas rocket engineer named Yassir al-Haj, and warned him that his house was about to be destroyed. But Haj was not at home. He dialed his sleeping family but could not rouse them, according to the neighbor and an Israeli missile killed seven family members ... 'Why kill everyone in the house for just one guy?' said the neighbor, Fahad al-Dali."
Now, what's wrong with this picture? The Post reporter did not question why a Hamas terrorist intentionally placed his family as human shields, an internationally recognized war crime. The reporter accepted as fact the rather dubious allegation that the Hamas terrorist "could not rouse" his family.
Where is the evidence that the Post reporter had obtained for that allegation? We have seen Hamas officials encouraging people to ignore Israeli warnings of an impending strike and risk their lives as human shields. This wasn't mentioned in the cease fire story.
It does acknowledge that Hamas "hides its weapons in neighborhoods and launches rockets from back yards and agricultural fields," yet offers readers no cause to be skeptical of the Hamas commander's third-hand account.
We know that Hamas lies all the time. The Washington Post seems uninterested in showing that.
Dzhokar Tsarnaev, the surviving plotter in last year's deadly Boston Marathon bombings, kept his cool in the days after the attack, a former college roommate testified Tuesday. "He slept a little bit more, but that was it," Andrew Dwinellis said, adding that although he and Tsarnaev shared a room, they did not talk much or hang out together.
Dwinellis' testimony came during the trial of Azamat Tazhayakov, a friend of Tsarnaev's charged last August along with two others with conspiring to obstruct the bombing investigation.
Soon after the FBI posted pictures of the alleged bombers, Tsarnaev sent a text message to one of the friends, telling him to go to Tsarnaev's "room and take what's there." Tazhayakov and the others "removed several items from the [dorm] room, including Tsarnaev's laptop computer and a backpack containing fireworks," prosecutors say. The conspirators placed the materials into a backpack which they threw into a dumpster outside their New Bedford apartment
In his testimony, Dwinellis confirmed that co-conspirator Dias Kadyrbayev came to the dorm room and "said he needed to get into the room to get something." After pulling out a small bag of marijuana from the desk drawer, Kadyrbayev searched the room for another 10 minutes. While Kadyrbayev searched the room, Dwinellis said Tazhayakov and another friend sat and watched television.
During Monday's opening statements, prosecutors said that Dzhokar Tsarnaev told Tazhayakov that he wanted to die as a martyr one month before the bombings that killed three people and injured 200 others. Tazhayakov reportedly told the FBI that during dinner at a North Dartmouth restaurant, Tsarnaev told him that he knew how to build a bomb and "it was good to die a martyr as you would die with a smile on your face and go straight to heaven."
Tsarnaev's brother Tamerlan was killed in a shootout with police days after the bombing attack.
Tazhayakov and Kadyrbayev, who is scheduled to be tried separately in September, face up to 20 years in prison if convicted. Prosecutors are seeking the death penalty for Tsarnaev, who is scheduled to go on trial in November on a 30-count indictment for his role in using improvised explosive devices constructed from pressure cookers at the April 2013 Boston Marathon.
Israeli military forces struck more than 150 targets in Gaza overnight in what might be a protracted campaign to stop the latest wave of rocket fire from Hamas and other terrorist groups aimed at Israeli civilians.
Officials called up 40,000 reservists in preparation for what might be a ground invasion of Gaza. Israeli Defense Forces (IDF) report striking more than 150 targets overnight, while a nearly equal number of rockets were fired from Gaza into Israel. Israel's Iron Dome system intercepted several of those rockets.
At least one rocket was fired at Tel Aviv Tuesday evening, but it was intercepted by the Iron Dome system. Others reached Jerusalem and Hadera - more than 60 miles from the Gaza Strip.
One Israeli strike targeted a vehicle carrying Muhammad Sha'aban, 24, a senior member of Hamas's al Qassam Brigades, killing him and several other people.
"Hamas chose to escalate the situation" with unprovoked rocket fire, Prime Minister Benjamin Netanyahu said Tuesday, "and it will pay a heavy price for doing so."
Already the military campaign, dubbed "Operation Protective Edge," has generated two surprising, but positive developments. First, Israel's Independent Media Review Analysis organization points out that a Palestinian Centre for Human Rights release about the strikes detailed Israeli efforts to limit civilian casualties. The release notes that, before bombing two homes suspected of serving as "command and control centers for enabling rocket fire against Israel," Israeli drones fired warning shots. In at least one case, the target also received a call on his cell phone "ordering him to evacuate the house. A few minutes later, Israeli fighter jets bombarded the house, destroying it completely."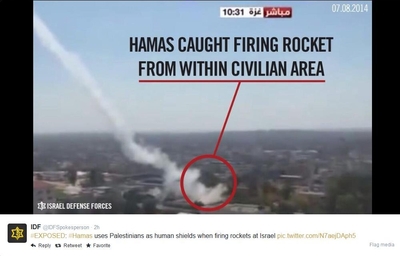 Hamas deliberately places missile launchers and operational support in civilian areas to use surrounding neighbors as human shields. The IDF posted a picture of one rocket rising from a densely populated neighborhood.
The BBC, meanwhile, promptly debunked social media claims posted under the hashtag #GazaUnderAttack, purporting to show devastating damage from Israeli strikes. The news service's analysis shows many come from conflicts in other countries at least as far back as 2009.
Promoting sensational images falsely attributed to Israeli military action is a standard Palestinian propaganda technique that has been described as "Pallywood." The tactic needs to be kept in mind as the conflict continues. Israeli military and political leaders are asking people for patience in dealing with the latest conflict.
"In recent hours, we have struck with force and hit dozens of Hamas assets," said Defense Minister Moshe Ya'alon. "The IDF is continuing with the offensive effort, in a manner that will exact a very heavy price from Hamas. We will not tolerate missile and rocket fire on Israel, and we are prepared to expand the campaign through all of the means available to us, to continue striking Hamas."
Update: The IDF posted this video showing a team of Hamas terrorists trying to sneak into the Israeli town Zikim from the Mediterranean Sea just north of Gaza. They reportedly carried grenades, but were intercepted and "neutralized."
Israeli political and religious leaders of all stripes have forcefully condemned last week's brutal murder of a Palestinian teenager in an apparent revenge attack.
Three Israelis reportedly confessed Monday to kidnapping and killing 16-year-old Mohammed Abu Khdeir, re-enacting the crime in which the teen was burned alive. Witnesses saw Abu Khdeir thrown into a car with Israeli tags Wednesday. His body was found badly burned in a Jerusalem forest.
Prime Minister Benjamin Netanyahu called Abu Khdeir's father, describing the murder as "abhorrent" and "reprehensible."
"We acted immediately to apprehend the murderers," he said. "We will bring them to trial and they will be dealt with to the fullest extent of the law. We denounce all brutal behavior, the murder of your son is abhorrent and cannot be countenanced by any human being."
Israel's leading rabbis, meanwhile, said the murder violated tenets of Jewish law.
Chief Rabbi Yitzhak Yosef "fiercely denounce[d] the outrageous murder that was perpetrated against the innocent young man," his office said. Elyakim Levanon, a prominent rabbi among West Bank settlers, said Jewish law demands capital punishment for "such a cruel murder."
The Barkai Center for Practical Rabbinics, which trains communal rabbis, said that "revenge has absolutely no place in Judaism and that there is no such thing as murder in the name of God."
The Investigative Project on Terrorism joins in those condemnations. Abu Khdeir's murder was a heinous crime, every bit as evil as the Hamas killing of three Israeli teens – the incident which allegedly prompted this revenge attack.
"In the state of Israel, there is no difference between blood and blood," wrote outgoing and incoming Israeli presidents Shimon Peres and Reuven Rivlin in an Israeli newspaper column.
These unified expressions of horror and revulsion do show a difference in how Israeli and Palestinian societies react to terrorist violence. When teenagers Eyal Yifrach, Gilad Shaar and Naftali Frenkel, were kidnapped, Palestinian social media responded with mocking images of people holding up three fingers and hoping the boys would be used as trade-bait for Palestinians in Israeli prisons.
Meanwhile, as Palestinian Media Watch reported Monday, the Fatah Facebook page featured two direct threats of mass killing against Israelis.
"Sons of Zion, this is an oath to the Lord of the Heavens: Prepare all the bags you can for your body parts," a post seen Monday said. Fatah is the party of Palestinian Authority President Mahmoud Abbas, and the primary power in the West Bank.
Netanyahu made a point of calling attention to this kind of incitement, which is common from the PA. "That is how we are different from our neighbors," he said. "Their murderers are hailed as heroes and public squares are named in their honor."
In the West Bank, dozens of public institutions, including a girls' school, a summer camp and other youth-oriented buildings, are named for Dalal Mughrabi, who led a team which hijacked a bus on Israel's coastal highway in 1978, killing 38 civilians – 13 of whom were children.
A Twitter post Thursday by supporters of the Islamic State of Iraq and Syria (ISIS), now calling itself the Islamic State (IS), has promised a Holocaust against the Jews.
"The Real Zionist Holocaust is Predicted in the Hadiths! The Hour [resurrection] will not take place until the Muslims fight the Jews and the Muslims kill them, and the tree will say: "Oh, Muslim, servant of God, there is a Jew behind me, kill him! THE PROMISED Holocaust," the terrorist group's Islamic State Media a graphic posted on its @ISIS_Conquests's Twitter account said.
This hadith has proven popular with Islamic extremists of all stripes, ranging from IS to Hamas – and even on television in the Middle East.
Daniel Pipes, an expert on jihadism, said the hadith likely was a recruitment tool.
"​Yes, ​calling for a holocaust against Jews refers to a violently anti-Semitic strain among jihadis and will surely appeal to some of them," Pipes said in an email to the Investigative Project on Terrorism.
Anti-Semitic propaganda has played an important role in the terrorist group's recruitment effort. Its leader, Abu Bakr al-Baghdadi, placed Jews on the side of evil in a speech posted Tuesday on the Internet in which he called on Muslims to join him.
"O ummah of Islam, the world today has been divided into two camps and two trenches … The camp of Islam and faith, and the camp of kufr (disbelief) and hypocrisy … all being led by America and Russia, and being mobilized by the Jews," al-Baghdadi said.
In another such video released on Twitter, IS told jihadists to "Break the crosses and destroy the lin­eage of the grand­sons of mon­keys."
Some jihadist supporters are calling on the group to open a new front against Israel.
"@ISIS_Conquests Hey #ISIS please do us all a favour & open up a front against Israel. Surely they are the greatest enemy of humanity?" Akhmet Qassam, a supporter from Scotland, asked the group on Sunday. "@ISIS_Conquests If you open up a front against #Israel I'm sure your numbers will increase hugely. Also give you some legitimacy."
At the same time, IS may be growing cautious about drawing unwanted attention from Western intelligence and law-enforcement agencies even as it seeks new recruits.
"All Brothers and Sisters...Don't meet with IS members while you're living in the West...Move out of the West & than (sic) you get in touch with IS," @Dawla_Newsmedia wrote a day after U.S. law enforcement caught Shannon Maureen Conley, a 19-year-old woman from Denver, trying to leave the U.S. to join the IS.
Brutal violence waged by Islamist groups from Nigeria to Iraq and Syria has created a spike in concern over Islamic extremism in predominantly Muslim countries, a new Pew Research Center survey finds.
Concern "about Islamic extremism" in their countries increased by more than 10 percent during the past year in Lebanon, Tunisia, Jordan and Turkey, the survey shows. The poll, with a margin of error of 3.8 percent, questioned 14,244 people in 14 countries with significant Muslim populations throughout April and May. That was before the Islamic State in Iraq and Syria (ISIS) seized control of Mosul and other Iraqi cities.
When it comes to supporting violence in defense of Islam, however, Palestinians harbor some of the most extreme views in the Muslim world. A quarter of those surveyed in the Palestinian territories expressed a favorable view toward al-Qaida, while only 59 percent expressed unfavorable views. That's down 9 percent from last year, Pew wrote. In Egypt, 15 percent of the respondents view al-Qaida favorably.
When it comes to suicide bombings, a whopping 62 percent of Gaza residents said they are often or sometimes "justified against civilian targets in order to defend Islam from its enemies." In the West Bank, 36 percent agreed suicides are often or sometimes justified. Together, Palestinian support added up to 46 percent. That's down, however, from a similar 2007 poll which found 70 percent support.
Only Bangladesh scored higher this year. Nearly 30 percent of Lebanese Muslims justified suicide bombings.
The Lebanon-based Hizballah, fighting to save dictator Bashar al-Assad in Syria, saw its popularity plummet throughout the region. Among Palestinians, 32 percent view the Iranian proxy favorably. More than 80 percent had negative attitudes toward Hizballah in Turkey, Egypt and Jordan.
Hamas is viewed favorably by only 35 percent of the respondents in both the West Bank and Gaza. In Gaza, where Hamas has run society for seven years, nearly two-thirds of the people had a negative view of the group. Recently, Hamas and Fatah, which runs the Palestinian Authority in the West Bank, joined in a fragile unity pact.
Hamas did not top 40 percent approval in any of the countries surveyed.
For more details, see the Pew survey here.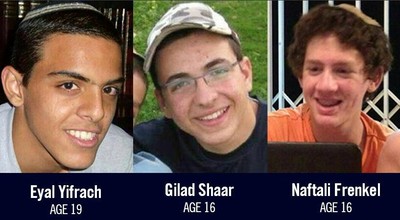 Israel is in a state of national mourning Monday after troops found the bodies of three teenagers last seen near a school near Hebron two weeks ago.
Eyal Yifrach, 19, and 16 year-olds Naftali Frenkel and Gilad Shaar were discovered in a field after more than two weeks of intense search efforts.
Israel's security cabinet is meeting this evening and an aggressive reaction is expected to follow. Prime Minister Benjamin Netanyahu promised that Hamas will pay for the murders.
Two Hamas members from Hebron, Marwan Kawasme and Amar Abu Issa, are considered the prime suspects. Neither has been seen since the boys disappeared while hitchhiking June 12. Hamas continues to describe the boys falsely as soldiers. They were Yeshiva students. Frenkel also is an American citizen.
Many Palestinians celebrated the kidnappings, with editorial cartoons in Palestinian newspapers mocking them and people posed with three fingers held up as a salute.
It's likely they were killed almost immediately.
Police heard gunshots as one of the boys called police during the attack and a burned out car found nearby "had clear evidence of foul play," Buzzfeed reports. The government imposed a gag order on such details, and they clung to any hope of finding the boys alive.
"We have been operating, for some time now, with evidence that these boys were killed," an unnamed official told the site. "It is with a heavy heart that we realized we were looking for bodies."
The Times of Israel reports on how what started out as a kidnapping may have quickly turned to murder.
The Shin Bet security service released the identity of two of the main suspects in the abduction of three Israeli boys earlier this month.
Hamas members Marwan Kawasme and Amar Abu Issa, both from Hebron, drew investigators' attention almost immediately. The two men have not been seen since the kidnapping two weeks ago. The boys, Yeshiva students, two of whom are 16 and one 19 years old, were last seen near Hebron.
Troops raided Kawasme and Abu Issa's homes roughly three days after the abduction. Israeli military and security personnel continue a furious search for the missing boys, arresting dozens of suspects and seizing weapons stashes found inside homes.
Other suspects from their terrorist cell have been detained and are undergoing interrogation.
Both Kawasme and Abu Issa are members of Hamas' militant wing and have been previously jailed by both the Palestinian Authority and Israel.
Kawasme was first arrested at the age of 18 and has been detained four more times thereafter. He confessed to being a Hamas member and partaking in multiple military exercises, including training in Hebron area caves and obtaining bomb making materials. He also participated in the recruitment efforts of Palestinian youth on Hamas' behalf. Kawasme was released from prison in March 2012.
Ha'aretz reports that Abu Issa, 32, was also detained for approximately half a year in 2005 and was arrested again in 2007. Abu Issa's father has also spent time in an Israeli prison and his father was killed in 2005 when he attempted to throw an explosive at Israeli troops.
A senior security source told the Jerusalem Post that since both suspects were previously in administrative detention, such measures are justified to prevent explicit threats to national security.
Prime Minister Benyamin Netanyahu stated that following the release of the suspects' names and affiliation, he expects Palestinian Authority President Mahmoud Abbas to abrogate the pact with Hamas.
Palestinians, meanwhile, continue to support the kidnapping, hoping it leads to a prisoner exchange to free terrorists held in Israel.
Dozens of Sudanese security agents reportedly stopped a Christian woman and her family from trying to leave the country Tuesday, a day after she was granted a reprieve from a death sentence for apostasy.
Meriam Ibrahim's case garnered international attention in May when she was sentenced to death for marrying a Christian man. She was pregnant at the time the sentence was issued. She also faced 100 lashes for adultery, after the court found her marriage was not valid.
An appeals court overturned those rulings. Her husband, Daniel Wani, is an American citizen. Ibrahim said she was raised as a Christian.
She was released from prison Monday after six months. Then, in a scene out of a bad movie, 40 National Intelligence and Security Service agents detained her at the airport Tuesday as she and her family tried to leave Sudan. "The authorities are saying she has been freed from prison but is not free to leave Sudan at this stage," an official told reporters."
Ibrahim, who gave birth to a daughter in prison, reportedly was released a few hours later, and officials claimed the hold-up was about her paperwork.
A State Department spokeswoman said the United States is working to arrange the family's safe passage out of Sudan.
"The [Sudanese] government has assured us of their safety," said spokeswoman Marie Harf. "The Embassy has been and will remain highly involved in working with the family and the government. We are engaging directly with Sudanese officials to secure their safe and swift departure from Sudan."
Hamas and Palestinian leadership continue to refer to three kidnapped Israeli teenagers as "soldiers" even though two of the boys are 16 and none serves in the Israeli military. During an Al-Jazeera interview Monday, Hamas leader Khaled Meshaal would not say whether his organization is responsible for the abduction, but insisted that the boys were "settlers and soldiers in the Israeli army," the Times of Israel reports.
Meshaal also praised the kidnappings: "Blessed be the hands that captured them. This is a Palestinian duty, the responsibility of the Palestinian people. Our prisoners must be freed; not Hamas's prisoners – the prisoners of the Palestinian people."
The statement indicates that the main objective of the kidnappings is to facilitate a future swap for Palestinian detainees. The boys, Yeshiva students who disappeared June 12, are not "youths, as Israel calls them, but first and foremost settlers… and not even regular settlers, but armed ones."
Israel accuses Hamas of orchestrating the operation and points to a previous Meshaal speech that sanctioned the abduction.
Israeli Prime Minister Benjamin Netanyahu reacted to Meshaal's interview, emphasizing that Hamas is committed to the destruction of the Jewish state and is waging a war against all Israeli citizens and Jews around the world.
Netanyahu called on Palestinian Authority President Mahmoud Abbas to break the recent alliance forged with Hamas in light of the kidnappings.
Meanwhile, the mothers of the three boys went to the United Nations Human Rights Council in Geneva to appeal for the release of their sons. Speaking to the council, Naftali's mother Rachel Frenkel addressed the council's president. She noted that international humanitarian law prohibits taking hostages.
"Mr. President, it is wrong to take children, innocent boys and girls, and use them as instruments of any struggle," Frenkel said. "It is cruel. This council is charged with protecting human rights. I wish to ask: Doesn't every child have the right to come home safely from school?"