Prime Minister David Cameron has ordered British intelligence agencies to investigate Muslim Brotherhood activities in his country.
The move follows orders by Egypt and Saudi Arabia to outlaw the group, and allegations that its members plotted terrorist attacks from offices in Britain. British newspapers confirmed an original report in the Times of London about Cameron's order.
A number of Brotherhood officials moved to Britain following last July's ouster of Egyptian President Mohamed Morsi. Brotherhood leaders may have met in London shortly afterward to discuss their response to Morsi, and by extension the Brotherhood, being forced from power, the Times report said.
British intelligence will investigate whether any plotted violent attacks from that new base, the reports say, including a recent attack on an Egyptian bus that killed three people.
Britain's ambassador to Saudi Arabia will put the report together, focusing on the Brotherhood's "philosophy and values and alleged connections with extremism and violence." His findings are due this summer and, the BBC reports, will be made public.
Previous investigations by U.S. law enforcement uncovered a sophisticated network of Muslim Brotherhood front groups operating in America. Many of them continue to enjoy significant public profiles, although they work hard to bury their histories and deny their Brotherhood links.
Residents in a coastal town along the Syria-Turkey border with a significant Armenian population face new threats after rebels seized control of their town from forces loyal to Syrian dictator Bashar al-Assad a week ago.
Some of the rebels are from the al-Qaida-tied Jabhat al-Nusra, or al-Nusra Front, which the United States designated as a terrorist group.
Reports say that the rebels entered houses owned by Christians immediately after taking control of the city of Kassab, seizing all the alcohol and destroying all the publicly-displayed Christian imagery, including crosses.
Thousands fled the city.
"We had to flee only with our clothes," a woman from Kassab told the Associated Press. "We couldn't take anything, not even the most precious thing — a handful of soil from Kassab. We couldn't take our memories."
The rebels were companied by a radical Saudi preacher known as Abdullah Mhesne. Social media networks such as Twitter published a photo of Mhsne near a street sign saying "Welcome to Kassab."
Mhesne listed some of the rebel groups which helped conquer the Christian town of Kassab on his Twitter account. They include Ahrar Al Sham – which works with Jabhat Al Nusra – and other Islamic battalions that include foreign fighters.
Ahrar Al Sham is the largest group in the Islamic Front, a coalition of jihadi groups fighting Assad. It also is among the groups attacking Christians in Kassab. The group still enjoys support from American-based groups lobbying for support in ousting Assad. For example, Syrian Emergency Task Force Executive Director Mouaz Mustafa advocated for Western support for the Islamic Front in December.
Mhesne runs a campaign called "Jahed Be Malak," which translates to "perform Jihad with your money," to raise money for Jihadists to buy weapons and for the rebels in Syria. Mhesne uses Turkish and Saudi cell phone number to contact the donors: For example, on Thursday he tweeted:
For those whose souls yearn for Jihad, but cannot wage Jihad themselves. Here is our campaign "Perform Jihad with your Money." We want to buy one hundred Grad rockets, so we can demolish the city of Qardaha [Assad's hometown].
Later, he claimed to have received a $13,000 donation, which can be used to buy three rockets.
In other posts, Mhesne rationalized the bad treatment Christians face in Kassab. But anyone targeted was not singled out for their faith, he wrote, but because they supported Assad's regime. But he also said Christians would be forced into dhimmi status, or submission to Islam, in order to survive. In that scenario, "they agree to not display their crosses except in the houses and churches."
The houses invaded during the past week were "for the need of Jihad," he
wrote
, downplaying the harm. "We entered the houses of the Christians with the brothers, but no one touched anything," Mhesne
wrote
. "We only broke the crosses, and the wine bottles, and the pork."
Hamas is now trying to outdo the Taliban in imposing new Shar'ia inspired draconian punishments, including amputations of limbs and massive increases in lashings and executions. A senior Hamas official told Gulf News that a new punitive law, "inspired by" Shar'ia Law, is required to replace the former and "impractical" one. The article states that there will be a minimum of 20 lashes for minor offenses and a minimum of 80 lashes for criminal cases: the death penalty will also be expanded in accordance with the Shar'ia. In addition, the new law includes cutting off the hands of a thief.
By replacing an almost 80-year old punitive law with a new radical one, Hamas has earned widespread condemnation by other Palestinian factions. Even other terrorist groups condemn Hamas' new law.
"The new law will harm the interests of the Palestinians and perpetuate the Palestinian internal split. Hamas must retreat and show priority and preference to the higher Palestinian interests," according to The Popular Front for Liberation of Palestine (PFLP) statement.
According to the article, Hamas asserts that the law aims at deterring criminals in Gaza.
Instead of planning to alleviate Gaza's deteriorating economic situation or reining in terrorist groups operating in the Strip, the Hamas regime is reinforcing its radical rule. Clearly, Hamas prioritizes imposing its radical Islamist agenda on Palestinian society over enhancing Gaza's standard of living.
It remains to be seen whether Hamas' front groups and supporters in the United States, including the Council on American-Islamic Relations, American Muslims for Palestine and the Muslim American Society, who claim to be civil rights organizations, will condemn Hamas for implementing this new law.
A federal jury in New York found senior al-Qaida member Sulaiman Abu Ghayth guilty on terrorism-related charges Wednesday, including conspiracy to kill Americans. In video statements and speeches released after the Sept. 11 attacks, Abu Ghayth promised similar attacks against U.S. and Western targets.
Evidence presented during the three-week trial included a screen shot of a video from September 12, 2001 showing Abu Ghayth sitting beside Osama bin Laden and other al-Qaida members, including Ayman al-Zawahiri, the current leader of the terrorist group. A videotaped statement broadcast a month later on al-Jazeera showed Abu Ghayth saying "there are thousands of Muslim youths who are eager to die and that the aircraft storm will not stop." He warned "Muslims in the United States and Britain, the children, and those who reject unjust U.S. policy not to travel by plane."
Abu Ghayth testified about being summoned by bin Laden to an Afghanistan mountain cave just hours after the 9/11 attacks. Bin Laden acknowledged al-Qaida's responsibility and sought Abu Ghayth's help "to deliver a message to the world."
Abu Ghayth also tried to recruit terrorists from training camps and safe houses. The video messages sought not only to instill fear in Americans but also "drive more suicide terrorists to Al Qaeda," prosecutor John P. Cronan said during the trial.
Abu Ghayth, who was married to bin Laden's daughter, was captured and brought to the United States last year, where he was indicted on terrorism-related charges. He was convicted on three counts related to a conspiracy to kill Americans, to provide material support to terrorist and providing actual support. He faces a maximum of life in prison for the first count and a maximum of 15 years for the latter two counts.
"He was more than just Usama bin Laden's propaganda minister," Manhattan U.S. Attorney Preet Bharara said in a Justice Department press release. "Within hours after the devastating 9/11 attacks, Abu Ghayth was using his position in al Qaeda's homicidal hierarchy to persuade others to pledge themselves to al Qaeda in the cause of murdering more Americans."
Facing increasing pressure from Egypt and deteriorating economic conditions in Gaza, Hamas has been flirting with the notion of re-entering the Iranian camp. Now, Al-Monitor is reporting that Iranian monetary aid has officially resumed to Hamas, but at a lower level than that it provided before ties between the two broke. The report also cited a source close to Hamas' political leadership who says Iran is planning to receive Hamas leader Khaled Meshaal. Qatar was mediating discussions between Iran and Hamas in an effort to restore ties, after a two-year hiatus.
Syria's civil war led to the split. Iran, trying to protect its Shiite axis, backed dictator Bashar al-Assad and ordered its Lebanese terror proxy Hizballah to help shore up the regime. Hamas, a Sunni movement, allied with anti-Assad rebels.
Iranian Shura Council head Ali Larijani announced the resumption of relations between the two sides on March 10. Larijani stated that "Iran is supporting Hamas on the grounds that it is a resistance movement. … Our relationship with [Hamas] is good and has returned to what it was. We have no problems with [Hamas]." It is clear that their differences in Syria do not trump Hamas and Iran's shared desire to facilitate Israel's destruction.
The Israeli Navy recently intercepted an Iranian ship earlier this month that carrying advanced weaponry for the Gaza strip. Even though Palestinian Islamic Jihad was the likely recipient of most of the payload, Israel officials believe some of the arms were meant for Hamas as well. Military-ruled Egypt is increasingly isolating Hamas and engaging in a concerted campaign to destroy the terrorist organization's smuggling tunnels. This new report showing renewed financial assistance demonstrates that Hamas is on its way to fully restoring ties with its Iranian patron.
Hamas sent text messages to various Israeli cellphones threatening rocket attacks and kidnaping. Commemorating the 10th anniversary of Israel's assassination of Hamas leader Sheik Ahmed Yassin, Hamas sent four different messages Saturday evening. According to Ynet, the messages were also sent to government ministers, their spokespeople, and some journalists.
Some messages included: "A warning to Zionists. Kassam rockets are waiting with you. If you want the life then leave our country."
"Al-qassam has chosen you to be the next Shalite … Be Ready" referring to former kidnapped solider Gilad Schalit.
"Israel established the injustice and the occupation and the fate of every entity of injustice and occupation is destruction… the Shaheed ["martyr"] Ahmed Yassin."
Some of the messages were written in grammatically incorrect Hebrew.
Meanwhile, tens of thousands rallied in Gaza to commemorate the anniversary of Yassin's death. Hamas PM Ismail Haniyeh used the opportunity to call on Abbas to end peace negotiations with Israel. "No to negotiations, no to compromise and yes to resistance," Haniyeh proclaimed to the cheering crowd.
Facing a hostile, military-ruled Egypt and a growing economic crisis in the Gaza Strip, Hamas may be looking to repair relations with Iran in hopes of gaining more assistance. Iran withdrew much of its financial aid after Hamas sided with rebels in Syria's civil war. Iran's Lebanese terror proxy Hizballah has provided vital support for dictator Bashar al-Assad's regime.
Even though Egypt has destroyed many of the smuggling tunnels into Gaza, Hamas continues to re-arm and develop their missile capabilities. Recently, Israel intercepted a shipment of advanced weaponry intended for the Palestinian Islamic Jihad terrorist organization; however, Israeli officials believe some of the weapons were destined for Hamas as well, in effort to bait the terrorist group back into the Iranian camp.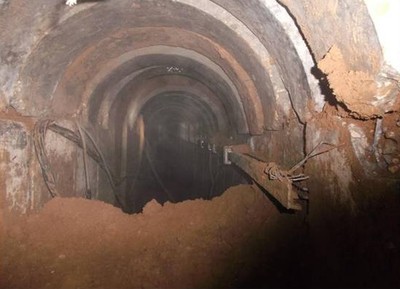 Israeli military officials say they uncovered a Hamas tunnel that might be the largest yet discovered. It runs hundreds of meters into Israel from Gaza and posed "a direct link and threat to Israeli territory, and enable Hamas terrorists to reach and harm Israeli civilians."
Similar tunnels have been built with the intent of launching terrorist attacks and trying to kidnap Israeli soldiers.
Hamas claimed this tunnel was old, but Israeli Defense Force officials say they found a generator and other building materials inside which indicated it was still under construction. They estimated that more than 500 tons of cement was used in building support arches for the tunnel, which ran 20 to 60 feet underground.
"We have no doubt we disturbed them in the middle of work," an Army source told the Jerusalem Post. "We've recently increased efforts against tunnels, and have uncovered three over the past months."
"Tunnels are an ethos for Hamas and the source of many of its operational successes," the source said. "As soon as it loses three tunnels in a number of months, that represents a major blow to it."
The IDF discovered a similar tunnel last fall that had electricity and telephone lines. Hamas diverted 24,000 concrete slabs meant for civilian construction to build that tunnel.
Tunnels played a critical part of Hamas operations until the past year. Israel has uncovered several meant for terror operations, while Egypt has destroyed hundreds of tunnels that had been used to smuggle goods and material into Gaza. The tunnels were considered a significant cog in Gaza's economy, which now is in crisis.
The IDF discovery shows Hamas makes that crisis worse by continuing to emphasize terror more than the needs of the Palestinians it is supposed to represent.
The lure of Syria's jihad has landed another American under arrest.
Avin Marsalis Brown, who goes by the name Musa Brown, was arrested Wednesday at Raleigh-Durham International Airport. He was trying to make his way to Syria – at least the third time this week an American has been detained in transit with the hope of reaching Syrian battlefields.
Brown, 21, is charged in a criminal complaint with conspiring to provide material support to kill people abroad. Also charged is Akba Jihad Jordan, who was arrested in his hospital bed after an unrelated surgery.
Earlier this week, FBI agents arrested men from California and Michigan who also plotted to join terrorists fighting in Syria's civil war.
For the past year, an FBI affidavit said, the men discussed going either to Syria or Yemen for jihad. Brown sent an email expressing this desire last May. The recipient turned out to be an FBI informant.
Jordan focused on Syria because "he thinks the caliphate may start there and he wants to be a part of that," the affidavit said.
The men spent months talking about training and trying to arrange passports and travel. In late December, Brown said he was in direct contact with men in Syria and Australia. The Australian contact warned him to be careful "because a lot of 'brothers' have been getting caught," the affidavit said. Jordan studied patterns involving those who had been caught. Brown and Jordan later talked about creating a cover story for their travels to ward off any possible prosecution, making it seem they were on a charitable mission.
Brown and Jordan continued planning, saying they wanted to get away from America, the land of the kuffar (unbelievers). "BROWN said it is highly recommended that all Muslims go and fight jihad wherever it is needed," the affidavit said. In a separate conversation March 11, Jordan "said they should die in battle against the kuffar ... because it is the kuffar against Islam."
At times, they two also talked about waging jihad in the United States, but the complaint does not indicate that any specific plans were discussed.
Brown was arrested Wednesday at the Raleigh airport. After hearing his rights, he told agents he bought a ticket to Ticket and planned to go to Syria.
A British research study of Muslim radicalization is challenging some key conventional wisdom. It identifies "youth, wealth, and being in full-time education" as potential risk factors
Less than 3 percent of the 600 British Muslims surveyed by London's Queen Mary University were sympathetic with terrorism, while another 6 percent "remained neutral."
But those with the highest sympathy were respondents born in the United Kingdom, under age 20 and full time students. In addition, people from high income homes – more than £75,000 a year ($123,000) were more prone to sympathize with political violence. People with mental health problems also were more likely to support terror.
This contradicts an accepted narrative that economic frustration and a lack of education fueled Islamic extremism.
"We were surprised that [the] inequality paradigm seems not to be supported," lead researcher Kamaldeep Bhui told Al-Jazeera. "The study essentially seemed to show that those born in the U.K. consistent with the radicalization paradigm are actually more affluent or well off."
The study does not identify "what factors make potential recruits open to persuasion to join a terrorist movement," said Bhui, a professor of cultural psychiatry and epidemiology. He hopes the survey can be used to identify vulnerable populations and "work to shift them and hopefully reduce" radicalization.
The findings are significant, if only for the strict academic approach taken by Bhui and her team. And it might be refreshing and enlightening to see similar academic pursuit in the United States to help identify risk factors and gateways to radicalization. A 2007 Pew survey found a quarter of Muslim American men under age 30 considered suicide bombings justifiable.
This week alone, young men from California and Michigan were arrested for plotting to join terrorists fighting in Syria's civil war.
But the notion that affluent, well-educated Muslims are potentially more likely to become radicals is a surprise ignores years of anecdotal evidence. Terrorist groups from Hamas, Palestinian Islamic Jihad and al-Qaida all are led by men with advanced degrees. Most of the 9/11 hijackers were college educated and middle class – with eight engineers among them – and the worst terrorist attack in the United States since 9/11 was carried out by an Army psychiatrist.
A group of Egyptian students who raised the black flag of jihad associated with al-Qaida during a protest Tuesday at Cairo's Al-Azhar University could face criminal charges, al-Ahram reports. A similar episode reportedly took place during a similar pro-Muslim Brotherhood protest at Cairo University.
Video posted to YouTube shows a handful of students holding the black flag, along with a mock American flag, with Israel's Star of David over the stars.
The black flag is hundreds of years old, al-Ahram explains, but was co-opted by al-Qaida and like-minded terrorist groups such as al-Shabaab and the Islamic State of Iraq and Syria.
Some of the pro-Brotherhood protesters at Cairo University took control of a law faculty office. Officials say they later defused a "rudimentary bomb" left behind. About 300 people participated in the Al-Azhar protest, chanting "down with military rule."
Egypt's army has controlled the country since forcing President Mohamed Morsi, the Muslim Brotherhood's candidate, from office in early July. The move followed massive street demonstrations against the Brotherhood's rule.
A teenage boy was killed at yet another pro-Brotherhood rally south of Cairo. Officials say the boy was the son of Brotherhood official Ali Kafafi. In other clashes, two police officers were killed in a shootout with militants.