With the help of organized criminal elements, Islamic State terrorists reportedly are buying legitimate British passports that can evade security detection from security authorities, the Daily Beast reports.
An Italian intelligence investigation into the Camorra mafia discovered an advertisement on the deep web that linked to a Naples firm capable of producing sophisticated biometric passports.
"We are selling original UK Passports made with your info/picture. Also, your info will get entered into the official passport database," the advertisement reads. "So its (sic) possible to travel with our passports. How do we do it? Trade secret! Information on how to send us your info and picture will be given after purchase! You can even enter the UK/EU with our passports, we can just add a stamp for the country you are in."
Other investigations also shed light onto the broader ties between terrorists and European criminal organizations, including in the smuggling of weapons and forged documents.
Last year Italian authorities arrested an Iraqi man in Naples for facilitating weapons and document transfers to the Islamic State.
"Naples has been, for many years, a central logistics base for the Middle East," prosecutor Franco Roberti told the Daily Beast last year, adding that "the Camorra (mafia) is also active in the world of jihadist terrorism that passes through Naples."
Terrorists are diversifying their funding sources through various criminal means to underwrite their violent and nefarious activities. The criminal-terrorism nexus manifests itself in several ways: mainly in the form of cooperation between terrorist groups and organized criminal elements, and crimes by terrorists which are conducted to finance their own operations. Terrorists' reliance in counterfeiting in particular has attracted more attention recently with the rise of Islamic State networks in Europe and other parts of the world.
Lacking a formal state sponsor, and facing setbacks in Syria and Iraq, the Islamic State may start to depend more on criminal relationships to fuel their operations and to infiltrate terrorists into Western for the purposes of carrying out attacks abroad.
Hamas continues to play a double game when it comes to the Islamic State. The Palestinian terrorist organization is trying to supress ISIS-inspired jihadists in Gaza, while simultaneously cooperating with the terrorist group's Sinai Peninsula affiliate – Wilayat Sinai.
Despite some tactical benefits, Hamas' seemingly counterintuitive, yet calculated, engagement with Islamic State elements has resulted in tangible setbacks for the Palestinian group. Palestinian sources speaking with the Times of Israel revealed that dozens of Hamas operatives have defected to Wilayat Sinai, including highly trained terrorists from elite units.
Roughly two months ago, Hamas forces arrested Abed al-Wahad Abu Aadara, a Hamas naval commando who defected to ISIS after he re-entered Gaza. His brother also joined ISIS and died in clashes with the Egyptian military. Facing pressure from ISIS, Hamas recently released Abu Aadara from prison.
Other defectors include highly trained Hamas operatives who enhance the Islamic State's ability to build bombs and use anti-tank missiles. Senior military wing members, including Abu Malek Abu Shwiesh, a key assistant to Hamas' Rafah commander, reportedly joined Wilayat Sinai.
The ISIS affiliate has created significant Egyptian casualties in recent years, particularly after acquiring and deploying sophisticated weaponry in the Sinai.
Israeli officials have outlined detailed aspects of Hamas-Islamic State cooperation in the past. Both organizations engage in smuggling terrorists and arms, including advanced weapons systems. For example, Hamas provided Wilayat Sinai with Kornet anti-tank missiles that have destroyed Egyptian military vehicles. Hamas also provides military training and medical services for injured Wilayat Sinai fighters in Gaza, in addition to reportedly transferring money directly to the terrorist organization.
In return, Hamas cultivates a safe haven for its leaders and fighters in case of a future confrontation with Israel, understanding that Israel's military engagement on Egyptian territory is limited.
Since the end of the 2014 summer war in Gaza, Hamas has invested significant resources into reconstructing its terrorist infrastructure. It also continues to rebuild its elite forces – including its naval commando unit – dedicated to infiltrating into Israel to carry out terrorist attacks. Reports of Hamas defections are a clear setback for the Palestinian organization, but are not likely lead to a wider rift with the Islamic State.
Despite broader ideological differences, both groups remain committed to challenging the Egyptian military in Sinai and destroying the Jewish state.
Israeli security forces indicted three Palestinians Monday, saying they were part of a Hamas terrorist cell planning to kidnap and kill Israelis in the West Bank and within Israel.
According to the indictment, Hamas officials in Gaza sent instructions to the terrorists via Facebook, explaining how to carry out shooting attacks, detonate explosives, and coordinate kidnappings around Hebron. The cell also scouted several locations within Israel for future attacks, including a bus station in Afula, a military base, the Binyamina Train Station, and a synagogue. The terrorists gained important information about the targets while working in Israel illegally.
To facilitate the attacks, the terrorists saved about $270 per month to buy weapons, build bombs and recruit other Palestinians.
"The uncovering of the infrastructure and activities it planned demonstrates the high threat level posed by Hamas militants, especially those who enter Israel and remain their illegally," according to the Shin Bet.
Israeli authorities have foiled several Hamas terrorist plots since the latest wave of Palestinian violence, which peaked in October 2015. While most attacks were largely individual terrorist initiatives, groups like Hamas and even Hizballah sought to hijack the popular uprising by planning and coordinating terrorist attacks. Both organizations failed to execute a sophisticated attack thus far due to vigilant Israeli intelligence practices.
In January 2016, Shin Bet foiled a Hamas terror cell seeking to kidnap and kill Israelis in hopes of using their victims' bodies to negotiate the release of Palestinian prisoners in Israeli jails. A similar motivation encouraged Hamas affiliated terrorists behind the June 2014 kidnapping and murder of three Israeli teens, which eventually led to a full-fledged war between Israel and Hamas in Gaza.
Palestinian terrorists continue to provoke Israel, launching a rocket Monday from Gaza into southern Israel and firing at Israeli soldiers working on the Gaza border fence. In response, the Israeli military targeted several Hamas positions in Gaza with airstrikes and artillery shells.
Last week, a senior Israeli military official told Israel's Channel 2 that Hamas has regained its military capabilities since the 2014 Gaza war. Hamas continues to invest considerable resources to rebuild its terrorist infrastructure at the expense of civilian reconstruction efforts.
In the meantime, Hamas actively seeks to recruit and mobilize terrorists in the West Bank to form cells dedicated to killing Israelis in an effort to spark chaos and eventually take over the Palestinian Authority.
The National Lawyers Guild (NLG) recently condemned Fordham University for banning the radical group Students for Justice in Palestine (SJP) from campus.
The NLG claims that Fordham's decision continued a "legacy of Anti-Palestinian discrimination, known as the 'Palestinian Exception' to Free Speech..."
In a Dec. 22 email, Fordham Dean of Students Keith Eldredge outlined the university's reasons to block SJP from forming a chapter.
"While students are encouraged to promote diverse political points of view, and we encourage conversation and debate on all topics, I cannot support an organization whose sole purpose is advocating political goals of a specific group, and against a specific country (Israel)..."
Eldredge correctly pointed out that SJP's inherently divisive mandate is a cause for concern.
SJP's purpose "as stated in the proposed club constitution points toward that polarization. Specifically, the call for Boycott, Divestment and Sanctions of Israel presents a barrier to open dialogue and mutual learning and understanding."
Eldredge's email was published by the groups Palestine Legal and the Center of Constitutional Rights as part of a joint letter Jan. 17 protesting to Fordham's president. The letter suggests that the university's rejection "was based on the viewpoint of students' message and/or their national origin."
A Fordham spokesperson denied that charge in a written statement, saying the university "has no registered student clubs" with a singular focus to protest one country. "[T]he narrowness of Students for Justice in Palestine's political focus makes it more akin to a lobbying group than a student club."
Fordham's decision "exemplifies a long and ubiquitous history of Anti-Palestinian censorship rampant across campuses, government, and civil institutions that has largely gone under-reported, unchallenged and is coordinated with many Israeli groups," said Lamis Deek, an NLG member with extremist views.
Last October, Deek – who is also an official with the Council on American-Islamic Relations (CAIR) – glorified a Palestinian terrorist as "the Lion of Jerusalem" after he killed two Israelis and injured five others. The Investigative Project on Terrorism (IPT) has shown Deek's consistent glorification of violence targeting Jews and Israelis, who has referred to Israel as "the genocidal zionist regime."
Groups like SJP, often make claims of victimization while working to intimidate and silence their detractors. The documentary "Hate Spaces," by Americans for Peace and Tolerance provides overwhelming evidence of widespread anti-Israel intolerance on campuses across the country by organizations like SJP.
In one example, Northeastern University spokeswoman Renata Nyul acknowledges that SJP was suspended after engaging in "vandalism of university property, disrupting the events of other student organizations" and more.
SJP claimed the school's suspension stifled free speech and generated public pressure until SJP was reinstated in 2014.
Now Fordham faces similar pressure.
SJP chapters elsewhere have "a particularly serious impact on Jewish students," Tammi Rossman-Benjamin told the Algemeiner. "Nor do they [universities] end up doing anything about the harmful behavior when it is exhibited."
Her organization, the AMCHA Initiative, tracks campus anti-Semitism. At Fordham University's Middle East Studies Department, it notes, someone posted a sign depicting Uncle Sam calling himself "Israel's b**ch" and included the words "Palestinian apartheid."
A prominent figure in the United Arab Emirates' (UAE) security apparatus is endorsing President Trump's executive order temporarily banning citizens of seven predominately Muslim countries from entering the U.S., the Jordanian news service Al Bawaba reports.
"We completely support Trump in his ban on entry to those who may cause a breach in America's security," Dubai security chief Lt. Gen. Dhahi Khalfan Tamim tweeted.
His country is not among the seven – Syria, Iraq, Iran, Sudan, Libya, Somalia and Yemen – covered by the executive order.
"Previous US administrations have embraced all the wanted men of the Arab world and those classified as terrorists. Trump, what you're doing is right," Khalfan wrote.
The UAE has cited security concerns for its own reluctance to admit Syrian refugees since the start of the civil war in 2011. After drawing criticism from human rights groups, UAE officials agreed in September to accept 15,000 Syrian refugees over a five-year period.
His support for Trump's temporary ban generated criticism from Arab journalists such as Iraqi-American Steven Nabil.
"Marwan al-Shehhi and Fayez Banihammad were among the 19 terrorists of al-Qaeda who attacked the World Trade Center and other targets on 9-11, which led to the deaths of thousands of American civilians. They both had Emirati citizenship like Dhahi Khalfan," Nabil wrote.
Khalfan is known for making irreverent comments.
He bucked the regional consensus last March when he expressed opposition to a Palestinian state, warning it would become another failed state. He also urged his Twitter followers not to treat Jews as their enemies.
In 2012, Khalfan launched a war of words with radical Muslim Brotherhood-aligned Sheikh Yusuf Qaradawi. Khalfan threatened Qaradawi, who lives in Qatar, with an international arrest warrant after the cleric criticized the UAE for revoking the visas of Syrian residents who allegedly demonstrated against the Assad regime.
This spat with Qaradawi should be understood in the context of Khalfan's criticism of the Muslim Brotherhood, which he has accused to plotting to topple the UAE government and wanting to impose Islamist rule in all Gulf states.
Khalfan's anti-Muslim Brotherhood stance aligns well with that of his government, which pressured former British Prime Minister David Cameron's government to investigate the Brotherhood. UAE officials also classified the Muslim Brotherhood and offshoots, such as the Muslim American Society (MAS) and the Council on American Islamic Relations (CAIR) as terrorist groups in 2014.
The U.S. Special Operations Command hosted Mouaz Moustafa, an American Islamist who urged U.S. policymakers to embrace the Islamic Front in 2013, at their Tampa headquarters on Thursday, a post on his Facebook page shows. The Islamic Front's charter called for replacing the Assad regime with an Islamic theocracy ruled by shariah law.
Moustafa heads the Syrian Emergency Taskforce (SETF), an organization that lobbies on behalf of anti-Assad rebels. SETF organized U.S. Sen. John McCain's May 2013 Syria trip. SETF also enjoyed close ties with the Obama State Department.
"The focus now is to depose the regime and kick out people like Hizballah and the Iranian Revolutionary Guard, and others that are killing us. And so that's the best way to describe their ideology," Moustafa said in 2013. "I think the international community and the West ... must engage with the Islamic Front and need to be more pragmatic and realistic about what is going on ground in Syria in order to bring them on board with whatever political solution will happen in the future."
SETF tried to push the State Department to deal directly with the Islamic Front, records show. Robert Ford, then the U.S. ambassador to Syrian, met with Islamic Front representatives later in 2013.
The Islamic Front was a coalition of rebel groups including Ahrar al-Sham (aka "the Syrian Taliban"), Suquor al-Sham, Jaish al-Islam, Ansar al-Shariah, Tawhid Brigade, and Liwa Al-Haqq. Suquor al-Sham and Liwa al-Haqq have since merged with Ahrar al-Sham.
Ahrar al-Sham remains one of the most important factions in Syria's ongoing civil war. Its founder, Abu Khalid Al-Suri, acted as al-Qaida leader Ayman Zawahiri's right-hand man there. Late Ahrar al-Sham leader Hasan Aboud condemned democracy, calling it a "sword hanging on everyone that Western powers want." He preferred establishing a caliphate under shariah law.
Last July, Amnesty International accused Ahrar al-Sham of torture and other human rights violations. Ahrar al-Sham also has been known to engage in beheadings.
Similarly, Jaish al-Islam's late leader Zahran Alloush endorsed restoring the caliphate and expressed support for Osama bin Laden.
Jaish al-Islam also engaged in atrocities, including beheading captive ISIS fighters while forcing them to dress in uniforms similar to "Jihadi John." In one instance, Jaish al-Islam executed and subsequently crucified a man it accused of cursing God, practicing witchcraft, taking drugs, committing adultery and kidnapping. Images of the executed man's crucified, decapitated body were circulated online.
Groups comprising the Islamic Front also fought alongside Jabhat al-Nusra prior to Moustafa's request for the Obama administration to work with the jihadist coalition.
Prominent public figures and officials often claim that Islam has nothing to do with the jihadist terrorist violence spreading throughout the world. A recent academic study challenges this misguided view – by actually speaking to terrorist foreign fighters.
The authors of "Talking to Foreign Fighters: Insights into the Motivations for Hijrah to Syria and Iraq," University of Waterloo sociologist Lorne L. Dawson, and George Washington University Program on Extremism Fellow Amarnath Amarasingam, published their findings after numerous conversations with 20 foreign fighters, mostly coming from the West. None of the jihadists cited socioeconomic grievances or other forms of disenfranchisement as a major role in their decisions to wage jihad abroad. Rather, the conversations largely revolved around their Islamist beliefs.
Religion dominated discussion so much, the report said, that "it seems implausible to suggest that religiosity (i.e. a sincere religious commitment, no matter how ill informed or unorthodox) is not a primary motivator for their actions. Religion provides the dominant frame these foreign fighters use to interpret almost every aspect of their lives..."
The authors cite a British Muslim who joined Jabhat al-Nusra, al-Qaida's Syrian affiliate, which is now called Jabhat Fateh al-Sham.
"The zeal for jihad always struck me when I would sit in my room and read Qur'an with English translation," he said. "I would wonder how jihad was fought today. At the outbreak of 2011 war in Syria, the thinking of going began and brothers from town who had gone were an inspiration."
Previous studies on foreign fighter motivations tend to exclusively focus on "push" factors, such as poor socioeconomic status or psychological factors, that encourage Western foreign fighters to fight abroad. Other radicalization studies tend to emphasize that a search for meaning and identity is an important factor explaining why some Westerners, including Americans, adopt the Islamic State's ideology. Another recent report emphasized the criminal pasts among many Western foreign fighters moving to Syria and Iraq.
While these factors may play a role in radicalization processes, they fail to fully explain why some people embrace violence or wage jihad abroad. In some contexts, terrorists come from relatively higher socio-economic and educated status, such as Palestinian suicide bombers and terrorists. Ideology and indoctrination clearly plays a major role in their radicalization. Many individuals around the world face social, economic, and psychological issues and many others search for meaning in life, but do not necessarily become terrorists.
In trying to understand radicalization and foreign fighter motivations, researchers need to put more emphasis on the role of religion and radical Islamist ideology. While many American Islamists and their prominent sympathizers argue that Islam or Islamism has nothing to do with the terrorist violence plaguing the world, engaging in an actual conversation with some of these terrorists suggests otherwise.
A report by the Texas Department of Public Safety raises concerns about ISIS terrorists using the Mexican border both to enter and leave the country. It noted that at least 13 aspiring terrorists have tried to cross into Mexico, or considered trying, since 2012.
Most of those cases involved people who knew they were on the federal no-fly list but wanted to travel to join terrorists, the report said. Sneaking across the southern border "presents an opportunity for increasing numbers of aspiring foreign terrorist fighters to evade US interdiction efforts such as the No-Fly List."
The most recent example happened in October. Texas authorities arrested two Milwaukee men near San Angelo, Texas on the way to the Mexican border. Jason Ludke, 35, and Yosvany Padilla-Conde, 30, wanted to go to Mexico, obtain fraudulent travel documents and travel to join ISIS in Syria or Iraq.
In another instance in April 2015, seven Somali men from Minnesota tried to cross from San Diego into Mexico in an effort to get to Syria and fight for ISIS.
Texas resident Bilal Hamed Abood, an Iraq-born naturalized U.S. citizen, successfully used the border in 2013 to travel to Syria, where he fought for a Syrian rebel group. The FBI arrested Abood for lying about his initial travel to Syria when he tried to come home through the Dallas-Fort Worth airport. Abood claimed he fought for a faction that was not prohibited under U.S. law. However, FBI agents search his computer and found that he took an oath of allegiance to ISIS leader Abu Bakr al-Baghdadi.
Texas authorities voiced concern in 2014 about ISIS social media threats to use the Mexican border to enter the United States.
In a criminal complaint filed last year, alleged ISIS supporter Erick Jamal Hendricks claimed to have had contact with an ISIS supporter known as "Abu Harb." "Abu Harb" told Hendricks that he was in Dallas and that the "Islamic State had brothers in Mexico."
Previously, government officials warned about threats to the U.S. border posed by other terrorist groups including Al-Shabaab and Hizballah.
President Trump touted the ISIS threat as a reason for building his wall along the Mexican border during the campaign. He signed an executive order Wednesday calling for the wall's construction, but funding sources are not yet clear.
Texas Republican Sen. Ted Cruz's bill seeking to classify the Muslim Brotherhood as a terrorist group is discriminatory leaders of the Council on American Islamic Relations (CAIR) claimed at a press conference Wednesday.
"We believe it has little to do with national security or terrorism," CAIR's spokesman Ibrahim Hooper said.
He sees Cruz's bill as part of a two-step strategy to designate the Muslim Brotherhood and attack groups and their leaders who "Islamophobes have falsely labeled as linked to the Muslim Brotherhood."
Hard evidence, however, links CAIR and other American Islamist groups to the Brotherhood.
A phone book introduced at 2008 Holy Land Foundation (HLF) Hamas fundraising trial revealed that CAIR Executive Director Nihad Awad and fellow CAIR co-founder Omar Ahmad belonged to the Muslim Brotherhood's Palestine Committee. This committee came into existence as part of the Muslim Brotherhood's plan to support Hamas in America.
U.S. District Judge Jorge Solis noted in a 2009 ruling that the HLF trial evidence provided "at least a prima facie case as to CAIR's involvement in a conspiracy to support Hamas."
Awad defended the Muslim Brotherhood at the press conference, saying it has been "part in parcel of the democratic process" that it believes in democracy. Banning it for ideological reasons "is nothing short of shooting ourselves in the foot as the biggest democracy or the strongest democracy in the world," Awad said.
Cruz's bill would direct the secretary of state to tell Congress whether the Muslim Brotherhood meets the criteria for designation as a foreign terrorist organization. President Trump reportedly is considering an executive order accomplishing the bill's objectives.
CAIR also protested Trump's proposed executive order curtailing immigration and visas from majority Muslim countries such as Iraq, Libya, Somalia, Sudan, Syria, Yemen and Iran. With the exception of Iran, all of these countries have barely functioning central governments and are in the midst of raging civil wars. It also contested President Trump's order halting the processing of Syrian refugees and ordering the creation of safe zones inside Syria for them.
Awad cast the orders as anti-Muslim and bigoted.
"Never before in our country's history have we purposely as a matter of policy imposed a ban on immigrants or refugees on the basis of religion or imposed a litmus test on those coming to this nation," Awad said. "The orders will tarnish our image in the Muslim world, making us seem uncaring and hard-hearted."
It's not exactly without precedent. Early 20th century immigration laws barred those belonging to ideological subversives and polygamists from coming to the U.S. Ottoman authorities protested the latter for curtailing Muslim immigration to the United States.
A speech Monday night by Turkish President Recep Tayyip Erdogan's daughter is dividing some prominent American Islamists.
Sümeyye Erdogan Bayraktar used her address at the Muslim American Society (MAS) and Islamic Circle of North America (ICNA)'s joint convention in Chicago to defend her father's regime and lash out at the "cult" she says is trying to tear it down.
Erdogan has cracked down on political opponents and journalists, a process dramatically accelerated by a failed coup attempt last summer. In her remarks to the Muslim American Society (MAS) and Islamic Circle of North America (ICNA) joint convention, Bayraktar denied that Turkish democracy and press freedoms are under assault.
Instead, she suggested that the "Gülen cult," led by Fethullah Gülen, a Turkish Islamist leader exiled in Pennsylvania, poses Turkey's greatest threat. Erdogan blamed Gulen for masterminding the coup attempt.
"The fact is every person, regardless of their profession, has to face the full consequences of law if they have links to a terrorist organization or promote terrorist propaganda," Bayraktar said. "There is not one journalist in Turkey who is imprisoned for journalistic activities, nor for criticizing the president."
Just two weeks ago, Human Rights Watch released a 69-page report detailing Turkey's "crackdown on media freedom that had already been going on for over a year."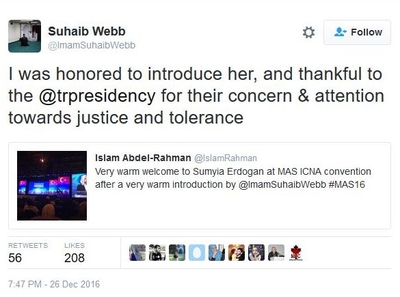 But that didn't stop Suhaib Webb, former imam of the Islamic Society of Boston Cultural Center, from expressing his pleasure over the "honor" of introducing Bayraktar's speech. He added that he was thankful for Erdogan's "concern & attention towards justice and tolerance."
"I don't have words. Thanking Erdogan for his tolerance and justice," activist Rabia Chaudry sarcastically replied on her Facebook page.
On Wednesday, Chaudry denounced leaders of major U.S. Islamist organizations for embracing Erdogan despite questions about his human-rights abuses.
"Am I crazy to think the embrace of this regime is dangerous, unethical?" Chaudry asked. "Am i the only one who wonders how the same groups and individuals in the US who are likely going to be the target of any future Muslim Brotherhood witchhunt are supporting a man who is engaged in his own witchhunt? Do Muslims just really love strongmen and dictators?"
Chaudry wasn't alone. Ahmed Rehab, executive director of the Council on American-Islamic Relations (CAIR) Chicago office, joined in the chorus of dozens of Muslims protesting Webb's effusive praise for Erdogan.
"Ironic given that for many, justice and tolerance are completely denied in Turkey. Again, let's beware of our 'blind spots' @ImamSuhaibWebb," Rehab wrote.
MAS, ICNA, and other U.S. Islamist groups are allowing themselves to become tools of Turkish foreign policy, Abdullah Bozkurt, the exiled former Ankara bureau chief of the English language, anti-Erdogan newspaper Today's Zaman that was shuttered by the Turkish government in March, told the Investigative Project on Terrorism. Erdogan's strategy is akin to Iran's clandestine cultural and education programs that use aligned groups to manipulate popular perception and policy, Bozkurt said.