A New Jersey Muslim community leader attending tonight's State of the Union Address with Sen. Cory Booker also serves as treasurer of a political group which strongly supports the Muslim Brotherhood and demands its return to power in Egypt, documents discovered by the Investigative Project on Terrorism show.
Ahmed Shedeed is president of the Islamic Center of Jersey City. In explaining his invitation, Booker said Shedeed "has spoken out for religious tolerance and mutual understanding" and shows "how the diversity of America makes us all better."
Shedeed also serves on New Jersey's Homeland Security Interfaith Advisory Council.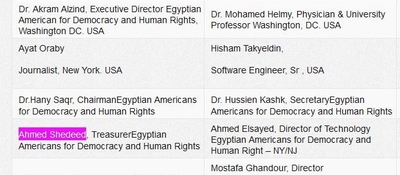 It is unclear whether Booker knows of another leadership post Shedeed holds – treasurer of the Egyptian Americans for Democracy and Human Rights (EADHR). The group emerged in 2013, after Egypt's military ousted President Mohamed Morsi – a member of the Brotherhood's Freedom and Justice Party – from power.
The move came after millions of Egyptians took to the streets to protest Morsi and the Brotherhood's attempts to concentrate their power at the expense of the country's crumbling economy and infrastructure.
The Brotherhood was founded in Egypt more than 80 years ago and ideally wants to see Islam spread globally and see Islamic law govern society.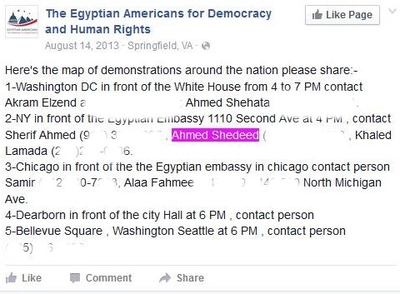 In the U.S., the EADHR launched rallies in several cities, including Washington, D.C. While they avoided mentioning the Brotherhood and emphasized a desire to see the "legitimate government" restored, Brotherhood political leaders spoke at the rallies and many organizers were part of groups serving the Muslim Brotherhood in America. Shedeed is listed in an August 2013 Facebook post as a contact for a New York rally.
Many Democrats in Congress made a point of inviting Muslim guests to the annual presidential speech, as a response to an "alarming rise in hateful rhetoric against Muslim Americans and people of the Islamic faith worldwide."
Booker's invitation of a Brotherhood supporter, however, is another example of elected officials making poor choices in trying to showcase the breadth of Muslim American ideology. As the IPT reported Monday, two Council on American-Islamic Relations (CAIR) officials have been invited, too.
CAIR has its own direct connection to the Muslim Brotherhood. The organization was founded as part of a Brotherhood-led Hamas-support network in the United States. In addition, FBI records obtained by the IPT through the Freedom of Information Act include an eyewitness's claim that CAIR's founders sought the Brotherhood's blessings for their founding bylaws.
As we noted Monday, there are many Muslim Americans deserving the honor of an invitation to the State of the Union. Surely Booker could have done better than turning to a Brotherhood supporter.
Fatah, the party of Palestinian Authority President Mahmoud Abbas, has called for killing all Israelis throughout the country – "in all their neighborhoods" – in a music video broadcast on Fatah-run Awdah TV channel on last week, Palestinian Media Watch (PMW) reported.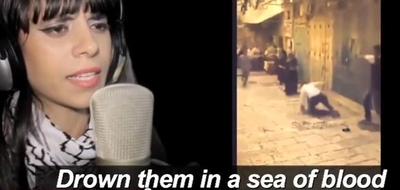 "Pick up your weapon and advance, Jerusalem is calling in pain," the song's lyrics say. "Come on, strike them, you have the strength. Turn your anger into the fire of Hell... Besiege them in all their neighborhoods. Drown them in a sea of blood. Kill them as you wish."
Young Arabs are depicted knocking over and a beating a Jewish man running down a street in Jerusalem, wearing a prayer shawl.
This song is yet another blatant example of violent Palestinian incitement emanating from across the societal and political spectrum that continues to encourage near-daily attacks against Jews and Israelis.
The music video also praises two Palestinian terrorists, including Muhammad Halabi who killed two Israeli civilians in an October stabbing attack. Fatah and the Palestinian Authority (PA) have honored Halabi and other terrorists in the past.
Last April, Abbas awarded medals to the first male and female Fatah members and the group's first "martyred" terrorist. Abbas has often directly contributed to the violent Palestinian incitement that fuels the ongoing wave of terrorism targeting Israelis.
The latest example of incitement comes amid another terrorist attack, as a Palestinian man was killed after attempting to stab an Israeli soldier in the Hebron area on Tuesday, the Times of Israel reports. Last week, another Palestinian terrorist was killed after seeking to stab Israeli soldiers near the same site – Beit Anun Junction.
As many as 25 House Democrats are expected to have Muslim guests during Tuesday night's State of the Union speech. It's in response to a call from Democratic National Committee chair Debbie Wasserman Schultz and Minnesota Rep. Keith Ellison, the first Muslim voted into Congress, to counter an "alarming rise in hateful rhetoric against Muslim Americans and people of the Islamic faith worldwide."
The gesture might not generate much more than a shrug, except that in at least two cases, Democrats invited officials from a group the FBI formally avoids due to historic ties to a Hamas support network. Delray Beach Rep. Alcee Hastings invited Nezar Hamze, regional operations director for the Council on American-Islamic Relations (CAIR) in Florida. And San Jose, Cal. Rep. Zoe Lofgren invited Sameena Usman, a 10-year veteran government relations official with CAIR's San Francisco chapter, the Investigative Project on Terrorism has learned.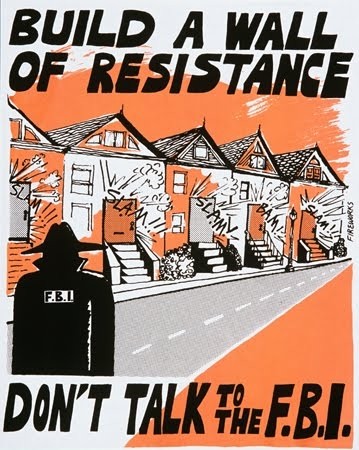 CAIR officials routinely accuse federal law enforcement of entrapping otherwise innocent and peaceful Muslims in order to gin up terrorism prosecutions. Hamze's colleagues in CAIR-Florida are helping a family sue the FBI over the 2013 fatal shooting of a terror suspect who attacked agents after extensive questioning.
Usman's office published a notorious poster urging Muslims to "Build a Wall of Resistance [and] Don't Talk to the FBI." For its part, the FBI cut off contact with CAIR, except in investigations, in 2008 based on evidence its agents uncovered which placed CAIR in a Hamas-support network in the United States. Until it can be shown that those connections no longer exist, an FBI official explained in 2009, CAIR is not "an appropriate liaison partner."

In addition, several CAIR officials have compared Israel to ISIS.
Calls to press contacts in Lofgren and Hastings' offices were not returned Monday.
Last month, the IPT provided exclusive details from eyewitness accounts about CAIR's creation, including an account of how a co-founder sought approval from the Egyptian Muslim Brotherhood for CAIR's bylaws, and how Executive Director Nihad Awad's move to Washington was "in order to represent Hamas."
Hastings and Lofgren either failed to check out their guests' employer or they don't care. These connections have nothing to do with the faith of CAIR officials. But the organization has a record that elected officials stubbornly insist should be ignored.
Unfortunately, this is part of a pattern of outreach House Democrats seek out with the wrong people. Last month, CAIR-Florida's Hassan Shibly was invited to the White House for a discussion about religious discrimination. Then, as with the State of the Union speech, no one from the new Muslim Reform Movement – which issued a declaration clearly rejecting "interpretations of Islam that call for any violence, social injustice and politicized Islam" and standing for "peace, human rights and secular governance."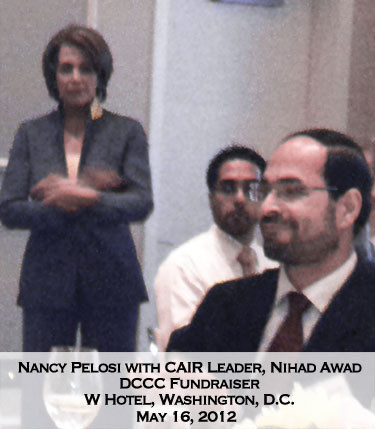 In 2012, House Minority Leader Nancy Pelosi sat with Awad, the only executive director in the organization's history, at a fundraiser for the Democratic Congressional Campaign Committee.
A seat in the House chamber for the State of the Union bestows undeserved clout to the CAIR officials. And, in trying to show the public that American Muslims are not a monolithic group of radicalized Islamists, Hastings and Lofgren are doing their cause more harm than good.
Two men who entered the United States as refugees have been charged separately with attempting to provide material support to terrorist groups in Syria.
Aws Mohammed Younis Al-Jayab, a Palestinian born in Iraq who came to the United States from Syria in 2012, is accused in a criminal complaint with lying to immigration authorities about a trip he took to Syria to fight alongside jihadi groups. Those groups include Ansar al-Islam, a U.S. designated terrorist organization that was founded by Mullah Krekar in Iraqi Kurdistan in 2001.
Al-Jayab communicated with several people on social media regarding his desire to return to Syria and wage jihad. Al-Jayab was then living in Arizona and Wisconsin. In an April 2013 exchange with an unnamed individual, Al-Jayab discussed his prior fighting experience with jihadi groups. "I was a little over 16 years old. My tribe, half of them are Mujahidin. I did not find any difficulty to get to Al-Jihad."
While in Syria between November 2013 and January 2014, Al-Jayab communicated with another unnamed individual saying he had joined Ansar al-Sham, "the same as Ansar al-Islam, just with another name."
"Brother, we do not sit and watch," he wrote in January 2014, the complaint said.. [...] Our headquarters is next to the [Islamic] State exactly, and we are against the Free Army. We have prevented the Free Army from entering the area and attacking the State's headquarters. And if the Free Army advances, we will fight it."
Al-Jayab entered Aleppo in Syria through Turkey on a temporary American passport. But when he came back to the U.S., he failed to mention the Syria leg of his trip to immigration officials, saying he visited Turkey to see his grandmother.
A separate indictment charged Omar Faraj Al Hardan, a Palestinian born in Iraq, of attempting to provide material support to the Islamic State (ISIS). Al Hardan came to the United States as a refugee in November 2009 and was living in Houston since being granted legal permanent resident status in August 2011.
The arrests of Al-Jayab and Al Hardan come in the wake of growing concerns regarding attempts by terrorists to enter the U.S. as Syrian refugees and calls for overhauling America's asylum and refugee system. In a recently published white paper, the IPT explained gaps in the immigration system that could allow terrorists masquerading as refugees to enter the U.S.
Muslims must stop blaming others for the phenomenon of Islamist terrorism, according to a column Thursday in The Nation, one of Pakistan's largest English language newspapers. Among other things, it slams the tendency to label any critic who connects radicalism with Islam as an "Islamophobe."
"Instead of realizing the facts and the weaknesses that lie within our doctrine, or in our interpretation, Muslims have started playing the blame game. We have been making excuses in order to prove that Islam has nothing to do with extremism," Ammar Anwer, an 18-year-old Muslim who lives in New Zealand, writes in the column.
Muslims are in denial when it comes to Islamic extremism and become "paranoid" whenever someone highlights points they do not wish to hear, Anwer writes.
He draws the distinction between the religion of Islam and those who follow the political ideology of Islamism.
"Islamism is the ideology that promotes the idea of imposing a particular interpretation of Islam over a community," Anwer writes. "Not all Muslims are Islamists but every Islamist believes in Islam (and hence is a Muslim)."
He notes that Muslim Brotherhood members jailed under Egypt's late President Gamal Abdel Nasser coined the term "Islamist," saying they were the true Muslims and Nasser was a disbeliever.
The Islamist interpretation makes imposing Islam on every corner of the world whenever Muslims have the chance a "prime responsibility," Anwer writes. He traces Islamism back to the 14th century Muslim scholar Ibn Tamiyyah, who has inspired numerous Islamic thinkers ever since. Twentieth Century Islamist thinkers such as Syed Abul Al Mawdudi, Sayyid Qutb and Hasan Al-Banna further refined Islamist thought into its current form.
"This interpretation demands control over the entire world. In the last couple of centuries, this school of thought has come to prominence dominating the intellectual thought process and hence cannot be ignored. Jihad is central to this interpretation and the very purpose of jihad according to this school of thought is to spread the dominance of Islam over the world," Anwer writes.
He dismisses common Islamist arguments that blame other factors, such as poverty, for extremism.
"How can poverty make someone throw gay men off a tall building (like Isis does) or deny women their individual rights and freedom?" Anwer writes.
Meanwhile, prominent Muslim terrorists like Osama bin Laden didn't come from a poor family, neither did Pakistani terrorist Saad Aziz, who was involved in a Karachi bus bombing last year. Aziz was well-educated and wasn't poor, but still was radicalized. He notes the same was true of Ahmed Omar Saeed Sheikh, responsible for the kidnapping of Wall Street Journal reporter Daniel Pearl.
"I think it's time we Muslims stop playing the blame game and start facing up to harsh realities," Anwer concludes.
Israel's Shin Bet domestic intelligence service says it foiled a Hamas terror cell's plan to kidnap and kill Israelis, the Jerusalem Post reports.
The terrorists wanted to use the bodies of their victims to negotiate the release of Palestinian prisoners in Israeli jails. A similar motivation encouraged the Hamas affiliated terrorists behind the June 2014 kidnapping and murder of three Israeli teenage boys that sparked a wider summer conflict between Israel and Hamas in Gaza.
"The infrastructure was at an advanced state of planning, and [the operatives] began preparing a hiding place for the bodies of the kidnapped victims," the Shin Bet said.
"This case reconfirms that Hamas still aspires to carry out serious terror attacks, even now, in order to further egg on the recent wave of terror into a violent intifada," the Shin Bet statement added.
The Hamas cell featured six people, including three Israeli citizens living in Jerusalem, the Times of Israel reports. The cell's leader is Maher Qawasmeh, from Hebron, was previously jailed for two years for helping coordinate Hamas terrorist attacks.
Another cell leader, Ziad Abu Hadwan, from Jerusalem's Old City, was jailed for participating in violent demonstrations on the Temple Mount and immediately joined the terrorist cell upon release in October.
The suspects met several times in Hebron in 2015, while Qawasmeh trained the Jerusalem operatives in creating improvised explosive devices. The operatives also intended to acquire firearms to carry out shooting attacks in the capital, eventually settling on kidnapping and murdering an Israeli citizen, according to Israeli security forces.
The operatives "examined caves, and dug pits in various area in the Hebron area, as part of their plot to hide the body of the kidnap victim. They divided their roles in the cell. They said they plotted to carry out the kidnapping through the use of two vehicles, with the kidnap vehicle driven by the Jerusalem-resident Amar Rajbi, 22, who is also a resident of the Old City," said Shin Bet.
The operatives sought to exploit Rajbi's fluency in Hebrew in order to lure and kidnap an Israeli.
Referring to confessions by the suspects, the Shin Bet said that the other cell members began to buy chemicals and fertilizers in order to make bombs, but were unsuccessful in their efforts.
Despite suffering from economic difficulties and a growing Salafi-Jihadist threat in Gaza, Hamas continues to invest significant resources in trying to attack Israeli civilians in order to escalate the recent wave of Palestinian terrorism into a full-blown violent uprising.
Britain's largest bank, HSBC, no longer will do business with the charity Islamic Relief UK due to worries over its alleged terror ties. The Sunday Times of London reported last weekend that the banking giant decided to cut off the Muslim charity a year ago, but the move went unreported until now.
Islamic Relief UK receives millions of pounds from the British Department of International Development, the Times reported. Israel banned the charity from the West Bank in 2014, accusing it of laundering money for Hamas. The Israel Ministry for Foreign Affairs designated the group's parent organization, Islamic Relief Worldwide (IRW), as a terrorist front in 2006.
"The IRW provides support and assistance to Hamas's infrastructure. The IRW's activities in Judea, Samaria and the Gaza Strip are carried out by social welfare organizations controlled and staffed by Hamas operatives. The intensive activities of these associations are designed to further Hamas's ideology among the Palestinian population," Israel's Ministry for Foreign Affairs wrote.
IRW also received a $50,000 check from Osama bin Laden in 1999 and received £60,000 – approximately $115,000 – from an Al-Qaida front group between 2003 and 2008.
The United Arab Emirates (UAE) blacklisted Islamic Relief in November 2014.
This is not the first time the bank has targeted an Islamic institution accused of terror ties. HSBC ended its relationship with the Cordoba Foundation – another group listed by the UAE as a terrorist group – headed by British Muslim Brotherhood leader Anas Altakriti in July 2014.
The Guardian reported that UAE threatened to stop cooperating with the U.K. if it did not take action against the Muslim Brotherhood, which it labels a terrorist organization.
The Swiss bank UBS likewise closed Islamic Relief's accounts and barred donations in 2012 over similar concerns.
Islamic Relief UK denies the terror claims.
"We were and remain extremely surprised at HSBC's stance," it said in a statement. "... Not supporting a civilian population who happen to live in a warzone is inhumane and unjustifiable. We believe the breadth and vagueness of counter-terrorism regulation has created a fog of uncertainty for both banks and charities that governments need to help us navigate our way through."
HSBC itself has faced scrutiny for abetting money-laundering activities. U.S. Treasury officials ordered the bank to end its involvement with Iranian financial institutions in 2012. That same month, Treasury officials ordered the bank to pay $1.9 billion in fines because it allowed Mexican drug cartels to circulate hundreds of millions of dollars through accounts in the U.S.
Bahrain authorities say they foiled an Iranian-linked plot to conduct terrorist attacks in the country, according Bahrain's state news agency BNA and reported by Yahoo! News.
"A secret terrorist plot aided by the so-called Iranian Revolutionary Guard and the Hezbollah terrorist organization was foiled...It targeted the security of the kingdom of Bahrain by (plotting to) carry out a series of dangerous bombings," reported BNA.
These developments come just two days after Bahrain joined its close ally Saudi Arabia in severing ties with Iran following recent escalations between the regional powers.
According to the report, Hizballah leader Hassan Nasrallah gave a main suspect, Ali Ahmed Fakhwari, $20,000 to assist the terrorist cell while Fakhwari visited Lebanon.
In November, Bahrain arrested 47 people accused of links to "terrorist elements in Iran," who allegedly were planning to conduct imminent attacks in the country. The following month, Bahrain recalled its ambassador to Iran following a security forces raid on a bomb-making factory and arrests of individuals with suspected ties to the Iranian Revolutionary Guard Corps (IRGC).
Iran has been accused of plotting terrorist attacks around the world in recent years – mainly through proxies like Hizballah and the al-Quds Force of the IRGC – in countries such as Egypt, Cyprus, Georgia, Thailand, India and others. In July 2012, a bus bomb widely attributed to Hizballah killed five Israeli tourists and a bus driver in Bulgaria.
In October 2011, the United Stated foiled an Iranian plot to assassinate the Saudi Arabian ambassador in Washington D.C. and bomb the Saudi and Israeli embassies in the U.S. capital.
The latest tensions between Saudi Arabia and Iran may pose immense ramifications, as both countries are expected to intensify support for their respective armed proxies in various conflicts throughout the region – including Syria, Yemen, Iraq, and Bahrain.
Iranian military officials say they are deploying a sophisticated new guidance system to ballistic missiles with a range of more than 1,000 miles.
The Emad missile system is in the hands of Iran's Revolutionary Guard Corps, Brigadier General Hossein Salami said in a state-controlled Fars News report. It may be used in pending war games, Salami said.
Tests on the Emad missiles in October may have violated United Nations Security Council resolutions. The system is touted for its precision, described as "steerable" until just before impact. While it is primarily for conventional weapons, the missiles can carry nuclear warheads.
Despite that, Iranian officials say the system is defensive in nature.
"We don't ask for anyone's permission for boosting our defense and missile power," Defense Minister Brigadier General Hossein Dehqan said in October.
Iranian leaders have repeatedly vowed to destroy Israel, and the Emad's range places Jerusalem and Tel Aviv within range. Iran also has helped Hizballah amass an arsenal of as many as 150,000 missiles in preparation for a future war with Israel.
The Obama administration's response to the Iranian missile tests thus far has been muted.
U.N. Ambassador said the United States is "deeply concerned" after the October missile test.
The State Department was "considering the appropriate consequences to that launch," Stephen Mull, the official in charge of implementing the nuclear agreement with Iran told a Senate hearing Dec. 17.
This week's air strike in Syria which killed a notorious Hizballah terrorist generated the usual cries of "death to Israel" and promises of retribution.
Samir Kuntar was one of the most hated terrorists in Israeli history, a man who killed a 4-year-old girl by smashing her head with a rifle butt. He served nearly 30 years in an Israeli prison before being released in a 2008 exchange in which Israel received the remains of two slain soldiers. Kuntar received a hero's welcome in Lebanon.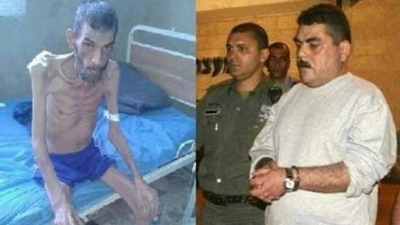 A Syrian journalist took a different tact this week in remembering Kuntar's release. Faisal al-Qassem was struck by Kuntar's robust condition in pictures from the release, and placed one next to a picture of a Syrian prisoner.
"Samir Kuntar left an Israeli prison with a beer belly and a doctorate," al-Qassem wrote in a Facebook post flagged Wednesday by the Times of Israel. "At the other extreme, this is how Syrians leave [dictator Bashar] Assad's prisons."
He has a point. Kuntar doesn't look like a man who missed many meals in Israeli custody, while the emaciated Syrian invokes memories of those who survived Nazi concentration camps.
Many of Qassem's 8.7 million followers seemed to agree, with more than 100,000 hitting "like."
"We are taught that Israeli prisons are the worst in the world but in fact we know that the Israelis are more merciful than all of the Arabs," wrote one Facebook user in Arabic. "Some say that the Zionists are our biggest enemy, dogs and murderers. But Muslims kill more Muslims that the Zionists," read another.
A lot of Arabic-language media dispense rabidly anti-Israel views and promote anti-Semitic conspiracy theories. It is refreshing to see Qassem's recognition of reality and the strong support it generated.