Enaam Arnaout, who pleaded guilty in 2003 to federal racketeering charges related to using his charity, the Benevolence International Foundation (BIF), to support radical Islamist fighters in Bosnia and Chechnya, was released from prison in 2011.
Arnaout is a Syrian who reportedly became a naturalized U.S. citizen in 1993, having initially come to the U.S. in 1989. Court documents from his criminal case identified his criminal activities pre-dating his naturalization to at least 1992, presenting a prima facie case of misrepresentation and fraud in Arnaout's naturalization process presuming he did not disclose those criminal activities to immigration authorities at the time.
On Wednesday, the Department of Justice (DOJ) and Immigration and Customs Enforcement (ICE) filed a federal civil complaint against Arnaout in Illinois, seeking to revoke his naturalization. The revocation action is based on the evidence developed during Arnaout's criminal case. In response to the lawsuit, Arnaout's attorney Thomas Durkin said that his client had done his time and has already suffered enough.
Arnaout's revocation case will likely be lengthy and complex. If the government prevails, Arnaout can appeal. But if Arnaout ultimately is stripped of his citizenship, he would revert to the immigration status he held prior to naturalization, which according to the complaint was a resident alien based upon his marriage to a U.S. citizen.
At that point, Arnaout would likely be subject to removal (deportation) as an alien convicted of an aggravated felony and also having been involved in terrorism support activities. Even though he was not criminally convicted of those terrorism support offenses, the evidentiary standard in removal proceedings is less than in criminal prosecutions.
Arnaout may be on his way to joining a notorious list that includes the likes of Fawaz Damra, Abdurahman Alamoudi and Rasmieh Odeh. While federal authorities aggressively pursue these cases in a commendable fashion since the backgrounds of those cases and the evidence support such action, there remain other such cases where the subjects remain inexplicably unscathed in this regard, notwithstanding similar backgrounds and presumably viable evidence that would support such revocation litigation.
Hamas' attempts to minimize attention on its strategy of using civilian areas as a base of operations for rocket fire and other terrorism took a hit Tuesday when a United Nations relief organization found rockets stored in one of their schools for the second time in a week.
UN Secretary General Ban Ki-moon issued a statement saying he was "alarmed and outraged" by the discovery of rockets in a vacant United Nations Relief Works Agency (UNRWA) school. He "calls on all of those who have any influence over militant groups to send an unmistakable message that this is unacceptable."
The UNRWA said it found the rockets "in the course of the regular inspection of its premises" Tuesday. Placing rockets in a UN building is a "flagrant violation of the inviolability of its premises under international law."
UNRWA condemnation of Palestinian groups' actions is extremely rare, emphasizing the severity of the recent incidents.
Speaking with the Times of Israel, Foreign Ministry spokesperson Yigal Palmor reacted intensely: "How many more schools will have to be abused by Hamas missile squads before the international community will intervene?"
"How many times can it turn its head the other way and pretend that it just doesn't see?"
Last week, the UNRWA discovered about 20 rockets in one of its schools during an inspection. A spokesperson for the agency said that the rockets were then transferred to "local authorities," which take orders from the ruling Hamas regime.
Israel is infuriated by the fact that a UN agency purportedly dedicated to humanitarian issues in Gaza transferred to a terrorist organization rockets which would likely be used to fire on Israeli civilians.
The UNRWA has a history of allowing Hamas use its facilities for its terrorist activities. "Time and again, over the years, UNRWA has been abused by gunmen from different terrorist factions who are using UN facilities to stockpile weapons, to fire rockets from, to steal UNRWA humanitarian equipment and to cause damage and fire in UNRWA's hangars," an unnamed senior foreign ministry official told the Times of Israel. "Against all evidence, UNRWA refuses to acknowledge reality and pathetically attempts to ingratiate itself with Hamas, pretending that nothing serious has happened."
As Israel continues its counterterrorism operation against Hamas, radical Islamist organizations around the world are making anti-Semitic statements and calling for Israel's destruction.
Hizb ut Tahrir Britain, a radical Islamist group, held a protest outside the Egyptian Embassy in London on Sunday. The group's media spokesperson outlined various extremist positions on its website regarding the conflict.
For example, Hizb ut Tahrir calls on the militaries of various Islamic countries to invade and destroy Israel:
"The solution to this ongoing slaughter lies in the hands of the Muslim armies in the region. The only way such massacres will end is when the armed forces, which have more than enough capability to defend the people of Gaza and liberate all of Palestine, move to do this."
The organization's website calls for the overthrow of Arab regimes in the region for "sincere Islamic leadership that defends Muslims" referring to the establishment of a real "Khalifah Rashidah" or pan-Islamic caliphate in order to "liberate" Palestine.
It is also calling for all the United Kingdom's Muslim population to flood the country's mosques and Islamic institutions with its radical agenda:
"To this end a special dua [Islamic call] has been prepared by Hizb ut Tahrir Britain [available on hizb.org.uk] to be read-out in the masaajid [Mosque] during these last ten nights of Ramadhan. All Muslims are asked to take a copy to their local mosque and arrange for its recital."
Meanwhile, The Islamic State in Iraq and Syria (ISIS), the terrorist organization that controls large swaths of Syrian and Iraqi territory has released a YouTube video full of anti-Semitic vitriol. The group is exploiting Israel's counterterrorism operations in Gaza to promote its anti-Israel agenda and justify attacks against the Jewish state. According to an IPT translation, the video includes this violent warning to Israel and its supporters:
"We are the descendants of [slain Iraqi terrorist leader] Abu Musab Al Zarqawi. We are sending a message to the brothers of apes and pigs, the Jews, and to everyone who assists them – the Arab tyrants who claim to be Muslims:
We swear in God that we did not emigrate and leave our wealth or our children, but to grant victory to this religion, and to defend the honor of our Muslim sisters. By God, we are coming to you with blood, bombs, fuses and explosives. By God, you are not going to enjoy your life as long as our brothers in Palestine are being slaughtered."
As Israel's military operation escalates, Hamas continues to fire rockets into Israeli civilian areas. On Tuesday, a rocket landed in the town of Yehud, a few miles from the Ben-Gurion International Airport.
As a result, the Federal Aviation Administration suspended all flights to Israel by American carriers for at least 24 hours.
The attack came as diplomats from the United States and United Nations visited Israel in hopes of negotiating a ceasefire. UN Secretary General Ban Ki-moon said Israel's efforts to stop Hamas rocket fire were entirely justified, adding that no country would accept a similar situation.
"We condemn strongly the rocket attacks, and these must stop immediately," Ban said during a news conference with Israeli Prime Minister Benjamin Netanyahu.
"We condemn the use of civilian sites, schools, hospitals and other civilian facilities for military purposes," added Ban. He also insisted that Israel "exercise maximum restraint" in its counterterrorism operations.
Perhaps more surprising was a similar statement from European Union foreign ministers. They called the Hamas rocket fire aimed at Israeli civilians "criminal and unjustifiable acts." In addition, they called on Hamas, Palestinian Islamic Jihad and other Gaza terrorists to "disarm. The EU strongly condemns calls on the civilian population of Gaza to provide themselves as human shields."
An Israeli government official called the statement "dramatic," the Jerusalem Post reported. And while the EU statement repeated calls for Israel to respond "proportionately," it did not say Israel had overreacted, something the Post described as "an important matter of diplomatic nuance."
Appearing with Ban, Netanyahu said that Hamas' grievance "is that we exist. They don't want a two state solution. They don't want any solution." He vows to continue the operation until Hamas ceases firing rockets into Israel.
That could take another two weeks, a senior military official told Israeli Channel 2. On Sunday, Defense Minister Moshe Ya'alon assured that the majority of Hamas' tunnels would be "destroyed in the next two or three days."
So far, Israeli troops have found 23 tunnels with 66 openings. The IDF released this video showing the chain reaction when an explosive-laden tunnel is targeted.
Normally politically-fragmented Israel seems united in its resolve. Justice Minister Tzipi Livni, considered the most dovish member of Israel's cabinet, dismissed the idea of an immediate ceasefire.
"There is no real option for a cease-fire now. This operation is unavoidable," Livni said.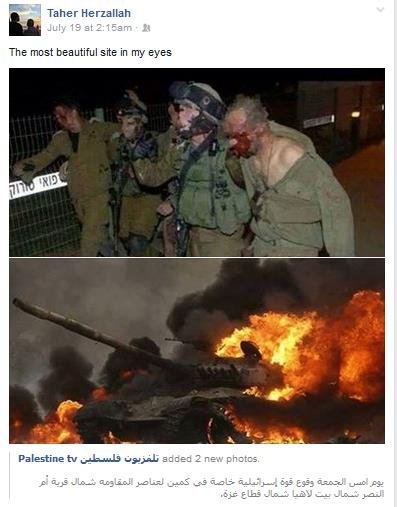 The group American Muslims for Palestine (AMP) does not shy away from its support for the terrorist organization Hamas. The group's National Campus Coordinator, Taher Herzallah, recently posted Palestine TV photos of injured Israeli soldiers and a destroyed tank to his personal Facebook page. The caption for both photos read: "The most beautiful site in my eyes." It appears that this post has been removed.
Herzallah proudly lists being part of the 'Irvine 11', a group of students arrested after orchestrating a plan to shut down a speech by then-Israeli Ambassador Michael Oren's 2010 speech at UC Irvine, in his biography.
In another recent Facebook comment, Herzallah justified Hamas rocket fire aimed at Israeli civilians, saying that "in order for them [Israeli society] to feel any compulsion or urge to end the occupation, they need to feel that they are in an abnormal situation. In that regard, Hamas' rockets are effective even though they don't kill anyone."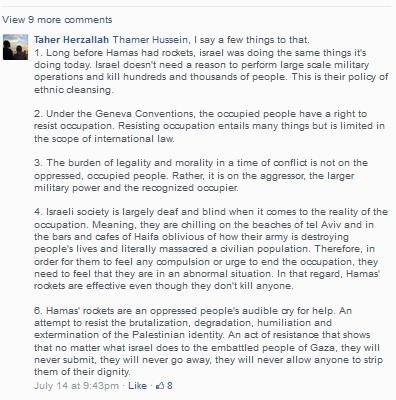 Israel unilaterally withdrew from Gaza in 2005. It imposed a blockade on the territory after rocket fire targeted its civilians, in an attempt to stem the flow of weapons and bomb-making material coming in.
American Muslims for Palestine (AMP) was formed in 2006 as a nonprofit organization based in Chicago with chapters around the country. Its message omits any mention of peaceful coexistence with Israel, and routinely includes calls for an end for U.S. aid to the Jewish state. The AMP is a founding member of the new U.S. Council of Muslim Organizations, joining the Council on American-Islamic Relations (CAIR), the Muslim American Society (MAS) and the Islamic Circle of North America (ICNA).
In April, AMP hosted a fundraiser dinner praising Rasmieh Odeh, a women directly responsible for two deaths in an Israeli grocery store bombing. Odeh was indicted in October and charged with naturalization fraud after failing to disclose her arrest and subsequent imprisonment in Israel for her role in the 1969 bombings by the Popular Front for the Liberation of Palestine. Other event speakers included a Muslim Brotherhood leader in Jordan who led a Hamas-propaganda arm in the United States and a man listed as a member of the Palestine Committee, the Muslim Brotherhood's umbrella organization of US-based Hamas-support groups.
Previous conferences featuring AMP speakers demonstrate the group's radical tendencies with AMP officials repeatedly calling for grassroots efforts to delegitimize Israel in the U.S. and promote Palestinian "resistance."
Click here for more examples of AMP's support for Hamas.
Updated: The IDF announced that seven more soldiers were killed in fighting Monday, bringing the death toll to 25 since the fighting began.
Israeli forces killed 10 terrorists Monday morning as they emerged from a tunnel inside Israel. In addition, there were dozens of terrorists in the tunnel wearing Israeli Defense Forces (IDF) uniforms, officials say.
The latest attempted infiltration shows the depth of the Hamas tunnel network. As Operation Protective Edge ends its second week, troops continue to discover and destroy tunnels each day. Yet, enough remain intact to allow Hamas to continue firing rockets at Israeli cities and to try sneaking into Israeli towns near the Gaza border.
A similar attempted infiltration Thursday was thwarted when 13 heavily-armed terrorists were killed near a kibbutz in southern Israel.
The IDF released footage of Monday's attempted infiltration:
Israeli troops announce uncovering and destroyed new tunnels each day. But they are discovering that the tunnels have "multiple exit and entry points ... making them difficult to track and demolish," the New York Times reported.
Meanwhile, uncertainty continues about a Hamas claim Sunday that it kidnapped an Israeli soldier. The announcement triggered jubilant street celebrations in the West Bank and Gaza. Fatah, the party which runs the Palestinian Authority and which allegedly stands against the Hamas-instigated violence, featured images of the celebration on its official Facebook page. One picture showed Fatah members handing out sweets "out of joy over the abduction of a soldier by the Palestinian resistance on the blessed soil of Gaza."
But the name Hamas gave for the soldier was similar to one of 13 elite troops killed in fighting Sunday morning in Shejaiya. Two of those Golani Brigade soldiers killed were Americans who moved to Israel.
"There is no kidnapped Israeli soldier and those rumors are untrue," Israel's United Nations Ambassador Ron Prosor said on Sunday. But in an interview with CNN Monday morning, government spokesman Mark Regev was less absolute.
"It could just be Hamas bravado. We're looking into it," Regev said.
Meanwhile, on the heels of being caught on a live microphone mocking Israel's "pinpoint operation," U.S. Secretary of State John Kerry is expected to be in the region today to push a return to a ceasefire which ended a similar conflict in 2012.
Kerry wasn't invited and his presence won't be helpful, said former Israeli ambassador to the United States Michael Oren.
Kerry brings with him a "long history" of failed diplomacy, Oren told Israel's Channel 2 on Monday.
Meanwhile, Israeli jets reportedly bombed a site in Sudan Monday that was holding an arsenal intended for Hamas, including long-range missiles.
And last week we reported on the United Nations Relief and Human Works Agency discovery of 20 Hamas missiles hidden inside a UN school in Gaza. The agency issued a statement of outrage. Then, incredibly, it gave the rockets back to Hamas.
A senior Israeli official said the move showed that the UN agency has developed "battered-wife syndrome" and "attempts to ingratiate itself with Hamas."
For seven years now, the European Union has paid regular salaries to Palestinian terrorists serving time in Israeli prisons for murder. The way it works is simple: the more Jews each terrorist murders, the harsher the sentence; the harsher the sentence, the higher the pay. It's a repulsive system, rewarding Jew-killers for the lives they take, and paying financial reward to terrorism.
Now the Dutch, at least, have had enough of it. Earlier this month, Holland's Parliament passed a motion to end subsidies to the Palestinian Authority, which had openly used these funds to provide financial rewards to former officials convicted of terrorism – including, as one Dutch report pointed out, the murder "of a Dutch family with three young children in a pizzeria in Jerusalem in 2001."
Noted the Jewish Telegraphic Agency, citing the Dutch Telegraaf newspaper, "The Netherlands gives $88 million annually to the Palestinian Authority in addition to about $24 million that it donates to UNRWA."
That this is now coming to an end is laudable. But what about the rest of the European Union?
According to a document issued by the EU Representative of the West Bank and Gaza Strip, "The EU is the largest provider of aid to the oPT [Occupied Palestinian Territories] with an annual average of €480 million since 2007. Since 1994, the EU has committed approximately €5 billion [roughly U.S. $6.75 billion] in assistance to Palestinians." Of this, and through what is known as the PEGASE Direct Financial Support program, "The EU makes annual contributions to the PA's expenditure for salaries and pensions."
But the "salaries" the PA pays to its officials (along with social support such as health insurance) includes payments to those who are not working, according to the European Court of Auditors. Many of these, Israeli officials say, are serving time for terrorist activity.
The PA itself makes no secret of this. According to Palwatch:
"In April 2011, the Palestinian Authority Registry published a Government Resolution granting all Palestinian prisoners imprisoned in Israel for security and terror-related offenses a monthly salary from the PA (Al-Hayat Al-Jadida, April 15, 2011). This new resolution, called PA Government Resolution of 2010, numbers 21 and 23, formalized what has long been a PA practice ...

According to the PA definition, more than 4,500 Palestinian prisoners (as of December 2012) serving time for terror-related offenses are recipients of PA salaries. This means that Palestinians convicted of crimes such as theft do not receive a salary, but Hamas and Fatah terrorist murderers do."
According to the Britain Israel Communications and Research Centre (BICOM), of the €2.9 billion that the EU has provided the Palestinian Territories since 2007, €1.5 billion has directly subsidized these salaries. And, notes the Wall Street Journal, "These salaries are up to five times higher than the average salary in the West Bank."
Moreover, as Dutch blogger Filantropius points out, "payouts to jihadists in Syria who attack Christians and Shiites have long since been stopped. But still we go on paying the ones who kill the Jews."
More than 20,000 Israeli troops entered Gaza late Thursday, hoping to clear out Hamas tunnels that can be used by terrorists to infiltrate Israel, or which warehouse rockets for Hamas and other terrorists groups.
According to Israeli military sources, the IDF hopes to secure three key areas of Gaza and deliver a crippling blow to Hamas' offensive capabilities within two weeks. They acknowledge, however, that it could take longer.
Military officials may have been caught off guard by a tunnel used by 13 heavily-armed Hamas terrorists to sneak into Israel early Thursday morning. Officials believe the 13 hoped to attack a nearby kibbutz, killing as many people as they could. Israeli military quickly discovered the infiltration and killed the terrorists as they tried to scramble back to their tunnel.
Part of the ground invasion will involve a house-to-house search in northern Gaza to find any similar tunnels. A similar search will occur in Gaza's south, near the border with Egypt, in an attempt to cut off future smuggling of weapons to Hamas and other terrorists, sources say.
The IDF made it clear that the tunnels are a priority in a Twitter post just after the invasion was announced.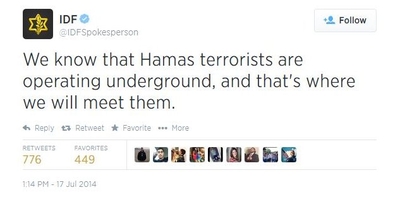 The IDF also will hunt for bunkers and storage centers housing remaining rocket arsenals.
Hamas, meanwhile, issued a statement with threats and bluster. "We warn [Prime Minister Benjamin] Netanyahu of the dreadful consequences of such a foolish act," spokesman Sami Abu Zuhri said. Hamas also pledged to continue rejecting ceasefire proposals that did not yield to its demands.
Egypt, which offered a ceasefire accepted by Israel but rejected by Hamas, reportedly is still engaged in efforts to bring about a cessation of the violence. But in a remarkable statement, Egypt's foreign minister openly blamed Hamas for the ongoing violence.
"Had Hamas accepted the Egyptian proposal, it could have saved the lives of at least 40 Palestinians," Sameh Shoukri said before Israeli troops entered Gaza.
Gulf state Qatar, a Hamas ally and financial patron, is trying to join the diplomatic effort. Sources told the IPT that Qatar's efforts were endorsed by Secretary of State John Kerry, but in a British news report, an unnamed American official acknowledged that it was "unlikely that Israel would agree to Qatar as a peace broker" given its support for Hamas.
Similarly, Turkey's Prime Minister Recep Tayyip Erdogan may want to be a player in any ceasefire negotiations, but he has called Israel's retaliation against Hamas rocket fire from Gaza a "systematic genocide."
The Israeli sources told the IPT that the plan is to avoid Gaza's dense population centers and that there is no desire to occupy the entire territory.
The terrorists running Hamas – the ones who rejected a ceasefire earlier this week that would have stopped the retaliatory shelling of Gaza by Israel – like to make things up as they go.
All Israelis are legitimate targets for their attacks, they said last week. Conversely, everyone in Gaza is an innocent civilian, even Hamas commanders and terrorists launching rockets at civilians in Israel.
That's the instruction the Hamas interior ministry issued in a video posted on YouTube. According to an IPT translation it urges "Facebook activists" to remember that, "Anyone killed or martyred shall bear the appellation citizen of Gaza, of Palestine, before you speak of his Jihadist position or his military rank" and "Do not forget to always add innocent citizen [written in Arabic and English] to describe those who are killed in the aggression on Gaza after the Israeli attacks."
Early Thursday, Israel thwarted an attempt by 13 heavily armed Hamas gunmen to sneak into the country via a tunnel from Gaza. Israeli President Shimon Peres said their objective was to reach nearby Kibbutz Sufa and kill as many people as they could. The IDF released a video of the terrorists being "neutralized" as they tried to scurry back to their tunnel.
In the Hamas parlance, 13 "innocent civilians" were killed by a "savage Israeli attack." And, since no Israelis were injured, it's yet another example of the disproportionate casualties in the current conflict.
Israeli casualties likely would be far higher if not for successful Iron Dome interceptions of rockets aimed at population centers. And Palestinian casualties likely would be far lower if Hamas did not base rocket launchers and command and control centers in the heart of neighborhoods, or in schools and mosques.
On Thursday, the United Nations Relief and Works Agency (UNRWA) announced the discovery of 20 rockets hidden inside one of its schools in Gaza. "This is a flagrant violation of the inviolability of its premises under international law," the statement said.
In addition, when Israel warns civilians to leave an area before it is attacked, hoping to lessen casualties, Hamas continues to advise people to stay in harm's way. "[Israel] has been sending tens of thousands of voice messages to citizens' phones... asking them to evacuate their homes by a certain time," a post on the Hamas interior ministry's Facebook page said. "There is no reason to be concerned by them or pay attention to them and by no means should they be heeded."
Let's review the Hamas tally: Lie to the world about Palestinian casualties, but don't do anything to help people find shelter and safety. Hide weapons in a UN school and inside mosques. Reject a ceasefire that would have stopped all the Israeli reprisals. And send teams of heavily-armed terrorists in hopes they can slaughter as many innocents as possible.
As we said Tuesday, being truly pro-Palestinian should preclude anyone from being pro-Hamas.
While Israel's response to incessant rocket fire from Gaza drew the requisite condemnations from the Arab world and some in the international community, Arab media is increasingly open in criticizing Hamas for instigating the violence.
Media in Saudi Arabia, Syria, and Egypt blame Hamas' actions for inviting Israeli counter attacks and prioritizing conflict over the safety of the Gazan population and criticized the leadership for waging war far from the conflict, a Middle East Media Research Institute (MEMRI) report shows.
After Hamas leader Khaled Meshaal criticized Egyptian inaction in Gaza, Egyptian columnists responded emphatically.
"[Meshaal], we are tired of defending the [Palestinian] cause that you have sold for cheap to an MB (Muslim Brotherhood) gang whose way you followed even though they have lost their [own] way," wrote columnist Hamdi Razaq. He also called Meshaal out for living in luxurious Qatari hotels instead of fighting in Gaza.
Hamas is losing its legitimacy because it was sacrificing Palestinians while using financial aid to promote its interests, wrote Al-Gumhouriyya columnist Nagla Al-Sayyid.
"All the Hamas leaders are doing – as they sit securely in their hiding places while leaving the people of Gaza alone under the fire of the Israeli shelling – is collecting donations in order to use them in the service of their ideas and the political [faction to which] they belong, while allowing the real enemy, the oppressive Zionist enemy, to fight innocents," Al-Sayyid wrote, adding that Hamas has shown itself to be "an imbecilic and failed movement."
Hamas has caused more Palestinian suffering than Israel has, Egyptian journalist Kamal Gabriel wrote:
"These Palestinian gangs plunder the cause of the oppressed Palestinian people by repeatedly reenacting the story of Samson, who brought down the [Philistine] temple on his and everyone else's heads. They do this in their own country and in every country that hosts them – in Jordan, Lebanon, Syria, and Kuwait. These organizations have become a curse on the Palestinian people..."
In Saudi Arabia, columnist Nasser Al-Sarami urged people not to be deceived by Hamas and the Muslim Brotherhood's intentions. "While the poor, defenseless people... stand exposed to rockets and tanks, the jihadi and Brotherhood leaderships flee to the fortified holes they prepared for themselves. This, in addition to the leaderships that are based in countries outside the conflict zone, hundreds of miles away... This is the [Muslim] Brotherhood, the leaders of Hamas and the savage organizations. Beware of them!"
While Hamas rejected an Egyptian proposed ceasefire and continues to fire rockets into Israel, the Arab world appears to be increasingly frustrated with the terrorist organization's thirst for war.
To see the full MEMRI report, and more examples, click here.