Al Jazeera's run of bad publicity got a little worse this week, when the online Arabic newspaper New Khalij published an article citing part of a cable from the Saudi Embassy saying the network answers to the Qatar government and is stocked with reporters who are part of the Muslim Brotherhood.
The Arabic language cable was among a batch of internal records published by Wikileaks.
"[W]hatever has been said about the impact of the journalists working in Al-Jazeera, having their weight and their agenda, and most of them belonging to the Muslim Brotherhood or being sympathizers with it, the final say in the end is with Qatari decision makers, with them the ones who determine its objectives, and the ones who identify the direction of the channel to achieve their objectives," the New Khalij report says, citing the Saudi cable.
The cable added that "the existence of a number of prominent journalists belonging to the Muslim Brotherhood in the channel is a matter worthy of concern, as the rulers of Qatar and its Sunni people are of the Hanbali school, and believe in the movement of Sheikh Muhammad ibn Abd al-Wahhab, and the Muslim Brotherhood does not have roots the Qatari society."
Qatar wants to influence the political decision-making of neighboring countries through weaving good relations with the Muslim Brotherhood, the cable said. The reason the network turns to "religious leaders such as Sheikh Yusuf al-Qaradawi and political ones such as Hamas derives from Qatar believing that in order to be effective in the region, it must have bargaining chips in many countries, and this is what is achieved for it by the Muslim Brotherhood in its global structural organization and its presence in most Arab and even Islamic countries such as Turkey."
The Saudi assessments fit neatly with claims made in recent federal lawsuits filed against Al-Jazeera America (AJA) by former senior employees. The lawsuits claim the network's U.S. branch discriminated against non-Muslim employees and deliberately pushed anti-U.S. and anti-Israeli biases.
Shannon High-Bassalik's complaint claims that Al Jazeera is a place "where truth and objectivity are set aside to cater to the Company's pro-Arabic prejudices." Instead, employees were told that AJA was here to bring "the Arabic viewpoint to America," which explained in part why it aired programs critical of the U.S., Egypt and Israel.
It's a network owned and controlled by a foreign government that aims to influence U.S. opinion, and by extension, U.S. policy. The Foreign Agents Registration Act (FARA) provides an exemption to media organizations and journalists who act on behalf of foreign principals, but only within designated parameters. Among those parameters, the media organization must be one that "is not owned, directed, supervised, controlled, subsidized, or financed, and none of its policies are determined by any foreign principal defined in subsection (b) of this section, or by any agent of foreign principal required to register under this subchapter..."
The recent allegations in separate federal lawsuits and now in leaked Saudi Arabian cables raises the potential for significant FARA violations by Al-Jazeera America, and appears to be ripe for investigation.
The U.S. State Department's Country Reports on Terrorism 2014 issued Friday minimizes official Palestinian incitement to violence against Israel and completely overlooks Palestinian glorification of terrorists.
The annual report lists major terrorist incidents worldwide and outlines each country's counterterrorism efforts and legislation. Terrorism attacks and their resulting deaths spiked last year, the report found, an increase largely driven by attacks by the Islamic State and Nigeria's Boko Haram terrorist groups.
With respect to the Palestinian Authority (PA), the report praises the PA for taking "significant steps to ensure that official institutions in the West Bank that fall under its control do not create content that leads to incitement to violence." The report acknowledges that "some instances of inciting taking place via official media" still occur, listing only three examples. However, the report diminishes the fact that incitement to violence is a systematic and institutionalized PA phenomenon.
Click here for an Investigative Project on Terrorism comprehensive outline of Palestinian violent incitement focused only on incidents last fall.
The State Department assessment also ignores the direct participation of senior PA officials in praising terrorists and inciting violence against Israelis and Jews.
For example, the report does not mention PA President Mahmoud Abbas' call last October for Palestinians to prevent Jews from going to the Temple Mount compound "in any way." The video clip of Abbas' Oct. 17 speech was shown 19 on PA television times in three days, implicitly calling for Palestinians to use violence against Israelis.
Instead, the report described PA efforts "to ensure" Friday sermons in more than 1,800 mosques controlled by the PA "do not endorse incitement to violence ... the guidance is that no sermon can discuss political or lead to incitement to violence."
In February, however, the PA Minister of Religious Affairs and other prominent religious officials resorted to an age-old blood libel accusing Jews of attacking Muslims sites and that Israel is trying to destroy the al-Aqsa Mosque, Palestinian Media Watch (PMW) reports. Such accusations are baseless and encourage Palestinians to conduct terrorist attacks against Israel.
The State Department report also omits any reference to official Palestinian glorification of terrorists.
For example, after the October shooting of Rabbi Yehuda Glick, Abbas sent a condolence letter to the family of terrorist Mutaz Hijazi who was killed by Israeli authorities in a firefight during a raid for his capture. In the letter, Abbas called the terrorist a "Shahid," a martyr, who "rose to Heaven while defending our people's rights and holy places," PMW reported.
Moreover, a senior Fatah official claimed that Hijazi was a Fatah operative and expressed pride in his actions, a PMW translation shows.
These blatant omissions from the report leave create a sense that examples of Palestinian incitement to violence and glorification of terrorists are sporadic occurrences. In reality, the Palestinian Authority institutionalizes a systematic campaign of violent incitement and continues to praise terrorists for killing Jews and Israelis, while encouraging other Palestinians to follow in their footsteps.
A 20-year-old Queens, N.Y. man is charged with planning an attack in the name of the Islamic State terrorist group (ISIS). Munther Omar Saleh was arrested on Saturday with two others after charging a police cruiser. One of his co-conspirators had a knife in the waistband of his pants.
Investigators believe Saleh was trying to make a bomb to blow up somewhere in New York in ISIS' name. When the FBI had a confidential source pose as a radical Islamist and reach out to him, Saleh wrote that he was "in NY and trying to do an Op." He quickly cut off contact with the FBI source, saying he was ordered by ISIS to do so.
Saleh first appeared on law enforcement radar in March after a Port Authority officer saw him walking across the George Washington Bridge with a lantern. Saleh asked the officer for a ride across the bridge; the officer refused and directed him toward a bus depot on the New Jersey side of the bridge. The same officer saw Saleh on the bridge the next day. The officer escorted Saleh to the New Jersey Port Authority office, where he was questioned and denied any familiarity with ISIS.
Searches of Saleh's computer and Twitter feed revealed his violent jihadist ideology. "i fear AQ [al-Qaida] could be getting too moderate," he wrote in a September post. A few months later, he tweeted, "IS is known for their high end videos, great weaponry, and quality fighters" and "Khalifah [caliphate] offers us to live under the laws Allah prescribed for us, if we fear him we would rush to the land to be governed by it." He also expressed support via Twitter for the Charlie Hebdo attack, the shooting at a contest of cartoons depicting Islam's prophet Muhammad in Garland, Texas, and the beheading of ISIS captives.
In January, three months after his tweet lamenting al-Qaida's more "moderate" direction, Saleh enrolled in electrical circuitry courses at an aeronautics college. In the months leading up to his arrest, he searched online for vacuums, lamps, hoses, a saw, watches, and pressure-cookers (among other things), all of which could be used to make a pressure-cooker bomb similar to those used in the Boston Marathon bombing.
In May, Saleh researched various tourist sites and landmarks in New York and their security surveillance. He also read articles including, "What Does Islam Say About Killing an Innocent Person?", "Islam: The True Religion of God Almighty", and "Does Islam really allow the killing of innocent unbelievers?"
Other searches involved firearms, hunting gear and supplies, bullet-proof vest, chemical masks, and disguises. Police arrested Salah after he seemed to realize he was under surveillance. An affidavit accompanying the complaint describes a series of attempted evasive actions by Saleh and two others with him, including leaving their Jeep at red light and taking several steps toward a police car nearby.
Less than two weeks earlier, Boston Police and the FBI shot and killed terror suspect Usaama Rahim after he refused to put down a military-style knife. Law enforcement officials say they heard conversations in which Rahim said he planned to attack police officers.
The Taliban reached out to Islamic State (IS) leader Abu Bakr Al-Baghdadi calling for unity between the two jihadist factions, a letter posted online Tuesday by a Taliban supporter shows. IS victories have translated into increasing appeal for its brand even in Afghanistan where the Taliban has been the leading jihadist group for the past two decades.
Taliban leader Mullah Omar refused to recognize Al-Baghdadi's caliphate after he announced its formation last year, but this letter likely comes as a result of Omar's realization that the Islamic State poses a threat to the Taliban.
IS established a base in southern Afghanistan under the leadership of former Guantanamo Bay detainee Mullah Abdul Rauf and promised good wages for anyone willing to fight on behalf of IS.
IS fighters have engaged in their trademark brutality in Afghanistan since the terrorist group announced the establishment of its Khorasan province in January. An April 18 suicide bombing by IS terrorists at a bank in Jalalabad left 35 dead, including several children, and wounded 125. Taliban spokesman Zabihullah Mujahid condemned the attack, calling it "an evil act."
Disenchanted Taliban members and other jihadist groups have been seduced into joining IS by the latter's slick online propaganda. IS also has attracted foreign jihadists from Pakistan, Uzbekistan, Tajikistan, and Caucasus to its Afghan fight. Local Afghan officials say these fighters are even more brutal than the Taliban.
"Until now the Islamic Emirate has successfully eliminated all Fitnas (temptations) of disputes, conflicts and division by having unity," Mullah Omar's deputy Alhaj Mullah Akhtar Mohammad Mansoor wrote, suggesting that IS was dividing the forces of jihad in Afghanistan.
He added that "...unity of lines is a need, necessity and obligation, [e]specially when we are in war with American crusader Kuffar (Unbelievers). Therefore Jihad in Afghanistan against Occupier American Kuffar and Allies should be under [a] single banner and [a] single leadership."
Mansoor called on Al-Baghdadi to get into direct contact with Taliban leaders to resolve their disputes rather than rely on rumors passed along by sources with an ax to grind against the Taliban. He referred to Al-Baghdadi as a "brother in Islam," noting that the Taliban had not interfered in IS affairs and that Osama bin Laden had recognized the authority of the Taliban's emirate.
"We hope the same from you and [wish] you only goodness from your side due to our brotherhood relationship of Islam," Mansoor wrote.
Al-Baghdadi reportedly holds a dim view of Mullah Omar and referred to him as "a fool and illiterate warlord" who "does not deserve spiritual or political credibility."
IS-related Twitter accounts accuse the Taliban of being "apostates" under Pakistani control. Accusing fellow Muslims of apostasy is tantamount to saying they should be killed.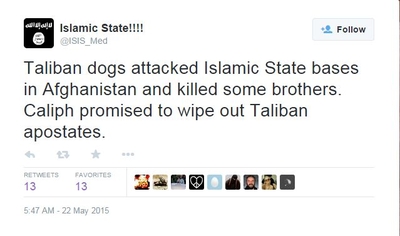 IS follower @ISIS_Med tweeted on May 22, "Taliban dogs attacked Islamic State bases in Afghanistan and killed some brothers. Caliph promised to wipe out Taliban apostates."
This letter shows the Taliban takes this threat seriously amid the rising popularity of IS among jihadists.
An Arizona man has been indicted in connection with the May 3 attempted attack on a "Draw Muhammad" contest in Garland, Texas. Elton Francis Simpson and Nadir Hamid Soofi opened fire on security personnel outside the contest in hopes of attacking participants inside. Both were shot and killed by police officers at the scene.
Abdul Malik Abdul Kareem, also known as Decarus Thomas, is charged with transporting weapons and ammunition across state lines with the intent to commit crimes and then lying about his involvement.
Between Jan. 7 and May 3, Kareem hosted Simpson and Soofi (and possibly others) to plot their attack on the contest, the indictment alleges. He also supplied them with firearms and went with them to a remote desert to practice shooting. Between May 1 and May 3, Kareem allegedly transported the assault rifles from Arizona to Texas. He also is charged with lying to FBI agents about his involvement with the planned attack denying he even knew the Muhammad Art Exhibit and Contest was scheduled to take place.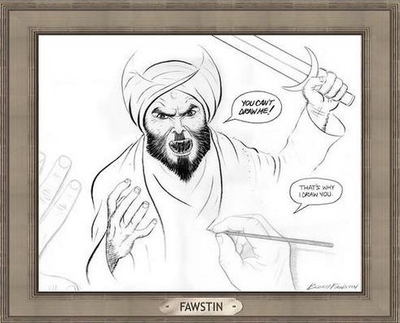 The contest was in reaction to the massacre at the Paris offices of the satirical magazine Charlie Hebdo by radicalized Islamists who said they were avenging Islam's prophet Muhammad after the magazine's repeated caricatures of him. The winning entry shows an image of the Muslim prophet Muhammad brandishing a sword, commanding, "You can't draw me!" The cartoonist's hand responds, "That's why I draw you."
So far Kareem is the only suspect charged in relation to the foiled attack, but the indictment reveals the possibility of others involved in the planning of the attack.
The Islamic State (ISIS, ISIL, or IS) claimed responsibility for the attacks on its official radio channel, referring to Soofi and Simpson as "brothers" and "Al Khilafa," the name ISIS gives its soldiers. Minutes before the attack, Simpson expressed his allegiance to the group in a Twitter post.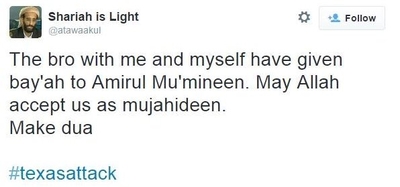 The Garland shooting was not the first sign of Simpson's radical leanings. In 2010 he was charged with lying to the FBI about his intentions to travel to Somalia to fight with the terrorist group Al Shabaab. He was convicted in 2011 and sentenced to three years probation.
Shannon High-Bassalik is not a journalist who buries the lead.
In a federal discrimination lawsuit filed in Los Angeles Thursday against her former employers at Al Jazeera America (AJA), High-Bassalik starts by saying the network quickly abandoned its stated mission of providing "unbiased, fact-based, in-depth stories of U.S. and international news."
Her experience shows a network "where truth and objectivity are set aside to cater to the Company's pro-Arabic prejudices," the lawsuit says. "As ratings failed to live up to the expectations of management, Al Jazeera openly decided to abandon all pretense of neutrality in favor of putting the Arabic viewpoint front and center, openly demanding that programs be aired that criticized countries such as America, Israel and Egypt."
The government in Qatar bought the cable news out let to bring "the Arabic viewpoint to America," employees were told. Concerns about the reporting bias were turned away, often angrily.
The network dismissed the lawsuit's allegations as "unfounded." But some of the allegations are supported by internal emails obtained by the National Review just after the January shooting massacre at the French satirical magazine Charlie Hebdo by radical Islamists taking revenge for the magazine's depictions of the Muslim prophet Muhammad. Al Jazeerah employees questioned whether it amounted to an attack on free speech and criticized the public's "Je Suis Charlie" signs offered in solidarity with the dead.
An earlier lawsuit by another former employee also alleged discriminatory and politically-driven management.
High-Bassalik says producers were instructed to treat conspiracy theories about a CIA role in the 9/11 attacks – popular among some in the Arab world – seriously. The head of the network's investigative unit allegedly likened Israelis to Adolph Hitler. Statements by network senior vice president that "Anyone who supports Israel should die a fiery death" went unpunished, while people who complained were fired.
Al Jazeera America "systematically favored its Arabic and male employees," the lawsuit alleges, while women and non-Arabs were treated "as second class citizens who are constant targets of abuse and degradation."
Internally, Arab employees received better performance evaluations and promotions. The marketing department hired a manager whose resume topped out with a position at a Sunglass Hut.
High-Bassalik was AJA's senior vice president of programming and documentaries before she was fired, in what she claims was in breach of her three-year guaranteed contract and the Civil Rights Act. The lawsuit also targets Interim Al Jazeera CEO Ehab al Shihabi, who also serves as its international operations chief.
Women were given inconsistent directions, belittled and left out of important meetings. High-Bassalik says her firing was an act of retaliation after she complained about AJA's "misogynistic and racist treatment of its employees."
The news bias is "often at the expense of Jewish people" especially during last summer's Gaza war between Hamas and Israel, when employees were "explicitly instructed" to "cast Israel as the villain" and the network aired anti-Israel programs.
Al Shihabi screamed at people who raised concerns, and said he was steering news content to please his bosses in Doha.
Read the full lawsuit here.
Turkey's Justice and Development Party (AKP) lost a parliamentary majority it had enjoyed for 13 years in voting last Sunday.
Voters had many reasons to look to back candidates from other parties – including a desire to blunt President Recep Tayyip Erdogan's hopes of using Parliament to entrench his own power. Erdogan "asked the Turks to grant him 400 deputies – who would then rewrite the constitution to pave the way for his elected sultanate," Hürriyet Daily News columnist Burak Bekdil wrote in a column republished by the Middle East Forum, where he is a fellow.
But a senior member of Erdogan's party had another theory – it was the "Jewish lobby" and "Crusaders" who swayed Turkish voters.
"There's an economic lobby in the world, which is under the hand of the Jewish lobby, and these are the ones who want the AKP to fall," Muhammed Akar, chairman of AKP's Diyarbakir branch, said in an interview with Foreign Policy. "Not only the Jewish lobby, there is another movement – the Crusaders. Because the AKP government is the voice of the Muslims in Turkey, and all the world."
The magazine called the election results a "body blow" to Erdogan's party.
AKP officials frequently blame Jews and outside "lobbies" for internal woes and often resort to anti-Semitic propaganda and slogans.
During mass popular protests in July 2013, Turkey's Deputy Prime Minister Besir Atalay blamed Jews for fuelling the demonstrations.
"World powers and the Jewish Diaspora prompted the unrest and have actively encouraged it," Atalay said.
At the time, AKP party mayor of Ankara also referred to the protests in Gezi as a "game of the Jewish lobby" in a Twitter message.
In the past, Erdogan has blamed the "interest-rate lobby" as a destabilizing force in Turkey in an apparent reference to Jewish global financiers.
Earlier this year, Prime Minister Ahmet Davutoglu also accused Jews of working to topple the Turkish regime.
"I announce it from here: we have not and will not succumb to the Jewish lobby, the Armenian lobby or the Turkish-Greek minority's lobbies," Davutoglu said at a party gathering in February.
Sunday's election results likely left Erdogan speechless, Bekdil wrote, and he won't take the results well. "He is the lone would-be sultan in a too-expensive and too-spacious Ankara palace. The next few years will see his existential war against real, quasi-real and phantom-like enemies."
The Israel Defense Force (IDF) went too far beyond what is required to avoid civilian casualties in asymmetric conflict during last summer's Gaza war, some international legal experts say, according to an Israel National News report.
The criticism comes in an article to be published Monday by the Weekly Standard. In it, Vanderbilt University adjunct law Professor Willy Stern reviews Israel's actions after spending two weeks with the IDF's international law department. The IDF made thousands of phone calls, dropped leaflets, and broadcast TV and radio messages urging Gaza civilians to flee an area before Israel would strike structures used by Hamas for military purposes.
"It was abundantly clear that IDF commanders had gone beyond any mandates that international law requires to avoid civilian casualties," Stern writes. Its foes in Hamas went the opposite direction, urging terrorists to stay close to civilians, a manual that Israeli troops found in a Gaza neighborhood shows.
"Hamas's playbook calls for helping to kill its own civilians, while the IDF's playbook goes to extreme​ - ​some say inappropriate​ - ​lengths to protect innocent life in war," Stern's article will say.
Other legal experts featured in the upcoming Weekly Standard article expressed concern that Israel's exhaustive warnings create "an unreasonable precedent" for other democracies fighting terrorist groups.
"The IDF's warnings certainly go beyond what the law requires, but they also sometimes go beyond what would be operational good sense elsewhere," said Michael Schmitt, director of the Stockton Center for the Study for International Law at the U.S. Naval War College.
Attorneys for Rasmieh Odeh appealed her naturalization fraud conviction with the Sixth Circuit Court of Appeals Tuesday, saying pre-trial rulings let in questionable evidence and improperly prevented testimony about claims she was tortured by Israeli authorities in 1969.
Odeh, an associate director of the Arab American Action Network in Chicago, was convicted last November and sentenced to 18 months in prison in March, though she is free pending the appeal. She also will be stripped of her citizenship and faces removal from the United States.
Her 2004 application to become an American citizen – and her claim she was never arrested, convicted or imprisoned – was the key element in the case. Odeh was convicted, and confessed, to a 1969 Popular Front for the Liberation of Palestine bombing of an Israeli grocery store that killed Hebrew University students Edward Joffe and Leon Kanner.
Defense attorneys wanted the Israeli records kept out of Odeh's trial, casting the Israeli courts as unreliable. They also wanted her to be able to testify about her unsubstantiated claims that her confession was the result of torture, and present a psychologist who would testify that her false answers on immigration forms were the product of post-traumatic stress.
The rulings left the defense "gutted at its core" and gave Odeh a "faux trial," defense attorney Michael Deutsch wrote.
"Certainly, a U.S. court would not have admitted documents created by a Nazi court operating in occupied France that convicted partisans resisting occupation," Deutsch's appeal brief said. "How then is it proper to allow, documents here which are similarly the product of torture and illegal occupation?"
While Odeh is the only source for the torture claim, other evidence connects her to the bombing. Israeli investigators found explosives in Odeh's home that were similar to those used at the grocery store.
And footage from a 2004 film, "Women in Struggle" showed Odeh and an accomplice discussing their roles in the bombing. Odeh became so revered as a result of the 1969 Jerusalem attack, footage from a 1993 video, "Tell Your Tale Little Bird," showed a female PFLP hijacker identifying her group in 1970 as "Task Force Rasmieh Odeh."
The most significant legal issue raised involves the nature of the crime and the burden of proof required to convict. U.S. District Judge Gershwin A. Drain reversed an earlier decision and found this was a "general intent" crime, which did not require proof Odeh had a specific intent to break the law by lying to immigration officials.
That ruling led Drain to block testimony about alleged torture. During the trial, he said the case was not about the Palestinian-Israeli conflict, but whether Odeh lied in the naturalization process. He ruled that the prosecution "need only prove Defendant made a false statement knowing it to be false" saying he originally was misled about a precedent cited by the defense.
For more background on the case and Odeh's bombing conviction, see our five-part video series, "Spinning a Terrorist Into a Victim" and the post-conviction epilogue.
Egypt asked the U.S. ambassador in Cairo to account for the Obama administration's allowing Muslim Brotherhood officials to visit Washington for a private conference this week sponsored by the Center for the Study of Islam and Democracy (CSID).
Egypt sought the recent meeting with Ambassador Stephen Beecroft to show its displeasure with American policy toward the Brotherhood, which it labels a terrorist organization.
Delegation members include Amr Darrag, whose handling of drafting and ratifying Egypt's December 2012 constitution led to fears the Brotherhood aimed to impose a theocracy; and Wael Haddara, a Canadian Brotherhood member who served as an adviser to deposed President Mohamed Morsi.
The administration has no plans to meet with the delegation, State Department spokesman Jeff Rathke said Tuesday. U.S. policy allowed for engagement with people from across Egypt's political spectrum, he said Monday.
Emails obtained by Middle East Briefing, a publication of the Dubai-based Orient Advisory Group, show that since 2010, Obama administration policy sought to support the Muslim Brotherhood under Presidential Study Directive 11.
State Department and White House officials met in January with a Muslim Brotherhood delegation whose trip had been partly funded by the Brotherhood-linked group Egyptian Americans for Freedom and Justice (EAFJ). EAFJ leader Mahmoud El Sharkawy is a member of the Brotherhood's international organization and serves as liaison between his group and Brotherhood members exiled in Turkey, Egypt's Al-Bawaba newspaper reported in April.
State Department spokeswoman Jen Psaki downplayed the visit and denied it was a Brotherhood delegation, saying it was a delegation of former Egyptian parliamentarians which included members of the Freedom and Justice Party. Delegation member Waleed Sharaby said in a February interview with Egypt's Mekameleen TV that the State Department agreed with their position that Egyptian President Abdel Fatah al-Sisi had not brought stability and that his removal would pave the way for a transition to democracy.
Recent Muslim Brotherhood calls for violence have been reflected in the Facebook accounts of EAFJ members. El Sharkawy's Facebook page supports violence in Egypt in posts such as a Feb. 10 communiqué from the Popular Resistance Movement (PRM) which has launched attacks against Egyptian police and other targets. It features an image of a blood-red map of Egypt with a fist superimposed over it and claims responsibility on behalf of the PRM for targeting two police cars. It also stated the following motto in Arabic: "God, martyrs, Revolution."
Other members of EAFJ such as board member Hani Elkadi, who identified himself as a Brotherhood member in a March 9 post, have posted similar images on Facebook.