New video reportedly shows Hizballah conducting drone airstrikes targeting radical Sunni Islamist positions in southern Aleppo.
Though it appears that Hizballah failed to inflict significant damage, the bombings illustrate the terrorist organization's growing capabilities and ability to utilize sophisticate technologies for offensive operations.
This is not the first time Hizballah reportedly used unmanned aerial vehicles (UAV) to conduct an attack.
In 2014, the terrorist organization deployed an attack drone to kill at least 23 fighters from the al-Qaeda linked group formerly known as Jabhat al-Nusra.
Before then, Hizballah repeatedly deployed UAVs over Israeli airspace, primarily for reconnaissance and testing air defense systems. In one case, a Hizballah drone allegedly transmitted images of Israel's nuclear energy facility – Dimona – to its state sponsor Iran.
The latest UAV development underscores the threat Hizballah poses in a future conflict with Israel. While the group is suffering battlefield losses, it is gaining invaluable experience and learning from Russia's top-tier military. The group is also exploiting the chaos in Syria to facilitate the transfer of advanced and sophisticated weaponry from Iran, including anti-aircraft systems that would inhibit Israel's freedom of navigation over Lebanese and Syrian airspace.
Hizballah has also used advanced Iranian-made anti-tank missiles in Syria. Though it is bogged down in Syria's civil war, the terrorist organization continues to invest heavily for the next confrontation with Israel. This includes militarizing many Shi'ite neighborhoods in southern Lebanon and consolidating a base of operations against Israel from the Syrian side of the Golan Heights.
Access to advanced weaponry and training has increased Hizballah's confidence for a future battle. The group's leader, Hassan Nasrallah, bragged about Hizballah's ability to kill tens of thousands of Israelis with Iranian-supplied precision-guided missiles, threatening to target "ammonia tanks" that hold over 15,000 tons of gas in Haifa.
Hamas diverted "tens of millions of dollars" from World Vision, a U.S.-based Christian charity, to rebuild its terrorist infrastructure, Israel's Shin Bet domestic security service said Thursday.
The terrorist group reportedly siphoned 60 percent of the charity's resources in Gaza to reconstruct Hamas' tunnel network and military installations, in addition to purchasing weapons intended to kill Israelis. This amount translated to roughly $7.2 million each year.
Israeli security personnel arrested World Vision Gaza operations manager Muhammad Halabi on June 15. On Thursday, Halabi, also an alleged Hamas operative, was indicted on several charges related to the case.
The investigation revealed that Halabi was recruited to infiltrate World Vision in 2005 for the purposes of stealing funds to help Hamas.
The alleged scheme exemplifies "the cynical and crude way in which Hamas takes advantage of funds and resources from international humanitarian aid organizations," a Shin Bet statement said.
World Vision defended Halabi and denied the accusations. As of one of the largest humanitarian and charitable organizations worldwide, World Vision receives most of its support from the United Nations and Western governments.
Millions of dollars were intended to help in civilian reconstruction efforts for Gaza's population, including building greenhouses, enhancing agricultural projects, helping fishermen, and promoting mental and physical health initiatives.
Instead "these [funds] were all used as a pipeline to transfer money to Hamas," Shin Bet said.
The alleged scheme involved Hamas operatives, posing as World Vision employees, filing fake proposals for World Vision- financed projects in Gaza, before money laundering the cash straight to Hamas and its military wing.
For example, Halabi launched an initiative to build greenhouses to hide terrorist tunnel sites, while a proposed project intended to help Gaza's fishermen ended up using the money to improve Hamas' naval capabilities.
Hamas terrorists also falsely listed their children as injured to collect money intended to help children in Gaza who were actually wounded.
Moreover, Halabi used tens of thousands of dollars from the charity's finances to buy weapons in the Sinai during ousted Egyptian president Muhammad Morsi's reign.
For more information and examples about how Hamas diverted legitimate charitable funds from World Vision click here.
According to Israel's investigation, 40 percent of the funds allocated for civilian projects – about $1.5 million per year – were transferred to Hamas' terrorist units in cash. Approximately $4 million per year intended for helping needy civilians in Gaza were also diverted to Hamas for the purposes of enhancing its terrorist capacity.
Money was also reportedly used to pay the salaries of Hamas personnel, while some senior leaders pocketed large sums for themselves.
Since the end of the summer 2014 war between Israel and Hamas, several reports emerged documenting how the terrorist group prioritizes its fight against Israel over the wellbeing of its population. This latest investigation uncovers important details on how Hamas exploits legitimate charitable organizations worldwide to finance its terrorist infrastructure at the expense of needy civilians and societal development.
A Palestinian terrorist planned to bomb the Jerusalem light rail last month with an explosive device containing poisonous material, Israeli police said Tuesday.
Ali Abu Hassan – a civil engineering student from a village northwest of Hebron – infiltrated Jerusalem on July 15 armed with three pipe bombs forming a large explosive. The terrorist doused nails and screws fitted on the explosive with rat poison to maximize the carnage.
Hassan researched how to make a bomb that would inflict "the most, and most effective, damage" and "even carried out test explosions with a number of bombs in order to check them before entering Israel," said the Shin Bet, Israel's internal security agency.
The investigation revealed that Hassan originally intended to attack a restaurant, but changed his target after seeing numerous civilians boarding Jerusalem's light rail. A security guard notified police after checking and discovering the explosive in Hassan's bag after boarding the train.
An Israeli court on Tuesday charged Hassan for building a weapon, attempted murder, and conspiracy.
Another major terrorist plot this year also involved the use of rat poison.
In June, Palestinian terrorists opened fire on a Tel Aviv café, killing four civilians and injuring 15 others. According to the indictment, the terrorists also planned to contaminate knives with rat poison and stab Israelis, going so far as to buy the poison, but never executed that part of the plan.
These incidents mark a significant development concerning the recent wave of Palestinian terrorism targeting Israelis. While most individual terrorist initiatives involved rudimentary means for attack – including stabbing and vehicular attacks – these high profile cases show that an educated Palestinian with the motivation to kill Israelis is capable of producing relatively sophisticated terrorist means that can maximize casualties. More importantly, the use of rat poison may signal the emergence of a new trend in which Palestinians seek to exploit unconventional attack methods, including chemical and biological agents, to inflict greater damage and spread fear throughout Israeli society.
An Arabic-language newspaper published in London, Ontario featured a blatantly anti-Semitic article titled: "The Question Which Everyone Ignores: Why Did Hitler Kill the Jews?", Canada's National Post reports.
The article in the latest Al Saraha accused Jews of facilitating Germany's "economic collapse" in the 1920s and encouraging "promiscuity...homosexuality...every type of sexual deviance." It also grossly underestimated how many Jews were murdered in the Holocaust – a common claim among anti-Semites and Holocaust deniers of various stripes.
According to the article, "This Jewish propaganda succeeded until it became prevalent throughout the media that six million Jews were victims of Hitler, even though the total number of Jews in Germany was less than a quarter of this figure that they say Hitler burned!"
Al Saraha is distributed widely across Middle Eastern restaurants and grocery stores in the Canadian city of London. An Ontario provincial government-funded agency focusing on immigration promotes the newspaper as reading material for immigrants.
London police are now looking into whether the article, which reprinted after originally appearing in an Egyptian daily, constitutes hate speech or free speech according to the criminal code.
A member of the Arab-Canadian community contacted B'nai Brith Canada, a Jewish human rights and advocacy organization, about the article. Michael Mostyn, chief executive of B'nai Brith, expressed concern that only one person saw fit to report the article.
"We have new immigrants coming into our country all the time and I think, as Canadians, we want to always ensure that these new immigrants learn the language of tolerance...Canada is the place where, while we may have our own opinions back home, and we may have our own prejudices back home, we don't import those to Canada," said Mostyn.
The Premier of Ontario, Kathleen Wynne, condemned the article in an e-mail to B'nai Brith Friday.
"I want to condemn, in the strongest possible terms, the statements in the al-Saraha article that deny the Holocaust and express anti-Semitic and homophobic views. Statements like these, filled with hatred, prejudice and lies, have no place in our society...I assure you that our (Ontario Liberal) caucus will no longer purchase advertising space in this publication."
This case shows that radical Islamist incitement is not confined to the Middle East – hate rhetoric of this sort also exists in the West. Some counterterrorism experts argue that these types of sentiments also serve as incubators for domestic radicalization processes.
Instead of promoting peaceful coexistence, the Palestinian Authority (PA) has decided to honor yet another Palestinian terrorist who killed numerous Israeli civilians.
The PA unveiled a statue Sunday of terrorist Ahmad Jabarah Abu Sukkar who orchestrated a deadly bombing in Jerusalem that killed 15 and injured over 60 Israelis in 1976, Palestinian Media Watch (PMW) reports.
Abu Sukkar was released after serving 28 years of a life sentence as part of an Israeli goodwill gesture to the PA in 2003.
Senior Palestinian officials – including the director of the PA's Commission of Prisoners' Affairs, Issa Karake, and the governor of Ramallah and El-Bireh, Laila Ghannam, – participated in the terrorists' commemoration.
Karake proclaimed that "this monument is intended to implant in the minds of sons and daughters that we are continuing to be loyal to the path of the Martyrs," the official PA daily Al-Hayat Al-Jadida reported.
"Ahmad Abu Sukkar is a real man, a fighter, and a man who left his impression on everyone and who was a school for giving, resolve, and courage. We are proud of him as one of the symbols of the Palestinian national struggle..." Karake said.
The presence of these senior officials reinforces the fact that the Palestinian government openly glorifies people for murdering innocent Israelis, while encouraging future generations of Palestinian youth to emulate terrorists.
Earlier this month, members of the U.S. House Foreign Affairs Committee agreed to explore options to stifle a PLO program that pays monthly salaries to convicted terrorists. Palestinian affiliated organizations, including the PLO, are continuing to exploit a loophole in U.S. foreign aid that enables the Palestinian government to pay terrorists and their families. Coupled with systematic indoctrination and glorification of terrorism, generous financial payments contribute to existing incentives among Palestinian youth to attack and kill innocent Israelis.
In a speech aired on YouTube on Friday, Prime Minister Benjamin Netanyahu requested that Palestinian President Mahmoud Abbas cancel the terrorist commemoration to avoid promoting violence among Palestinian youth.
"Rather than dedicate a statue to a mass-murderer, I ask that you consider honoring a champion of co-existence. This will help educate future generations to love peace over war, compassion over violence," said Netanyahu.
In the wake of Thursday night's shooting death of five police officers during a Black Lives Matter protest, pro-ISIS hackers posted thousands of what it says are Dallas Police Department records on their Telegram social media channel.
These records, listed in Excel spreadsheets, include the names, addresses and races of thousands of people it claims were arrested by Dallas police officers. Also posted were 12,619 alleged records showing the names, ranks, and salaries of what it claims are Dallas police officers. The Dallas Police Department has approximately 3,500 officers, so many the list could be bogus, or many of the people named may no longer be employed by the department.
In addition, the list does not include the names of fallen officers Michael Krol, Patrick Zamarippa, Lorne Ahrens, and Brent Thompson, casting further doubt on its legitimacy. Two people named Michael Smith, the fifth officer killed, do appear, but it is not known whether either entry is the same Michael Smith.
The United Cyber Caliphate, which posted the material, is known for hijacking web sites and posting kill lists of individuals in the U.S. and elsewhere for lone jihadists to hunt down; however, analysts do not believe it has direct ISIS ties. French authorities believe the group may have ties to Russia's hacking apparatus.
Many of its kill lists amount to taking credit for work done by other hackers. It distributed a kill list of more than 4,000 people last month showing their names, addresses and emails. Over half of these people were American, and an Excel spreadsheet with the same names could easily be found online, according to Vocativ. An FBI source concurred, saying that the pro-ISIS hackers lack sophistication.
In many cases, the United Cyber Caliphate's information is outdated.
Nonetheless, intelligence and law-enforcement officials take the lists seriously.
A garbled message, United Cyber Caliphate appears to hope to take advantage of racial tension as a catalyst for further violence. "In a Country warble of Freedom in the Media Are all the 'Black' Criminals ? Or it's just #America is the Terrorist? Speaking of racism Look at the Race chart from #Dallas Police Station and see the ratio of the 'White VS 'Black& Latino.'"
Dallas native and former FBI Assistant Director Oliver "Buck" Revell told the Investigative Project on Terrorism this list needs to be taken seriously in the light of last night's events.
"Potentially there are people looking for a trigger, and even though this may be erroneous this makes for a dangerous circumstance and something to be aware of," Revell said. "People are looking for something to do, and there were plenty of indications of that last night. This needs rigorous attention."
Revell is concerned that extremists even of a non-jihadist nature could use the information to cause harm.
"This should not be ignored, and we need to take as much action as we can," Revell said.
Former ISNA President Ingrid Mattson has dropped her own defamation lawsuit against Canadian counterterrorism expert David Harris after over a year of legal proceedings supported by the Lawfare Project.
During an October 2014 radio interview focusing on the threat from Canadian foreign fighters, Harris, a former chief of strategic planning for the Canadian Intelligence and Security Service (CSIS), referred to Mattson and other prominent Islamists as "radicals" and problematic figures in the battle against terrorism.
Harris pointed out the "problem of commending radicals like Dr. Ingrid Mattson and Siraj Wahhaj, as experts or Islamic scholars of use in counter-radicalization."
The interview also featured American Islamic Forum for Democracy founder Zuhdi Jasser, who described Mattson as "pro-Islamist" while criticizing the National Council of Canadian Muslims (NCCM)'s "counter-radicalization handbook," United Against Terrorism. NCCM is the Canadian affiliate of the Council on American-Islamic Relations (CAIR), an Islamist organization with a well-documented history of controversial and radical associations.
The use of the term "radical" apparently set Mattson off, leading her to file a lawsuit that challenged Harris' freedom of speech. Harris refused to offer any concessions or apologies.
Mattson was the ISNA president when the organization was designated an unindicted co-conspirator in the 2007 Holy Land Foundation trial, which involved U.S.-based Islamist groups and individuals funneling money to Hamas.
In announcing the lawsuit's end, the Lawfare Project speculated that Mattson dropped the case "likely fearing what a full legal-disclosure process would reveal."
Click here for more information on the case.
"There is a reason why freedom of speech is often called 'the first freedom,'" Harris said. "...In this era of terrorism and other national security challenges, constitutionally inappropriate inhibitions on this freedom – whether through government imposition, private machinations, personal self-censoring, or otherwise – undermine our capacity responsibly and efficiently to identify, define, and confront domestic and foreign threats."
Thursday's shocking Palestinian terrorist murder of a 13-year-old girl prompted the usual praise from Palestinian Authority (PA) outlets. Muhammad Taraireh was hailed as a martyr for stabbing and murdering 13-year-old Hallel Ariel, a U.S. citizen, as she slept in her bed.
"Martyr (Shahid) Muhammad Taraireh, who carried out today's operation in which one female settler was killed, and a male settler was injured," read the post on Fatah's Facebook page and translated by Palestinian Media Watch.
The terrorists' mother said her son made her "proud" and called him a hero and a martyr. "Allah willing, all of them will follow this path, all the youth of Palestine," Taraireh's mother told a local Hebron news outlet.
This brutal murder comes shortly after Abbas' senior advisor Sultan Abu Al-Einein called for Palestinians to decapitate innocent Israelis. "Every place you find an Israeli cut of his head," said Al-Einein.
The terrorists' family will now begin receiving monthly payments that the PA pays to all terrorist families.
Blatant praise for terrorists is expected from Palestinian officials and significant segments of the Palestinian population. Yet the silence emanating from the broader Muslim world following such brutal attacks is similarly disturbing.
In a blog posted by The Times of Israel, Muslim interfaith activist Nadiya Al-Noor blasts Muslim hypocrisy in the context of Palestinian terrorism.
"I have seen firsthand the casual, destructive anti-Semitism that plagues the Muslim community," she wrote. "I have heard it from the mouths of our religious leaders, from our politicians, and even from our otherwise peaceful, liberal Muslim activists. I have witnessed in horror the desperate attempts to justify Palestinian terrorism from people who I once respected. Why? Why do we decry all other types of terrorism, but bend over backwards to legitimize violence against Israeli Jews?"
Too many Muslims seek to justify such terrorism by citing the Israeli "occupation," relying on "anti-Semitic lies fed to us by Al-Jazeera" such the canard that Israelis seek to destroy the Al-Aqsa Mosque, Al-Noor wrote. Too many Muslims refuse to refer to Israel by name and proclaim that "Resistance is not a crime!"
Yet Al-Noor bravely opines "stabbing a little girl to death in the one place where she was supposed to be safe is certainly not "resistance."
"We'll stand up against the persecution of Christians, atheists, Hindus, Shias, Ahmadis, and anyone else who is persecuted," she wrote. "We will sob to the heavens if a Palestinian is killed, but when it comes to Palestinian terrorism against Jews, we either turn a blind eye to it, or we twist the story to make the terrorists into the victims. This is unacceptable."
"When you make excuses for terrorists, you support terrorism."
Al-Noor's observations directly relate to strategies adopted by U.S. Islamist organizations, including the Council on American-Islamic Relations (CAIR), which routinely condemns acts of terrorism worldwide – but never when it comes to Israelis.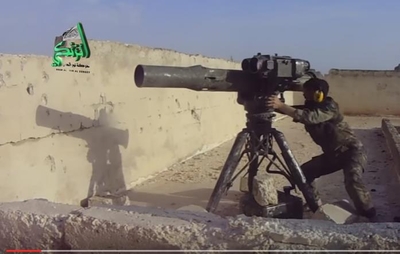 Nuruddin az-Zinki fighter with a Tow missile.
A commander of a U.S.-backed Syrian opposition group says his fighters continue to ally on the battlefield with an al-Qaida-tied jihadist group.
The United States continues to arm Nuruddin az-Zinki as it fights dictator Bashar al-Assad's forces. But in an interview posted online last week, az-Zinki founder Tawfiq Shihab Al Deen acknowledged teaming up "with Al Nusra (an al-Qaida affiliate in Syria), which is a group that proved themselves to be forceful fighters."
"Our groups, Nuruddin az-Zinki, along with Al Nusra, are the only groups continuously fighting against the regime in the al-Malah area in Aleppo," Shihab al-Deen told Abdullah al-Muhasayni, a radical Saudi preacher said in an interview posted on YouTube June 21.
Al-Muhasayni interviewed jihadi commanders in Syria during the month of Ramadan. He is known to be the conduit between the Jihadi rebel groups in Syria and their benefactors in the Gulf.
The United States has armed Nuruddin az-Zinki, which has posted many videos showing their fighters using U.S. TOW missiles.
It is not clear why the United States continues to support Nuruddin az-Zinki despite its alliance with an al-Qaida affiliate.
Muhasayni's interview with Shihab al-Deen could indicate that this alliance between Nuruddin az-Zinki and Al Nusra extends beyond the battlefield. Muhasayni is considered the spiritual father of al-Qaida in Syria.
The U.S. suspended non-lethal aid to Syrian rebels late in 2014, after jihadists seized warehouses storing supplies. But support for Nuruddin az-Zinki continued, the McClatchy news service reported.
A new congressional report confirms forecasts by the Investigative Project on Terrorism (IPT) concerning disturbing trends in the global spread of Islamist terror in 2016-2017.
The IPT compiled its analysis from extensive research, sources and multiple databases such as the University of Maryland's Global Terrorism Database and published it in March.
The Congressional Research Service (CRS) report finds that the Islamic State (ISIS) has expanded beyond its initial base in Iraq and Syria to field six effective militias in the Middle East, Africa and South Asia.
In addition to its declared caliphate in Iraq and Syria, the CRS paper counts ISIS affiliates in Egypt, Saudi Arabia, Libya, Nigeria, Libya, Afghanistan and Yemen as among the most significant and capable of its 34 pledged offshoots.
The IPT's research indicated that governments which failed to provide stability or security for its citizens became an outsized factor in determining where ISIS would flourish, which the CRS brief reflects. The IPT found that more than half of all jihadist assaults since 2012 occurred in the failed states of Afghanistan, Libya, Yemen, Iraq and Syria.
"To date, the Islamic State organization and its regional adherents have thrived in ungoverned or under-governed areas of countries affected by conflict or political instability," stated the CRS document, titled "The Islamic State and U.S. Policy."
Formerly known as Ansar Bayt al Maqdis, the Islamic State in Egypt emerged after the Egyptian revolution in 2011 with up to 1,000 radicalized indigenous Bedouin Arabs, foreign fighters and Palestinian militants. It claimed credit for destroying Metrojet Flight 9268 over the Sinai Peninsula on Oct. 31 in a strike that killed all 224 passengers.
The Islamic State in Saudi Arabia claimed responsibility for multiple attacks in the kingdom since 2014, including suicide bombings against Shia mosques and assaults against Saudi security forces, according to the CRS findings. A suicide bomber connected to ISIS successfully detonated himself in a Kuwaiti mosque in June 2015, killing more than two dozen and wounding hundreds.
ISIS declared its second caliphate along the Mediterranean in Libya in 2015 following coalition airstrikes against its territory in Iraq and Syria. Western officials estimate that 6,000 ISIS fighters moved there. Its new dominion reaches as close to 200 miles from the vulnerable southern border of Europe.
Boko Haram – the ISIS affiliate in Nigeria and the deadliest jihadist group in the world – has destroyed large areas in Nigeria and neighboring Cameroon, Chad and Niger. It first appeared in 2009 when it launched its military campaign for Islamist rule in attacks that killed hundreds. It has murdered 15,000 people over the past five years and displaced more than 1.6 million.
The Islamic State-Khorasan Province named itself after a region that once included parts of modern day Iran, Afghanistan and Pakistan. Initially comprised of several small Afghan Taliban and other militant factions, it announced its affiliation with ISIS in 2013.
It grew as additional Taliban factions broke away, and in 2015 ISIS headquarters began sending it financial resources. U.S. officials estimate that it supports between 1,000 and 3,000 fighters in Afghanistan.
The Islamic State in Yemen has exploited the ongoing proxy war between Saudi Arabia and Iran to repeatedly bomb Shia mosques and target supporters of the Iranian-backed Houthi Movement in northern Yemen, the CRS report states.
Beyond the recent carnage in the U.S. and Europe, the IPT further predicts that jihadist attacks will continue to surge in lethality and geography throughout Africa and Middle East, as well as South and Southeast Asia. They will encompass countries such as Algeria, Jordan, Tunisia, Turkey, Bangladesh, Chad, Indonesia and Thailand.
Pete Hoekstra is the Senior Shillman Fellow at the Investigative Project on Terrorism and the former Chairman of the U.S. House Intelligence Committee. He is the author of "Architects of Disaster: The Destruction of Libya."