Another Minnesota resident of Somali descent has been charged with a crime related to an attempt to join Syrian jihadists.
Yusra Ismail, a 20-year-old St. Paul woman, is charged with stealing and misusing a passport to travel to Syria. Ismail, who is not a U.S. citizen, left the United States Aug. 21, apparently using the passport she stole from an acquaintance.
Although there are no records currently available to show Ismail traveled beyond Norway, an affidavit in support of the complaint said that Ismail "departed the United States using a stolen passport and likely traveled to Syria."
On Aug. 24, Ismail wrote to her family saying she was now in "Sham," described in the affidavit as "the area within Syria and Iraq where the Islamic State of Iraq and Syria ('ISIS') is attempting to establish a caliphate."
Although Ismail was scheduled to return to the U.S. on Sept. 1, there is no evidence she came back.
Thus far seven people, including Ismail, have been charged this year with traveling to Syria in support of ISIS. Last week, two other Minneapolis-area Somalis were charged with conspiring to provide material support to ISIS, also known as the Islamic State. Abdullahi Yusuf and Abdi Nur allegedly obtained expedited passports and booked flights to Turkey using cash from unknown sources. Nur, who left the country in May and has not returned, told an undercover federal agent he went "to the brothers." He added that we "will see each other in afterlife inshallah" (God willing).
Recent arrests in Jordan and Israel show that Hamas and the Jordanian Muslim Brotherhood are trying to smuggle weapons into Gaza and the West Bank. After Egypt's army destroyed tunnels joining Gaza and Sinai that had been lucrative smuggling paths, Hamas has been cultivating replacements.
The terrorist organization recruited 20 fishermen to smuggle weapons and explosives into Gaza, Jerusalem Online reports.
The Shin Bet (Israel's domestic security agency) arrested one fisherman, Hussam Bakr, after he visited his child who was being treated for cancer in an Israeli hospital.
Bakr told interrogators that Hamas forced him to become a smuggler after terrorists detained and beat him, accusing him of collaborating with Israel. Hamas threatened to put Bakr on an "internal security list" to prevent him from entering Israel to visit his child. He gave in.
"They told us to be quiet and not to speak to anyone. And if the Egyptians or the Israelis chase after us, throw it [weapons and explosives] all to the sea and to say that we are fishermen, to not say what we are doing," Bakr reportedly said.
The Israeli Navy has foiled numerous attempts to smuggle weapons to Hamas off the coast of Gaza since the end of last summer's war.
"There have been a number of smuggling attempts in recent months that we have thwarted. We are monitoring the area day and night; thwarting smuggling is one of central missions," a senior Israeli navy source told the Jerusalem Post.
Meanwhile, members of Jordan's Muslim Brotherhood reportedly tried to create a secret military organization planning terrorist attacks in the West Bank, senior Jordanian sources told Al-Hayat.
Jordanian officials arrested 21 Muslim Brotherhood personnel for smuggling money and weapons into the West Bank. Two of the suspects were charged with getting military training in Gaza.
The Jordanian sources revealed that "these two young men tried to train other Muslim Brotherhood members in order to carry out operations in the occupied West Bank." Salah al-Arouri, a senior Hamas official based in Turkey, also came up in the investigation.
These allegations come after Israeli authorities thwarted a large-scale transnational Hamas network planning to attack Israelis in Jerusalem, the West Bank and overseas. Hamas' new headquarters in Turkey reportedly oversees the terrorist organization's West Bank operations.
Life as a foreign correspondent often is portrayed as dangerous, sexy work for a journalist.
But it also can be insular – you're a stranger in a strange land, often dropping in with little knowledge about history, culture and context. That can inhibit the breadth of reporting presented to the world, a glaring flaw when it comes to reporting on the Israeli-Palestinian conflict, former Associated Press Jerusalem correspondent Matti Friedman writes in an article for The Atlantic.
Journalists monitor each other's work and tend to view human rights groups and other non-governmental organizations (NGOs) as well meaning do-gooders immune from scrutiny. "Are they bloated, ineffective, or corrupt? Are they helping, or hurting? We don't know," Friedman writes, "because these groups are to be quoted, not covered."
Over time, that arrangement helped entrench a narrative among foreign correspondents in Israel, writes Friedman, who reported out of the AP's Jerusalem office from 2006-11. It is the second essay from the veteran journalist on how the media covers Israel. In August, Friedman provided first-hand examples of stories which were spiked if they made the Palestinians look intransigent, or made Israelis look good.
A "distaste for Israel has come to be something between an acceptable prejudice and a prerequisite for entry," he writes in the Atlantic piece. "The Israel story" is "a simple narrative in which there is a bad guy who doesn't want peace and a good guy who does."
A New York Times editor unintentionally reinforced Friedman's point last month when he took to Twitter to admit his willingness to ignore Palestinian incitement and bigotry until "they have [a] sovereign state to discriminate with."
When events conflict with that narrative, Friedman writes, they are under-reported or not reported at all. So a 2013 rally at the West Bank's Al-Quds University supporting the Palestinian Islamic Jihad and invoking Nazi imagery was widely known among Western journalists but generated little coverage until Brandeis University suspended a partnership program with Al-Quds.
Or, more recently: "The AP staff in Gaza City would witness a rocket launch right beside their office, endangering reporters and other civilians nearby—and the AP wouldn't report it, not even in AP articles about Israeli claims that Hamas was launching rockets from residential areas. (This happened.) Hamas fighters would burst into the AP's Gaza bureau and threaten the staff—and the AP wouldn't report it. (This also happened.)"
Hamas understands this reality and manipulates journalists to further advance it. So some stories hint that Hamas no longer is wed to its founding, anti-Semitic charter and its calls for Israel's destruction. Others falsely cast Hamas as open to peace and moderation.
Friedman's essay is important because he writes from experience, not anger. It is packed with too much insight to fully capture here. To read the full essay, click here.
Hamas announced Sunday that the unity government with Fatah has collapsed.
Hamas spokesman Sami Abu Zuhri accused Palestinian Authority (PA) chairman Mahmoud Abbas of spreading lies by claiming that Hamas and Israel held secret negotiations concerning Hamas rule in the West Bank.
In an interview on Egyptian television, reported by Israel's Channel 10, Abbas claimed that Israel offered Hamas control over half of the West Bank and future negotiations would decide control over the remaining territory. Abbas' unsupported claims overlook the fact that Israel foiled an extensive Hamas plot to initiate a third Intifada and a carry out a coup to oust the PA in the West Bank earlier this year.
At the time, Abbas called the Israeli information "a grave threat to the unity of the Palestinian people and its future," ordering his security forces to investigate the Hamas plot.
Now, the internal Palestinian rift has led Hamas to end the unity government with Abbas' Fatah faction.
This development comes in context of yet another major Hamas terrorist plot. Last Thursday, the Shin Bet (Israel's Security Agency) and the Israel Defense Forces (IDF) foiled a large-scale Hamas network in the West Bank that planned to attack the Teddy soccer stadium and the light rail system in Jerusalem. The plot also featured car bombings and kidnapping of Israelis in the West Bank and abroad. The cell also wanted to attack Israeli military and traffic targets in the West Bank, infiltrate into Israeli communities, and initiate terrorist cells in Jordan to conduct cross-border attacks. The uncovered plot revealed numerous terror cells and Hamas personnel training abroad.
More than 30 people were arrested.
According to the Shin Bet, Hamas' headquarters in Turkey is overseeing the network of West Bank terrorist cells. The terrorist organization's base in Turkey was also directly responsible for attempting to orchestrate a mass-casualty attack and overthrow of the Palestinian Authority earlier this year.
Turkey is a NATO country that openly supports Hamas, a recognized terrorist organization. It denies the Israeli claim, saying it talks with Hamas, "but would not under any circumstances allow a terror group to operate from its territory."
But senior Hamas official Salah Arouri openly operates in the country, and is suspected of helping facilitate the June kidnapping and murder of three Yeshiva students which triggered a summer-long conflict between Israel and Hamas in Gaza.
Two men were charged Tuesday for providing material support to the Islamic State of Iraq and the Levant (ISIL), also known as the Islamic State (IS).
According to the complaint, 18-year-old Abdullahi Yusuf aroused authorities' suspicion last April when he applied for an expedited passport in Minneapolis. He claimed that he was traveling to Turkey but couldn't provide details about "his travel itinerary, travel companions, hotel location or the name or address of a friend in Turkey who he claimed to have met recently via Facebook." The passport specialist found this "unusual" and contacted his supervisor who, in turn, alerted the FBI.
On May 5, the same day he obtained his passport, Yusuf opened a Wells Fargo checking account. Even though he had no known sources of income, Yusuf deposited $1,500 into the account later that month. He then bought an Aeroflot airplane ticket to fly from Minneapolis to Istanbul on May 28. The same debit card was used by a former Minnesota resident identified as H.M. to buy an airline ticket on March 9, the complaint said. H.M., who is believed to be fighting in Syria, allegedly exchanged several telephone calls and text messages with Yusuf.
Yusuf's co-defendant Abdi Nur, 20, also obtained an expedited U.S. passport and opened a checking account the same day, depositing $1,540 into it. He then bought an airline ticket to Turkey. Nur left for Turkey on May 29, but did not return to the U.S. on June 16 as scheduled, the complaint said.
Nur later told an undercover agent on social media that he had gone "to the brothers." He added that we "will see each other in afterlife inshallah," and, "You cant come looking for me its to late for that" (sic) and "im not coming back" (sic).
Nur was Facebook "friends" with Mohamed Abdullahi Hassan, one of dozens of Minneapolis area Somalis who left the U.S. to fight with the terrorist group al-Shabaab in Somalia. Hassan was indicted in absentia in 2009 for providing material support to the Somali terrorist group.
"More than 16,000 recruits from over 90 countries traveled to Syria to become foreign terrorist fighters with alarming consequences," Assistant Attorney for National Security General John P. Carlin said in a Justice Department statement announcing the charges Tuesday. "This is a global crisis and we will continue our efforts to prevent Americans from joining the fight and to hold accountable those who provide material support to foreign terrorist organizations."
Attorneys for Rasmieh Odeh say a federal judge was "unreasonable and unfair" when he ordered Odeh held without bond Nov. 10 pending a spring sentencing date.
Odeh faces up to 10 years in prison and subsequent deportation from the United States after being convicted of naturalization fraud.
Her conviction was based on her failure to disclose 10 years spent in an Israeli prison after being convicted for a series of 1969 Jerusalem bombings that killed two college students. On applications for a visa and later for naturalization as an American citizen, Odeh claimed to have never been arrested, convicted or imprisoned.
While she claims she was tortured and really was innocent in the bombings, immigration officials testified that she never would have been allowed into the country if they knew about her true record.
In paperwork filed earlier this week, defense attorney Michael Deutsch said that, if given a chance, he could show Odeh's "unique and extraordinary ties to her community" which would prove she is no flight risk. Odeh already is being punished, Deutsch wrote, "beginning with her sudden frightening and humiliating physical seizure and handcuffing in the courtroom, in front of the large group of her supporters and friends and clients." She has no warm clothes or blankets in the Michigan jail holding her.
In response, prosecutors say that Odeh's word is not worth much, and the facts supporting her conviction show "serial dishonesty carried out over decades."
Odeh shows a "lack of respect for this Court and these proceedings." Between her conviction and her bond revocation, Odeh slammed the "racist verdict." And during her testimony, Odeh repeatedly violated the court's order not to discuss her view that her Israeli conviction was unjust, since the issue for jurors to decide involved Odeh's answers to U.S. immigration applications. That shows "she pays no heed to this Court's orders," prosecutors wrote.
As Cornell Law Professor William Jacobson notes at the Legal Insurrection blog, the government response included new disclosures which further undermine Odeh's story.
Israeli officials "found explosive bricks in her room" the night they arrested Odeh, the reply says. And while Odeh claims her father, by then a U.S. citizen, was forced by their Israeli captors to rape her and watch her be abused, he reported nothing remotely out of the ordinary when he met with an American diplomat at the U.S. Consulate. According to a cable attached to the prosecution memo, Odeh's father reported his daughter complained she was in "uncomfortable, overcrowded jail conditions … no worse than standard treatment afforded majority detainees at Jerusalem jail."
Odeh, prosecutors wrote, "has been telling stories for many years without any basis in truth, and continued to tell them in the present trial even after the Court told her directly that such evidence was not admissible at trial."
That record should outweigh Odeh's claim that she deserves to be released from jail pending her sentencing, they argued.
Israeli police intercepted a large shipment of weapons intended for Arab rioters in the east Jerusalem, the Jerusalem Post reports. Israeli authorities seized two shipping containers from China, which arrived in Ashdod, consisting of fireworks, knives, and Tasers. The fireworks were hidden within Christmas decorations bound for the mostly Arab Christian neighborhood of Beit Hanina in east Jerusalem.
The containers included 18,000 prohibited fireworks, 5,200 commando knives, 5,500 Tasers, 4,300 flashlights capable of being converted into Tasers, and 1,000 swords.
Click here to watch Israeli authorities uncover the weapons shipment.
Jerusalem detectives collaborated with Israeli tax and customs officials in the undercover investigation. Police arrested three of the suspects after they claimed the containers at the Ashdod port and dropped them off in an Afula storehouse.
In recent weeks, Palestinian rioters increasingly used fireworks as a weapon against Israeli police and soldiers, especially in East Jerusalem. Potentially deadly firecrackers and large roman candles have been fired at Israeli security personnel. Some are capable of penetrating protective police gear, including shields.
Lors d'un discours prononcé lundi à l'académie militaire de l'imam Ali, à Téhéran, l'ayatollah iranien Sayyid Ali Khamenei a accusé les ennemis de l'Islam d'avoir créé l'État islamique pour répandre « l'islamophobie ».
Il a déclaré que l'Occident met sur pied des groupes extrémistes armés comme l'État islamique et les entraîne à commettre des massacres de masse pour discréditer l'Islam.
Les « puissances arrogantes de ce monde » se sentent menacées par ce qu'il a appelé « l'islam authentique » et veulent effrayer les gens par rapport au message religieux.
« En créant des groupes armés se revendiquant de l'islam, en créant l'État islamique et en organisant le massacre de gens innocents, les ennemis de l'islam cherchent à fomenter l'islamophobie alors que le message de l'islam authentique pour l'humanité, c'est la paix, la dignité, la sécurité et la vie. C'est pourquoi les ennemis ne veulent pas que le monde entende ce message », a déclaré Khamenei.
Khamenei a également prétendu que les « tyrans de la planète » craignent la puissance de l'Islam et sont en train de tout faire pour répandre « l'islamophobie ».
Le mois dernier, l'ayatollah a reproché aux États-Unis, au « mauvais gouvernement britannique » et au sionisme d'avoir créé l'État islamique dans le but de semer la division entre sunnites et chiites.
Dans un discours prononcé le 13 octobre à l'occasion du Aïd al-Ghadir, jour sacré pour les chiites, Khamenei a déclaré : « Un examen attentif et critique des événements indique que les États-Unis et leurs alliés, dans les efforts qu'ils déploient pour soi-disant combattre Daesh (l'État islamique), cherchent en fait à créer la division et l'inimitié entre les musulmans plutôt qu'à s'attaquer aux causes profondes du terrorisme actuel ».
Le Corps d'élite iranien des Gardiens de la Révolution a été activement impliqué dans la lutte contre l'État islamique en Irak et en Syrie.
Iran's Ayatollah Sayyid Ali Khamenei charged that the enemies of Islam created the Islamic State to spread "Islamophobia" during a speech Monday at Tehran's Imam Ali Military Academy.
The West sets up armed extremist groups such as the Islamic State and trains them to commit mass murder to discredit Islam, Khamanei said.
The "arrogant powers of the world" feel threatened by message of what he called "authentic Islam" and want to frighten people about the religion's message.
"By creating armed groups in the name of Islam and Islamic state, and massacre of the innocent people, the enemies of Islam plan to create Islamophobia, but the message of authentic Islam for humanity is peace, dignity, security and safe life, and that is why the enemies do not want the world to hear this message," Khamenei said.
Khamenei also claimed that "global tyrants" fear Islam's power and are doing everything they can to spread "Islamophobia."
Last month, the ayatollah blamed United States, the "wicked government of Britain" and Zionism for creating the Islamic State. This was done to stir divisions between Sunnis and Shias.
"A careful and analytic look at the developments reveals that the U.S. and its allies, in efforts that are falsely termed countering Daesh [the Islamic State], seek to create division and enmity among the Muslims rather to destroy the root causes of that (terrorist) current," Khamenei said in an Oct. 13 speech marking the Shiite holy day of Eid al-Ghadeer.
Iran's elite Revolutionary Guard Corps has been actively involved fighting the Islamic State in Iraq and Syria.
Update: An Israeli police officer, Zidan Saif, died of injuries sustained in the shootout with the terrorist, making it five Israelis killed. Saif was from a Druze community in Northern Israel. "We are proud of our sons who act fearlessly on the front against terrorist attacks," said Druze spiritual leader Muefek Tarif.
Israeli political leaders are blaming Palestinian Authority President Mahmoud Abbas for inciting Tuesday's bloody terrorist attack inside a Jerusalem synagogue that killed four people and injured eight others. The two terrorists, who carried axes and a gun, also were killed in a shootout with police.
The attack took place in a synagogue in Jerusalem's Har Nof neighborhood. All four murder victims were rabbis. Three of them, Aryeh Kopinsky, Moshe Twersky, and Calman Levine, were dual American-Israeli citizens. The fourth, Avraham Shmuel Goldberg, was a British-Israeli citizen. Twersky's grandfather is an iconic figure in modern Orthodox Judaism.
"This is the direct result of the incitement being led by Hamas and Abu Mazen (Abbas), incitement which the international community is irresponsibly ignoring," Israeli Prime Minister Benjamin Netanyahu said in a statement. "We will respond with a heavy hand to the brutal murder of Jews who came to pray and were met by reprehensible murderers."
Foreign Minister Avigdor Liberman echoed that, saying "the responsibility rests entirely with the Chairman of the Palestinian Authority Mahmoud Abbas. Abbas has deliberately turned the conflict into a religious conflict between Jews and Muslims and the systematic incitement he leads against Jews, including his statement that impure Jews may not enter the Temple Mount, provides the guidance for such heinous attacks."
Shin Bet chief Yoram Cohen, on the other hand, reportedly told Knesset members in a classified meeting that he did not agree with those assessments.
The Popular Front for the Liberation of Palestine (PFLP) claimed responsibility. The slaughter drew immediate praise from Hamas and the Palestinian Islamic Jihad (PIJ).
A PIJ statement called the attack "a natural response to the crimes of the occupier." Hamas spokesman Sami Abu Zuhri said it was in revenge for the death of a Palestinian found hanged in a bus Sunday night. An autopsy determined it was a suicide.
"Hamas calls for more operations like it," Abu Zuhri said.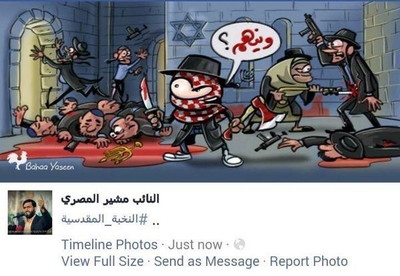 "Where are they?" the attackers asks.
Another Hamas spokesman, Mushir al-Masri, posted a graphic cartoon on Facebook glorifying the attack on Jews as they worshipped.
The attack triggered celebrations in Gaza, with people hailing the killers as martyrs, holding up axes and others passing out sweets.
Secretary of State John Kerry called Netanyahu Tuesday to offer condolences over the attack, describing it as an "act of pure terror and senseless brutality" and called on the Palestinian leadership to condemn it "in the most powerful terms."
Kerry also reportedly cited Palestinian incitement, including recent calls for "days of rage" and said Palestinian leaders need to tamp down their rhetoric.