Genocide against Christians across the Middle East prompted the region's Catholic and Orthodox patriarchs to call for foreign intervention Wednesday during a meeting at the Maronite patriarchate in Lebanon.
Islamic State forces, along with other jihadist groups, have systematically destroyed ancient Christian communities in both Syria and Iraq since the start of Syria's civil war in 2012.
"The international community cannot keep silent about the existence of the so-called," the patriarchs said in a statement, referring to the Islamic State. "They should put an end to all extremist terrorist groups and criminalize aggression against Christians and their properties."
Pope Francis issued a similar statement earlier this month.
The Christian leaders previously were reluctant to encourage foreign intervention in the Syrian civil war. Melkite Patriarch Gregory III, whose church is based in Damascus, charged in August 2013 that foreign intervention in Syria fueled "hatred, fueling criminality, fueling inhumanity, fueling fundamentalism, terrorism."
A prior statement by three of the Catholic and Orthodox patriarchs in December 2011 similarly opposed foreign intervention.
Developments since then led to the change in posture. Those include the Islamic State's imposition of the Quran-mandated jizyah tax on Christians in Syria and in Iraq. Christians must choose among paying the tax, converting to Islam or facing death. In addition, the slaughter of Christians and the desecration of their churches forced the patriarchs' hands.
"The very existence of Christians is at stake in several Arab countries – notably in Iraq, Syria and Egypt – where they have been exposed to heinous crimes, forcing them to flee," the patriarchs' statement said.
They called on Muslim religious leaders to issue a fatwa forbidding attacks on Christians, describing their silence so far as "painful." The United Nations Security Council must take steps toward "eradicating" the Islamic State or else Christian suffering will continue, they added.
A recent incursion by the Islamic State into Lebanon, which experienced its own bloody 15-year sectarian civil war during the 1970s and 1980s, heightened the patriarchs' distress.
"We reject religious extremism in Lebanon. Lebanon is a country for all and not a country where there are different religious emirates," they said.
Lebanon's constitution requires its president to be a Maronite Catholic, but that office has been vacant since former Lebanese President Michel Suleiman's term ended May 25.
A series of tweets by an Islamic State supporter on Thursday show Lebanon remains squarely in the terrorists' sights and that they plan to force Christians there to pay the jizyah or get them to flee to France.
Palestinian Authority President Mahmoud Abbas may not be fond of Israel and its political leadership, but he's clear-eyed about one thing: Hamas initiated and prolonged an unnecessary fight with Israel that directly led to Palestinian deaths.
Abbas appeared on Palestine TV Friday, saying "it was possible for us to avoid all of that, 2,000 martyrs, 10,000 injured, 50,000 houses (damaged or destroyed)."
This criticism comes on the heels of his statement that this week's open-ended ceasefire was, in essence, the same Egyptian proposal Hamas rejected weeks ago, before Israel's ground incursion into Gaza which sent casualties dramatically higher and cause massive damage.
Nevertheless, Hamas is trying to spin the war into a victory. That was apparently too much for Mahmoud al-Habbash, a senior Abbas adviser on religious affairs. On Thursday, Habbash likened Israel's Operation Protective Edge to a battle Mohammed fought in 625 A.D. That fight, the Jerusalem Post's Khaled Abu Toameh wrote, "is generally believed to be a defeat for the Muslims, especially because of the heavy casualties they suffered."
In that case, Habbash wrote on Facebook, "The Muslims admitted their defeat," a statement interpreted as a call for Hamas to do the same today.
That same candor has been lacking among American Islamists, including officials at the Council on American-Islamic Relations (CAIR), which apparently now acknowledges that its mission includes being "defenders of the Palestinian cause."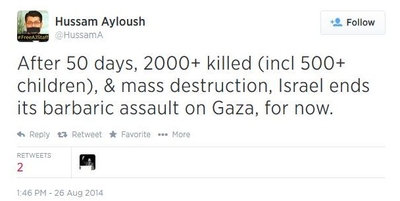 CAIR's Los Angeles director, Hussam Ayloush, has had no comment about Hamas. But after the ceasefire, he wrote in a Twitter post that he conflict was an unprovoked "barbaric assault" by Israel.
Even in the conflict's early stages, however, Abbas wondered what Hamas was "trying to achieve" by firing rockets at Israeli neighborhoods, given that Palestinians "are the losing side, and every minute there are more and more unnecessary deaths. I don't like trading in Palestinian blood."
If he can say that, why can't Ayloush and his colleagues in the United States?
While the world recoils in horror at the brutality shown by the Islamic State in Iraq and Syria, an attorney for the Council on American-Islamic Relations (CAIR) apparently gave serious consideration to a wild conspiracy theory alleging that ISIS is a Mossad and CIA "proxy force."
Lena Masri, a CAIR attorney in Detroit, linked from her Facebook page Aug. 22 to an article by Iran's official news agency, IRNA, about ISIS and its rise to prominence. Among its claims, ISIS leader Abu Bakr al-Baghdadi, the self-proclaimed caliph of the Islamic State, "is really Simon Elliot, a Jewish agent for the Zionist intelligence agency Mossad."
The notion rated a "pants-on-fire" from fact-checking site "Pundit Fact," three days earlier, but Masri chose instead to put the question out to her Facebook friends. "Any truth to this???" she wrote.
Part of CAIR's unstated mission is to deflect attention from the theological underpinnings driving terrorist groups like ISIS, al-Qaida and Hamas. It's a task made more difficult when ISIS proclaims itself the "Islamic State" and a regional caliphate ruled by draconian punishments like book-burning, the stoning of adulterers, and the murder of apostates. Masri's post about ISIS came just days after video surfaced of American journalist James Foley's beheading.
Masri's posting is the latest in a long line of reckless social media postings by CAIR officials. Similar to Masri, CAIR national spokesman Ibrahim Hooper said he suspected a radical Islamist website which issued threats against producers of the television show "South Park" may not be legitimate.Most Muslims, he claimed, "suspect [the sites] were set up only to make Muslims look bad."
Last week, the day after Foley's murder was reported, CAIR Executive Director Nihad Awad bracketed Twitter posts criticizing ISIS brutality with a claim that it is Israel which poses the greatest threat to world peace and security.
Dawud Walid, Masri's colleague at the CAIR Michigan office, has argued that FBI terrorism stings have "recruited more so-called extremist Muslims than al-Qaida themselves."
CAIR officials also have shown an affinity for the messages issued by Iran's official mouthpieces. CAIR officials were frequent guests on Iran's English-language news outlet, Press TV, appearing to back away from the network only after being called out publicly. And Walid was among CAIR officials who dismissed allegations in a federal indictment that traced Iran's elite Qods Force to a plot to assassinate Saudi Arabia's United States ambassador in Washington, D.C. – a potential act of war.
"Not believing AG Holder on Iran-Mexican drug cartel alliance," Zahra Billoo, a CAIR San Francisco official, wrote on Twitter in 2011. Walid said he wasn't "inclined to believe this #Iran plot biz" because it involved an FBI sting operation.
Prosecutors had evidence showing a Qods Force official wired $100,000 as a down payment on the ambassador's assassination. The case ended with the main suspect pleading guilty and receiving a 25-year prison sentence.
In an unrelated case, the FBI seized internal documents from a Hamas-support network in America which place CAIR and its founders firmly under its wing. Those records were admitted into evidence in federal court. CAIR treats this documented, court-tested connection as a wild, Islamophobic concoction.
In reality, though, there's no need to ask "any truth to this?"
A Free Syrian Army source says a San Diego man was killed in battle fighting for the Islamic State (IS) against a rival anti-Assad faction over the weekend. Douglas McArthur McCain, 33, was identified through passport photos and distinctive neck tattoo.
This comes as the Obama administration ramps up its effort to counter the self-proclaimed terrorist state in the wake of American journalist James Foley's brutal execution last week.
McCain was born in Illinois but later moved to the Twin Cities in Minnesota where he graduated from Robbinsdale Cooper High School in 1999. Police arrested McCain in 2000 on a disorderly conduct charge; in 2001 on a theft charge; and again in 2006 on charges of obstruction, according to court documents.
His "Duale ThaslaveofAllah" Facebook account features jihadist imagery such as the black flag used by IS and links to other Facebook pages depicting street brawls. His most recent Facebook activity shows he befriended a Malaysian jihadist who lives in Raqqa, Syria where the IS is based.
He "reverted" to Islam in 2004, according to a Twitter post. McCain reportedly worked at a restaurant in San Diego and attended Masjid Nur in that city, NBC News reports.
U.S. intelligence officials estimate at least 100 Americans have gone to Syria to fight for a myriad of jihadist factions battling the Assad regime. Of those, only about a dozen Americans are believed to be fighting for IS.
McCain becomes the fourth American known to have been killed while fighting for jihadist groups.
In May, Florida resident Moner Mohammad Abusalha became the first American to be a suicide bomber in Syria fighting for Jabhat al-Nusra, al-Qaida's Syrian affiliate. A Pittsburgh man, identified as Amir Farouk Ibrahim, was reportedly killed fighting in Syria in 2013. Nicole Lynn Mansfield, a white convert to Islam from the Detroit area, also was killed while fighting there last year.
McCain's death no doubt will heighten concern about IS ability to recruit American Muslims to fight under its banner – concern that had already been brewing due to images of the White House and Chicago's Old Republic Building that had been circulated in IS-related Twitter accounts.
Israel's counterterrorism operations in Gaza have effectively deteriorated Hamas' military capabilities and facilitated in breaking down the terrorist group's chain of command, security officials told the Jerusalem Post Tuesday.
Later that day, amid the report's assessment that Hamas had lost much of its will to fight, the terrorist group agreed to the latest Egyptian-brokered ceasefire.
There is growing discontent among the Hamas ranks, as the group suffered significant terrorist casualties, destruction of vital military infrastructure, rocket construction capabilities, and major destruction of its sophisticated underground tunnel network, the Post report said. Israel's successful targeted assassination of senior Hamas leaders severely disrupted the terrorist organization's command and control structure, and even resulted in the desertion of rank and file terrorists from battle.
In light of the assassinations, growing suspicion of Israeli intelligence infiltration also forced Hamas to halt the use sophisticated technologies in the battlefield, significantly reducing its ability to fight. The growing mistrust and panic led Hamas to summarily execute over 20 Palestinians accused of collaborating with Israel.
Mid-range commanders allegedly fled with their families from conflict zones to avoid having their houses destroyed, producing a sense of mistrust and abandonment among remaining fighters. In one case, 14 Hamas fighters were reportedly trapped in a tunnel for 20 days with no supplies while their commanders failed to even attempt a rescue effort. Some are believed to have starved to death.
According to the Israeli assessments, many within Gaza's society are disillusioned with Hamas, whose leaders were among the first to hide underground leaving the civilians to cope with Israeli retaliation to Hamas' indiscriminate terrorist campaign. Hamas is also accused of confiscating aid transferred into the Gaza Strip, intended for needy civilians, and giving it to its own members.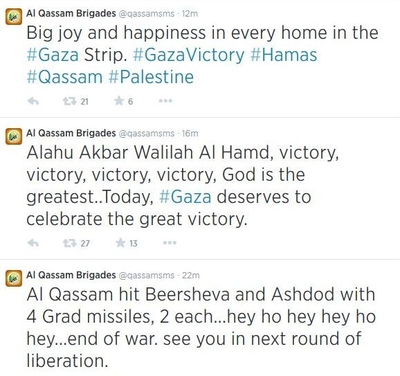 None of this reality has stopped Hamas from claiming victory. Hours before the cease-fire went into effect, dozens of rockets and mortar shells targeted southern Israel, wounding dozens and killing one Israeli. The Hamas Al-Qassam Brigades boasts of its terrorist campaign and perceived diplomatic victory over Israel, touting that it is preparing for the next round of hostilities against the Jewish state.
Hamas leadership continues to make clear that they remain committed to Israel's destruction. The Gaza war showed that they are willing to sacrifice their own people, by constantly firing from civilian population centers and structures, including mosques and hospitals, in hopes of advancing that goal.
A Hamas training manual published by the engineering corps of the Al-Qassam Brigades, the terrorist group's military arm, tells Palestinian civilians living in Gaza how to build and store bombs in their homes.
Such recommendations further demonstrate Hamas' desire to put civilians into harm's way. Secondary explosions consistent with storage of munitions in civilian areas have been observed by the Israel Defense Forces (IDF) since the beginning of the latest conflict in July.
The terrorists aim "to transfer combat from open areas to built-up urban areas, which serves the 'resistance' [i.e. Hamas] and fighters of Islamic Jihad," according to the manual, seized by Israeli troops during Operation Protective Edge.
The manual tells "jihad fighters" to take advantage of private residences to evade Israeli intelligence-gathering efforts. It also suggests doing so enhances the element of surprise.
According to an IDF translation of the section titled "Factors for Successfully Hiding Weapons in Homes," the Al-Qassam Brigades recommends:
(1) The activity of hiding weapons in homes needs to be done with secrecy and should not have a military character.

(2) Placing equipment in residential areas needs to be done with household items.

(3) You must use residents of the area in order place the equipment inside.
Jordanian prosecutors charged eight people with planning to attack American soldiers and Israel's embassy in the country, in addition to recruiting individuals on behalf of Hizballah. A Syrian fugitive and seven Jordanians are accused of being part of a "conspiracy with intent to carry out terrorist acts," according to an Investigative Project on Terrorism translation of a Jordanian daily Al Ghad story.
The suspects are accused of being Hizballah members. The Lebanese-based Iranian terror proxy is an illegal organization in Jordan and designated as a terrorist group by the U.S. and other major Western countries. The seven Jordanians had automatic weapons, basic materials for manufacturing explosives, and small imaging devices to conduct intelligence operations when they were arrested in May.
The indictment reveals that this case dates back to 2006 when the main defendant became infuriated with the presence of American soldiers in Jordan. He then recruited others, who were all members of the "Association Against Zionism and Racism."
According to the indictment, the defendants conducted surveillance of a road frequented by American soldiers and plotted an attack using AK-47s. Later, the plan changed to a bombing attack after a new recruit to the group brought experience with explosives.
The group practiced detonating bombs and studied using remote controlled devices.
During Israel's 2008 counterterrorism operation in Gaza, according to the indictment, the men allegedly agreed to conduct a terrorist attack against on the Starbucks café in Sweifieh, believing that it belonged to a "Zionist company." The ringleader also suggested that they attack the Israeli embassy.
The main defendant met with a Hizballah security official named Abdul Aziz in Lebanon in 2011, the Jordanian indictment says. The Hizballah official instructed the defendant to recruit more people for possible attacks. In 2012, Hizballah e-mailed the main defendant and inquired whether explosives could be smuggled into Israel. The group began making explosives using battery acid and fertilizer and also built a secret underground bunker to train other recruits on firing weapons. Cell members photographed the bunker and sent it to Hizballah.
Jordanian authorities also seized laptops containing encrypted files that featured detailed Hizballah instructions, information regarding the detonation of timers using remote controls, the manufacture of silencers and chemical products pertaining to the construction of explosives, and instructions regarding the role of photography in terrorist operations.
If convicted, the suspect could face a lifetime of manual labor.
The extensive details produced by the indictment show the extent to which Hizballah continues its terrorist campaign against Western and Israeli targets. In the past couple of years, numerous Hizballah plots have been exposed around the world, including the Burgas bus bombing that resulted in the deaths of five Israelis and the Bulgarian bus driver.
A close friend of suspected Boston Marathon bomber Dzhokar Tsarnaev pleaded guilty last week to impeding the bombing investigation. At a court hearing Thursday, Dias Kadyrbayev admitted to destroying evidence that could be used to implicate Tsarnaev.
Kadyrbayev was indicted along with Azamat Tazhayakov for obstructing the investigation into last year's deadly Marathon bombings that killed three people and injured approximately 260 others. Kadyrbayev and Tazhayakov, both nationals of Kazakhstan, attended the University of Massachusetts Dartmouth (UMass) and were in the United States on student visas.
Soon after the FBI released photographs of the suspected bombers, Kadyrbayev admitted to exchanging text messages with Tsarnaev. In the messages, Tsarnaev said to Kadyrbayev, "I saw the news…" and "If yu [you] want yu [you] can go to my room and take what's there J but ight [night] bro Salam aleikum."
Kadyrbayev then went with co-conspirator Tazhayakov and a third man to Tsarnaev's UMass dorm room. Kadyrbayev found a backpack containing fireworks and a jar of Vaseline. "The fireworks appeared to have been opened, manipulated and some explosive powder appeared to have been removed," Kadyrbayev's plea agreement said. In addition to the backpack, Kadyrbayev also found Tsarnaev's laptop. He and Tazhayakov agreed to take the backpack and the laptop from the dorm room.
Following television news reports on the bombings and the manhunt for the alleged bombers, Kadyrbayev and Tazhayakov agreed to get rid of the backpack and fireworks. They "placed the backpack and its contents, including the fireworks, into a large trash bag and threw the entire bag into the garbage dumpster." But they kept the laptop and hid it in their apartment. A sanitation truck removed the garbage dumpster from their Carriage Drive apartment complex moved its contents to a landfill in New Bedford, Mass. Tsarnaev's backpack, containing fireworks, a jar of Vaseline, and a thumb drive were later discovered by investigators at the landfill.
Under terms of the plea agreement, prosecutors will recommend a sentence of seven years in prison for Kadyrbayev, who has agreed to be deported from the United States after his release. The sentencing date has been set for Nov. 18.
To hear some Palestinian advocates, if Israel simply lifted its blockade on Gaza – aimed at curbing weapons smuggling into the Hamas-controlled territory – then peace could be enjoyed by all.
One of the main Hamas spokesman made it clear in an Aug. 17 speech that those advocates are misguided.
"The time has come for us to say that our true war is not aimed at opening the border crossings. Out true war is aimed at the liberation of Jerusalem, Allah willing," Sami Abu Zuhri said in a speech aired on Hamas' Al Aqsa television. It was translated by the Middle East Media Research Institute (MEMRI) in a video report.
Abu Zuhri also invoked the infamous anti-Semitic rallying cry radical Islamists often chant when calling for the elimination of Israel.
"Khaybar, Khaybar, oh Jews, the army of Muhammad has begun its return."
The slogan represents an early Islamic conquest of Khaybar, a predominately Jewish city in modern Saudi Arabia. In the year 629, Muslim armies besieged the city, slaughtering most of its occupants and eventually expelled the remaining Jewish inhabitants.
"The resistance is preparing not for the opening of a border crossing here or there, but rather for the liberation of our Palestinian land. This is the truth that Netanyahu should understand," Abu Zuhri said.
Hamas apologists argue that the group's charter, and its call for Israel's destruction, no longer is valid. Hamas, they believe, deserves a seat at the negotiating table. But Abu Zuhri's speech, the latest in a long line of consistent rhetoric, exposes the hollow nature of trying to cast Hamas as holding any interest in peaceful coexistence.
You may have seen some critical assessments of media coverage during the ongoing Gaza war, but you haven't seen anything like investigative reporter Richard Behar's comprehensive dissection at the Forbes website.
It's an absolutely massive dissection, coming in at over 21,000 words.
But Behar uses much of that to show specific examples of reporters failing to do their jobs in several key areas:
By not reporting on rocket fire from civilian areas.
By ignoring a Hamas manual discovered by Israeli troops which explains how to use civilians as protection.
By largely ignoring a Hamas plot unraveled by Israel to use its vast tunnel network to wage a mass terrorist attack during the upcoming Jewish holidays which could have resulted in wholesale slaughter.
By mindlessly repeating that the "overwhelming majority" of Palestinian casualties in Gaza are civilians, based solely on Hamas-controlled Palestinian health officials, when preliminary analysis indicates it might be closer to 50/50.
"Journalism ethics professors and historians take note," Behar writes, "You are bearing witness, with few exceptions, to some of the most abysmal overseas reporting since Hearst's New York Journal in 1898 got us into the Spanish-American War and Walter Duranty of the New York Times was ignoring Stalin's crimes in the 1930s.
He puts the greatest scrutiny on failings by the New York Times, "because it is, without question, the most important media outlet in the world, in terms of setting the table each day for other outlets."
But one of its Gaza-based correspondents, Fares Akram, has used a glowing image of the late-Palestinian Liberation Organization leader Yasser Arafat as his Facebook profile image and lauded Arafat for being among the "heights by great men."
And Times Jerusalem Bureau Chief Jodi Rudoren dismissed a Foreign Press Association statement acknowledging foreign correspondents in Gaza were "harassed, threatened or questioned over stories or information they have reported" and that Hamas was developing a blacklist of journalists it didn't like.
Rudoren disputed the statement on Twitter, Behar writes, and then wrote to the Press Association claiming all the reporters she knows consider the Hamas intimidation claims an Israeli narrative that "is nonsense."
Behar reached out to several reporters and editors who covered the war. Most wouldn't speak, or wouldn't speak for attribution.
"Clearly, the preponderance of the evidence is that reporters have indeed been intimidated, and that there is a reason for the intimidation—Hamas has a lot to hide," he wrote. "The media, in other words, is part of the story. Yet this is a story that does not exist to the readers of the New York Times, which include the policymakers in Washington."
Read Behar's full analysis here.