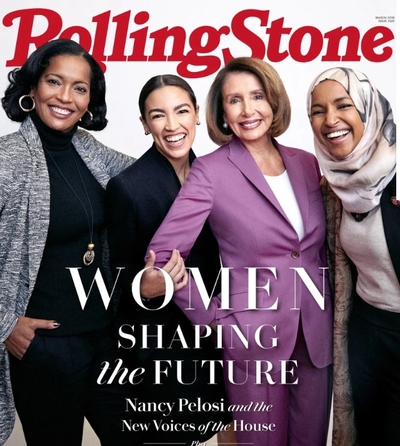 Get caught repeatedly spewing anti-Semitic statements alleging that Jewish money controls American foreign policy, or that the planet's lone Jewish state has powers that "hypnotized the world" and what do you get?
If you're freshman U.S. Rep. Ilhan Omar, it's the cover of Rolling Stone magazine along with House Speaker Nancy Pelosi.
Omar, D-Minn., may see a consequence-free risk in continuing to espouse such hateful rhetoric.
News reports Tuesday credited Omar with deleting past social media posts that also were anti-Semitic. But during an event in Washington, D.C. Wednesday evening, Omar launched another defensive rant that raised an anti-Semitic dual loyalty canard against critics of her anti-Semitism, the Jewish Insider reports.
U.S. Rep. Radhida Tlaib, a fellow freshman in Congress and Palestinian American who, like Omar, supports a global economic, academic and cultural boycott against Israel, was seated next to Omar.
"...because Rashida and I are Muslim," Omar said, "that a lot of our Jewish colleagues, a lot of our constituents, a lot of our allies go to thinking that everything we say about Israel to be anti-Semitic because we are Muslim ... And so to me it is something that becomes designed to end the debate ... And that ends the discussion. Because we end up defending that and nobody ever gets to have the broader debate of what is happening with Palestine.
"So for me, I want to talk about the political influence in this country that says it is okay to push for allegiance to a foreign country."
In defending herself against claims she's an anti-Semite, Omar said Israel's supporters are trying "to push for allegiance to a foreign country."
This is at least the third strike by Omar. House leadership forced her to apologize earlier this month after she tweeted "It's all about the Benjamins baby" to explain why she and fellow Democrat Rashida Tlaib draw negative attention for their "criticisms of Israel."
Who is the source of this slang reference to cash? "AIPAC!" Omar added, referring to the American Israel Public Affairs Committee. During a 2012 conflict between Israel and Hamas in Gaza, she cried out that Israel "hypnotized the world" and prayed that "Allah [would] awaken the people and help them see [its] evil doings ..."
When supporters tried to raise money for her re-election campaign despite the apology, Omar said nothing.
Her "all about the Benjamins" quip prompted many critics, including the Investigative Project on Terrorism, to call for her removal from the House Foreign Affairs Committee. She got the cover of Rolling Stone instead.
What price will she pay for pushing the dual loyalty slur? Maybe they'll promote her to chairwoman.