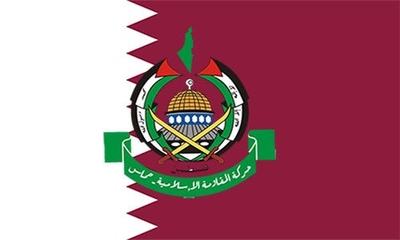 Hamas is not a terrorist organization and his country has nothing to do with terrorism, Qatari counterterrorism envoy Ambassador Mutlaq Al-Qahtani told the Investigative Project on Terrorism (IPT). But it all depends on your definition of terrorism. Al-Qahtani spoke April 9 at the National Press Club at an event sponsored by the International Center for the Study of Violent Extremism (ICSVE) – a group that works to undermine the appeal of ISIS using counter-messaging videos.
"Qatar has not, does not, and will never support terrorism in any form," Al-Qahtani said.
Terrorism is a subjective term, he said, and there is no globally-accepted definition. Qatar views Hamas as a "legitimate political force and governing party," ICSVE founder Anne Speckhard wrote on her group's website in January. Qatar's emir, Sheikh Tamim bin Hamad al-Thani, told CNN's Christiane Amanpour in 2014 that Hamas was not a terrorist group because it is "a very important component of the Palestinian people."
Qatar has been a stalwart supporter of the Muslim Brotherhood for decades and especially since the 2011 Arab Spring. This support alienated Qatar from its neighbors and led to the decision last June by Saudi Arabia, Bahrain and the United Arab Emirates (UAE) to impose a land, sea and air blockade of Qatar. They issued a list of 59 terror-linked people and 12 allegedly terror-linked groups that they claimed Qatar supported. The blockade would continue, the three Gulf states said, until Qatar took action against them. Many of the people listed are also blacklisted by the U.S. government and by the United Nations.
Ending support for the Muslim Brotherhood was among the 13 demands Qatar's Gulf neighbors imposed on it, as was Qatar taking action against the people on the Gulf States' terror list.
Al-Qahtani seemed to say the Brotherhood was being targeted solely because it is an opposition group. Opposition parties often are unfairly tarred with the terrorist label, Al-Qahtani said. He vigorously argued that the Muslim Brotherhood likewise faced unjust accusations of being connected with terrorism in Egypt and the United Arab Emirates (UAE).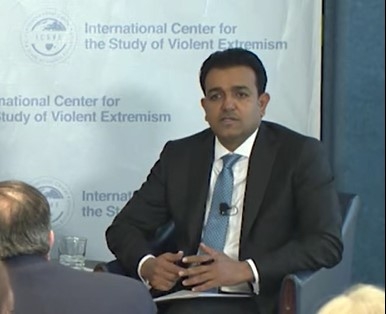 Mutlaq Al-Qahtani is Qatar's foreign affairs special envoy for Combating Terrorism and Mediation in Dispute Resolution.
"I think the most important [thing] for anybody if you want to make a good argument against any country to classify this entity or that individual as a terrorist is try to make sure that the Security Council of the United Nations to sanction that individual or that entity...," Al-Qahtani
said
. Since that has not happened, "Hamas is not a terrorist organization."
Qatar's "explanation for HAMAS not being a terrorist organization is distinctly unimpressive and inconsistent," terrorism researcher Kyle Orton told the IPT.
Hamas became famous for sending suicide bombers to blow up Israeli civilians, the most recent being a 2016 attack on a bus in Jerusalem. It also encouraged stabbing attacks against Israelis in the fall of 2015. Rocket attacks by Hamas against Israeli civilian targets also have been commonplace. Additionally, Hamas has praised car-ramming attacks against Israelis.
Al-Qahtani questioned the Gulf States' standing to accuse others of supporting terrorism, saying Saudi Arabia, Bahrain and the UAE have terrorism records "worse than ever." He cited a connection between Bahrain's royal family and ISIS's late top religious scholar, Turki Binali, and Egypt's blocking of the addition of ISIS affiliates in several countries to the U.N.'s terror list as examples. His list of examples also included findings by the Henry Jackson Society last year that Saudi interests funded Islamist extremists in the U.K.; however, he omitted that the report also pointed the finger at Qatar. The 9/11 hijackers were from Saudi Arabia, the UAE and Egypt, he said, adding that some of their funding came through the UAE.
Al-Qahtani's remarks connecting Saudi Arabia with 9/11 weren't accurate, Orton said.
"One of al-Qaeda's founding missions is to overthrow the House of Saud. That these people were originally Saudi citizens is really irrelevant," Orton said via Twitter.
Al-Qahtani failed to mention Qatar's own connection to 9/11.
Khaled Sheikh Mohammed took a Qatari government job at the suggestion of Qatar's current Interior Minister Sheikh Abdullah bin Khalid bin Hamad al-Thani, the 9/11 Commission found. U.S. intelligence officials also said al-Thani helped Mohammed escape from Qatar in 1996 before American authorities could capture him. Osama bin Laden personally visited with al-Thani in Qatar several times between 1996 and 2000. Bin Laden's declaration of war against the United States was issued in 1998.
Qatar's interior ministry published a list of terror financiers that it sanctioned in March in response to pressure from its neighbors, but the Anti-Defamation League (ADL) noted that groups like Hizballah and al-Qaida were conspicuously absent. Two al-Qaida linked financiers with ties to Qatar's government also were not included.
Not only does Qatar reject terrorism labels for Hamas, the country provided significant support to the group. Hamas's top leaders lived in Doha until last June when "external pressures" forced their expulsion following the announcement of the blockade. As recently as 2015, Qatar's foreign minister described then-Hamas political leader Khaled Meshaal as a "dear guest." But Qatar no longer funds Hamas, U.N. Ambassador Nikki Haley told Congress in December. It previously pumped millions of dollars to fund Hamas' governmental infrastructure in Gaza. Qatar claimed that it routed its money through the United Nations, but Israeli press reports indicate that Qatar agreed to directly fund the construction of a new Palestinian government building in Gaza.
Even if Qatar has backed off funding Hamas, it remains a major source of anti-Israel terrorist incitement.
The ADL complained April 10 that Qatar remains a hotbed of anti-Semitic rhetoric. For example, the imam of Doha's state-run main mosque in December called Jews "your deceitful, lying, treacherous, fornicating, intransigent enemy" in a sermon called the "Liberation of Al-Aqsa."
Al-Qahtani rejected the charge of religious extremism.
"...[Extremist] religious doctrines pose an undeniable challenge to all of us. They exist in every culture and Islam has no monopoly on them. If actors continue to twist religious doctrines to poison the minds of desperate people in our region and beyond, it's clear that we are obliged to fight the compact religious extremism," Al-Qahtani said.
Yet for decades, Qatar's royal family gave Muslim Brotherhood ideologue Sheikh Yusuf Qaradawi a platform for his hate-filled, pro-terrorist ideas. Qaradawi considers non-violent definitions of jihad – those which cast it as primarily spiritual – as "unacceptable," a belief he shares with Muslim Brotherhood founder Hasan al-Banna.
Jihad as a spiritual struggle diminishes "Jihad in the Way of Allah, and play[s] down its status and virtues in Islam, and its necessity in defending the being of the Ummah (Muslim nation) and its holy sites, if attacked by aggressors and affected by arrogant tyrants," Qaradawi wrote in a 2016 article.
Qaradawi preached support for suicide bombings and hatred of Jews for years on Qatar's state-owned Al-Jazeera network.
The Holocaust "was divine punishment for them. Allah willing, the next time will be at the hand of the believers," Qaradawi said in a 2009 Al-Jazeera broadcast.
He also sanctioned attacks against U.S. troops in Iraq. In 2014, Qaradawi expanded his fatwa supporting suicide bombings to Syrians. He dialed back his support for Palestinian suicide bombings in 2016, saying Palestinians could use rockets to attack Israel instead.
"Suicide bombing has been normalised in a way it could not have been without the support of someone with Al-Qaradawi's stature," the UAE-based National newspaper said in November.
After President Trump announced the U.S. recognized Jerusalem as Israel's capital, Qaradawi called for jihad and hurled anti-Semitic barbs.
"The Quran does not devote as much space to the Persians and Romans as it does to the Jews, whose crimes and depraved deeds it exposes. They are the greatest of liars when they speak, the greatest of villains when they quarrel, and the most treacherous of people when they make pacts," Qaradawi wrote on Twitter, a translation by the Middle East Media Research Institute (MEMRI) shows.
Qaradawi's International Union of Muslim Scholars (IUMS) also issued a communiqué in October calling for the end of Qatar's isolation and reaffirming the "importance of armed struggle and resistance in all its forms to liberate Palestine and the Al-Aqsa Mosque." Senior Hamas leader Ismail Haniyeh is an IUMS member.
Qatar reportedly used an associate of Qaradawi's as a conduit to coordinate the flow of Qatari arms and money to al-Qaida linked rebels belonging to the Libyan Islamic Fighting Group (LIFG).
Qaradawi and IUMS Secretary General Ali Mohiuddin Qaradaghi have close ties with terror-linked charities connected with Qatar's royal family. These include Qatar Charity and the Sheikh Eid al-Thani Charity. Qatar's Gulf neighbors placed both on their list of terror-connected groups.
Qatar Charity, formerly the Qatar Charitable Society, belongs to Qaradawi's Union of Good, a global alliance of Islamic charities in 21 countries, that facilitates financial transfers between its member charities. U.S. Treasury officials described the Union of Good as a "broker for Hamas" in 2008 when it blacklisted it.
U.S. court documents showed that Osama bin Laden used Qatar Charity as a terror funding source during the 1990s. Qatar Charitable Society helped finance the 1998 bombings of the U.S. embassies in Kenya and Tanzania, according to the U.S. government.
Reports suggest these connections persist. Maliweb reported that Qatar Charity funded terrorists belonging to the al-Qaida linked group Ansar Dine in 2013, a claim corroborated by French intelligence. The other Gulf States also accuse Qatar Charity of assisting AQAP in Yemen.
Al-Qahtani downplayed Qaradawi's continued presence in Qatar and how it squares with its "soft-power approach to terrorism" – the subject of the conference. Qaradawi "is quite old. His health is not that good," and his Al-Jazeera program went off the air years ago, he said.
All of these pieces of evidence show that Qatar's approach to terrorism is confused at best. Standing with ICSVE against ISIS is one thing, but terrorism is more than just ISIS.