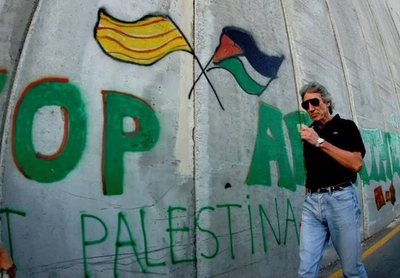 An anti-Semitic film, "The Occupation of the American Mind" will be shown Tuesday in Takoma Park, Md. at a taxpayer-funded screening despite public pressure to reverse course. The movie peddles in anti-Semitic tropes that claim Jewish and pro-Israel groups have disproportionate power over U.S. foreign policy and in effect brainwash Americans to support Israel.
"A municipality is using taxpayer money to show a widely rejected 'documentary' narrated by a notorious anti-Semite [Pink Floyd bassist Roger Waters] that peddles anti-Semitic canards," Ronald Halber, executive director of the Jewish Community Relations Council of Greater Washington, told the Jewish Telegraph Agency earlier this month. "They should be bringing people together, not dividing them."
After the movie, Islamist and anti-Israel figures from the Council on American-Islamic Relations (CAIR), American Muslims for Palestine (AMP), and Jewish Voices for Peace (JVP) will discuss the film. Each group actively promotes the Boycott, Divestment, and Sanctions (BDS) movement devoted to coercing the Jewish state.
BDS – which seeks to isolate Israel economically and culturally – is considered anti-Semitic because it singles out the world's only Jewish state and ignores countries with far worse human rights records.
CAIR's efforts to derail this bill or promote an anti-Semitic film are not surprising given the organization's record for spreading anti-Israel views that often transcend into the realm of bigotry.
CAIR is actively working to stifle an "Anti-Semitism Awareness" bill that directs the U.S. Department of Education to adopt a widely accepted working definition of anti-Semitism.
Elements of this working definition encompass modern anti-Israel sentiment that "crosses the line into anti-Semitism." That includes denying the Jewish people's right to self-determination, claims that Israel was founded as a racist entity, and applying double standards against Israel not expected of other democracies.
To add insult to injury, Takoma Park officials confirmed the participation of another radical Islamist: Taher Herzallah, associate director of Outreach & Grassroots Organizing for American Muslims for Palestine (AMP), according to a JCRC press release on issued Monday.
Herzallah is one of the "Irvine 11" prosecuted in 2010 following a hostile plan to silence a University of California, Irvine speech by former Israeli Ambassador Michael Oren. Three years later, as AMP's national campus coordinator, Herzallah proudly justified Hamas rocket fire into Israel while calling images of wounded Israeli soldiers "the most beautiful sight."
In November, Herzallah rationalized the slogan, "from the river to the sea, Palestine will be free," a call that leads to Israel's destruction.
"If giving Palestinians their right to live freely means the destruction of Israel, then so be it," Herzallah wrote on Facebook.
It's no surprise that he also called for violence against Israelis.
"Israelis have to be bombed, they are a threat to the legitimacy of Palestine, and it is wrong to maintain the State of Israel. It is an illegitimate creation born from colonialism and racism," Herzallah said during a 2014 AMP conference.
Despite the controversy, Takoma Park Mayor Kate Stewart defended the film screening.
"Our goal is to create a space for people to listen, critique, discuss, and learn from each other," Stewart said in a July 12 statement.
Inviting Islamist figures who espouse extremist positions to participate in publicly-financed events, however, is the opposite of creating "a space for people to listen." In numerous speaking engagements Herzallah, like other U.S.-based Islamists, has used his platforms to preach hate and spread extremism in an effort to intimidate supporters of Israel. The film screening likely will be no exception.
The brother of a prominent CAIR executive wrote about killing Jews on Facebook while waiting for a plane at Israel's David Ben Gurion Airport after a trip to Jerusalem's Al-Aqsa Mosque, the Middle East Forum's Sam Westrop found.
Ahmed Billoo, known on Facebook as "Ahmed Ibn Aslam," is Zahra Billoo's brother. She is executive director for the Council on American-Islamic Relations' (CAIR) San Francisco-Bay Area office and also is known for her frequent anti-Semitic outbursts. Ahmed Billoo is the religious director of the Islamic Center of Cypress and a professor at California Islamic University. He also teaches at the Institute of Knowledge, which Westrop identifies as a seminary that has other faculty from a hardline Salafist/Deoban ideology.
"Oh God, reduce their numbers, exterminate them, and don't leave a single one alive," Billoo wrote in an Arabic post featuring the hashtag "#Zionists."
Once Billoo reached Istanbul he posted, "So good to be in a Muslim country," with the hashtag "#TiredofSeeingZionists."
This is nothing new for Billoo. Westrop notes that The Jewish Journal describes an Ahmed Billoo from Alhambra, Calif., Billoo's home, who said that suicide bombers should be looked at on a case-by-case basis. He was president of the California State University Long Beach Muslim Student Association at the time.
Imam Faisal Ahmed, who heads the New York-based Fiqh Institute, replied to Billoo saying, "Ameen!!! Wow you were at the place where Eesa [Jesus] will slay the Dajjal [Anti-Christ]! Oh Allah make it happen soon make it happen soon. Destroy the forces of kufr [non-Muslims] and cause Emaan [faith] in you to spread throughout the earth Ameen!"
Several individuals belonging to leading U.S. Islamist groups showed their approval by liking Billoo's post. These included American Muslims for Palestine (AMP) Associate Director of Outreach & Grassroots Organizing Taher Herzallah, who affirmed his belief in Israel's destruction last November.
"Now, Zionists claim that voicing this statement erases them and threatens their project. They interpret it as meaning the destruction of Israel. If giving Palestinians their right to live freely means the destruction of Israel, then so be it," Herzallah wrote on Facebook.
CAIR California board member Abdelhamead Ibrahim, who also is an activist in Zahra Billoo's CAIR SFBA subchapter, also liked the post, so did Dalen Carter, an events and outreach assistant with CAIR Los Angeles.
CAIR and its allies like saying they oppose Israel's policies, but their embrace of posts like this serve as a reminder that Jew hatred lurks beneath the propagandistic façade.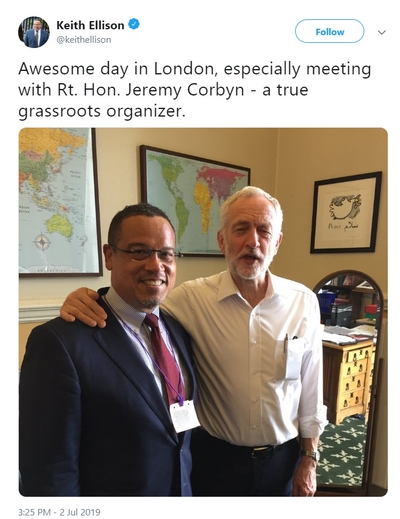 Minnesota Attorney General Keith Ellison, a former Democratic National Committee deputy chairman, posted a photo of himself Tuesday night with U.K. Labour Party Leader Jeremy Corbyn.
Corbyn's Labour Party has been embroiled in an anti-Semitism controversy that has seen key leaders leave the party. Nearly 40 percent of British Jews said they would consider leaving the U.K. if he were to become prime minister.
Ellison, a savvy politician, has to be aware of Labour's problems. That did not give him pause about posing with Corbyn, who has embraced terrorist organizations Hamas and Hizballah and called them his friends.
"Awesome day in London," Ellison wrote, "especially meeting with Rt. Hon. Jeremy Corbyn – a true grassroots organizer."
Before becoming Labour leader, Corbyn praised a re-issue of a century-old book that claims Jews control banking and the press. Corbyn wrote a foreword in the 2011 edition of J.A. Hobson's "Imperialism: A Study."
"I am sickened that Labour is now perceived by many as a racist, anti-Semitic Party," MP Mike Gapes wrote in a February resignation letter posted on social media. "But there has been considerable reluctance since then to seriously deal with hundreds of cases of anti-Semitism and several prominent anti-Semites have been readmitted to the Party."
An ongoing investigation by Great Britain's Equality and Human Rights Commission (EHRC), drew 100 witnesses, The Guardian reported.
Despite the scrutiny, "Nothing has changed," Jewish Labour Movement Secretary Peter Mason told the newspaper. "We continue to see the same behaviour that we have seen for a very long time and no action taken to tackle it."
Ellison, a former congressman, is also no stranger to embracing bigotry and anti-Semitism.
In 2010, Ellison promised at a private fundraiser that Israel's influence on American foreign policy would change once more Muslims got involved in politics.
He was also forced to denounce Louis Farrakhan, a fervent Jew-hater, despite the fact that he met privately with him in 2016. Ellison had said that his ties to the Nation of Islam and Farrakhan ended in the early 1990s.
Ellison insists he's being unfairly maligned. But he does himself no favors when, as a state attorney general, he makes a point of showing the world he's aligned with Corbyn. In 2015, Ellison criticized U.S. Rep. Steve King's invitation to anti-Muslim Dutch activist Geert Wilders.
Wilders, who has advocated banning the Quran and Islam, has a right to speak, Ellison said. But "we should not be offering the United States Congress as a platform for hate, division and bigotry."
Somehow, it's okay to provide a platform for hate, division and bigotry if it's in the United Kingdom?
Note: This post has been updated to correct the name of the Al Udeid Air Base.
Qatar's Washington embassy paid for six congressional Democrats to visit Doha last December, Al-Monitor reported Friday. U.S. Reps. Ami Bera, D-Calif., Andre Carson, D-Ind., and Dan Kildee, D-Mich., noted the payment in financial disclosure forms.
The office of U.S. Rep. Donald Norcross, D-N.J., told Al-Monitor it would amend its disclosure form to include the Qatari payment. U.S. Rep. James Himes, D-Conn., failed to disclose the trip. Rep. Brendan Boyle, D-Pa., received an extension until August to file his disclosure. Ben Smith of Buzzfeed, which co-sponsored the Doha Forum first acknowledged the trip in a Dec. 15 tweet.
Speakers at the Doha Forum included President Recep Tayyip Erdogan's son-in-law, and current Turkish Finance Minister Berat Albayrak; Iranian Foreign Minister Mohammad Javad Zarif; and Mutlaq al-Qahtani, who told the Investigative Project on Terrorism (IPT) last year that Hamas was not a terrorist organization. Al-Qahtani serves as Qatar's counterterrorism envoy.
Carson and Himes sit on the House Intelligence Committee. Bera serves on the House Foreign Affairs Committee. Norcross is on to the House Armed Services Committee.
At the forum, the officials met with Qatar's deputy prime minister and minister of foreign affairs. Qatar hosts the Al Udeid Air Base, which is home to the forward headquarters of U.S. Central Command and the headquarters of the U.S. Air Force Central Command.
Qatar is one of the biggest funders of the Muslim Brotherhood and is home to radical Sheikh Yusuf Qaradawi, who has been a major force in the movement for decades. Qatari money has funded numerous terrorist groups including Hamas and al-Qaida.
This is but one example of Qatar's effort to buy power and influence in Washington. It spent nearly $5 million in 2017 on three Washington lobby firms seeking to improve its image. Qatari entities, including Barzan Holdings, Qatar Tourism Authority, Education Above All Foundation and Qatari businessman Hassan bin Ali spent $13 million overall for all of 2017 on behalf of the emirate, according to the watchdog site Open Secrets. They spent $9.3 million in 2018.
Pro-Qatari lobbying has been bipartisan. The Tablet reported in December that Nick Muzin, a former senior staffer for Republican Sens. Tim Scott and Ted Cruz became a lobbyist for Qatar.
Qatar also funds programs at the Brookings Institution and at U.S. colleges and universities, including Georgetown and Northwestern. Those schools have campuses in Doha and receive funding from the Qatar Foundation, which is controlled by the emirate's royal family.
Qatar's failure renounce terrorism funding for terrorism makes this lobbying campaign particularly troubling.
Being a "white nationalist" doesn't mean having European ancestry in Linda Sarsour's world. Her group, MPower Change, joined the Council on American Islamic Relations (CAIR) Philadelphia chapter in charging that Raymond Ibrahim, an American Copt of Egyptian ancestry, whose people have been severely discriminated against under Islamic rule for centuries, is a "white nationalist."
The smear campaign is part of an effort to have the U.S. Army War College rescind a June 19 speaking invitation to Ibrahim.
"In a time of rising white nationalism, Islamophobia, and horrific violence stemming from these ideologies, the College is endorsing and fostering anti-Muslim hate within the military by inviting Ibrahim," MPower Change wrote in a petition on its website.
To classify Ibrahim in the same category as white supremacists who hate Muslims for being non-white is to show ignorance of the severe persecution and discrimination faced by the Coptic people under nearly 14 centuries of Islamic rule.
Copts face constant discrimination and persecution at the hands of their Muslim neighbors, a fact that colors the view of Islam held by Ibrahim and other Copts whose relatives face Jim Crow-style conditions in their homeland.
MPower Change argues that Ibrahim "advances an Orientalist and inaccurate view of Islam." Among other things, Ibrahim denounced Muhammad as a "false prophet" and a "liar," which is considered blasphemy under Islam. This "Orientalist" epithet stems from late Columbia University scholar Edward Said's book 1978 Orientalism, which asserts that Islam and the West belong to the same civilization and complains about the Christian rejection of Islam as a heresy.
Ibrahim's assertion that "Muslim hostility and terrorization of the West is not an aberration but a continuation of Islamic history" promotes prejudice against Islam and Muslims, MPower Change complains.
But Muslim sources such as Islamweb.net acknowledge that Islamic threats of violence against majority Christian lands date back to Muhammad. It notes that Muhammad sent an emissary to the Eastern Roman Emperor Heraclius calling on him to give up his Christianity for Islam or "pay him taxes in return for him allowing you to remain upon your faith; or, to prepare for war against him." Muslim armies invaded the empire, defeating Heraclius' forces in the Battle of Yarmouk in 636 A.D. after Muhammad's death. It paved the way for the Islamic conquest of the rest of the Middle East.
It's not the first time CAIR and its allies have tried to silence voices it doesn't like. In 2017, it failed to stop IPT Fellow Patrick Dunleavy from teaching an Air Force course on prison radicalization. Similar allegations cast Dunleavy as an "Islamophobe."
This attack on Ibrahim should meet the same fate.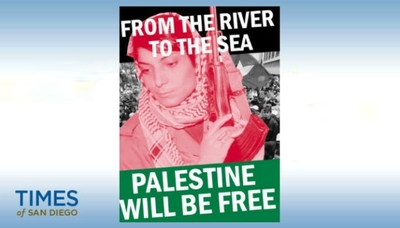 A May 8 incident at San Diego State University (SDSU) highlights a trend of glamorizing Palestinian terrorists on college campuses, SDSU English Professor Peter C. Herman wrote Saturday in the Times of San Diego news site.
He pointed to an email from SDSU's Women's Resource Center which included the slogan "From the River to the Sea Palestine Will Be Free" and a photo of Popular Front for the Liberation of Palestine (PFLP) terrorist Leila Khaled clutching an AK-47. Khaled hijacked two airliners in 1970. Khaled and the PFLP been active in the Boycott, Divestment, Sanctions (BDS) movement that seeks to economically and politically strangle Israel. She remains a member of the PFLP's political bureau.
PFLP terrorists also gained notoriety for the 1976 hijacking of a Paris-bound Air France flight that was diverted to Entebbe, Uganda. It also claimed joint responsibility with Hamas for a deadly East Jerusalem attack in 2017 that left an Israeli female police officer dead and several others were wounded.
Coming so soon after last month's Poway synagogue shooting near San Diego, the email's imagery "seems especially shocking," Herman wrote. "But how are we to respond to a glorification of violence in a university-sanctioned newsletter?"
He invoked a 1984 statement by Abu Iyad, leader of the Black September terrorist group responsible for the 1972 Munich Olympics massacre, who told Radio Amman: "The Zionists took Palestine inch by inch. And we must retrieve it inch by inch. We believe that Palestine, from the river to the sea, is our country."
The PFLP's goal is Israel's complete destruction.
SDSU's Students for Justice In Palestine (SJP) chapter hosted now-deported PFLP terrorist Rasmieh Odeh via videoconference in 2015. Odeh played a key role in a 1969 Jerusalem supermarket bombing that killed two students.
What happened at SDSU isn't isolated.
The Temple University SJP chapter posted the same image of Khaled on its official Twitter page in March 2016 in celebration of International Women's Day. Last summer, the same SJP chapter wrote a lengthy opinion piece supporting the PFLP. Chapter leader Brandon Do attacked Palestinians whom he claimed had sold out to Zionism following the 1993 Oslo Accords. He also praised PFLP founder George Habash, the "Godfather of Middle East terrorism" for "raising the Arab world's consciousness against Israel."
Supporting the PFLP has grown mainstream elsewhere on the Progressive Left. The U.S. Campaign for Palestinian Rights (USCPR) and its Executive Director Youssef Munayyer have tweeted their support for the terrorist group. U.S. Rep. Alexandria Ocasio-Cortez retweeted Munayyer on an unrelated issue in February.
The PFLP-linked Samidoun has also thrown its support behind Ocasio-Cortez and fellow freshman Rep. Ilhan Omar. U.S. Rep. Rashida Tlaib posed for a photo with a Samidoun's U.S. coordinator Joe Catron last month, The Daily Caller found.
Terrorists should be abhorred not celebrated.
Update: The SDSU Women's Center apologized for using Leila Khaled's image, the Algemeiner reports. It was "harrmful and hateful toward members of our Jewish community and counter to our values of encouraging and promoting a safe, supportive and inclusive environment," a statement said. The university also pledged to enact new policies "with center staff to help ensure that this does not occur in the future."
A Toronto-area mosque received funding from a Kuwaiti charity blacklisted by the U.S. Treasury and the United Nations., the Kharon Brief found.
The Kharon Brief describes itself as an open-source intelligence group headed by former senior officials from the U.S. Department of the Treasury's Office of Intelligence and Analysis, Office of Foreign Assets Control, and Financial Crimes Enforcement Network.
The Revival of Islamic Heritage Society (RIHS), which the United Nations notes funded Osama bin Laden, gave an undetermined amount of money to the North York, Ontario-based Abu Huraira Center. In addition to supporting al-Qaida, RIHS also has given money to the South Asian jihadist group Laskhar-e-Taiba.
"The U.S. Government has learned that RIHS senior leadership, who have actively managed all aspects of the organization's day-to-day operations, have been aware of both legitimate and illegitimate uses of RIHS funds," the U.S. Treasury Department said in a June 2008 press release.
A post on the group's website captured by the Kharon Brief shows that it fundraised for a January Quran competition co-sponsored by the Abu Huraira Center. RIHS's website shows it sought to raise 53,000 Kuwaiti dinars, or roughly $174,179, for the Toronto Quran Competition hosted by the mosque. RIHS acts under the auspices of Kuwait's Ministry of Social Affairs and Labor, according to its official website, and Kuwait's ambassador to Canada attended the Quran recitation. Its fundraising campaign helped the Al-Huraira Center buy a church building in Toronto.
American Sheikh Waleed Idris al-Maneese, imam of the Dar al-Farooq Islamic Center in Bloomington, Minn., and a leader of the Assembly of Muslim Jurists of America (AMJA), was among the competition's judges this year. Al-Maneese has a radical and anti-Semitic track record. He delivered a November 2015 sermon promising that Jews would be punished by God in Palestine.
"Even trees and stones will say: O Muslim, this is a Jew behind me, kill him, except for Gharqad trees, the trees of the Jews," al-Maneese said.
At least five members of Al-Maneese's mosque joined ISIS or East Africa's Al-Shabaab.
The 2017 Toronto Quran Competition, also sponsored by the Abu Huraira Center, was co-sponsored by Eid Charity, one of several charities run by Qatar's ruling Al-Thani family. Eid Charity gave money to al-Qaida in the Arabian Peninsula (AQAP) and worked closely with the Turkish charity IHH that also has al-Qaida ties.
RIHS leader Uthman al-Khamees spoke at the Al-Huraira Center last July. He spoke last year saying that non-Muslims should convert to Islam or be killed.
At least six Al-Huraira Center attendees joined Al-Shabaab the Kharon Brief found. Raed Jaser, who was arrested in 2013 in connection with a plot to derail a Canadian train, often prayed at Al-Huraira Center.
A competition at a Canadian mosque, which saw six attendees join Al-Shabaab, is judged by a Minnesota cleric whose congregation saw five people join Al-Shabaab and ISIS. And it was underwritten by a charity that has given money to an al-Qaida branch.
Sometimes radicalization is right out in the open.
Winnipeg Mayor Brian Bowman wants to stop anti-Semitic activist Linda Sarsour from participating in an event hosted in the Canadian city on Friday, CBC reports.
Sarsour is set to speak at an event entitled, "Sorry Not Sorry: Unapologetically Working for Social Justice," hosted by the Canadian Muslim Women's Institute and the Social Planning Council of Winnipeg.
"Mayor Bowman does not feel it is appropriate to provide this individual a public platform to further propagate anti-Semitic views and hate," Bowman's office said in a statement.
During a city hall event on Tuesday, Bowman accused Sarsour of stoking "racialized identity politics" and said that "she has continually attacked the foundation of the state of Israel's right to exist."
"It's less about the speaker than the social planning council providing that platform and the message it sends to the Jewish community and the community as a whole," Bowman added.
The mayor's comments were supported by several Winnipeg organizations including the Jewish Federation of Winnipeg and B'nai Brith Canada – a national advocacy organization on behalf of Canadian Jewry.
B'nai Brith Canada originally called on the event organizers to retract Sarsour's invitation.
"She's used her platform to promulgate views that are highly problematic, including charges of dual loyalty to Jews who are considered sufficiently too supportive of the state of Israel," Ran Ukashi, a national director at B'nai Brith Canada, said last month.
Accusations of dual allegiances among Jews have resurfaced in the national spotlight after U.S. Rep. Ilhan Omar's recent string of anti-Semitic comments.
Last month, Sarsour led a group of Islamist activists to lobby on Capitol Hill against a resolution condemning anti-Semitic statements from Omar – despite the resolution failing to mention Omar by name.
Sarsour has a long track record of making extremist comments and refuses to condemn Nation of Islam leader Louis Farrakhan's Jew-hating sermons. She not only is a vocal critic of Israel's policies – she despises the very principle that led to the Jewish state's emergence in 1948.
"Nothing is creepier than Zionism," she famously wrote on Twitter. Zionists who failed to meet her threshold for sufficient support for Palestinians could not be feminists, she said.
"I am an unapologetic pro-BDS, one-state solution supporting resistance supporter here in the U.S.," she told the Islamic Association of North America (ISNA) convention last September, the IPT exclusively reported.
"One-state solution" supporters are clearly advocating for the destruction of the Jewish state by calling for one bi-national state with a majority Arab population.
During the ISNA event, Sarsour also blamed Jews for police shootings of unarmed black people because of an Anti-Defamation League program that takes police executives to Israel to learn about fighting terrorism and riots. The ADL is the most prominent Jewish organization in the United States.
Now, prominent Canadian Jewish organizations are working hard to prevent Sarsour from having a platform to spew divisive rhetoric. Local politicians across North America should follow Mayor Bowman's lead.
Tariq Ramadan, grandson of Muslim Brotherhood founder Hasan al-Banna, received €35,000 – roughly $39,290 – per month from the Qatar Foundation as a "consultant," documents obtained by French journalists Christian Chesnot and Georges Malbrunot show, the Swiss newspaper Tribune de Genve reported. Ramadan received a further €19,000 from organizations such as the League of Muslims in Switzerland when he was arrested last year on rape charges.
Chesnot and Malbrunot detail this information in their book Qatar Papers - How the emirate finances Islam in France and Europe. Their work discloses Qatar's central role in funding Muslim Brotherhood operations across Europe. They say they received the supporting documents on a USB stick sent by a whistleblower. It contained Qatar Charity bank records, internal emails and more. The charity, like Qatar Foundation, is run by Qatar's ruling Al-Thani family.
The spending serves Qatar's political goal of supporting the Muslim Brotherhood, analysts told the journalists in their accompanying documentary, a portion of which has been posted online. The Brotherhood aims to control people's public and private lives, they said, and to obtain political power with the end goal of establishing their caliphate.
Qatar Charity may be best known in the West for its funding of terrorist operations.
French intelligence reported in 2013 that Qatar Charity funded an al-Qaida linked terrorist group in Mali called Ansar Dine. It also helped finance the 1998 al-Qaida bombings of the U.S. embassies in Kenya and Tanzania.
Qatar Charity has legitimized itself through partnerships with mainstream Western charities including the Bill and Melinda Gates Foundation and the Prince of Wales's Charitable Foundation, the documentary said.
Qatar Charity spent €71 million– roughly $79.7 million – on 113 projects at mosques and Islamic centers and spent €3.6 million – roughly $4 million – on five mosque projects in Switzerland alone, a 2014 internal document showed. The Muslim Cultural Complex of Lausanne in Prilly, Switzerland received 1.6 million Francs – roughly $1.6 million – from Qatar Charity according to the documents. An internal note thanked Qatar and its Ministry of Islamic Affairs for money to purchase a mosque in Biel, Switzerland.
Donors Mohamed and Nadia Karmous, who Tribune de Geneve reported are closely linked to Muslim Brotherhood ideologue Sheikh Yusuf Qaradawi, played a central role in this scheme. Qaradawi notoriously stated in 2007 that Islam would conquer Europe by means of immigration and proselytism. Mohamed Karamous is referred to as the "treasurer" of the university of the Muslim Brotherhood movement, European Institute of Human Sciences (IESH), founded by Qatar in central France.
These mosques and Islamic centers serve the purpose of spreading Islamic culture across Europe, the journalists said.
Malbrunot told Tribune de Geneve that Qatar and the Muslim Brotherhood aim to create a "micro counter society" through the "re-Islamization" of Muslim communities across Europe. They have a political vision of their brand of Islam dominating the world.
Anyone who uses terms including "jihadist," "violent jihad," "Islamist terrorism" or "Islamic extremist" is a hater who deserves to be shunned, an influential Muslim political leader argues.
Esam Omeish issued this call Friday on Facebook, in the emotional wake of the Christchurch mosque massacre in New Zealand.
Omeish is a board member at the Dar al-Hijrah Islamic Center in Falls Church, Va., which has exhibited Muslim Brotherhood sympathies. He previously served as president of the Muslim American Society (MAS), which prosecutors say was established as the "overt arm" of the Muslim Brotherhood in America.
"Anyone who uses the following terms is Islamophobic and must stop their hate," Omeish said.
Memo to the Palestinian Islamic Jihad and other terrorist groups which have "jihad" in their name: Esam Omeish thinks you hate Muslims.
"Violent jihad" is a fairly clinical term used by prosecutors in cases like the Boston Marathon bombing, a domestic terrorism plot in North Carolina and al-Shabaab supporter Zachary Chesser.
His list of telltale words and phrases also a bit surprising, given that Omeish's 2000 praise for Palestinians who chose "the jihad way" to liberation, captured on video by the Investigative Project on Terrorism, led him to resign from a state immigration committee in 2007.
Other statements Omeish now sees as inherently hateful include "Islam hates us," "Islam is not a religion," and ban "Shariah law."
"Islamophobia kills!", he wrote. "Enough of this hate and Islamophobia!
Granted, his comments came as the world learned of the horrific terrorist attack that killed 50 Muslims during prayer at two New Zealand mosques.
But Omeish, even in an emotional state, may not be the best messenger to call people out for hate.
In addition to praising "the jihad way," he also mourned Hamas founder Sheikh Ahmed Yassin in 2004 after Israel assassinated him saying, "It is our tax dollars that have killed our beloved Sheikh Ahmed Yassin."
He wrote an open letter to President Obama in February 2016 urging support for the Mujahideen Shura Council of Derna against the secular militia leader Khalifa Haftar. But the council has ties to al-Qaida in the Islamic Maghreb (AQIM), as a Libyan al-Qaida supporter wrote in a 2015 treatise called "Sorry O' you Claimed 'Islamic State' in Libya."