Israel on Wednesday formally designated al-Aqsa TV, Hamas' main media outlet, as a terrorist organization.
Israeli authorities revealed last month that Hamas recruiters posing as journalists conveyed secret messages to West Bank operatives via al-Aqsa TV. According to a recent report from the Meir Amit Intelligence and Terrorism Information Center, Palestinian terrorists often rely on media affiliations to communicate with operatives and avoid being targeted by Israel during conflicts.
Some of these terrorist-media personalities include an al-Aqsa TV broadcaster and a correspondent for Hamas' al-Risalah media outlet who frequently report on the "return marches," Hamas-orchestrated protests on the Gaza-border.
Hamas and other Palestinian terrorist organizations threatened last month to ramp up violence on the border to force more Israeli concessions.
In recent years, Hamas operatives have recruited dozens of Palestinians from the West Bank and Jerusalem to conduct terrorist attacks against Israel. Some of the detained recruits revealed that Hamas operatives use Facebook to contact potential recruits and then relied on al-Aqsa TV broadcasts to convey covert messages.
For example, Israeli security authorities learned during a December interrogation that Gaza-based Hamas terrorists asked Ahmed Abu Aysha from Nablus to recruit other Palestinians and facilitate a stabbing attack against Israeli civilians. Aysha received signals from his terrorist handlers via al-Aqsa broadcasts. In another case, Gaza-based terrorist Muhammad al-'Arabid, who previously posed as a journalist, recruited a young Palestinian from the West Bank to carry out a suicide bombing in Israel. The recruit was arrested several days before he expected to obtain an explosive belt.
Since Hamas took over the Gaza Strip in 2006, al-Aqsa TV became the terrorist group's primary media outlet. In November, after Hamas fired more than 460 missiles and rockets at communities in southern Israel, Israel's military bombed the Hamas TV channel and affiliated radio stations after being deemed legitimate targets.
Despite the bombing, Hamas funneled money to the station and continued to broadcast radical propaganda from a different location.
Al-Aqsa – like other Palestinian institutions – offers programs specifically geared to recruiting children to embrace terrorism and become suicide bombers to attack innocent Israeli civilians.
At the time, Israel acknowledged that Hamas media outlets help Hamas communicate with its fighters.
Last month, Palestinian Security forces reportedly detained a Hamas-affiliated cell in Nablus which received directions from Gaza and planned to carry out several terrorist bombings in Israel.
Despite Israel's campaign against Gaza-based operatives and media outlets, Hamas continues to recruit West Bank Palestinians to destabilize the Palestinian Authority and attack Israeli civilians.
U.S. Rep. Alexandria Ocasio-Cortez, D-N.Y., on Tuesday retweeted an open supporter of the Popular Front for the Liberation of Palestine (PFLP), a State Department designated terrorist organization. U.S. Campaign for Palestinian Rights Yousef Munayyer wrote, "AIPAC activist tells NYT the lobby is coming for Congresswoman @AOC @RashidaTlaib and @IlhanMN. 'They are three people who, in my opinion, will not be around for several years.'"
Tlaib and Ilhan Omar are new members of Congress who have drawn criticism for anti-Semitic statements that they claim are just criticisms of Israel. Ocasio-Cortez has defended her two colleagues.
Ocasio-Cortez retweeted Munayyer's post, expressing her disappointment with AIPAC activist Stephen Fiske's statement to the New York Times complaining, "...[T]here seems to be no problem at all with a zero-tolerance stance for simply asking about US foreign policy."
Munayyer openly supports the Socialist PFLP, which rejects any compromise or peace with Israel, by posting its communiques and touting some of its actions.
"The Palestinian liberation movement ... [seeks] to destroy the state of Israel as a military, political and economic establishment which rests on aggression, expansion and organic connection with imperialist interests in our homeland," the PFLP's says in its "Strategy for the Liberation of Palestine – The Aims and Significance of the Palestinian War of Liberation."
The Boycott, Divestment Sanctions (BDS) movement seeks to isolate Israel politically and economically by encouraging boycotts of Israelis goods and the imposition of sanctions on the Jewish state. Munayyer runs the U.S. Campaign for Palestinian Rights (USCPR), the U.S. affiliate of the BDS Palestinian National Committee, which coordinates the BDS movement worldwide.
Munayyer posted a PFLP communiqué in June 2017 announcing a stabbing attack in Jerusalem that killed an Israeli policewoman. It noted the terrorists had been previously faced "imprisonment by the occupation." Other tweets reminded people that the PFLP and other factions including Mahmoud Abbas' Fatah are fighting alongside Hamas "against Israel in this war." In a tweet last April, Munayyer told followers that Hamas leader Ismail Haniyeh held aloft a picture of imprisoned PFLP leader Ahmad Saadat in a show of solidarity.
His group, the USCPR, made a similar post in 2016 mourning the death of a PFLP terrorist. A vendor at USCPR's convention last summer underscored the Boycott Divestment Sanctions (BDS) group's ideological orientation by selling a hat saying "Make Israel Palestine Again."
The Democratic Socialists in America (DSA), to which Ocasio-Cortez belongs, passed a pro-BDS resolution in 2017. After it passed, activists chanted, "From the River to the Sea, Palestine Will Be Free," a call for Israel's elimination.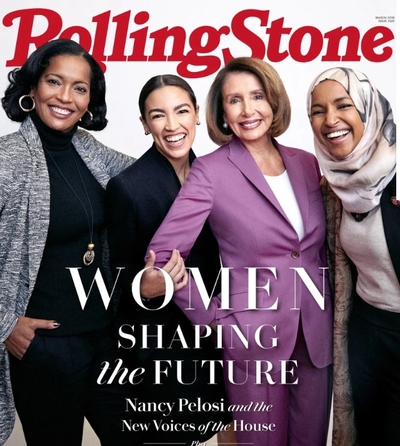 Get caught repeatedly spewing anti-Semitic statements alleging that Jewish money controls American foreign policy, or that the planet's lone Jewish state has powers that "hypnotized the world" and what do you get?
If you're freshman U.S. Rep. Ilhan Omar, it's the cover of Rolling Stone magazine along with House Speaker Nancy Pelosi.
Omar, D-Minn., may see a consequence-free risk in continuing to espouse such hateful rhetoric.
News reports Tuesday credited Omar with deleting past social media posts that also were anti-Semitic. But during an event in Washington, D.C. Wednesday evening, Omar launched another defensive rant that raised an anti-Semitic dual loyalty canard against critics of her anti-Semitism, the Jewish Insider reports.
U.S. Rep. Radhida Tlaib, a fellow freshman in Congress and Palestinian American who, like Omar, supports a global economic, academic and cultural boycott against Israel, was seated next to Omar.
"...because Rashida and I are Muslim," Omar said, "that a lot of our Jewish colleagues, a lot of our constituents, a lot of our allies go to thinking that everything we say about Israel to be anti-Semitic because we are Muslim ... And so to me it is something that becomes designed to end the debate ... And that ends the discussion. Because we end up defending that and nobody ever gets to have the broader debate of what is happening with Palestine.
"So for me, I want to talk about the political influence in this country that says it is okay to push for allegiance to a foreign country."
In defending herself against claims she's an anti-Semite, Omar said Israel's supporters are trying "to push for allegiance to a foreign country."
This is at least the third strike by Omar. House leadership forced her to apologize earlier this month after she tweeted "It's all about the Benjamins baby" to explain why she and fellow Democrat Rashida Tlaib draw negative attention for their "criticisms of Israel."
Who is the source of this slang reference to cash? "AIPAC!" Omar added, referring to the American Israel Public Affairs Committee. During a 2012 conflict between Israel and Hamas in Gaza, she cried out that Israel "hypnotized the world" and prayed that "Allah [would] awaken the people and help them see [its] evil doings ..."
When supporters tried to raise money for her re-election campaign despite the apology, Omar said nothing.
Her "all about the Benjamins" quip prompted many critics, including the Investigative Project on Terrorism, to call for her removal from the House Foreign Affairs Committee. She got the cover of Rolling Stone instead.
What price will she pay for pushing the dual loyalty slur? Maybe they'll promote her to chairwoman.
The British government revealed on Monday that it plans to outlaw Hizballah and designate the group as a terrorist organization in its entirety.
The UK, like most European countries, previously limited their terror designations only to Hizballah's military wing. The latest announcement suggests London intends to ban the terror group's political and other wings as well.
Home Secretary Sajid Javid justified the move by citing Hizballah destabilizing interventions and activities throughout the Middle East.
Hizballah "is continuing in its attempts to destabilize the fragile situation in the Middle East – and we are no longer able to distinguish between their already banned military wing and the political party," Javid said in a statement, adding that "because of this, I have taken the decision to proscribe the group in its entirety."
The designation, which would have to be approved by Parliament, is expected to prevent Hizballah "supporters from parading its flag through the streets of Britain," The Telegraph reported. There is concern that Jeremy Corbyn, the anti-Semitic leader of the UK's Labour Party, will oppose this measure. Corbyn once referred to the terrorist groups Hizballah and Hamas as "friends."
The EU only designated Hizballah's military wing as a terrorist organization in 2013 after the group facilitated the bombing of an Israeli tour bus in Bulgaria in July 2012, which killed five Israelis and a Bulgarian bus driver.
Yet other leaders of major European leaders, including German Chancellor Angela Merkel, remain reluctant to outlaw Hizballah entirely, despite the group's active presence in the region.
There are roughly 250 active Iranian-backed Hizballah operatives and a total of 950 Hizballah members throughout Germany, according to a 2014 Berlin intelligence report summarized by the Jerusalem Post.
Hizballah is also investing in other realms, including cyber crime, to destabilize the United States and Europe. The terror group dispatches hackers to use catfishing techniques on social media to infiltrate mobile devices worldwide and extract sensitive information.
The United States and some of its allies, including Canada and the Netherlands, do not distinguish between Hizballah's military or political departments.
Even Hizballah leaders acknowledge that the distinctions are futile. The militant group is hierarchically organized and each of the group's specialized wings – including departments devoted to social service provisions or external terrorist attacks – answer to its political leadership.
Linda Sarsour, dogged by accusations of anti-Semitism, will speak next month at a New York University program on immigration.
The announcement for the March 25 event, sponsored by NYU's Asian/Pacific/American Institute, makes no reference to Sarsour's divisive views. It ignored the fact that the national Women's March, which Sarsour helps lead, lost a number of significant sponsors including the Democratic National Committee (DNC), the Southern Poverty Law Center (SPLC), Emily's List and the National Organization for Women (NOW), due to concerns about anti-Semitism and other issues from Sarsour and her colleagues.
Instead, it describes her as a "racial justice and civil rights activist" who is "[b]est known for her intersectional coalition work and efforts to build bridges across racial, ethnic, and faith communities."
The missing caveat: She'll build bridges as long as you share her hatred for Israel. In 2015, Sarsour pointedly rejected any solidarity gestures from people who want to stand by Muslims but also support Israel or oppose the campaign to boycott the Jewish state economically, academically and politically.
It built on her 2012 claim that "Nothing is creepier than Zionism," a tweet that remains on her feed today. And, as the Investigative Project on Terrorism reported last fall, Sarsour finds a way to blame Jews for police shootings of unarmed black people. She points to a program run by the Anti-Defamation League that takes police officials for a week of seminars in Israel, "so they can be trained by the Israeli police and military, and then they come back here and do what? Stop and frisk, killing unarmed black people across the country."
They are similar to a viewpoint she offered in 2015 during a speech at the 20th anniversary of avowed anti-Semite and Nation of Islam leader Louis Farrakhan's "Million Man March."
"The same people who justify the massacres of Palestinian people and call it collateral damage are the same people who justify the murder of black young men and women," she said.
It's not as if NYU's Asian/Pacific/American Institute had no warning. Sarsour's 2017 participation on an anti-Semitism panel at the nearby New School drew widespread criticism.
NYU placed ninth among the nation's worst campuses for Jews in a 2016 Algemeiner assessment because "NYU's was one of the first graduate student governments to pass a BDS resolution, and Jewish students have been subject to antisemitic attacks, such as being served mock eviction notices." School officials pushed back, but in December, it temporarily shut down the Bronfman Center for Jewish Student Life after finding "several public online postings by an NYU student which were antisemitic in nature and potentially threatening."
Sarsour has not tried to explain or walk back her anti-Semitic comments. But she still is considered a worthy choice for an academic program at one of the country's most prestigious institutions. That's probably not going to help with those rankings.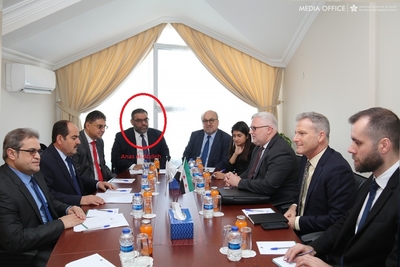 President Trump's Special Envoy to Syria Joel Rayburn reportedly met Monday in Istanbul with a delegation that included a high-ranking pro-Turkish Syrian rebel leader who endorsed al-Qaida-linked rebels.
A photo posted by the National Coalition of Syrian Revolution and Opposition Force, known by the Arabic acronym ETILAF, shows the group's former president, Anas al-Abdeh, attending the meeting. Al-Abdeh is not named in the post, but he appears in the upper left corner of the photo.
"They are all in the same trench," Al-Abdeh said in 2016 about the Free Syrian Army (FSA) and the al-Qaida-linked Al Nusra Front. "We cannot differentiate between fighters ..."
The State Department did not respond to a request for comment about al-Abdeh's presence at the meeting.
This week's Istanbul gathering focused on developments in Syria's Idlib province, a statement on ETILAF's website said. This meeting otherwise went unreported.
Hayat Tahrir al-Sham (HTS), the successor organization to al-Qaida's former Syrian affiliate, Jabhat al-Nusra, currently controls Idlib.
Al-Abdeh opposed the ultimately successful effort by the Kurdish-dominated Syrian Democratic Forces (SDF) to cleanse ISIS from its self-proclaimed capital of Raqqa due to his alignment with the Muslim Brotherhood and Turkey's ruling Justice and Development Party (AKP). The Obama administration spent $500 million training and equipping Syrian rebels linked with the FSA, but only succeeded in training four or five fighters before President Trump ended the program.
FSA forces formed a major portion of Turkey's invasion force in the Kurdish-dominated Afrin region in northwestern Syria. Since the FSA took control, an extremist interpretation of sharia has been implemented, Yazidis have been forcibly converted to Islam, and some ethnic cleansing already has taken place, Afrin native and current Syrian Democratic Council (SDC) Executive Director Ilham Ahmed said earlier this month during a visit to Washington. The SDC is the civilian political arm of the SDF.
Amnesty International, The Syrian Observatory for Human Rights and Human Rights Watch have made similar observations.
The FSA has been closely linked with Turkey's security services since the start of the Syrian Civil War in 2011. Its operations are closely linked with Turkey, which has used it as a proxy against the Kurds.
ETILAF announced in December that FSA militias will participate in an anticipated Turkish invasion of SDF-controlled northeastern Syria and effort to create a Turkish-controlled "safe zone" along the Syrian-Turkish border. HTS leader Abu Muhammad al-Joulani also has endorsed participating in the Turkish offensive.
Turkey says it will not attend a U.S.-sponsored summit set to be chaired by Secretary of State Mike Pompeo today because it's "anti-Iran." This United States and Poland set up the meeting to organize allies against Iranian influence.
Sixty countries, including Saudi Arabia and Egypt, are attending, Hürriyet Daily News reported. Israeli Prime Minister Benjamin Netanyahu will attend. Qatar also is noticeably absent.
"Turkey's political participation that targets one country is out of the question," said a Turkish Foreign Ministry spokesperson. "Our embassy in Warsaw will follow it."
When the issue is Israel, Turkey lacks such apprehension. Following President Trump's decision to move the U.S. Embassy to Jerusalem, Turkey called on the Organization for Islamic Cooperation to convene an extraordinary summit to confront the decision.
While posturing as an American NATO ally in the Middle East, Turkey increasingly has become cozier with U.S. adversaries like Iran. President Recep Tayyip Erdogan denounced new Trump administration sanctions against Iran as "imperial" and told U.S. officials it would not implement them. Turkey gets an estimated 200,000 barrels of oil per day from Iran at full at full capacity, as well as a fifth of its gas imports.
"We buy oil from Iran and we purchase it in proper conditions. What is the other option?" Turkish Foreign Minister Mevlut Çavuşoğlu asked last June.
A federal court in New York convicted Turkish banker Mehmet Hakan Atilla last May of participating in a scheme to violate U.S. sanctions on Iran. Atilla and others conspired to give the Iranian government and associated entities access to restricted oil revenues through U.S. and international financial networks. The conspirators lied to U.S. Treasury officials about Turkish state-owned Halkbank's involvement in actions to help evade U.S. sanctions. Documents fraudulently disguised prohibited transactions with Iran as humanitarian in nature.
Co-defendant Reza Zarrab claimed that these transactions could not have taken place without Erdogan's approval, a hushed 2013 probe by Turkish prosecutors found. Turkish prosecutors found evidence that suggested that Erdogan received kickbacks from the transactions. Tehran received at least $13 billion in 2012 and 2013 alone due to this scheme.
President Trump granted Turkey a waiver from U.S. sanctions in November.
Turkey's cooperation with Iran isn't limited to economics. Both countries oppose the Kurdish Workers Party (PKK).
Iran and Turkey have vowed to work together following the U.S. pullout from Syria.
This pattern reiterates that Turkey's alliance with the U.S. only exists on paper.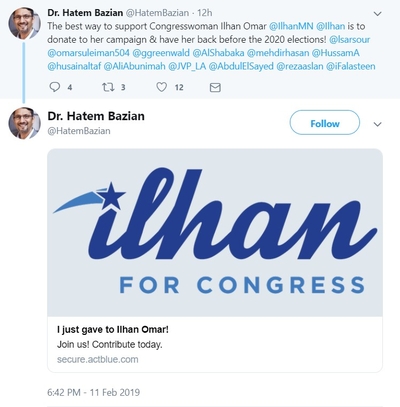 Maybe Ilhan Omar had a point – it is all about the Benjamins baby.
As the freshman U.S. representative was called out by her own Democratic Party leadership for anti-Semitic tweets implying Jewish money controls the Congress she now sits in, ideological allies took to social media encouraging people to donate to Omar's 2020 campaign.
They linked to a fundraising page hosted by Act Blue, a self described "nonprofit, building fundraising technology for the left."
Zahra Billoo, director of the Council on American-Islamic Relations (CAIR) San Francisco chapter, said she made a donation to Omar's re-election campaign Monday and urged followers to do the same. "Tweets to support her are important," Billoo wrote, "but let's also ensure she can keep on doing the important work she's doing."
Billoo has a well documented blind hate toward the Jewish state, comparing its soldiers to ISIS terrorists, and she has no qualms saying it has no right to exist. She was joined by fellow CAIR chapter director and rabid Israel hater Hussam Ayloush, and American-Arab Anti-Discrimination Committee policy director Abed Ayoub, who said Omar "is speaking the truth."
This came after Omar issued a statement "unequivocally" apologizing, but without ever specifically acknowledging her statements implying that Jewish money is the reason for U.S. support for Israel. "Anti-Semitism is real," she wrote, "and I am grateful for Jewish allies and colleagues who are educating me on the painful history of anti-Semitic tropes. My intention is never to offend my constituents or Jewish Americans as a whole."
She never says she did anything hurtful.
Minnesota's 5th Congressional District is skewed heavily in favor of Democratic voters. So Omar is unlikely to lose her seat anytime soon absent redistricting that makes it more competitive.
Meanwhile, the Middle East Forum's Sam Westrop reports that Omar is set to speak Feb. 23 at a fundraiser for Islamic Relief USA. It is a part of Islamic Relief Worldwide, which allegedly has ties to the Egyptian Muslim Brotherhood. Israel and Bangladesh accuse the organization of helping finance radical groups.
Omar will appear with Islamic Relief USA operations manager Yousef Abdallah, who the Middle East Forum found had expressed violently anti-Semitic ideas on his social-media accounts.
One example Westrop cites indicates he and Omar may share similar ideas. Responding to then-New Jersey Gov. Chris Christie's 2014 apology for describing the "occupied" West Bank and Gaza, Abdallah wrote: "Christie kneels down on his knees before the Jewish lords and says 'I am sorry.' Only money makes stuff like this happen. Mr. Christie. Muslims should remember this very well."
All about the Benjamins.
If her apology is sincere, Omar should reconsider appearing with Abdallah. And she should refund donations motivated by what her own party's leaders admit was clear anti-Semitism.
Hamas and other Palestinian terrorist organizations recently threatened to ramp up violent protests on the Israel-Gaza border to force more Israeli concessions, the Meir Amit Intelligence and Terrorism Information Center reports.
A Hamas source, cited in the al-Akhbar daily on Feb. 1, threatened to re-start the terrorist group's arson terrorism campaign, including incendiary kites and balloons. Other threats included dispatching "night harassment groups" and initiating new terror tactics.
Another senior Hamas official Musheir al-Masri said the "return marches" were increasing in severity and that "non-violent" means, including arson terrorist campaigns, would be reignited if Israel failed to comply with Hamas demands. A member of Hamas' Supreme National Authority threatened that demonstrators could launch new terrorist initiatives, while a Palestinian Islamic Jihad (PIJ) official cited Palestinian "inventions" for confronting Israel. Similar threats were issued by Maher Muzhir, a senior member of the Popular Front for the Liberation of Palestine (PFLP).
The Meir Amit assessment suggests that Hamas "continues to preserve restraint" on the Israel-Gaza border amid ongoing discussions with Egyptian and United Nations representatives.
Hamas officials also threatened to attack Israelis in direct operations on the border, including infiltrations into Israel.
Palestinian terrorist groups have relied on these methods to attack Israelis and cause significant economic damage. Sporadic incendiary kites and balloons continue to land on Israeli territory. During the past year, these devices sparked destructive fires that burned thousands of acres of crops and natural forest area. Containing the fires is a major strain on Israel's resources and significantly disrupts civilians' lives.
The border violence and most recent threats are meant to coerce Israel into adhering to Hamas' demands, including open border crossings and financial transfers.
The vast majority of Palestinians killed in response to weekly violent protests on the Israel-Gaza border are affiliated with Hamas and other terrorist groups.
Since the end of March, when the "return marches" started, 187 Palestinians were killed – including 150 (80 percent) members or affiliates of terrorist organizations. About half of those killed are either associated with Hamas or are full-blown members. Hamas military wing operatives represent almost a quarter of the total fatalities.
These findings are consistent with prior Meir Amit assessments and statements from top Hamas leaders.
The latest threats prove that Palestinian terrorist organizations, led by Hamas, are the driving forces behind organized violent attacks against Israel – hiding under the guise of peaceful and popular protests.
Turkish prosecution documents show that the regime of President Recep Tayyip Erdogan was up to its eyeballs supporting ISIS, a new report by the London-based Investigative Journal has found.
Wiretaps show that Turkey's intelligence agency, known by its Turkish acronym MIT, actively conspired to bus ISIS and al-Qaida jihadists across Turkish territory to Syria. It wasn't simply a case of the MIT looking the other way. The jihadis were bused to Syria on buses owned by the MIT, former Today's Zaman editor Abdullah Bozkurt, who wrote the report, told the Investigative Project on Terrorism (IPT). At least 15,000 ISIS fighters entered Syria this way, he wrote. Turkish authorities knew but did nothing to stop it.
Ankara ordered police not to intercept ISIS jihadists crossing Turkish territory, former Turkish National Police counterterrorism official Ahmet Yayla told the IPT. Yayla oversaw a sector in southern Turkey near the Syrian border until 2015.
Georgetown University adjunct professor Anne Speckhard has interviewed 118 ISIS prisoners and defectors during the past three years. Some told her that Turkish intelligence knew of their activities and did not try to stop them.
One ISIS jihadist claimed that Turkey provided ISIS with drones and munitions to be used against the Kurds. He also claimed that Turkish hospitals treated ISIS fighters during the 2014-15 battle for Kobane. Wiretaps show that the company responsible for helping ISIS fighters receive treatment were linked to the Turkish government, Bozkurt said.
Evidence also suggests that Turkey's ruling party used ISIS for cynical political reasons.
The European Union's official intelligence body, EU INTCEN, reportedly suggested that an October 2015 ISIS suicide bombing that killed 109 people at a peace rally in Ankara was ordered by Turkey's ruling Justice and Development Party (AKP). Victims were protesting against violence between the Turkish government and Kurdish rebels belonging to the Kurdistan Workers Party (PKK).
Dozens of intelligence reports had warned of a possible ISIS attack in Turkey, including one by the Turkish National Police Anti-Terror Department. It said a special ISIS team was being trained in Syria and that there were plans to target a large meeting in Turkey for a suicide attack. This report was not transmitted to authorities who could have stopped the attack, Bozkurt reported. Instead, security around the protest area was drastically reduced.
The bloodshed strengthened Erdogan's hand politically, Bozkurt said, pointing to the AKP's securing a parliamentary majority in elections the next month. Two other ISIS bombings took place around that time, and in each case, "All operatives were known to security" but were not intercepted.