Advanced anti-tank missiles that Raytheon and Lockheed Martin plan to sell to Turkey and Qatar could end up in the hands of jihadists, a member of the Syrian Democratic Council (SDC) told the Investigative Project on Terrorism (IPT).
Defense Department officials announced last week that the two companies won a $95 million contract to sell sophisticated Javelin anti-tank missiles to Turkey, Qatar, Jordan, France, Taiwan, Jordan and Lithuania.
"This is very dangerous. Give these people weapons today. Never know if they end up using it in the West and Europe. These guys want back [the] Ottoman Empire," said Bassam Ishak, a member of the Syrian Democratic Council (SDC)'s political bureau. That is the political wing of the Kurdish-led Syrian Democratic Forces that form the backbone of the Trump administration's strategy against ISIS in Syria.
Recently, Turkish President Recep Tayyip Erdogan threatened to attack SDF forces – and possibly U.S. troops who are stationed in Manbij, Syria in support of the SDF. Turkey also has recently threatened to invade NATO ally Greece.
Erdogan's government has a track record of arming jihadists in Syria. Turkey and Qatar provided arms to Libyan rebels, much of which ended up in the hands of the "more antidemocratic, more hard-line" groups.
Turkey served as the main source of arms in Libya, a March 2016 United Nations Security Council panel of experts found. Exiled Turkish journalist Abdullah Bozkurt reported that U.N. experts tracked the weapons to companies linked to the Turkish government.
Turkish intelligence, known by its Turkish acronym MIT, also armed hardline jihadists in Syria.
"At this point, any arms provided to Turkey under Erdogan['s] leadership is potentially dangerous," Bozkurt said. "It is the most anti-Western political leader that is on par with Iran's Mullahs."
U.S. officials seem oblivious to Turkey's role arming and supporting jihadists who attacking Sunni Syrian Arabs and Kurds who share America's secular, democratic values in the Afrin region, Ishak said.
He contrasts SDF supporters with the forces Turkey supports, saying the SDF wants a peaceful pluralistic Syria that is open to all regardless of religion or ethnicity, while Turkey wants a Syria ruled under shariah.
"They are acting like a bully in the neighborhood. They have regained the Ottoman bully spirit. If the world allows them to do this, you have a powerful Muslim Sunni state that is supporting religious extremists," Ishak said.
Iran has constructed another military base in Syria with the ability to host missiles that can strike any part of Israel, according to ImageSat International satellite images obtained exclusively by Fox News.
Iran's Revolutionary Guard Corps' (IRGC) al-Quds Force reportedly operates the base, which is located outside of the Syrian capital Damascus.
Iran already oversees a military compound near the Damascus airport and other high-profile airbases and permanent military sites across the country.
The United States and Israel are very concerned about Iran's ongoing efforts to consolidate permanent operating bases in Syria. Since intervening in that country's civil war in 2011, the Islamic Republic has been working to cement a land bridge from Tehran to Beirut through Syria.
Earlier this month, Israel shot down an Iranian drone that infiltrated Israel's airspace. Israeli jets subsequently bombed several military targets in Syria, including some under Iranian control. In the process, Syrian air defenses downed an Israeli jet – the first time an Israeli military aircraft had been taken out by enemy fire since the 1980s.
This escalation marks the first direct confrontation between Israeli and Iranian forces. Iran may have deployed the drone to conduct surveillance or to test Israel's air defenses and provoke an Israeli response. Regardless of the primary motivation, the incident shows that Iran is increasingly emboldened and willing to use Syria as a base to challenge Israel directly.
Israel has set red lines throughout the Syrian civil war, focused on preventing "game-changing" weapons from landing in Hizballah's hands and a permanent Iranian military presence in Syria. Israel leaders understand that it cannot remove Iranian forces from its borders alone and have engaged in diplomatic initiatives with the United States and Russia to negotiate a potential buffer zone free of an Iranian presence.
In the meantime, Iran is ignoring these understandings and continues to expand its reach in an effort to open another front against Israel in a future war. The latest military base outside Damascus is yet another example of Iran encroaching on Israel's borders.
With the downfall of the Islamic State as a military force in Syria, Iran and its proxies – including Hizballah and other Shi'a militias – are now focusing their efforts on the destruction of the Jewish state.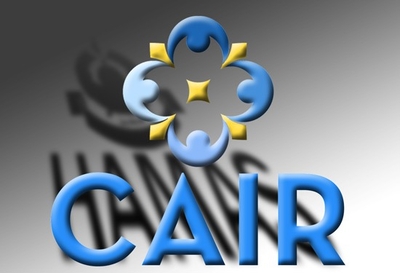 A federal judge partially granted a motion Monday by San Diego's Unified School District (SDUSD) to strike references to the Council on American Islamic Relations' (CAIR) ties to Hamas from a lawsuit seeking to block the school system from working with CAIR.
The Freedom of Conscience Defense Fund's (FCDF) claims the school district violated the First Amendment's Establishment Clause, the Equal Protection Clause of the 14th Amendment and California law by enacting a CAIR supported anti-Islamophobia/anti-bullying program last spring.
Mentioning CAIR's Hamas ties in the litigation was "impertinent, immaterial and scandalous," school district officials claimed in December. Including references to CAIR's Hamas connection and the fact some of its officials had been convicted on terrorism charges is intended to "inflame the public."
Court evidence from a terror-financing trial show that CAIR was formed by Muslim Brotherhood officials to serve a Hamas-support network operating in the United States during the 1990s. The FBI cut off non-investigative contact with CAIR in 2008, explaining that, "until we can resolve whether there continues to be a connection between CAIR or its executives and HAMAS, the FBI does not view CAIR as an appropriate liaison partner."
The policy remains in effect.
This is relevant because CAIR has made "prioritized public schools as ground zero to advance its religious mission," the FCDF argued, saying it matters because the school district gave "a divisive religious group ... unprecedented decision-making authority" in a public school program.
The judge disagreed.
"Given the lack of pertinences or materiality to this case, their inclusion ... is likely intended to 'besmirch' Defendants and cast them in a derogatory light based on SDUSD's relationship with CAIR," wrote U.S. District Judge Cynthia Bashant.
CAIR's relationship with Hamas, "whether true or not," predates its work with the school district and is "superfluous historical allegations that should be stricken," she ruled.
The judge preserved provisions in FCDF's amended complaint relating to CAIR's hostility to Israel and allegations it "promotes discriminatory bias against non-Muslim students on the basis of their religion." While they may be "distasteful" and "unsavory," those provisions could call into question the "objectivity and accuracy" of CAIR-provided instructional materials.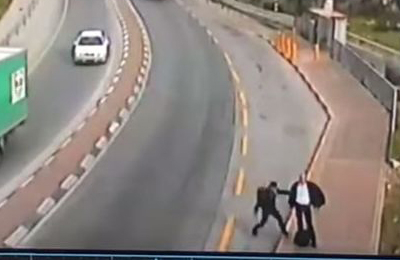 There are lots of differences between Shi'ite, Sunni, and Palestinian nationalist terrorist organizations. But they have one thing in common: a passionate hatred for Israelis and Jews.
Shortly after an Arab-Israeli stabbed and killed an Israeli civilian at a bus stop Monday, the Muslim Brotherhood, Hizballah, and Palestinian factions all praised the terrorist attack as a "heroic operation."
On Monday, an Israeli-Arab terrorist stabbed and killed a father of four, Rabbi Itamar Ben-Gal, outside the Ariel settlement in the West Bank. Ben-Gal was stabbed several times in the chest before dying of his injuries at a hospital in Petah Tikvah. Israel authorities identified the terrorist as 19-year-old Abed al-Karim Adel Asi. With help from an accomplice in a nearby car, the terrorist fled the area. A manhunt remains underway.
Shortly after the rabbi was killed, the Muslim Brotherhood openly incited violence by glorifying the terrorist attack in a tweet.
"The killing of a Zionist settler as the result of a heroic stabbing operation in the West Bank," wrote the Kafr Sheik Brotherhood – an official Twitter account of the Egyptian Muslim Brotherhood – according to an Investigative Project on Terrorism (IPT) translation.
The Palestinian Information Center also tweeted a graphic from the scene of the murder with the caption: "Heroic Stabbing Operation. At the entrance of the Ariel Settlement. The operation resulted in the killing of a settler." It published photos this morning of grieving Israelis at Ben-Gal's funeral.
Various Palestinian factions also "blessed the stabbing operation ... which led to the killing of a settler," calling the murder a "natural reaction to the crimes of Israeli occupation," reports Arab Sola news, a joint Palestinian-Egyptian website.
The article states that Palestinian factions, including Hamas and the Palestinian Islamic Jihad, called "for the carrying out of more operations as the only means to deter the Occupation and its settlers."
But Muslim Brotherhood and Palestinian factions weren't the only groups celebrating after the attack. "A Zionist soldier was killed on Monday evening in a heroic stabbing operation near the Ariel Settlement on the territory of Palestinian citizens," Hizballah-run Al-Manar news reported in an article translated by IPT.
It called the rabbi a "Zionist soldier" instead of a "settler." Referring to the victim, incorrectly, as a soldier is meant to legitimize the attack.
Palestinian groups and radical terrorist organizations often call any Israeli a "settler" regardless of whether they live in the West Bank or pre-1967 Israel. The term "occupation" also references the entirety of Israel since its founding in 1948. As a result, radical groups always justify attacks against Israeli civilians irrespective of their location.
These near instantaneous reactions to such a heinous murder prove that, despite their ideological and ethnic differences, Israel's Islamist enemies will glorify those that kill Jews and encourage future generations to pursue similar "heroic operations."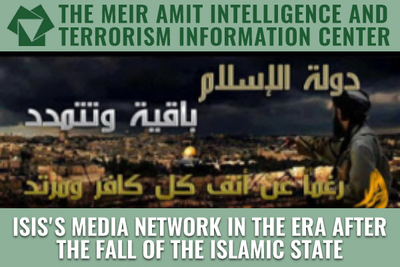 Since ISIS lost most of its territory in Syria and Iraq, the terrorist organization has faced other considerable setbacks. For example, it is desperately scrambling for new revenue sources – even trying to sell its own minted currency as memorabilia.
ISIS's media network has taken a big hit as well. With the demise of its "caliphate," there has been a noticeable and significant reduction in the quantity and quality of ISIS media production, a new study from the Meir Amit Intelligence and Terrorism Information Center finds.
The latest ISIS media reports are shorter in length, featuring poor production quality and growing inaccuracies. More importantly, these reports adopt an increasingly defensive narrative – reflecting the group's setbacks.
At its height, ISIS used its media network to brag about its governance, encouraging others from around the world to join the "new Caliphate" and build a fundamentalist Islamic state. Now, ISIS primarily calls on its adherents to carry out terrorist attacks abroad and be patient while the group goes through a period of reconstruction.
But by the end of 2017, the ISIS media network showed some signs of revival. Most of its websites and media institutions are fully functioning again and the quality of its publications improved. These improvements are noticeable in Syria and Iraq, along with some of its key regional affiliates including in the Sinai Peninsula and the Afghanistan/Pakistan region.
The Meir Amit Center study finds that improved media production is generally associated with higher levels of ISIS activity and terrorist operations in those Islamic State provinces. Therefore, the quality and frequency of ISIS' media output can be seen as a proxy for the organization's durability.
Despite its territorial loses, ISIS remains a major threat to regional and international stability. Without a "state" to defend and manage, it can now focus on conducting terrorist attacks across the Middle East, its other regional affiliates, and in the West.
The study is based on primary research of various ISIS media outlets and other prominent research on the subject. It is divided into four parts exploring ISIS's media network at its organizational peak, features of its current media landscape, media activity within ISIS regional affiliates, and social network communications.
Click here to read the full Meir Amit Center report.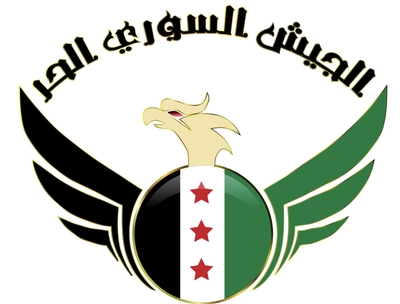 Representatives of the Free Syrian Army (FSA) visited Washington last week, seeking a restoration of U.S. military aid that was cut off last summer.
Four officials from the FSA, which fought alongside Syria's former Al-Qaida branch at various times, met with members of Congress, a White House official and the State Department.
They emphasized the threat to Syria posed by Iran and Russia.
"We asked for the resumption of aid and explained the dangers of leaving moderate FSA forces without support," Mustafa Sejari, a founder of the FSA's Al-Mu'tsim Brigade told Reuters.
Sejari denied that the FSA had links to the Muslim Brotherhood despite evidence of Brotherhood-linked militias in its ranks.
U.S. weaponry provided by the CIA frequently found its way into the hands of Syria's former al-Qaida affiliate Jabhat al-Nusra, now called Hayat Tahrir al-Sham (HTS), and other jihadists. In addition, $500 million spent by the Obama administration to train up to 5,000 FSA fighters was shut down in 2015 after successfully training only five men, Foreign Policy reported in 2016.
Sejari sought Russian support against ISIS in 2016 and greeted the Turks as "allies" when they sent troops into Syria's northwestern Idlib province in October. Opponents accuse them of being controlled by the Turks, and this trip comes as Turkey increases its military pressure against the Kurdish enclave in northwestern Syria.
The Muslim Brotherhood-linked Syrian American Council (SAC), which lobbied the Obama administration for deeper involvement in Syria, paid for the trip. The SAC notably condemned the U.S. classification of Jabhat al-Nusra as a terrorist group in 2012 because it fought alongside the FSA at the time. It also criticizes U.S. support for the Kurdish led Syrian Democratic Forces, which kicked ISIS out of Raqqa and most of northeastern Syria last year.
Many FSA factions sided with HTS at times, while fighting it at others, throughout the Syrian conflict before the former al-Qaida group turned on them last year.
"We cannot differentiate between fighters whether they are Al Nusra, Ahrar Al Sham or the Free Syrian Army," Anas al-Abdeh, former president of the U.S.-backed National Coalition of Syrian Revolution and Opposition Forces that includes FSA representatives told the London-based Arabic newspaper Al-Hayat in 2016.
A faction called Jabhat al-Shamiyah, also known as the Levant Front, was represented in the delegation. It sided with Al-Nusra and Ahrar al-Sham, another jihadist group with al-Qaida roots, against the Kurdish led Syrian Democratic Forces (SDF) in a December 2016 battle in northwestern Syria.
Policymakers should recall the FSA's double-dealing before taking them seriously.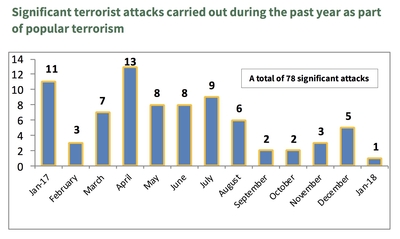 Palestinian President Mahmoud Abbas has issued another veiled, public call for violence and terrorism against Israelis.
Abbas called on Palestinians to continue "peaceful popular resistance," in a speech at the Palestine Liberation Organization's (PLO) Central Council meeting on Sunday, the Meir Amit Intelligence and Terrorism Information Center reports.
The problem is that the Palestinian Authority (PA) does not actually advocate for "quiet protest" through "peaceful means," as Abbas claims. Abbas knew that the world would be watching his remarks at the latest PLO meeting, and decided to put up a more moderate face when describing Palestinian "resistance."
In reality, Abbas and the PA systematically promote violence and attacks against Israelis. The Palestinian leadership often uses the code word "popular resistance" in reference to individual terror initiatives – which has emerged as the norm in Palestinian terrorism recently.
During his Jan. 14 address, Abbas also seemed to have threatened U.S. President Donald Trump, saying: "May your house be destroyed."
On Tuesday, the United States announced that it would withhold roughly half the aid originally allocated for the United Nations Relief and Welfare Agency (UNRWA) – a UN agency dedicated solely to serve the Palestinians. UNRWA-run schools in the Palestinian territories feature textbooks that demonize Jews and encourage Palestinian youth to embrace suicide terrorism.
Palestinian figures are escalating their war of words with the U.S. administration, still enraged by the Trump administration's recognition of Jerusalem as Israel's capital. Palestinian leaders have been disappointed since President Trump warned Abbas to cease inciting violence and raised concerns over the PA's program of paying terrorists and their families.
According to statistics released by Israel's foreign ministry on Wednesday, Palestinians conducted 54 terrorist attacks in 2017. Another 400 attacks were foiled. The vast majority of terrorist attacks against Israelis in recent years are perpetrated by individuals, not organized groups. This phenomenon is largely motivated by the "PA's strategy of 'popular resistance' (i.e., popular terrorism) adopted by the PA and Fatah at the Sixth Fatah conference in August 2009."
Since that conference, 112 Israeli civilians have been killed by Palestinian terrorism fueled by PA and Fatah incitement.
Facing financial setbacks, the Islamic State (ISIS) is turning to more unorthodox methods for raising money: selling its own currency on the web. A new Meir Amit Intelligence and Information Terrorism Center report cites an ISIS publication from last month touting the terrorist group's minted coins.
"One of the news sites [on the Internet] published an advertisement [for] the purchase of every [type] of dinar currency minted by the Islamic State. The website notes that payment for the coins is via PayPal," an article in ISIS's Haqq publication said.
During its rise, the terrorist group's "Ministry of Finance" minted coins and regulated a new currency to be used in the territories under ISIS control. With the fall of its territorial caliphate, ISIS is trying to sell the coins as memorabilia and use the proceeds to finance future operations.
ISIS previously exploited PayPal and eBay to send money to its recruits. An August Wall Street Journal report outlines how the Islamic State sent money to an operative based in the United States, relying on phony eBay sales to hide financial transfers. Through PayPal, ISIS transferred roughly $8,700 to U.S. citizen and ISIS supporter Mohamed Elshinawy, who was pretending to sell computer printers. According to an FBI investigation, Elshinawy was meant to use the money for "operational purposes" – including potential terrorist attacks – in the United States.
This incident sheds light on an international ISIS financial network that relied on similar tactics to fund operations worldwide.
ISIS ran a well-functioning bureaucracy with clearly defined roles including rigorous financial management. It maintained a sophisticated payroll system for its fighters and generated money from state-like functions like taxation.
Terrorists often diversify their funding sources to support their nefarious activities, including various forms of criminal operations. For years, ISIS has relied on counterfeiting and other criminal activity to fund operations.
Now, facing even more financial pressure, ISIS is showing greater signs of desperation by resorting to creating and selling its own money.
Fatah and the Palestinian Authority (PA) framed yesterday's terrorist attack that killed a civilian father of six as a successful "operation," Palestinian Media Watch reports.
Late on Tuesday, while driving near Nablus, Rabbi Raziel Shevach was shot in the neck from a passing vehicle. Shevach was pronounced dead at a nearby hospital. A manhunt is underway for the perpetrator(s).
Fatah glorified the attack as a professional assassination from a "skilled and experienced" Palestinian.
"The Nablus operation in numbers: The full duration of the operation: 30 seconds. The distance between the cars: 20 meters. The number of bullets that were fired: 22. The one who carried out the operation was skilled and experienced, and escaped the site. The result: a killed settler," reads today's post on Fatah's official Facebook account.
The official PA daily, Al-Hayat Al-Jadida, also ran an article referring to the attack as a "shooting operation," making it sound like military activity instead of what the incident really was: the murder of an Israeli civilian.
Both Fatah and the PA called the victim a "settler." Palestinian factions of all stripes consistently refer to Israelis as settlers regardless of if they live in pre-1967 Israel or the territories. This is a subtle, yet effective, way to legitimize and encourage attacks targeting Israelis wherever they reside. The PA even refers to murdered tourists visiting Israel as "settlers," including U.S. citizen Taylor Force who was killed in Tel Aviv last year.
Israeli Prime Minister Benjamin Netanyahu is calling for PA President Mahmoud Abbas to condemn Shevach's murder. So far, there is silence from Abbas. America's ambassador to Israel, David Friedman, also chimed in, highlighting the PA's financial incentive system that continues to encourage terrorism.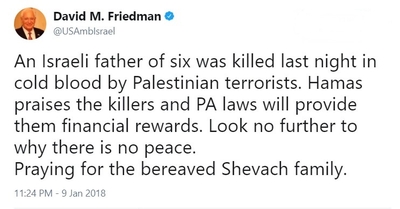 "An Israeli father of six was killed last night in cold blood by Palestinian terrorists. Hamas praises the killers and PA laws will provide them financial rewards. Look no further to why there is no peace. Praying for the bereaved Shevach family," Amb. Friedman tweeted.
Palestinian terrorists and their families receive far higher government payments than welfare recipients.
Today, a terrorist's socioeconomic status is not factored into the salaries. Payments to released prisoners and jailed Palestinians are based on the length of a prison sentence, reflects their action's severity. The more brutal the attack or murder, the more money a Palestinian prisoner gets.
According to statistics released by Israel's foreign ministry on Wednesday, Palestinians conducted 54 terrorist attacks in 2017. Another 400 attacks were foiled. The vast majority of terrorist attacks against Israelis in recent years are perpetrated by individuals, not organized groups. This phenomenon is largely motivated by the "PA's strategy of 'popular resistance' (i.e., popular terrorism) adopted by the PA and Fatah at the Sixth Fatah conference in August 2009."
If the assailants responsible for Rabbi Shevach's death are brought to justice, their families should expect a hefty reward. The PA's glorification of terrorism and perverse financial incentives system will only encourage more attacks.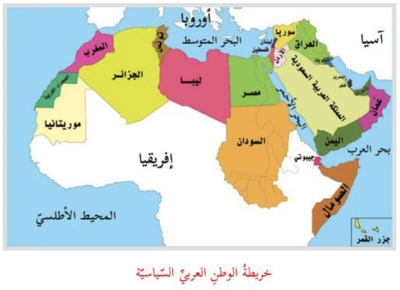 Palestinian Authority (PA) schoolbooks remain devoted to systematically demonizing Jews and brainwashing generations of Palestinian children to glorify terrorism, a new study from the Meir Amit Intelligence and Terrorism Information Center finds.
Authors Arnon Groiss and Ronni Shaked examined more than 200 PA schoolbooks covering all grade levels over the past four years.
De-legitimizing Jews as a people with no rights to any part of Israel was a major theme.
"Britain was helped by the Jews to realize its imperialistic greedy ambitions and, therefore, Jews started immigrating to Palestine," an 11th grade textbook says.
The study found no discussions of Jews or Israelis as regular human beings in Palestinian textbooks – just blanket generalizations of Jews as "wolves and snakes" who migrated to Palestine to eliminate the Palestinian people.
Jewish people are consistently portrayed as Islam's enemies. The study's authors argue that this campaign of demonization is necessary to legitimize the importance of armed struggle against Israelis.
The texts often promote violence and terrorism across Israel. Cities in pre-1967 Israel, like Jaffa and Haifa, are listed as areas that must be liberated through armed conflict. Violent Islamic concepts, including jihad and martyrdom, are incorporated into Palestinian children's education as religious justifications for terrorism.
According to a grade 6 textbook: "When the Muslim believes that God is the one who gives life and death, is the source of profit and loss, and victory and power are in His hand, then he frees himself of the others' control, and bravery and the desire to die as a martyr in God's cause revive in his soul."
The concept of "shahid" (martyr) has been used to encourage Palestinian children to embrace suicide terrorist operations. PA textbooks try to mask explicit promotion of violence but endorse terrorism by praising Palestinians who have engaged in terror operations against Israelis, the study found.
"The teacher asked the students: 'How can we celebrate Independence Day this year?' Safa: 'Let us invite the families of the martyrs and the prisoners-of-war to honor them.' Imad: 'Let us commemorate [our] town's martyrs and prisoners-of-war by planting a tree in memory of every martyr'," reads a passage from the third grade civics schoolbook.
Virtually all references to Israelis or Jews are vehemently negative and consistently portray Israelis and Jews as an existential threat to Palestinians who need to be destroyed. Though the Palestinian leadership boasts of education reform, there is no reference to peace or coexistence with Israel in PA schoolbooks.
"It is apparent from these data that the PA schoolbooks prepare the students mentally and ideologically to a violent struggle for a future liquidation of State of Israel and its Jewish population," the authors conclude.
These findings corroborate previous research on Palestinian curriculum and schoolbooks that systematically glorify terrorism, deny Israel's right to exist, and encourage future generations to wage armed struggle. These themes have been propagated to Palestinian school children for decades and form the basis of Palestinian identity and societal attitudes, which remain deeply anti-Semitic and devoted to the destruction of Israel.
And the problem may be getting worse.
An April study by Hebrew University's Institute for Monitoring Peace and Cultural Tolerance in School Education finds that the new curriculum for grades 1 to 4 "is significantly more radical than previous curricula."
Palestinian education is radicalizing entire generations and has a real impact on terrorism.
A Palestinian terrorist stabbed an Israeli security guard in the chest Dec. 10 in Jerusalem. Before attacking, the terrorist wrote a will featuring a martyr's quote found in PA textbooks, according to Israel's Shin Bet domestic security service.
It's hard to imagine a stable and lasting solution to the conflict without a complete revolution of the Palestinian education system.
Click here to access the full Meir Amit Center report.