Update: Reader complaints to Amazon prompted the online retail giant to stop selling the shirts. Read more here.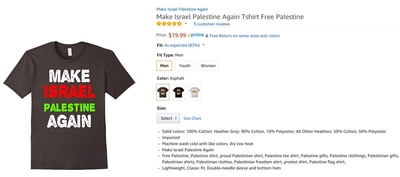 Amazon.com is selling T-shirts that say "Make Israel Palestine Again," a not so subtle endorsement of ending the State of Israel. The shirts are listed as "In Stock. Ships from and sold by Amazon.com." This stands in contrast with some merchandise Amazon sells that comes from third-party sources.
Similar shirts are available on Etsy.com.
The slogan "Make Israel Palestine Again" is used often on social media, including a Twitter page and an Instagram account. An image on the Twitter feed shows President Trump wearing a "Make America Great Again" hat Photoshopped to say "Make Israel Palestine Again."
Boycott, Divestment and Sanctions (BDS) activist Miko Peled used the Trump-style "Make Israel Palestine Again" hat as his Twitter avatar and in a November 2016 post. Peled linked to a petition that calls Israel's existence into question.
The BDS movement aims to isolate Israel politically and economically using sanctions and boycotts of Israeli goods.
Zazzle.com, a website that allows people to create items with their own messages and sell them, hosts a store belonging to the U.S. Campaign for Palestinian Rights (USCPR). Its store lets people buy merchandise emblazoned with the USCPR's logo.
Tax records show the USCPR acts as the U.S.-based financial agent for the BDS National Committee – the group responsible for coordinating the BDS movement worldwide. The BDS National Committee counts a group called the Council of National and Islamic Force in Palestine –a coalition that includes representatives from Hamas and other terrorist groups – as a member organization.
Amazon corporate communications did not respond to an email seeking comment.
The Marxist-Leninist Popular Front for the Liberation of Palestine (PFLP) terrorist group is the "most ideologically clear organization in the Palestinian liberation movement," a Temple University Students for Justice in Palestine (SJP) officer wrote Thursday. in a column promoted and linked to Thursday by the group.
PFLP's goal is Israel's complete destruction.
The PFLP rejects "concessions made by the Arab misleadership class, which has supported so-called 'peace' agreements with Israel," wrote Temple SJP Vice President Brandon Do. "These agreements have allowed the forces of occupation to extend deeper into Palestine and diminished chances of Palestinian liberation."
The PFLP rose to notoriety in the 1960s and 1970s through a series of airline hijackings, including the 1976 hijacking of a Paris-bound Air France flight to Entebbe, Uganda. It also was responsible for a 1972 airport massacre that left 26 people dead. During the Second Intifada, several PFLP terrorists committed several suicide bombings.
Do also has supported PFLP terrorist Rasmieh Odeh, who played a key role in a 1969 Jerusalem supermarket bombing that killed two people. A 2016 picture posted by the Temple SJP chapter shows Do holding a sign calling for the charges against Odeh to be dropped.
In the column, Do praised PFLP founder George Habash, who has been called the "Godfather of Middle East terrorism," as an authority for "raising the Arab world's consciousness" against Israel. He attacked Palestinians who he claimed "sell out" their own people to Israel. The Palestinian Authority's establishment following the 1993 Oslo Accords, he says, created a "crypto-Zionist front."
Do's SJP chapter has praised other PFLP terrorists, including Leila Khaled, who hijacked two planes in 1970. Khaled currently is a member of the PFLP's political bureau and has been involved in fundraising for the Boycott, Divestment, Sanctions (BDS) movement. BDS aims to economically isolate Israel by encouraging the boycott of Israeli goods and divestment from the Israeli economy, and impose sanctions.
SJP is a key component of the BDS movement in the U.S.
Do attempted to link black Americans with the Palestinian fight against Israel.
"By embracing our shared destiny with Black America and those living under the degradation of imperialism worldwide, the Palestine solidarity movement in the United States will say that a free Palestine is possible, and that with struggle, we can restore humanity back to its rightful place, where the civilizations of the world are once again united and no longer living under the threat of invasion, partitioning, and mass exploitation," Do wrote.
The PFLP has repeatedly drawn the same connection in articles on its website.
Anti-Israel groups in the United States are using a recently passed Israeli law to ramp up false claims of apartheid. The "nation-state" bill defines Israel as "the national home of the Jewish people" with Jerusalem as its capital.
"Israel arrogantly enshrines Jim Crow laws," the Students for Justice in Palestine (SJP) chapter at New York's New School blasted on Facebook.
"Apartheid is a legal term, not an insult. It's the most suitable label to describe Israel's treatment of millions of Palestinians over the last seven decades," read a graphic shared via Facebook by Jewish Voice for Peace (JVP).
SJP and JVP are known for their animosity towards Israel. The groups normalize hate, promote anti-Semitism, and previously hosted convicted-terrorist Rasmieh Odeh at a national conference in 2017.
"What this law really does is it enshrines racisms and discrimination and like you said apartheid into the foundational constitutional law of the state of Israel," JVP Executive Director Rebecca Vilkomerson said in an interview with MSNBC's Ayman Mohyeldin. "So that means the 20 percent of Israeli citizens who are not Jewish are being told, and the state is actually now obligated with this law to treat them unequally."
"Formalizing de facto apartheid, the Israeli Knesset passes the racist nation-state law, which officially designates Palestinian citizens of Israel...along with all other Palestinians living in historic Palestine under Israeli sovereign power—as second-class citizens," claimed Columbia University's Students for Justice in Palestine chapter.
Apartheid is a term used by anti-Israel activists and groups to smear and delegitimize Israel. And unlike apartheid South Africa, both Jewish and non-Jewish Israelis receive full voting rights, hold elected office, serve in the military and prominently on Israeli courts.
The nation-state bill passed the Knesset in a 62-55 vote. Israel's Druze community voiced concern over the bill. But President Reuven Rivlin assured a delegation "that is the basis of the state we founded – the Zionist movement in full partnership with all who live here in this good land, which is good for all of us and where we can exist in equality without any problem."
Still, the bill's passage prompted Stanford University SJP member Hamzeh Daoud, a residential assistant, to threaten to "physically fight" pro-Israel students. He later changed the wording in his Facebook post from "physically" to "intellectually" and noted that "I edited this post because I realize intellectually beating Zionists is the only way to go. Physical fighting is never an answer to when trying to prove people wrong."
Both Daoud's Facebook and Twitter accounts have been deactivated.
Most analyses conclude the law is more symbolic than substantial. It does nothing to change the rights of Israeli Arabs, although many are displeased at its recognition of Hebrew as the country's official language, seeing it as downgrading Arabic.
People are free to criticize Israel and the bill. But it's clear that groups like SJP and JVP will do anything to bash Israel and delegitimize its existence.
When Linda Sarsour speaks, a senior Egyptian Muslim Brotherhood official apparently likes what he hears.
Gamal Heshmat shared an anti-Israel video by Sarsour on his Facebook page last Friday. In it, Sarsour glosses over Hamas' role coordinating the "Great March of Return" in May.
She fails to inform viewers that the protesters used kite bombs, incendiary balloons and rockets to try to attack Israeli civilian areas. She does speak about the death toll, however, noting that 50 Gazans died on May 14.
"...[These] people didn't choose to die. People were killed. They were massacred at the hands of snipers," Sarsour said in the video originally posted in May.
Subsequently, Hamas leaders took full credit for the violence, boasting that the overwhelming majority of casualties were members of the terrorist group. Subsequent Israeli analysis confirmed the Hamas claim.
"This is not peaceful resistance," Hamas Politburo member Mahmoud al-Zahhar told Al-Jazeera on May 13. "Has the option (of armed struggle) diminished? No. On the contrary, it is growing and developing. That's clear. So when we talk about 'peaceful resistance,' we are deceiving the public."
Heshmat belongs to the Brotherhood's Shura Council, the legislative body that sets the group's agenda. It isn't clear what prompted him to post the two-month old video Friday, but tried to pretend the prominent Hamas role instigating the violence somehow was a secret.
"The crimes of the Zionist Entity are increasing in light of international protection which betrays its principles, and an Arabic guardianship which thwarts its Umma, and an Islamic silence which harms the Religion and forsakes the Truth, we will expose it to everyone to publish and distribute," Heshmat wrote in the post.
Having a senior Brotherhood official tout her video is a bad look for Sarsour, said Zuhdi Jasser, founder and president of the American Islamic Forum for Democracy (AIFD).
"It's no longer credible to say that it's guilt by association when a major thought leader in the Muslim Brotherhood is using her material to establish a political agenda," Jasser said.
Sarsour's video calls for a Palestinian right to "return to their original homelands" – a demand which would effectively eliminate Israel as a Jewish state. She also called a "prison" due to a blockade aimed at preventing Hamas from smuggling weapons into the area for future terrorist attacks.
Top Hamas leader Ismail Haniyeh cited the same talking points in a June 7 column posted on Hamas' website. Hamas wants Israel's destruction, nothing less.
Despite her hateful rhetoric, Sarsour remains a hot political commodity. She spent the weekend in Michigan campaigning for Democratic gubernatorial candidate Abdul El-Sayed.
A top Hizballah official acknowledged that the terrorist organization remains in Syria and is consolidating its presence across the Middle East, the Meir Amit Intelligence and Terrorism Information Center reports.
In a July 21 speech, Hashem Safi al-Din – Hizballah's executive council chief – bragged about his organization's role in helping the Syrian regime takeover south Syria and fueling conflicts throughout the region.
Al-Din is a member of Hizballah's Shura council and is regarded as one of its most influential figures.
Another Hizballah official, deputy executive council chief Sheikh Ali Da'mush, also praised the terrorist group's successes against militant groups in south Syria, during a statement broadcast on Hizballah's al-Manar TV channel a day before al-Din's speech.
Before these declarations, Hizballah avoided publicly admitting to its role in helping the dictator Bashar Al-Assad's regime re-take territory in southern Syria.
These high-level statements are meant to shore up support from Hizballah's constituency and signal the group's resolve to outside powers such as Israel, the United States, and even Russia, the Meir Amit report said. Recent reports suggest that Russia is considering ways to limit Iran and Hizballah's military presence in south Syria.
Hizballah's leadership is now making it clear that they will not withdraw from the area without a fight.
"Anyone who imagines that the United States or the Arab states or any other country in the world can determine the future of the region, from Yemen to Iraq, to Syria, to Lebanon, to Palestine, to the entire region – without the presence of the resistance [Hizballah], is mistaken," al-Din said.
Hizballah has been a decisive factor in preserving the Assad regime throughout the Syrian civil war. It originally viewed Assad's collapse as an existential threat, given its reliance on Iranian weapons transfers through Syria. But after its early successes, Hizballah's leadership saw an opportunity to open a new Syrian base of operations to threaten Israel. The terrorist group's leadership is increasingly confident and now looking to expand its presence in ongoing conflicts beyond Syria.
A who's who of anti-Israel radical leaders in the U.S. Muslim community mourned last week's death of Ishaq al-Farhan, the co-founder of Jordan's Muslim Brotherhood political wing, the Islamic Action Front (IAF).
"May God have mercy on the thinker, the Islamic leader, and Jordanian national personality, Professor Dr. Ishaq al-Farhan. He lived for his religion, his Umma and Palestine, from which he descended, and people remember his virtues ... This is a great loss, not only for Jordan, Palestine and the Islamic movement, but also a loss for this whole Umma (Islamic nation)," wrote American Muslims for Palestine (AMP) National Policy Director Osama Abu Irshaid. Sabri Samirah, who worked as chairman of the now-defunct Islamic Association for Palestine (IAP), posted video of al-Farhan's funeral from Jordan on Abu Irshaid's Facebook timeline. IAP was the propaganda arm of the Muslim Brotherhood's Palestine Committee, and Marzook served on its board. The Palestine Committee was created to serve Hamas politically and financially, court records show.
Samirah served as IAF's spokesman during a period of exile in Jordan for due to his pro-Hamas sympathies that began in 2002. He returned to the U.S. in 2014.
Abu Irshaid served as served as editor of Al-Zaitounah, a pro-Hamas Arabic periodical published by the IAP.
Al-Farhan also served as a trustee of the Brotherhood-linked International Institute for Islamic Thought (IIIT) based in Herndon, Va. and as Jordan's education minister. In 1996, he wrote to the Clinton administration protesting efforts to extradite then Hamas Politburo chief Moussa Abu Marzook to Israel. Marzook ultimately was sent to Jordan and remains a top Hamas leader. The effort showed that the administration was "captive to the Zionist will," al-Farhan wrote.
His letter was sent from the same fax line as a Hamas statement also protesting the extradition effort, a U.S. Embassy in Amman cable said.
Hamas also mourned al-Farhan's death with a press release. "Palestine and the nation have lost one of their finest men," Hamas said.
Former Muslim American Society (MAS) President and current Dar al-Hijrah Islamic Society board member Esam Omeish called al-Farhan "the giant, the martyr of the Brotherhood and the Umma."
AMP Chairman and University of California Berkeley Lecturer Hatem Bazian also mourned al-Farhan, saying, "Allah have mercy on him."
This outpouring serves as a reminder of the loyalty that many leading U.S. Muslims have to foreign Muslim Brotherhood leaders.
An NGO affiliated with Iran's Islamic Revolutionary Guards Corps (IRGC) continues to spread the regime's radical ideology within Iran and throughout the region, according to a new Meir Amit Intelligence and Terrorism Information Center report.
The Arts and Media Owj Organization promotes content sympathetic to the IRGC, focusing its work on influencing Iran's film and television industries. It also produces computer games, books, documentaries, and children's videos.
Hostility towards Israel and the United States are at the core of Owj's activities, reflecting the Iranian regime's worldview, the Meir Amit report said. For example, Owj helped finance the 2013 "Death to America" media competition in Tehran. And the organization frequently hosts Holocaust denial events.
In light of recent protests against the regime, the Owj seeks to sway Iranian public opinion in favor of more hardline elements and the country's military expansion throughout the region.
Beyond Iran, the Owj is increasingly targeting populations in Syria and Iraq to enhance the Islamic Republic's soft power presence in these countries. The Iranian NGO also hosts events and activities commemorating IRGC fighters killed in Syria and Iraq.
These activities "make the Owj Organization into a leading player in the intensive hearts and minds campaign waged by the Islamic Republic internally and regionally," writes the report's author, Raz Zimmt.
In February, the Owj's director boasted that his organization receives IRGC funding and logistical support. The director also received significant praise from senior Iranian officials, including Iran's foreign minister, the IRGC's commander, and Qassem Soleimani – the head of the IRGC's Qods Force.
Last month, Aleppo's governor praised Owj's efforts in Syria after the group established a children's center in the city that hosts cultural events. These efforts are in line with Iran's goals of entrenching its military, economic, and social presence in neighboring countries.
Two Washington, D.C. area mosques hosted programs last weekend calling for the release of celebrity Islamist Tariq Ramadan, who has been in a French jail since February on rape charges.
He is the grandson of Muslim Brotherhood founder Hassan al-Banna.
Rallies at Virginia's Dar al-Hijrah Islamic Center and the Turkish government run Diyanet Center in Lanham, Md. were sponsored by the Aafia Foundation. It is named for convicted Pakistani terrorist Aafia Siddiqui, aka "Lady Al-Qaida," a Pakistani convicted of opening fire on U.S. soldiers in Afghanistan.
The foundation also led a march Monday to the French Embassy in Washington demanding Ramadan's release.
Though a French court cleared him of raping one of the women last month, France considers Ramadan a flight risk. He remains imprisoned pending the outcome of the investigation into the other women's allegations.
Aafia Foundation president Mauri Saalakhan, an anti-Semitic conspiracy theorist who defended former Iranian President Mahmoud Ahmadinejad, moderated the weekend programs.
Dar al-Hijrah has long been suspected of having ties to the Muslim Brotherhood and has been home to numerous terrorism suspects. Imam Sheikh Shaker Elsayed, known for defending female genital mutilation last year, defended Ramadan.
"His enemies know his value and his effectiveness, and that's why they acted swiftly," Elsayed said.
Ramadan's case is a "cause for every Muslim," Elsayed said.
"We know that every Muslim leader in the West has a sign on his back and forehead saying [they are] a target. If not by Western intelligence, by those who are afraid of Islam and there are some who are Islamophobes," Elsayed said. "Do not let your leaders fall. When they do, our community falls right behind."
Shelina Merani, a friend of Ramadan's who spoke at both rallies, called him a "political prisoner" who is being treated like a terrorist. Saalakhan compared Ramadan's case to Siddiqui's, saying both are falsely accused.
"The only thing that comes close to what we are dealing with this case of what's going on with Dr. Tariq Ramadan is that of Dr. Aafia Siddiqui," Saalakhan said. "It's the only other issue that comes close."
Once again we have a case of pro-terrorist radicals working together to circle the wagons around one of their own.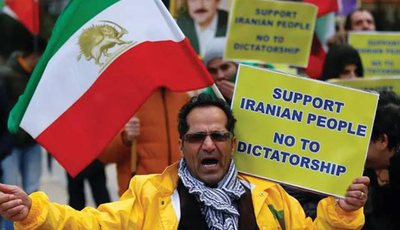 Chants of "Death to Palestine," "Help us, not Gaza," "Our enemy is right here, they lie and say its America" and "Leave Syria alone and deal with Iran" reverberated through Iran's capital Monday. Tehran merchants protested the collapse of their country's currency, the rial, which has lost half its value this year.
Other demonstrations broke out in other Iranian cities.
The chants show discontent with the government's indifference toward Iran's economy and its insistence on spending billions of dollars on foreign wars and on terrorism. Iran received more than $100 billion in sanctions relief under the Obama administration's nuclear deal, but ordinary Iranians have not seen the benefits.
Iran announced plans this week to set the official currency exchange rate at 42,000 rials to the dollar. A dollar bought 70 rials after Iran's 1979 revolution. Sanctions announced last month by Secretary of State Mike Pompeo could further worsen the situation.
The Iranian Revolutionary Guard Corps (IRGC) dominates Iran's economy. It also forms the backbone of Iran's terror support around the world, from Hizballah and the Shiite militias in Iraq, Syria and Lebanon to Hamas and Palestinian Islamic Jihad.
The IRGC's investment in terrorism is directly connected to the plummeting rial, exiled Iranian journalist Babak Taghvaee told the Investigative Project on Terrorism.
Protesters spontaneously filled Tehran's Grand Bazaar Monday, marched on the parliament and clashed with IRGC riot police.
The magnitude of the protests rivals those of 1978 that brought the current regime to power.
While the protests caught the regime off guard, they are not expected to lead to its overthrow, Taghvaee said. Unlike the shah's regime, which acquiesced to foreign pressure in the face of demonstrations, the Islamic Republic will fight to keep its power.
"This regime is not acting softly like [the] shah. As they always say: 'We have not come to the power that easily, to leave quickly,'" Taghvaee said.
But if it did fall, the repercussions would extend far beyond Iran's borders, Commentary magazine writer Sohrab Ahmari wrote.
"Hamas and [Hizballah] and Palestinian Jihad can kiss their Iranian funding goodbye if the regime falls," Ahmari said.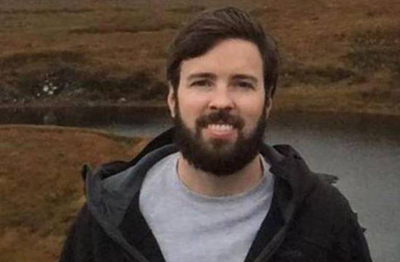 The United States has halted aid to the Palestinian Authority (PA) until further review, i24News reports, two months after Congress passed the Taylor Force Act.
The act mandates that the U.S. freeze assistance to the Palestinian territories "that directly benefits the PA," unless the Palestinian government adheres to several stipulations, including the termination of financial transfers to terrorists and denouncing and investigating Palestinian terrorist attacks.
President Trump signed the Taylor Force Act into law in March. It was named for Taylor Force, an American citizen murdered in March 2016 in Jaffa by a Palestinian terrorist. Shortly after the attack, the Palestinian Authority and Mahmoud Abbas' Fatah party glorified the terrorist who killed Force.
"Our understanding is that US funding to the West Bank and Gaza is on hold pending an administration review," a Senate Foreign Relations Committee aide told i24NEWS.
The USAID office overseeing the Palestinian territories reportedly lacks a formal budget for the next fiscal year. The freeze has also led to the suspension of some development programs overseen by international aid agencies. A HALO trust official, for example, told i24NEWS that the U.S. suspended transferring money at the end of May.
Withholding financing for third-party projects, in addition to USAID, suggests that the administration is adopting a broader view of the Taylor Force Act and what constitutes assistance that "directly benefits" the PA.
According to a Palestinian official, the Trump administration informed the PA in mid-January that it would re-evaluate its Palestinian assistance budget. That official also claims that the United States told the PA that aid was being suspended, pending review, following an Organization of Islamic Cooperation meeting in May.
Under the PA, Palestinian terrorists and their families receive payments that are far higher than welfare recipients.
Payments to current and former Palestinian prisoners fall under the budget's "fighting sector" category and terrorists' families receive a "monthly salary," while poor families receive quarterly "monetary aid."
A terrorist's socioeconomic status is not factored into the salaries. Payments to released prisoners and jailed Palestinians are based on the length of a prison sentence, which reflects the severity of their actionsy. The more brutal the attack or murder, the more money a Palestinian prisoner gets.
The Trump administration pressured Abbas on several occasions last year to stop the terrorist payments. A top PA aide at the time called the idea "insane," while Abbas referred to this practice as a "social responsibility."