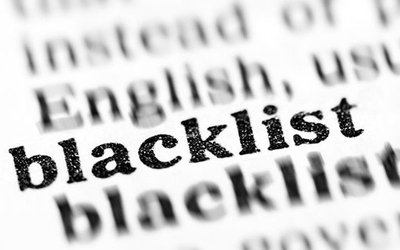 Wajahat Ali thinks we're a bunch of hate mongers. Islamophobes. Part of a handful of groups "primarily responsible for orchestrating the majority of anti-Islam messages polluting our national discourse," he wrote in a 2011 report for the Center for American Progress called "Fear, Inc., the Roots of the Islamophobia Network in America."
But Ali also is part of a dialogue with liberal Zionists as part of the Shalom Hartman Institute's Muslim Leadership Initiative (MLI). The program includes travel to Israel to meet with Israelis and Palestinians to learn about their perspectives.
For this, he is deemed insufficiently hateful about Israel. He is pilloried on social media for "faithwashing," and as "selfish parasite" willing to "throw the Palestine cause for freedom under the bus" and placed among "Muslim sell-outs who tickle Islamophobes pink but whom no other Muslims listen to." And now, he's been disinvited from speaking at this summer's annual Islamic Society of North America (ISNA) convention – touted as the largest gathering of Muslims in the country.
Ali published ISNA's letter on his Facebook page last week telling him he no longer was welcome: "Other than our creed as Muslims, there is perhaps nothing more exemplary and unifying than our community's support for the Palestinian people of all faith traditions, in their struggle against occupation and dispossession," ISNA Vice President Altaf Husain wrote. Ali has failed to meet that standard, and letting him speak "would cause us to conflict with our principles and potentially harm the purposes for which our organization exists."
Invoking the spirit of a great legal mind and 21st century philosopher, Ali responded with some tough questions, which amount to, "Says who?"
How can ISNA's position - whatever it is - represent the diverse viewpoints of 1.7 billion Muslims who disagree on 1 state and 2 state positions and the existence of the state of Israel?

Second, why is the issue of Palestine next to "creed"? Does that mean Palestine is a religious issue? Sounds like it. How do activists, academics and Muslims who say it is a political issue, and critiqued my piece because I discussed the religious component of the issue, respond to this?

Also, why is this issue more important than say the genocide of Rohingya? The conflict in Kashmir? The plight of the Uyghurs in China? The massacre in Syria? Do these issues not rise to such an importance that it comes after "creed"?

Who decided and when? What happens if people disagree? Are they going against the "creed" and is that in someway unIslamic?

These are all fair questions, are they not?
We've noted the blind hate that drives several key Islamist leaders in the United States when it comes to the Israeli-Palestinian conflict. It's the kind of thinking that lets otherwise intelligent people argue that Zionists are inherently creepy and cannot be feminists, to argue that the Israeli military and ISIS are moral equivalents. Repeatedly.
Ali – again, the guy who was the lead author on "Fear, Inc." and who hates us like poison – that guy is insufficiently hateful when it comes to Israel and is facing an emerging blacklist among American Islamists.
He's not alone.
Fellow MLI participant and attorney Rabia Chaudry has also been smeared as a "Zionist shill." Chicago's Council of Islamic Organizations rescinded an award it intended to present her in October 2016 because of her work with MLI even though "your support of the Palestinian cause is quite evident from your blog and tweets. Even those who oppose the award to you have acknowledged it to a large extent.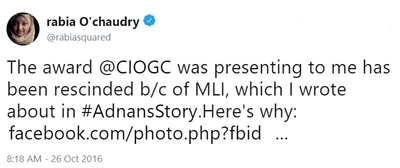 Unbowed, she explained last month that she opposes "cultural or educational boycotts because they make societies and people more entrenched in ideological extremism. The boycott campaign targeting Israel, known as BDS, "is not a pillar of my religion or a moral imperative."
That's wrong, Georgetown University Professor Jonathan Brown argued last week after Wajahat Ali went public about the ISNA invitation. BDS "IS WHAT THE PALESTINIAN CIVIL SOCIETY HAS ASKED ITS ALLIES WORLDWIDE TO SUPPORT," he wrote in a snark-laden Facebook posting responding to Ali.
It's not talking to Zionists that's the problem, he said, it's the travel to Israel, which violates the boycott against the Jewish state.
He cites several people who "saw what was going on and called MLI," including Laila Al-Arian. What Brown doesn't say, but those who follow him likely know, is that Laila Al-Arian is Brown's wife. And her father Sami served on the Palestinian Islamic Jihad's governing board and remains a rabid Israel hater and someone comfortable around anti-Semitic conspiracy nuts.
Muslims engaged in dialogue with Zionists is a pretty likely trigger in that family.
Brown also called out Ali for an article about the ISNA incident published in The Atlantic. It "basically defaulted to being a major public accusation that ISNA, the largest Muslim organization in America, is anti-Semitic," Brown wrote. And that can't be true because "ISNA leaders have met with more rabbis, Jewish community leaders and Jewish Voices for Peace reps than you could count."
While it has "Jewish" in its name, Jewish Voice for Peace is a rabidly anti-Israel group which helps push the BDS boycott and staunchly defended Palestinian terrorist Rasmieh Odeh – who led a 1969 Jerusalem bombing operation which killed two college students.
Jewish Voice for Peace is hostile to Israel, so Brown is comfortable touting the group and its dialogue with ISNA. Wajahat Ali is insufficiently hostile to Israel, therefore, he should be blacklisted. ISNA, which presents itself as a mainstream Muslim organization despite roots in the Muslim Brotherhood and a tendency to feature some radical speakers and crank publications at his conventions, has folded in the face of internal pressure before.
Despite initially agreeing to let them in, ISNA tossed out Muslims for Progressive Values (MPV), which supports "equality and inclusion of all individuals, regardless of sexual orientation or gender identity, in society and in the Muslim community," from last year's convention bazaar.
We have strong, fundamental disagreements with Wajahat Ali. That won't change, nor will his views about those he believes peddle "Islamophobia."
But if ISNA believes, as Altaf Husain wrote, that letting Ali speak could "potentially harm the purposes for which our organization exists" because of his dialogue with Zionists, maybe it's time for people inside and outside ISNA to ask exactly what are those purposes?