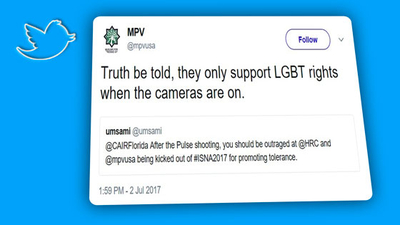 "The one thing you want to be able to do is to open doors for people who have felt they didn't belong." So said speaker Altaf Husain at the Muslim Students Association (MSA) National Conference, which was held in conjunction with the Islamic Society of North America (ISNA) annual convention in the Chicago suburb of Rosemont, Ill. over the 4th of July weekend. The MSA published the ISNA official's words on its national Twitter account.
ISNA claims that it strives "to be an exemplary and unifying Islamic organization in North America that contributes to the betterment of the Muslim community and society at large." This assertion has been effective, as ISNA officials have visited the White House and advised the Department of Homeland Security. ISNA even partners with the American Jewish Committee in taking a stand against hate crimes.
Similarly, the Muslim Students Association (MSA), which has chapters on over 600 campuses in the U.S. and Canada, includes among its "guiding principals" [sic] the claim that "love is our highest aspiration" and "tolerance is the banner of our outreach."
But ISNA and the MSA do not practice what they preach: a gay-friendly Muslim group was physically ousted from the bazaar at the convention after having been initially approved, but then told that Islam does not accept homosexuality. This action seems to demonstrate that the ISNA leadership has not changed its position on homosexuality, as noted in 2006 by its then-President Sayyid M. Syeed: "And our job is to change the Constitution of America. And that is the highest level of iman, because we are actually involved in transforming America so that homosexuality and these same-sex marriages do not take place here."
There was no hint of the coming controversy when Frank Parmir, the president of the Columbus, Ohio chapter of Muslims for Progressive Values (MPV), announced on Facebook July 1 that "MPV is partnering with HRC at the Islamic Society of North America Conference in Chicago."
HRC is the Human Rights Campaign, which describes itself as "America's largest civil rights organization fighting every day for a world where #LGBTQ people are treated #EqualEverywhere."
Although MPV is not specifically a gay group, its website notes this about Parmir: "Visiting various nearby Mosques and finding none that would be welcoming of the [sic] their two lesbian daughters (should they embrace Islam) with full equality. Frank started MPV- Columbus which is the only inclusive mosque in Ohio, and perhaps the whole Midwest, with a regularly scheduled female khateeb."
Once at the convention, Parmir posted steady updates to Facebook, capturing the rapidly deteriorating situation. "I'm a little nervous about how we'll be received," he wrote at 11:46 a.m. Saturday July 1. "After an hour....So far so good. I made myself a reminder to be gentle."
Then at 5:28PM, he added this update, noting that he was receiving pushback from others at the conference, and emphasizing that he was not preaching homosexuality, but simply tolerance:
An hour or so ago we had a very fervent visitor who insisted that homosexuality is not permitted in Islam. I listened patiently for some time. Finally I told him that I would be glad to be in a dialogue, but I had no interest in being lectured to.

Now just recently we have had a visit from the chairman of the conference. I'm guessing that my lecturer complained. I don't have the sense that they are going to try to remove us.

We have not advocated anything but tolerance. It might not make ISNA look to [sic] good to be intolerant of tolerance.
Parmir's next update, at 7:24PM, said simply, "Kicked out," with a photo of the disassembled MPV/HRC booth.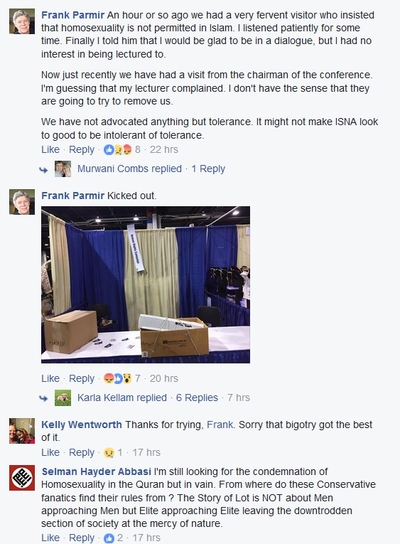 MPV tweeted an explanation for the expulsion the next morning: "@ISNAHQ told @mpvusa & @HRC to tear down our booth & booted us out for promoting equality, inclusive Islam including Muslim LGBT."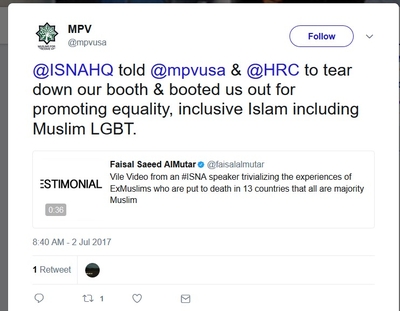 Parmir then posted a full account of what happened. He explained that at first he "was surprised by how little overt hostility we met....I expected to be challenged immediately. Instead, most people seemed oblivious to our presence."
That situation changed, however, when "around three o'clock we had a visitor in full Salafi garb and beard....It was abundantly clear to me that his mind was not in the least open. I finally told him that I would welcome a genuine dialogue, but I was not interested in being lectured at. At that point, he said he was willing to have a dialogue. But that expression was clearly insincere. When he decided he could not convince us to repent, he left."
That was not the end of the matter. ISNA's Conventions, Conferences, and Special Projects director Saleem Basharat soon approached Parmir and "reminded us that our continued presence was totally contingent on ISNA's approval." About an hour later, another official approached Parmir and told him that "he had been sent by the convened officials to 'ask' us to leave." Parmir added: "I was not shy about pointing out that his request was really a demand.
He said we needn't be in a hurry to close the booth. We were welcome to take an hour or so. (I think he missed the ironic humor I saw in that leniency.)"
Despite this clear demand, Parmir asked for, and received, another meeting with Basharat and other officials. There, ISNA and MSA officials told Parmir that the organizations were unwilling to allow – not only MPV's stand for gay rights – but its message of gender equality, as they were
"very uncomfortable with MPV's advocacy of gender equality and LGBTQ inclusion. They were very clear that they are a religious organization. Their value structure has women as secondary to men...at least in ritual leadership. They are not in the least open to MPV's call for gender equality. And their religious values do not allow any suggestion that members of the LGBTQ community can be Muslim if they are not repentant. They are adamantly opposed to the notion that there is any room in Islam for a conversation about the possibility of any equality of legitimacy between heterosexual intimacy and homosexual intimacy."
While the ISNA officials were making these points to Parmir in private and forcing him to shut down his booth, the ISNA and MSA programs were making a great public show of purported inclusiveness and tolerance. Leftist Muslim activist Linda Sarsour, Council on American-Islamic Relations (CAIR) Executive Director Nihad Awad, and Memphis imam Yasir Qadhi posed for a photo mocking President Trump's national security temporary travel moratorium on six Muslim countries, with the caption: "ISNA54- MPower Change on Twitter: 'Hey @DHSgov @StateDept, check out our bona fide Muslim family #NoMuslimBanEver #ISNA54.'" They were poking fun at the Trump administration's specification that only people from the ban countries with "bona fide" relationships to people in the U.S. would be admitted.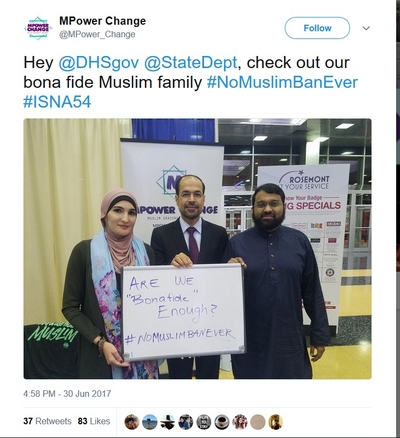 In a similar vein, one speaker, imam Zaid Shakir, said at the convention: "If Jim Crow and Muslim Bans have kept us apart, let us be the people to bring everyone together." Another speaker, Khalid Latif, declared: "You don't meet hate with hate. You meet hate with love."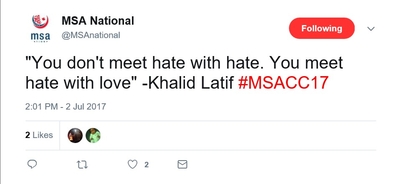 While ISNA publicly has partnered with the American Jewish Committee in standing against hate crimes, and calling for "love," ISNA had no problem banning the pro-gay MPV and HRC.
And that was not the only example of ugly intolerance at the ISNA/MSA convention: another speaker, Mariam Sobh, published a video mocking ex-Muslims as dishonest profiteers, while ignoring the fact that they are subject to a death penalty in 13 Muslim countries.
The convention also featured a booth dedicated to the case of convicted terrorist Aafia Siddiqui, known as "Lady al-Qaida," who is serving 86 years in prison for trying to murder U.S. personnel in Afghanistan. So terrorists are apparently acceptable to ISNA, but gay rights groups are not.
Ironically, as the convention was just beginning on July 1, speaker Laila Al-Arian told the audience: "Thank you all for coming here, for listening to all of your unique perspectives. And I hope that ISNA continues to hold events like this and to make sure that all perspectives are represented."
But that comment was for public consumption only. MPV summed up the truth of the matter when it tweeted of ISNA and the MSA: "Truth be told, they only support LGBT rights when the cameras are on."