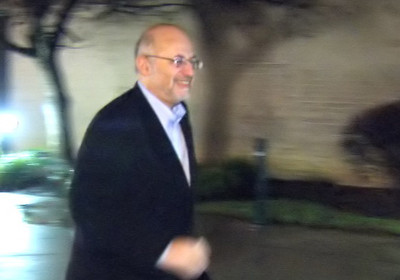 Sami Al-Arian boarded a commercial flight late Wednesday night from Washington Dulles International Airport to Turkey, ending a 20-year con in which he posed as a mere academic and advocate for Palestinian nationalism. In reality, he was a board member in a terrorist organization who lied to his supporters about his true identity over and over again.
As early as 1994, he denied any connection with the Palestinian Islamic Jihad (PIJ) during an interview with Steven Emerson, now the Investigative Project on Terrorism's executive director. It was a story he clung to until 2006, when he pleaded guilty to conspiring to provide goods and services to the terrorist group. But even then, he never acknowledged his leadership role or his commitment to violent jihad that was captured on video and documents seized by federal investigators.
True to form, he issued one last statement before his deportation – a condition of that 2006 guilty plea – in which he cast himself as a victim of political persecution who did nothing more than espouse unpopular views.
"Today," he wrote, "freedom of expression has become a defining feature in the struggle to realize our humanity and liberty. The forces of intolerance, hegemony, and exclusionary politics tend to favor the stifling of free speech and the suppression of dissent. But nothing is more dangerous than when such suppression is perpetrated and sanctioned by government."
That heartfelt farewell message failed to mention the PIJ, or his role as the secretary of its Majlis Shura, or board of directors. FBI intercepts show that he spent most of 1994 fighting with officials in Iran to keep the PIJ intact, in order for it to kill more people.
It's no wonder U.S. District Judge James Moody, who presided over Al-Arian's 2005 criminal trial, called him a "master manipulator" during a 2006 sentencing hearing.
"The evidence was clear in this case that you were a leader of the Palestinian Islamic Jihad. You were on the board of directors and an officer, the secretary. Directors control the action of an organization, even the PIJ; and you were an active leader."
Still, social media lit up with expressions of outrage over his case and sadness over his departure from the United States.

Al-Arian's supporters embrace and adhere to a narrative of victimization. It's a festival of ignorance, driven by a stubborn refusal to acknowledge the words that came out of his own mouth or were written by his own hand.
He was a well-regarded computer science professor at the University of South Florida. But he also took over a mosque in Tampa and named it for Ezzedin al-Qassam, the founding martyr of violent Palestinian nationalism. He created a charity and think tank that included three other PIJ Shura members.
During a 1991 fundraiser in Cleveland, Al-Arian sits passively as the local imam, Fawaz Damra, introduces him as the head of "the active arm of the Islamic Jihad Movement in Palestine," which is called the Islamic Committee for Palestine in the United States "for security reasons."
Al-Arian later claimed, and supporters easily accepted, that he later took Damra aside to correct that representation. But in his remarks that day, Al-Arian hailed the Islamic Jihad as the spark which triggered the Palestinian uprising in the 1980s. It started, he said, when PIJ operatives escaped from an Israeli jail.
"God, praise and glory be to Him, commands us to fight and commands us to jihad, because there is honor in it and because there is victory for Islam and victory for right over tyranny."
In that same appearance, he urged protests against the United States over the Persian Gulf crisis and urged "Let us damn America. Let us damn Israel. Let us damn their allies until death."
Damra, later convicted of naturalization fraud and deported for concealing his own links to PIJ and other terror associations, took the microphone back, urging donations "[f]or Islamic Jihad, I say it frankly: for Islamic Jihad ... And whoever wants to write a check, he can write it in the name of the Islamic Committee for Palestine, "ICP" for short.
At a rally in Chicago five months later, Al-Arian again praised the PIJ role in sparking the Palestinian Intifada, and made clear where he thought it should lead.
These statements cannot be reconciled against Al-Arian's long and well-crafted image as a peaceful advocate for Palestinians. The only recourse for supporters, then, is to pretend they do not exist.
That's how The Intercept's Glenn Greenwald and Maz Hussain could describe Al-Arian as the victim of a "decade-long campaign of government persecution in which Al-Arian was systematically denied his freedom and saw his personal and professional life effectively destroyed." It's how the Muslim Legal Fund for America could say he was the victim of government persecution solely for "First Amendment activities advocating for Palestinian human rights."
It's how the Council on American-Islamic Relations (CAIR) could justify honoring Al-Arian and his family with a "Promoting Justice" award in November.
One of the foundations for the "persecution" claim was the mix of acquittals and hung-jury counts in Al-Arian's 2005 trial. His plea agreement is cast as a way to spare his family further anguish. But in it, Al-Arian admits that he "performed services for the PIJ in 1995 [when an executive order made such support illegal] and thereafter."
In addition, a similar case involving Hamas-support by a Texas-based charity with a similar original outcome ended with sweeping convictions following a retrial.
The verdict does not make the documents and statements showing overt PIJ support disappear. A key document Al-Arian and his supporters would like to wish away is the Palestinian Islamic Jihad's bylaws. While Hamas openly published its charter shortly after its foundation, Israeli officials did not know PIJ had a similar document until federal agents seized it from Al-Arian in 1995.
Among the "political constants" defined in the document: "The rejection of any peaceful solution for the Palestinian Cause, and the affirmation of the jihad solution and the martyrdom style as the only option for liberation." Its goals are quite clear.

Fax communication intercepted by the FBI showed Al-Arian was a PIJ board member. He stood for this. Until he acknowledges this reality, there is no reason to believe his views have moderated.
He hadn't changed in 1995, when he hand-wrote a letter to a Kuwaiti official invoking a double suicide bombing to "try to extend true support for the jihad effort in Palestine so that operations such as these can continue."
"Preserving the spirit and flame of jihad against the enemy is a general Islamic responsibility and cannot be left to rest upon the shoulders of the few among our nation," he wrote.
He claimed he never sent the letter, but investigators found a copy in his home seven months later.
Ramadan Abdullah Shallah, one of the Shura members whose stay in America was sponsored by Al-Arian, emerged as the PIJ secretary general in Damascus nine months after those words were written. Shallah holds the same position today.
When reporters called to ask Al-Arian about his associate's new job, he lied and claimed to be as surprised as anyone and suggested it was someone else with a similar name.
The lies didn't end with the guilty plea or Judge Moody's scorn. While serving out the remainder of his sentence, Al-Arian refused to testify before a federal grand jury in Virginia that was investigating terror financing. His plea agreement, he insisted, was predicated upon a promise that he would never have to "cooperate" with the government.
It didn't matter that he and his attorneys could not point to a single reference to such a pledge in the plea agreement, during the 2006 hearing in which the guilty plea was accepted, or during his sentencing. In both hearings, judges specifically asked whether he acted due to any additional promises. He said no.
Despite the absence of any proof and two appellate court rulings against Al-Arian on the matter, U.S. District Judge Leonie Brinkema refused to either grant a defense motion to dismiss the case or let it proceed to trial. After five years of judicial inactivity, prosecutors dropped the contempt charge last summer, clearing the way for this week's deportation.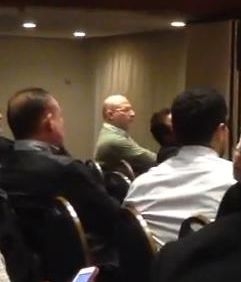 He returned to political activity, however, showing up at pro-Muslim Brotherhood events in December 2013 and again last week when he attended a forum for a visiting delegation including Brotherhood officials at the National Press Club.
Al-Arian reportedly is in Istanbul, Turkey. While he had no previous connection to the state, Turkey has become a key operating base for Hamas, a rival Palestinian terrorist group. Hamas operative Saleh Al-Arouri is suspected of plotting several terrorist attacks from his base there, and Hamas political chief Khaled Meshaal reportedly moved there in recent weeks from Qatar.