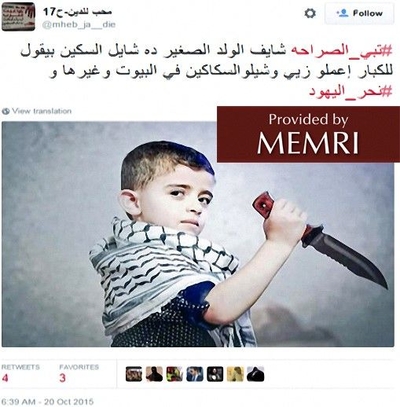 Growing violent incitement against Jews from across the Palestinian political spectrum and society continues to fuel near-daily Palestinian terrorist attacks targeting Israeli civilians and security personnel.
In one of the most shocking examples, the mother of a Palestinian terrorist who was killed during an attack on a Jerusalem bus earlier this month pulled out a knife during a television interview and threatened to follow her son's example.
"I am concealing this weapon for Israel. Watch out, Israel! Watch out!" exclaimed Umm Muhammad Shamasne while making stabbing gestures in an Oct. 22 interview on the Lebanese Al-Quds TV station.
Click here to view the video clip and a translation by the Middle East Media Research Institute (MEMRI).
As the interviewer pleads for the woman to put the knife away, Shamasne adds that she wants her other children martyred in future attacks.
"...I will sacrifice my four children for the sake of Al-Aqsa and I will be the first to sacrifice myself for the sake of Al-Aqsa. Watch out, Israel. You have brought the fire of Hell upon yourself, and you don't know who you're dealing with. You have brought the fire of Hell upon yourself, Israel. There's no need for me to say any more. My deeds will speak louder than words...," Shamasne said.
As part of a broader series documenting a systematic campaign of violent incitement, MEMRI distributed extensive examples of social media posts showing sympathy and glorification for recent attacks targeting Israelis. Many of the posts feature pictures of small children holding knives and captions that encouraging the ongoing terror campaign against Jews.
"Teach your children to love Palestine and take up knives," said a posting from an account called "Stab" that featured a picture of a toddler wielding a sharp knife. "Oh people of Palestine. The next generation will be the generation of stabbings and slaughter."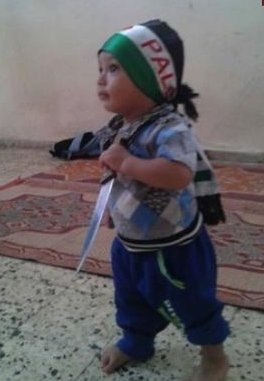 Photo Credit: MEMRI
Other photos show children holding blades with trending hashtags such as "The Knife Intifada" and "Stab."
Using the "Al Quds Intifada" hashtag, a Jordanian Facebook user – 'Abd Al-Halim – posted a video titled "Rahaf Threatens the Zionists with a Knife," featuring his young daughter wielding a knife and proclaiming that she wants to stab a Jew. Positive comment from other social media users to the video led 'Abd Al-Halim to share a photo of his son with the comment: "My children practice with a meat knife. They have a deep hatred for Jews."
As documented on numerous occasions, the so-called "moderate" Palestinian Fatah faction and the Palestinian Authority also incite violence and glorify the recent spate of terrorist attacks.
A post on Fatah's official Facebook page Friday features a picture and birth certificate of a newborn Palestinian girl named "Knife of Jerusalem," Palestinian Media Watch reports. A Gazan family also named their newborn son after Palestinian terrorist Muhanna Halabi after the stabbing and murder of two Israelis in Jerusalem on Oct. 3.
Fatah and Palestinian Authority incitement continue even after U.S. Secretary of State John Kerry told PA President Mahmoud Abbas to cease encouraging violence after weeks of Palestinian terrorist attacks. Fatah's military wing – under Abbas' control – called for more attacks against Israelis on its Twitter account as Kerry issued the warning.
The State Department reportedly is cutting $80 million in aid to the PA as a "message" to stop the incitement.
Abbas' incitement reached heightened levels earlier this month when he was caught pushing a lie that Israel is conducting "field executions" of Palestinian terrorists involved in daily attacks targeting Israelis.
"We will not give up to the logic of brute force, policies of occupation and aggression practiced by the Israeli government and the herd of settlers who are engaged in terrorism against our people, our holy places, our homes, our trees and the execution of our children in cold blood as they did with the child Ahmed Manasrah and other children from Jerusalem," Abbas said in an address broadcasted on Palestine TV.
Israeli officials subsequently released video and photographic evidence of Palestinian terrorist Ahmed Manasrah – one of two terrorists who stabbed two Israelis – being treated for injuries at an Israeli hospital.
The fabrication is one among numerous examples of Palestinian officials and institutions glorying terrorists and encouraging other Palestinians to emulate the attackers.
"We will kill you here, Oh Zionists. We are awaiting you. If you come back, we will come back," reads an Oct. 9 Fatah statement on its official Facebook page in both Hebrew and Arabic, according to an Investigative Project on Terrorism (IPT) translation.
Earlier this month, the Palestinian Authority Ministry of Education planned an event, including planting olive trees, to glorify the "Martyrs" who murdered Israelis throughout the country in recent terrorist attacks.
"This event is meant to illustrate the devotion of the ministry and its staff to honoring the Martyrs, among them school students, and to strengthen the sense of belonging to the land... [and] in order to highlight the permanent presence of the Martyrs and to honor their sacrifices," PNN, independent Palestinian news agency announced on Tuesday and translated by Palestinian Media Watch (PMW).
These blatant examples of incitement from all walks of Palestinian life reinforce the notion that Palestinian culture promotes violence and terrorism against Jews and is the root problem of the current violent uprising targeting Israelis.
As the incitement continues, so do the near-daily Palestinian terrorist attacks. On Monday, Israeli authorities shot a Palestinian man who attempted to stab an Israeli soldier near the Tomb of the Patriarchs – a holy Jewish site in Hebron. The terrorist's knife failed to pierce through the soldier's ceramic vest, saving the soldier's life. The terrorist later died of his injuries en route to the hospital, the Israel Defense Forces (IDF) said.
Earlier Monday, a Palestinian assailant was shot and killed after stabbing and severely injuring an Israeli soldier north of Hebron. A woman also was shot and killed Sunday afternoon after she tried to stab soldiers at a checkpoint in Hebron. Meanwhile, a Palestinian rocket fired from Gaza aimed at terrorizing Israeli civilians and provoking Israel to retaliate landed in an open area of the Gaza border area Monday evening.
These latest incidents demonstrate that Palestinians are continuing to carry out vicious terrorist operations against Israelis – including rocket fire, stabbings, and vehicular attacks – amid ongoing Palestinian incitement emanating from political parties, government institutions, and social media campaigns.