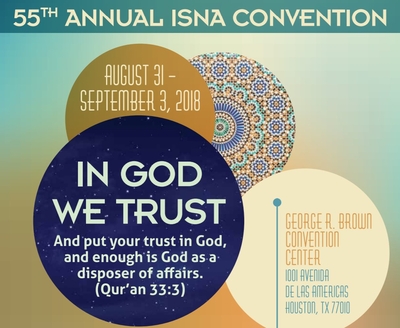 Like most Islamist gatherings, "Islamophobia" was a big topic at the Islamic Society of North America (ISNA)'s annual convention during Labor Day weekend. For example, author Khaled Beydoun linked Islamophobia's origins to white supremacy, while pollster Dalia Mogahed cited concern over Islamic honor crimes as a form of liberal Islamophobia.
But commentator and comedian Amer Zahr – an adjunct law professor – broadened the concept of "Islamophobia" dramatically, using the often ambiguous and blanket label to describe any criticism of Palestinian incitement that encourages anti-Semitism or terrorism.
Invoking Investigative Project on Terrorism founder and Executive Director Steven Emerson, Zahr alleged that "...for 70 years the pro-Israel lobby has been saying things like the Palestinians teach their children to hate. That's a form of Islamophobia. That they send themselves out to kill people. That is a form of Islamophobia."
To make such claims, Zahr must completely dismiss the overwhelming body of evidence showing Palestinian factions and officials systematically engaging in violent incitement, or he must believe that any criticism of Palestinian society is genuinely bigoted.
Pointing out real examples of Palestinians teaching youth to hate Israelis is a form of anti-Muslim bigotry? When Palestinian summer camps actively indoctrinate young children with radical jihadist ideology and prepare them to conduct terrorist attacks, Zahr thinks the best thing for people to do is look away?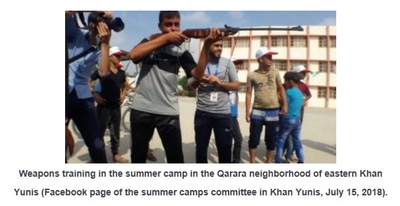 Image from the Meir Amit Intelligence and Terrorism Information Center.
Hamas hosts an annual "Pioneers of Liberation" summer camp, seeking to provide about 30,000 children and teenagers with military training to seed future terrorist operations against Israel. Instead of arts and crafts, Palestinian campers were taught how to stab and use firearms against Israelis. Whether in Jerusalem or Gaza, Palestinian summer camps heavily emphasize religious indoctrination and radical brainwashing.
"The goal of the camps is to instill the spirit of Jihad and of fighting in these cubs, these youth, so that they will become the next generation of liberation," said a Hamas operative and camp counselor in 2015.
This summer was no exception.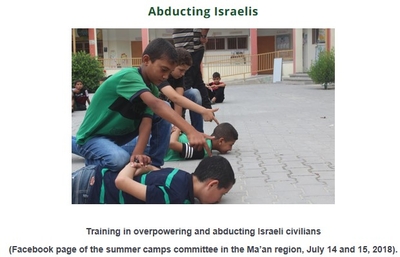 Image from the Meir Amit Intelligence and Terrorism Information Center.
But it's not only Hamas that runs radical Palestinian camps. In 2015, little children at a summer camp at Jerusalem's Al-Aqsa Mosque were subjected to a radical sheikh's lecture on suicide operations and the virtues of martyrdom.
While this type of terrorism glorification may be expected from designated terrorist organizations like Hamas, Palestinian factions and leaders of all stripes regularly incite violence.
Palestinian glorification of violence is so institutionalized that the so-called moderate Fatah faction and the Palestinian Authority pay people for attacking Israelis. In fact, Palestinian terrorists and their families receive far higher government payments than welfare recipients.
After virtually every terrorist attack, Palestinian officials from across the spectrum offer praise for the "operation" and encourage future generations to emulate murderers. Fatah, for example, referred to the cold-blooded murder of a rabbi as a professional assassination by a "skilled and experienced" Palestinian.
In 2014, PA President Mahmoud Abbas' adviser offered direct praise for the terrorist who killed three-month-old American Israeli Haya Zissel-Brown and injured eight others as "heroic Martyr" on his official Facebook page.
A scholarly review of Palestinian textbooks finds that the curriculum systematically "teaches students to be martyrs, demonizes and denies the existence of Israel, and focuses on a 'return' to an exclusively Palestinian homeland." Educational programs on TV contribute to this hateful brainwashing as well.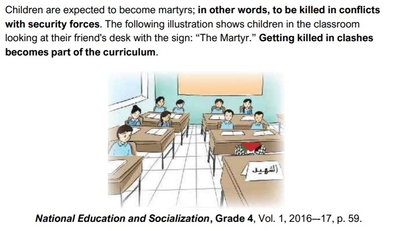 Image from the Meir Amit Intelligence and Terrorism Information Center.
In 2013, Gaza's Hamas-run al-Aqsa TV showed children singing the virtues of suicide attacks and wishing to blow themselves up to liberate Jerusalem and Palestine: "Jihad bestows pride and glory upon you when you become a martyrdom-seeker," the elementary school-aged children sing. "Oh explosive device of glory – with her blood she created freedom."
While Palestinian officials lead these radical educational programs, Palestinian society – which has been bombarded with this level of incitement for decades – helps disseminate violent propaganda. Amid rising numbers of terrorist attacks in 2014, Palestinian social media routinely featured graphic and violent tweets calling on Palestinians to run over and kidnap Jews.
Following major terrorist attacks, ordinary Palestinians distribute celebratory sweets in the streets. The 2016 bus bombing in Jerusalem, for example, was met with jubilation in Gaza as candy was handed out to cheering Palestinians.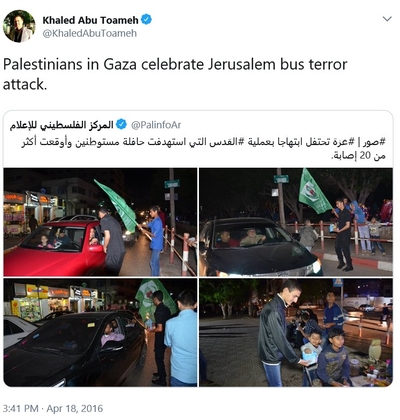 The list goes on. Policy reports, scholarly publications, and several organizations are devoted to exposing Palestinian violent incitement by highlighting cases on a near daily basis.
Zahr added another demonstrably false Islamophobia allegation during his ISNA remarks.
"When prime ministers of Israel are quoted over and over even by liberal Zionists saying 'we can make peace with the Palestinians when they learn to love their children more than they hate us,' This is a form of Islamophobia," Zahr proclaimed.
Zahr misses the fact that many Palestinian leaders themselves brag that "we desire death like you desire life."
"For the Palestinian people death has become an industry at which women excel and so do all the people living on this land. The elderly excel at this, and so do the mujahedeen and the children. This is why they have formed human shields of the women, the children, the elderly and the mujahedeen in order to challenge the Zionist bombing machine. It is as if they were saying to the Zionist enemy: 'We desire death like you desire life,'" Hamas politician Fathi Hammad said in 2008 remarks broadcast on Hamas' Al-Aqsa television.
That line – Palestinians desiring death more than Israelis value life – is often invoked by Palestinian leaders, their supporters and in their media. Three years before Hammad's comments, Hamas commander Raed Sa'ad summed up the distorted educational values that have been successfully instilled in the Palestinian youth.
"We have succeeded, with Allah's grace, to raise an ideological generation that loves death like our enemies love life," he said.
These are not quotes fabricated by "liberal Zionists." According to Zahr's logic, Hammad, Sa'ad, and other Palestinians who express similar sentiments should be labeled as Islamophobes.
Baseless claims of "Islamophobia" are attempts to discard or discredit any legitimate criticism of Palestinian politics and society.
If Zahr wants to advocate for Palestinian nationalism or bemoan as unfair the reputation Palestinians have, he could opt to demand changes in education and culture that focus on improving life rather than glorifying violence and death. Denying reality isn't going to get it done.