Fatah and the Palestinian Authority (PA) framed yesterday's terrorist attack that killed a civilian father of six as a successful "operation," Palestinian Media Watch reports.
Late on Tuesday, while driving near Nablus, Rabbi Raziel Shevach was shot in the neck from a passing vehicle. Shevach was pronounced dead at a nearby hospital. A manhunt is underway for the perpetrator(s).
Fatah glorified the attack as a professional assassination from a "skilled and experienced" Palestinian.
"The Nablus operation in numbers: The full duration of the operation: 30 seconds. The distance between the cars: 20 meters. The number of bullets that were fired: 22. The one who carried out the operation was skilled and experienced, and escaped the site. The result: a killed settler," reads today's post on Fatah's official Facebook account.
The official PA daily, Al-Hayat Al-Jadida, also ran an article referring to the attack as a "shooting operation," making it sound like military activity instead of what the incident really was: the murder of an Israeli civilian.
Both Fatah and the PA called the victim a "settler." Palestinian factions of all stripes consistently refer to Israelis as settlers regardless of if they live in pre-1967 Israel or the territories. This is a subtle, yet effective, way to legitimize and encourage attacks targeting Israelis wherever they reside. The PA even refers to murdered tourists visiting Israel as "settlers," including U.S. citizen Taylor Force who was killed in Tel Aviv last year.
Israeli Prime Minister Benjamin Netanyahu is calling for PA President Mahmoud Abbas to condemn Shevach's murder. So far, there is silence from Abbas. America's ambassador to Israel, David Friedman, also chimed in, highlighting the PA's financial incentive system that continues to encourage terrorism.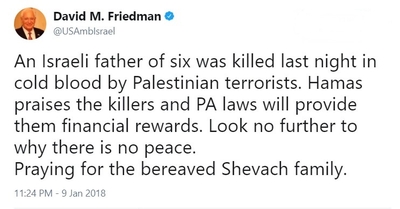 "An Israeli father of six was killed last night in cold blood by Palestinian terrorists. Hamas praises the killers and PA laws will provide them financial rewards. Look no further to why there is no peace. Praying for the bereaved Shevach family," Amb. Friedman tweeted.
Palestinian terrorists and their families receive far higher government payments than welfare recipients.
Today, a terrorist's socioeconomic status is not factored into the salaries. Payments to released prisoners and jailed Palestinians are based on the length of a prison sentence, reflects their action's severity. The more brutal the attack or murder, the more money a Palestinian prisoner gets.
According to statistics released by Israel's foreign ministry on Wednesday, Palestinians conducted 54 terrorist attacks in 2017. Another 400 attacks were foiled. The vast majority of terrorist attacks against Israelis in recent years are perpetrated by individuals, not organized groups. This phenomenon is largely motivated by the "PA's strategy of 'popular resistance' (i.e., popular terrorism) adopted by the PA and Fatah at the Sixth Fatah conference in August 2009."
If the assailants responsible for Rabbi Shevach's death are brought to justice, their families should expect a hefty reward. The PA's glorification of terrorism and perverse financial incentives system will only encourage more attacks.