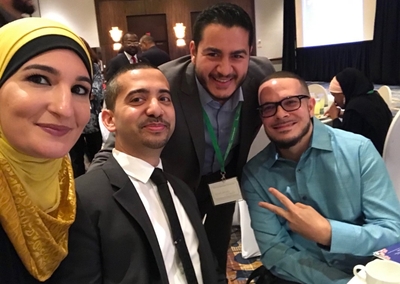 Linda Sarsour with Mehdi Hasan, Michigan gubernatorial candidate Abdul Elsayed and Shaun King at the ISNA convention. Twitter photo.
In a year in which
Muslim political candidates
are
breaking new ground
or
falling just short
, it's not surprising to see politics dominate the country's largest annual gathering of Muslim Americans.
But the political sessions at the annual Islamic Society of North America (ISNA) convention in Houston were far from celebrations. Rather, they cast a dire picture for Muslims of life in America.
Speakers cast "Islamophobia" as a dire threat lurking just outside their doors. And while a travel ban upheld by U.S. courts targets people from five Muslim-majority countries among dozens, the policy was repeatedly described as a "Muslim ban" in full effect.
Leading the charge was Linda Sarsour, a co-chair of the national Women's March and founder of a political activist group called MPower Change. Sarsour spoke to at least four separate sessions during the weekend, with ISNA President Azhar Azeez introducing her as "the most famous, known activist in America today."
Her tone often was not aimed at inspiring Muslims to be more politically active as much as it was to shame them for not doing so. If they aren't sufficiently engaged in advocating for the Palestinian cause, she said, "you as an American Muslim are complicit in the occupation of Palestinians, in the murder of Palestinian protesters. So when we start debating in the Muslim community about Palestine, it tells me a lot about you and about the type of faith that you have in your heart."
Worse still, "if you're on the side of the oppressor, or you're defending the oppressor or you're actually trying to humanize the oppressor," she said, "then that's a problem sisters and brothers and we got to be able to say: that is not the position of the Muslim American community."
That seems like a slap at Muslim activists who have engaged in dialogue with Zionists and even traveled to Israel under a program financed by the Shalom Hartman Institute. Wajahat Ali, for example, was disinvited from speaking at this weekend's convention for failing to make the Palestinian cause his paramount issue as a Muslim.
Muslims who failed to get politically active in 2016 are responsible in part for Donald Trump's election, she argued. "In fact, when you are silent, you are the one that's not a patriot and you are the one that's not a true American and not proud to be an American."
If people are too afraid to get involved, that just means their religious faith is lacking.
"When I stand up here and I'm fighting for your rights and the rights of all people in these United States of America, I am a true patriot. And those of you who have fear in your hearts and don't have the courage to stand up for your deen (religion), for your communities, for your religious institutions, for your children, that is not just a question of your patriotism. It is a question of your iman (faith)."
Muslim Americans remain tremendously misunderstood, said Dalia Mogahed, a pollster and research director at the Institute for Social Policy and Understanding.
"Muslims are more likely than any other faith community in America to reject" attacks on civilians, she told an audience during a session on "Islamophobia."
She cited a Pew poll which "found that Muslims were more likely to say such actions – which means, referring to violence against civilians – can never be justified. Seventy-five percent of Muslims saying this versus 59 percent of the general public."
Given that data, it's all the more frustrating that national Islamist groups like ISNA, the Council on American-Islamic Relations (CAIR) and the Islamic Circle of North America (ICNA) are unwilling to condemn by name Palestinian terrorist groups like Hamas and Palestinian Islamic Jihad. They also have defended and honored political leaders and financiers who supported the terrorist groups.
"Islamophobia" will be difficult to defeat, said author Khaled Beydoun, because it is inextricably linked to white supremacy. He dates its origins to the Naturalization Act of 1790, which restricted citizenship only to white people. Islam, he said, still is seen "as a rival civilization that could not be melded with whiteness." It's an attitude that cuts across the political spectrum.
"Let's put a name, and let's put a face on who liberal Islamophobes are," Beydoun said. "It's really important to intersect race and intersect white supremacy with liberal Islamophobia. The real Islamophobes on the Left are largely white Islamophobes. Right? So this is driven by a specific notion that Islam and Muslims are, again, people that can't be assimilated with the United States. But not only the United States. So, like, white liberal, white supremacy, Islamophobic, whatever you want to call it, is a global phenomenon that has also driven the headscarf ban of 2004. Right, if you look at the parliamentary debates in France before the headscarf ban was passed, it was largely white parliamentarians who voted by an 85 percent clip, that Muslim men were subordinating, forcing their sisters, forcing their mothers to wear the hijab and the niqab. And it's driven by racism!"
Concern about honor crimes – violence against family members, usually women and girls for dishonoring the family by dressing immodestly, dating non-Muslims – is an example of liberal Islamophobia, Mogahed said. She singled out a provision in the original travel ban that called for the tracking of honor violence. But she seemed to deny the problem even exists, and said the policy simply aims to make Muslims look bad.
The convention also attracted a group of ex-Muslims who invited the ISNA convention attendees to talk with them.
"Disagreement is not hate," a statement from Ex-Muslims of North America said. But if Muslims are worried about Islamophobia, they should consider the challenges involved for those who leave the faith.
"Threats are routine. Emotional and even physical abuse is far too common," the statement said. "Some of us are forced out of the family home, some divorced by their spouses, and others forced to go 'back home' in countries with fewer rights and liberties. Some superstitious believers will claim we have been 'possessed by jinn' [spirits], and attempt violent exorcisms. In the most conservative households, ex-Muslims fear for their lives."
The group reported mostly friendly interaction with ISNA convention attendees. But several people wearing T-shirts saying "God Love is Greatest," were kicked out of a Starbucks inside a Hilton hotel near the convention site by hotel security.
"This appears to be a case of discrimination," Ex-Muslims of North America President Muhammad Syed said in a statement. "We were asked to leave the premises and informed that we could only enter the premises if we removed the shirts, none of which stated anything inflammatory. The treatment was unjust and especially cruel considering the plight of ex-Muslims. We are killed and abused all over the world for our disbelief. It is unconscionable that companies like Starbucks and Hilton acquiesce to conservative religious sensibilities."