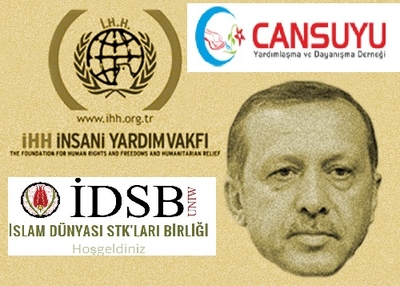 Turkish organizations with close ties to President Recep Tayyip Erdogan's administration are partnering with, and supplying aid to, global jihadists and Islamist groups, a study by the Investigative Project on Terrorism (IPT) finds.
For example, a photo prominently displayed on the Ankara-based Turkish charity Cansuyu Yardimlasma ve Dayanisma Dernegi (Cansuyu Charity and Solidarity Association) website shows former Hamas leader Khaled Meshaal presenting a gift of appreciation for the charity's work in Gaza. Meshaal was replaced by Ismail Haniyeh as chairman of the Hamas Politburo last year. Another photo shows Haniyeh accepting assistance from Turkish aid organizations after the last Israel-Gaza war. "We dedicate our victory to [the] Turkish nation," Haniyeh said.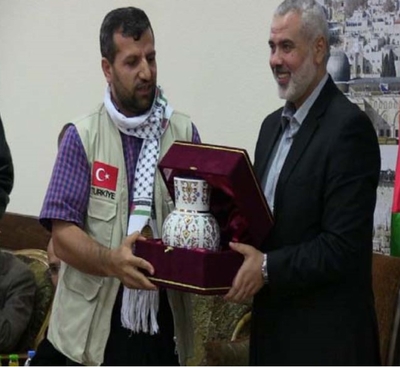 Hamas leader Ismail Haniyeh acknowledges CANSUYU's support.
Following President Donald Trump's December recognition of Jerusalem as Israel's capital, Haniyeh
called
for a "Palestinian intifada," or uprising, against Israeli "occupation." CANSUYU posted a
video
of Haniyeh's speech on its Facebook page with the caption, "#Kudüs, tüm müslümanların ortak davasıdır.." ("#Jerusalem is the common cause of all Muslims"). CANSUYU also
supports
Gaza war orphans whose fathers have been martyred by "Zionist cruel barbarians."
Turkish government-sponsored charities' ties to Hamas are not new. An investigation by Israeli authorities last year led to the arrest of Muhammad Murtaja, a Gaza resident and coordinator for the Turkish Cooperation and Coordination Agency (TIKA), an aid organization run by the Turkish government. Murtaja worked for Hamas' military wing and diverted a significant portion of TIKA's resources and funds intended for humanitarian projects in Gaza to Hamas' military wing. Some of the aid also went into paying stipends and benefits to Hamas military members, a press release issued by the Israel Ministry of Foreign Affairs said.
The Israeli investigation also found that the IHH Humanitarian Relief Foundation, another Turkish charity with close ties to Anakara's ruling elite, helped fund Hamas' military wing. Funds transferred from IHH were used to build a Hamas marine forces training facility and buy weapons and equipment. Israel designated IHH as a terrorist organization in 2008. IHH coordinated the 2010 flotilla to break a blockade on Gaza that resulted in a deadly confrontation between activists and Israeli commandos.
CANSUYU has close ties to the ruling Justice and Development Party (AKP). The charity's general director, Mustafa Koylu, is a former member of the Islamist Welfare Party. The party was banned in 1998 for failing to adhere to the secular principles of the Turkish republic. Erdogan was a member of the Welfare Party, and after it was banned he co-founded the Justice and Development Party.
CANSUYU is a United Nations High Commissioner for Refugees (UNHCR) partner organization and funds projects in Gaza, Syria, Pakistan, Myanmar's Rakhine State, as well as several African countries. It frequently receives visitors who are prominent Islamists and former leaders of militant groups. For example, an undated photo shows Muhammad Yunus, founder of the Rohingya Solidarity Organization (RSO), visiting CANSUYU's Istanbul branch. Experts consider RSO to be "essentially defunct as an armed organization," but authorities continue to blame the group for occasional attacks on security forces in Myanmar's northern Rakhine State. RSO also reportedly has ties to Islamist and terrorist groups that seek to advance jihad in the region.
In September, CANSUYU posted a photo from a meeting between Koylu – its director – and Moro Islamic Liberation Front (MILF) leader Al-Hajj Murad Ebrahim. MILF is a Filipino rebel group that gave up its armed struggle in 2012 after signing a peace deal with the government. Ebrahim earlier visited the IHH Humanitarian Relief Foundation in Istanbul where he acknowledged Turkey's "helpful" role in the peace process. IHH has been investigated by Israeli authorities for directly funding activities of Hamas' military wing.
CANSUYU also partners with Jamaat-e-Islami's (JI) Al Khidmat Foundation in Pakistan. JI is a South Asian Sunni revivalist movement that has an active network in North America and the West. It defends terrorists and rationalizes attacks against Western targets. The Al Khidmat leadership has close ties to Kashmir jihadists, including the U.S.-designated Hizbul Mujahideen (HM) and its leader Syed Salahuddin.
Another Turkish organization established to revive the global Muslim ummah (community) and stand up to the U.S.-led world order is the Istanbul-based Union of NGOs of the Islamic World (UNIW). The umbrella group that boasts of 312 members from 63 countries was set up in 2005 with Erdogan's blessing. Its members include current and defunct Turkish and global Muslim Brotherhood entities such as the Humanitarian Relief Foundation (IHH), World Assembly of Muslim Youth (WAMY), Zamzam Foundation (Somalia), Islamic Relief (UK), Islamic Society of Jabalia (Gaza), International Islamic Relief Organization (IIRO), and others.
Helping Hand for Relief and Development (HHRD) and Kashmir American Council (KAC) are U.S.-based UNIW members. Helping Hand is the charitable arm of the Islamic Circle of North America (ICNA), a JI front group in the U.S. Helping Hand regional partners have been found to have ties to U.S.-designated terrorist entities, including Falah-i-Insaniyat Foundation (FIF), Hizbul Mujahideen (HM) and its leader Syed Salahuddin. UNIW also collaborates directly with the JI's Al Khidmat Foundation in Pakistan.
Ghulam Nabi Fai, the former head of KAC, spent 16 months in prison for secretly lobbying for Pakistan's powerful intelligence services, the ISI. Prosecutors say documents seized from Fai's home show he was working with the ISI "for years before the KAC was even founded." Fai received $3.5 million from Pakistan's ISI to try to influence American policy on Kashmir, a key point of friction between India and Pakistan.
Fai is member of UNIW's "USA Council." He has spoken at UNIW conferences on Kashmir, most recently in December. Fai can be seen talking with UNIW's Ali Kurt and Al Khidmat Foundation President Abdus Shakoor at the December international NGO fair in Istanbul.
UNIW strongly advocates on behalf of the Kashmir separatist movement. At a 2011 international Kashmir conference Kurt said, "...the people of Jammu & Kashmir are experiencing horrors of state-sponsored terrorism on a daily basis: extrajudicial killings that have been responsible for the killings of more than 100,000 innocent people of Kashmir in the last two decades, rape, torture, arbitrary detentions, and ruthless suppression of political expression."
In an undated press release UNIW called on Muslims "to unite against recklessness of the Zionist regime."
"None of us have any doubts that Israel wants to continue these malicious attacks until [Jerusalem's] Al-Masjid Al-Aqsa is destroyed to the ground. Therefore, we should both pray to Allah for protecting this holy temple against reckless enemies of our religion and take all necessary steps to achieve our ultimate goal with a spirit of action by pursuing the orders of holy Qur'an."
The umbrella group also hosts Islamist radicals and extremists. In October, UNIW's Secretary General Ali Kurt met with Hamas spokesperson Sami Zuhri at the UNIW office. Last month, Salah Abdel-Maksoud, information minister for the Muslim Brotherhood government in Egypt, visited the UNIW office. Last May, UNIW held its "First Brotherhood Meeting" in Istanbul. In attendance were global Brotherhood figures including radical Syrian cleric Sheikh Osama al-Rifai. In the past, UNIW has hosted the International Union of Muslim Scholars (IUMS) headed by radical Muslim Brotherhood cleric Yusuf al-Qaradawi and Liaqat Baloch, the secretary general of JI's Pakistan branch.
UNIW also serves as a mouthpiece for the Erdogan administration. It endorsed Turkey's "Operation Olive Branch," an invasion of Kurdish-held positions in the Syrian city Afrin and said the U.S.' arming of a "terrorist organization" goes against America's international agreements and its strategic partnership with Turkey.
Soon after the July 2016 failed putsch in Turkey, UNIW applauded friendly Islamic nations who condemned the "heinous coup attempt" and criticized the "indifference" of the "democracy hypocrites" from the Western world.