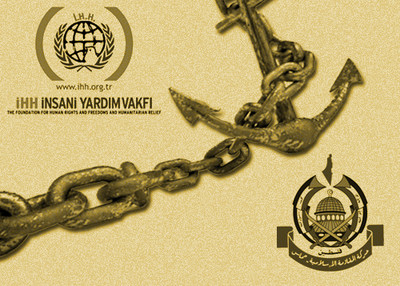 The Turkish-based charity that helped drive last week's deadly confrontation with Israeli commandos has deep ties to Hamas and other terrorist groups. The Hamas ties are not in question. Turkish Prime Minister Recep Tayyip Erdogan and IHH officials simply do not acknowledge that Hamas is a terrorist group.
IHH's web site is filled with stories and pictures showing its support of Hamas. The coffins of the dead flotilla members were covered by both the flags of Turkey and of Hamas. On Monday, the NEFA Foundation published a picture showing IHH officials, along with former British MP George Galloway, who leads a similar organization that partners with the Turkish group, at a memorial for Hamas leader Mohammad Said Seyam that was sponsored by IHH.
U.S. officials have expressed concern over the fact that "IHH representatives have met with senior Hamas officials in Turkey, Syria, and Gaza over the past three years," but IHH is not a designated terrorist organization in the United States.
It's fair to ask, why not?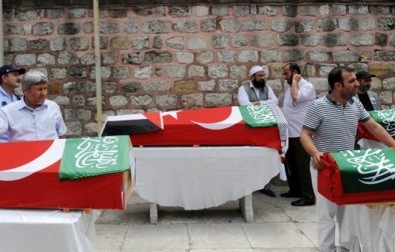 Coffins from those killed on the Mavi Marmara bear the flags of Turkey and Hamas.
Hamas is a designated terrorist organization in the U.S. and the Department of Justice spent years of investigation and millions of dollars to successfully prosecute a Texas-based charity that sent millions of dollars to it anyway.
The U.S. Treasury has designated an umbrella organization of which IHH is part due to its fund-raising activities on behalf of Hamas and Hamas-controlled organizations in the West Bank and Gaza. The Union of Good is a collection of charities run by Muslim Brotherhood spiritual leader Yusuf al-Qaradawi.
And IHH has had operations in the United States. According to a Turkish news article, IHH spent up to 10 weeks delivering relief supplies in Louisiana after Hurricane Katrina struck in 2005. In doing so, Yildirim was harshly critical of the U.S. In a news release by IHH, President Bulent Yildirim said his organization was partnering with the Islamic Center of Baton Rouge and Louisiana State University, despite the evils of the American government:
IHH included this picture of a truck providing Katrina relief in its news release.

"We distinguish between the occupier American administration and the people. Our aid is being distributed among the Blacks, the poor and the Muslims who are being discriminated against by the Bush administration."
In addition, this report from Global Terror Alert indicates that an Illinois charity called the Zakat Foundation of America coordinated with IHH on two convoys sent to Iraq. Before the war, Yildirim and his charity organized mass demonstrations that included the burning of American flags. Later, Yildirim "lobbied hard to prevent Turkish troops from joining the renewed coalition against the Baathist regime in Baghdad."
Fox News' Ben Evansky reported last week that IHH has been a United Nations-accredited non-governmental organization since 2004. That status gives IHH "access to U.N. diplomats and enables them to speak at sessions of a number of U.N. bodies that are streamed online around the world and translated into six languages."
This continues despite the findings of independent investigations from the 1990s and 2006. They found that IHH, or İnsani Yardım Vakf, engaged in arms dealing with militant groups and communicated with an Al-Qaida guesthouse in 1996. Evidence emerging from the flotilla also indicates that the group deliberately instigated the confrontation with Israeli commandos by recruiting a special corps of fighters who snuck knives and other weapons on board the Mavi Marama.
U.S. Sen. Charles Schumer (D-NY), wrote to Secretary of State Hillary Clinton this week, asking that IHH's terrorist connections be investigated:
"I believe it is crucial that the State Department attempt to determine which organizations are dedicated to providing humanitarian aid and which groups are providing support to terrorist organizations. The distinction should be clear and unambiguous and if there is any reason to believe that an NGO is providing support to terrorist organizations, then appropriate measures should be taken."
A Washington Post editorial noted that all nine men killed on the Mavi Marmara were IHH members or volunteers. A subsequent Israeli military report claimed a number of flotilla activists had ties to terrorist movements. The statement offered no details to substantiate the claims. As noted, however, previous aid trips by IHH, some in tandem with the UK-based Viva Palestina, resulted in supplies and money given directly to Hamas officials.
According to a report by the Intelligence and Terrorism Information Center, which has close ties to the Israeli military, the violence was planned by "a hard core of 40 IHH operatives" briefed in advance by IHH chief Bulent Yildirim. The report is based on statements flotilla participants later gave to Israeli security officials. One ship's officer said crew members were told to ensure no weapons were brought on board. However, the 40 IHH activists skipped the security check before boarding.
Some passengers on the Mavi Marmara were found with "exceptionally large sums of money" on them, which the report said were "meant to be transferred to Hamas (the passengers claimed the money was for their own personal use)."
The Middle East Media Research Institute (MEMRI) cites a Hamas newspaper report that the grandson of Abdullah Azzam, a mentor to Osama bin Laden and an icon to Hamas, was aboard the ship.
Erdogan's Close Ties
The confrontation with Israel was the flotilla's true objective, the Intelligence Center report said, and it indicated that the mission was blessed by Turkish Prime Minister Erdogan.
Erdogan owes his position to IHH, the report said. Computer files found on board reinforce the connection between IHH and Erdogan's government. Turkey is likely the only NATO member that does not view Hamas as a terrorist organization. Hamas is not a "terrorist movement," Erdogan said, but instead is a resistance group defending its land.
IHH and Erdogan receive continuous support from Galloway and Viva Palestina, particularly after VP partnered with IHH during its last convoy to Gaza in January.
"The IHH organization was founded by the Turkish leader and hero of the Islamic world, Tayyip Erdogan," Galloway said during a fundraiser in Brooklyn May 21. Turkish writers indicate this is not true, but Galloway seems intent on heaping praise on the Turkish leader:
"How I wished, as we entered the Arab world, that the Arab countries had a leader like Erdogan. What a difference the Muslim world would be in if they were all led by Erdogans! I have never forgotten the performance at Davos, where in the face of the killer Peres, Erdogan called him a child killer, told him how good he was at killing children, and stood up, unhooked his microphone, and began to walk off the stage."
IHH has an office in Gaza, headed by part, Mohammed Kaya, who works with Hamas. According to a separate Intelligence Center report, IHH transfers money to Hamas in the West Bank and Gaza, including the Islamic Charitable Society in Hebron and the Al-Tadhamun Charity Society in Nablus.
Federal prosecutors in the U.S. say the Islamic Charitable Society of Hebron was "part of the HAMAS' social infrastructure in Israel and the Palestinian territories." That assessment came in the successful prosecution of five former Holy Land Foundation officials for illegally routing more than $12 million to Hamas. It was based, in part, on the presence of Hamas propaganda discovered inside the charity's office and from this internal HLF report detailing Hamas control of various Palestinian charities.
During Viva Palestina's third convoy to Gaza that ended in January, IHH gave keys to 145 vehicles to local authorities, including Ahmad al-Kurd, Hamas minister of social affairs.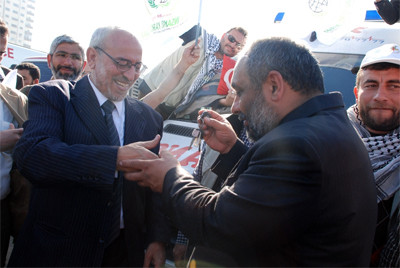 The U.S. Treasury designated al-Kurd as a terrorist in 2007, noting his longstanding leadership in Hamas. Al-Kurd now is the Hamas point man in refusing to allow the IHH aid into Gaza after Israeli officials searched it for banned material.
In February 2009, Yildirim gave a speech at a Hamas rally held in Gaza. "From here, I call upon all the leaders of the Islamic world, and upon all the peoples…Anyone who does not stand alongside Palestine – his throne will be toppled," he said.
Hamas Prime Minister Ismail Haniyeh, in turn, has heaped praise on IHH. According to IHH's website, Haniyeh discussed IHH's support in early 2010:
"The IHH has particularly delivered substantial amount of aid to the people of Gaza. IHH President Bulent Yıldırım offered help and stood beside our side during the war. This is an example of Islamic fraternity, an indication that we are all parts of the same umma [nation]. Muslims are like walls reinforcing each other. Welcome. Gaza is proud of you. I pray to Allah that we will pray together in al-Quds freely one day."
More than Hamas
IHH's work in support of terrorists already was known by the time it set up shop in Louisiana.
A 2006 report from the Danish Institute for International Studies on terror recruiting by Islamic charities cited a Turkish investigation from the late 1990s which found guns and bomb-making manuals in IHH offices and concluded IHH members were preparing to fight in Afghanistan, Bosnia and Chechnya:
"An examination of IHH's phone records in Istanbul showed repeated telephone calls in 1996 to an Al-Qaida guesthouse in Milan and various Algerian terrorist operatives active elsewhere in Europe – including the notorious Abu el-Ma'ali, who has been subsequently termed by U.S. officials as a "junior Osama Bin Laden."
Meanwhile, a French judge is sticking to his assessment that IHH played an "important role" in the Al-Qaeda planned Millennium bomb plot. Jean-Louis Bruguiere participated in a 1998 raid on IHH headquarters in Istanbul. There, investigators found evidence the charity was "a facade for moving funds, weapons and mujahedeen to and from Bosnia and Afghanistan."
Testifying in the 2001 trial of Millennium bomb suspect Ahmed Ressam, Bruguiere said:
"The IHH is an NGO, but it was kind of a type of cover-up in order to obtain forged documents and also to obtain different forms of infiltration for Mujahideen in combat. And also to go and gather these Mujahideens. And finally, one of the last responsibilities that they had was also to be implicated or involved in weapons trafficking."
In an interview last week, Bruguiere stood by his original assessment. "They were basically helping al-Qaida when (Osama) bin Laden started to want to target U.S. soil," he told the Associated Press.
It's worth repeating that the Mavi Marmara was one of six ships in the flotilla. A seventh, the Rachel Corrie, was intercepted June 4. Yet violence broke out only on the one ship in an orchestrated attack by IHH, which knew it would not be allowed to land in Gaza.
Following the incident, Egypt has opened its border and there is talk Israel has eased some of the restrictions on goods flowing in.
Yet the "Freedom Flotilla" will not be the last of IHH's efforts to enter Gaza. Galloway, after engaging in an "extensive discussion in Istanbul," announced to thousands of protestors in London on Saturday his plans for a land and sea convoy to Gaza in September.