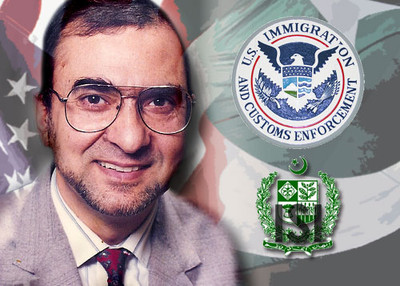 Syed Ghulam Nabi Fai is more than half way through serving a two year prison sentence after pleading guilty to felony charges relating to his lobbying work done secretly for the Pakistani government. But his upcoming release shouldn't be the end of Fai's interaction with the American justice system.
If the court papers he signed are to be believed, Fai may have other violations of law to answer to – this time in immigration court.
Fai was sentenced in March 2012 after signing a plea agreement in which he admits conspiring to act as an agent of the Pakistani government without registering under the Foreign Agents Registration Act (FARA) and with tax violations. Fai is serving his time at the federal correctional institution in Cumberland, Md.
Fai received $3.5 million from Pakistan's intelligence service, the ISI, since at least 1990 to try to influence American policy on Kashmir. That's a disputed region under Indian control that has been the subject of ongoing tension with Pakistan.
Fai ran the Kashmiri American Council (KAC) as a front for his illegal lobbying activities, trying to sway senior U.S. government officials and political leaders to adopt a pro-Kashmiri and pro-Pakistani posture.
Prosecutors say documents seized from Fai's home show he was working with the ISI "for years before the KAC was even founded."
In fact, a lengthy profile on Fai's case by Propublica included court records indicating that Fai's relationship with the ISI dates back to 1985, when he was a Temple University student. Fai served as Muslim Students Association president, and later served on an Islamic Society of North America (ISNA) advisory council. Both groups have roots in the Muslim Brotherhood.
Those time frames are significant. Court records and other government sources confirm that Fai became an American citizen in 1994. To become a naturalized U.S. citizen, a person must undergo an extensive application process.
An N-400 is among the required applications. Though it has changed over the years, its basic questions have remained the same, including the time when Fai submitted his N-400.
It asks many questions, including: "Have you ever committed a crime or offense for which you were not arrested?" And: "Have you ever been a member of or associated with any organization, association, fund, foundation, party, club, society, or similar group inside the United States or in any other place?"
Fai became a citizen in 1994, and was not arrested, prosecuted and convicted until 2011 and 2012. But he now admits that his illegal activity started in 1990, when he opened the KAC, making it likely he submitted false or misleading answers to one or more of those pertinent questions when he applied for naturalization.
A 10-year statute of limitations means that Fai won't be prosecuted for committing naturalization fraud. But there is no statute of limitations in stripping someone of their citizenship under 8 USC 1451. Evidence to support a civil revocation case against Fai would flow from what he admitted in his criminal case and a revocation case could arguably be initiated in either Virginia, where Fai last permanently lived, or in Maryland where he is currently incarcerated.
If the federal government pursued Fai's citizenship and prevailed, he would revert to the status he held before naturalization. That likely would have been a lawful permanent resident alien, or more commonly, someone with a green card. That, however, does not necessarily mean Fai gets to stay.
While he wasn't charged with being a foreign agent, significant elements of his criminal activity show he served as an unregistered agent of a foreign government. As Section 81 of the Statement of Facts says: "Neither FAI, [co-defendant] Ahmad, nor the KAC ever registered as an official agent of the Pakistani or Kashmiri governments with the Attorney General of the United States." This action was "done willfully and knowingly with the specific intent to violate the law."
Fai's longtime criminal conspiracy with the Pakistani ISI involved an alien who engaged in activity "which endangers public safety or national security." That fact could be a basis for removal (deportation). Separately, there have been a number of successful deportation cases against foreign espionage operatives who were not criminally convicted, but in which the underlying evidence was their violation of FARA provisions. Fai may be similarly situated if his U.S. citizenship is revoked.
There have been other cases involving dangerous Islamist suspects who were targeted by federal agents and prosecutors via naturalization fraud and revocation charges. Palestinian Islamic Jihad (PIJ) operative Fawaz Damra was convicted of naturalization fraud, stripped of his U.S. citizenship and ultimately deported. Most recently, Bosnian Muslim Edin Sakoc, a naturalized U.S. citizen living in Vermont, was indicted for naturalization fraud and arrested for procuring his immigration and citizenship status by allegedly lying about committing war crime atrocities during the Balkans war in the 1990s.
Prosecutors note that Fai has shown no remorse for deceiving the American government and the people he dealt with. His regrets, when expressed, have been about the harm done to his side in the Kashmiri debate. "His letter [to the court] surely expresses remorse for allowing the KAC to be exposed as a mouthpiece of the ISI, but it otherwise manifests no remorse for his criminal conduct," prosecutors wrote. This situation suggests Fai is hardly a cooperator worthy of favorable treatment and leniency by the government when it comes to letting him stay in the United States.
After his sentencing, and days before he had to report to prison, Fai traveled to California to speak at an event about Kashmir sponsored in part by the Islamic Circle of North America's Council for Social Justice. The host said the evening was dedicated to Fai, and other speakers cast him as a victim of government persecution.
Hatem Bazian, executive director of American Muslims for Palestine, said the investigation into Fai's KAC was part of a systematic targeting of Muslim organizations in America after 9/11.
"And therefore, part of this attack on the Kashmiri American Counsel and Dr. Fai is because he's successful, not because he was sleeping while he's driving the bus. It is precisely because he has been effective. It's precisely because of his ability to actually transcend the small areas of his work and reach out beyond the confines to be very effective in advocacy, that's why he's targeted. And we you think of every Muslim organization that is targeted, you need to know they're targeted because they're doing their work, because they have grassroots, because they're reaching people."
In his remarks, Fai acknowledged the need to be careful with his words "because I am still under suspicion," but never corrected the many earlier references to the perceived injustice being done to him by the government. He never acknowledged breaking the law despite having done so repeatedly in court papers just weeks earlier.
In view of the significant foreign operational control and extensively long time frame establishing the background of Fai's criminal case, it would seem reasonable for federal authorities to continue aggressively pursuing all legal avenues available, and as outlined above, that appears to include the revocation of Fai's citizenship, and ultimately his removal from the United States.