Identifying Hamas tunnels and countering the threats they pose is "at the top of the IDF's priority list," Israel Defense Forces (IDF) Chief of Staff Lt.-Gen Gadi Eisenkot said Tuesday.
Speaking at an annual conference in Herzliya, Eisenkot said most of those efforts are "are hidden from view." But he did say that the IDF deployed nearly 100 engineering vehicles on the border with Gaza "working in a focused way" to "sabotage, and reach all underground shafts."
Israel destroyed 33 cross-border tunnels during the 2014 war with Hamas, however the terrorist organization continues to devote significant resources in rebuilding them to facilitate terrorist attacks against Israelis.
"Hamas has chosen to invest many resources into rebuilding this capability against the State of Israel. A large portion of their money goes to building underground capabilities," Eisenkot said. "We are activating technological and engineering efforts. We have the most advanced capability in the world, and [yet] this is still a very big challenge."
Nevertheless, 900 trucks carrying goods cross into Gaza daily.
Eisenkot's comments come as a Hamas terrorist was killed in another tunnel collapse in Gaza's Khan Younis – the fourth reported tunnel collapse in recent weeks. Hamas officials confirmed last week that two terrorists were killed in a tunnel collapse. Seven more terrorists died repairing an older, damaged tunnel late last month.
In January, Hamas leader Ismail Haniyeh promised that the terrorist organization would never cease to build underground tunnels and enhance its weapons arsenal in preparation for a future war with the Jewish state.
A British member of an ISIS execution cell traveled to the Middle East in 2009 as part of an "aid convoy" to Gaza led by former British MP George Galloway, the Daily Mirror reports.
The aid convoy known as Viva Palestina was founded by Galloway in January 2009 and has delivered millions of dollars in "humanitarian aid" to the Hamas-led government in Gaza.
Alexe Kotey's name was revealed as a member of the ISIS execution cell in an ITV News investigation along with fellow-Londoner Aine Davis. Both Kotey and Davis were part of a gang of British executioners for ISIS dubbed "The Beatles" that was led by the notorious Jihadi John (a.k.a Mohammed Emwazi). The execution cell was responsible for the beheadings of 27 hostages, including Americans James Foley, Steven Sotloff, and Peter Kassig.
Before he was drawn to ISIS, Kotey was drawn to Galloway's convoy, which defiantly admitted would benefit the Hamas terrorist group controlling Gaza.
In a March 2009 convoy, Galloway held up a bag of cash before handing it to a Hamas minister. Galloway boasted that he was about to "break the sanctions on the elected government of Palestine" and "give the money to Hamas Prime Minister Prime Minister Ismail Haniyeh."
Both the U.S. and U.K. governments have designated Hamas as a terrorist organization.
Although Viva Palestina has a currently active website for its Malaysian chapter, it appears to have ceased operations in the U.S. and Canada. When it was active, American Viva Palestina activists repeatedly acknowledged their work was "not about charity ... but in every way that we cut it, it is political."
In 2014, Britain's Charity Commission froze Viva Palestina's bank accounts and replaced the group's trustees with an interim manager. This was the second time Viva Palestina had come under the commission's radar. In a 2010 inquiry, the commission expressed concerns about Viva Palestina's "financial governance arrangements relating to the use of funds" and accused the charity of publicly exaggerated the amount of money it raised.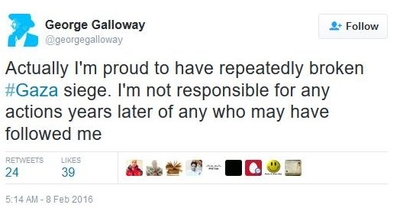 Galloway told ITV News that he does not remember meeting Kotey "There were 500 people on that convoy and George can't ever remember laying eyes on this guy," his spokesman Ron McKay said." It's possible he was there but George doesn't remember meeting him."
In a Twitter post, Galloway accused the U.K. media of engaging in an "ISIS #smear against me."
This misses the key point: The connection of a former Viva Palestina supporter to ISIS does not show that he Galloway is an ISIS supporter but showcases the kind of people drawn to his "humanitarian cause."
Palestinian Authority (PA) policeman, Amjad Jaser Sukari, indicated his willingness to kill Israelis on his Facebook page before conducting a terrorist attack on an Israel Defense Forces (IDF) roadblock on Sunday, according to The Meir Amit Intelligence and Terrorism Information Center report.
Click here to read the full report.
Sukari – a bodyguard for the Palestinian attorney general Ahmed Hanoun - shot and injured three Israeli soldiers at a "VIP roadblock" near Ramallah, devoted solely to senior PA officials. Ensuing IDF fire neutralized the terrorist.
As a 34-year old PA police officer and married father of four children, Sukari did not fit the profile of most terrorists responsible for the recent wave of Palestinian violence against Israelis.
This incident also marked the second time during the latest terrorist campaign that a Palestinian Authority officer shot Israeli soldiers at a roadblock.
Even though Palestinian security cooperation with Israel continues on some level, Palestinian security forces committed to attacking Israelis are capable of higher casualty attacks with access to weapons.
In the last several months, Sukari's Facebook page indicated his willingness to become a martyr like other terrorists who were killed trying to attack Jews. The terrorist expressed his desire to die with increasing frequency into the lead up to the attack. Sukari often evoked both Islamic and nationalist terminology when criticizing the Israeli "occupation."
In one post two hours before the attack, Sukari wrote:
"...Unfortunately I don't see anything worth living for as long as the occupation strangles us and kills our brothers and sisters. Allah, have mercy on our martyrs, heal our wounds and release our prisoners. You [martyrs] are those who came first and we, Allah willing follow in your footsteps."
This case emphasizes the role of social media as an outlet for potential terrorists to express their perceived grievances and intentions to conducting terrorist attacks.
As usual, Palestinians from across the political spectrum praised the attack.
Mahmoud al-'Alul – a senior Fatah official – eulogized Sukari at his funeral, stating that Fatah was proud of "the shaheed Sukari". Sukari's body was also wrapped in the Palestinian and Fatah flags. While Hamas and the Palestinian Islamic Jihad also glorified the attack, Fatah's Al Aqsa Martyrs Brigades said the attack confirms that nationalist sentiments within the PA security forces indicate growing refusal to coordinate with Israel.
Moreover, one of three Palestinian terrorists responsible for the deadly terrorist attack at Jerusalem's Damascus Gate on Wednesday posted his plans to kill Jews on Facebook last month, according to Israel's Channel 2 and reported by Israel National News.
19-year-old Border Police officer Hadar Cohen succumbed to injuries inflicted during the shooting and stabbing attack.
Another policewoman was critically wounded, while a third Israeli was also injured.
After Israeli police killed the terrorists, pipe bombs were discovered in their possession, indicating that a higher casualty and more sophisticated attack was planned.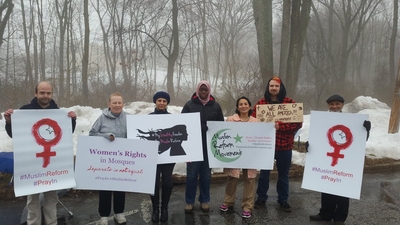 President Obama's appearance Wednesday at the Islamic Society of Baltimore (ISB) drew a small band of protesters, and their issue might come as a surprise.
A group of Muslim women and their supporters stood "as close [to the mosque] as the Secret Service allows to protest the separate and unequal standards inside and advocate for equal rights."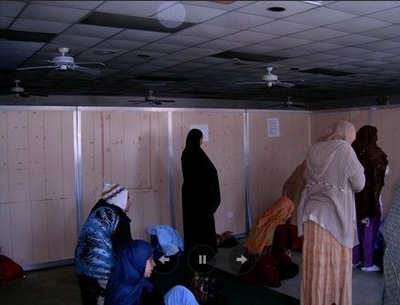 One of the protesters, writer Ify Okoye, used to pray at the ISB but left after unsuccessfully challenging its treatment of women. She took pictures in 2010, showing women relegated to partitioned, drab prayer spaces compared to the wide open space reserved for men.
In a column published Wednesday morning, Okoye and journalist Asra Nomani explained that at the ISB, "women and girls are usually segregated, unable to see the imam unless they peek over the balcony's edge." Women's prayer space is comparable to a hockey penalty box, they wrote.
The separation starts at a young age, with the women describing "girls and boys as young as about 8 years old" being segregated during classes they observed last weekend. The girls were sent to a "stark gymnasium and found seats on bare red carpet pieces laid out in a corner," while boys "clamored excitedly into the majestic musallah, their feet padded by thick, decorated carpet, the sunlight flooding into the room through spectacular windows engraved with the 99 names of Allah, or God, in Islam."
This unequal treatment is all too common in American mosques, they said, citing their own visits to Islamic centers. Obama's "visit to a mosque that practices such blatant inequity represents a step backwards. While it may be meant to convey a message of religious inclusiveness to American Muslims, the visit demonstrates tacit acceptance of a form of discrimination that amounts to gender apartheid," Okoye and Nomani wrote.
It's a form of discrimination that would not be tolerated against other protected groups, they point out, yet segregated mosques continue to enjoy tax-exempt status.
"We are all God's children. We're all born equal, with inherent dignity," President Obama said at the mosque on Wednesday. He missed the call from Okoye and Nomani to "support this urgent cause by speaking out against gender segregation in American mosques."
Read their full column here.
Iraqi journalist Fadel Boula challenged the claim that the Islamic State (ISIS) and other jihadi organizations have no relationship to Islam, in an article featured in Iraq's Al-Akhbar newspaper and translated by the Middle East Media Research Institute (MEMRI).
Boula argued that these terrorist organizations follow a radical Salafi ideology and believe their objectives coincide with Allah's will and the core tenets of Islam.
"Since its inception, this movement of terror has espoused a Salafi ideology that champions religious extremism, and brainwashed people of all ages have rallied around its flag, [people who were] trained to kill themselves and kill others in order to attain martyrdom," Boula wrote in the November article, "Does Terror Truly Have No Religion?"
Scholars and observers in the West frequently discount the role of religion when analyzing Islamist terrorist organizations, claiming that religion is simply evoked to galvanize supporters as a means for political ends. That overlooks the firm belief in radical interpretations of Islam shared by the leaders and the rank-and-file within these terrorist movements. They often use political means to achieve religious objectives.
"The terror that is shaking the world today is not a natural disaster like a tornado, a thunderstorm or an earthquake, and it is not perpetrated by savage tribes," Boula wrote. "It is perpetrated by people who enlist [because they are] inspired by a religious ideology. [These people] advocate enforcing and spreading [this ideology as a set of] dogmatic principles that must be imposed by the force of the sword, and which [mandate] killing, expulsion and destruction wherever they go."
He described how early ISIS expansion throughout Syria and Iraq emulated pre-modern Islamic conquests.
"The invaders attacked the populace of Mosul and eastern Syria, arrested them by the hundreds, and took a sword to their necks, and later singled out the Christians among them and offered them two options: either convert to Islam or pay the poll tax, as happened to their forefathers when the Arabs attacked their lands in the days of the Caliph 'Umar Al-Khattab [583-644 AD]. When [the Christians] rejected this humiliation, [ISIS] seized their property, expelled them from their historic home, the province of Ninveh, and sent them to wander destitute under the skies, seeking rescue and safety."
Some Western leaders, including President Obama and his administration, continue to pretend that ISIS is "not Islamic." However, a basic understanding of ISIS' Salafi origins and inspirations confirms that the terrorist organization and its affiliates maintain religious and political objectives that are rooted in extremist interpretations of Islam.
Hizballah terrorists are using Iranian-made anti-tank missiles in Syria that could be used against Israel in a future confrontation, the Investigative Project on Terrorism (IPT) has learned.
On Sunday, Iranian news agency ABNA reported that Hizballah is using Toophan anti-tank missiles manufactured by Iran's Aerospace Industries Organization.
The Toophan is a reverse-engineered version of the American military BGM-71 TOW missile, with a payload of 3.6 kg warhead that is capable of penetrating up to 550mm of steel armor. The missile can reach a top speed of 310 m/s, with a range of 3,850m.
Israel frequently has voiced concerns over Hizballah acquiring sophisticated weaponry – including new Iranian anti-tank missiles – that could end up being utilized against in a future battle between Israel and the Shi'ite terrorist organization.
This development comes amid growing Iranian expansion in Syria and throughout the region. Since the launch of Iran's October ground operation in northern Syria, more than 135 Iranian Revolutionary Guard Corps (IRGC) troops have been killed, according to a report written by Raz Zimmt – an expert on Iran's political and social networks.
Click here for the full analysis published by the Meir Amit Intelligence and Terrorism Information Center.
The commander of IRGC's Qods Force – Qassem Soleimani – was also seen in public Jan. 21, his first appearance since he was reported injured in Syria. Soleimani spoke at a memorial service for an IRGC brigadier general killed in an alleged Israeli airstrike in January 2015 near Quneitra in the southern Golan Heights. That airstrike also killed six Hizballah terrorists, including Jihad Mugniyeh, son of arch-terrorist Imad Mugniyeh.
Iran is working with Hizballah and other terrorist organizations, including the Palestinian Islamic Jihad, to set up a base of operations along the Syrian border to target the Jewish state.
Iran has also increased its interventions in Iraq and Yemen in recent months, as the Islamic Republic seeks to expand its presence throughout the Middle East in an effort to achieve regional hegemony.
As the world commemorated the International Holocaust Remembrance Day, the United Nations (U.N.) compared Palestinians to the Jewish victims of the Nazi genocide, according to an opinion piece by Anne Bayefsky posted on FoxNews.
On Monday, the U.N. hosted a temporary exhibit called "Holocaust by Bullets," featuring extensive research by the French organization Yahad-In Unum, which focuses on the murder of 2 million Jews at gunpoint.
However, the Holocaust associated exhibit was preceded by the U.N.'s month-long December display of Palestinian children featured in "devastating" conditions, suffering from unwarranted Israeli "operations."
Palestinian U.N. Representative Riyad Mansour helped launch the provocative exhibit by blatantly inciting Palestinian kids to kill Jews.
"We are so proud that in this popular uprising, the backbone of this uprising are the youth of Palestine," Mansour said.
The uprising Mansour boasts about is the ongoing wave of Palestinian terrorist attacks targeting innocent Jews and Israeli soldiers. Many of these attacks include stabbings, shootings, vehicular ramming, and throwing rocks and Molotov cocktails.
Moreover, on Tuesday, the Security Council held an explicitly anti-Israel discussion, "The situation in the Middle East, including the Palestinian question," featuring seven hours of incitement and name calling targeting the Jewish state which was broadcasted internationally. Israel was accused of engaging in "crimes against humanity," "execution", "apartheid," "racism", "brutality," terrorism" and "torture of children" among other libels.
That day Secretary-General Ban Ki-moon appeared to have justified Palestinian terrorism, saying that "it is human nature to react to occupation."
"Palestinian frustration is growing under the weight of a half century of occupation and the paralysis of the peace process...as oppressed peoples have demonstrated throughout the ages, it is human nature to react to occupation, which often serves as a potent incubator of hate and extremism," Ban said.
Israel's U.N. ambassador, Danny Danon, pointed out the hypocrisy surrounding recent Security Council resolutions. In the last four months, while "Israelis have been stabbed in their homes, shot at in the streets and run over by terrorists using cars as weapons...the Council adopted 12 resolutions against terrorism and condemned terrorist attacks in France, Sinai, Lebanon, Mali, Tunisia, Turkey, Iraq, Syria, Nigeria, Burkina Faso, Somalia and Sudan." However, terrorist attacks against Israelis were never addressed, there was "no condemnation, no expression of solidarity, not even a statement of concern," Danon said.
Meanwhile, Iran's leader Ayatollah Khamenei posted a video to his official site challenging the extent of the Nazi's genocide against the Jews, reports the Times of Israel.
"No one in European countries dares to speak about the Holocaust, while it is not clear whether the core of the matter is reality or not," a narrator in the video says. "Even if it is reality, it is not clear how it happened. Speaking about the Holocaust and expressing doubts about it is considered to be a great sin," states the Farsi-speaking narrator, presumably Khamenei.
Despite being bogged down in the Syrian Civil War, Hizballah continues to focus on expanding its terrorist infrastructure to multiple fronts in an effort to target Israel. Hizballah's entrenchment in the Golan Heights – at Iran's behest – has been well documented. Now, the Lebanese terrorist organization is trying to set up operations and recruit Palestinians in the West Bank to launch attacks against Israelis.
Last week, Israeli security authorities foiled a Palestinian terrorist cell planning a suicide bombing and shooting attack under Hizballah's command. Five Palestinian men, none of whom belonged to the terrorist organization, were arrested. The terrorists were also threw Molotov cocktails at Israeli forces in violent riots during the past year.
According to the Meir Amit Intelligence and Terrorism Information Center, the operatives confessed that Hizballah's Unit 133 directed the operation and that Jawad Nasrallah, son of Hizballah chief Hassan Nasrallah recruited the cell's leader, Muhammad Zaghloul.
Jawad Nasrallah asked Zaghloul to recruit terrorists into a cell and scout potential targets for attack. Through encrypted email exchanges with a Hizballah handler, Zaghloul received instructions for conducting suicide-bombing attacks and he even offered a plan to kill an Israel Defense Forces (IDF) officer. Zaghloul admitted that the cell conducted surveillance of the officer and requested $30,000 to purchase arms to kill him.
The operatives received $5,000 from Hizballah, which covered the purchase of a sub-machine gun and magazine. The plot to shoot Israeli soldiers was likely in its execution phase since the two terrorists were arrested in possession of the firearm.
Unit 133 is a Hizballah division devoted to creating terrorist networks among Palestinians, but has failed to secure a major presence in the West Bank. Nevertheless, it is likely Hizballah will continue to seek making inroads in the Palestinian territory and recruit terrorists to attack Israelis.
Acting on Iranian orders, Hizballah was able to direct and coordinate dozens of Palestinian terrorist cells during the second Intifada. From 2002 to 2007, Iran's Revolutionary Guard Corps (IRGC) and Hizballah directed and coordinated dozens of Palestinian terrorist networks, mostly cells that were part of Fatah's Al-Aqsa Martyrs Brigades. Throughout the 1990s and beginning of 2000s, Hizballah sent Lebanese operatives with foreign passports to Israel via Europe in order to support Hamas and other Palestinian terrorist groups devoted to sabotaging the Oslo Peace Process and damage the Palestinian Authority.
Similar to Hamas' recent attempts, Hizballah is trying to escalate the ongoing wave of Palestinian violence into a full-blown violent uprising by introducing an organized terrorist dimension to a phenomenon that has been largely characterized by individual initiatives.
Three Muslim Brotherhood supporters who caused a row in Egypt last year after they met with Obama administration officials and members of Congress returned to the U.S. Wednesday, according to the Facebook page of Egyptian Americans for Freedom and Justice (EAFJ).
During their 2015 trip, Brotherhood leader Gamal Heshmat, former Egyptian Judge Waleed Sharaby and Maha Azzam, head of the Egyptian Revolutionary Council (ERC) lobbied State Department and White House officials for help against the government of Egyptian President Abdel Fatal al-Sisi.
The ERC formed in 2014 with the aim of toppling Sisi and bringing the Brotherhood back to power in Egypt. Sisi took power in 2013 after the Egyptian army ousted President Mohamed Morsi, the leader of the Muslim Brotherhood's Freedom and Justice Party.
Heshmat has a long history of supporting Palestinian terrorists and was photographed in June 2014 with Hamas political chief Khaled Meshaal.
The State Department agreed with the delegation's position that Sisi had not brought stability to Egypt, and that his removal would pave the way for a transition to democracy, Sharaby told Egypt's Mekameleen TV in an interview last February. But that has not translated into concrete action to topple Sisi.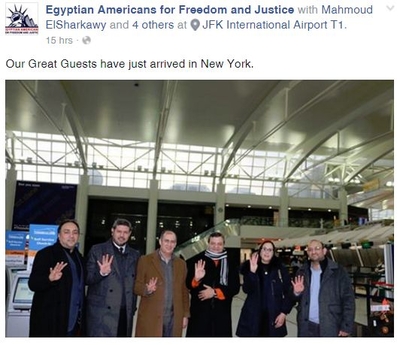 EAFJ leaders Mahmoud El-Sharkawy, Hani Elkadi and Aber Mostafa greeted Heshmat, Sharaby and Azzam at New York's JFK airport and posed for a picture with them displaying the Brotherhood's four-fingered Rabaa salute which has become representative among those wanting the Brotherhood's return to power in Egypt.
The three are scheduled to speak Friday at an event titled "Egyptian Revolution from Sacrifices to Victory" in North Bergen, N.J.
The event is timed to commemorate the Jan. 25 anniversary of dictator Hosni Mubarak's fall from power in 2011. Heshmat wrote that his group had no plans to meet with Obama administration representatives during this visit, due to their "position biased" toward Sisi's regime. They hope to speak with some congressmen, academics and others.
El-Sharkawy is a Brotherhood member and serves as liaison with Brotherhood members exiled in Turkey, Egypt's Al-Bawaba newspaper reported last April.
He frequently reposts Muslim Brotherhood communiqués on his Facebook page. In December, El Sharkawy encouraged "all youth and revolutionaries" to distribute the official page of Brotherhood spokesman Muhammad Muntasir.
Elkadi seemed to self-identify as a Brotherhood member in a March 9 Facebook post showing an cartoon of a man holding a sign with the Brotherhood logo and the words which translate to, "I am [Muslim] Brotherhood and I'm not threatened."
Last year, Elkadi, El Sharkawy and Mostafa posted graphics on their Facebook pages seeming to support violence in Egypt.
El Sharkawy and Elkadi posted a Feb. 10 communiqué from the Popular Resistance Movement (PRM) which has launched attacks against Egyptian police and other targets. It features an image of a blood-red map of Egypt with a fist superimposed over it. It claims responsibility for targeting two police cars. "God, martyrs, Revolution," it said.
Mostafa posted the personal information of a pro-Sisi owner of an Egyptian soccer team with the word "Attaaack!" the same day.
A mother of six is targeted by a Palestinian terrorist and stabbed to death Sunday. His father's reaction is not one of horror or shame.
"I am proud of him," the father of Murad Bader Abdullah Adais told Palestinian media, reports Israel National News.
Adais fatally stabbed Meir at the entrance of her house in the town of Otniel, south of Hebron, while three of six children were home. Meir's initial struggle with Adais forced him to flee the scene, perhaps saving her children from the attacker. Following an intense manhunt, Israeli authorities arrested Adais Tuesday morning.
A Palestinian news website – QudsN – celebrated the murder by posting an incendiary graphic that features the town's name Otniel in Arabic, with a bloody knife forming the last letter.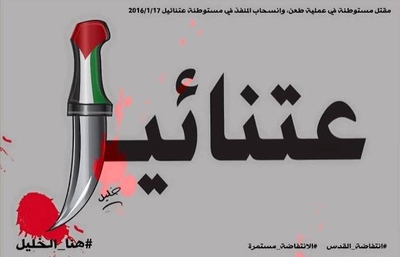 The Elder of Ziyon reported that dozens of comments glorified the attack, with some social media users hoping that Meir burns in hell.
A day after Meir's murder, a Palestinian terrorist stabbed and injured a pregnant Israeli woman in the West Bank Jewish community of Tekoa. The Israel Defense Force (IDF) shot and wounded the terrorist, before evacuating him to a hospital. The terrorist reportedly entered Tekoa through a hole in the border fence.
In the past four-month wave of Palestinian terrorist attacks, 25 Israelis and an American student have been murdered. At least 146 Palestinians, 101 of whom were assailants, have been killed following terrorist attacks or in clashes with Israeli soldiers.