Syrian jihadists belonging to al-Qaida's former Syrian affiliate Hayat Tahrir al-Sham (HTS) oppose a Turkish-Russian agreement to establish a demilitarized buffer zone around the country's Idlib province. This area in northwestern Syria remains the last area west of the Euphrates River outside the control of the Assad regime and its allies. HTS and other smaller rival jihadist factions dominate the province.
President Trump warned Bashar al-Assad earlier this month not to invade the province, saying it would be a "human tragedy." Clashes seemed imminent between Russia, Syria, Iran and the jihadists and triggered fears that millions of additional refugees might flood into Turkey.
Had Assad's troops intervened, they also could have risked accidental clashes with Turkish troops stationed in Idlib. Turkey promised to crackdown on HTS and other jihadists. Numerous Uighur and Chechen foreign fighters are in the province.
An HTS commander who identified himself as "Abu al-Fath al-Fergali" told the Syrian news website Enab Baladi that surrendering his weapon would be "treason" to his religion.
Zaid al-Attar, former head of HTS's political office, also rejected disarming because fighting provided "the only guarantee to the realization of the revolution's aims of attaining dignity and freedom." HTS's enemies only understand force, he said.
HTS has a high-stakes game ahead of it to keep from splintering. If it looks too weak, it could lose fighters to groups that are even more hard line such as the remnants of ISIS and al-Qaida's current affiliate Hurras al-Deen.
Turkey warned HTS and other jihadist groups they should disband or face elimination. Thus far, HTS has resisted those calls. The Assad regime has used HTS's existence as an excuse for carrying out a scorched earth policy.
The Turks and Russians plan to use drones to patrol the buffer area. Rebel groups that cooperate with Turkey and Russia will not be attacked, Turkish Foreign Minister Mevlüt Çavuşoğlu said.
Stratfor predicts that the Assad regime and Iran could also eventually challenge the deal because they are motivated to weaken Russia's relationship with Turkey.
The Palestinian Authority (PA) rushed to transfer an advance of roughly $3,300 to the family of terrorist Khalil Jabarin, who killed American-Israeli citizen Ari Fuld in a stabbing attack Sunday, Eliran Tal reports for Israel's Channel One News.
Fuld was born in New York before moving to Israel in 1994. He lived in Efrat with his wife and was the father of four children. The PA transfer reportedly occurred hours after the attack, during Fuld's funeral service.
A diplomatic source speaking to Channel One said that "this is an outrageous and angry step by Abu Mazen [Mahmoud Abbas], who proves to us all again that his face is not peace or arrangement with Israel but rather the continuation of the armed struggle against us," according to a translation of the original Hebrew-language article.
Palestinian Authority media was quick to paint the terrorist as a young victim. One Official PA daily headline read: "The shooting and wounding of the boy Khalil Jabarin, and his arrest claiming that he killed a settler next to 'Etzion," according to Palestinian Media Watch.
Palestinians often refer to all Israeli civilians as settlers in order to justify their murder.
Fuld managed to shoot the terrorist before succumbing to his injuries at Jerusalem's Shaare Zedek Medical Center. Jabarin is being treated in a hospital and is in fair condition.
The Jabarin family reportedly notified the Palestinian security forces of the terrorist's plans to carry out an attack at the Tomb of the Patriarchs in Hebron. However, the security forces were unable to find him.
His family received a generous advance from the PA and will continue being paid a salary for Jabarin's deadly attack.
This is another example of the Palestinian Authority glorifying and promoting terrorism by paying significant sums of money to Palestinian terrorists and their families. Payments to released prisoners and jailed Palestinians are based on the length of a prison sentence, which is a function of their action's severity. The more brutal the attack or murder, the more money a Palestinian prisoner gets. Based on historical precedent, Jabarin's cold blooded stabbing could lead to more generous payments. The PA will likely continue paying a salary for his deadly attack.
This practice is one of the main reasons why the Trump administration has taken specific measures against the Palestinian Liberation Organization in recent weeks. On Monday, the administration revoked residency permits for the family of the PLO's envoy to the United States and reportedly shut down all PLO bank accounts in the country. The White House announced the closure of the PLO office in Washington last week.
A bill that passed the U.S. House last week would create a vital tool to help the United States track dozens of convicted terrorists whose prison terms are nearing completion.
The Terrorist Release Announcements to Counter Extremist Recidivism Act (TRACER) would direct the Department of Homeland Security (DHS) and the Department of Justice (DOJ) to inform state and local authorities about anticipated release dates and the locations where the terrorists would live post-release.
It's an idea the Investigative Project on Terrorism has advocated for more than a year.
Since the 1993 World Trade Center bombing, hundreds of people have been arrested and convicted of terror related offenses.
Most were motivated by a radical Islamic ideology which calls for the destruction of the United States and Western democracies. The Bureau of Prisons and the Justice Department have struggled to develop a viable de-radicalization or post release program.
The bill, sponsored by U.S. Rep. John Rutherford, R-Fla., acknowledges that failure and offers a way to fill in the gap.
"TRACER would actually do the same thing [as a sex offender registry] and be providing notification that someone has been released," said According to House Homeland Security Committee Chairman Michael McCaul, R-Texas.
McCaul also wants a viable program "to ensure that radicalization is not taking place because it is."
I testified about prison radicalization in 2011 before the House Homeland Security Committee. Recognition that Islamic radicalization occurs in prison, I said, was a necessary first step.
I also encouraged committee members initiate a comprehensive program that included information sharing among federal, state, and local authorities. It is necessary component for public safety, and this bill will do just that.
The bill passed on a voice vote which may indicate strong bipartisan support. But it has not been without its naysayers. Karen Greenberg, director of Fordham University's Center on National Security, demonstrated her naïveté when she said, "I do not distinguish them [terrorists] as any more dangerous than other people who might have been apprehended before they committed a crime or people who were convicted of committing a crime."
It is absurd to think that an individual who indiscriminately mows down innocent pedestrians on a New York City walkway or who travels overseas to join a terrorist organization and fight against U.S. coalition forces is no more a threat to society than a third rate burglar or confidence artist.
Thankfully, House members did not agree. A companion bill in the Senate is awaiting action in the Committee on Homeland Security and Governmental Affairs.
The very real threat of recidivism by a released terrorist or a prison-radicalized parolee must be dealt with effectively and the Tracer Act is a step in the right direction.
U.S. immigration officials face serious challenges addressing refugee claims from Somalia, given that country's lack of systematic record keeping throughout its civil war and history of failed governments since 1991. As a result, Somalia deserves to stay on President Donald Trump's travel ban list, argues Todd Bensman in a recent article for the Center for Immigration Studies.
For more than two decades, few Somalis received formal birth certificates, driver's licenses, or other government-issued identification. Under these circumstances, Bensman asks, how could American officials secure a proper identity check or criminal history for any Somali adult seeking asylum in the U.S.?
Last month, federal prosecutors in Tucson, Ariz. charged a married couple - Mohamed Abdirahman and Zeinab Abidrahman Mohammad - with eight counts of making false statements throughout his refugee and legal permanent residency application process.
Zeinab faces three counts of providing false information in support of her husband, but was released on Aug. 10 after the judge did not deem her a danger to the public or a flight risk.
The government claims that Osman used a fake Somali passport and lied about many crucial details, including his real name and nationality. Osman allegedly lied about a relationship with the Somali-based terrorist organization al-Shabaab.
He claimed to have lost his hands after a 2010 terrorist attack before being abducted by al-Shabaab. But prosecutors assert that the couple has provided contradictory accounts at different points in time.
Osman's story eventually unraveled. Speaking with FBI agents last year, Osman acknowledged he was from Ethiopia, that he was recruited by al-Shabaab, and that his brother is an active member of the terrorist organization. He also reportedly admitted that he lost his hands while holding a homemade explosive in 2009.
The government could not definitely prove whether Osman had a criminal record or whether he had participated in terrorist activities, said Assistant U.S. Attorney Beverly Anderson.
These issues may cause some difficulties for the prosecution during the trial, which is set for Sept. 18.
"There can be no doubt that some real Somali citizens have suffered persecution at the hands of the ubiquitously present al Shabaab or that country's military-backed government. Such individuals may well deserve American sanctuary if their stories of suffering and claims of torture if returned could possibly be investigated and verified enough. But, very unfortunately, most involving Somalis probably can't be verified. And so the value of security must be carefully weighed against the value of providing sanctuary," writes Bensman.
A Syrian-American lobbyist who pushed the Obama administration to support Syrian jihadists met with National Security Council (NSC) staffers Thursday afternoon. Mouaz Moustafa, executive director of the Syrian Emergency Taskforce (SETF), noted the meeting on his Facebook page. A NSC source confirmed that the meeting took place.
Moustafa frequently lobbied the Obama White House to support Syrian rebel groups against ISIS and the Assad regime. He pressured Congress and the Obama administration to support a train-and-equip program that saw American weapons end up in the hands of al-Qaida and ISIS.
The Trump administration canceled the operation.
The NSC meeting focused on Syria's last remaining jihadist stronghold, Idlib province, Moustafa wrote. He did not detail what he said about it. Iran, Russia and the Assad regime reportedly are planning an assault on the province to eliminate this last pocket of Sunni jihadist resistance. Turkey has troops there. President Trump warned last week that the operation could be "a grave humanitarian mistake" which could claim hundreds of thousands of lives.
Moustafa is best known for bringing U.S. Sen. John McCain to Syria in 2013, where McCain met with Free Syrian Army (FSA) leader Gen. Salem Idris. Many FSA factions had jihadist ideologies. Idris tweeted his support for al-Qaida's Syrian affiliate in 2015.
Moustafa urged the Obama administration in 2013 to support a now defunct FSA splinter group called the Islamic Front, calling it "the only counterbalance to extremists." Its constitution contradicted Moustafa's talking points about democracy and freedom in Syria.
"The focus now is to depose the regime and kick out people like Hizballah and the Iranian Revolutionary Guard, and others that are killing us. And so that's the best way to describe their ideology," Moustafa said in a 2013 podcast. "I think the international community and the West ... must engage with the Islamic Front and need to be more pragmatic and realistic about what is going on ground in Syria in order to bring them on board with whatever political solution will happen in the future."
The Long War Journal reported in 2014 that al-Qaida was able to influence the Islamic Front without publicly acknowledging its role. Khalid al-Suri, an associate of al-Qaida leader Ayman Zawahiri, co-founded Ahrar al-Sham, a key faction in the Islamic Front at the time of Moustafa's statement. Ahrar al-Sham's leadership condemned democracy and mourned Taliban leader Mullah Omar in 2015.
Ahrar al-Sham's co-founder Khalid al-Suri was an associate of al-Qaida leader Ayman Zawahiri. Hasan Aboud, another Ahrar al-Sham founder, condemned democracy and expressed support for a caliphate. It mourned the death of Taliban founder Mullah Omar to whom al-Qaida and Zawahiri owed fealty in 2016, another example of its ideological leanings.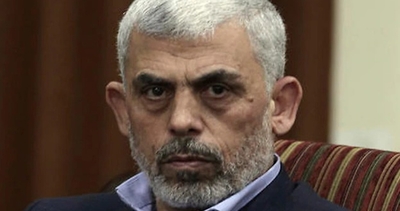 Hamas leader Yayha Sinwar admitted that his terrorist organization orchestrated the weekly "March of Return" violent demonstrations on the Israel-Gaza border to divert attention from internal problems, YNet news reports.
"After the reconciliation efforts (between Hamas and Fatah) reached an impasse, a number of factions planned to cause an internal explosion in the Gaza Strip, but the Marches of Return thwarted the plan," Sinwar said during a conference Tuesday in the Gaza Strip.
"Gaza did not want to stand idly by when the American Embassy was transferred to Jerusalem," Sinwar said, adding that "the Palestinian people succeeded in turning this provocation into an opportunity to confront the Israeli enemy."
Sinwar praised Palestinian protesters for helping "create a means of pressure, like the incendiary balloons."
Sinwar joins other Hamas officials who have acknowledged Hamas's role in planning and promoting violent protests on Israel's border.
The vast majority of Palestinian fatalities during this past summer's violent demonstrations on the Israel-Gaza border were members or affiliates of terrorist organizations – primarily Hamas.
Of the 112 reported deaths from March 30 to May 14, 93 people (83 percent) belonged to or were associated with terrorist groups.
Most of the dead connected to terrorist groups – 63 people – were Hamas members. This figure is consistent with assessments offered by two senior Hamas officials as the violence played out. Salah Bardawil claimed that Hamas members represented half of the total deaths and boasted that of 62 people killed on May 14, 50 were Hamas members.
Sinwar claimed more than 60 Hamas deaths on that day.
Senior Hamas official Mahmoud Al-Zahhar acknowledged that the Gaza demonstrations were "not peaceful resistance" and Hamas's efforts at the border are "bolstered by a military force and by security agencies."
"This is a clear terminological deception [i.e. "peaceful resistance"] ... This is not peaceful resistance... so when we talk about 'peaceful resistance,' we are deceiving the public," Al-Zahhar said in a May 13 interview.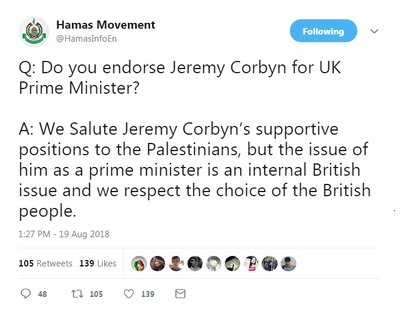 Hamas posted words of support Sunday for British Labour Party leader Jeremy Corbyn. Corbyn has been under fire for his shows of support for Palestinian terrorist groups.
"We Salute Jeremy Corbyn's supportive positions to the Palestinians, but the issue of him as prime minister is an internal British issue and we respect the choice of the British people," Hamas said in a Twitter post.
It is not surprising, given Corbyn's interactions with Palestinian terrorists over the years, many of which have been reported by British media outlets in recent weeks. For example, he attended a 2012 conference with Husam Badran, leader of Hamas' military wing in the northern West Bank who plotted numerous suicide bombings during the Second Intifada. Former Hamas Politburo chief Khaled Meshaal also attended the conference, as did Abdul Aziz Omar, who received several life sentences for his role preparing suicide vests. Omar and Badra were freed as part of a deal that led to the release of captured Israeli soldier Gilad Shalit.
Corbyn praised the 2012 release of Hamas terrorists on Iranian TV. Two years earlier, he compared Israel's blockade of Gaza with the Nazi blockade of Leningrad during World War II.
Corbyn also shared a stage in 2014 with Maher al-Taher, a member of the Popular Front for the Liberation of Palestine (PFLP). A month later, the PFLP murdered a British rabbi in a synagogue.
He spoke at a 2002 London rally alongside PFLP leader and plane hijacking pioneer Leila Khaled. The two appeared together again in 2011 at a conference held in Lebanon organized by former Member of Parliament George Galloway, who has fundraised for Hamas.
He attended a wreath-laying ceremony in Tunisia at the graves of the terrorists responsible for the 1972 Munich massacre of Israeli athletes.
Back in 2016, Corbyn had to apologize for having referred to Hamas and Hizballah as "friends."
Corbyn's links with Palestinian terrorists could dampen his dreams of succeeding Prime Minister Theresa May, British terrorism researcher Kyle Orton, formerly with the London-based Henry Jackson Society, told the Investigative Project on Terrorism (IPT).
"In political terms, these revelations have had the effect of rallying his core support around him and, paradoxically, the sheer number of horrific facts coming to light has shielded Corbyn by inducing fatigue. It is quite likely some damage has been done to Corbyn, perhaps enough to prevent him winning the next election, but he will make it to the next election as Labour leader," Orton said.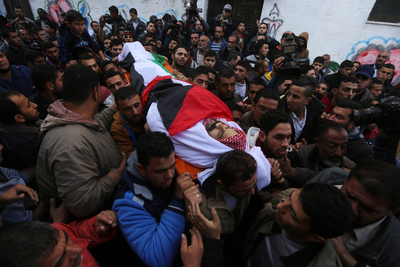 Back in 2016, the U.S. Campaign for Palestinian Rights (USCPR) posted a tweet mourning the death of a Popular Front for the Liberation of Palestine (PFLP) terrorist.
The PFLP is best known for pioneering airliner hijackings in the 1960s and 1970s. Its hijacking and subsequent blowing up of three airliners in Jordan in 1970 was the PFLP's most infamous terror attack. Forty hostages were taken off the planes before the PFLP destroyed them. More recently, PFLP terrorists carried out several suicide bombings during the Second Intifada. In 2017, the PFLP celebrated the 45th anniversary of its terrorist attack at Lod Airport that killed 26 Israelis.
The PFLP has become active in the Boycott, Divestment and Sanctions (BDS) movement, of which the USCPR is major player in the U.S. Leila Khaled – a PFLP hijacker who participated in the 1970 incident – has represented the terrorist group at numerous BDS events.
BDS aims to isolate Israel economically and politically through sanctions and economic boycotts.
"Gaza mourns PFLP activist slain by Israel during protest," USCPR tweeted in January 2016.
PFLP refers to its terrorists as "activists." An Electronic Intifada article linked to in the tweet described the funeral of Sami Madi, a PFLP terrorist, and described him as a "Devoted Comrade." The terrorist who was killed by an Israel as he approached Gaza's border.
"Sami was a lifelong PFLP activist. His affiliation to the left wing Palestinian resistance faction began during the first Palestinian intifada in the mid-1980s when as a teenager he would throw stones at vehicles going to and from the Israeli settlements built on Gaza's land," the Electronic Intifada article said.
Jamil Mizer, PFLP's leader in Gaza called Madi, "a defiant fighter whose blood will be a further step on liberation's path."
This isn't isolated. USCPR Executive Director Youssef Munayyer is sympathetic to PFLP on his Twitter feed. He posted a PFLP communiqué in June 2017 announcing an attack in Jerusalem, noting the terrorists' "previous imprisonment by the occupation." Several other tweets remind people that the PFLP and other factions including Mahmoud Abbas' Fatah are fighting alongside Hamas "against Israel in this war."
In April, Munayyer reminded readers of his Twitter feed that Hamas leader Ismail Haniyeh carried a photo of imprisoned PFLP General Secretary Ahmad Saadat aloft and that all terror factions were united.
USCPR's propaganda claims it just wants "a just and lasting peace for Palestinians and Israelis based on human rights, international law, equality, and relevant UN resolutions." But how does that goal square with mourning a member of a terrorist group that is pledged to Israel's destruction and rejects peace negotiations with the Jewish state?
Or how does its propaganda square with the message on the "Make Israel Palestine Again" hat it sold at the recent Netroots Nation conference? These factors highlight that the USCPR is about Israel's destruction, not Palestinian rights.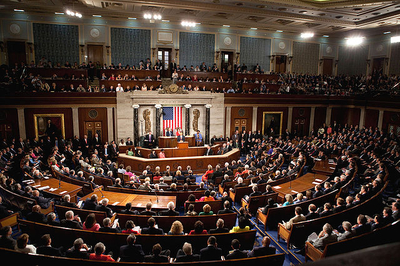 MUSIAD USA sent letters to several U.S. senators last week protesting sanction the Trump administration's imposed on Turkey over its continuing detention of American Pastor Andrew Brunson. MUSIAD is a businessmen's association connected with Turkey's ruling Islamist Justice and Development Party (AKP).
Its close links to Turkish President Recep Tayyip Erdogan led FBI agents to question MUSIAD USA's leaders in 2016 on suspicion they were engaged in political espionage on behalf of the Turkish government. This group also has close links with U.S. Islamists in the U.S. Council of Muslim Organizations (USCMO).
Despite its connection with Turkey's ruling party, MUSIAD USA remains unregistered under the Foreign Agents Registration Act (FARA). All who lobby on behalf of foreign governments are required to register under this law.
MUSIAD USA President Mustafa Tuncer, one of those questioned by the FBI, posted photos of the letters opposing the sanctions on Facebook.
Tuncer also sits on the board of the Turkish-government controlled Diyanet Center in Lanham, Md. Diyanet-controlled mosques in Europe have been accused of spying on behalf of Turkey, and critics worry the Diyanet Center is involved with similar activities.
"Senior MUSIAD figures work closely with Erdogan, coordinate their actions with his office and operates as his long arm under the disguise of business interest lobby group," Abdullah Bozkurt, former editor at Turkey's Today's Zaman told the Investigative Project on Terrorism.
MUSIAD USA's connection with Erdogan was highlighted after a Marxist hacking group leaked emails belonging to Erdogan's son-in-law Berat Albayrak to WikiLeaks. Albayrak is considered Erdogan's heir apparent and was recently placed in charge of running Turkey's economy.
Albayrak learned that the FBI questioned MUSIAD officials in a September 2016 email from former Executive Director Ibrahim Uyar. Uyar noted that he organized a rally against the July 2016 coup attempt outside the White House. Council on American Islamic Relations (CAIR) Executive Director Nihad Awad and USCMO Secretary General Oussama Jammal spoke at the rally. Tuncer and Uyar gave Awad a "plaque of appreciation" to Awad in 2014 on behalf of MUSIAD USA.
"The business group MUSIAD functions [as] yet another tool at the hands of current regime in Turkey to promote and export Erdogan brand poisonous Islamist ideology overseas," Bozkurt said.
Uyar has been promoted, Bozkurt said, now overseeing MUSIAD's global branches. Uyar is listed on the board of MUSIAD's main branch in Istanbul. It also describes him as the as "[c]hairman of Foreign Organization and Development Commission."
Photos taken at the BRICS Summit in Johannesburg, South Africa last month highlight Uyar's closeness to Erdogan. Several shots showed him standing next to the Turkish president.
These connections highlight Erdogan's backdoor effort to influence U.S. policy toward Turkey under the cover of business concerns.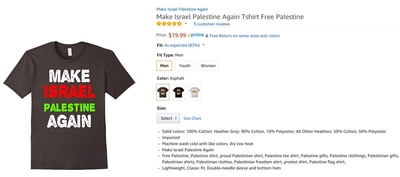 Reader complaints caused Amazon to stop selling a T-shirt that said "Make Israel Palestine Again" after the Investigative Project on Terrorism (IPT) drew attention to it Tuesday.
The slogan is an indirect call for Israel's elimination and has grown popular on social media sites.
The information outraged many readers. One complained directly to Amazon and said she was assured the T-shirt in question would be removed. The one IPT exposed Tuesday was taken down by late Wednesday evening.
Other T-shirts with the same slogan remained on the site Thursday morning, but they were gone by noon. The items were from a third-party seller using Amazon's "Merch program" that lets people create accounts to sell custom T-shirts, an Amazon spokeswoman told the IPT. There were no indications that the shirts were from third-party vendors Tuesday when the IPT clicked on the "Add to Cart" button.
The page said "Ships from and sold by Amazon.com" without any reference to a third party.
"All Merch by Amazon content creators must follow our content policy and those who do not will be subject to action including potential removal of their account. The product in question is no longer available," the Amazon spokeswoman said.
Amazon's written policies prohibit material that promotes violence, hate or intolerance.
The "Make Israel Palestine Again" slogan has been promoted by proponents of the Boycott, Divestment and Sanctions (BDS) movement that seeks to delegitimize and isolate Israel. A "Make Israel Palestine Again" hat modeled after President Trump's "Make America Great Again" was sold at the booth belonging to the U.S. Campaign for Palestinian Rights (USCPR) last weekend at the left-wing Netroots Nation Conference in New Orleans. USCPR is a major player in the American BDS movement.
"Shame on you @AmazonUK @amazon @AmazonHelp Is hatred what you're selling? Amazon Selling "Make Israel Palestine Again" T-Shirts," Yitzhak Intraif, a self-described Zionist rocker, tweeted.
DianaEE tweeted, "sickening! May have to find an alternative to Amazon!!"
Others called it a "blatant violation of prohibited listing[s]," and Amazon evidently agreed.