Two men were charged Tuesday for providing material support to the Islamic State of Iraq and the Levant (ISIL), also known as the Islamic State (IS).
According to the complaint, 18-year-old Abdullahi Yusuf aroused authorities' suspicion last April when he applied for an expedited passport in Minneapolis. He claimed that he was traveling to Turkey but couldn't provide details about "his travel itinerary, travel companions, hotel location or the name or address of a friend in Turkey who he claimed to have met recently via Facebook." The passport specialist found this "unusual" and contacted his supervisor who, in turn, alerted the FBI.
On May 5, the same day he obtained his passport, Yusuf opened a Wells Fargo checking account. Even though he had no known sources of income, Yusuf deposited $1,500 into the account later that month. He then bought an Aeroflot airplane ticket to fly from Minneapolis to Istanbul on May 28. The same debit card was used by a former Minnesota resident identified as H.M. to buy an airline ticket on March 9, the complaint said. H.M., who is believed to be fighting in Syria, allegedly exchanged several telephone calls and text messages with Yusuf.
Yusuf's co-defendant Abdi Nur, 20, also obtained an expedited U.S. passport and opened a checking account the same day, depositing $1,540 into it. He then bought an airline ticket to Turkey. Nur left for Turkey on May 29, but did not return to the U.S. on June 16 as scheduled, the complaint said.
Nur later told an undercover agent on social media that he had gone "to the brothers." He added that we "will see each other in afterlife inshallah," and, "You cant come looking for me its to late for that" (sic) and "im not coming back" (sic).
Nur was Facebook "friends" with Mohamed Abdullahi Hassan, one of dozens of Minneapolis area Somalis who left the U.S. to fight with the terrorist group al-Shabaab in Somalia. Hassan was indicted in absentia in 2009 for providing material support to the Somali terrorist group.
"More than 16,000 recruits from over 90 countries traveled to Syria to become foreign terrorist fighters with alarming consequences," Assistant Attorney for National Security General John P. Carlin said in a Justice Department statement announcing the charges Tuesday. "This is a global crisis and we will continue our efforts to prevent Americans from joining the fight and to hold accountable those who provide material support to foreign terrorist organizations."
Attorneys for Rasmieh Odeh say a federal judge was "unreasonable and unfair" when he ordered Odeh held without bond Nov. 10 pending a spring sentencing date.
Odeh faces up to 10 years in prison and subsequent deportation from the United States after being convicted of naturalization fraud.
Her conviction was based on her failure to disclose 10 years spent in an Israeli prison after being convicted for a series of 1969 Jerusalem bombings that killed two college students. On applications for a visa and later for naturalization as an American citizen, Odeh claimed to have never been arrested, convicted or imprisoned.
While she claims she was tortured and really was innocent in the bombings, immigration officials testified that she never would have been allowed into the country if they knew about her true record.
In paperwork filed earlier this week, defense attorney Michael Deutsch said that, if given a chance, he could show Odeh's "unique and extraordinary ties to her community" which would prove she is no flight risk. Odeh already is being punished, Deutsch wrote, "beginning with her sudden frightening and humiliating physical seizure and handcuffing in the courtroom, in front of the large group of her supporters and friends and clients." She has no warm clothes or blankets in the Michigan jail holding her.
In response, prosecutors say that Odeh's word is not worth much, and the facts supporting her conviction show "serial dishonesty carried out over decades."
Odeh shows a "lack of respect for this Court and these proceedings." Between her conviction and her bond revocation, Odeh slammed the "racist verdict." And during her testimony, Odeh repeatedly violated the court's order not to discuss her view that her Israeli conviction was unjust, since the issue for jurors to decide involved Odeh's answers to U.S. immigration applications. That shows "she pays no heed to this Court's orders," prosecutors wrote.
As Cornell Law Professor William Jacobson notes at the Legal Insurrection blog, the government response included new disclosures which further undermine Odeh's story.
Israeli officials "found explosive bricks in her room" the night they arrested Odeh, the reply says. And while Odeh claims her father, by then a U.S. citizen, was forced by their Israeli captors to rape her and watch her be abused, he reported nothing remotely out of the ordinary when he met with an American diplomat at the U.S. Consulate. According to a cable attached to the prosecution memo, Odeh's father reported his daughter complained she was in "uncomfortable, overcrowded jail conditions … no worse than standard treatment afforded majority detainees at Jerusalem jail."
Odeh, prosecutors wrote, "has been telling stories for many years without any basis in truth, and continued to tell them in the present trial even after the Court told her directly that such evidence was not admissible at trial."
That record should outweigh Odeh's claim that she deserves to be released from jail pending her sentencing, they argued.
Israeli police intercepted a large shipment of weapons intended for Arab rioters in the east Jerusalem, the Jerusalem Post reports. Israeli authorities seized two shipping containers from China, which arrived in Ashdod, consisting of fireworks, knives, and Tasers. The fireworks were hidden within Christmas decorations bound for the mostly Arab Christian neighborhood of Beit Hanina in east Jerusalem.
The containers included 18,000 prohibited fireworks, 5,200 commando knives, 5,500 Tasers, 4,300 flashlights capable of being converted into Tasers, and 1,000 swords.
Click here to watch Israeli authorities uncover the weapons shipment.
Jerusalem detectives collaborated with Israeli tax and customs officials in the undercover investigation. Police arrested three of the suspects after they claimed the containers at the Ashdod port and dropped them off in an Afula storehouse.
In recent weeks, Palestinian rioters increasingly used fireworks as a weapon against Israeli police and soldiers, especially in East Jerusalem. Potentially deadly firecrackers and large roman candles have been fired at Israeli security personnel. Some are capable of penetrating protective police gear, including shields.
Iran's Ayatollah Sayyid Ali Khamenei charged that the enemies of Islam created the Islamic State to spread "Islamophobia" during a speech Monday at Tehran's Imam Ali Military Academy.
The West sets up armed extremist groups such as the Islamic State and trains them to commit mass murder to discredit Islam, Khamanei said.
The "arrogant powers of the world" feel threatened by message of what he called "authentic Islam" and want to frighten people about the religion's message.
"By creating armed groups in the name of Islam and Islamic state, and massacre of the innocent people, the enemies of Islam plan to create Islamophobia, but the message of authentic Islam for humanity is peace, dignity, security and safe life, and that is why the enemies do not want the world to hear this message," Khamenei said.
Khamenei also claimed that "global tyrants" fear Islam's power and are doing everything they can to spread "Islamophobia."
Last month, the ayatollah blamed United States, the "wicked government of Britain" and Zionism for creating the Islamic State. This was done to stir divisions between Sunnis and Shias.
"A careful and analytic look at the developments reveals that the U.S. and its allies, in efforts that are falsely termed countering Daesh [the Islamic State], seek to create division and enmity among the Muslims rather to destroy the root causes of that (terrorist) current," Khamenei said in an Oct. 13 speech marking the Shiite holy day of Eid al-Ghadeer.
Iran's elite Revolutionary Guard Corps has been actively involved fighting the Islamic State in Iraq and Syria.
Update: An Israeli police officer, Zidan Saif, died of injuries sustained in the shootout with the terrorist, making it five Israelis killed. Saif was from a Druze community in Northern Israel. "We are proud of our sons who act fearlessly on the front against terrorist attacks," said Druze spiritual leader Muefek Tarif.
Israeli political leaders are blaming Palestinian Authority President Mahmoud Abbas for inciting Tuesday's bloody terrorist attack inside a Jerusalem synagogue that killed four people and injured eight others. The two terrorists, who carried axes and a gun, also were killed in a shootout with police.
The attack took place in a synagogue in Jerusalem's Har Nof neighborhood. All four murder victims were rabbis. Three of them, Aryeh Kopinsky, Moshe Twersky, and Calman Levine, were dual American-Israeli citizens. The fourth, Avraham Shmuel Goldberg, was a British-Israeli citizen. Twersky's grandfather is an iconic figure in modern Orthodox Judaism.
"This is the direct result of the incitement being led by Hamas and Abu Mazen (Abbas), incitement which the international community is irresponsibly ignoring," Israeli Prime Minister Benjamin Netanyahu said in a statement. "We will respond with a heavy hand to the brutal murder of Jews who came to pray and were met by reprehensible murderers."
Foreign Minister Avigdor Liberman echoed that, saying "the responsibility rests entirely with the Chairman of the Palestinian Authority Mahmoud Abbas. Abbas has deliberately turned the conflict into a religious conflict between Jews and Muslims and the systematic incitement he leads against Jews, including his statement that impure Jews may not enter the Temple Mount, provides the guidance for such heinous attacks."
Shin Bet chief Yoram Cohen, on the other hand, reportedly told Knesset members in a classified meeting that he did not agree with those assessments.
The Popular Front for the Liberation of Palestine (PFLP) claimed responsibility. The slaughter drew immediate praise from Hamas and the Palestinian Islamic Jihad (PIJ).
A PIJ statement called the attack "a natural response to the crimes of the occupier." Hamas spokesman Sami Abu Zuhri said it was in revenge for the death of a Palestinian found hanged in a bus Sunday night. An autopsy determined it was a suicide.
"Hamas calls for more operations like it," Abu Zuhri said.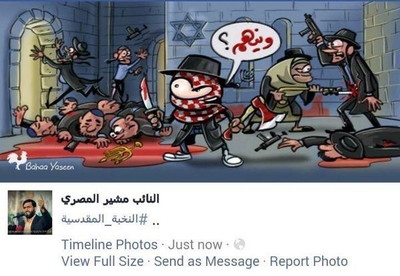 "Where are they?" the attackers asks.
Another Hamas spokesman, Mushir al-Masri, posted a graphic cartoon on Facebook glorifying the attack on Jews as they worshipped.
The attack triggered celebrations in Gaza, with people hailing the killers as martyrs, holding up axes and others passing out sweets.
Secretary of State John Kerry called Netanyahu Tuesday to offer condolences over the attack, describing it as an "act of pure terror and senseless brutality" and called on the Palestinian leadership to condemn it "in the most powerful terms."
Kerry also reportedly cited Palestinian incitement, including recent calls for "days of rage" and said Palestinian leaders need to tamp down their rhetoric.
A Jabhat al-Nusra spokesman tells the blog Syria Direct that rumors of an alliance between his al-Qaida affiliate and the Islamic State are false.
Western media sources published reports last week that both jihadist factions reached an agreement at a Nov. 2 meeting to stop fighting each other and destroy the U.S.-aligned Syrian Revolutionaries Front.
The spokesman from Jabhat al-Nusra's media office in northwestern Syria's Idlib province, identified as Abu Azzam al-Ansari, confirmed that the group sent representatives to meet with those from the Islamic State.
But the Islamic State's representatives rejected their offer of reconciliation, al-Ansari said.
He showed suspicion of the Islamic State in the interview, saying it has been "penetrated by American [spies]" to give the West an excuse for bombing everyone who "subscribes to the Salafi-jihadi strain of thought."
Al-Ansari also dismissed the Obama administration's use of the term "Khorasan Group" to describe a cell of al-Qaida fighters, saying that it really is his own group, Jabhat al-Nusra. The term was used to "mislead" people to hide the fact they were actually fighting al-Qaida in Syria.
Mentioning the recent fighting between Jabhat al-Nusra and the Western-backed Syrian Revolutionaries Front that led to the rout of the latter, al-Ansari said his group opposed the "implementation of any foreign agendas" in Syria.
"We're Muslims, and Allah – blessed be Allah exalted – ordered us to rule with Islam, and we won't be satisfied to anything else," al-Ansari said.
The United Arab Emirates' (UAE) cabinet approved a comprehensive list of 83 designated terrorist organizations Saturday, the WAM Emirates News Agency reports. The list includes various al-Qaeda affiliates and the Islamic State.
But the UAE also considers the Muslim Brotherhood and some of its global affiliates as terrorist organizations. The list includes the Council on American-Islamic Relations (CAIR) and the Muslim American Society (MAS).
The UAE action follows a decision last spring to follow Saudi Arabia's decision to label the Egyptian-based Muslim Brotherhood as a terrorist organization. CAIR officials previously traveled to the UAE on fundraising missions, State Department records obtained by the Investigative Project on Terrorism show.
Buzzfeed reports that CAIR is asking the UAE to reconsider, saying its "advocacy model is the antithesis of the narrative of violent extremists."
In a statement, CAIR said it and MAS "peacefully promote civil and democratic rights and ... oppose terrorism whenever it occurs, wherever it occurs and whoever carries it out."
But FBI policy since 2008 has prohibited communicating with CAIR outside of criminal investigations. That decision was based on evidence in a terror-financing prosecution in Dallas which placed CAIR and its founders in a Muslim Brotherhood Hamas support network called the Palestine Committee. "[U]ntil we can resolve whether there continues to be a connection between CAIR or its executives and HAMAS, the FBI does not view CAIR as an appropriate liaison partner," Assistant FBI Director Richard Powers wrote in 2009.
The Muslim American Society (MAS) also serves as a branch of the Muslim Brotherhood in America. A 2004 Chicago Tribune story describes how MAS was formed as the Brotherhood's U.S. arm after a debate about whether to stay underground. In 2012 testimony, Abdurahman Alamoudi, once the most politically influential Islamist activist in the country, said the connection between MAS and the Brotherhood was well known in Islamist circles.
CAIR's standard response to criticism, and to questions about its roots in a Muslim Brotherhood-created Hamas support network, is to accuse the source of "Islamophobia."
They'll have to get more creative this time.
Gains by al-Qaida linked Jabhat al-Nusra in northwestern Syria threatens to leave the U.S. with few options on the ground in that region.
Jabhat al-Nusra recently attacked and overran Harakat al-Hazm and the Syrian Revolutionaries Front (SRF) led by Jamal Maarouf, two key American aligned militias that the Obama administration saw as key parts of its strategy against the Islamic State (IS).
Maarouf fled to Turkey and no longer has any brigades in the area around Idlib, located in northwestern Syria near the Turkish border. He previously proclaimed his solidarity with Jabhat al-Nusra and the Islamic Front in a January Twitter post.
"The front of the Syrian revolutionizes, The Islamic Front, and Jabhat al-Nusra, Muhajreen and Ansar, we are all in the fighting front together against the regime. What happened now is a fitna (strife), God damn who ignited it," Maarouf wrote.
Al-Nusra also killed a commander belonging to the Free Syrian Army's Dawn of Freedom Brigades in the fighting.
Jabhat al-Nusra confiscated heavy gear and weapons that the West had provided to its allies.
The Islamist group decided to attack the U.S.-backed rebel groups after the Obama administration bombed its fighters and those belonging to IS. This decision also opened the way to an agreement between Al-Nusra and IS to cooperate in destroying Maarouf's faction.
President Obama said in September that a "moderate" force would be created and that their first targets were jihadists.
The U.S.-led coalition, along with "U.S. spies," aim to eliminate all Islamic factions that "do not comply with Western policy," Al-Nusra leader Abu Mohammed al-Golani said in the Al-Monitor story.
"We have made the decision to cancel the SRF," Golani said.
This opens the way for the al-Qaida linked group to carve out an Islamic emirate in the area around Idlib.
It hopes that such an emirate would increase its credibility among global jihadists and compete with the Islamic State to attract new fighters. Jabhat al-Nusra already has created its own courts in towns surrounding Idlib, an area isolated from direct contact with Assad's forces and from those with the Islamic State.
The U.S.-aligned rebels blamed the Obama administration for their failures. Although President Obama promised to arm the "moderate" Syrian rebels to fight the Islamic State and the Assad regime, supplies trickled in, slowed in part by bureaucracy.
"We decide on the mission that we want to do. Then we apply to the operations room for the weapons. If they agree with our military plan, some weapons arrive," a commander calling himself Abu Ahmed told the Daily Telegraph. "If we receive TOW anti-tank missiles, we have to film every time we use one to prove we haven't sold it on."
Abu Ahmed also complained that other FSA units didn't come to help, fearing Al-Nusra would attack them too.
The U.S.-backed rebels have also witnessed a stream of defections to Al-Nusra and IS.
A young Israeli woman was killed and a soldier is in critical condition after separate Palestinian terrorist attacks Monday.
In the first incident, a Palestinian man stabbed an Israeli solider in Tel Aviv. Hours later, another Palestinian terrorist attacked Israelis with a knife, killing a young woman after stabbing her in the neck and injuring two others at a bus stop in the West Bank community of Alon Shvut. The victim has been identified as
Dalia Lamkus, aged either 25 or 26.
Hamas radio identified the bus stop attacker as Maher Hamdi al-Hashalmoun from Hebron, Israel's Channel 10 reported. Hashalmoun reportedly was a released security prisoner. He was shot dead by a guard shortly after the attack.
The terrorist allegedly tried to run over the three people at the bus stop with his minivan. After missing them, he got out of his car and attacked the civilians with a knife.
The stabbings are the latest in a string of Palestinian terrorist attacks against Israelis throughout the country, especially in Jerusalem. Last week, a Hamas operative rammed his car into a crowd of Israeli pedestrians in Jerusalem, killing a Border Police officer and injuring 14 others.
After claiming responsibility, Hamas called for more terrorist attacks against Israelis. "We call on the people of Jerusalem and the West Bank and all of the Palestinians to carry out more of these activities with full force in order to defend al-Aksa," according to a Hamas' statement.
These latest attacks occurred in context of Fatah calling for a 'Day of Rage' in Jerusalem and Palestinian Authority President Mahmoud Abbas' advocating for the "use of all ways" to inhibit Jews from entering the Temple Mount compound, according to a Times of Israel report of a Palestinian Media Watch (PMW) translation.
Last month, a suspected Hamas terrorist similarly crashed his car into a crowd of Israelis at a light rail station in Jerusalem, killing a 3-month-old American-Israeli girl and a woman from Ecuador, in addition to injuring eight others.
Jerusalem is also witnessing a rise in Palestinian attacks, including rock throwing, Molotov cocktails and increased rioting in surrounding neighborhoods.
The Muslim Brotherhood's leading global voice, Sheik Yusuf Qaradawi, called on Muslims Thursday to fight "the greatest battle of liberation" against Israel and the Jews.
In an Arabic message posted on his website and translated by the Investigative Project on Terrorism, Qaradawi called on Muslims to rise up and defend Jerusalem's Al-Aqsa mosque – Islam's third holiest shrine – against Israel. His comments come amid heightened tension between Israel and the Palestinians.
Israel closed the Temple Mount, where the mosque is located, to all worshippers Oct. 30 following an assassination attempt against an Israeli activist. Jewish radicals have recently demanded the right to pray in the Al-Aqsa mosque, built on the holiest site to Jews, something Israel has forbidden them to do. Palestinian Authority President Mahmoud Abbas denounced the closure, calling it a "declaration of war." Israel reopened the site Oct. 31 amid heavy security. Tensions remain high, and incitement to violence has increased.
Qaradawi's article protests against Israel's planned archaeological tunnels under the Temple Mount and what he calls "attempts to Judaize the city of Jerusalem." He warns of attacks against Muslim and Christian holy sites.
"What is happening to Al-Aqsa at this time is a major disaster," Qaradawi wrote. "The [nation] of the Arabs and the [nation] of the Muslims may not keep silent about it.
"For the sake of Al-Aqsa mosque, blood will flow, and Muslims will expend lives and money, and sons."
His diatribe also calls on Muslim clerics to urge followers to defend Al-Aqsa, and for Muslim leaders and rulers to rally to the cause.
Qaradawi cited an infamous, apocalyptic hadith frequently invoked by Islamists telling Muslims to kill Jews.
"The Messenger of Allah (May Allah bless him and grant him peace) has informed us, when he said: "The Hour will not come until the Muslims fight the Jews, with Muslims fighting them until the Jew hides behind rocks and trees, and the rocks and trees saying: 'Oh Muslim, Oh servant of Allah, this Jew behind me, come kill him.'"
He took a further step on Twitter on Thursday, saying: "All the [Muslim nation] is required to wage Jihad in the Way of God, as this is a command upon all the [Muslim nation] to their capacity and competence."
This position is not new for Qaradawi. In January 1998, the Associated Press quoted al-Qaradawi as writing, "There should be no dialogue with these people [Israelis] except with swords." And in April 2001, he described suicide bombings as follows, "They are not suicide operations…These are heroic martyrdom operations."