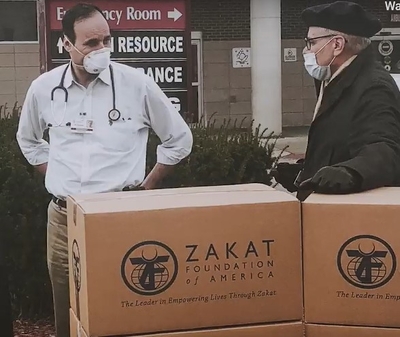 Image from Zakat Foundation YouTube video.
A prominent American Islamist charity is
publicizing
its role in the nationwide coronavirus emergency response effort.
"Zakat Foundation of America stepped up its nationwide coronavirus emergency response ... delivering thousands of direly needed medical-grade gloves to two far South Side Safety-Net hospitals in Chicago," said the Illinois-based Islamist charity in a March 27 press release.
"We're all in as a frontline charitable provider helping people survive COVID-19, on every level — financially, medically, nutritionally, mentally and spiritually," executive director Halil Demir said in the release. (Demir also spells his first name "Khalil.")
Since its 2001 founding, the Zakat Foundation claims to "have empowered millions of people to recover from disasters and escape poverty by taking control of their own lives." A timeline on the charity's website showcases its humanitarian accomplishments over the years, from providing aid to Iraq war victims to establishing a university for refugees in Turkey.
But behind the Zakat Foundation's outward humanitarian façade lie longstanding terror ties that include support for Hamas- and al-Qaida-tied charities, a joint investigation by the Investigative Project of Terrorism and the Middle East Forum finds.
The misuse of Islamist charitable organizations to support terror is not new. American Islamist charities have been known to use humanitarian assistance as a cover to solicit funds for terrorist groups.
"While some terrorist supporters create sham charities as a cover to raise and move funds, other terrorist groups and their supporters use charities to provide funds or otherwise dispense critical social or humanitarian services to vulnerable populations in an effort to radicalize communities and build local support," says the Treasury Department's 2015 National Terrorist Financing Risk Assessment.
Soon after the 9/11 attacks, several American Islamist charities were either designated terrorist financiers by Treasury or raided by federal authorities on suspicion of funding terror. A prime example is the prosecution of the Texas charity Holy Land Foundation for Relief and Development (HLF) and its senior leaders in what is described as the largest terrorism financing case in U.S. history. In 2008, a jury convicted HLF and five former leaders for illegally routing more than $12 million to Hamas.
One of Demir's previous employers also attracted scrutiny from the federal government.
Before founding Zakat Foundation in 2001, Demir worked for the Benevolence International Foundation (BIF). A business card identified him as "Public Relations Officer," and an IRS tax filing from 2000 states that, "The books are in care of Halil I. Demir."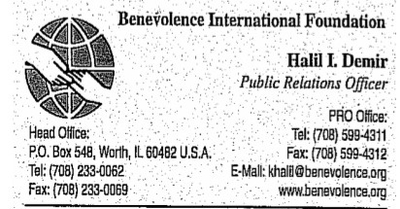 The Treasury Department
designated
BIF and related entities as terror financiers in 2002. The Illinois-based BIF and its director, Enaam Arnaout, were
charged
the same year with misusing charitable contributions to support al-Qaida and other terrorist groups overseas. Later, Arnaout
confessed
to using his charity to support Mujahideen fighters in Bosnia and Chechnya.
Arnaout served "as an administrator" for Osama bin Laden, a United Nations Security Council report said, "at times disbursing funds on his behalf." He admitted that BIF solicited money for humanitarian needs, "including refugees and orphans," concealing the fact that it "was being used to support fighters" in Chechnya with uniforms, boots, tents and other supplies.
In addition to serving BIF, Demir also has worked with the terror-tied Turkish Humanitarian Relief Organization (IHH). A 2010 news release on the Turkish charity's relief efforts in earthquake-hit Haiti describes Demir as an "IHH aid coordinator." The same year, IHH also referred to the Zakat Foundation as a "partner institution."
IHH has helped fund the Hamas military wing, which used the money to buy weapons and build training facilities, Israel's Ministry of Foreign Relations said. IHH has been designated a terrorist organization by Israel, Germany and the Netherlands. IHH was a key player in the 2010 Free Gaza Movement flotilla that sought to break a blockade on Gaza. Ten people were killed when one of the boats refused to turn back and passengers attacked Israeli commandos as they tried to board.
Reports from that time allege that IHH distributed aid to the Salafist group Ahrar al Sham, which fought alongside ISIS and the al-Qaida affiliate Jabhat al-Nusra. Turkish authorities additionally found evidence that IHH not only recruits militants for al-Qaida and other terrorist groups, but also provides terrorist groups access to arms and medical treatment.
According to a 2009 IHH report, "The US-based Zakat Foundation and Helping Hand, with which the IHH co-organizes social projects in different regions, sent $80,000 and $30,000 respectively to Gaza through the IHH."
Helping Hand is the overseas charitable arm of the Islamic Circle of North America, which has been described as "openly affiliated" with the Sunni revivalist movement Jamaat-e-Islami (JI). The charity has partnered with people closely tied to the U.S.-designated Kashmiri terrorist organization, Hizbul Mujahideen and its leader Syed Salahuddin. Zakat Foundation also partners with the Al-Khidmat Foundation, JI Pakistan's charitable arm.
Despite these documented connections, often promoted by the charities involved, Demir denies his and his organization's terror ties. He blames terror financing crackdowns targeting American Muslim charities after the 9/11 attacks on "Islamophobia."
"The Islamophobia was so strong, emotions ran so high against the Muslim community that whenever we tried to do good work, some people and organizations tried to portray us as bad guys," Demir says in an advertisement for his book, 9 Myths About Muslim Charities: Stories from the Zakat Foundation of America.
Demir made similar accusations in a January interview with the Daily Southtown. "This is propaganda, Islamophobia of white supremacists and hate groups that spread poison against the Muslim community and charities that do great work," he said.
Demir's book bashes national and international agencies for demanding transparency and oversight of Muslim charities. For instance, he calls the Financial Action Task Force (FATF) global terror finance watchdog "the most powerful and pernicious entity in the world," and asserts that "FATF's recommendations, and counterterrorism financing in general, constitute a complex ineffective sham."
The book also criticizes a 1996 CIA "Report on NGOs with Terror Links": "This two-decade-old CIA-write-up's simple-minded, unvetted, erroneous presumption of a 'regular correlation between Muslim humanitarian organizations and terrorist activity' – which shows nothing more than chauvinism—still underpins global policy of transgressing the civil rights of American Muslim charities."
Terrorists are known to use "charities to provide funds or otherwise dispense critical social or humanitarian services to vulnerable populations in an effort to radicalize communities and build local support," the 2015 National Terrorist Financing Risk Assessment said.
Hamas' dramatic 2006 election victory was fueled in part by its social welfare networks that received funding from American Islamist charities. In fact, the Holy Land Foundation was part of a network called the "Palestine Committee" that the Muslim Brotherhood created to advance Hamas's agenda politically and financially in the United States.
The Zakat Foundation has also generously supported the Islamic Charitable Society (ICS) in Hebron. In 2003, Zakat Foundation "worked in coordination with the Islamic Charitable Society in Hebron to supply $10,000" worth of school supplies to Palestinian children. This is not the first time that the ICS has received funding from U.S.-based charities. HLF gave ICS more than $1.6 million between 1991 and 2001. In 2002, German intelligence services described ICS as "the most important HAMAS association in the West Bank" and concluded that its leadership included "numerous" Hamas members.
The Zakat Foundation's work with ICS and association with Hamas continues. It announced in 2017 that it had "taken on costs for 200 students" of the ICS's Al Rahma School. Dina Karmi, an Arabic teacher at Al Rahma, is the widow of Nashaat al-Karmi, Hamas's southern West Bank armed wing leader. Israeli anti-terror police shot and killed him in 2010 in a raid connected with the murder of four Israelis.
In 2018, Israel's Shin Bet arrested Dina Karmi for "serving as the 'operational arm'" of a ring that "operated in coordination with both Hamas headquarters abroad and in the Gaza Strip."
A year earlier, ICS officials expressed their "deepest of thanks to Zakat Foundation" for its support, and "especially" its executive director Khalil Demir.
Zakat Foundation lists a U.S.-based Islamist charity called Baitulmaal as a partner. The Israeli government in 2006 accused Baitulmaal co-founder Sheikh Hasan Hajmohammad of funding a Hamas charity.
However, instead of calling for more intensive oversight of an Islamist charity with established terror ties, U.S. government officials continue to engage with the Zakat Foundation. In 2017, the charity co-sponsored an Iftar dinner with New York Mayor Bill de Blasio's office. Last year, Halil Demir was invited to Chicago Mayor Lori Lightfoot's 100th Day Recognition.
Today, as the nation ramps up its fight against the coronavirus pandemic, the Chicago mayor's office "now keeps contact with Zakat Foundation and has welcomed its creative capacity and stalwart efforts, as do an ensemble of social service agencies, not only in Chicago, but in key metro areas across the nation."
For decades, Islamist charities have hidden their terror funding and support under a charitable guise, sometimes winning acclaim and support from federal government officials and others for their efforts. The terror-tied Zakat Foundation's response to the coronavirus pandemic, is the kind of thing that might provide a public benefit, but it also serves as a building block toward legitimacy, opening doors at City Hall and elsewhere.
It also helps the organization further obscure its work with charities tied to Hamas and al-Qaida.
Abha Shankar is the IPT research director. Martha Lee is a research fellow of Islamist Watch, a project of the Middle East Forum.