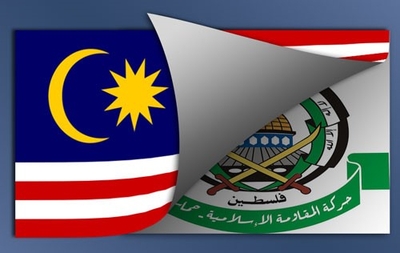 The April assassination of a Hamas engineer in Malaysia's capital Kuala Lumpur helps show the increasingly significant role Malaysia plays in Hamas operations.
Fadi Albatsh, who helped the terrorist group build drones and rockets, was shot and killed while on his way to a mosque. Albatsh reportedly also helped facilitate deals with North Korea to smuggle weapons into the Gaza Strip.
Hamas has a significant presence in Malaysia and routinely recruits Palestinians studying there to launch terrorist attacks against Israel. An operative captured during the 2014 Israel-Gaza conflict told Israeli authorities that he, along with nine others, received paragliding training in Malaysia from members of Hamas' military wing, the Izz al-Din al-Qassam Brigades. They were supposed to use that training to paraglide from Gaza directly into a southern Israeli town to launch an attack. Around the same time, Hamas recruited another operative in Malaysia with a doctorate in computer science. The operative served as a courier for encrypted messages for the al-Qassam Brigades.
Malaysia turns a blind eye to Hamas-related terrorist activity on its soil and anti-Semitism runs rife among the country's top leadership. New Prime Minister Mahathir Mohamad even said he was "glad to be labeled anti-Semitic." At an Organization of the Islamic Conference Summit in 2003 in Kuala Lumpur, Mohamed called on Muslims "to strategize and then to counterattack" because "1.3 billion Muslims cannot be defeated by a few million Jews."
Meanwhile, Hamas backers in Malaysia – including some that form the country's core leadership – have close ties to U.S.-based Hamas apologists, an Investigative Project on Terrorism (IPT) investigation finds.
For example, former Deputy Prime Minister Anwar Ibrahim, is a senior fellow at Georgetown's Prince Alwaleed bin Talal Center for Muslim-Christian Understanding (ACMCU).
Ibrahim, who was recently released from prison where he was held on sodomy charges, helped found Malaysia's Islamic youth movement, ABIM (Muslim Youth Movement of Malaysia).
ABIM has close ties to Hamas.
When Albatsh was killed, ABIM President Mohamad Raimi Ab Rahim posted a statement praying that "Allah accept him as Shahid [Martyr]."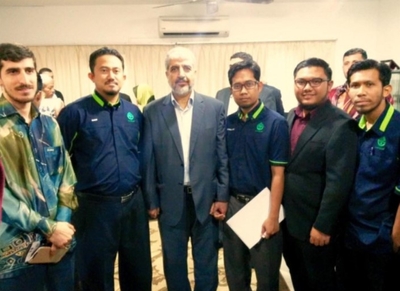 Khaled Meshaal visits ABIM in 2015.
In December 2015, then-chairman of Hamas' political bureau Khaled Meshaal
visited
ABIM to meet student activists and discuss the movement to drive Israel out of "Palestinian land" and liberate Jerusalem's al-Aqsa Mosque, a
key flashpoint
in the Israeli-Palestinian conflict.
Helwa ABIM, the organization's women's wing, posted a letter from radical Muslim Brotherhood cleric Yusuf al-Qaradawi May 21 on its Facebook page praising Ibrahim's release from prison.
Qaradawi has urged terror attacks against Israel and once fantasized about killing a Jew.
Ibrahim "will soon hold the leadership of Malaysia," Qaradawi wrote, according to a Google translation. "We are all convinced - with God's help - you are able to take responsibility for presenting an Islamic, contemporary, and realistic administrative model; an administrative model that looks closely between Islam and the reality of times."
ABIM also expressed solidarity with the recent Hamas-organized Gaza border riots. The violent riots hoped to break down the Gaza border fence and have Palestinians enter Israeli territory in droves.
John Esposito, professor and founding director at ACMCU, spoke at an ABIM event on April 24. His speech was titled, "Islam and Democracy in South East Asia: Challenges & Prospects."
Esposito refused to condemn Hamas or accepts its designation as terrorist organization in a 2000 interview in The United Association for Studies and Research's (UASR) Middle East Affairs Journal, "One can't make a clear statement about Hamas," Esposito said. "One has to distinguish between Hamas in general and the action of its military wing, and then one has also to talk about specific actions. Some actions by the military wing of Hamas can be seen as act, but other actions are acts of retaliation, particularly when they target civilians."
UASR, a northern Virginia think tank founded by former Hamas political chief Mousa Abu Marzook, was part of a Hamas-support network that was created to advance the terrorist group's agenda politically and financially in the United States.
The International Islamic University Malaysia (IIUM) is a major Hamas recruiting ground. According to the Meir Amit Intelligence and Terrorism Information Center (ITIC), the terrorist group sponsors wide-ranging social and cultural activities that are "exploited for covert activities in which operatives are recruited to Hamas' military-terrorist wing, sent to a course in Turkey (at Hamas' expense), given money by Hamas and then sent to Judea and Samaria."
In December 2013, Meshaal spoke at the IIUM campus, where he advocated resistance and jihad against Israel over peace negotiations. "Israel only understand [sic] the language of resistance!" he said, according to a transcript. "Hamas is a resistance and national liberation movement. It only have [sic] one battle, to stop the occupation and free Palestine!"
Given IIUM's pro-Hamas leanings, its close ties to leading U.S. Islamists evince little surprise.
Jamal Barzinji, a founding member and former president of the International Institute of Islamic Thought (IIIT), served as dean of Islamic Revealed Knowledge and Human Sciences at IIUM.
IIIT senior leaders were listed among "members and leaders of the IKHWAN [Muslim Brotherhood]" in the United States in records obtained by the IPT from a closed FBI investigation through a Freedom of Information Act request.
Abdulhamid Abusulayman, a leading Muslim Brotherhood figure and listed as a director in IIIT's 2016 tax returns, served as IIUM's rector from 1988-1998. Abusulayman is currently listed as the contact for IIIT's Saudi Arabia affiliate.
Louay M. Safi, a fellow at Georgetown's ACMCU, was an IIUM associate professor of political science from 1994-99. Safi also served as the IIIT's executive director (1995-97) and research director (1999-2003).
Malaysian politician Anwar Ibrahim is not only affiliated with ACMCU, but also a IIIT founder and former board member.
In addition to the U.S. connections, pro-Hamas Malaysian groups also have grown close to groups in Turkey, as President Recep Tayyip Erdogan has become notorious for supporting Hamas, letting key leaders operate in his country. Interrogations of terrorist operatives by Israeli security officials reveal the key role played by Turkey in commanding Hamas terrorism: "Hamas' military-terrorist headquarters enlists Palestinian students and trains them, either in the countries where they study or in Turkey. When they return to Judea and Samaria they are expected to participate in various operations according to directions given by senior Hamas operatives in Turkey."
There are examples of Hamas student recruits from Malaysia undergoing training in Turkey. Albatsh, for instance, was scheduled to fly to Turkey for a "science conference on energy" just a day after his assassination.
Palestinian Wasim Qawasmeh first connected with Hamas through his student association at IIUM. He worked for a Hamas charity before getting recruited by a senior Hamas activist to the Muslim Brotherhood. After undergoing training in "clandestine operations" in Malaysia, Qawasmeh was sent to Turkey to train with Hamas for a week.
The IPT previously detailed government-tied Turkish charities' support for Hamas and other global jihadists and Islamists. One, the Istanbul-based Union of NGOs of the Islamic World (UNIW), boasts of 340 members from 65 countries was set up in 2005 with Erdogan's blessing.
In addition to ABIM and IIUM, UNIW's pro-Hamas Malaysia members include:
· Al Quds Foundation Malaysia, which shows staunch support for Hamas and routinely posts pro-Hamas propaganda. In March 2016, the foundation issued a press release promoting a BBC interview of Hamas co-founder Mahmoud al-Zahhar. In it, Al-Zahhar said that the terrorist group did not have problems with any other country outside of Israel: ""Our weapons are only directed at the Zionist enemy."

Yusuf Qaradawi serves on the Al Quds Malaysia board of trustees.

· National Union of Malaysian Muslim Students (PKPIM), which issued a statement in 2012 excoriating the "Zionist regime" for its anti-Hamas stance. Anwar Ibrahim once served as PKPIM president.

· Global Peace Mission, which was founded by ABIM in 2001, works closely with the pro-Hamas Turkish charity, IHH Humanitarian Relief Foundation.
Hamas' recruitment, training, and propaganda network in Malaysia has close ties to a complex web of Islamist and pro-Hamas individuals and entities in Turkey, the United States and beyond. It is only by adopting a comprehensive approach to understanding the global reach of Hamas's terrorist infrastructure that one can finally hope to dismantle and defeat it.