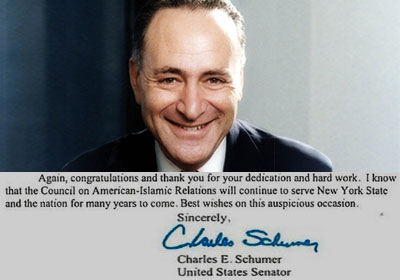 According to U.S. Sen. Charles Schumer, the Council on American-Islamic Relations (CAIR) is known "to have ties to terrorism," and cutting off contact with the Islamist group "should be government-wide policy."
Also according to Schumer, D-N.Y., CAIR is to be applauded "for its determination to continue to spread humanity around the world and to cultivate mutual understanding amongst Americans of all backgrounds and cultures ... I know that the Council on American-Islamic Relations will continue to serve New York State and the nation for many years to come."
One of these assessments must be wrong. So which description does Sen. Schumer believe?
He's not saying. Emails and a telephone call seeking comment from his office in recent weeks drew no response.
His comments critical of CAIR came during a 2003 Senate hearing and in 2009 correspondence with the FBI. The praise came in a letter written for the group's annual fundraising banquet last fall.
In 2009, Schumer joined with Republican Senate colleagues Jon Kyl of Arizona and Tom Coburn of Oklahoma in writing to the FBI to praise reports that the Bureau had cut off all non-criminal investigative contact with CAIR due to its roots in a Hamas-support network. The Investigative Project on Terrorism broke the news about the FBI policy to shun CAIR one month earlier.
"We certainly support that action," the senators wrote, asking for more details about the reasons behind it. "Obviously, we believe this should be government-wide policy," they added.
During the investigation into and prosecution of the Texas-based Holy Land Foundation for Relief and Development (HLF), an FBI official explained in a written response, evidence placed CAIR and its founders in a group called the Palestine Committee. "Evidence was also introduced that demonstrated a relationship between the Palestine Committee and HAMAS, which was designated as a terrorist organization in 1995."
The FBI broke off formal communication with CAIR "until we can resolve whether" those ties remain. That policy remains in effect seven years later.
CAIR has never directly addressed these exhibits, which are internal documents seized from Palestine Committee members' homes. No one from the organization has explained how CAIR found its way on a list of Palestine Committee entities, or how at least three CAIR officers appear in a Palestine Committee telephone roster.
It was because of those internal records, however, that prosecutors named CAIR an unindicted co-conspirator in the Holy Land prosecution. CAIR appealed to have that status stricken from the record. It lost.
"The government has produced ample evidence to establish the associations of CAIR ... the Islamic Association for Palestine, and with Hamas," U.S. District Court Judge Jorge Solis said in the July 1, 2009, ruling.
Nihad Awad, a co-founder and the only executive director CAIR has ever had, is among those on the committee telephone list. He has never discussed in detail his presence at the 1993 gathering of Hamas supporters in Philadelphia. He has never explained why he joined the others present in referring to Hamas in the agreed-upon, yet crude code of reversing the spelling and speaking about "Samah."

CAIR co-founder Omar Ahmad "was a leader within the Palestinian Committee, FBI agent Lara Burns testified during the HLF trial.
Ahmad previously served as president of the Islamic Association for Palestine (IAP), Burns testified. The IAP also was a Palestine Committee branch which was devoted to issuing Hamas propaganda, records show.
People at that 1993 Philadelphia meeting attended by Awad and led by Ahmad discussed Hamas often. Among their principal concerns was how to advocate for Hamas positions without being pegged as terror supporters. The meeting was a result of the recently-announced U.S.-brokered Oslo Accords, which raised hopes for a peaceful settlement to the Israeli-Palestinian conflict.
The Philadelphia gathering was a weekend-long brainstorming session to discuss ways to "derail" that plan and kill the hope for peace. Hamas opposes any peaceful settlement that leaves Israel intact. In addition, the agreement created the Palestinian Authority, which would be run by the rival Fatah movement. Hamas faced the prospect of being left on the sideline if the pact succeeded.
It would be one thing if CAIR acknowledged its roots in the Palestine Committee's Hamas-support network and claimed things had changed dramatically since then, and that they saw the error and immorality of supporting a terrorist group whose charter rejects any peace talks and demands Israel's annihilation.
But that hasn't happened.
In fact, CAIR officials continue to promote extreme positions. The group's seminars use scare tactics to tell Muslims not to talk with FBI agents. The San Francisco chapter went further, publishing a cartoon urging Muslim Americans to "Build a Wall of Resistance: Don't Talk to the FBI."
Another openly pondered whether ISIS was a "proxy force" for the CIA and Israel's Mossad. The leader of CAIR's Detroit office once argued that FBI sting operations using informants have "recruited more so-called extremist Muslims than al-Qaida themselves."
Other CAIR officials have tried to compare ISIS to the Israel Defense Forces and have accused the FBI of engaging in the cold-blooded murder of Muslim suspects.
Yet Schumer is simply the latest in a parade of politicians to bless CAIR with his endorsement and the imprimatur of legitimacy.
Such accolades are staples at banquets which raise hundreds of thousands of dollars for CAIR chapters throughout the country. In Illinois, U.S. Sen. Dick Durbin and Mayor Rahm Emmanuel, a former top aide to presidents Obama and Clinton, were among dozens of politicians, mostly Democrats, who lauded CAIR in messages similar to Schumer's.

The politicians' endorsements help CAIR establish credibility as an influential organization. That, in turn, helps persuade people to open their checkbooks.
Durbin has been especially accessible to CAIR officials. Like Schumer, he now endorses a group he once described as "unusual in its extreme rhetoric and its association with groups that are suspect..." He also indicated CAIR was not representative of the broader Muslim-American population.
CAIR's web site features a page devoted to politicians' accolades. It features endorsements from 58 members of the House and Senate, 56 of them Democrats. That includes senators Christopher Murphy of Connecticut, Michigan's Carl Levin, Maryland's Barbara Mikulski, Amy Klobuchar and Al Franken of Minnesota and Virginia's Mark Warner. Likewise, in the House, approval has come from 17 members of the California delegation, Virginia's James P. Moran, Bill Pascrell of New Jersey and Chris Van Hollen, the Democratic nominee for the U.S. Senate this fall.
It's an astonishing number of people who are charged with safeguarding America, and who should by now know about the evidence tying CAIR to Hamas. Some, like Schumer and Durbin, have expressed knowledge of this fact in the past but still see no problem lending their names, and the credibility of their offices, to propping up a branch of a Hamas-support network.
Democrats and their allies are fond of ridiculing their opponents as ignorant rubes who ignore evidence to advance a political view. What do they call this?