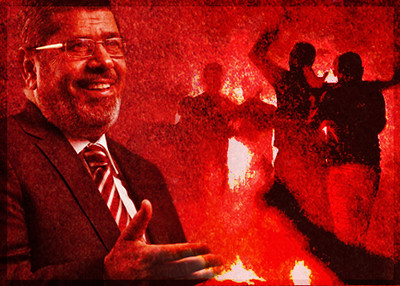 Millions of Egyptians are in the streets demanding the ouster of President Mohamed Morsi and the Muslim Brotherhood regime in Egypt for their totalitarian theocratic policies. But many of America's leading Islamists are sticking by Morsi and condemning the protesters on social media.
"Only in Egypt, Mubarak supporters, military rulers, anti-Islamists, confused leftists, anarchists, & some well-meaning activists undo a democratic election," Council on American-Islamic Relations (CAIR)-Los Angeles Executive Director Hussam Ayloush wrote on his Twitter feed Saturday, linking to a longer post on his Facebook page. "This is not about how successful of a president Morsi is, it is about understanding democracy and accepting its outcome as the choice of the majority. A strong opposition is needed to have good checks and balances, but through legitimate and non violent means only. Do you really believe that fulools [remnants of the Mubarak regime] are seeking democracy?"
Of the millions who took to the streets, only "some" are "well-meaning activists" in Ayloush's judgment. And he seems to think elections are the only acceptable time for citizens to petition their government. Living in California, he should know better. Americans can try to recall their elected officials, but Egyptians apparently shouldn't enjoy the same power.
Egypt is in economic crisis, with basic services like electricity, fuel and water in short supply. But the millions in the street aren't really angry about their perception that Morsi isn't making life better, Ayloush wrote. They only want to restore the previous government.
"How can ppl demanding more democracy in Egypt join hands w/ those who support the return of Mubarak or military rule? Hypocrisy!"
Ayloush and his fellow Islamists have strained to explain that political Islam is compatible with democracy, but the Egyptian experience has further called this into question.
Like Ayloush, former CAIR Tampa Executive Director Ahmed Bedier – still a prolific fundraiser for the group – questioned protesters' motives and wrote that frustrated Egyptians should hold their powder for three more years until there's another election.
"Dear Egypt: In any real democracy, political leadership is decided by the ballot box, not the street. If you don't like the current government, go vote, win a majority in parliament and create a new government," Bedier wrote on his Facebook page. "Two and half years after overthrowing Mubarak and military rule, the Egyptian people revolt to end democracy and bring back Mubarak's Military men to power."
Mohamed Elibiary, a Homeland Security adviser to President Obama, tweeted on June 28 that "Overthrowing #Morsi thru undemocratic means, whether protest or coup, is unacceptable."
Instead of inspiring openness and tolerance in Egyptian society, the Muslim Brotherhood has pushed Egyptian society to its breaking point as the group has moved to consolidate power and transition Egypt into being a theocratic state subject to the group's interpretation of Islamic law.
The optimism even Christians and liberal Muslims felt in the wake of Mubarak's fall has given way to the realization that the Arab Spring has become an Islamist winter.
Morsi pitted Egyptian against Egyptian after seizing emergency powers and ramming through a theocratic constitution while using intimidation tactics against opponents last November and December. That episode helped to establish the pattern of repression and intimidation that characterized Morsi's year in power.
The Muslim Brotherhood notably condemned the U.N.'s declaration on women's rights in March, saying it would "lead to the complete disintegration of society" and bring about the moral cohesion of Islamic societies.
The March arrest of comedian Bassem Youssef, aka "Egypt's Jon Stewart, for "insulting Islam" and President Morsi on his show "al-Bermaneg" drove home the Muslim Brotherhood's totalitarian nature even for Western liberals who had previously applauded the regime.
In an April post, Elibiary questioned the legitimacy of public outcry over Youssef's arrest. "A lot of AstroTurf advocacy in media on this," Elibiary wrote on his Twitter feed. In politics, "AstroTurf" is a cynical term describing well-funded campaigns deceptively designed to appear grass-roots driven.
Human rights activists criticized the Muslim Brotherhood regime's stance on religious freedom and women's rights.
Since Morsi and the Muslim Brotherhood came to power, tens of thousands of Coptic Christians have fled their ancient homeland amid religious violence. The siege of St. Mark's Cathedral in Cairo in April, aided by police complicity with the Islamist radicals who besieged the Copts also illustrated the less than democratic nature of the Morsi era.
A senior Morsi aide responded to the siege by blaming the Copts, who protested against sectarian violence directed against them. Yet Elibiary defended the Muslim Brotherhood regime against claims that it has been working to force Christians out Egypt in a Twitter post Monday.
"Copts have been in Egypt for 2K+ yrs & aren't going anywhere so stop being silly. No didn't save name, you'll have to look up," Elibiary wrote. "MB does NOT control security forces so wrong 2 blame MB org 4attacks on Coptic citizens."
Opposition leader Mohamed ElBaradei notably told Foreign Policy magazine in December that the Muslim Brotherhood used the same repressive tactics of the Mubarak regime, but the only difference was that they "have beards."
The Morsi government's repression of free speech, religious freedom and women's rights have only served to undermine claims about political Islam that have been made by American Islamists. Muslim Brotherhood rule has proven its critics' predictions – that its ascendancy would lead to brutal repression of dissent and an intolerance of other segments of Egyptian society.
Morsi threatened his opponents in March saying he would take "necessary measures" if they continued to oppose him.
"If I have to do what it takes to protect this country, I will do it," Morsi said.
New York-based Human Rights Watch condemned the Brotherhood last week for inciting sectarian violence such as the recent brutal lynching and mutilation of four Shiites, saying it followed "two years of hate speech against the minority religious group, which the Muslim Brotherhood condoned and at times participated in. This horrific incident in Abu Musallim shows that Shia can't even gather in the privacy of their homes to celebrate and heightens fear of persecution among all religious minorities in Egypt."
Throughout the past year, Muslim Brotherhood legacy groups in the United States, such as the Islamic Society of North America (ISNA), the Islamic Circle of North America (ICNA), the Muslim American Society (MAC), the Muslim Public Affairs Council (MPAC) and the Council on American Islamic Relations (CAIR), have been silent about the Egyptian Brotherhood's widespread human rights abuses. Such silence either implies the groups either approve or are indifferent to the Muslim Brotherhood's actions.
None of the Brotherhood's actions have weakened the American Islamists' faith in the group, even as speculation increases that the Egyptian military will intervene to oust Morsi and his party following its 48-hour ultimatum.
"Democracy takes time to establish. It took USA almost 200 years to start getting it right. #Egypt," Dawud Walid, the executive director of CAIR Michigan tweeted Monday.
Elibiary compared the Muslim Brotherhood to evangelicals in American politics in a Twitter exchange Monday, after writing: "Y'all can hate on MB until you're 6 feet under, but if you want to actually solve anything you'll have 2engage them."
CAIR Chicago Executive Director Ahmed Rehab is a notable exception among American Islamist activists. During a radio interview Monday, he acknowledged the broad-based opposition to Morsi's rule. That's a result of a "bait and switch" Morsi pulled on Egyptians: "Rather than work towards this pluralistic open democracy that we had called for from the beginning, he was able to come to power through democracy but almost immediately began to work toward sort of a religious interpretation of what the state ought to be, to make religion the focus of his rhetoric, some of his moves, of how he went around the constitution, and on how he coalesced, he coalesced with the far right religious groups, and did not pay much attention to the center and ostracized and demonized the opposition as anti-Islam and secular and you know a problem for Muslims."
But in an earlier Facebook posting, Rehab still endorsed an exit for Morsi that protected the Brotherhood's political viability. He said he'd been told Morsi was negotiating a way out, provided that "the MB won't be retaliated against by judges, or banned, or its leaders jailed, etc. I think this would be very wise. They can regroup, learn from their mistakes and return better off. They can still run candidates, and play a healthy role in the opposition in which they do a far better job right now. I think this would be a blessing in disguise for the MB, after their advisors were leading them to destruction, ironically the revolution would have saved them. I cannot guarantee that my sources are correct, but I trust them and hope they are."
It has become obvious that too many other American Islamists, like the American Stalinists before them, are unwilling to question the Muslim Brotherhood's ideology even when widespread human rights abuses are open for all to see.