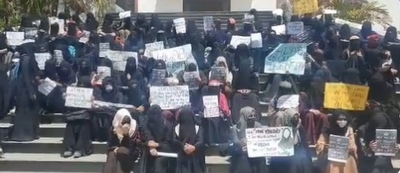 (Twitter image) Muslim girls protest a ban on hijab-wearing in Karnataka high schools.
American Islamists are adding fuel to the fire of a misinformation campaign against India's ongoing
hijab controversy
.
The controversy erupted late December after female students at an all-girls pre-university government college (equivalent to U.S. high school) in Udupi, a city in the southwest Indian state of Karnataka, were denied permission to attend classes wearing the hijab.
Indian schools follow the British tradition of uniforms that are not common in the United States.
In a wildly overblown response to the controversy, Justice for All – a group that has sponsored events featuring jihad supporters – called on its readers to sign a petition asking the United Nations to save "India from Fascism."
"Muslim girls in India are facing a deep crisis," the petition says, "[t]hey are being forced to choose between their education and their faith. This is contrary to the Universal Declaration of Human Rights, the UN Charter, as well as the Indian Constitution."
It accuses India's ruling nationalist Bhartiya Janata Party (BJP) of adopting "discriminatory laws against Muslims" while its "mother organization, the Rashtriya Swayamsevak Sangh (RSS) uses vigilante groups to physically attack Muslims who peacefully protest those laws with the police support and judicial silence."
Justice for All is an offshoot of the Islamic Circle of North America (ICNA), a South Asian Islamist group. Its founders support the ideology of the Sunni revivalist movement Jamaat-e-Islami (JI), and seek to establish "Iqamat Deen" or the Islamic system of life, in North America.
ICNA partners with the Muslim American Society (MAS) to host annual national conventions that feature radical speakers who advocate jihad, speak in defense of terrorists and other radicals, and call for Israel's elimination. MAS was created in 1993 as the Brotherhood's arm in the United States.
This is not the first time Islamists in America have made exaggerated claims of violence and genocide targeting Indian Muslims and compared the BJP government to a "Nazi regime." Similar allegations followed India's 2019 legal status change of Jammu and Kashmir and the Citizenship Amendment Act.
The ban on hijabs in the classroom has been in effect for 35 years without issue, principal Rudre Gowda told India Today. Students were allowed to wear the hijab to school but had to take it off before attending class.
Gowda believes the girls are acting under the "influence" of the Campus Front of India (CFI).
"It seems so looking at the recent developments and after looking at their statements," Gowda said. "They don't seem like our students anymore."
CFI is the student wing of the radical Islamist Popular Front of India (PFI) that has been implicated in the 2020 Delhi riots that left 53 dead and over 200 injured.
Five Indian states have gone to the polls for state legislative elections since Feb. 10. Critics say political parties are stoking the controversy to garner votes.
Hyping Violence against Indian Muslims
A 26-year-old Hindu activist known as Harsha was hacked to death by Islamist extremists in Karnataka's Shivamogga district. Authorities are investigating ties between Harsha's murder and the hijab controversy. Harsha had received death threats accusing him of blasphemy in 2015.
But Islamists and their backers continue to raise alarmist rhetoric about Muslim lives being threatened in Hindu-majority India.
"It is really quite alarming to see so many people being threatened and their lives being at risk just because of their faith," said U.S. Representative Ilhan Omar in a Feb. 14 webinar sponsored by Justice for All to discuss "hijab rights."
Omar also made a preposterous comparison between authoritarian China's violent oppression of its Uyghur Muslim population with democratic India's treatment of its Muslim minority.
"And I used India and China, as an example of what's happening to Muslims and the kind of anti-Muslim hate that is spreading in both of those countries and how that's creating difficulties for Muslims ... to live a dignified life," she said.
India's 200 million Muslims – almost the same number as in Pakistan – make up an integral part of the India's social, economic, and political fabric. The constitution guarantees equal protection to all citizens, and there are no restrictions on Muslim women wearing the Islamic dress – hijab or the full veil – in public.
Monia Mazigh, another speaker at the webinar with Omar, alleged that "it's not really about the hijab... it is about dehumanizing the others and making the other look...less than a human [to] allow... to do whatever to target them with violence and to exclude them from the public sphere."
That kind of rhetoric might make sense if there was a public hijab ban in India. There isn't.
Nine Muslim female students filed petitions in the state high court on Jan. 31, saying the ban on hijabs in educational institutions violates their constitutional rights. Protests started by Muslim students against the college decision soon spread to other Indian cities.
Petitioners claim wearing hijab is an "essential practice of Islam" and the ban in high schools violates their rights. But that view is far from universal among Muslims.
"[W]hat the Quran says explicitly is cover your bosom...It does not say cover your head," Canadian Muslim reformer Tarek Fatah argues.
Fatah's views are reaffirmed by Arif Mohammed Khan, governor of the Indian state of Kerala.
"Hijab is mentioned seven times in Quran, but it is not in connection with the women's dress code. It is in connection with 'purdah' [screen] which means that when you speak, you should have 'purdah' in between [the Prophet's wives and visitors]," he told the Hindustan Times. Khan called the controversy "a conspiracy [by Islamists] to derail the progress Muslim woman [sic] have made."
But Islamist organizations continue to spin the facts to suit their argument and paint apocalyptic scenarios for Indian Muslims.
"It is obvious that India's ruling party, [Prime Minister Narendra] Modi, and far-right Hinduism are intertwined in the active oppression and killing of Muslims. Where Muslim women are banned from wearing the hijab to school lies a deeper issue that Hindutva has deemed those who are Musims [sic] and non-Hindu as not worthy of the same rights," said a Feb. 23 ICNA press release.
"Despite the ongoing threats to Indian Muslims, the thousands of Muslim women who are marching in the streets of India against the anti-Muslim policies of this majoritarian state have inspired hope and renewed resistance," wrote Huzaifa Shahbaz, National Research and Advocacy Coordinator with the Council on American-Islamic Relations (CAIR). "It is incumbent upon the rest of us around the world to call out and stop the BJP government's discriminatory policies and dangerous actions before they escalate into something even more disastrous."
A Feb. 24 congressional briefing co-hosted by the Indian-American Muslim Council (IAMC), Amnesty International, Genocide Watch and others called the hijab ban "mass sexual harassment" and blasted the BJP government for "humiliating, infantilizing, and patronizing" Muslim women. Indian American Amina Kausar alleged that the ban was "obviously a part of the larger goal of genocide of Indian muslims [sic] set by the Islamophobic, autocratic Modi regime."
A verdict on the matter is pending after an 11-day hearing ended Feb. 25.
But the school uniform policy in Karnataka is hardly unique. Several countries have banned face coverings, veils, and burqas (full face and body covering) in public space, including France, Belgium, Switzerland, Austria, The Netherlands, Denmark, and Bulgaria.
France's highest court last Wednesday upheld a ban on wearing the hijab and other religious symbols in courtrooms. It found the ban "necessary and appropriate, on the one hand to preserve the independence of the lawyer and, on the other, to guarantee the right to a fair trial."
France banned wearing the hijab and other conspicuous religious symbols in public schools in 2004 in keeping with French laicite. Last April, a Quebec court upheld a prohibition on wearing religious symbols, including the hijab, to work.
Noted filmmaker and Indian Muslim media personality Amber Zaidi alleged the protests were "staged" and the fact the hijab issue sprung up out of nowhere just days before five states were going to polls shows there is a "big conspiracy behind the whole issue."
The hijab protests are not unprecedented, she added. Similar protests were launched against the Triple Talaq legislation that sought to criminalize the Muslim practice of instant divorce and the Citizenship Amendment Act that was misrepresented as an anti-Muslim legislation that sought to strip Muslims off their citizenship.
Since the 2019 passage of the Act, no Muslim's citizenship been taken away, she said.
American Islamists continue to paint a false picture of a one-sided government-sponsored "pogrom" against Muslims. By staying silent on real atrocities against minorities in Muslim-majority countries while pushing fabricated accounts of "genocide" against Muslims in Hindu-majority India, many American Islamists show they are willing to compromise truth and principle to advance an Islamist agenda.
Copyright © 2022. Investigative Project on Terrorism. All rights reserved.