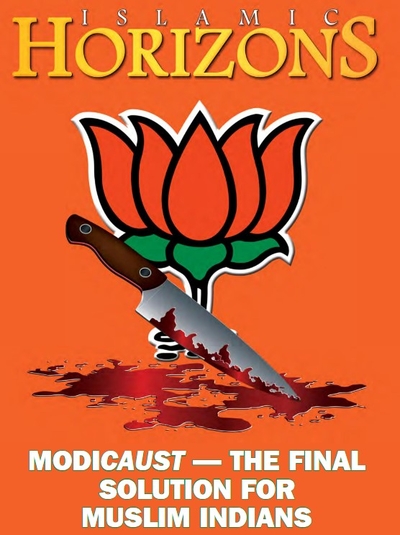 American Islamists continue exaggerating the depth of violence in Hindu-majority India and pushing alarmist rhetoric about an impending genocide of Muslims.
"Germany 1932 is here and now in India," warns an editorial in the May-June issue of Islamic Horizons. "It won't matter to the latter's 212 million Muslims when, years later, some sages clumsily whisper 'never again' and then snicker. And yet the U.S. State Department refused to categorize India as a 'country of concern' on its religious freedom list." The editorial describes India's democratically elected Prime Minister Narendra Modi as a reincarnation of Adolf Hitler.
The magazine's cover shows India's ruling nationalist Bhartiya Janata Party's (BJP) lotus flower symbol alongside a bloodied knife. , "MODICAUST—THE FINAL SOLUTION FOR MUSLIM INDIANS," the headline says.
Islamic Horizons is the Islamic Society of North America (ISNA)'s flagship publication. ISNA was founded in 1981 by U.S.-based members of the Muslim Brotherhood and was included on a list of unindicted co-conspirators in the Hamas-financing prosecution of the Holy Land Foundation for Relief and Development (HLF). The 2008 trial ended with guilty verdicts on 108 counts. ISNA's conventions, attended by tens of thousands of people, have featured rhetoric in support of convicted terrorists and other radicalism.
Hamas is a U.S.-designated terrorist group that has been responsible for the deaths of hundreds of Americans and Israelis.
This partisan narrative of Muslim persecution and looming genocide at the hands of Hindus is also being pushed by the Indian American Muslim Council (IAMC).
"Viral videos that have flooded social media show Hindu extremist mobs armed with swords, guns and rods, taking out processions through Muslim areas, blasting Islamophobic songs, chanting Hindu religious slogans, attacking mosques, shrines, Muslim families, homes and their businesses," said an April 19 press release. "Muslim homes, businesses, mosques and shrines were attacked, vandalized and burnt in the BJP ruled Madhya Pradesh and Gujarat. In Madhya Pradesh's Khargone city, the epicenter of violence, the local administration demolished Muslim homes and shops, doubly victimizing them after Hindu extremist mobs had terrorized and targeted them."
But news reports show that the IAMC is misreporting violence during Hindu religious processions in Madhya Pradesh's Khargone city and other Indian cities by painting Muslims as hapless victims of one-sided Hindu aggression and violence.
"Curfew was clamped in the entire Khargone city of Madhya Pradesh after stones hurled at a Ram Navami procession here triggered arson and torching of some vehicles and houses," The Hindu newspaper reported. "At least 24 people, including six policemen, were injured in the violence and Khargone's Superintendent of Police Siddharth Choudhary received [a] bullet injury."
More than 180 people are in police custody in connection with the violence. The BJP-ruled state government took strict action against the rioters by bulldozing illegally constructed properties used by stone throwers to target the religious procession.
Muslim media personality Amber Zaidi said that the bulldozed properties, including businesses and houses, were "illegal encroachments" and belonged to both Muslims and Hindus. She blamed Pakistan and "several other anti-India forces who are constantly conspiring to malign India's image," including the radical Islamist Popular Front of India (PFI) that has been implicated in the 2020 Delhi riots that left 53 dead and more than 200 injured.
Zaidi called for countering the "mindset" that radicalizes Indian Muslims and leaves them feeling "insecure" and encourages the belief that "their rights are being violated" in Hindu-majority India. "External forces" are seeking to sow disruption in the country where ordinary people live in harmony with each other and celebrate their festivals together, she added.
IAMC describes itself as "the largest Washington, DC based advocacy organization of Indian American Muslims, with chapters across the US."
An OpIndia report lists examples of violence perpetrated on Hindu religious processions by stone-pelting Islamists.
"Many incidents of stone-pelting, arson, and vandalism during the celebration of Hindu festivals have been reported in recent years, and each year the intensity has only increased," said the report. "This year, like other previous years, has been no exception. Whether it's a Hindu religious procession for Hanuman Jayanti, Ram Navami, or Saraswati Puja, Islamists haven't missed an opportunity to wreak havoc."
Similar violence broke out in New Delhi's Jahangirpuri neighborhood. A fact-finding report led by Indian Supreme Court advocate Monika Arora described the area as "a ticking bomb' of illegal immigrants, radicalisation, demographic stress and illegal encroachments." It said that "a mob of local Muslim residents with swords, lathis, iron rods, and some carrying pistols emerged from ... chanting 'Allah hu Akbar'" and attacked the procession leading to "a dangerous street riot," the news site OpIndia reported.
The attack was "pre-planned," said the report. "Men, women, and children gathered on the rooftops shortly after the stones and bottles were arranged. There was a large throng assembled, armed with stones, petrol bombs, and swords, ready to attack the procession."
Thirty-six people, including three juveniles, have been arrested in connection with the violence.
Selective accusations of Muslim victimization where blame is placed solely on India's Hindu majority are also evident in American Islamists' reaction to the hugely popular and highly acclaimed movie, "The Kashmir Files." The film graphically depicts the horrors of the 1989-90 genocide of indigenous Hindus from the Kashmir Valley.
The US Council of Muslim Organizations (USCMO), an umbrella group of America's top Islamist organizations, condemned a May 9 screening of the movie at the California state capitol in Sacramento. "'Kashmir Files' cherry-picks the truth, and exploits it emotionally to further the Islamophobic objective of BJP," says the USCMO press release. "The film devolves into a piece of pure vitriol and hatred by generalizing a violent episode in Kashmir's history into collective blame on Muslims in general and Kashmiri Muslims in particular. This is a blatant effort of the BJP government to polarize the Indian population on religious grounds to gain political power."
The movie played in packed theaters and was based on true-life accounts of Kashmir Hindu victims. Hundreds of thousands of Kashmiri Hindus were slaughtered or kicked out of their homes by Islamist terrorists who left them three options: Ralive, Tsalive, ya Galive [Convert to Islam, Leave or Perish].
"The Kashmir Files has peeled the complex layers of the final chapter of the systematic genocide of Kashmiri Hindus since the 14th century in Kashmir, beautifully and intelligently," writes veteran journalist Aarti Tikoo Singh, a displaced Kashmiri Hindu who witnessed the genocide firsthand. "The most gruesome acts of terror unleashed on Hindus in Kashmir and later their life in displacement and destitution in refugee camps in Jammu, have been shown with remarkable intensity, and yet poignantly."
The film has also won praise from several Kashmiri Muslims, including Khalid Baig, Sualeh Keen, Emaad Makhdoomi, Yana Mir, Raja Muneeb, Javed Beigh, and Sajid Yousuf Shah.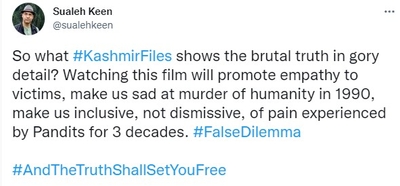 The 1989-90 violent expulsions have been described as the seventh genocide of Hindus from the valley starting with the 14th century founding of Islamist rule in Kashmir. Islamist accusations of Indian "occupation" of Jammu and Kashmir as a "settler colony" are false, argues the Hindu American Foundation. "Historically, Kashmir was inhabited by Hindus and Buddhists and had a majority Hindu population until the 14th century. As the region was taken over by Islamic invaders from Central Asia, the indigenous population of Hindus and Buddhists was gradually replaced, eventually becoming overwhelmingly Muslim."
The killings of Kashmiri Hindus continue. A 35-year-old Kashmiri Hindu government employee was killed Thursday by Lashkar-e-Tayyiba terrorists.
But Islamist groups such as the Council on American Islamic Relations (CAIR) continue to promote genocide deniers such as Kashmiri journalist Raqeeb Hameed Naik. During an online "CAIR on Air" episode last month titled, "Crosshairs of Hindutva Extremism," Naik claimed that the "Kashmiri genocide ... is actually a Hindu nationalist construct that they have been long pushing to target Kashmiri Muslims."
American Islamists are known to cherry-pick facts to exaggerate the alleged misdeeds of their foes, especially when it comes to issues concerning the ummah [global Muslim community]. But selectively blaming Hindus for the April violence on Hindu religious processions and diminishing the Kashmiri Hindu genocide at the hands of Islamist terrorists can only go to further fuel communal disharmony and inflame passions for reactionary violence.
Copyright © 2022. Investigative Project on Terrorism. All rights reserved.