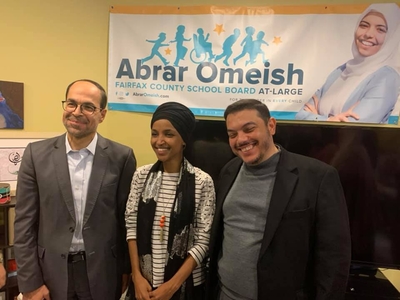 U.S. Rep. Ilhan Omar poses with Council on American-Islamic Relations Executive Director Nihad Awad (left), and former Muslim American Society President Esam Omeish (right). A campaign poster for Omeish's daughter hangs above them.
For many members of Congress, weekends are spent returning to their home districts to keep in touch with constituents.
For U.S. Rep. Ilhan Omar, the weekend of Nov. 8 was devoted to embracing some of the country's most prominent and problematic Islamists.
She helped the Council on American-Islamic Relations (CAIR) raise money by speaking at its annual fundraising banquet Nov. 9. The next day, she attended a brunch in the home of Esam Omeish, one of the country's most influential Islamist activists.
Campaign finance data posted by Opensecrets.org shows that nearly 87 percent of Omar's 2020 campaign contributions have come from donors outside of her district. American Islamists were well represented in her 2018 campaign war chest .
Their support has not diminished in the wake of repeated controversies involving Omar's anti-Semitic rhetoric. That includes her statement about Israel "hypnotizing the world" to hide its "evil deeds" and her claim that American support for the Jewish state is "about the Benjamins, baby."
Omar appeared to defend Palestinian terrorists in May after they fired 600 rockets into Israel.
"How many more protesters must be shot, rockets must be fired, and little kids must be killed until the endless cycle of violence ends? The status quo of occupation and humanitarian crisis in Gaza is unsustainable. Only real justice can bring about security and lasting peace," Omar wrote.
The latest example came Nov. 9, in response to a CNBC story that reported, "Leon Cooperman says he will support fellow billionaire Mike Bloomberg for President." Omar responded by asking, "I wonder why?"
Her history of anti-Semitic statements led many to believe Omar was insinuating Cooperman supported Bloomberg because both are Jewish. She has not deleted the tweet despite the controversy.
Hours later, she appeared at the CAIR banquet, praising the organization. She has spoken at numerous CAIR events since her 2018 election.
CAIR was an unindicted co-conspirator in a successful 2008 Hamas-financing prosecution against the Holy Land Foundation for Relief and Development. Evidence in the trial showed that CAIR was part of a Muslim Brotherhood created Hamas-support network in America. That evidence led the FBI to cut off outreach work with CAIR, with a senior official explaining, "until we can resolve whether there continues to be a connection between CAIR or its executives and HAMAS, the FBI does not view CAIR as an appropriate liaison partner."
Omar's Sunday brunch at Omeish's northern Virginia home attracted several other prominent Islamists. Among them, CAIR Executive Director Nihad Awad, a member of the Muslim Brotherhood-created, Hamas-support network called the Palestine Committee. Former CAIR Connecticut Executive Director Mongi Dhaouadi also was present along with at least 45 Islamist leaders. The group celebrated recent electoral wins by Islamists and other Muslims. Omeish's daughter, Abrar, was elected to the Fairfax County School Board in Virginia.
"Ilhan is no longer the only 'veiled' Muslim [in office], as there is Abrar Omeish at the Fairfax County School Board in Virginia, and there is Movita Johnson-Harrell in the Pennsylvania State House of Representatives. There may be others," Esam Omeish wrote on his Facebook page. "The Hijab of one of these women was not an obstacle to their uniqueness and society's acceptance of them ... Only, in our country religion and religiosity, in the minds of those with inferiority complex, are signs of backwardness."
The Muslim community needs to become more civically engaged and "get more Ilhans" elected to office, which will happen God-willing, Abrar Omeish said at the brunch.
"It's one thing for us to break through and earn a seat, and it's another to make meaningful change. We need the pressure. We need the organizing. That's gonna make the most out of the people that are in office," Abrar Omeish said. "We need to sustain the ones who have made it because the machine is out there to get us and to bring us down."
Esam Omeish is the former president of the Muslim American Society (MAS), which prosecutors described as the "overt arm" of the Muslim Brotherhood in the United States. Omeish admitted in 2011 to previously belonging to the Brotherhood, and reaffirmed his sympathies for the movement in a 2016 Facebook post.
He resigned from a state immigration board in 2006 after the Investigative Project on Terrorism (IPT) released video of him at a 2000 rally praising Palestinians for learning the "jihad way" to achieve liberation.
Omeish wrote an open letter to President Obama in 2016 in which he supported a group called the Mujahideen Shura Council of Derna, a group linked with al-Qaida in the Islamic Maghreb (AQIM), against ISIS. He even called them "moderate Islamists." The U.S. government, however, has not supported the group.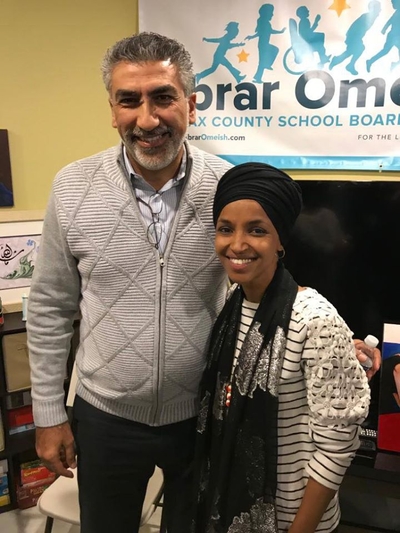 Omar and Mongi Dhaouadi
Omar also
posed
for a photo with Dhaouadi, the former CAIR official, who also has openly supported terrorists.
"Resisting the occupation is NOT terrorism [sic] it is a legitimate right of defending one self from your land from real terrorists i.e. IDF," Dhaouadi wrote in 2017 about Palestinian terrorist attacks against Israel.
Dhaouadi currently works for the Center for the Study of Islam and Democracy (CSID), which is closely connected with Tunisia's Muslim Brotherhood-linked Ennahda Party. Ennahda leader Rached Ghannouchi supports Hamas attacks against Israel. He called for the "destruction of the Jews" at a December 1990 conference in Tehran, where he also called for jihad against America. Dhaouadi accompanied Ghannouchi during his 2015 visit to Washington and has been a supporter.
This chain of events is disturbing because of the illiberal ideas shared by Omar's Islamist allies, who support gender segregation and blasphemy laws, said Muslim reformer and journalist Asra Nomani. She called Omar's meeting with the top Islamist leaders in the basement of Omeish's home "chilling."
"From school board leadership in Fairfax County, Virginia, where I live, to the halls of Congress, we are seeing the rise of a generation of American Muslim political leaders with very disturbing views, including hate and prejudice against Jews and the state of Israel and support for Islamist movements in the world," Nomani said. "We must all be vigilant in our communities and support the Muslim reformers who challenge supporters of political Islam in America."
Research Analyst Teri Blumenfeld contributed to this report.