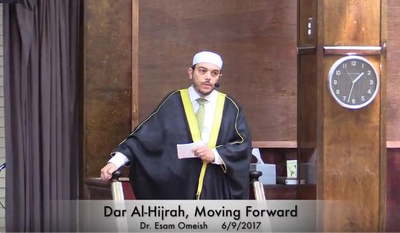 One mosque leader says it's time for unity. An international Islamist activist says such discussions shouldn't be aired publicly. Two weeks after the senior imam at the Dar al-Hijrah mosque endorsed partial female genital mutilation (FGM) as "the honorable thing to do," a clear effort is under way to try to stifle further debate.
Don't be "in tensions" or "in camps," mosque board member Esam Omeish told the congregation Friday. Earlier that day, Outreach Director Johari Abdul-Malik announced he was quitting after more than 15 years at the mosque over imam Shaker Elsayed's comments. Abdul-Malik wanted Elsayed fired, noting this was the latest in a series of "reprehensible statements made by" the imam.
Omeish preached a different message for one of the largest mosques in the Washington, D.C. area: Time to move on.
Elsayed "offered his apology" and "we stand united in making sure that we are the backing of everyone, of us," Omeish said.
Elsayed did apologize, writing that, "Islam would never support anything that harms anybody's well-being, such as FGM." [Emphasis original] But Elsayed rescinded the apology shortly afterward, a fact that Omeish never mentioned. Abdul-Malik's open letter made it clear that his decision to leave was influenced by Elsayed's public recanting of that apology.
For those wanting Elsayed ousted, "We will not engage nor accept the tactics of coercion, and of threats, and of behaviors of picking and demonizing," Omeish said.
In addition, the notion that "Islam would never support" FGM was contradicted Monday by an international Islamist leader. Tariq Ramadan posted a video on his Facebook page repeatedly describing the FGM debate as an "internal discussion" the mosque needs to have.
He opposes the practice. But while female genital mutilation is not mentioned in the Quran, he said, "no one can deny the fact that in the mainstream Islamic tradition ... it's discussed because they are relying on the prophetic traditions, where it's clearly mentioning the female excision."
In a written update added beneath the video, Ramadan emphasized his opposition to female genital mutilation, and repeated that it is rooted in Islamic tradition. "To say this discussion has no ground within the Islamic tradition is wrong: it has been debated and still is. Even though I am against these practises as I think it is not the right Islamic interpretation, it cannot be denied that it was condoned by some Muslim scholars (even contemporary ones)," he wrote.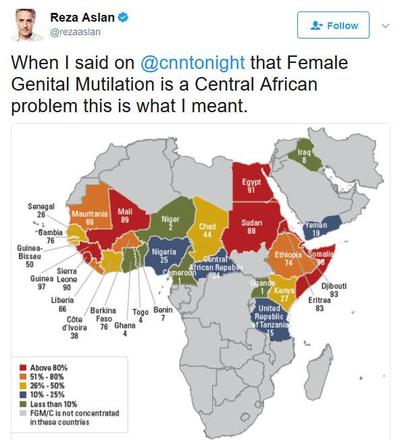 Many Islamist apologists, including Reza Aslan, have long insisted there is no religious basis for FGM, describing it instead as a tribal tradition primarily in Central Africa among both Muslims and Christians.
Ramadan's comments refute that claim. His word carries significant influence. He is the grandson of Muslim Brotherhood founder Hassan al-Banna. The Global Muslim Brotherhood Daily Watch describes Ramadan as "an independent power center" within the Brotherhood.
In his video, the Switzerland-based Ramadan does not explain why he took the time to weigh in on a debate within one mosque in Falls Church, Va. He does, however, argue that continuing an open debate only serves people who want to hurt the Muslim community. As the Washington Post did last week, Ramadan makes a point of attacking the messenger – the Middle East Media Research Institute (MEMRI) – which originally found Elsayed's video and cast a spotlight on his FGM comments.
"These are Islamophobes," Ramadan said. "And you react to them by just exposing one of your leaders, a sheikh that has been serving the community for more than 30 years? And you ask for him to be fired so quickly, just to be on the safe side of the political discussion in the United States of America, by saying – 'oh, we have nothing to do with this' – while your tradition is there and it's discussed within your tradition. And whoever is attacking you, at least you have to be cautious with the people who are using this and putting you in a situation which is – yes, problematic, but, you have to stand for your rights to have opinions, and at least to have internal discussions and not react so quickly to these issues."
Elsayed's comments were not limited to Muslim girls. Any woman whose clitoris has not been cut is prone to becoming "hyper-sexual" and incapable of being satisfied by just one man, he said. In other words: whores.
Still, without naming names, Ramadan criticized those who spoke out and urged them to keep any disagreements private.
It is a reaction indicative of a deeper mindset. In 2003, Ramadan drew criticism when he was unwilling to unequivocally condemn stoning adulterers. Like FGM, he said he was against the practice. But he couldn't call for its ban. Instead, he called for "a moratorium so that there can be a real debate between Muslims."
Omeish, meanwhile, seemed concerned about the damage a debate on an ugly topic might have on the community's influence: "For the first time, my dear brothers and sisters, we as a community have the space, have the presence, have the numbers, have the ability, inshallah [God willing], to engage and influence and discuss public discourse and bring forth what we believe in..."
He described Dar al-Hijrah as a place "embattled for so many years with a false narrative and a false paradigm that was never able to stick on Dar al-Hijrah because Dar al-Hijrah never practiced it. There is no extremism. There is none of that sense that we keep getting."
It's an odd argument to make, given that Dar al-Hijrah also has been home to Anwar al-Awlaki, who went on to become an al-Qaida spiritual leader and one of the terrorist group's most effective radicalizers. Law enforcement officials also have described the mosque as "associated with Islamic extremists" and was "operating as a front for Hamas operatives in U.S."
Omeish also made it clear that Elsayed remains a "beloved senior imam" who "will continue to be a leading member and he will be, inshalllah [God willing], kept in the highest regard" despite endorsing FGM.
In addition, Elsayed has cast Muslims as first in line for jihad and described the labeling of suicide bombers an "in-house business" for Muslims.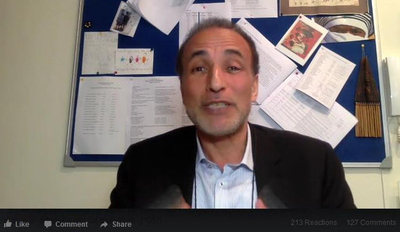 Tariq Ramadan felt compelled to opine on Dar al-Hijrah's conflict.
Now, Tariq Ramadan seems to be casting the FGM debate as "in-house business."
Ramadan's decision to weigh in on the matter shows that Dar al-Hijrah is an important base for the Muslim Brotherhood in America, said Abdur-Rahman Muhammad, who used to pray there often.
"Let's make no mistake about it," Muhammad said. "Shaker [Elsayed] is the spiritual guide to the Muslim Brotherhood in America and they're not going to let him go down."
Earlier this week, a Libyan House of Representatives security committee named Omeish a terrorist, saying he is an "international member of the Muslim Brotherhood."
Meanwhile, no major Islamist organization – what Muhammad calls the "immigrant Muslim syndicate" – has publicly commented on the female genital mutilation controversy.
Muhammad locked in on another part of Elsayed's remarks that have drawn less attention. An area woman used to conduct the procedure, Elsayed said. To Muhammad, that's a sign that girls in the D.C. area have been subjected to mutilation. "We need to round up these animals and throw them in jail for about 30 or 40 years and send a message that we're not having this in America," he said in a YouTube commentary. "These girls that are being butchered – these are American girls. These are girls that are born right here on the shores of the United States of America, being mutilated, butchered, by these primitive evil people."
FGM is a growing practice in the United States, Muhammad believes. It is being imported by Muslims from other countries. When Elsayed rescinded his apology, reportedly claiming, "I'm an American" and can believe what he wants, the congregation applauded, Muhammad said. That means "they're going to do it (FGM)."