Update, June 7 11:10 a.m. Dar al-Hijrah announced Wednesday that Shaker Elsayed is on indefinite administrative leave.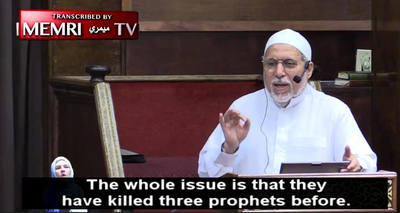 Recent comments by Dar al-Hijrah Imam Shaker Elsayed endorsing female genital mutilation as "the honorable thing to do" reportedly is prompting calls within the congregation for Elsayed's ouster.
The Falls Church, Va.-based mosque is among the area's largest, so the conflict attracted Washington Post coverage Monday evening. But reporter Abigail Hauslohner repeatedly lost focus, cramming in references to the "right wing" organization which flagged the Elsayed video and to increased hate crimes targeting Muslims.
The undoctored video showing Elsayed's comments about female sexuality was posted by the Middle East Media Research Institute (MEMRI), which focuses on Islamist extremist rhetoric throughout the world. MEMRI is a non-partisan organization that has been quoted by international media thousands of times and also works with governments that span the political spectrum. In the interest of disclosure, Investigative Project on Terrorism Executive Director Steven Emerson served on MEMRI's board for several years until recently resigning. Accusing MEMRI of being right wing — in a deliberate effort to discredit the widely praised international organization – tells you more about the reporter's agenda than anything else.
The tape accurately reflects Elsayed's comments – Dar al-Hijrah acknowledged this by issuing an apology. It vehemently rejected as offensive Elsayed's claim that failure to clip a girl's clitoris leads to "hyper-sexuality."
But that wasn't enough. After reporting about calls for Elsayed's firing, Hauslohner again diverted a story about an extremist statement from an imam to an entirely separate issue.
Yeah, speaking as a religious community leader, he said something horrifying, the article implies. But, other people do horrible things, too!
Hauslohner invoked hate crimes statistics and last week's murders in Portland of two men who defended a hijab-clad woman and her friend from a white supremacist lunatic. And she cherry-picked one overheated Twitter comment, noting that the writer's avatar was a Trump-Pence campaign button.
That was relevant. Previous Elsayed statements showing a pattern of radical thought, however, were not mentioned.
In addition to his FGM advice, Elsayed dove headlong into anti-Semitism when he recently preached that peace with Jews is impossible, because they "will not deal with you fairly and squarely," another MEMRI dispatch reports. Deception "is in the genes, it is in the blood," he said in the video posted to the mosque's YouTube channel Friday. Jews "have killed three prophets before, and they sent the fourth to the Romans to kill him or crucify him."
Speaking to a student group in 2013, he said Muslims were first in line when there is a need for giving – for things like prayer, charity and community service. "But," he added, "they are last if anything is being distributed, unless it is arms for jihad," Elsayed said. "We are the first to rush and run to defend our community and defend ourselves. The enemies of Allah are lining up; the question for us is, 'Are we lining, or are we afraid because, because they may call us terrorists.'"
In 2004, while serving as a top official with the Muslim American Society (MAS), Elsayed praised Muslim Brotherhood founder Hassan al-Banna in an interview with the Chicago Tribune. Al-Banna, who created a movement bent on creating a global Islamic state, offered "the closest reflection of how Islam should be in this life," Elsayed said.
The article's focus was on the Brotherhood's secret American network. MAS, the Tribune reported, was the Brotherhood's U.S. branch.
Two years earlier, Elsayed defended suicide bombers and the reverence they receive as "martyrs." Speaking in Arabic at a conference MAS organized with the Islamic Circle of North America (ICNA), he decried the label "suicide bombers" as unfair. "Nobody who is not Muslim has any right to decide for us, we the Muslims, whose is a martyr or another. We as Muslims will decide that. It is in-house business."
When Muslim honor is violated, he added, "Jihad is a must on every man, every child and every woman. [They have to make Jihad] with every tool that they can get in their hand. Anything that they can get in their hand they should fight with it. And if they don't have a weapon in their hands, then [they will fight] unarmed."
Shaker Elsayed is the story, or at least he should be. The Post's "Yeah, but" approach deprived readers of significant and relevant context and hid the fact that, for 15 years, he has harbored and espoused the most radical ideology.