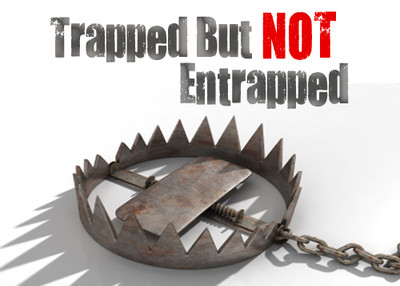 American Islamists routinely criticize law enforcement sting operations involving Muslim terrorism suspects as "entrapment" and condemn the use of "agent provocateurs." But the role of an FBI informant last week in thwarting a planned bombing attack by a militia group targeting the Somali Muslim immigrant community in Kansas failed to evoke a similar reaction.
This time, Islamists applauded FBI agents for the successful undercover investigation against three Kansas men who wanted to blow up a mosque and an apartment complex in Garden City that housed a large number of Somali immigrants. The men were alleged to be part of a militia group that called itself "the Crusaders" and championed "sovereign citizen, anti-government, anti-Muslim, and anti-immigrant extremist beliefs."
The investigation started with a tip from a confidential informant who heard "Crusaders" members talking about attacking Muslims, an FBI affidavit said. The informant later recorded similar conversations, including one in June in which defendant Patrick Eugene Stein allegedly talked about targeting Garden City apartment buildings.
"I mean I wouldn't be against if I could get a hold of some RPG's (rocket propelled grenades), I'll run some RPG's right through...I'll blow every goddamn building up right there...boom...I'm outta there," Stein said, according to the affidavit.
The investigation also included an undercover FBI agent, who offered to sell the suspects automatic weapons.
By all accounts, it appears law enforcement did save the people of Garden City from a horrific act of terrorism.
But when informants and undercover agents use similar tactics against radicalized Muslims hoping to carry out attacks in the United States, the response is dramatically different.
"Watch how a paid FBI Agent Provocateur trains a mentally disturbed youth to commit disgusting acts of terrorism and provides him with weapons to do so," Council on American-Islamic Relations (CAIR) Tampa Director Hassan Shibly wrote in a Facebook post. This comment followed the conviction of Sami Osmakac, who was convicted in 2015 of plotting to attack multiple targets in Tampa using a car bomb, assault rifle and other explosives.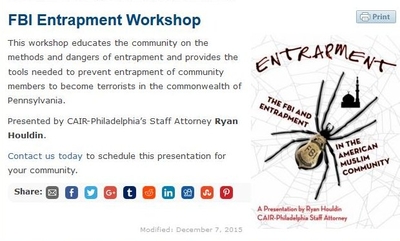 Similarly, CAIR's Michigan Director Dawud Walid dismissed any case involving informants and sting operations, saying the FBI "has recruited more so called extremist Muslims than al-Qaida themselves." Other CAIR officials say the FBI gins up cases against innocent Muslims to fool the public. CAIR's Philadelphia chapter even offered classes on the issue, promoting them with a graphic depicting the FBI as a spider trying to catch innocent Muslims in its web.
"What the FBI came and did was enable them to become actual terrorists, and then came and saved the day," CAIR-San Francisco's Zahra Billoo said in 2010. The FBI "is creating these huge terror plots where they don't exist."
In those cases, investigations also started with tips, or from seeing social media postings in which the suspects expressed a desire to wage jihad.
In a Facebook post last year, CAIR-LA chief Hussam Ayloush wrote, "...FBI-paid informants hired to entrap feeble-minded young Muslim men. Both sources of such hatred and violence are bad news." In an earlier Twitter post he posited, "Is the FBI now going to send informants to entrap, radicalize, then arrest young Jewish Americans joining Israel's terrorist army?"
But in the Kansas case, no concerns have been expressed about the use of an informant.
Linda Sarsour, executive director of the Arab American Association of New York, wrote that she was "literally physically sick to my stomach" upon learning of the plot. She also reposted the tweet: "Thank you to law enforcement for thwarting #Kansas terrorist plot. Glad to hear that the community is safe. #KansasPlot"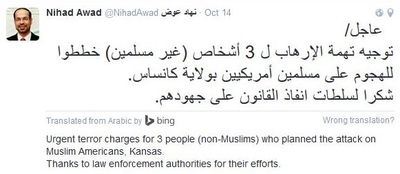 Seeking enhanced protection for Islamic institutions following the thwarted plot, CAIR Executive Director Nihad Awad "thanked state and federal authorities for their efforts in this case."
During a radio interview, CAIR Kansas chapter leader Moussa Elbaoumy expressed gratitude toward law enforcement for being "able to thwart this plan before it even came to the point where it put anybody's life in danger or property in danger."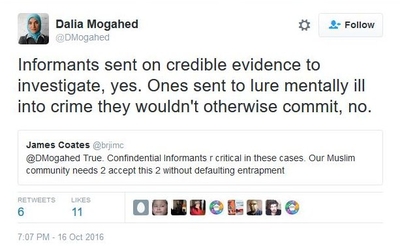 Dalia Mogahed, a pollster and former White House adviser, also expressed thanks to law enforcement for foiling the Kansas plot. In a Twitter post she drew a distinction between the use of informants in investigations where there was "credible evidence" against cases where informants were "sent to lure mentally ill into crime they wouldn't otherwise commit."
Mogahed at least was consistent in showing the reflexive opposition Islamists express toward counterterrorism investigations that involve sting operations and informants.
Ironically, in the same CAIR news release detailing the Kansas bomb plot and expressing relief is a link to a Detroit Free Press article, "Use of Undercover Informants in Muslim Communities Sparks Concern." The release mentions an April lawsuit filed against the FBI and other federal agencies by CAIR's Michigan chapter "saying the Muslim-Americans from Michigan and other states were being pressured to become informants."
Law enforcement saved lives in Kansas by infiltrating a group of terrorists plotting to attack innocent Somali Muslims, and stopping them before they could act. That's easy to recognize. But it also should be easy to see that, while the pronouns and ideologies may differ, the tactics used here are the same as those used in cases against Muslims seeking jihad.