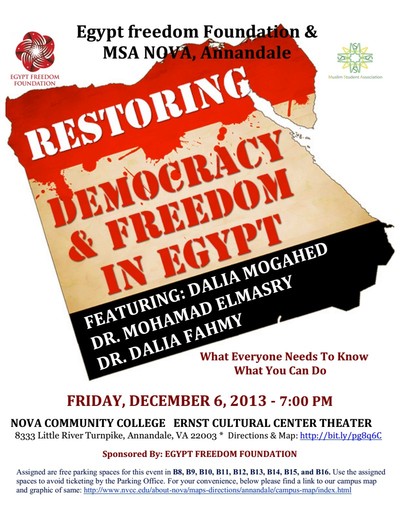 A new group advocating for the restoration of Muslim Brotherhood power in Egypt held a briefing on Capitol Hill Thursday. It is part of a series of events calling for "restoring democracy to Egypt."
But like similar efforts before it, the push by the newly-established Egypt Freedom Foundation involves people with ties to Muslim Brotherhood organizations in the United States. And, the Investigative Project on Terrorism has learned that the event also attracted Sami Al-Arian to the Cannon Office Building on Capitol Hill. Al-Arian is a convicted terrorist-supporting felon who is still under a separate indictment for criminal contempt. Both cases involve his work with the Palestinian Islamic Jihad, a terrorist group for which Al-Arian served as a board member.
He did not speak during Thursday's briefing, or at a follow-up event at a northern Virginia community college Friday night. But his presence, and his connections to the organizers, indicate that he may be more than a spectator.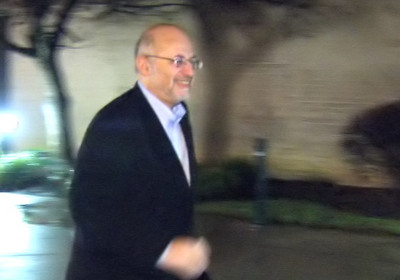 Sami Al-Arian arrives for an Egypt Freedom Foundation program in Annandale, Va., Friday night. He attended a similar Capitol Hill briefing Thursday.
The two events featured speakers critical of the Egyptian military for removing President Mohamed Morsi from office July 3, after days of massive street protests that reached historic proportions against his year-old rule. Morsi was the Muslim Brotherhood's candidate in Egypt's 2012 elections.
The speakers at Thursday and Friday's events rejected estimates that 30 million people – from Egypt's population of 80 million – took to the streets calling on Morsi to resign. And they claim that, while Morsi and the Muslim Brotherhood made some mistakes in power, they remained reasonably popular but were done in by a campaign of gross media exaggeration and fabricated conspiracies.
Both events were sponsored by the Egypt Freedom Foundation, a new group incorporated in Washington, D.C. on Oct. 1, records show. The only listed officer, Ahmed Bedier, is a former Council on American-Islamic Relations (CAIR) chapter director who still raises money for the group.
CAIR was created in 1994 as part of a Muslim Brotherhood network of Hamas-support organizations, court records show. Hamas is a Palestinian offshoot of the Muslim Brotherhood.
Al-Arian also has acknowledged his past membership in the Muslim Brotherhood.
His contempt case has been frozen since 2009. Despite a written promise, U.S. District Judge Leonie Brinkema has not ruled on pending motions to dismiss the case or let it proceed to trial. Al-Arian has been on house arrest, but in January, Brinkema issued an unsolicited order which greatly reduced restrictions on Al-Arian's activities.
If the case were allowed to go forward, Al-Arian would face prison time if convicted. If he were acquitted, or if the contempt case were dismissed, he would face deportation under terms of his 2006 plea agreement for supporting the Palestinian Islamic Jihad.
"The evidence was clear in this case that you were a leader of the Palestinian Islamic Jihad," U.S. District Court Judge James Moody said during Al-Arian's sentencing. "You were on the board of directors and an officer, the secretary. Directors control the actions of an organization, even the PIJ; and you were an active leader."
The Capitol Hill event was promoted on Twitter and attended by Mahdi Bray, former head of the Muslim American Society's political arm. The Muslim American Society has strong roots in the Muslim Brotherhood.
Like Al-Arian, Bray is a convicted felon. Bedier and Bray staunchly defended Al-Arian during his run-ins with the criminal justice system. Bedier testified as a character witness for Al-Arian. Bedier, as the CAIR representative in Tampa, where Al-Arian was tried in 2005, routinely appeared in the media defending him.
Emphasis on Lobbying
During the two events, Bedier took pains to say his new foundation's effort is not about supporting Morsi or the Brotherhood, but "this is about the democratic process" and the damage done by removing a legitimately elected president.
Lobbying Congress to reverse Morsi's ouster is a key element of the Egypt Freedom Foundation's agenda. Bedier made repeated references to meetings with members of the House and Senate last week. "We've been up here all week with this delegation meeting members of Congress, meeting members of the Senate, meeting different think tanks to share with them the perspective," Bedier said at Nova Community College in Annandale, Va. "And imagine this, many of these offices that we went to in Congress, they said, 'you are the first Egyptian group to come visit us. You're the first.'"
An aide to U.S. Rep. Andre Carson, D-Ind., reserved the Cannon Office Building room for Thursday's briefing. And a representative of U.S. Rep. John Conyers, D-Mich., attended. Bedier indicated they would be visiting his office later.
"We need to have more events on Capitol Hill," Bedier said. "You can't believe how important it is, our presence here."
He blamed the "pro-Israel lobby" for an aggressive push in favor of the military's action which includes portraying a Muslim Brotherhood-controlled Egypt as a potential new theocracy like Iran. "If this was a synagogue or if this was a pro-Israeli event, and even though it has nothing to do with Israel directly – it has to do with Egypt – the hall would be full of pro-Israelis," he said, "because they know how important Egypt is and the Camp David and the peace treaty with Egypt and having a puppet regime in Egypt how important it is for their perceived safety."
Bedier and other speakers also emphasized that they don't want the narrative surrounding their effort to be about Morsi or the Muslim Brotherhood. "This is not a pro-Morsi movement, this is not a pro-Brotherhood awareness campaign," he said Thursday.
But Bedier, Bray and CAIR all have ties to the Muslim Brotherhood and the result of "restoring democracy" in Egypt, in their vision, would mean Morsi's reinstatement as president. There was no disagreement among the speakers at either event, and criticism of Morsi's tenure and of Brotherhood actions was scant.
The Egypt Freedom Foundation already has gone to extreme lengths to cast Morsi as more popular than perceived. Mohamed Elmasry, a communications professor at the American University in Cairo, called the Brotherhood Egypt's "largest and most popular group ... undefeated at the polls."
The estimates of tens of millions of protesters against Morsi are bogus, Elmasry said, touching on many of the same themes he spelled out in June, just before Morsi's ouster. Criticism of Morsi's rule and the Brotherhood are gross exaggerations, he said, and the media manipulated popular sentiment by referring to protesters as "the people."
"So my question as an observer was, well who are the Muslim Brotherhood? Are they not too from the people? Are they not a part of the nation [noise over word]? Mohamed Morsi had an approval rating somewhere in the neighborhood of 50 percent in the period right before this military coup," Elmasry said.
While a student at the University of Iowa, Elmasry served as executive director and spokesman for a newly established Muslim American Society chapter.
First Attempt at Advocacy Backfired
The Egypt Freedom Foundation seems to be responsible for inviting a member of Egypt's Nazi Party to a recent Georgetown University event on Egypt and democracy. Ramy Jan would have been the only Coptic Christian on the panel, which by itself was unusual since Copts overwhelmingly supported Morsi's ouster. Critics said that exposed conference organizers are seeking advocacy, rather than analysis.
Jan's invitation was withdrawn after critics challenged it and the event has been postponed.
In breaking the story, the Washington Free Beacon reported that Georgetown officials declined to comment, and "directed a reporter to contact event organizers at the Egypt Freedom Foundation, which did not respond to several requests for comment."
Its emphasis on democracy and minimization of Muslim Brotherhood support is similar to protests American Islamists have held since July. Many were organized by a group called Egyptian Americans for Democracy and Human Rights (EADHR). EADHR officials have numerous ties to Muslim Brotherhood groups and their supporters in the United States. EADHR co-founder Akram Elzend attended the briefing and asked the panel a question.
The Egypt Freedom Foundation attracted about 30 people to a follow-up event Friday at Nova Community College in Annandale, Va. Yet another session was held Sunday at the Mosque Foundation outside of Chicago. The mosque that raised $50,000 for Al-Arian's defense in 2004 was described by the Chicago Tribune as home to leaders "who have condemned Western culture, praised Palestinian suicide bombers and encouraged members to view society in stark terms: Muslims against the world."
Imam Kifah Mustapha was a paid fundraiser for the Hamas-support network described earlier, and Imam Jamal Said was named by prosecutors as a member of the network, which was known as the Palestine Committee.
The event featured Tariq Ramadan, an Islamist intellectual and the grandson of Muslim Brotherhood founder Hassan al-Banna.
The Mosque Foundation program is co-sponsored by the Muslim American Society (MAS) chapter in Chicago. MAS has been identified as the Muslim Brotherhood's overt arm in America, a connection confirmed by Aburrahman Alamoudi – once one of the nation's most influential Islamists – in a statement to federal investigators.
Bray previously ran the MAS political arm.
Bedier's stake in Egypt's future may be more personal. His brother Amir was shot and killed by Egyptian authorities in August during a violent crackdown on Brotherhood protest camps in Cairo. In a Twitter post last month, Ahmed Bedier wrote that his brother "supported Morsi but wasn't MB [and] was there that night to help victims."
But it wasn't the first time Amir Bedier was shot during a Muslim Brotherhood protest. He was shot in the neck during violent clashes outside Egypt's presidential palace a year ago. Thousands of Egyptians marched on the palace, forcing Morsi to flee, to protest proposals giving him unchecked executive power.
Then, as in the fatal August encounter, Ahmed Bedier denied his brother's presence was due to any Muslim Brotherhood allegiance. Rather, he was a volunteer tending to the wounded: "While dragging away a wounded man, Amir himself was shot in the head," reported Tampa's Creative Loafing. "He survived, but the bullet remains embedded in the back of his neck."
According to a New York Times account, the violence broke out "after Islamist supporters of President Mohamed Morsi attacked protesters camped outside the gates of the presidential palace." Other reports indicated there was evidence Muslim Brotherhood operatives tortured their opponents.
On Friday, Bedier said his brother spent weeks in Rabaa Al Adaweya, where Muslim Brotherhood members camped out in protest of Morsi's ouster. Amir invited Ahmed to visit the protest camps. Ahmed Bedier painted an idyllic picture of those camps Friday night, saying Egyptians of all backgrounds joined together, creating an "almost festive atmosphere" that featured everything from barber shops and grocery stores to a cell phone shop.
He said he saw no weapons or harassment.
But videotape shows that people within the Brotherhood camp were armed, and the Brotherhood sanctioned attacks on Coptic Christian churches.
Bedier solicited donations Friday night for his new Egyptian campaign, telling the audience they could send money to his tax-exempt charity, United Voices, which is supposed to be dedicated to increasing political activity among Muslims and other minorities. "And the project that we're working on now specifically is to train young Egyptian Americans to be able to organize and work towards the restoration of democracy in Egypt," he said.
Engaging in political activities within the United States, such as meeting with members of Congress to advocate friendly positions, on behalf of a foreign organization such as the Muslim Brotherhood, requires that an organization engaged in such efforts register with the Attorney General of the United States under the Foreign Agents Registration Act (FARA). Records do not identify the Egypt Freedom Foundation being registered in the FARA Unit of the Department of Justice.