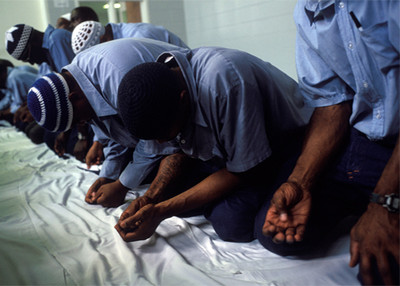 A former federal prosecutor and a former New York state prison official who investigated radical Islamist recruitment will discuss the threat of prison radicalization during a House hearing Wednesday.
Former prosecutor Kevin Smith likely will discuss a California case in which inmates radicalized at Folsom prison plotted to attack Jewish targets in Los Angeles and the LAX airport. Patrick Dunleavy, former deputy inspector general for New York state prisons' criminal intelligence unit and a contributor to the Investigative Project on Terrorism, has emphasized the role prison chaplains play in the radicalization process and the lack of effective oversight over their selection.
It is the second hearing called by Homeland Security Chairman Peter King, R-N.Y., on radicalization within the American Muslim community. In March, committee members heard from relatives of men who became radicalized and from a Muslim who actively opposes Islamist organizations.
"Prisoners in jail often are looking for a new alternative. Being converted to Islam, there's actually nothing wrong with that. In fact in many cases it's ideal for prisoners, it's the religion they are looking for," King told Politico. "The problem is you get radical Muslims, radical chaplains who then radicalize them and turn them toward terrorism, turn them toward violence. It's not only in the prison itself. It's when they get out of prison and go to the so-called rehab programs, often they are also radical."
Despite this situation, the committee's ranking Democrat, Mississippi Rep. Bennie Thompson, dismissed the hearing's premise out of hand. "The facts have proven that prison radicalization is an unfounded fear in America," Thompson said in a statement. "According to the Congressional Research Service, in the ten years since 9/11, only one of the more than 40 attacks committed by violent Muslim extremists involved radicalization in prison. The U.S. prison system has not become a hotbed for radicalization and terrorist activity - nor is it likely to become one."
The hearing's focus "on people who are already known and behind bars" is misguided, Thompson said. Rather, it should be on homegrown terrorists and possible "lone wolf" attackers.
The Los Angeles Police Department disagrees. In an article published in the October issue of the FBI's "Law Enforcement Bulletin," Lt. Dennis Ballas details the James case, but concludes it "is not an isolated event."
Disaffected prison inmates are a captive audience for "charismatic extremist leaders," Ballas writes. Many prison chaplains are poorly qualified and poorly vetted, leaving wardens to trust local agencies for referrals or even the inmates themselves.
"Of particular concern are people…who can be paroled into the community after radicalization. Such individuals pose the threat of committing acts of violent jihad," Ballas writes.
One of Ballas' bosses, LAPD Deputy Chief Michael Downing, is among the witnesses at Wednesday's hearing. Downing, however, has expressed views minimizing the ideology and objectives of the Muslim Brotherhood, telling a questioner last month that "we should not demonize the Muslim Brotherhood."
Joining him on the panel is Smith, who now teaches law at Whittier College in Costa Mesa. In the Los Angeles plot that Smith helped prosecute, inmate Kevin James created "Jam'iyyat Dl-Islam Is-Saheeh ("JIS") based on his radical interpretation of Islam," court records show.
The JIS considered it a duty "to target for violent attack any enemies of Islam or 'infidels,' including the United States Government and Jewish and non-Jewish supporters of Israel," James admitted in his plea agreement. It became a rallying point for other Muslim converts in New Folsom Prison. Followers had to take an oath of allegiance to James and the JIS. Once released, the group waged a series of armed robberies to finance its thwarted terror plot.
Police investigating one of the robberies uncovered the true motive behind the crime spree.
In that case, James created his own theological message. Elsewhere, however, prisons have used chaplains who preach a radical interpretation of Islam. That's what Dunleavy saw while working in New York state prisons. He was part of an investigation dubbed "Operation Hades" that probed the radical Islamic recruitment movement from both inside and outside prison walls.
His book, The Fertile Soil of Jihad: Terrorism's Prison Connection, is due to be released in September.
He has focused on Warith Deen Umar, a radical imam who has preached that Muslims should "be prepared to fight, be prepared to die, be prepared to kill" for their religion. Umar also made disparaging remarks against Israel and Jews at the 2009 Islamic Society of North America (ISNA) convention and previously said the 9/11 hijackers should be considered martyrs.
Prisoners who receive such messages from chaplains can be radicalized, Dunleavy said. At least two of the defendants convicted in a synagogue-bombing plot in the Bronx were radicalized while incarcerated.
"A terrorist is not hatched overnight," Dunleavy wrote for the IPT in 2009. "Long years of sowing the seeds of Wahabbi/Salafist teachings in the fertile soil of prison are starting to produce a crop of home grown jihadists."