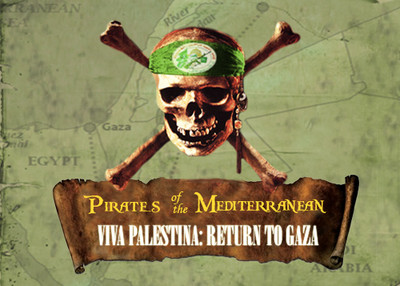 Hours after violent clashes left dozens injured and an Egyptian soldier shot dead, a British MP led an aid convoy into Gaza late Wednesday where he exchanged warm greetings with Hamas officials.
Egypt made its displeasure at George Galloway's criticism clear Friday by deporting him. There are indications he will not be allowed back into the country. Galloway already is fighting a Canadian ban on his entry due to his Hamas support.
Wednesday's violence broke out as convoy organizers protested the fact that Egyptian officials delayed their crossing into Gaza and that not all the vehicles in the third Viva Palestina (VP) convoy were allowed through. As we have previously reported, however, the convoy's ultimate objective is to prop up the Hamas leadership in Gaza.
And while the current convoy departed to much less fanfare than the prior ones, normally reclusive Hamas leaders have lined up to greet Galloway's brainchild in stop after stop.
From Turkey to Syria and Jordan to Gaza, Hamas officials—including Usama Hamdan, a Hamas representative in Lebanon, Talal Nasser, a Hamas public relations official, Musa Abu Marzook, deputy head of the Hamas political bureau, and Khalid Meshaal, political leader of Hamas—embraced the convoy with ceremonies, flowers, and speeches.
The convoy included approximately 200 vehicles, 500 people from over a dozen countries, and more than $1 million worth of aid supplies.
In a welcoming speech, Usama Hamdan, the representative of Hamas in Lebanon, said that "this aid convoy is the fruit of efforts made by some free men and women from Europe in solidarity with the Palestinian Arab rights aiming at breaking the siege on Gaza." During the same event, the Palestinian Authority was repeatedly criticized, and the Hamas leadership promised that there would be no "national reconciliation unless the PA reconsiders its policy of negotiations with the Israeli occupation."
Talal Nasser noted that:
"the convoy constitutes a step on the correct road to support the Palestinian people, who are suffering from a lack of food and medicine as a result of the blockade which Israeli occupation authorities are imposing on it…."
At another VP stop along their voyage, Musa Abu Marzook stated that:
"the unjust blockade which Israeli occupation forces are imposing on the Gaza Strip is not just a geographic blockade; it is a political blockade because the occupation and some forces supporting it want to prevent the Palestinian people from choosing its democratic political destiny."
During that same speech, Marzook reaffirmed that acts of terrorism undertaken by Hamas will continue "as long as Palestinian children suffer because of the Israeli occupation of Palestinian territory."
Viva Palestina organizers have never taken issue with Hamas's commitment to violence. Rather, they make clear that they consider the designated terrorist organization worthy of their support.
Most prominently, in a March 2009 rally during one of VP's prior convoys, Galloway stated: "This is not charity. This is politics." Similarly, Palestinian activist Lamis Deek, speaking at a VP event in Brooklyn told the crowd:
"In choosing Hamas, what they chose was one united Palestinian state on all of the 1948 territories from the north to the very south. That is what Palestinians chose. And in supporting Palestinian choice we are saying we support their right to liberation from violent colonialism."
While Deek and other VP officials have the right to express their beliefs, U.S. law, prohibits providing material support to terrorist groups such as Hamas. With each convoy, it seems clearer that such prohibitions are being flouted. During the second convoy, Galloway declared:
"Maybe the American government, the British and the Israelis don't recognize Ismail Haniyeh as Prime Minister of Palestine, but we recognize Ismail Haniyeh as Prime Minister of Palestine."
This third convoy drew an appearance from Khalid Meshaal, who attended a news conference and thanked a co-sponsor of the convoy, the IHH Humanitarian Relief Foundation, a group which was recently banned in Israel due to its connections to Hamas. He said:
"In the war that we are in there are winners and losers. Those who resist in Palestine and the Turkish people are among the winners. And the losers are whatever weapons and military powers they have Zionist Israel and the supporters of it."
Most recently, while en route to Gaza at a stop in Amman, Jordan last week, convoy members attended a welcoming rally, featuring a speaker with a jihadist chant (The Middle East Media Research Institute has video of this clip and other speeches with the VP convoy here):
"Allah is our goal.

The Prophet Muhammad is our leader

The Koran is our Constitution

Jihad is our path

Death for the sake of Allah is our most exalted desire."
There's not much room for interpretation here. Even Palestinian Authority President Mahmoud Abbas views the convoy as a "propaganda tool" for Hamas. It was against this backdrop of vitriol that George Galloway and the VP convoy made its way into the Gaza Strip. Remember what Galloway and Deek said, it's not about charity. It's about politics.