The Boston Bombing and the Case for FBI Stings
IPT News
April 22, 2013
http://www.investigativeproject.org/3985/the-boston-bombing-and-the-case-for-fbi-stings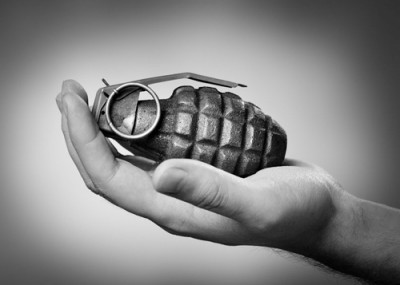 With a few lucky breaks, last week's Boston Marathon bombing could have had a dramatically different outcome. Had Tamerlan or Dzhokhar Tsarnaev sought help building their bombs on jihadist web forums, FBI agents likely would have detected it.
They would have sent in an undercover operative or an informant. And the Tsarnaevs would have been arrested as they tried to detonate their bombs, which had been rendered inert by the FBI.
And it would have elicited howls of protest from Islamists and their supporters.
Instead, four people are dead, including the MIT police officer killed in Friday's shootout, and more than 150 people are injured. Many have lost limbs. Dzhokhar Tsarnaev was charged Monday with using a weapon of mass destruction.
It is easy to imagine the reaction had investigators discovered him and his brother sooner.
"Entrapment!" defense attorneys would argue. "The FBI is fabricating terror threats, using hapless stooges incapable of harming anyone," Islamist advocacy groups would say.
We know this because this is how the scenario has played out dozens of times in recent years. But last week's bombing shows you don't need to be a master criminal to murder and maim innocent people. The ingredients to build the pressure-cooker bombs came straight out of al-Qaida in the Arabian Peninsula's Inspire magazine. The brainchild of American-born operative Samir Khan – killed in a 2011 drone strike along with fellow American Anwar al-Awlaki – Inspire offered suggestions for small-scale, homegrown jihadi attacks in each issue.
Instructions for the pressure-cooker bomb came from an article headlined "Make a bomb in the kitchen of your Mom." A subsequent article referred to that recipe and advised that pressure cooker bombs should be "placed in crowded areas and left to blow up. More than one of these could be planted to explode at the same time. However, keep in mind that the range of the shrapnel in this operation is short range so the pressurized cooker or pipe should be placed close to the intended targets and should not be concealed from them by barriers such as walls."
The Boston Marathon bombs blew up within 12 seconds of each other, about a block apart.
The Tsarnaevs succeeded in carrying out an attack where others have come close, but failed. At least two other would-be terrorists came chillingly close to attacks that likely would have triggered more casualties than were suffered in Boston. Faisal Shahzad parked an explosive-laden car in Times Square. But he made mistakes in the chemical composition and it failed to detonate.
In Texas, Naser Jason Abdo had copies of Inspire magazine in his hotel room, and ingredients for pressure-cooker bombs, when police swooped in. Abdo was nabbed thanks to an alert gun store owner who took notice and called authorities after Abdo arrived by taxi cab to a fairly remote outlet and acted suspiciously.
His plan was to detonate the bombs at a restaurant popular with Fort Hood personnel and then shoot survivors as they scrambled out of the debris. He did it out of a sense of religious duty.
But, as we have repeatedly chronicled, FBI sting operations meant to interdict terrorists before they strike, are condemned routinely as misguided and unnecessary. Islamist advocacy groups like the Council on American-Islamic Relations (CAIR) say the FBI is creating terrorists who otherwise would not turn violent.
The FBI, "by using informants acting as agent provocateurs, has recruited more so called extremist Muslims than al-Qaida themselves," CAIR-Michigan Director Dawud Walid said in 2010. The use of informants are among "self-deluding initiatives that seem to seek terror-case quotas," CAIR Chicago's Ahmed Rehab wrote in 2009.
"What the FBI came and did was enable them to become actual terrorists, and then came and saved the day," CAIR-San Francisco's Zahra Billoo said in 2010. The FBI "is creating these huge terror plots where they don't exist."
But Ali Soufan, a former FBI supervisory special agent and a veteran of some sting operations, defended the practice as vital for national security.
"As you can't prosecute someone just for professing a desire to kill Americans, and you can't read minds to determine if they really intend to carry out their threats, either you wait to see if the real al Qaeda gets in contact—and hope you can track them—or you intercede," he wrote in a Wall Street Journal book review. "Most Americans would no doubt prefer the latter option to taking a serious gamble with civilian lives."
How many Boston Marathon attacks does it take to emphasize that point? How many dead 8 year olds, exchange students or innocent young women are enough to make interdiction acceptable?
In these stings, agents are careful to give the target an out – offering other ways to serve the cause of jihad without killing innocent people. But the suspects reject those or there wouldn't be a prosecution.
In Portland, Mohamed Mohamud would not budge from his ambition to blow up a bomb at a crowded downtown Christmas tree lighting ceremony packed with women and children. He was arrested after trying to detonate the bomb, only to discover the FBI rendered it inoperable.
On Feb. 17, 2012, Amine El-Khalifi thought he was about to become the first suicide bomber in America. He planned to shoot guards at the entrance to the U.S. Capitol, force his way in, and detonate a suicide bomb packed into his jacket. He practiced the attack in a hotel room three days earlier. FBI agents arrested him as he walked alone, carrying the MAC-10 automatic and wore the bomb jacket.
Who would prefer leaving El-Khalifi alone to his own devices? Who doesn't wish the Tsarnaevs had met a similar fate?
Related Topics: Homegrown Terror, Boston Marathon bombing, Dzhokhar Tsarnaev, Tamerlan Tsarnaev, Homegrown Terror
Reader comments on this item
Radicalisation by authorities.
Submitted by Tim, May 1, 2013 20:50
I see the gist of the argument within this article is the notion that CAIR explicitly suggests an entrapment process by informants, acting, not as factual collating field agents, but, rather as 'agent provocateurs' deliberately encouraging the radicalisation of certain elements of the Islamic Community within American society. Overall, the aim seems, implicitly, of course, to be a latent attempt by certain Judeao-Christian and secularist Americans in shoring up the 'just cause' for ensuring institutional pariahship stigma of Islamism within American society. In the end, the entrapment process may be interpreted as an assimilatory sociological behaviour engineering design which does have some mainstreaming legitimacy as a long term synopsis for multicultural diffusionism. In the end the radicalisation may be deemed a religious and cultural jihad and the struggle for Islamism survival within an inimical society that is culturally alien to their religious cultural values, ie Sharia laws, etc. The bottomline then, seems to be an argument of cultural acceptance by the host society of these nuanced peculiarities of a multicultural American society; and, conversely, with the resilience of the minority cultural group, in this multicultural context, in accepting the cultural values of a seemingly inimical host society. Only, if they choose to remain as participants within this society and, in so doing, sharing the equal citizenry democratic rights within such a society.
Response
Submitted by Joyce, Apr 22, 2013 21:37
WOW, I read Edwards comment and he so articulately stated an excellent summary of an opinion about said article, of which I concur with all stated!
Untie the hands of our agencies, the FBI, etc. and no, none, not give an apology for ridding our country of all Islamism Radicalization and it is what it is.....Terrorism. No political correctness to become weak to pacify allies, the decent Muslims, etc. Just profile and if they nothing to hide, fine. If they do not like this, perhaps they, the good Muslims, can tell FBI on their own kind doing wrong, and speak up to those following the wrong path, reach out to their youth to keep them in check not to be Jihads. Spirtual Warfare. Good vs Evil. I believe our gov. must eradicate this evil coming here by less visa's for students unless scrutized, illegal immigrates not freely be allowed here, and I know our agencies know what needs to be done and no Administration should even try to impede their work! We pray for those who do courageous work to prevent this evil.
My prayers to all the families whom were hurt or lost loved ones!!!!! "God Bless America"!
Safety In America:
Submitted by D. Hutcheson, Apr 22, 2013 20:17
One need only talk with the people who are featured in and produced the films Obsession and The Third Jihad to understand the Jihadis either Al Qaeda or other closely related groups have declared war on the United States of America and the rest of the Western World.
They have attacked us on our own soil using our own planes, laws, and equipment to take out the Twin Towers in 01 and now the bombing at the Boston Marathon. I am disgusted when I hear people like the Boston Police Commissioner say things like we "don't want to become a police state". Everything in this life is a trade off and a little inconvenience in a world of terrorists that hate us is not so much to ask in order to avoid these types of attacks.
We did not head their warnings in 1993 and in 2001, we had been warned that Osama Bin Ladin was organizing an attack against us and did not take him seriously.
I've heard "experts" say that terrorist attacks are declining around the world, but that is because the US and its allies are cracking down. Edward Cline has a point about taking off the leash of the FBI.
The 911 Commission gave the Bush Administration published for the American people a list of things we needed to do to make our country more safe and the Bush Administration failed to implement them all.
I have not understood this bravado about "police state," "civil liberties," and "freedoms" put out their by both Politicians and Law Enforcement such as the Boston Police Chief. This is nothing wrong with protecting our citizens, in fact that is what law enforcement personnel are paid to do.
Had we blocked the marathon's path from access from anyone who did not clear one of many check points that could have been set up this would not have happened. When I travel to other countries I see security at their airports and at events.
We have been told by experts that we need to take notice and put precautions in place and I cannot figure out why we have not taken the necessary steps and precautions that would prevent these things from happening.
I myself do not consider it an inconvenience to go through a back ground check to get a gun, or a Secret Service check point when I go to see my president, or any other security measure that will make me, my family, and fellow Americans safe when attending public events.
I applaud the Boston Police, the FBI, the military, and all the other agencies that came together and found and caught those responsible for the Marathon Bombings and only hope that this incident will lead them to change they way they approach security at the Marathon, their public events, and that it leads Americans to demand that we take a better approach to protecting us at public venues and events, it is a very different world.
D. Hutcheson
Was Boston an FBI "Sting Gone Wrong?"
Submitted by Mark Bender, Apr 22, 2013 19:32
You guys are really missing the boat, here. The London Press today (Monday) is full of articles on how the FBI "dropped the ball" on the Boston case. The Russians sent, not one, but two reports on Tamerline's visit to Chechniato the FBI last year. Congressional Homeland Security members Michael McCaul and Peter King have put the FBI, DHS and DNI on notice to cough up all they know about this by the end of the week. Soon there will likely be much more. There is strong evidence that the FBI was doing exactly what you are arguing for, but with their typical twist: the set the Tsarnaev boys up to be slaughtered, similar to their contacts with 1993 WTC bomber sheikh Abdul Rahman. We don't need more FBI "stings gone wrong," we need to realize that global terrorism is the enemy of the nation state, whether ours or the Russians, and that the center of global jihad is Londonistan, not Afghanistan. The day-long lockdown of the nation's 4th-largest city is the real act of terrorism, here.
"Luck" won't help us combat jihadists
Submitted by Edward Cline, Apr 22, 2013 16:46
"With a few lucky breaks, last week's Boston Marathon bombing could have had a dramatically different outcome." It's a sad comment on the state of affairs that the FBI didn't or was not allowed to trawl the Internet for jihadist plots and potential conspirators. The younger Tsarnaev, fleeing from the police, was spotted hiding in a boat by a Watertown resident who went outside for a smoke and called in the authorities. That was luck. The U.S. should not depend on luck to effectively defend Americans and this country from Islamic attacks. Sure enough, the Tsarnaevs have been linked to a 12-man cell that taught them how to make IEDs. And where did they get the money to buy all those weapons? That's a question not being asked by the MSM. Instead, they're shedding tears and playing violins over the Tsarnaevs because they found it so hard to "fit in." The FBI and local law enforcement agencies should be empowered to entrap as many of these killers and would-be killers as possible, and without recriminations or having to apologize to Muslims or CAIR or any other Islamic "advocacy" organization. We must wonder about the motives of those who pounce on counter-terrorism agencies: are they with the U.S., or against it? Don't they realize that under Islam, there are no such things as "civil rights."
Comment on this item