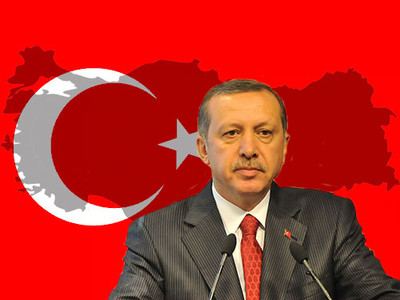 A number of American-Islamists are hailing Turkish President Tayyip Recep Erdogan's election Monday to a new five-year term as a win for democracy.
In truth, an autocratic leader put the inherent advantages of incumbency on steroids, dominating media coverage, keeping opponents in jail and generating what Amnesty International describes as a "climate of fear."
The Committee to Protect Journalists named Erdogan's Turkey "the worst jailer of journalists in 2017." An estimated 120 journalists have been imprisoned on terrorism charges since a failed coup in 2016. Even Amnesty International's Turkey director Taner Kılıç has spent the past year behind bars. Dozens more news outlets have been shut down or taken over by elements sympathetic to the government.
But American Islamists, who eagerly express concern for civil rights in the United States, saw only cause for celebration in Turkey.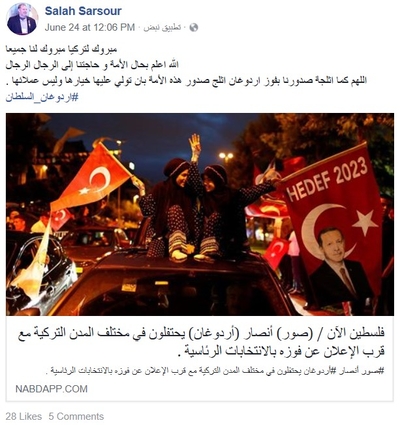 "Blessings to Turkey. Blessings to us all," Salah Sarsour, an American Muslims for Palestine (AMP) national board member,
wrote
in an Arabic Facebook post. "...Oh God, as we were made joyful by Erdogan's win, this Umma [Muslim nation] was made joyful by its choice, and not its lackeys, gaining power."
AMP is a stridently anti-Israel organization that has expressed support for Hamas. Erdogan also has been a strong Hamas supporter, calling it a national liberation movement and rejecting terrorist designations. As a result, American Islamists stood by Erdogan during the failed 2016 coup, and looked the other way last year when Erdogan's bodyguards attacked peaceful protesters in Washington.
Another AMP board member, Osama Abuirshaid, also saw Turkey as the victim of international conspiracy. "Congratulations to Turkey for its free will, and no consolation to the Jewish and Arab Zionists, as well as to the West which has not been cleansed of its imperialism," he wrote in an Arabic Twitter post. "We all know that targeting #Turkey and conspiracies against it will multiply, but the Turkish people have proved every time that they are eager for their homeland. We ask Allah to allow Turkey to pass this stage in peace and to remain an asset to this Umma [Muslim nation]."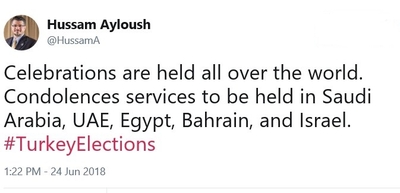 Erdogan's external opponents drew a mocking Twitter post from Hussam Ayloush, director of the Council on American-Islamic Relations (CAIR) Los Angeles office. Ayloush has refused to even answer whether Hamas is a terrorist group and repeatedly equated the Israeli army to ISIS terrorists.
The world rejoiced, he claimed, while "Condolences services to be held in Saudi Arabia, UAE, Egypt, Bahrain and Israel."
Ayloush's boss, CAIR Executive Director Nihad Awad, has traveled repeatedly to Turkey and praised its "democracy and the rule of law" in 2016.
Erdogan, who first came to power as prime minister in 2003, has "achieved near-absolute power," the Washington Post editorialized. The prime minister's office is being abolished and he could rule Turkey for another decade.
"What authoritarians have figured out is not to cancel elections, as old-fashioned dictators used to do, or fake them entirely, but rather to hold the vote and control the circumstances so tightly that no one else can win," the editorial said. "The latest Turkish campaign was neither free nor fair."
Erdogan received as much as 10 times more news media coverage than his main opponent during the campaign. The Organization for Security and Cooperation in Europe (OSCE) found opposition parties were severely disadvantaged by Erdogan's hold over media outlets and that restrictions on free speech and assembly were key factors in the vote.
"Erdogan 'won' reelection in Turkey this weekend only by decimating the opposition through arrests, violence and squashing freedom of the press," wrote U.S. Rep. Adam Schiff, D-Calif. "Turkey's descent into autocracy is another reminder that democracy is under assault worldwide. DO NOT CONGRATULATE."
Despite his advantages, Erdogan somehow was considered an underdog by Monzer Taleb, a Kansas-based imam who once performed with a pro-Hamas singing troupe.
"Turkey have won," he wrote on Twitter, "...In spite of economic conspiracy ... In spite of election conspiracy (sic) In spite of hate from so called Muslim neighbors."
Erdogan's reign has been dominated by gradual moves away from the secular, democratic reforms instituted by Kamal Ataturk after the Ottoman Empire collapsed. Religious law has taken root in education, the courts and in the Turkish media.
That may provide context for the praise coming this week from conservative Houston-based cleric Yasir Qadhi. While Erdogan apparently hasn't gone far enough, Qadhi said it was "undeniable that under his leadership, the country overall has taken a turn for the better from the perspective of the freedom to practice religion, and also the 'spirit' of being a Muslim. Compare and contrast Turkey from two decades ago - a country that was known for its militant, secularist anti-Islamic regime, and mocked and expelled a member of parliament who dared to wear the hijab - to the Turkey of today, and the difference is palpable."
Not a breath of concern for any of Erdogan's restrictions on free expression and the ability to dissent was mentioned in the congratulatory posts. Their guy won. That's all that matters.