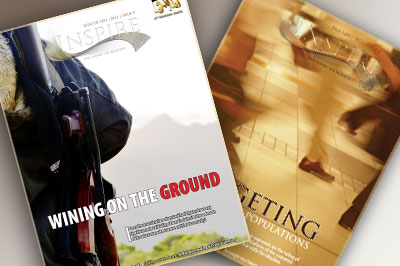 Al-Qaida has released two new issues of its English-language magazine eight months after a drone strike eliminated the American jihadi leaders behind it. The latest editions of Inspire magazine reinforce al-Qaida's promotion of lone wolf attacks, but each is aimed at a very different audience.
Inspire was known for cultivating English-language jihadis, contributing to more than a dozen plots against American and Western targets. The sophisticated magazine combined all the elements necessary to motivate would-be terrorists, from the justifying theology to detailed suggestions for new attacks in the West. It was also critical for al-Qaida's shift from large, top down directed attacks to small, individualistic terror.
The newly-released eighth issue carrying the cover headline, "Targeting Dar al-Harb Populations," promotes the lone wolf trend for non-Muslim lands in the same way as previous editions. It details plans for new attack methods in the "Open Source Jihad" section, and presents the culmination of American-born cleric Anwar al-Awlaki's justification for killing American civilians.
But the ninth issue, "Winning on the Ground," reads more like an address to Western audiences and the moderate Muslims that al-Qaida despises. It was written after Awlaki and Inspire editor Samir Khan – a fellow American – were killed in the September U.S. drone strike.
Although it contains suggestions to burn down Western forests and cities, it spends more time eulogizing fallen fighters like Awlaki and trying to explain al-Qaida's ideology to outsiders. Its quality is noticeably worse without Khan, lacking the polished style and graphics of previous editions, and is further limited by contradictory articles and barely readable translations.
The difference between the two magazines is striking, and perhaps hints at the new direction for future al-Qaida English-language publications.
Issue 8's update in the "Open Source Jihad" series reinforces Inspire's hallmark methods of lone wolf terrorism by showing how to use small handguns and to build remote-controlled detonators for explosives. This effort clearly builds on articles from previous issues, like "How to Build a Bomb in the Kitchen of Your Mom."
Its ideological articles also mirror those in previous issues. In a lengthy feature article, "Targeting the Populations of Countries that Are at War with the Muslims," Awlaki lays out his most sophisticated argument for killing American civilians.
Such arguments arguably are his most important contribution to al-Qaida's ideological longevity. This role was so important that Osama bin Laden called him "qualified and capable of running the matter in Yemen," according to documents captured from bin Laden's compound after his assassination.
In "Targeting the Populations of Countries that Are at War with the Muslims," Awlaki argued that Islam's prohibition against killing civilians doesn't hold up for modern-day Westerners.
"… In no way does it mean that Islam prohibits the fighting against the disbelievers if their men, women and children are intermingled. This understanding is very dangerous and detrimental to jihad and awareness on this issue is very important," he wrote. "To stop the targeting of disbelievers who are at war with the Muslims just because there are women and children among them leads to constraints on today's jihad that make it very difficult, and at times, impossible to fight and places the Muslims at a great disadvantage compared to their enemy."
Although it was intended to be released last fall, most of the issue's ideological material remains relevant and dangerous.
In "Blended Duality: Muslim and American?" Khan argued that being Muslim and American are inherent contradictions.
"To say one is proud of being American is not merely a cultural declaration but one of allegiance," he wrote. Being American is "to undertake that which Allah detests," and all attempts to create a "moderate" Islam are just "Muslims throwing the Qur'an behind their backs."
Would-be warriors should help al-Qaida create a real Islamic state instead, and throw off the shackles of Western secularism, he argued.
Stark Contrast
The ninth issue looks and reads like a different publication, complete with notes explaining Islamic terminology to the uninitiated. It also presents contradictory arguments about what al-Qaida really wants and who it is willing to kill to get there.
Khan's final testament is published in the issue. He initially portrays al-Qaida's fight as a defensive battle against American hegemony, which will ultimately lead to a renewed Islamic Caliphate that will defend Muslims. "As long as they continue to kill our people, occupy our lands, support Israel, fund the tyrannical puppets in the Muslim lands and try to re-interpret Islam, we will punish them and their nation severely," Khan wrote.
But in the article, "This is How We Win and This is How You Lose," Abu Hurairah as-Sana'ani states that al-Qaida's fight is about offensive domination of non-Muslims. "So contemplate… perhaps you [will be] guided to Islam, recognizing it as sovereign over you and give the jizyah willingly while you are humbled," he wrote, referring to the obligatory tax on non-Muslims living under Islamic supremacy.
While Khan and as-Sana'ani's arguments are essentially two sides of the same coin, each promoting the victory of Islam and the defeat of the West, they clash in explaining why al-Qaida is fighting.
Similar contradictions exist in the issue's approach to killing civilians.
In "They Killed Father, They Killed Son," writer Um Ahmed takes issue with separate drone strikes killing Awlaki and his eldest son. "One should wonder what Obama will do, what Obama would feel if Muslims kill his daughters only for being his daughters? We are sure that not only the Americans but the whole world would condemn such murder," she wrote. "But Muslims would never intentionally killed (sic) children, no matter who their parents are. No matter if they are the worst enemy of Islam, if they are children it is prohibited to target them intentionally."
But 20 pages later, the article "Do the Mujahideen and Christian terrorist have similar goals?" celebrates a recent terror attack by an al-Qaida wannabe in France. In March, French terrorist Mohammed Merah viciously murdered three young Jewish children and a rabbi on their way to school, chasing them down and killing them execution-style.
The same article states that al-Qaida terrorists "do not deliberately target women and children," but refers to the deliberate murder of all civilians as entirely justified revenge.
"If someone says that our bombings in London and Madrid, for example, are proof that we target women and children, then we say that we purposely target specialized institutions to not only send political messages, but to damage their economies, and [do] revenge for the Muslims they have massacred over the years by repeating the same to their own citizens so that they may taste what we taste on a near daily basis," the author claimed.
He concedes that, "Our war with America and the West may appear to some that we are out to kill for the sake of killing, since all we do to them is just that. The reason behind it is – as we've previously stated – because of the crimes these governments have perpetrated on our lands and continue to perpetrate."
Other themes in the ninth issue contradict either prominent articles from previous issues or al-Qaida's standard operating procedures.
"The Jihadi Experiences: The Most Important Enemy Targets Aimed at by the Individual Jihad," calls for striking Jews but not synagogues or other places of worship. That goes against the entire third edition of Inspire, which promoted an attempted mail bombing attack on two Jewish houses of worship.
The article also warns against targeting civilians not involved in conflict with Muslims, and advises individual attackers to be sensitive to al-Qaida's reputation. That point doesn't jibe with the policy of al-Qaida's North African and Yemeni branches, which have regularly kidnapped and executed foreign tourists.
The new Inspire issues represent different expressions of al-Qaida's message, and alternative summaries of Inspire magazine's legacy. Like past editions, they are likely to remain highly relevant to future plots, and may provide fertile ideological ground for the next generation of al-Qaida propaganda.
---