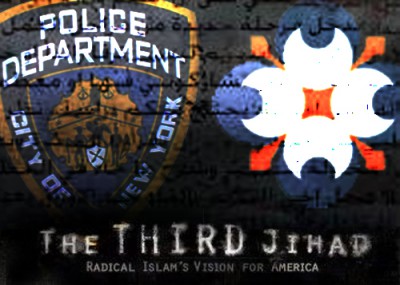 Highlights:
The New York Times cites the Council on American-Islamic Relations (CAIR) as a credible source, while continuing its policy of never mentioning that CAIR was founded by the Muslim Brotherhood, and operates as a Hamas support group.
NYT also suppressed the facts that CAIR was named an unindicted co-conspirator 2007 Holy Land Foundation conspiracy trial, which resulted in the FBI cutting off all formal contact with the group and that an FBI official has described CAIR as a "front for Hamas."
NYT primarily relies on two sources for comments: Zead Ramadan of CAIR-NY, and Faiza Patel, of the Brennan Center of Justice, but which the Times deliberately fails to mention that both of whom represent organizations that have repeatedly refused to condemn Hamas and other Islamic terrorist groups or have blamed the FBI for fabricating Islamic terror plots.
An IPT investigator videotaped Ramadan at a press event refusing to answer her questions as to whether Hamas is a terrorist organization.
The Times cites CAIR's Zead Ramadan as a legitimate source of criticism of the film but fails to report that Ramadan contributed $1,000 to Viva Palestina, an organization led by noted anti-Semite George Galloway, that supports Hamas financially and politically, in 2010.
Patel of the Brennan Center has long been a critic of law enforcement's attempts to counter terrorism, even denouncing the NYPD's operation that resulted in the arrest of accused lone-wolf jihadist Jose Pimentel, charged with plotting to bomb U.S. soldiers returning from Iraq and Afghanistan.
The Times failed to report that their only two sources for their story--CAIR and the Brennan Center, who are made to seem independent and impartial are actual apologists for Islamic terrorist groups. In fact, the Times failed to report that the Brennan Center received CAIR's "Safe While Free" Award in 2009.
The Times failed to report one actual flaw in the film but based its demonization of the film based largely on emails it did not disclose that it received from CAIR, a Hamas front group
In a front-page story on Tuesday discussing the documentary film, "The Third Jihad," and its use by the NYPD in training, The New York Times once again collaborates with radical Islamists to help shape the news. The article revealed the newspaper's bias, from the vaguely threatening headline – "In Police Training, a Dark Film on U.S. Muslims" - and by relying on those who are not simply opposed to the film, but have previously demonstrated their support of radical Islamists by both word and by association with similarly aligned groups.
The Times' article, written by Michael Powell, primarily relies on the opinions of Zead Ramadan of the Council on American-Islamic Relations' New York chapter (CAIR-NY) and Faiza Patel of the Brennan Center, both of whom aver that the NYPD acted questionably by showing city police the film, to present the case. Ramadan asserts that the movie "defiled our faith and misrepresented everything we stood for." Patel stated that, "The police have shown an explosive documentary to its officers and simply stonewalled us."
The problem with Ramadan and Patel, left unsaid by the newspaper, is found in their words and associations. As has been its longstanding policy, the Times never mentions that CAIR is a Hamas support group, created by the Muslim Brotherhood to present and promote its interests. (Of course, even if one day the Times did acknowledge that, it would still have to break another self-imposed taboo of having never once called Hamas a terrorist organization.)
In contrast to the newspaper, the film does reveal how CAIR was created shortly after a secret 1993 meeting in Philadelphia involving members of the Muslim Brotherhood's Palestine Committee. The goal was for CAIR to operate as a pro-Hamas lobbying group, without being publicly linked to Hamas.
The FBI later cited that evidence, which was used to help name CAIR as an unindicted co-conspirator in the 2007 Holy Land Foundation conspiracy trial, in explaining why it cut off formal communication with CAIR. "Until we can resolve whether there continues to be a connection between CAIR or its executives and HAMAS," FBI Assistant Director Richard Powers wrote in April 2009, "the FBI does not view CAIR as an appropriate liaison partner."
But CAIR refused to address the documentary's substance. Instead, the group issued a press release quoting Ramadan comparing it to the Nazi-era film "Triumph of the Will" and the silent movie "Birth of a Nation." Ramadan voiced his concerns to NYPD chief Raymond Kelly, who said he would "take care of it" and department spokesman Browne denounced the film as "wacky."
All of this was left out of the article on Tuesday, which also failed to inform readers about the questionable backgrounds of the movie's critics. The story said nothing about the fact that in 2010 Ramadan contributed $1,000 to Viva Palestina, an organization founded by the notorious anti-Semite George Galloway, and which supports Hamas financially and politically, or that CAIR-NY in 2008 issued a statement calling for the release of Sami al-Arian, who pleaded guilty to conspiring to contribute funds to Palestinian Islamic Jihad, a designated terrorist group.
The Investigative Project on Terrorism attended a Dec. 15, 2011 press conference held by a group calling itself the Committee to Stop FBI Repression, and asked if he considered Hamas a terrorist organization. Ramadan was asked point-blank: "Do you consider Hamas a terrorist organization?"
[click above to view the video or click here to see the video and a full transcript]
Ramadan proceeded to tap-dance around the question. He replied by stating that, "Islam, myself, and I think all people of conscience, are opposed to all terrorism in all of its forms against all people of the world. Anyone who is innocent that is killed, it's not the way of the Islamic people or people who stand for liberty and justice. Thank you very much."
Our investigator pressed forward, asking Ramadan about Hamas specifically. Ramadan refused to answer, stating that his concern was "the American Bill of Rights situation that we now have."
Ramadan then proceeded to attack the questioner. "You want to take our foreign policy issue and make it the number one issue in the world. No. The issue we have right here is the problem we have in America, and we're eroding," he said.
Ramadan added that Secretary of State Hillary Clinton had gone to Myanmar to talk about the erosion of human rights and appeared to be "bringing that back here" and "showing how to erode our civil rights here."
Again, our investigator noted that Ramadan was evading the question about Hamas.
"He already answered," Imam Talib Abdur Rashid shot back. "You just didn't get the answer you wanted."
Over and over, CAIR spends a lot of effort urging Muslim Americans not to cooperate with law enforcement. Speaking at CAIR-NY's "Annual Banquet and Leadership Conference" in April 2011, board member Lamis Deek implored her audience not to speak to the FBI, NYPD or other law enforcement agencies.
"It's very important to not speak to law enforcement of any type, not just FBI agents," she said. "We're talking about the New York Police Department, we're talking about tax agents, we're talking about everybody."
Deek said that if the FBI shows up claiming it has a warrant for someone's arrest, they need to ask to see the warrant because "Mossad" agents had been "go[ing] around pretending to be FBI." She warned that "they" (it was unclear whether she was referring to the Mossad, the FBI, or both) will threaten to "seriously blackmail" people.
Faiza Patel of the Brennan Center - which is sufficiently in accord with CAIR that in 2009 it received CAIR's 'Safe While Free' Award - offers complementary positions. At a Nov. 17 forum in Washington entitled "Islamist Radicalization, Myth or Reality," Patel appeared to suggest that any effort by law enforcement to look for signs of radicalism in the Muslim community was doomed to failure. "You can't expect the community to behave as your partner if at the same time you're subjecting them to intense surveillance and monitoring," she said.
And if Muslims were in denial about the existence of radical Islamist ideologies in their communities, perhaps law enforcement should defer to them, Patel added: "If the community doesn't believe that radicalization or extremism or extremist views or extremist ideologies is (sic) a problem in their own community, then you should also understand that maybe they know what they're talking about, and not be spending police resources this way."
In a Huffington Post op-ed, Patel denounced the NYPD's operation that resulted in the arrest of accused lone-wolf jihadist Jose Pimentel, charged with plotting to bomb U.S. soldiers returning from Iraq and Afghanistan.
It should not come as a surprise that The New York Times left all of this critical information out of Tuesday's article, given the paper's long history of covering for CAIR, the Muslim Brotherhood and other Islamist organizations. As we have noted before, Times reporters like Andrea Elliott and columnists like Nicholas Kristof have published stories glossing over the radical background of Salafist cleric Yasir Qadhi, dean of academic affairs at the Houston-based AlMaghrib Institute, and whitewashing the Muslim Brotherhood's radical record and hostility towards Israel.
Last December, after Kristof penned a column in which he claimed that Brotherhood officials in Egypt had been behaving responsibly, Eric Trager of the Washington Institute for Near East Policy described Kristof as "credulous" about the Brotherhood. After interviewing some of the organization's members who had just been elected to Parliament, Trager wrote in the New Republic that, "Far from being moderate, these future leaders share a commitment to theocratic rule, complete with a limited view of civil liberties and an unmistakable antipathy for the West."
Nonetheless, the NYPD, apparently responding to pressure from the media and perhaps from politicians, including Mayor Bloomberg, who denounced the film, stopped showing the documentary.
Somebody [at the NYPD] exercised some terrible judgment," Bloomberg said Tuesday. "As soon as they found out about it, they stopped it." The mayor gave no indication that he had actually seen the film.
Zuhdi Jasser, president of the American Islamic Forum for Democracy and narrator of the film, took exception to Bloomberg's comments. "I could not disagree more," he said. "The fact that Bloomberg made such a comment without providing any evidence that the film was in error indicates that the mayor's comment was "careless," Jasser said.
Bloomberg's ignorance should not be surprising given his administration's friendly relationship with CAIR-NY. In May 2009, for example, the mayor's education policy advisor, Fatima Ashraf, hosted the Islamist group's annual banquet and fundraiser, where she gushed praise for CAIR-NY. Ashraf called it "a shining star among Muslim organizations in the country," adding that "their sincerity and motivation" and "genuine desire to make positive change for Muslims is what really makes them stand out."
In similar fashion, Bloomberg's uninformed position is mirrored by the Times article, which does not provide any examples, or specific information of any kind, to back up criticism of the film.
The article hints in rather foreboding fashion that the film is an effort to scare people about the threat posed by radical Islam: "Ominous music plays as images appear on the screen: Muslim terrorists shoot Christians in the head, car bombs explode, executed children lie covered by sheets and a doctored photograph shows an Islamic flag flying near the White House."
Even in this brief description of the film, The New York Times got it wrong. According to Clarion Films, which produced the documentary, the photograph of the White House with an Islamic flag on top was taken from Islamist sources, not altered by the filmmakers.