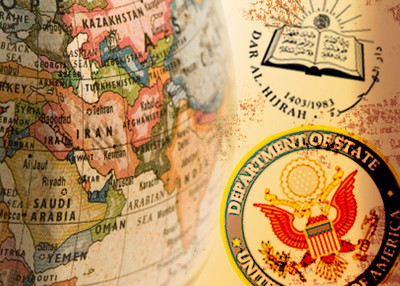 The State Department wants its next wave of diplomats to learn what Muslims in other countries think of America.
To do that, it is sending a class to Anwar al-Awlaki's former mosque in Falls Church, Va. this Sunday, the Investigative Project on Terrorism has learned.
As we reported Tuesday, federal law enforcement officials view the Dar al-Hijrah mosque as home to Hamas operatives and others linked to terrorist financing and "bad orgs." In addition, it was home for two years to Awlaki, a charismatic, American-born cleric now living in Yemen. He is considered to have been inspirational to the accused Fort Hood shooter Nidal Malik Hasan, failed airplane bomber Umar Farouk Abdulmutallab and Times Square bomber Faizal Shahzad. As a result, he may be the only American the CIA is authorized by the President to kill.
Awlaki has been gone for eight years, and mosque leadership publicly disavows him, but Alwaki's radical preaching was well established during his time there.
The 9/11 Commission Report found that Awlaki knew two of the hijackers and that one, Nawaf al-Hamzi, followed Awlaki from San Diego to Virginia in early 2001, "an appearance that may not have been coincidental."
According to a mosque invitation to its members:
"Dar Al-Hijrah will host a group of adult students from the Foreign Service Institute (college). They will be joining the diplomatic corp and will be working in largely Arab Muslim countries.
You are invited to join us for small group discussions with our guests regarding the attitudes and perspectives that immigrants from Muslims countries had about America before arriving and how their understandings have changed. Brothers and sisters, this is our chance to help these Americans understand the culture, customs and attitudes of Muslims in our home countries."
The Foreign Service Institute (FSI) visit is an informal event organized by the students, an official said. Dar al-Hijrah was selected because it is a large mosque that is conveniently located for the group.
While not all mosque members maintain radical views, its leaders and many members have attracted law enforcement scrutiny for years. According to reports between 2002 and 2007 obtained by the IPT through a Freedom of Information Act request, Dar al-Hijrah "has been under numerous investigations for financing and proving (sic) aid and comfort to bad orgs and members." Another report said the mosque was "operating as a front for Hamas operatives in U.S."
At least three Dar al-Hijrah leaders have been tied to Hamas support by federal investigators. Ismail Elbarasse worked as an assistant to Hamas leader Mousa Abu Marzook when he helped establish the mosque. Former imam Mohammad al-Hanooti was known publicly as "an active HAMAS supporter, purportedly holding fund-raising activities, as well as supporting visitors to the United States from Israel and Jordan, to speak on behalf of HAMAS." And former mosque trustee, Abdulhaleem Al-Ashqar, was convicted of contempt and obstruction of justice for refusing to testify about Hamas fundraising in the U.S. He helped organize a 1993 meeting of Hamas members and sympathizers in Philadelphia.
That didn't stop the General Services Administration from signing a two-year, $582,000 lease with the mosque for a Census office.
U.S. Rep. John Carter, whose district includes Fort Hood, issued a release Thursday calling for the lease to be severed:
"The purpose for creating this cabinet-level agency [Homeland Security] in 2002 was to coordinate all agencies of the federal government to prevent any more radical Islamic attacks like 9-11. Eight years later and they can't even tell a federal agency they're renting office space from the very mosque involved with the 9-11 attacks, and that has seeded this past year's assaults through the likes of Al-Awlaki."
Whether Sunday's trip is official, or not, the State Department previously has touted Dar al-Hijrah in campaigns to show the face of Muslims in America.
One video features congregants in patriotic and diverse, ignoring the record of extremist statements and ties to radical groups. The mosque is closely linked to the Muslim American Society (MAS), a group formed as "the overt arm of the Muslim Brotherhood in the United States." The Brotherhood is a Sunni religious movement that seeks to make Islamic religious law, or Shariah, the controlling basis for society.
Former MAS President Esam Omeish served on the mosque's board of directors. Omeish had to resign from a Virginia immigration board in 2007 after he was seen on videotape praising Palestinians who chose "the jihad way" to liberation.
Dar Al Hijrah's imam, Shaker Elsayed, is a former MAS secretary-general. In a 2004 profile on the Muslim Brotherhood in America, Elsayed praised Muslim Brotherhood founder Hassan Al-Banna, saying that his ideas are "the closest reflection of how Islam should be in this life."
That's just not reflective of the Muslim community in America, said Hedieh Mirahmadi, who combats radical Islamist ideology as president of the World Organization for Resource Development & Education. While mosque membership often is detached from the thinking of its leadership, FSI students may not be getting the best assessment at a mosque with a history like Dar al-Hijrah's.
"Their definition of Islam, or the Muslim community, is very narrow. That's definitely a problem because the diversity of the Muslim community in America is quite rich," she said.
It's an all-too-common problem with the State Department, Mirahmadi said. Visiting South Asian delegations who tour the U.S. on trips organized by the State Department have complained that they never get to meet with Sufi Muslims in America.
"They have this set of go-to people that they approach," Mirahmadi said, "and they keep going back to that list."
If anything, that list needs to be expanded. Dar al-Hijrah's track record has gone beyond a few anomalies and it will forever be tied with one of the world's leading terrorist recruiters.
"With the controversy surrounding Dar al-Hijrah now," Mirahmadi said, "I wouldn't want to send the message to the world that this is Islam in America."