Thousands of Islamist demonstrators in Pakistan continue to violently protest the acquittal of Asia Bibi, a Christian woman who was falsely accused of blasphemy and spent the last eight years on death row.
Protesters clashed with police, burned cars and disrupted traffic, blocking ambulances. Schools across Pakistan have been closed and a major zone in Islamabad is sealed off.
Asia Bibi was charged in 2009 with insulting Islam's prophet Muhammad after drinking from a cup of water before allowing fellow Muslim farm laborers drink first. After being beaten in her home, Bibi's accusers say that she confessed to blasphemy. She was sentenced to death in 2010.
On Wednesday, Pakistan's Supreme Court overturned her sentence. For that, the Supreme Court judges "deserve to be killed," said Muhammad Afzal Qadri, leader of the extremist Islamist Tehreek-i-Labaik party. But Bibi has not been released from prison, as negotiations for her safety broke down between the government and Islamists.
"Which government can function like this, blackmailed by protests?" asked Pakistan's Prime Minister Imran Khan, accusing the Islamists for "inciting [people] for their own political gain."
Radical religious groups, including a charity founded by UN-designated terrorist Hafiz Saeed, vowed to join the protests today.
Public support for blasphemy laws in Pakistan remains high, driving a wedge between the ruling party and extreme Islamists stoking protests. And that sentiment is not limited to South Asia.
A Maryland mosque last year praised the terrorist who killed a former Pakistani governor critical of Pakistan's blasphemy laws. Salman Taseer was targeted by radical Islamists after he defended Bibi. In 2011, his bodyguard Mumtaz Qadri shot and killed him.
American Islamist groups said nothing about Taseer's killing.
After Qadri was executed for the killing in 2016, the Gulzar E Madina mosque hosted a celebration in his memory, "attended by dozens of people including young children and teenagers."
Radical Islamists in Pakistan, whether organized terrorist groups or mobs of people, often take matters into their hands.
In April 2017, a violent mob beat to death a university student who faced a blasphemy accusation that investigators later deemed false.
Sunni terrorist groups connected to extremist Pakistani organizations last year targeted minorities in several deadly attacks including Ahmadi Muslims, the Shi'a Hazara community, and Christians.
In December, for example, Islamic State terrorists killed nine civilians in a targeted attack involving a suicide bomber against a Methodist church in Quetta.
Pakistan has charged about 1,000 people with blasphemy since 1987, and convictions can carry the death penalty. These laws especially target members of Pakistan's minority communities. But the law can be also applied to anyone that is seen as a threat to the government.
According to the US State Department's International Religious Freedom Report for 2017, civil society organizations "reported lower courts often failed to adhere to basic evidentiary standards in blasphemy cases."
Asia Bibi's acquittal highlights the plight of all religious minorities in Pakistan and the destructive power of radical Islamists across the country.
Ben & Jerry's ice cream announced a new flavor on Tuesday, Pecan Resist, "with the intention to resist the current [Trump] administration's regressive agenda, celebrating the activists who are continuing to resist oppression."
In addition, the ice cream brand plans to donate $25,000 to four organizations devoted to social justice issues including the Women's March.
Women's March national co-chair and Islamist activist Linda Sarsour was pictured alongside figures from other activist organizations and Ben & Jerry's top officials.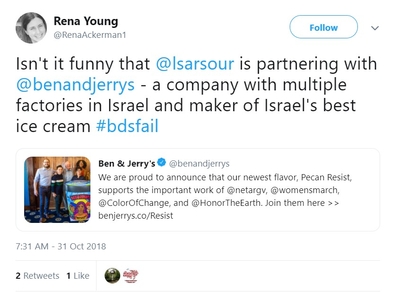 Some on social media were quick to be entertained by the news that Sarsour, a strident Israel hater and anti-Semite, is accepting money from a company that has a long-standing presence in Israel. How will she reconcile that with her self-described stance as "an unapologetic, pro-BDS, one-state solution" activist?
Ben & Jerry's has a vibrant operation in Israel, with its founders celebrating the business's 40th anniversary by touring Israel and handing out ice cream to Israeli fans.
Avi Zinger brought Ben & Jerry's to Israel 30 years ago as a licensee of the parent organization. The Israeli affiliate is one of two factories outside the United States.
Israel's Ben & Jerry's affiliate is independent of the global parent company, it said Wednesday in a Facebook post. But BDS advocates, those who want to isolate Israel economically, politically and in the arts, have called for a boycott of Ben & Jerry's over its Israeli presence.
But it's hard not to see the irony behind Sarsour's engagement with a popular brand that has visible business ties in the Jewish state.
For years, Sarsour has expressed a deep hatred for the Jewish state and anyone who supports it. Last month, she spoke at the Islamic Society of North America (ISNA)'s national convention, arguing that Muslims should not defend or "actually try to humanize the oppressor," which was a reference to Israel.
It seems that Sarsour has to pick her battles. She openly supports "resistance" against Israelis – a term often used by Islamists to include terrorism. At the same time, she is willing to accept money from an organization with a business presence in Israel to support her anti-Trump resistance campaign at home.
An Algerian man was sentenced Tuesday to 15 years in prison for conspiring with Americans and others to recruit men and women in Europe and the United States to a terrorist cell to wage violent jihad in the West.
Ali Charaf Damache, also known as "Theblackflag," led the terrorist cell, some of whose members intended to travel to South Asia to obtain explosives training and return to Europe to carry out terror attacks. Damache, who was extradited from Spain last year, pleaded guilty in July to conspiracy to provide material support to terrorists.
Damache enticed Pennsylvania resident Colleen R. LaRose (a/k/a "Jihad Jane") and Jamie Paulin Ramirez, who lived in Colorado, to travel to Ireland, live with him and train for violent jihad. He also sought the help of 15-year-old Mohammad Hassan Khalid, a Pakistani citizen and U.S. permanent resident, to recruit violent jihadists to the terrorist cell that planned to train with al-Qaida for attacks in the West.
LaRose and Ramirez were regarded as "highly valuable recruits" to Damache since they held American passports and could travel around freely in the West. LaRose soon earned a reputation "as an aggressive hard-working force and her American background and appearance rendered her highly valuable to terrorists." She was tasked with killing Swedish cartoonist Lars Vilks, who drew caricatures of Islam's prophet Muhammad. She was instructed to carry out the murder in a way that would frighten "the whole Kufar [non-believer] world."
LaRose and Damache traveled to Europe but were unable to reach Vilks, who survived a separate attack and whose home was set on fire.
LaRose was sentenced to 10 years in prison in connection with the conspiracy. Ramirez received an eight-year sentence on one count of providing material support to terrorists.
The blonde-haired, blue-eyed LaRose was particularly valuable to Damache because she was able to travel without arousing suspicion. She moved to Ireland where she married Damache in an Islamic ceremony. Ramirez brought her son to Ireland and train in violent jihad with Daamche. She also videotaped her son talking with her about his desire to shoot "kuffar" [non-believers].
Upon completing his prison sentence, Damache will be deported to Ireland, where he is a citizen, or his country of origin Algeria.
Top Muslim Brotherhood leaders suffer from corruption and hypocrisy, a former Brotherhood leader told an Egyptian news outlet. Ibrahim Rabie served on the Brotherhood's "Elite Committee" before leaving the group in 2011, giving him insight into the group's leadership and the mentality.
Former Egyptian Judge Waleed Sharaby, who has maintained close ties with American Brotherhood figures, is part of the group's "Elite Committee," Rabie told the Egyptian newspaper Youm7. Sharaby has never publicly admitted membership in the Brotherhood despite close ties with its members.
This committee penetrated the ranks of Egypt's elite business figures and soccer stars. Many of these people publicly deny membership in the Brotherhood in the initial phases of their initiation, Rabie said.
He corroborated an April 2011 email sent by Sidney Blumenthal to former Secretary of State Hillary Clinton stating that the Muslim Brotherhood's top leaders were in contact with Salafi jihadists. But Rabie noted that the Brotherhood viewed the Salafis as competitors.
Rabie described corruption, including fraud, among members of the Brotherhood's top echelon, called Guidance Bureau, claiming that it spent more money than it took in from dues from its members. The Brotherhood received foreign funds in addition to its investments in Persian Gulf countries, Malaysia, the United Kingdom and the United States.
He accused specific figures of involvement in arms and drug trafficking, along with trading in cement and iron.
One, Youssef Nada, co-founded and ran Bank al-Taqwa based in The Bahamas. Swiss and Italian police found a phone book inside Nada's Swiss home during a raid following 9/11.That book included the names of Brotherhood and al-Qaida leaders. U.S. officials tagged the bank as a "Specially Designated Global Terrorist, saying it was involved in funding Hamas and al-Qaida. Nada has denied being involved with terror finance and in 2015 he and Bank al-Taqwa were removed from the U.S. terror list.
The bank since has been liquidated.
Despite the Brotherhood's terror ties and history of terror finance, Rabie said it has been able to spend billions globally to whitewash its image.
An Ohio man was charged Wednesday with attempting to provide material support to the ISIS Wilayat Khorasan, the Islamic State's branch in Afghanistan and Pakistan.
Naser Almadaoji, a 19-year-old naturalized U.S. citizen from Iraq, was arrested at John Glenn International Airport in Columbus, Ohio. He planned to travel to Astana, Kazakhstan, hoping then to be smuggled into Afghanistan to be trained by the ISIS affiliate.
Almadaoji was questioned by Customs and Border Protection agents last February after a trip to Egypt and Jordan, an FBI affidavit attached to his criminal complaint said. He said he wanted to join the Peshmergan military in northern Iraq "to stop ISIS" and criticized the terrorist group for killing Muslims. But he also said American airstrikes had killed Muslims and the U.S. forces needed to leave the Middle East.
It isn't clear what triggered it, but the FBI had a confidential source posing as an ISIS supporter contact Almadaoji in August via a messaging app. Almadaoji later told the informant he wanted to trigger a civil conflict between the U.S. government and anti-government militias: "...I imagined a scenario of the collapse of the US as a nation.... They have alot [sic] of weak spots 2 really weak spots that would ignite the deadliest civil war on earth if the right spots are poked."
To trigger this conflict, he imagined planting child pornography on militia leaders' computers, then tipping off the FBI to their presence. He also spoke of assassinating militia leaders.
Federal buildings were "more sensitive for the militias to hit than police stations and military bases," he said. "With a coordinated attack such as car bombings parked next to fed buildings with all the previous build we talked about.... And there you have the US on its knees."
Almadaoji, who allegedly pledged bayat, or allegiance, to ISIS, put together "a list of do's and don'ts" for prospective ISIS recruits based on his travel experience to Egypt and Jordan. It included suggestions to "dress like a western guy," buy a roundtrip ticket to avoid suspicion by authorities, "delete anything suspicious in your phone" and if asked "who financed the trip, tell them you did."
"Don't freak out," he wrote. "Remember Allah, put your trust in Him Subhanahu wa Ta'ala stick to your cover. Be nice to the officer questioning you, have a smile, keep direct eye contact, and of course be cooperative."
Almadaoji translated ISIS propaganda into a digital file that he titled, "In The Name of Allah.docx." He also said he was a follower of now-deceased al-Qaida cleric Anwar al-Awlaki, who has been responsible for the online radicalization of thousands of youth.
While he talked about domestic attacks, Almadaoji never stopped planning to travel abroad for ISIS training. He said he wanted to be trained in weapons, kidnapping, hit and run attacks and more. The affidavit makes it sound like most of September and October were spent arranging financing for the trip.
He was arrested at an airport ticket counter after he received his boarding pass. He faces up to 20 years in prison if convicted.
Of late, most of Europe has focused its counterterrorism efforts on handling the potential returnees from Syria, and possible radicals hiding among migrants from the region. Yet recent events indicate that not all European countries are fully prepared to defend against the radicals who already live there.
Case in point: Anjem Choudary, founder of the radical group Sharia4UK, was released from prison Friday. He served just half of his 5½-year sentence for inviting support for ISIS. Yet experts warned that he "actually got worse in prison," and now sees himself as a martyr.
By contrast, only days later, just across the channel, lawmakers took a different tack with Choudary's acolyte, Fouad Belkacem, founder of a group called Sharia4Belgium based on Choudary's model. Compounding his earlier 12-year sentence for promoting terrorism, a Belgian judge on Monday revoked the 36-year-old's Belgian citizenship. Although Belkacem is Belgian by birth, he also has Moroccan citizenship through his parents. He now fears being deported.
His lawyers have promised to contest the decision, insisting that Belkacem is "very sorry" for his actions. "He never thought the whole Sharia4Belgium story would end up like this," attorney Liliane Verjauw told the court, apparently overlooking the fact that Sharia4Belgium was demonstrably behind a large number of Belgian Muslims who joined the Islamic State.
Ironically, speaking of the man who sought to replace democratic Belgian laws with sharia-based law, Verjauw described the possibility of Belkacem's deportation to Morocco as "a disaster." "Democratic values are not easily found in such countries," she said.
By contrast, Choudary remains British, and has been released to a halfway house, where he is expected to remain for six months before being released into the community. Yet Nick Lowles, CEO of the anti-racist group Hope Not Hate, told the New York Times, "No other British citizen has had so much influence over so many terrorists as Choudary – we've tracked over 120 Islamist terrorists linked to him." Added former counterterrorism detective David Videcette, "There wasn't ever a time when I was researching individuals and extremists related to plots where someone involved wasn't connected to him."
Choudary's release conforms with UK laws that allow prisoners to exit midway through their term based on good behavior, the New York Times said. According to the terms of his release, however, he has been barred from attempting to radicalize others, though how such activities will be prevented is not clear. He is further banned from using the internet or speaking to children – measures he has said he intends to fight, calling them "disproportionate" to the crime and a violation of his human rights.
Six months from now, Belkacem is likely to be in Morocco, probably in prison. Choudary will be free to return to pursuing his dream of creating a sharia state in Europe. Which will make Europe safer?
A federal appeals court has upheld a radical British Islamist cleric's 2014 terrorism conviction.
Mustafa Kamel Mustafa, more commonly known as Abu Hamza, was convicted of 11 terrorism charges in Manhattan federal court and sentenced to life in prison. He was charged with multiple counts of providing material support to al-Qaida and with participating in a hostage-taking operation in Yemen. He also helped set up a terrorist training camp in Bly, Oregon, and facilitated violent jihad in Afghanistan.
He spent much of the 1990s running London's Finsbury Park Mosque. He was arrested in 2004, triggering a nine-year legal battle over his extradition to the United States.
In its ruling Tuesday, the Second Circuit Court of Appeals did dismiss convictions on two counts relating to helping the jihad in Afghanistan in 2000-01 because U.S. law relating to providing material support to terrorists was confined to material support "within the United States" at the time of the conspiracy.
"Evidence that Mustafa, in London, arranged for [Feroz] Abbasi to be transported from London to Afghanistan, could not satisfy the statute's nexus requirement because no part of the conduct occurred within the United States," the court ruled.
The terrorism statute was amended after the 9/11 attacks to include material support that occurred outside the United States.
The Yemen attack took place in December 1998, and involved the abduction of 16 tourists, including two American. Abu Hamza "aided and abetted the terrorist Islamic Army of Aden" in the attack by providing a satellite phone and advice to the kidnappers. Four hostages were killed, which Abu Hamza subsequently described as "a good thing" in Islam.
In 1999, Abu Hamza and several co-conspirators tried to establish a terrorist training camp in Bly, Oregon, to support al-Qaida. He directed two men to travel from London to Bly to help set up the camp.
One, Oussama Kassir "brought with him various tools to conduct this training, including manuals on manufacturing poisons, nerve gas, and explosives...[and was] also was in possession of letters addressed to both Usama Bin Laden and Abu Hamza, reflecting his support for those individuals," a prosecution sentencing memo said.
Kassir was convicted in connection with the conspiracy and sentenced in 2015 to 20 years in prison.
At his sentencing hearing, U.S. District Judge Katherine B. Forrest described Abu Hamza's conduct as "barbaric, misguided and wrong" and remarked, "[I]t is important to me that you have not expressed sympathy for the victims of the Yemeni kidnappings."
Pressure from pro-Israel attorneys convinced PayPal to cutoff donations to the British social justice group War on Want due to alleged ties to the Popular Front for the Liberation of Palestine (PFLP) terrorist group.
UK Lawyers for Israel (UKLFI) and the U.S. based Lawfare Project filed a complaint with the U.K. Charity Commission last month alleging that War on Want "misuses charitable funds to support terrorist organisations and promote political propaganda." It also acts "contrary to the public benefit as it stokes hatred of Israel and Jews and encourages antisemitism."
A War on Want partner, Addameer, includes many PFLP members. Among them is Sumoud Sa'adat, identified by the terrorist group as the daughter of PFLP General Secretary Ahmad Sa'adat.
The Lawfare Project and UKLFI pointed to a December 2016 War on Want project carried out in conjunction with Addameer called "Political Prisoners' Stories." It aimed to advance the PFLP's strategy of "using human rights forums" to promote a "national struggle," they said. The goal was to pressure Israel to release imprisoned PFLP comrades.
"Our relationship with Addameer ensures we can bring the latest news and reports affecting imprisoned Palestinians to our UK campaigns," War on Want's website says.
The PFLP originally was known for its pioneering of airline hijacking, but in recent years it has become a player in the international Boycott, Divestment, Sanctions (BDS) movement. BDS aims to isolate Israel economically and politically through a regime of boycotts and sanctions.
PFLP terrorists claimed responsibility for an attack on a West Jerusalem synagogue in December 2014.
War on Want also works with the BDS National Committee, which coordinates the international BDS movement. PFLP, Hamas, Palestinian Islamic Jihad (PIJ), Democratic Front for the Liberation of Palestine (DFLP) and Fatah participate in the BDS National Committee as members of the Council of National and Islamic Forces in Palestine.
"PayPal has decided to no longer allow its service to be abused by those who promote violence, lies and propaganda," Lawfare Project Director Brooke Goldstein said in a statement published online. "Congratulations to UKLFI on this result and to Paypal for taking a stand against the misuse of its platform."
The Palestinian Authority (PA) and Hamas use systematic torture and repression to stifle any dissent against their rule, a two-year investigation by Human Rights Watch (HRW) found.
The PA in the West Bank and Hamas in Gaza conduct arbitrary detentions targeting people who criticized them, using broad legislation prohibiting activities seen as promoting "sectarian strife" or offending "higher authorities."
Several PA agencies, including the Intelligence Services and Joint Security Committee, implement violent crackdowns on dissent and stifle many freedoms of expression and association, the HRW report said. Critics, from journalists to social media users, routinely are arrested in an effort to spread fear across Palestinian society and deter future activism.
For example, 10 PA security personnel detained a Hebron-based activist last year, only one hour after he used Facebook to criticize the arrest of a journalist.
Like Hamas, PA forces also detain activists engaging in peaceful demonstrations against governing authorities. University students and supporters of PA President Mahmoud Abbas' main rival Muhammad Dahlan are frequently persecuted.
Authorities put the detainees in pain-inflicting stress positions for a lengthy time to deter dissidents from expressing criticism. One journalist said that PA personnel tied his hands by rope to the ceiling of an interrogation room and slowly pulled the rope to apply pressure to his arms. Another young man held at a detention facility in Jericho claimed that officers used electrical shocks and tied a cord around his genitalia.
As a result, HRW determined that "torture is governmental policy for both the PA and Hamas" and may constitute a crime against humanity based on international human rights treaties to which Palestine is a party.
The report is based on 86 cases and interviews with 147 individuals across the Palestinian territories, mostly former detainees. Investigators also consulted lawyers and NGO officials in addition to other primary evidence drawn from court documents and medical reports.
Click here to view the full report.
While many observers expect a terrorist organization like Hamas to rule territory without respecting basic rights, the PA is often painted as a "moderate" governing body and primarily relies on funding from European countries and the United States. However, when it comes to crushing dissent, the PA is largely indistinguishable from Hamas.
The HRW issued recommendations for various actors, including specific Palestinian bodies and officials, to end these practices. It also suggests that the U.S. and European Union "suspend assistance to security forces involved in widespread arbitrary arrests and torture...until authorities take effective steps to stop arresting critics and torturing detainees and to investigate, prosecute, and punish security officers responsible for abuses, and publicly report on its compliance with these conditions."
The Trump administration took specific measures against the Palestinian Liberation Organization in last month, citing Palestinian incitement against Israelis as a major reason. In mid-September, the administration revoked residency permits for the family of the PLO's envoy to the United States and reportedly shut down all PLO bank accounts in the country. Along with violent incitement, the Palestinian Authority's widespread detention and torture practices deserve more international attention.
A Chicago-based man is charged with conspiring to provide material support to the Islamic State of Iraq and al-Sham (ISIS). Ashraf Al Safoo "aided ISIS in using social media to spread propaganda supporting violent jihad, to recruit operatives, and to encourage others to carry out terrorist attacks," a criminal complaint unsealed Friday said.
Al Safoo, 34, was born in Mosul, Iraq and moved to the United States in 2008. He is a naturalized citizen. He is alleged to be part of the Khattab Media Foundation, an internet-based organization that has sworn allegiance to ISIS and helps create and disseminate online propaganda for the jihadist group.
According to the complaint, Khattab members hack social media accounts, using them to disseminate ISIS propaganda. Khattab allegedly translated the propaganda into English, French, Bengali, and Italian.
An October 2017 Khattab video, "The Brothers of Marawi," glorified dying while fighting for ISIS. A song playing in the background praised the fighters of Marawi saying, "diamonds and pearls and palaces awaiting the man of Tawheed [monotheism or 'Oneness of God' in Islam]."
Khattab promoted Al Safoo to head writer in March. In that role, he encouraged "Khattab operatives to support ISIS, through propaganda and other efforts, as extensively as possible," the complaint said.
In a video posted in May, Al Safoo directed other ISIS propagandists to "work hard brothers. Cut the issue to short clips. Take the pictures out of it and publish the efforts of your brothers in the pages of the apostates. Participate in the war. Spread fear."
Al Safoo is in federal custody and is scheduled to have a detention hearing Oct. 25. He faces up to 20 years in prison if convicted.