Bronx Trial Shows how Prisons Breed Terrorists
by Patrick Dunleavy
Special to IPT News
August 30, 2010
http://www.investigativeproject.org/2144/bronx-trial-shows-how-prisons-breed-terrorists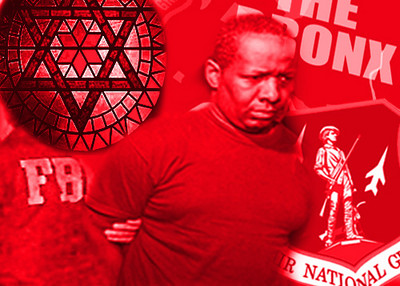 The trial of the four suspects accused of plotting to bomb synagogues in the Bronx and shoot down aircraft with missiles continues in New York this week. Already the defense has decided that its strategy will be to focus on the government's use of a confidential informant. Defense attorneys claim that the defendants were enticed to commit the acts of terrorism.
To be sure, a close examination of all the facts in this case is necessary to understand exactly what happened, whether it was entrapment or a predisposed willingness on the part of the four defendants to commit such a heinous act in the name of Allah.
The proverbial elephant in the room is the prison connection. All four of the defendants, James Cromitie, Onta Williams, David Williams, and Laguerre Payen, were former inmates. Even more importantly, all three imams at the Mosque in Newburgh, which the defendants attended after being released from prison, had a connection with the prison system.
I spent 26 years in law enforcement, retiring as Deputy Inspector General of New York's Department of Correctional Services Criminal Intelligence Unit. In my career, I witnessed this process of radicalization first-hand. Sometimes it was monitored; sometimes a recruitment cell was infiltrated. I was a part of a special investigation called Operation Hades that probed the radical Islamic recruitment movement from both inside and outside prison walls. It was a startling revelation to see how the process works.
It was through that work that I can attest to the following information.
Imams Salahuddin Muhammad, Hamin Rashada, and Melody Rashada all worked for the Department of Correctional Services. All had been hired by Warith Deen Umar, the former head of Ministerial Services for the New York State Prison System. Umar himself is an avowed Wahabbi Salafist who has made disparaging remarks against Israel and Jews at an Islamic Society of North America (ISNA) convention in 2009. He also stated in a Wall Street Journal interview in 2003 that "The U.S. risks further terrorism attacks because it oppresses Muslims around the world."
"Without justice, there will be warfare, and it can come to this country, too," he said. The natural candidates to help press such an attack, in his view, are African-Americans who embraced Islam in prison."[1] In other words, prisons were a prime place to recruit homegrown terrorists.
The Wahhabi Salafist sect of Islam adheres to a strict interpretation of the Koran and seeks to restore the Caliphate functioning under Sharia law. It views Jews and other groups of non-believers as infidels and enemies of Islam. It has been the dominant Islamic theology in the prison Muslim community for decades, receiving funds from Saudi Arabia for literature and training for the chaplains. The sect was so dominant that Shia Muslim inmates in New York State filed a class action lawsuit against the prison administrators claiming religious persecution, threats and overt acts of intimidation by other Muslim inmates at the behest of the civil service chaplains who were Wahhabi Salafists.
With such guidance, is it any wonder that one of the defendants, the alleged ringleader James Cromitie, was recorded making anti-Semitic remarks and stating that he wanted to destroy the Jews, seeing them as enemies of Islam? Where and when were these seeds of hatred planted?
Several years ago, authorities recorded conversations of prison convicts who attended Imam Salahuddin's congregation making inflammatory statements against Israel and the Jewish people. One inmate, a convert of Imam Muhammad, went so far as to claim that both the governor of New York and the President of the United States were "Zionist Puppets."[2] Another was recorded calling the Jews, "pigs and dogs." [3] And where was the prison chaplain when all this was occurring?
Immediately following the arrest of the four suspects in May 2009, the New York Times reported the following about Imam Salahuddin Muhammad:
"'Mr. Muhammad said his years working with Muslims in prison has turned up little actual evidence that many or any become radicalized behind bars; 'I don't hear any of that wild stuff,' he said, 'and if I did hear it, I would stomp it out. It's totally un-Islamic.'"
What Imam Salahuddin failed to mention is that over the course of his time as chaplain in the Fishkill State Prison he had several inmate clerks who worked for him in the chaplains' office with known ties to radical Islamic organizations. One was a Palestinian member of Hamas and the other was a Yemeni inmate with ties to the Lackawanna Six,[4] a homegrown terrorist cell that attended al-Qaida training camps in the Middle East. The chaplain also failed to state that he allowed the inmates to use the phone in his office to call overseas to various countries in the Middle East and North Africa.[5]
In one of the calls, the inmate was heard cheering about a suicide bombing that had occurred in Israel.
It seems to be a case of selected amnesia had stricken the chaplain. One needs only to look at the amount of money from inmate funds that were sent to the mosque in Newburgh over the years to see a well-established connection. Inmates from the chaplains' prison congregations have also sent thousands of dollars to pseudo Islamic charities, such as the defunct Holy Land Foundation and others which provided material support to terrorist organizations.
Radical Islamic recruitment in the prison system is a reality. Years of sowing among a captive audience is beginning to bear fruit.
It was not a coincidence that the authorities focused on this particular congregation in New York.
Patrick Dunleavy served in the Criminal Intelligence Division of the New York Department of Correctional Services. He also is the author of the forthcoming book, "The Fertile Soil of Jihad."
---
[1] Paul Barrett, "How a Muslim Chaplain Spread Extremism to an Inmate Flock", Wall Street Journal, February 5, 2003
[2] New York State DOCS phone recordings May 2003
[3] Transcript of recorded conversations of inmate Abdel Zaben 94a3548
[4] Confidential memo to New York State Division of Parole, November 12, 2003
[5] New York State Police Memorandum, December 30, 2003
Related Topics: Homegrown Terror, Recruitment | Patrick Dunleavy, Homegrown Terror, Recruitment
Reader comments on this item
lightbulb
Submitted by Hamin H. Rashada, Sep 13, 2010 07:40
Who do you think inspire inmates to terrorize THEIR OWN DEMONS to keep the rest of society safe? It is chaplains, especially Muslim chaplains! People like Mr. PATRICK DUNLEAVY aspire to get their 15 minutes of fame by denigrating honorable Muslim chaplains like Melody Rashada, Imam Dr. Salahuddin Muhammad, former chaplain Hamin Rashada and others. Imagine what would surface if somebody was to investigate the one who write such mindless nonsense. I hope most American people are too smart to fall for tactics of fear used by people like Patrick Dunleavy to push the buttons of Americans who are already under stress. Let us not forget the lessons of the Attica Riots when Muslim inmates protected correction officers. Muslim chaplains, like other prison chaplains, probably are among the most effective of the prisons' staff at motivating the inmates to REHABILITATE THEMSELVES TO LIVE UPSTANDING LIVES IN PRISON AND WHEN THEY ARE RELEASED. Be suspicious of any body who use the media to spread fear and hatred to further their own agenda.
Comment on this item