The fourth Viva Palestina (VP) land convoy arrived in the Gaza Strip Thursday, with more than 350 people from 30 different countries delivering nearly 150 vehicles, and $5 million worth of aid. Similar to VP's previous trips to Gaza, convoy members were warmly greeted by Hamas officials.
Deputy Hamas foreign minister Ahmed Youssef spoke at a press conference along with VP leader Kevin Ovenden, who said that peace in the Middle East could be achieved only by including Hamas. Youssef, born in Gaza, came to the United States in 1982 where he served as the Executive Director of United Association for Studies and Research (UASR). UASR was an Islamist think tank that was an arm of the defunct Palestine Committee, a Hamas support network in the U.S. created by the Muslim Brotherhood.
On Friday, Viva Palestina activists met with Hamas PM Ismail Haniyeh during a lunch. Haniyeh later appeared on stage at a festival honoring the "Life line 5 convoy," along with Yemini Sheikh Muhammad al-Hazimi. Al-Hazimi instigated passengers on the IHH Mavi Marmara ship to fight the Israelis during the May 2010 flotilla. Haniyeh is the man sitting fifth from the right, and Al-Hazimi is the man sitting all the way on the right in this picture.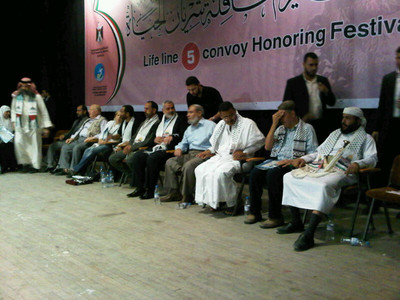 Viva Palestina officials said they were pleased with Egypt for enabling a smooth passage of the vehicles and convoy participants into Gaza. Previously, VP leader George Galloway, who has been banned from entering Egypt and joining the convoy,
slammed
Egyptian President Mubarak for banning 17 convoy members from entering the country.
Yet convoy spokesperson and Hamas operative Zaher Birawi, who was among the banned 17, was able to enter Egypt and Gaza. While at the Rafah crossing, he said:
"The people of Gaza, they did no wrong at all but they just elected their leadership in a very democratic way. But the Americans, the Israelis they didn't like this from the Palestinian and they imposed this siege on them. We are to say all the internationals are with you Gaza people and we will continue doing this until this siege been broken forever" [Emphasis added].
VP leader Muhammad Sawalha, a high ranking former Hamas Izz ad Din Al-Qassam Brigades commander living in the UK, said on Thursday:
"We will always be ready to come to Gaza because Gaza leads the international struggle for freedom and deliverance from [the control of] Zionism. Victory and dismantlement of the racist state are near" [Emphasis added].
Although Galloway is no longer with the convoy, other Viva Palestina leaders have filled his usual role in supporting the Hamas government in Gaza. And as far as the $ 5 million worth of aid, it "was warmly welcomed by the Hamas government which runs the blockaded coastal strip."