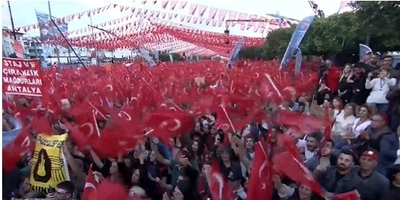 Ailing Turkish President Recep Tayyip Erdogan is set to face one of the biggest political challenges in his career Sunday as he seeks reelection for a third term as president.
Twenty years in power may come to an end for Erdogan, who orchestrated an amendment of Turkey's constitution in 2018, giving himself some sweeping new powers.
An Erdogan win could carry cataclysmic consequences on Turkey.
"If Erdoğan wins, that would mean the death of the fledgling democracy and republican regime in Turkey," Turkish political analyst and director of the Nordic Research & Monitoring Network, Abdullah Bozkurt, told the Investigative Project on Terrorism (IPT).
"He will have a hard time to weather economic fallout given the precarious state of Turkish economy and finances, but will rule with iron fist to crack down any resentment and crush the opposition factions. He would certainly expand the Islamization project which is a useful tool to manipulate the masses in Turkey," said Bozkurt.
His expanded powers include drafting budgets, declaring states of emergency and even dissolving the parliament. While already Turkey's longest serving ruler, the constitution Erdogan altered now enables him to stay in power until 2033.
Even after becoming an all-powerful unopposed president, Erdogan is seeking to change the Turkish constitution to a new one as he declared repeatedly last year.
"We want to make a strong start to the new century of the Republic," said Erdogan last October during a speech marking a centennial since the establishment of the Turkish Republic.
"The shelf life of the constitution of the Sept. 12 [1980] coup has already expired," he added.
But this time around, the surmounting challenges against Erdogan's presidency cannot be ignored, especially with opponents uniting against his rule.
"The upcoming elections would be perhaps the last exit for Turkey's already battered democracy and may offer a chance for a reset although it would be quite challenging and most likely take years for the normalization to take place. Provided that the opposition wins of course," said Bozkurt.
While polls show him down, Erdogan should never be counted out. He "has near total control of the media, especially airwaves, has all members of [the] Election Commission in his pocket, runs the police and gendarmerie that are supposed to ensure free voting and transparent counting, enjoys huge campaign funding and abusing all the state resources for a win," Bozkurt said.
The once secular stronghold in the Middle East turned into an Islamist leaning country thanks to Erdogan and his AKP party's pan-Islamist policies. The policies were characterized by being anti-Western and neo-Ottoman. Once a beacon for modernity and secularism in the Middle East, Turkey became a hub for extremism, religious intolerance and an instigator of conflicts across the region. It also has taken hostile positions as toward NATO allies, including the United States, Germany, Greece and France.
Erdogan and his allies have tried to curb their political troubles by restricting dissent. Turkey's parliament passed a "disinformation law" last October. Spearheaded by Erdogan, it carries three-year prison sentences for journalists and others for knowingly publishing information authorities say is false and dangerous.
But challenger Kemal Kilicdaroglu is promising a dramatic change of course.
"The youth want democracy," Kilicdaroglu told the BBC. "They don't want the police to come to their doors early in the morning just because they tweeted."
"I am telling young people they can criticize me freely. I will make sure they have this right," he said.
Kilicdaroglu has long opposed Erdogan's crackdown on Turkey's free press, writing in 2017 that the country "has been wrapped in a cloak of fear and anxiety."
He is hoping that his message of change resonates with the electorate.
"In theory, the presidential elections offer Turkey an opportunity for a fresh start – to bring in parties that have stronger relations with Europe, to put aside the disastrous 'Islamic finance'-based economic policy touted by Erdogan, to curtail corruption, to expunge extremists from the politics and from the military, to return to dialogue with the Kurdish population, to advance leadership through strong integrated policies and better trade, and to attract broader and more diverse investments," New York-based human rights attorney and editor-in-chief for the Washington Outsider Irina Tsukerman told the IPT.
On top of a struggling economy and authoritarian domestic policy, sluggish response to February's horrific earthquake added to Erdogan's political woes. The earthquake left more than 50,000 people dead and over $103 billion in economic losses.
While Kilicdaroglu has a slight lead over Erdogan, there are concerns.
"I think he [Kilicdaroglu] has a good shot at beating Erdogan if this would be free and fair elections," Bozkurt said. "Unfortunately, we are far from that. We are facing a man who would do anything to remain in power including shedding blood on the street. Let's remember when Erdogan lost the majority in Turkish Parliament in June 2015, he thwarted opposition to form a coalition and instead called for another election" that November.
Kilicdaroglu, 74, has rallied six Turkish opposition parties behind him in a last ditch attempt to defeat Erdogan despite the disagreements among them. The National Alliance includes six parties, five of which are secular center-right to right wing. It also includes an Islamist party led by Temel Karamollaoglu.
Economic Blues
The Turkish economy has suffered major hits in the past five years due to Erdogan's military expansionism in the Middle East, especially in Libya, Syria and northern Iraq to fight the Kurdish PKK. Conditions were further strained by the coronavirus pandemic, the earthquake and Erdogan's tampering with interest rates to create a more "Islamic-oriented" economy. With skyrocketing inflation rates and depleting foreign currency reserves, Turkey's battered economy is a big reason Kilicdaroglu leads in the polls.
Even with the possibility of Kilicdaroglu leading pre-election polling, Tsukerman believes that voting blocs and Erdogan's sweeping influence will prevail and turn the results in his favor.
Erdogan "is mostly likely not going anywhere," she said, "due to several reasons, the leading one being corruption on all levels that leads to predetermined voting blocs and assorted irregularities."
Nevertheless, economic analysts believe that the damage done to the economy in the past years will not be remedied easily even if Kilicdaroglu wins the elections. It is projected to get even worse in the near future.
"This is a market that is almost completely abandoned by foreigners," Emre Akcakmak, a senior specialist emerging-markets fund manager, told the Financial Times.
Kilicdaroglu promises an economic revival.
"The problem is that these investors have lost confidence in the government in Turkey," said Kilicdaroglu. "Domestic and foreign investors shy away from investments that could lead to the manufacturing of high value-added products and increase employment."
Expansionist ambitions thwarted
Erdogan came to office promising a "zero-problems" policy with neighboring countries, but the exact opposite took place. He chose confrontation with Egypt, Greece, France, Cyprus, Israel and decided to adopt the neo-Ottoman vision of "Mavi Vatan," or Blue Homeland. He has attempted to bypass the naval demarcation treaties between Egypt, Greece and Cyprus by signing a treaty with Libya's interim government, which is not recognized by any country. The vision represents the Turkish maritime domination in the eastern Mediterranean and Aegean Sea as existed during the Ottoman era.
When Egypt and seven other Mediterranean countries formed the East Mediterranean Gas Forum, Turkey was not invited.
In addition, Erdogan has supported both the Muslim Brotherhood and Hamas, providing exiled leaders shelter and political support even as Egypt and Israel were threatened by them.
But military failures in Syria and Libya, along with economic problems at home forced him to curb his ambitions at least temporarily. He attempted to reconcile with the countries he had been hostile toward as reality and economic burdens stunted his ambitions.
An attempted reconciliation with Egypt, including a casual meeting between Erdogan and Egyptian President Abdel Fattah al-Sisi during the World Cup in Qatar, didn't change much. Egyptians don't trust Erdogan as he continues to push his expansionist agenda in the Mediterranean and to support the terrorist-listed Muslim Brotherhood in Egypt.
"Egypt is finding negotiations with Erdogan difficult; he has not done anything to address Egypt's security concerns in Libya or to stop funding Islamists," Tsukerman said. "... While in Egypt the Brotherhood have been significantly weakened, they are not gone completely..."
Kurdish uprising
Turkey's ongoing conflict with the Kurds is unlikely to be resolved if Erdogan wins. Some improvement is possible if Kilicdaroglu becomes president.
Kilicdaroglu defended Kurdish rights last month in a public video and accused Erdogan of instigating ethnic tensions in the country for political gain.
"Millions of Kurds are currently being treated as terrorists," Kilicdaroglu said. "Whenever we talk about elections, whenever the [presidential] palace sees that it will lose the elections, a collective stigma and treatment of the Kurds as terrorists begins. It is shameful."
Tsukerman feels more pessimistic about the Kurdish situation even in the case of a Kilicdaroglu victory.
Kilicdaroglu "likely [would] discontinue the policy of attacking Kurds in Syria and may even call for a return to the autonomy talks with PKK," said Tsukerman. "However, [his party] has never been pro-PKK or pro-Kurds; the Kemalists have had a history of anti-Kurdish activism and are not generally favored by the Kurds."
Erdogan's electoral challenges are further complicated by recent health issues. The 69-year-old president curtailed campaigning after feeling sick during a recent speech. He also abruptly ended a live TV interview with the excuse of a stomach virus.
"Today I will rest at home with the advice of our doctors," Erdogan tweeted April 26. He returned to the campaign trail April 29 in an effort to calm fears of his illness on the campaign trail.
It is not clear whether it really is a minor setback or something more serious. But that may not matter on Sunday.
"All strong-man leaders, autocrats and dictators project images of power, and being sick is seen as a weakness for them. Erdogan is not immune from this," said Bozkurt. "How much his ailing health would impact on the results of the election remains to be seen. His team is doing everything to keep the info on his health from leaking, pulling stunts to make him appear all healthy, mighty and powerful."
It is an opinion shared by Tsukerman.
"There have been rumors about Erdogan's alleged health issues for years, not too different of similar rumors concerning [Vladimir] Putin, Ayatollah Khamenei, Mahmoud Abbas, and their ilk," she said. "Erdogan seems well entrenched, and even if something were to happen, various members of the Islamist class will look to consolidate power in his stead."
And those elements could thwart Turkey from returning to the tenets of secularism that distinguished it for nearly 80 years.
"It would not be easy. We will see a reset campaign but [that] would face huge hurdles and challenges given the composition of the opposition bloc which has strong Islamist tendencies, nationalistic, xenophobic and at times even irredentist approaches. In a sense, they are [a] lesser evil when compared to Erdogan's rule," Bozkurt said.

IPT Senior Fellow Hany Ghoraba is an Egyptian writer, political and counter-terrorism analyst at Al Ahram Weekly, author of Egypt's Arab Spring: The Long and Winding Road to Democracy and a regular contributor to the BBC.
Copyright © 2023. Investigative Project on Terrorism. All rights reserved.