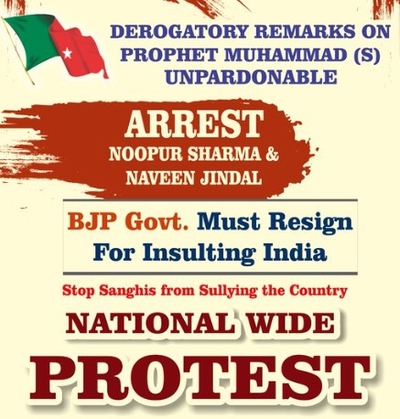 Deadly riots broke out in several Indian cities June 10 over perceived blasphemous remarks by a spokeswoman for India's ruling Bhartiya Janata Party (BJP). Enraged Islamist mobs burned posters and hanged effigies of Nupur Sharma after Jummah prayers over her controversial remarks on Islam's prophet Muhammad.
But rather than denouncing this over the top, hate-filled reaction to the controversy, American Islamists are fueling it by playing up their time-tested Islamist victimization rhetoric.
Sharma's exact words during a prime time television program are difficult to find. Videos of her remarks have been taken down and news reports refer to the controversy without quoting the specific comments. They involved Muhammad's marriage to Aisha, who was a child bride.
The reaction was swift and reverberated throughout the country.
Protesters attacked a train and a separate railway station, torched vehicles, vandalized property and hurled stones at police officers, injuring one. Two Muslim stone throwers were killed by police in the east Indian city Ranchi. A Hindu temple was also attacked in the city by rioters with Molotov cocktails.
The leader of a small, regional political party announced a bounty for Sharma's head. A similar call for her decapitation was made last Friday during a sermon in the union territory of Jammu and Kashmir.
"We're silent until we are patient," warned the Muslim cleric, "if we become impatient, then...Nupur Sharma's head will be found somewhere else and torso somewhere else." The crowd chanted in response, "Gustaakh-E-Rasool Ki Ek Hi Saza, Sar Tan Se Juda, Sar Tan Se Juda" ("There is only one punishment for criticizing our prophet and that is severing the head from the torso").
The cleric, who has now been arrested, told India's Times Now that he wasn't threatening an entire community, just those he believes insulted the prophet.
Al-Qaida issued a statement threatening suicide attacks in several Indian cities including the Indian capital, New Delhi, to "fight for the honour of the Prophet."
Closer to home, Islamists of Bangladeshi descent staged a rally in Brooklyn chanting, "Revolution, revolution, Islamic revolution" and "Through the flow of blood we will overcome injustice." A participant at the event threatened to cut the tongue of anyone making a derogatory comment about the prophet.
Sharma issued a public apology and a retraction. The BJP suspended her.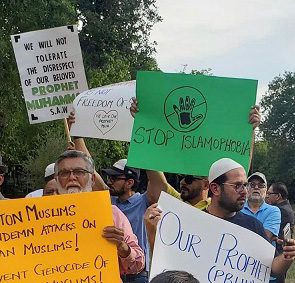 (Twitter image) Sharma's comments sparked a protest in Houston.
But instead of accepting that apology or condemning the violent reaction and hateful rhetoric in the wake of Sharma's controversial comments, American Islamists are stoking the flames by painting Muslims as hapless victims of one-sided Hindu aggression and violence.
"There is a clear double standard in the way protesters and Hindu supremacist rioters are treated by the Indian law enforcement," claimed Husnaa Vhora, spokesperson for the Indian American Muslim Council (IAMC), in a June 10 press release. "While Muslims protesting against hate speech are murdered by police gunfire, weapon-wielding Hindu supremacists are allowed to wreak havoc on Muslim neighborhoods and walk away with no consequences."
This is a demonstrably false claim.
Hindus have been charged or jailed for alleged hate speech against Muslims. Just last month, Kashmiri Hindu protesters were tear gassed and hit with batons by police in Budgam district of Jammu and Kashmir while protesting the killing of Hindus by Islamist terrorists.
In this case, Delhi police have filed complaints against Sharma and 31 other Hindu and Muslim personalities for "allegedly spreading hate and hurting religious sentiments." Hundreds of protesters have been arrested in connection with the violence and social media accounts have been suspended for posting hateful content. The government in the north Indian state of Uttar Pradesh has ordered the bulldozing of "illegal properties" of Muslim rioters.
Other arrests targeted BJP leaders and other individuals for stoking religious tensions by expressing support for Sharma.
Despite these facts, a June 9 Council on American-Islamic Relation's (CAIR) online program discussing global Islamophobia perpetuated the myth of discriminatory targeting of Muslims in Hindu-majority India.
"The Indian Hindu extremist network has been saying horrible things about Islam, about Muslims, about the Quran ... about the prophet for a very long time," IAMC Advocacy Director Ajit Sahi said. "They attack Muslims, they kill Muslims, they arrest Muslims, they humiliate Muslims, they attack mosques, they vandalize mosques, they vandalized the holy Quran."
Sahi also called for Sharma's arrest, amounting to a call for a blasphemy law from the advocacy director of an American-based Muslim organization. "Why is the Indian government not arresting this woman...over a week after she has made slanderous and blasphemous remarks against prophet Muhammad?" he asked.
Sahi's ire is not just directed at India's Hindu nationalists. In a 2014 tweet, Sahi made a preposterous and false comparison between Israel and ISIS: "Yes, both #Israel and #ISIS are genocidal," he wrote. "Know why? Both are funded and armed by the #US and its vassals."

Another speaker on the CAIR program, Justice for All Director Hena Zuberi, alleged an "ongoing slow genocide of Indian Muslims." Zuberi even justified the violent reactions to Sharma's comments. "And for those viewers who don't understand what it means to insult the prophet, you insulting the prophet is ... worse than you insulting ... a Muslim's father, a mother, and then their own self," Zuberi said. "There is bound to be a reaction."
Zuberi also pushed a conspiracy that Sharma's remarks were "planned" because "it brings Muslims out on the streets and then the state ... has free range (sic) to go after them."
The U.S. Council of Muslim Organizations (USCMO), a Washington, D.C.-based Islamist umbrella group, also pushed this bizarre conspiracy theory. In a June 8 press release, it alleged Sharma's remarks "by design, were calculated and publicly communicated to further the BJP's well-documented systematic program and founding ideology to disenfranchise, dispossess, and ultimately carry out its genocide of Indian Muslims."
Sharma later said that her remarks on the TV show came in response to insults other speakers made on the show about Hindu Gods.
In a later public apology Sharma clarified that the Hindu God Mahadev "was being insulted and disrespected continuously" in a series of TV debates she had been attending.
"I could not tolerate this continuous insult and disrespect towards our Mahadev and I said some things in response," she added. "If my words have caused discomfort or hurt feelings or anyone whatsoever, I hereby unconditionally withdraw my statement."
Gulf countries called on the Indian government to have "respect for beliefs and religions."
Ironically, many of these countries have abysmal records on religious freedom and minority rights.
Coming under pressure, the BJP suspended Sharma and expelled another party leader who also had made remarks about the prophet. It described them as "fringe elements" and said that it "respects all religions" and is "strongly against any ideology which insults or demeans any sect or religion."
CAIR praised the unified response of the Muslim ummah against Sharma's remarks "insulting" the prophet while working in a series of unrelated grievances.
"The Indian government's backtracking demonstrates just how powerful the Muslim world can be when it stands united," said CAIR Deputy Director Edward Ahmed Mitchell. "This global response is precisely the kind of unified action needed to end the genocides against Muslims in China and Myanmar, the escalating persecution of Muslims in India and Kashmir, discrimination against Muslims in France, and the Israeli occupation of Palestine."
It might be in poor taste to insult revered religious figures. But it should be legal to do so in a free society, and it should not generate the kind of violent, often deadly responses taking place in India. Those, including American Islamists, who rationalize the violence and push a blasphemy narrative do nothing to prevent future bloodshed.

Abha Shankar is the IPT research director.
Copyright © 2022. Investigative Project on Terrorism. All rights reserved.