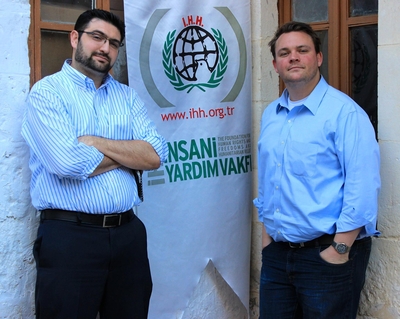 Abbas Barzegar (left) and a colleague pose in 2014 with an IHH banner near the Turkey-Syria border.
The
lead author
of the Council on American Islamic Relations' (CAIR) 2019 Islamophobia report has repeatedly endorsed a terror-tied Turkish charity.
CAIR research director Abbas Barzegar, the lead author of "Hijacked By Hate: American Philanthropy and the Islamophobia Network," has supported the Turkish-based IHH Humanitarian Relief Foundation for years even though IHH has provided financial, logistical and political support for jihadists.
IHH worked the "front lines of the Syrian conflict," helping tens of thousands of refugees fleeing to Turkey, Lebanon an Jordan, Barzegar wrote in a 2015 Washington Post op-ed with a Georgia State University colleague.
The op-ed argued that Muslim non-governmental organizations are "the glue, preventing struggling communities from spiraling out of control." As such, IHH "should be leveraged for more than just routine aid work ... Indeed, with the right communications infrastructure training, they could quickly become ideological gatekeepers as well. Online images of violence, suffering and catastrophe are key elements in the process of radicalization, which drive many volunteer fighters to participate in violent extremism," Barzegar wrote. "Radical groups such as the Islamic State, al-Qaeda and al-Nusra Front systematically use tormenting images of human misery in their online messaging and recruitment efforts."
Barzegar either didn't know about or ignored IHH's role in enabling the same jihadist ideology. Its involvement in a scheme to recruit and equip jihadists in Syria was well reported by 2014.
Barzegar did not respond to a request for comment.
Major news outlets, including Al-Jazeera, reported in January 2014 that Turkish authorities accused IHH of evacuating wounded jihadists from the battlefield. Sensitive government documents obtained by Turkish journalists have corroborated those reports.
IHH also reportedly transported fresh recruits and weapons to the battlefield – under the guise of providing aid – for al-Qaida linked jihadists. At least 23 people were arrested on suspicion they had ties to Jabhat al-Nusra, al-Qaida's Syrian affiliate at the time. Testimony later disclosed that IHH worked closely with Turkey's intelligence agency to carry out this scheme.
"I think Muslims or non-Muslims alike must be gravely concerned about the IHH and their endorsers and supporters," said Turkish journalist Abdullah Bozkurt, who obtained some of the sensitive Turkish government documents linking IHH with al-Qaida jihadists in Syria. "The IHH serves as a conveyor belt for radical views that get promoted by armed jihadist groups. Anybody who tries to sell IHH as a mainstream Muslim organization must be ignorant at best, or a malicious person to mislead at worst."
IHH has close links with Turkish President Recep Tayyip Erdogan's ruling Justice and Development Party (AKP), which views modern Turkey as a continuation of the Ottoman Empire.
Court documents implicated IHH in al-Qaida's 1999 Millennium Bomb plot to attack Los Angeles International Airport.
"The IHH is an NGO, but it was kind of a type of cover-up in order to obtain forged documents to obtain different forms of infiltration for Mujahadeen in combat ... And finally, one of the responsibilities that they had was also to be implicated in weapons trafficking," French counter-terrorism magistrate Judge Jean-Louis Bruguiere testified in the case of would-be Millennium bomber Ahmed Ressam.
IHH co-sponsored a 2006 memorial service in Istanbul for Shamil Basayev, the Chechen terrorist responsible for the 2004 Beslan school attack in Russia that killed 330 people, including 186 children. A State Department cable noted Basayev had al-Qaida links.
Turkish investigators raided IHH offices in December 1997 and found that IHH purchased automatic weapons from jihadist groups. Investigators determined that IHH members planned to fight in Bosnia, Afghanistan, and Chechnya – the jihadist hotspots at the time.
IHH and Erdogan share the same ideology and work together to achieve the same goals, said former Turkish National Police Counterterrorism official Ahmet Yayla.
Documents uncovered by Bozkurt show that IHH supported jihadists in Syria just as it had years earlier in Bosnia, Chechnya and Afghanistan. IHH began shipping supplies to terrorists in Syria starting in 2012, and Bozkurt found a close link between IHH President Bülent Yildirim and Hakan Fidan, the head of Turkey's national intelligence organization, the MIT.
Turkish authorities recorded Yildirim in May 2013 telling Turkish journalist Adem Özköse, an al-Nusra supporter, that Syrian jihadists should be helped in purchasing weapons.
Anti-terrorism raids by the Turkish National Police in early 2014 uncovered IHH's supplying arms to ISIS and al-Qaida.
IHH-registered ships smuggled arms to and from Libya, a document found by Bozkurt showed.
Both IHH and CAIR have ties to the Muslim Brotherhood and to Hamas. In recent years, CAIR leaders have aggressively supported Erdogan. CAIR Executive Director Nihad Awad met with Erdogan last year when he visited New York and also spoke in support of the Turkish president's increasingly authoritarian regime following the July 2016 coup attempt.
"Brothers and sisters, ladies and gentlemen, I am here today in front of the White House in Washington, D.C., first to express prayers for the soldiers and civilians who paid the ultimate price to defeat the coup in Turkey," Awad said.
When confronted with evidence linking it to the Brotherhood and Hamas support, CAIR is quick to smear critics with "Islamophobia" accusations. Yet exhibits introduced during the 2008 Holy Land Foundation's Hamas-support trial "do create at least a prima facie case as to CAIR's involvement in a conspiracy to support Hamas," U.S. District Judge Jorge Solis ruled a decade ago. The FBI cut off liaison work with CAIR following the trial due to concerns over the possible links between CAIR executives and Hamas.
Prosecutors also listed CAIR as an "unindicted co-conspirator" in the case.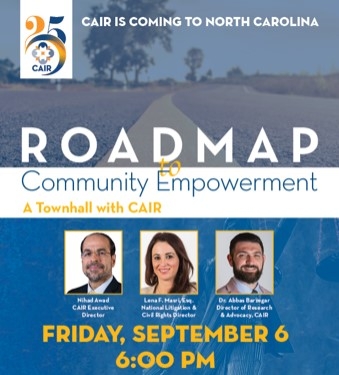 Now it has a research director who sees IHH as an answer to radicalization despite its long record of supporting jihadis. He is slated to appear tomorrow at a CAIR "community empowerment" program in Raleigh, N.C.
Barzegar's report claims that Islamophobic attitudes "allege Islam and Muslims are inherently or uniquely violent, misogynistic, inferior, intolerant, primitive, static, authoritarian, homophobic, manipulative, self-righteous, devious, or that Islam is the antithesis of civilization."
But IHH's actions often reinforce intolerant, authoritarian and homophobic attitudes.
At a 2013 rally, Yildirim spoke alongside Hamas Minister of Prisoner Affairs Attalah Abu Sabah, who said that IHH's "divine attitude shows that Israel will be exterminated." Yildirim agreed with the sentiment, saying that a 2010 flotilla aimed at breaking Israel's military blockade in Gaza marked the "beginning of Israel's end."
That flotilla ended violently after the ship Mavi Marmara ignored warnings from Israel to turn around. Israeli commandos stormed the IHH-owned ship. Passengers opened fire on them and attacked them with knives and clubs. Nine IHH activists were killed.
Yildirim accused Turkey's Jewish community of subverting Turkey on Israel's behalf in 2014. Video Bozkurt discovered Yildirim bizarrely claiming that "Jews/Masons are partners in crime for supporting Zionism which rules Jerusalem."
A 2008 IHH document included homosexuality among "the main factors leading the world to a global catastrophe."
Yildirim has maintained ties with top Hamas figures including political leaders Ismail Haniyeh and Khaled Meshaal. IHH aid workers posed with Haniyeh in a 2012 Twitter post.
Germany and The Netherlands designated IHH as a terrorist organization due to its Hamas financing and support for Israel's destruction.
A bipartisan group of 87 U.S. senators wrote to President Barack Obama in 2010 asking his administration to consider classifying IHH as a terrorist entity due to its Hamas links. They pointed to IHH's membership in the Union of Good, a network of Muslim charities sanctioned by the United States in 2009 for funding Hamas
The Obama administration never replied to the senators.
IHH's cooperation with Hamas continues.
Yildirim and IHH held an event in Istanbul last year called "Jerusalem, Capital of the Ummah" that was attended by Hamas representative Talal Nassar. Yildirim vowed there would never be peace with Israel and said that Turkey's sons would grow up to destroy the Jewish state. Yildirim charged that Israel wants to destroy all Muslims.
In June, IHH hosted Hamas spokesman Sami Abu Zuhri in June at one of the charity's offices in Turkey.
Barzegar's support for IHH, a group that has intimate terror ties, should be taken as an ideological red flag for all in the media who read his work or take his analysis of CAIR's critics seriously.