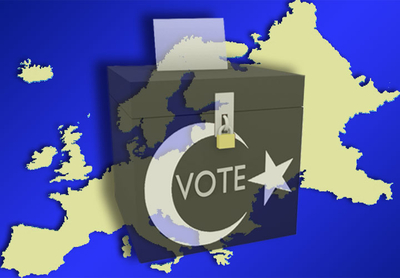 Forget the beheading videos, the ISIS propaganda on social media, even the terrorist attacks themselves. Europe, says counterterrorism expert Afshin Ellian, is Islamizing itself, and in the process, the Western values on which its democracies are built are increasingly put at risk.
Take, for instance, Belgium's ISLAM Party, which now hopes to participate in the country's October local elections in 28 regions. (Its name serves as an acronym for "Integrité, Solidarité, Liberté, Authenticité, Moralité.)
Its ultimate aim: transforming Belgium into an Islamic state. Items high on its agenda include separating men and women on public transportation, and the incorporation of sharia law – as long as this does not conflict with current laws –according to the party's founder, Redouane Ahrouch. His own behavior, however, suggests that his respect for "current laws" and mores has its bounds: He reportedly refuses to shake hands with women, and in 2003, he received a six-month sentence for beating and threatening his wife. Currently, the Islam Party has two elected representatives in office – one in Anderlecht, the other in Molenbeek – both regions that happen to be known as hotbeds of extremism.
Or consider DENK, Holland's pro-Islam party founded in 2015 by Turkish-Dutch politicians Selçuk Ozturk and Tunahan Kuzu. The party platform, which supports boycotts and sanctions against Israel, also discourages assimilation, calling instead for "mutual acceptance" of multiple cultures. Non-Muslims, for instance, would apparently be required to "accept" the Muslim extremist father who beats his daughter for refusing an arranged marriage, or for becoming too "Westernized" for his taste. It's his culture, after all.
DENK also calls for a "racism police force" to monitor allegedly racist comments and actions. Those found guilty would be placed in a government "racism register," and banned from government jobs and other employment.
So far, such pro-Islamist views have served the party well. In local Dutch elections last month, DENK (which means "think" in Dutch) gained three seats in Rotterdam, totaling four seats among 45 total and edging out Geert Wilders' far-right Partij voor de Vrijheid (PVV), which fell from three seats to one. In Amsterdam, which also has 45 seats, a full 50 percent of Dutch-Moroccans and about two-thirds of Dutch-Turks gave the party a three-seat win in its first election there, as well. Many of these voters, according to post-election analyses, moved to DENK from the center-left Labor Party (PvdA), clearly feeling more at home with a more overtly pro-Muslim politic.
Similarly, France's Union of Muslim Democrats (UDMF) has taken a number of voters from the Green Party by promising to defend Muslims. UDMF's online program statement condemns burqa and headscarf bans. What's more, in its pretense of supporting what it calls the "sweet dream of Democracy, Union and Human Rights," the party loudly (though rightly) condemns "anti-Muslim speeches" that "lead the most psychologically fragile people to commit acts of unprecedented violence." Examples of such "unprecedented violence" follow: a German white supremacist, who killed an Egyptian woman wearing a veil in 2009, and the stabbing of a French Muslim in Vaucluse. "Heavy weapons attacks have exploded in Europe since the beginning of the year against Muslim places of worship," the statement reads.
What the party statement does not mention anywhere are the attacks by Muslims in Paris and Nice that together killed 240 people between January 2015 and July 2016; the attack by a Muslim extremist on a Jewish school in Toulouse in 2012; and the kidnapping and heinous torture of Ilan Halimi, a 23-year-old Jew, in 2006. These are among other acts of "unprecedented violence" by Islamists.
UDMF also calls for protection of the family and its "essential role in the education of children," while citing Article 14 of the International Convention on the Rights of the Child which calls for respecting "the right of the child to freedom of thought, conscience, and religion." From here, the party demands the "right and duty of parents....to guide the child in the exercise of the above-mentioned right." Implied here is the demand that parents be allowed to treat their children as they see fit according to their religious beliefs – including to beat daughters who refuse an arranged marriage, becoming "too Westernized," and so on.
Most disturbing are the large numbers of Muslims who have all flocked to parties like DENK and UDMF throughout Europe. Rather than moving towards more secular, traditionally democratic political movements, Europe's Muslims are apparently increasingly distancing themselves from the "European" side of their identity and identifying more with Islam and the Muslim community. And this, too, is part of Europe's "self-Islamizing," the result of taking too unsure a hand, too ambivalent a position, on the issue of assimilation.
Indeed, as Ellian points out, European institutions have enabled this cultural separation. Photographs taken last November during a meeting of the Muslim student union at Amsterdam's Vrije Universiteit revealed that men and women sat on opposite sides of the auditorium aisle. Such events are common, according to journalist Carel Brendel, who first reported on the incident. "Yet the administrations [of these schools] do little or nothing about it, despite the fact that their own rules forbid" such gender separation," he told the Investigative Project. Brendel has also exposed links between the Amsterdam police and Abdelilah el-Amrani, a Muslim Brotherhood-connected imam invited by the police department to lead last year's annual Iftar dinner marking the end of a day's fast during Ramadan. El-Amrani, Brendel said, also oversees a group of interconnected organizations, including an Islamic school that came under investigation last year for having separate entrances for boys and girls.
Worth noting about the event, according to Brendel, is that no other government body sponsors a religious ceremony. Nor does any Dutch government agency, let alone the police, host a Passover Seder or observe any other religious event with the public.
In addition, and perhaps more alarming, a spokesperson for the Rotterdam police posted to Twitter that day that "police will be difficult to reach tonight, due to various Iftar meals." City security and the safety of citizens, in other words, was being compromised in the name of a religious celebration.
Elsewhere, other signs of self-Islamization can be found in the rise of other Muslim parties in Austria as well as a failed effort in Sweden; a proposed ban on the British press against identifying terrorists as Muslim; the proliferation of sharia courts in the UK; and the repeated efforts by some Canadian officials to legalize sharia – a debate that recently has been revived.
While all of this involves political movements, it stands as a reminder of what the ideology behind the "war on terrorism" is really all about: an attack against our culture. We need to do better at protecting it.
Abigail R. Esman, the author, most recently, of Radical State: How Jihad Is Winning Over Democracy in the West (Praeger, 2010), is a freelance writer based in New York and the Netherlands. Follow her at @radicalstates.