ALEXANDRIA, Va. – A former D.C. Metro Police officer who embraced both neo-Nazi and radical Islamist ideology was found guilty Monday of attempting to provide material support to ISIS and two counts of obstruction of justice.
Nicholas Young, 36, is scheduled to be sentenced in February. He could face up to 60 years in prison.
Evidence and testimony presented during last week's five-day trial showed Young supported both Nazism and Islamist terrorism – ideologies which share hatred for Jews.
The alliance between Nazism and Islamist terrorism against Jews is "based on the idea that the enemy of my enemy is my friend," testified expert witness Daveed Gartenstein-Ross. People are drawn to neo-Nazism and militant Islam for similar reasons, and "once you succumb to one of those ideologies, you become more prone to succumbing to the other ideology."
The verdict marks another failed attempt to blame federal law enforcement officials for entrapping an otherwise innocent man. To convict Young, jurors had to be convinced that he was predisposed to support ISIS before encountering any FBI informants, including those who served as prosecution witnesses.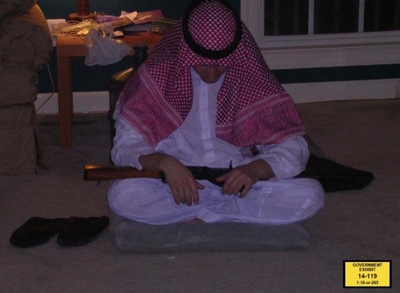 Young's home and computer were littered with Nazi paraphernalia and radical Islamist material, some of it more than a decade old. That includes several pictures of Young and his associates in SS uniforms in front of a Nazi flag, a framed photo of Adolf Hitler, electronic copies of The Book of Jihad and issues of al-Qaida's Inspire Magazine. A 2006 photo showed Young seated in traditional Islamic garb holding a gun across his lap.
The obstruction counts stem from lies he told federal agents about a close associate who he believed had traveled to Syria to join ISIS. He also sent a text message meant to mislead investigators into thinking the friend went to Turkey instead of Syria. The associate was a government informant, and Young tried to give him gift card codes to help ISIS recruit new members from the West.
"Nicholas Young swore an oath to protect and defend, and instead violated the public's trust by attempting to support ISIS," said Dana J. Boente, U.S. Attorney for the Eastern District of Virginia.
Young's friends included radical Islamists – some of whom were later sentenced to long prison terms for plotting terror attacks and providing support to al-Qaida and Somalia's al Shabaab.
Young's co-worker, former Metro Transit Police Officer Joanne Dill, testified, "[h]e believed in the caliphate and thought it was a good thing for that part of the world."
He told an informant about his desire to obtain a slave. "You can measure someone's predisposition even from the way they act now. A police officer in Washington, D.C., says I want a slave," Assistant U.S. Attorney Gordon Kromberg told jurors Friday.